Let's think about the old day's video games. There were different genres like fighting, racing, etc. But not all people love them equally. There's a simple but exciting old genre that both girls, boys, kids, and adults love to play equally. It is the running games I am talking about. Think about Mario or similar games, and you will recall how popular this genre was. However, if you want to enjoy your leisure with something similar to that, you can just try the best running games for your Android device. Don't know what to try first? Well, today, we will learn about some of the best games of this genre.
Best Running Games for Android Device
---
PlayStore doesn't have any Indigence of games of any genre at all. The thing is not different in the case of running games for Android. There are thousands of games, and if you don't learn about it before installing and start playing one, there'll be a big possibility of getting disappointed. While searching for games to form the list, we got a lot of boring games that can never be good at entertaining you. However, you can try the following games anyway.
1. Subway Surfers
---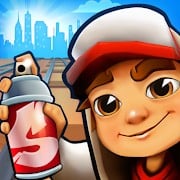 We are starting our list of running games for your Android device with Subway Surfers. In this game, you will find a mystery box along your way with surprise gifts. Plus, after you proceed next to level 30, there will be a super mystery box. All you have to do is be careful about the grumpy inspector. If you are not careful enough about the rushing trains, you cannot continue further.
Important Features
Here you will find several cool crew such as Jake, Fresh, Tricky, and more. You can collect tokens to unlock them.

You can travel across a lot of adventurous places from around the world.

Daily challenges will appear regularly, and you have to complete them.

There are different types of boosts to upgrade your gaming experience.

If you can collect enough gold coins, you can unlock various hoverboards using them. Each of those has special powers.

In the leaderboards, you will find the best players.
Pros: For the festive seasons, you will receive lovely outfits and offers. In addition, when you complete a new mission, you will get extra keys.
Cons: You have to wait for the season hunt a little longer.
2. Subway Princess Runner
---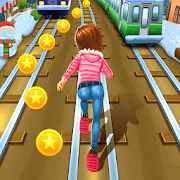 If you ever fantasized about a princess on a running game, then this is it. Subway Princess Runner is almost similar to the previous one that we mentioned. The main idea is to collect gold coins. You have to face a lot of difficulties like rushing buses, trains, cars, rolling woods, and more. You need to help the princess to escape the police. Additionally, you can use skateboards. You will enjoy the soothing sound as well.
Important Features
This game is full of gems, and you can collect them while running.

It has various missions to fulfill within some specific rules. You need to gain a lot of experience for that.

The more levels you unlock, the more multiplier the score you get.

You can challenge the highest score holders from the world players with controlled skills.

There are props in this game. You have to learn the way to use them and upgrade them as well.

If you do well here, you can increase the number of power-ups.
Pros: You get to play the different roles of the rich kids. Again, you can play in the environment of the subway, city, garden, forest, etc.
3. Talking Tom Gold Run
---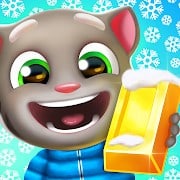 So, here's the most popular kid's game I am going to introduce you to. Well, it is the Talking Tom Gold Run. This game provides a very cool route to run so that you can catch the thief that loots all your assets. Initially, the story is very funny. However, the thief will run very fast, and from his bag, your gold coins will drop. And you have to collect all of them while chasing the thief. Sounds interesting, right? Let's learn more about it.
Important Features
The environment changes after a while, and you can run over the green valley, oceanside, night city, dark caves, and so on.

There are different characters you can play with—for instance, Tom, Benjen, Ginger, Angela, and others.

A very funny sound alongside cool graphics will boost your gaming mode.

You can connect it with your Facebook friends and enjoy it together in the racing competition.

You can watch commercial videos and earn more coins and rewards.

After a level, you will have tools to build your home. You can have a swimming pool and other things.
Pros: There will be a big and powerful Raccoon boss, and it will try to stop you at any cost. In addition, different types of obstacles will make the game even more challenging.
Cons: It's pretty hard for the kids to catch the thief.
4. Super Heroes Run: Subway Runner
---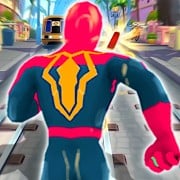 So, Spiderman is your favorite Superhero, and you do love the Spiderman running games for your Android device a lot. If it is like that for you, Super Heroes Run would be the best option for you. ONES Game brought this super exciting game to town for the Spiderman fans. Well, it is like an endless subway running a competition, and you will have all the powers of Spiderman to make the big win.
Important Features
The subway route won't be clean for you to run smoothly. There will be tons of obstacles you have to overcome.

You can jump over the subway and use the spider net to fly as your favorite hero does.

There are lots of weapons like guns and pistols. You have to collect them to protect yourself.

On your way, you have to chase the gold coins and collect all of them to score high.

This exciting Spiderman-themed game comes with very high-quality graphics and a mood-boosting sound effect.
Pros: You can play this game anytime, anywhere without an internet connection.
Cons: Some of the users complain about fewer new items that make them bored.
5. Talking Tom Hero Dash – Run Game
---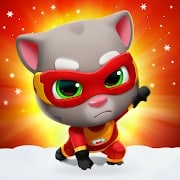 If you are already a true fan of Talking Tom, you will definitely like Talking Tom Hero Dash. The game is all about Talking Tom along with his heroic friends assigned to a mission where they need to achieve gold and renovate the world from the raccoons. Also, this game lets anyone be a superhero with intense superpowers along with high-tech superhero gadgets. However, you will never regret playing this game as it offers all the adventures of running games.
Important Features
The game allows anyone to be a superhero like Talking Tom, Talking Angela, and you can unlock others like Talking Halk, Talking Ben, Talking Ginger in Raccoon Boss Fights.

The running mission is not only about getting gold coins and avoiding obstacles. But destroying the raccoon gangs helps to achieve rewards.

There, you will find different worlds to run and fight the raccoons like skyscrapers, Chinese-inspired villages, mysterious desert temples, etc.

You will get different adventures to enjoy for each running world like players can sway on cranes or run alongside cruise ships. However, they should avoid swimming pools.

When you find a location fixed, you need to defeat the raccoon boss to save the world. After that, another running location will automatically appear.
Pros: You can customize the superhero by unlocking heroic runner outfits. Also, you will soon find out new ways of playing, which will earn more rewards.
6. Join Clash 3D
---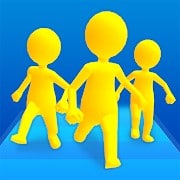 Supersonic Studios LTD brought Join Clash 3D with ultimate racing adventures and survival run. The game will keep you on your toes from the beginning to the end, and you have to survive along with your gang member. To start with, you will run alone and assemble people on your way and make a huge crowd. Though the race is about running through the obstacles, you will lead your gang to all forms of movement, rotating and clashing against the opponent team.
Important Features
There will be lots of unique levels, and each level comes with rewards and gifts.

It offers satisfying color explosions and deadly traps, and cracking obstacles will definitely blow your mind.

You have to defeat the rivals in the final battle and seize the castles.

On the way, you have to collect keys and make sure of the survivability of the rest of the members.

In the deadly survival race, you have to avoid a monstrous circular saw, a thorny abyss, colossal crushing spheres to make it to the end of the journey.
Pros: The game will serve you with its easy controlling system. Plus, the excellent graphics will grab your attention.
Cons: Too much advertisement destroyed the interest of some players.
7. Cat Runner: Decorate Home
---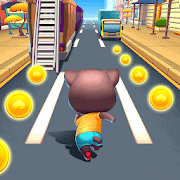 Cat Runner is another free-to-play running game for your Android device, and it comes with some street surfing adventure to the endless running genre. After you get robbed, you start your journey to catch the robber. In an urban setup, you will enjoy the time with your loved pet. Also, the controls are very easy and smooth to handle. The athletic mode has a lot of surprises and chests with diamonds, coins, and props inside them.
Important Features
You will get a huge amount of gold coins as you proceed forward in your path.

There will be fast cars, trains, barriers that you need to dodge to avoid a collision.

Not only the cat, but you also have a unicorn and a dog. Each runner will have their own style.

In the rushing mode, you get to play with the other players to win the prize.

Here you will find different background scenarios for your running environment.

If you can collect enough coins, then you will be able to upgrade the props.
Pros: This game has so many fun options like score booster, mega headstart, hoverboard. Plus, you can challenge the cat runner level.
Cons: Some users complained that the characters aren't very cute.
8. Sonic Dash – Endless Running and Racing Game
---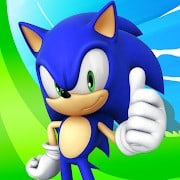 The animal-themed endless runner can actually be quite fun when you play Sonic Dash – Endless Running and Racing Game. The game has high-quality graphics that are beautifully designed in detail. You will receive rewards for showing the best skills. There are many missions, and if you complete them, you can win additional characters and prizes. In addition, you will get daily challenges and daily spin.
Important Features
In this game, you will play the character of Sonic the Hedgehog.

You can jump, dash and spin through your way. But remember to avoid the challenging obstacles.

The Sonic's super running powers will indeed help you to get a faster speed in the running.

When you need to destroy the obstacles, you have to apply Sonic's incredibly fast dash run to move in the courses.

To defend the enemies, you can utilize Sonic's devastating homing attack.
Pros: Several characters are there in the battle of Sonic's friends, like Shadow, Tails, Knuckles. Moreover, you can unlock new power-ups such as head start, magnet, shield, etc.
Cons: No better customizing options is the only drawback here.
9. Run Race 3d
---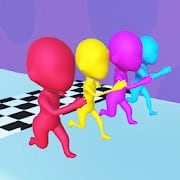 The mechanism of this Run Race 3d keeps you continuously running forward. With a smooth control system, this super addictive running game for Android offers you great entertainment. It is a basic game with much more fun and twists in it. You will get to the finish line before your rival arrives. But you have to be careful about the pit and curve of this game. Let's see what's more it will offer.
Important Features
Here, you can jump over the walls and swing by using monkey bars so that you don't fall.

For the real parkour experience, this game will let you compete with the other players.

This game has a lot of maps with different locations and environments. All the maps need different skills to win.

When you beat your opponent, you will initially get a promotion in rank.

If you need to jump higher, you have to do a flip in this classic 3D game.

The graphics and sound effects are truly satisfying.
Pros: The character customization includes several options such as clothing, skin, dance, etc. Additionally, you can win coins here.
Cons: There is no second chance, and so, it is quite hard to finish the line.
10. SuperHero Spider Far From Home Run
---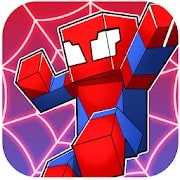 And, here is the last option for today, and it is again another Spiderman running game. SuperHero Spider Far From Home Run has come to boost your virtual running experience. The cube style Spiderman is the funniest part of this game. Besides, there are funny dresses you can choose for the runner too. Additionally, the graphics and sound quality of this arcade-style video game will addict you in no time.
Important Features
The running route is full of obstacles and adventurous elements.

There will be coins everywhere. Initially, you have to collect coins to score big.

You can play with the 8-bit superheroes and use their powers as well.

A very smooth touchpad will help you control the game and take the right direction.

The background environment is also very much colorful, and indeed you'll love to run over it.
Pros: You can upgrade the character with virtue and power. Indeed, you have to buy power-ups with the collected coins.
Cons: This game is pretty hard for kids because it will end as soon as you touch an obstacle.
Download
Our Recommendations
---
We have spent enough time playing these 10 games to learn better about them. And one thing I can ensure that all these 10 games will make you addicted in no time. So, suggesting one or two specific games as the best ones is pretty hard here. But if you consider their popularity, Subway Surfers and Talking Tom Gold Run will be on the top of the list. And if you prefer a Spiderman running game, then Super Heroes Run will be the best option. You can also try Sonic Dash for a fun adventure.
Finally, Insights
---
All these 10 exciting running games for your Android device are good to play anytime, anywhere, as they don't require an internet connection. You can enjoy your leisure or time when you are waiting for someone to play these games. Well, hit the like button if you think today's content comes to you as usual. Also, let us know about what's the next gaming genre you want us to cover. Stay safe and connected. Thank you.