To keep your baby calm while taking care of your household or other tasks is quite different. Most of the time, we let them use our phone and stay busy with that to have some free time for our work. But it is not even safe to let them do whatever on the phone as they can delete something important or send messages or even they can order things unintentionally. Recently, I have seen an internet post where a toddler ordered a package of pizza with 200$ by just some random clicks. It seems funny, but the truth is pathetic for those parents. However, I have a solution here if you are worried about the same reason. You can install some best kids' games for Android and keep them really very busy with that.
Best Kids Games for Android
---
Here, I will leave a short description and features' list of 20 best kids games for Your Android device. The games I have chosen are not from the same genre. In fact, they are mostly different from one another. So, you have to look over those descriptions to find out the game your kids must love. I know that no one knows your kid's interests better than you. So, have a look below and choose a game or more to enjoy a hassle-free household time by keeping your adorable kid busy with the games.
1. Fishdom
---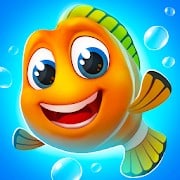 You can install Fishdom for kids if they love to play multitasking games that improve their intelligence. It is one of the most popular kid's games for Android, and it is suitable for both girls and boys. Your kids will have to swap and match things to build a house for their virtual pet fish. They can dive underwater and explore a vast area. Also, there are unique puzzles to match and get rewarded. Want to know more about it? Well, the features are here for you.
Important Features
Your kids can decorate lots of aquariums for their adorable fishes.

Hundreds of challenging match games are available there.

They can compete with other players in an aquarium development event.

There are 3D talking fishes with different looks and colors.

There is a scuba mask to wear and dive into the deep sea.

It is an offline game.
2. Cooking in the Kitchen – Baking Games for Girls
---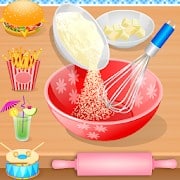 If your baby girl is really interested in cooking and baking, you can let her enjoy this game. It is Cooking in the Kitchen. This cooking and baking game is very popular among the toddlers even sometimes for some boys too. Your baby can prepare 24 types of food in her virtual kitchen, and all the necessary food items and cooking tools are there to use. In that sense, it is quite like a simulation cooking game. Your kid can choose the food and prepare it following the instructions.
Important Features
Your kid can prepare lots of food like fries, hamburgers, And other fast foods.

She bakes and decorates the pastry and donuts.

Waffle and ice cream machines are available.

She can also design her easter eggs for the feast.

This Android game for kids is equipped with inspiring music and voice command.
3. Kids Educational Game 3 Free
---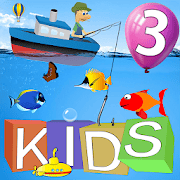 If you want to keep your child busy with an educational game that won't make him bored, then you can try this one. It is Kids Educational Game, another most played kids game for your Android device. It is not just a game but a whole series of 12 different types of games. And all those games are good for your kid's easy learning and improving intelligence. As it includes games of 12 different types, your kid won't easily get bored by playing a single game. So, you can easily take care of your other works by letting your kid learn something new.
Important Features
Your baby can learn more than hundreds of words and their meaning.

All the mini-games are interesting and quite different from each other.

You can learn different languages here like English, Spanish, Chinese, etc.

There are lots of puzzle games available for your kids.

It is very good to improve their concentration, endurance, and memory.
4. ABC Kids – Tracing & Phonics
---
Another effective educational game for your toddler is here. It is ABC Kids. Though it is like an alphabet teaching app, there are a variety of kids' games here. All the mini-sized games focused on your kids to learn the English alphabets properly. There is a phonetic representation of alphabets and words, which will be very helpful to learn basic early-stage language education. At the same time, a series of tracing games is there to figure out your kid's progression.
Important Features
It is a free and kid-friendly alphabet tracing game.

Colorful alphabets with lots of words with images.

There are no advertisements to disturb your kid.

Very funny sound and music that kids will love.

A smart interface is used to keep your kids focused on learning.
5. Baby Puzzles
---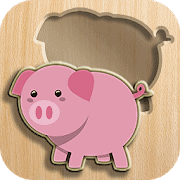 I will suggest Baby Puzzle if you want your little toddler to be intelligent from the very beginning of his life. It is one of the best Android games for kids as it is full of colorful animal pictures and puzzles. You can let your baby match the puzzles and, by so, to improve their instant brain activity. There are difficult types of animals and puzzle dice. Your baby has to find out which animal picture will fix for the dice. As a relaxing brain exercise, this game can be a very good companion for your little baby.
Important Features
Includes a better educational tool interface that makes your kid intelligent.

Kid-friendly sound and graphics.

It improves your child's concentration, cognitive ability, and motor memory functions.

It is equipped with a very convenient and simple design.

It is good for the improvement of the coordination of the brain and body.
6. My Talking Tom
---
Outfit 7 brings you My Talking Tom with what I don't think I need to say more. Still, you can learn about it for your kid as it can bring a friend for him. It is a game where your kid can have their own virtual pet. Your child must be very excited and happy to have a cat named Tom, a total fun pack. Over a million people of different ages are playing this game now. As long as you can confirm enough sleep and food, Tom will help your toddler to laugh with his funny gestures. When spoken to, Tom copies your words in a funny way. Your kid can enjoy different types of puzzle games, adventure games, and virtual sports here.
Important Features
Your child can customize Tom just the way they want.

Kids will enjoy visiting countries with Tom and create an album.

They can unlock new furniture, clothes, and other items.

They can face challenges for extra bonuses.

Amazing sound quality and graphics make it quite realistic.

A good number of mini-games to enjoy and earn coins.
7. Bubble Shooter
---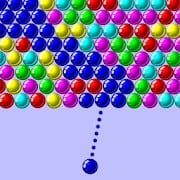 Are you looking for a cool arcade game for your kids? Bubble Shooter is a must-try arcade-style kids game for your Android device then. Here, your kids have to aim for 3 colors to smash them. They can simply start popping the bubbles anytime. Your toddler will be excited to earn coins as they will proceed to the next level. The highest score will get them 3 stars. You can test their puzzle-solving quality and aiming skill both at this game. They can also make special bonuses daily. Moreover, this game offers different modes like classic mode, arcade mode, and puzzle mode. The better aiming they maintain, the more balls they can drop.
Important Features
More than 3000 levels are available, which are full of fun.

7 bubbles pop in a row can get you the chance to unlock the fireball.

Over 10 bubbles at one shot will make a bomb.

Provide great prizes, new elements, and best quality sound effects.

It provides rewards for finishing missions too.
8. Truck Games for Kids
---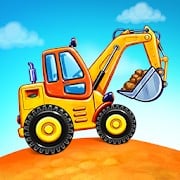 Let's give it a try on Truck games for Kids. This game will allow your young boy to learn building trucks, houses, arbor, swimming pools, and more. You can be totally out of tension while keeping your kid busy with this educational game. You can install this kids-friendly game for free, and there is no hidden charge at all. If your baby boy loves building things, then it can be the best option for you. Your kids can play all the levels of this game to build all the things of his virtual house. Your toddler can also wash cars and fill fuel from the gas stations.
Important Features
Your kids can learn about the basics of vehicle mechanics.

It is simple to control different types of machinery like tractor, trucks, excavator, simulator, bulldozer, and many more.

Your toddler can also play puzzle games in it for relaxation.

This game is helpful to improve your toddler's attentiveness.

It has lots of exciting levels with various colorful vehicles.

Attractive sounds and brilliant graphics that will always attract your kids.
9. Kids Dino Adventure Game
---
Make your kids ready for an unlimited adventure with Kids Dino Adventure Game. This funny adventure game is packed with different attractive dinosaurs that your kids must love to spend time with. There are lots of dinosaurs with different colors that will attract you, kids, all the time. They can easily play this game by themselves and find different bones of dinosaurs with other random items to match and make them lively. There are different dinosaur picture puzzles which are good to boost their instant brain activity. You can also adjust the difficulty to test their skill. Your child can match various dinosaur pictures such as pterodactyl, T-rex, stegosaurus, and more.
Important Features
5 mini-games are available, which are Dino Adventure, Colouring Book, Jigsaw Puzzle, Matching, Scratch, and Colour.

Five different difficulty levels to adjust.

This game is helpful for your child's hand-eye coordination.

It improves memorization skills by developing their motor memory.

This app is effective for exploring creativity and increasing kid's intelligence.

Your kids can find out lots of hidden images and objects.
10. Masha and The Bear Child Games
---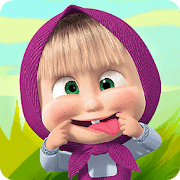 Here is Masha and the Bear Child Games, a perfect kids game for Android. In this game, your child has to collect berries to make jam. They have to save honey from hungry bees. This is a forest-based game where your kid needs to save animals. Also, s/he can gather woods for cooking dinner in winter. Finding ingredients from the house for cooking is another tough task here. It is a magical world where your children can have unlimited fun with different characters. Flying airplanes, counting butterflies, playing hockey with penguins are so much fun. Your toddler can arrange a concert in the evening as well.
Important Features
There are 13 different mini child games full of entertainment.

Your kid can talk with Masha and learn the language.

This game helps your child to improve concentration and visual memory.

This game is also equipped with a baby intuitive interface that makes it funnier.

It will help your toddler to develop number counting skills and logical thinking.
11. Kids Balloon Pop Games Free
---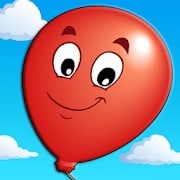 For your kids of any age and for both little boys and girls, I have a recommendation here. It is Kids Balloon Pop Game. It is one of the most popular kids' games for Android. Pop the balloon is the main task of this game, and it is very easy for the babies. The music of this game is attractive, and funny voice commands are there to help your kids learn different languages. Also, the balloons vary in colors and sizes, which also keeps your kids looking at it for long. Moreover, it is a kind of educational game that will teach your kid names of colors and many other things.
Important Features
You can customize the color and sizes of the balloons.

There are 5 different gaming modes available for your kids.

Teach your kids the basic geometric shapes and number counting.

There are in total 10 languages you can choose from.

Special mode for visually impaired children is also available.
12. Doctor Kids
---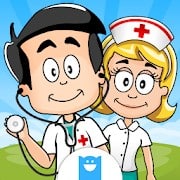 Want to be proud parents of an honorable doctor? Well, time and effort will fulfill your wish. But now, you can let your toddlers be a doctor in a kids' hospital. Let them enjoy Doctor Kids, one of the best Android games for kids. Your kid can play the role of a very hard-working doctor in a hospital and to take care of the baby patients. In this game, babies are coming to the hospital with sickness, and your kid's duty is to make them healthy so that they can smile again. There are different types of doctors and treatment methods your baby can adapt to treat the patients.
Important Features
A very intuitive interface that makes the games funnier.

There are 7 mini-games on different themes your kid can enjoy.

Infinite levels with different playing methods.

Different treatment systems are available like eye care, dental care, skin rashes, etc.

Lots of baby characters with colorful clothes will appear as patients and meet the doctor.
13. My Talking Angela
---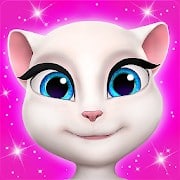 As Tom comes for boys, Angela is here for baby girls. If your kid loves to adore a cute girlish pet cat, then you can install My Talking Angela for here. Just like Tom, Angela is also very talkative and adorable. Your kid can feed her, makeover, dress up, wash the body, and brush her teeth. Even she can talk to her. To keep your little girl busy with the phone while handling other tasks, I think there can be no better solution than this.
Important Features
Your kid can buy new dresses, foods, and makeup tools for Angela.

There are lots of mini-games to enjoy and earn coins.

There are thousands of hairstyles, dresses, and other things to try on Angela.

Angela repeats your words and thus talks to kids.

It will notify you if she is out of sleep, food, or other essentialities.

Your kids can visit different virtual places with Angela and get cards.
14. Educational Games 4 Kids
---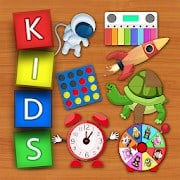 Another combo packed fun, but an educational Android game for kids is here. It is Educational Games 4 Kids, one of the most popular kids games for Android. I have already mentioned that it is a combo packed game, which means there are a lot of mini-sized games inside it. But the best part of this game is its interface that somehow makes all those games educative for your toddlers. However, your baby can give you free time by being busy with puzzle games, piano lessons, painting, and learning a lot of new words. So, you can be assured that your adorable kid is doing good and stays still while you are taking care of some other work.
Important Features
It will teach your kids to paint with different colors.

Different puzzle games will increase your kid's intelligence and concentration.

A shape distinguishing mini-game is also available here.

Teach your kids basic knowledge like time, alphabets, names of objects, and so on.

There are 12 games in total, and they can play using different languages like English, Korean, Japanese, Spanish, etc.
15. Colors for Kids, Toddlers, Babies
---
Meet a beautifully designed toddler's education game. It is Colors for Kids. It is recommended for kids with 2 to 5 years of age. Kids love colors, and so, they love this game to get busy and let you work freely. However, there are 9 different colors that will appear with different shapes of objects. So, your baby will automatically learn the colors as well as the objects. So, it will help to improve their motor sensor and increase their seekings for knowledge. So, it can be a good virtual toy for your kids.
Important Features
Effective education games for kids.

It works as the opener of the first door of kids' knowledge.

It will help your kids to improve their memory functions.

Also, it will increase their attentiveness, curiosity, and perseverance.

Kids friendly music and eye-protective functions.
16. Monster Trucks Game for Kids 2
---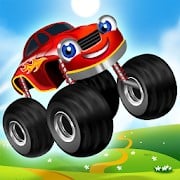 Let me introduce you to Monster Trucks 2, a kids game for Android, specially designed for kids between 2 to 8 years old. They can enjoy simply designed drive controls to finish the race. You can be assured of your toddlers winning with never flipping trucks. Also, the trucks will lessen their speed while racing against extra other trucks. Exciting big buttons for jumping, changing music or sound, horn beeping, and many more fun types of equipment for your kid. He can smash the cars, collect stars, and also enjoy balloon popping and fireworks at each level end.
Important Features
15 monster trucks are available, and your kid can choose any of them.

4 extra mini-games – Balloon pop, Puzzles, Memory cards, Colouring pages.

There are 42 levels to blaze across.

Funny but exciting sound and graphics.

This game will help your toddler to learn the mechanics of using mobile, tablets, etc.
17. Piano Kids – Music and Songs
---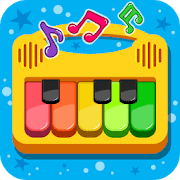 If your kids love music and instruments, then Piano Kids is the game you should look for. This game is specially designed for your child's learning. This amazing game will help your toddler to get introduced to different musical instruments. Also, it will help your kid to explore new music, sounds, and develop musical aptitude. Your children can play different instruments full of colors and create wonderful sounds. The colorful and bright interface of this game will definitely attract your kid. Your child will learn the pronunciation of the names of different colors, geometric figures, flags, numbers, alphabets of different languages. Also, your toddler will have full freedom of imagination to create melodies. Funny characters will appear to suggest which notes to play and various collections of objects to represent sounds and images.
Important Features
There are 30 famous songs for your children to learn from.

4 gaming modes are available, which are Instruments, Songs, Sounds, Game.

High-quality sounds of real instruments such as piano, guitar, xylophone, flute, drums, saxophone, etc.

This game will develop your kid's skill in listening, memorizing.

It will boost up the creativity, sense, and imagination of your toddler.
18. Fun Kids Cars
---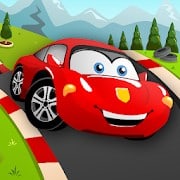 You can also try Fun Kids Cars to keep your baby busy. It is another popular game for your baby boy. Your kid can race across beaches and city environments with these fun cars. They will have lanes to switch between and win. This game is easy to play for kids, even for a 2 years old toddler. It has a simple navigation system and big buttons to do cheerful things like jumping, barking, speeding up, lane changing, horn sounds, and many more. There are pleasing sounds and music for keeping your toddler entertained for hours. This game is carefully designed for young kids who are fond of all things cars.
Important Features
Your kids have 16 cars to choose from and give a race on.

It includes eye protection and kids friendly visual effects.

They can enjoy existing balloon pops at each level.

It also includes mini-games as puzzles, match cars, balloon pop, and painting.

Also, it is full of fun with cute HD graphics.
19. Children's Doctor: Dentist
---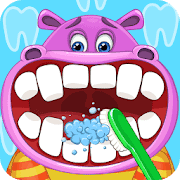 Introducing you to another popular kids game, Children's Doctor. This game motivates your children to choose one of the most required professions in the world, the dentist. This app is carefully designed for young boys or girls to enhance their basic skills and also have fun. Your child will improve in comprehensive development with this educational game. He will love to see those four-footed pups smile with healed teeth by healing the pups who are suffering from the heavy ache of teeth because of eating excessive sweets. This app helps your child to learn how to treat their pets with care and love. It will remind them to keep their own teeth clean as well.
Important Features
Your kid will enjoy the feeling of the real dental office and instruments like scalpels, tongs, burnishing, and many more.

It helps your kids to improve their memory functions.

It helps them to take responsibility and work accordingly.

This game is also helpful in teaching your kids to take care of their own teeth.

Funny sounds and HD graphics.
20. Dress Up
---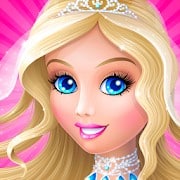 The last one is Dress Up, one of the best Android games for kids, especially for young girls. You can download this game for free, and your kid can enjoy it without any interruption of advertisements. She can choose from different princesses for dressing them up. This game has a huge collection of fancy dresses and makeover types of equipment. Your daughter must love to style those princesses in different looks. She can decide the trend and show the excellence of her fashion sense. So, you can let your young girl feel like a fashionista with this exciting game.
Important Features
Your young girl can choose one from 12 princesses to make them over.

She can pick out from hundreds of makeovers and outfits.

This game will develop your kid's fashion taste.

It has a variety of hairstyles, gloves, shoes, wings, etc.

Amazing music and fun animation.

This app increases curiosity, motor skills, and preservation.
Final Verdict
---
First, let me warn you about a fact before I say tata for today. Getting addicted to phones or other devices for the kids could be very dangerous. I leave the list of 20 kids games for Android not to let them play all the time. Remember that your company and books can be the best friend for your kids, not the cellphone and virtual games. So, let them play these Android games for kids only when you cannot accompany them because of your important tasks. I hope you understand what I have tried to make you understood.
Now, let's come to the narrow recommendation part. I suggest educational games first. You can try Kids Educational Game 3 Free or Educational Games 4 Kids. These educational games help your kids to improve their motor memory, concentration, endurance, and intelligence. But if you are looking for something very funny and interesting, then Fishdom and My Talking Tom and Angela can be the best option. So, don't forget to share your experience with the game you have chosen for your kids. And also, stay with us with your support. Thank you a million times.