The development of computer software has opened up many new opportunities and enables us to achieve things that we could not even think of before. Fleet management software is the best example of how software has reshaped our life and organizational work process and added many advantages that can result in sustainable development.
You can use a fleet management tool on your PC to track both your vehicle in real-time and the driver's activities. Besides, it is also useful to record important information and manage everything with a simple series of steps. This article is intended to bring light to the best fleet management tools you can start using right now. 
Best Fleet Management Software
---
You will find a wide array of options available in the market, making it hard to pick the best fleet management software for personal or business purposes. We have tested many fleet maintenance tools and compared their pros and cons. The below-mentioned list is the product of our research and can help you to integrate any of the fleet management solutions into your existing workflows. 
1. AUTOsist Fleet
---
We are going to start this list with one of the most reliable fleet management software you will find there. Besides, the flexible pricing policy that includes Basic, Personal, and Fleet plan makes it convenient for organizations of any size. At the same time, you can try the features without spending a penny as it offers a free 14-day demo. On top of that, it is super easy to use, and you can navigate through the user interface without any complications.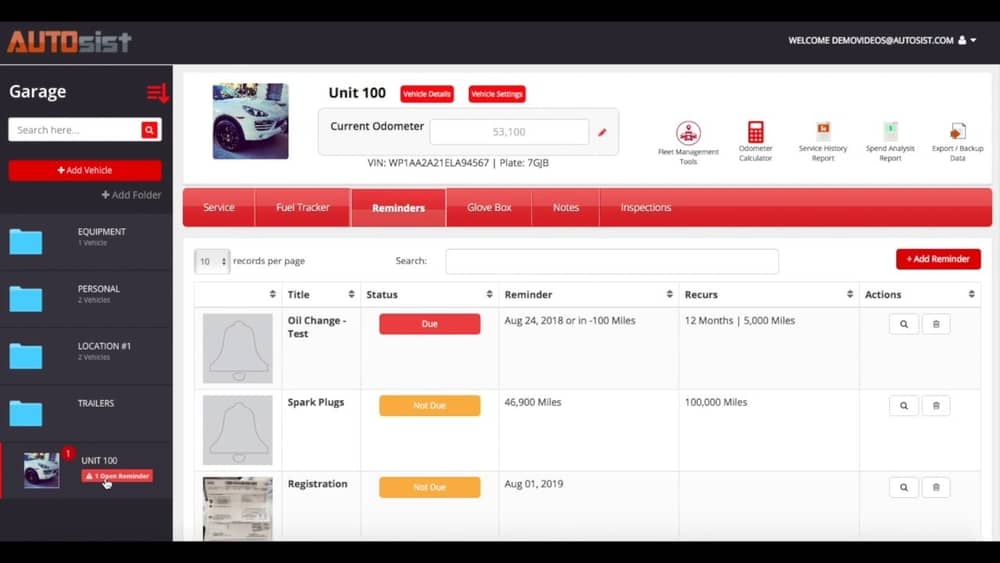 Important Features
Unlike other tools, it can load pages rapidly, and you will also be able to track multiple vehicles at a time. 

You can stick to the basic plan and keep using AUTOsist Fleet free forever. 

It comes with a dedicated Android and iOS app that allow users to access their fleet remotely. 

From vehicle maintenance to keeping track of fuel, AUTOsist Fleet can help you thoroughly. 

Besides, this is a cloud-based software that allows the easy distribution of data or private information. 

Features reminder notifications that can alert you based on reading from the odometer and date. 
Pros: It has made inspection easier to make a custom checklist and get notified when something is missed or not functioning properly. 
Cons: If you need a large fleet, then this software can become costly, while the absence of a map view of vehicles is another major downgrade. 
2. Chevin FleetWave
---
We have tried to give priority to the tools that can take care of all aspects when it comes to fleet management. It makes the process of understanding your fleet easier, and you can maintain a straight forward approach to extract the insights as well.
Alongside vehicles, you can consider this as an all in one solution for tracking your drivers' activities. Although it is designed for enterprises, it is also worth using for personal requirements.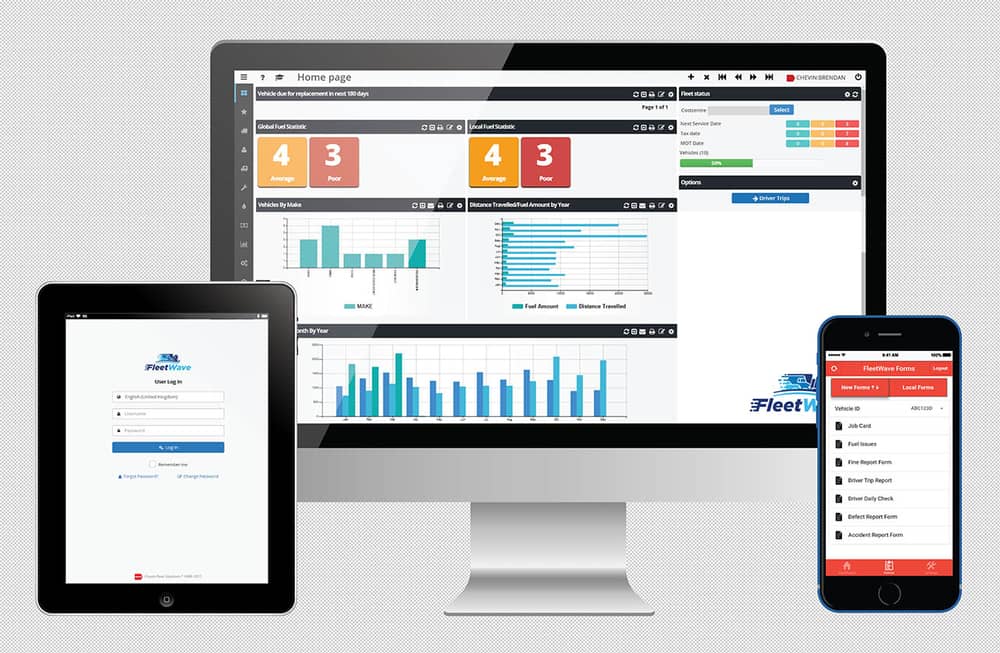 Important Features
This software can help you control fuel costs and save a lot of money through proper management. 

You can collect important data required for efficient maintenance of your vehicle. 

Equipped with a wide variety of preconfigured features that keep the fleet management simple and straightforward. 

Besides, you can explore the asset registry feature along with accident history modules to make the most out of it. 

If you are running an SMB, contact the Chevin FleetWave team to make a customized plan for you. 

On top of that, this is a great tool to generate detailed reports that can help implement better decisions. 
Pros: The best part of this software is its ability to synchronize National Highway Traffic Safety Administration data to keep you updated all the time. 
Cons: There is nothing much we could include in this section but the user interface is outdated. It could be much improved for increasing the user-friendliness. 
3. Fleetio
---
This is probably the best fleet management software on this list. It is used by a massive number of people and industry leaders all around the world. The best part of this software is keeping every tool and features required to manage processes efficiently under one umbrella.
Besides, the user interface is dynamic and is ready to meet all modern requirements. You will get details at first sight, but all the important KPIs will be highlighted to draw your attention.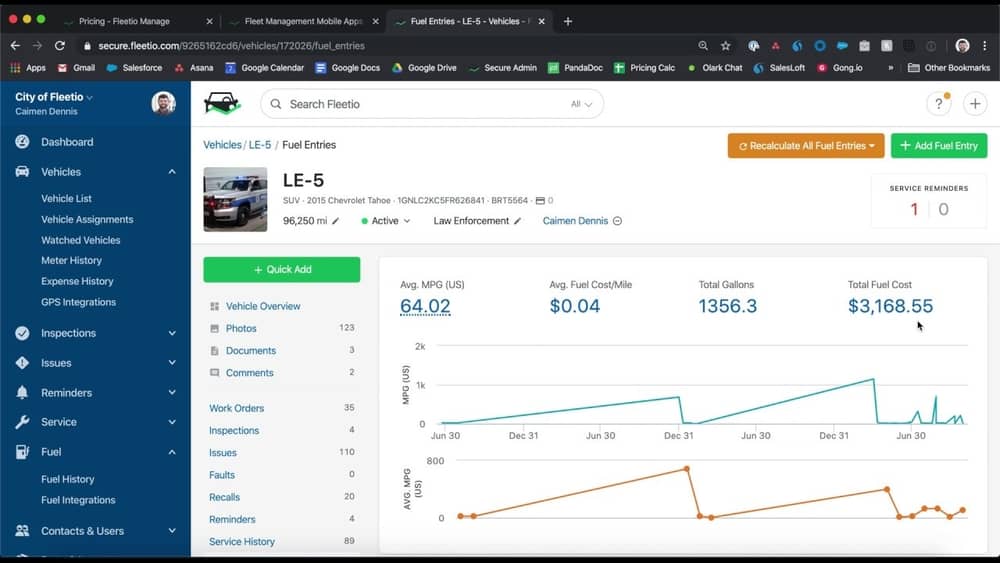 Important Features
This tool is powerful enough to help you get rid of all the traditional workflows, and you will be able to manage your entire fleet on the go. 

There is certain micro equipment that should be taken care of for improving the business performance, and Fleetio is just perfect for that. 

Auditing is important to know the insights of your data or information, and Fleetio can render complete visibility. 

Suitable for any organization where you need to collaborate with friends or coworkers. 

Allows users to share any number of documents or images, or even files. 

You will be able to detect critical issues immediately and take action accordingly. 
Pros: Small equipment can be added to your vehicle so that you can know about your assets and who is controlling them in real-time. 
Cons: You will have to pass a significant amount of time to get going with the UI initially, and also, the reports could emphasize more on visualization. 
4. Avrios
---
You will find many fleet maintenance software, but if you are concerned about managing administrative tasks, then Avrios is incomparable. Although you will not find any vehicle tracking features, Avrios can take care of your workflows pretty well.
You can definitely rely on the performance of this robust tool while it is so simple to use that anyone can manage a fleet without facing any trouble. Besides, it can be a great medium for sharing content with your coworkers or friends and keep things simple.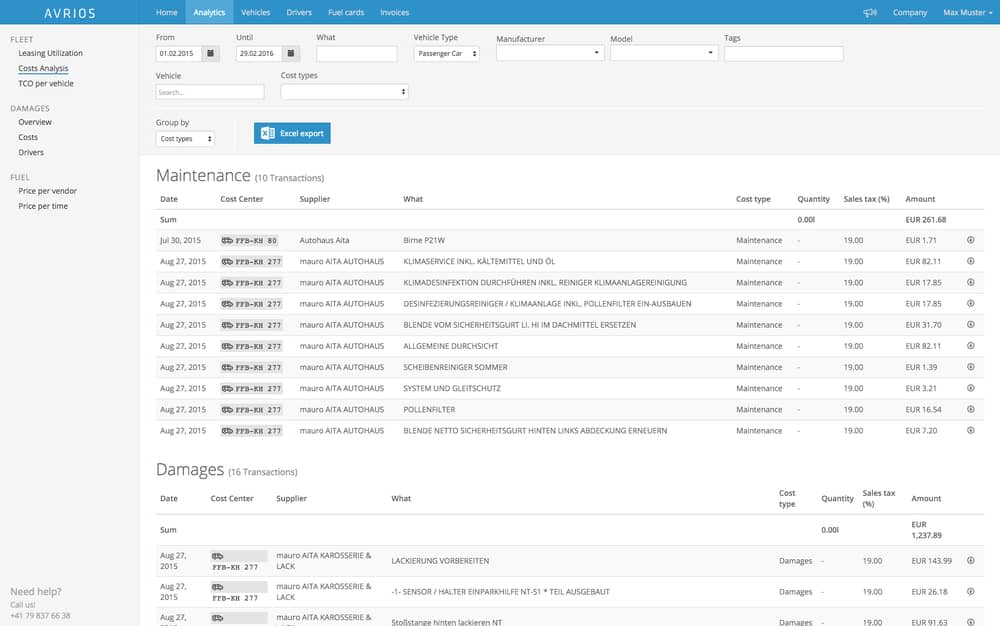 Important Features
The pricing is flexible and straightforward. You will have to pay $1 for each vehicle. 

It is a solid platform to extract more information from your fleet and gain a better sense to manage efficiently. 

You can use this software at your organization as it offers discounts for enterprise-level fleets. 

Allows users to access all the core components even with the basic package. 

You will get a database also to keep records of your drivers. 

All of the information about your vehicle will be stored, and you will get notifications along with incorrect mileage alerts. 
Pros: If you want to get an Automated Data Entry tier system, you will have to upgrade to $3 per vehicle, while a nice and sleek dashboard is also included within the package. Besides, you can integrate fuel card and invoice verification as well. 
Cons: You will find the data insertion process really burdensome, while the absence of vehicle tracking is the major downgrade of this software. 
5. Onfleet
---
Onfleet is kind of a fleet application that focuses on the reporting system a lot rather than sticking to the core fleet management only. If you are looking for a traditional solution, then Onfleet might not be the best option for you available out there, although it is definitely worth checking out. Besides, it comes with a modern and user-interactive interface, making it enjoyable and convenient to use anywhere.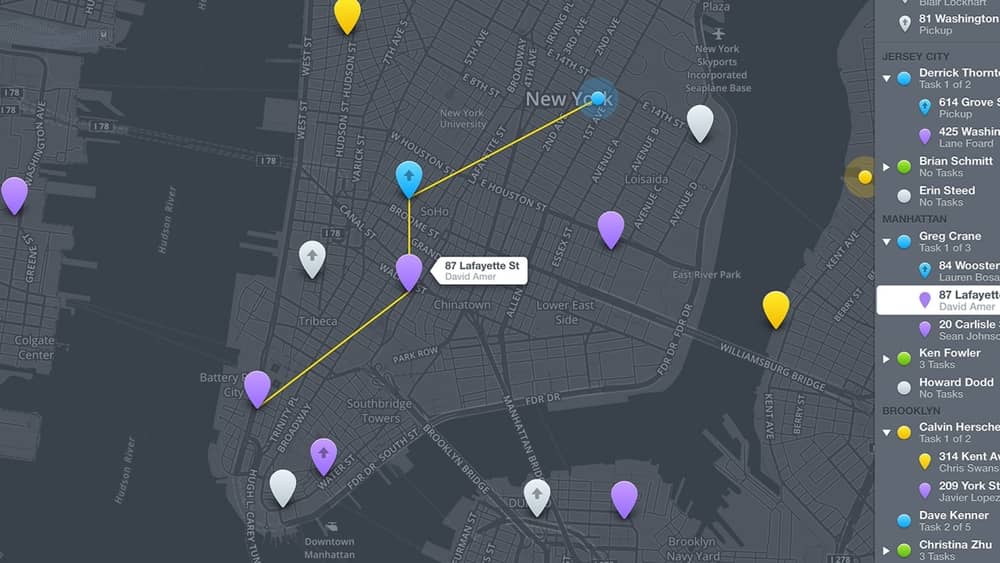 Important Features
It is powered by awesome reporting features that can help to detect problems and find solutions. 

While it is easy to set up all computer beginners, even a novice will find this tool simple at first hand. 

Does not follow its competitors when it comes to pricing, as you can complete up to 1000 tasks at $149 per month. 

You will get guidance while entering the information of your vehicle to automate the process. 

Suitable for the entrepreneurs and business owners can have total control over their spendings and maintenance charges. 

From route optimization to data analytics, everything is included within the package. 
Pros: You will get all the advanced features like the chatting option and barcode scanning. You will have a dedicated mobile number through which you can be notified when a delivery is complete. 
Cons: This software does not allow users to track their vehicles, which is the main disadvantage, while you will notice some readability issues as well. 
6. Teletrac Navman Director
---
It is another great fleet management software designed to showcase all of your fleet's operations in one go. Although it is an expensive option still the number of impressive features it includes is too good to avoid.
Besides, you will find a few tools that are as powerful as Teletrac Navman Director when it comes to tracking your vehicles in real-time. If you want to integrate a dashcam into your vehicle, this application will also allow you to do that effortlessly.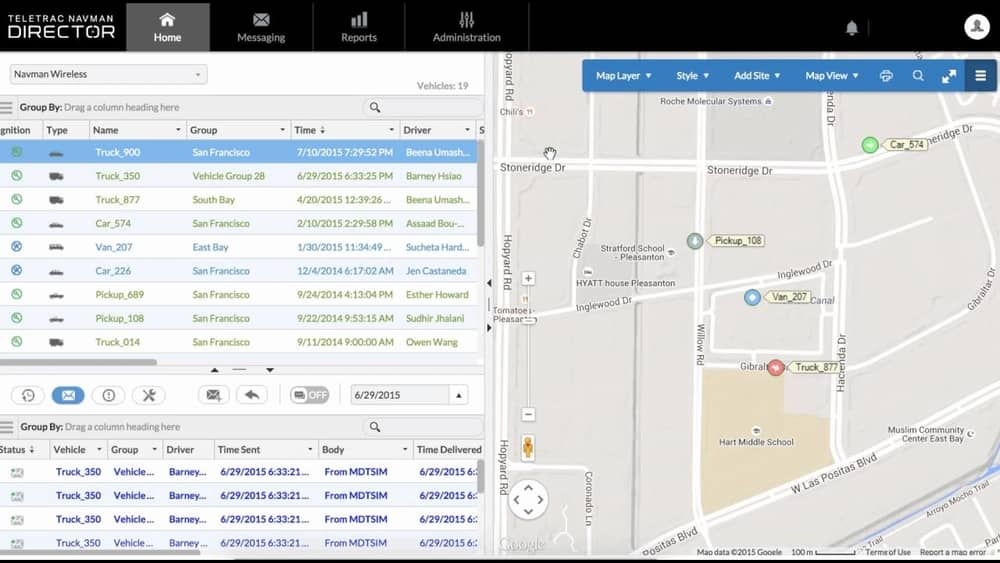 Important Features
Unlike other tools mentioned in this list, Teletrac Navman Director comes with a compliance feature. 

It comes with a diagnostic device that helps to render detailed vehicle tracking information. 

You will be able to keep an eye on the driver operating your vehicle and judge his performance as well. 

Get a full report on the operating status, which is really important to keep your fleet safe. 

Will enable you to maintain the government's rules and regulation and the pricing starts from $30 per month for a vehicle. 

It can be considered a comprehensive tracking solution, although, for SMBs, the pricing is impossible to reach. 
Pros: It is an enterprise-level software, and you can totally depend on its performance. While it is stable and powerful, the user interface is simpler and easy to manage. 
Cons: It is not a suitable tool for a small organization, and also, the report could be more visualized depending on the vigorous pricing it asks for. 
7. Lytx DriveCam Enterprise
---
Fleets can play an important role in the development of any organization. While it can help to remain updated with the state and federal workplace, you will also know about your drivers, whether they are safe or not.
If you fail to keep your Fleet secure, it can result in a risky workplace for your employees. You can check Lytx DriveCam Enterprise that is intended to make your Fleet safe and enable you to streamline the compliance.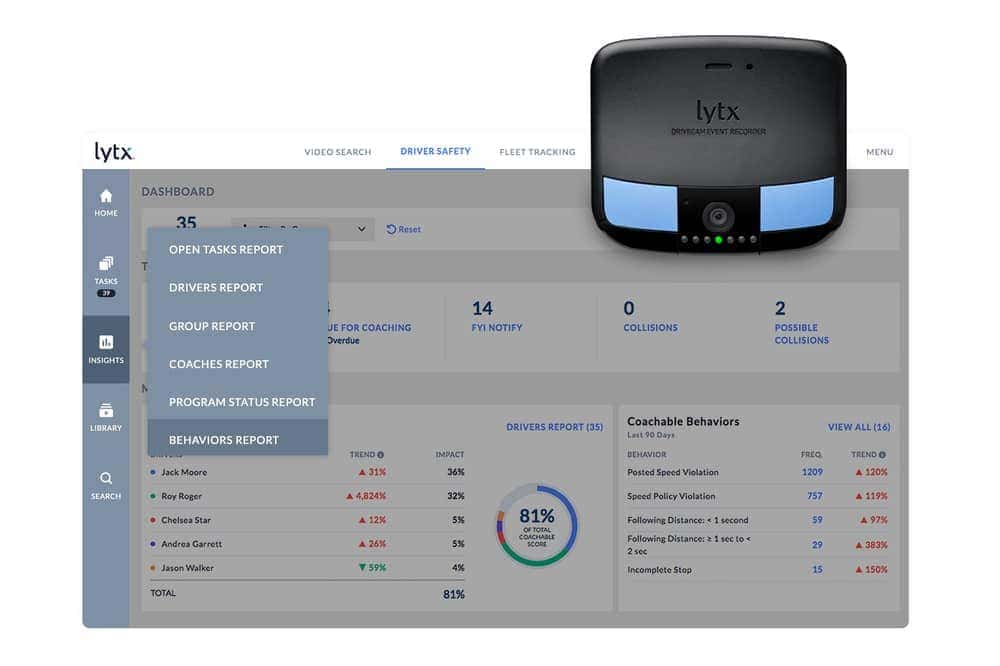 Important Features
This software can highlight the critical insights on the road and save the lives of drivers. 

To bring light to efficient fleet management, it combines video, machine vision technology, and vehicle data as well. 

Emphasizes critical context to go beyond general telematics to bring light on the critical parameters. 

You will be able to make effective decisions and increase operational efficiency. 

Lytx DriveCam Enterprise includes cloud-connected cameras and a wide range of sensors with the fleet dashboard. 

For empowering drivers, it features a database of 120 billion miles of driving data. 
Pros: The advanced level of vehicle tracking is the best advantage of Lytx DriveCam Enterprise, while just like other software on this list, it is simple to operate. You can also capture the driver's video. 
Cons: If we compare this tool with other alternatives, then Lytx will fall behind due to the limited number of powerful cost-control features, and also, you will not get transparent information of the pricing policy. 
8. Zubie
---
If you are looking for a modern solution for equipment tracking, then Zubie can be considered the best fleet management software. It is not only the most expensive out there but also can produce the most detailed report.
The user interface is outstanding, and the guidance wizard can make your life simple when managing your micro equipment and other organizational workflows. If you own a car dealership company or rental company, this is an application you should definitely check out.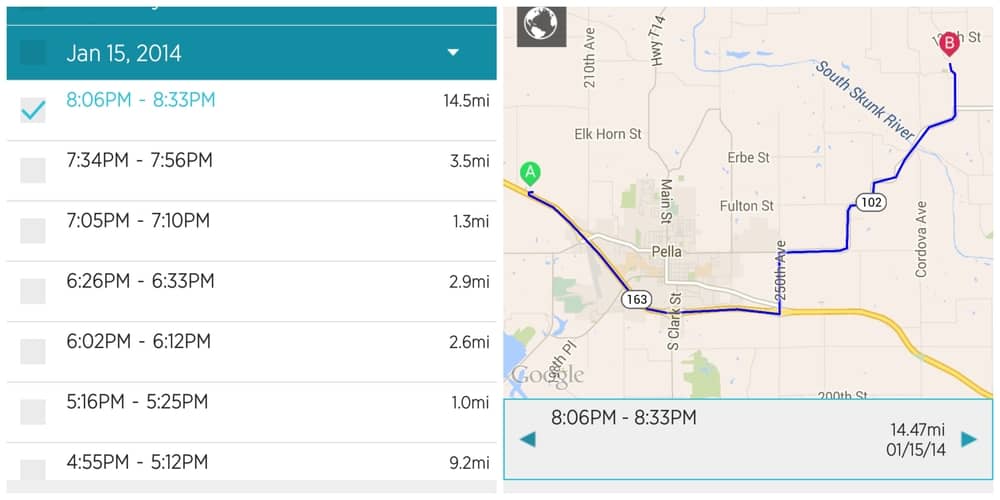 Important Features
It is extremely easy to use and equipped with all the advanced features to meet all of your demands. 

Will enable you to manage inventory with some steps and track your car on the roads with your fingertips. 

It comes with an always-on cellular service so that you will be connected to your fleet anytime from anywhere. 

While you can take charge of protecting your vehicles, Zubie will help reduce the cost to a great extent. 

Besides, there are dedicated iOS and Android mobile applications also available for your smartphone. 

You will get a handful of features such as live map tracking and driver's performance management. 
Pros: You can get more information about your vehicle from the trip history, while the mileage tracking helps to take care of your car. 
Cons: It is so expensive that it is out of most people's budget, and when you try to enter new vehicle information, you will find the system buggy and unresponsive sometimes. 
9. Geotab
---
Geotab is a great fit for any business for sustainable growth and tracking a fleet based on telematics. It is a great tool that can help locate and analyze before taking an appropriate decision for your organization.
As a result, your actions can have more chances to result in s successful venture and contribute to your revenue. A great community backs it, and you will find a massive number of people who have trusted Geotab as their all-in-one Fleet maintenance solution. 
Important Features
You will get great support from more than 2,000,000 telematics devices.

It comes with driver tracking and coaching tools, which can eventually improve driver's actions and behaviors. 

Features scorecards and trend reports can help avoid collisions and customize solutions according to your business needs. 

To optimize your work operations, Geotab offers data-driven insights, and you can securely access your vehicle to get pooled and shared fleets. 

Emphasizes driver safety with safety dashboards, custom alerts, and so on. 

You will be able to measure the environmental impact of your fleet and take actions to reduce it through better visualization. 
Pros: You can undoubtedly rely on this open fleet management platform that is equipped with a Software Development Kit that can expand your business, add values, and help to deliver better at a lower cost. 
Cons: It is not a cheap solution, and so small businesses will find it hard to use this software for a long time while the customer support should be improved to match the level of competitors. 
10. Connecteam
---
Although we represent this software at the last of this list, it does not mean this software cannot perform according to your expectations. Rather, it is better than most of the fleet management software mentioned above.
While it can contribute significantly to reduce the cost of the work process, you will have full control over payroll and timesheets. On top of that, the user interface is impressive and will enable you to keep track of compliance standards and safety. 
Important Features
Facilitate your fleet operations with time-stamped and GPS tagged accurate time tracking. 

This is a useful tool to simplify payroll as it allows users to export data in any preferred format. 

You will get a wide array of visual flags point that include auto clock-out, accommodate multi shifts, and auto calculation of the breaks. 

It comes with an efficient job scheduling functionality, which can help to handle each shift efficiently. 

Employees will be able to submit reports and checklists on vehicle maintenance or inspection while on the go. 

Besides, task management is powerful, which is equipped with built-in reminders and can send updates automatically. 
Pros: It is suitable for businesses of any size, and employees will have direct access to private security tools. Besides, the mobile app sends reminders on safety protocols and keeps drivers remain engaged with the regulations. 
Cons: Although it is a great tool to integrate with your business, to access the most advanced features, you will have to spend a large amount of money, which is often inaccessible by most companies. 
Our Recommendation
---
Fleet maintenance software comes with the great advantage of controlling your businesses and increasing your productivity at a constant speed. It can also decrease the chance of high risks and enhance the quality of the work operations. From small equipment to critical decisions, a fleet management tool can help you fight against the odds and add value to your service. 
Based on our tests, we are declaring Fleetio as the best fleet management software you can start using right now. It helps manage any size fleet. And also, you can have a significant gain when it comes to visibility. You can also fine-tune the employee roles to enable them to contribute fluently. 
Finally, Insights
---
In this modern era, you will find no other alternatives other than integrating technology and software to establish a place in the competitive market. Sustainable development is also important to hold the position for a long time and constantly deliver better service.
So if you are a business owner or entrepreneur, it is important to start using Fleet management software as soon as possible. You will be able to increase compliance and decrease the risks to a great extent. We hope this article will help you make a decision, and if you find any better choice, do not forget to reach out.