An excellent online resume builder can unlock your job opportunities. There is no matter of your qualification. Basically, a resume is the mirror of you. It represents how worthy you are for the particular job position. So it would be best if you create a perfect CV to get a perfect job. You may create a CV by using Microsoft Word default resume builder for free. But it has some limitations—the best option for you to go online to find the best CV builder.
Well, there are hundreds of resume builders on the web. However, most of them are really awesome to create a professional CV. However, some of them fail to satisfy the basic CV builder features. Moreover, there are both free and premium online resume builders. So you need to decide the best suitable CV builder for you. This article, I have narrow down the resume builders list and offer you the best quality one. If you are looking job in the corporate sector, this article helps your success at the first move.
Best Online Resume Builders
---
This article has shared the 10 best online resume builders that help you create a professional resume. Both free and paid version resume builders are in this list. You are requested to read out the list and pick the best for you. I guarantee you that this list is good enough to meet your requirement. So let's check it out.
1. VisualCV
---
VisualCV is most probably the best resume creation solution. It has both free and paid versions. But the freemium user only can access limited templates and download in pdf format. On the other hand, paid users can access many CV writing features, including download the CV in both MS Word and pdf format.
Three million job seekers trust VisualCV. It can create a stunning professional CV just in a minute. Moreover, it allows users to create a CV on Linkedin. Furthermore, it can create a CV with generic or personalized advice. In addition, users can notify when employers view the CV.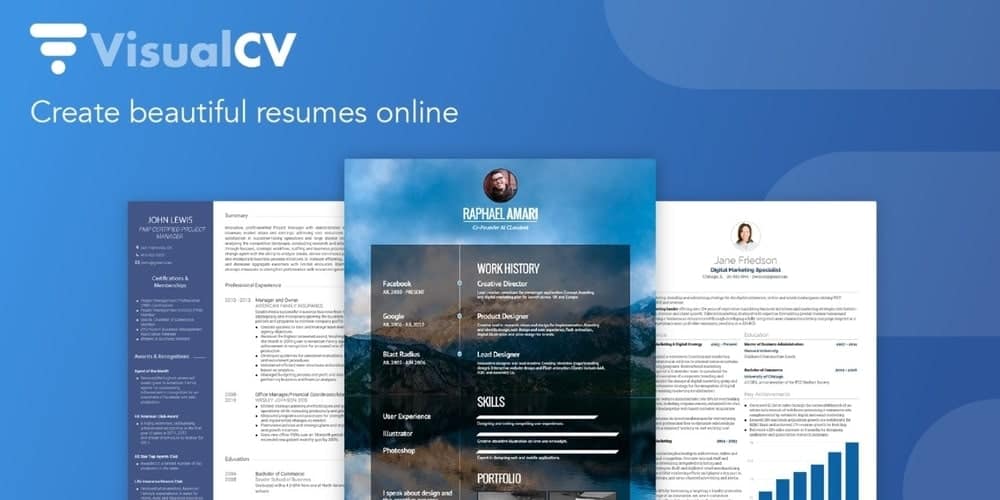 Key Features:
This software allows the user to upload a CV or link with Linkedin and edit the CV.
The free version of this software allows downloading CV in PDF Format. However, the paid subscribers can download CV both MS Word and PDF format.
If you wish, you can get free advice personalized advice from a VisualCV partner.
Moreover, you can share your CV directly via email and social media.
 In addition, VisualCV contains some other career-related features like Cover letters, professional personalized advice, etc.
Pros: VisualCV ranges its services in nine languages that it is grateful for local job seekers.
Cons: However, it offers nice language CV writing. But the non-English language has a limit in full VisualCV features.
2. CV Maker
---
Create a professional resume online. If you are looking for a simple but beautiful and professional online resume writing service, CV Maker is another good choice for you. CV Maker introduces a simple interface to create a resume most easy way. It has lots of templates and editing tool that helps you to create a professional resume effortlessly. Just select a template and add content.

Key Features:
You can create your resume in any language. It supports almost all languages.
It designs simple resume-building technology. So anyone can create a professional resume using an editing tool. No technical knowledge is required to create a professional resume.
When you want to download your CV, you can download it in various formats like PDF, HTML, TXT.
Moreover, you can host it on CV Maker's online platform and share it with the World.
It ensures 256 bit SSL encryption. You don't worry about the security of this service.
Pros: It supports your language. So you can create your resume for both international and local companies in different languages.
Cons: You can not download your resume unless you purchase CV Maker's paid subscription package.
3. Canva Resume
---
Well, Canva is a multipurpose design solution website. It offers a wide range of graphic design solutions like flyers, brochures, infographics, resumes building, and many more. Moreover, it has more than a thousand resume templates covering various categories. It is another best solution to build a resume online.
Browse the template using keywords and choose the best suitable templates for you. The most interesting thing is that you can access all of them and download them free except for some premium templates.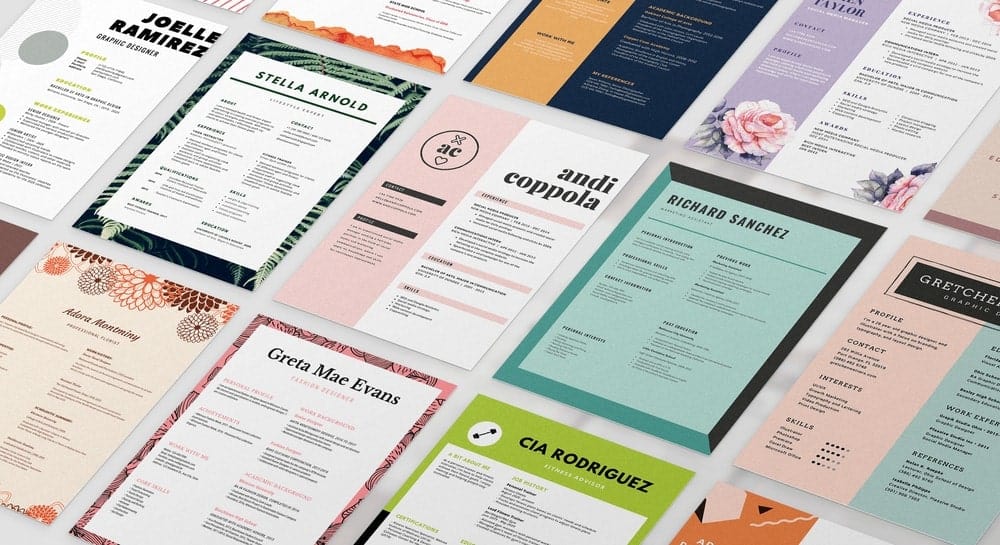 Key Features:
All resume templates are 100% customizable. So you can customize anything you can.
Moreover, its intuitive design editor helps you to edit resume templates easily.
There are millions of images, graphics, and icons, and you can use these free to design your stunning resume.
You can download the resume in PDF, JPG, and PNG format. Moreover, you can save your design in your Canva account.
In addition, you can share your new design resume link anywhere you wish. The employers can access your resume by clicking on the link.
Pros: Canva has lots of templates and graphics tools that you can use for free.
Cons: The editing tool is quite difficult to use for newbies.
4. Zety
---
Zety is an innovative online resume maker become popular for its simplicity. The free user can use 20+ modern and professional-looking resumes. It has a cascade and primo-style resume template that helps you to create nifty bar graphs and infographic timelines. Another best advantage of this resume builder is creating a similar design cover letter using Zety. As a result, it becomes more convincing for the recruiter to select you for the next recruiting step. Almost two million users trust Zety. Are you?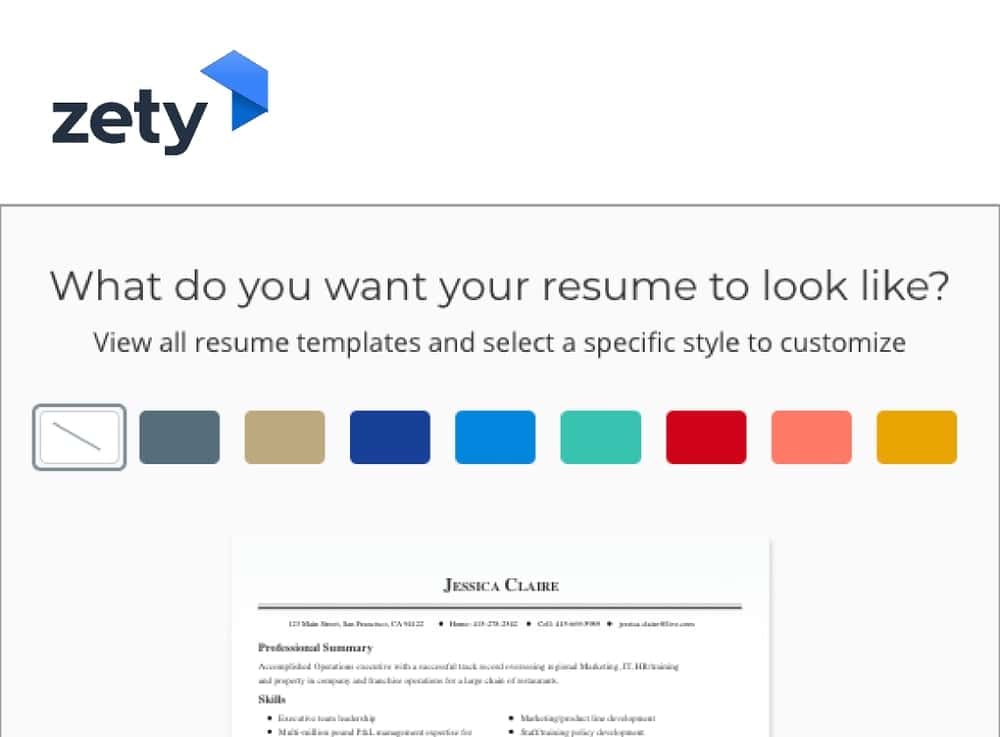 Key Features:
You can start a scratch by uploading your resume and turn your traditional resume in a modern look.
You can choose a professional, elegant, creative, and modern design resume from Zety's templates library.
The resume writing guides you through the whole process of resume writing each section. You get top recruiters' advice in resume writing step by step.
Its intuitive editing tool helps you to tweak your resume. It gives freedom to choose font types, sizes, and spacing. Moreover, you can bold, italicize, and underline the word.
Zety also allows cover letter builders in the same resume design template that looks so professional. It helps the job seeker to convince the hiring manager to set up an interview schedule.
Pros: Zety allows build resumes in any language. Moreover, it allows generating a user-friendly link that helps to share with any potential employer.
Cons: There is no resume writing service with Zety.
5. Resume Build
---
Resume build is an impressive online CV builder that offers advanced resume building technology. Its interface is easy to use. Drag and drop technology is used to create a professional resume. It has thousand of pre-writing resume samples. So you can create professional resume content effortlessly. Moreover, it provides the ultimate guide to write stunning resumes who have little or no more experience.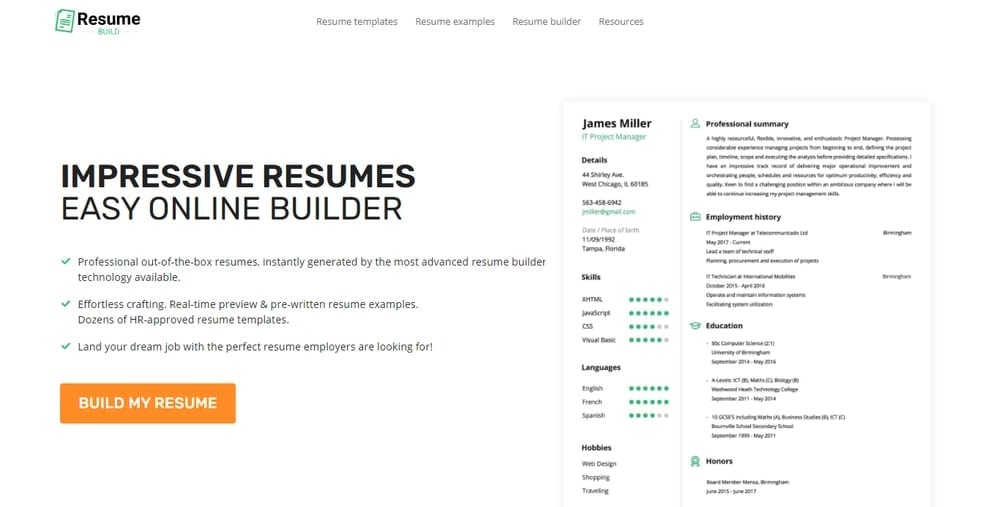 Key Features:
Many creative, fun, elegant, contemporary, and professional resume templates help you build an extraordinary resume.
The Resume Build helps you to customize the resume template easy way.
There have thousands of HR experts written resume samples. So you don't worry about finding the catchy word. HR experts have already done everything for you. So you need to discover the best word for you.
You can download your brand new resume instantly in both MS Word and PDF format.
Moreover, you can get step-by-step guidance while creating a new resume. Industry specialist HR experts' tips, dozens of pre-written job descriptions, and lots of bullet points help you create a shiny resume.
Pros: Resume Build helps create a professional resume with the HR experts' help within 5 seconds.
Cons: It only provides resume support. But in most cases, employers ask cover letter, which is not included in this service package.
6. Novoresume
---
Novoresume is another top-rated online resume builder that you can consider for creating a professional resume. It allows creating both resume and cover letter within a minute. Besides, it offers a wide range of resume-related features and lots of resume templates. You can access the resume templates library for free.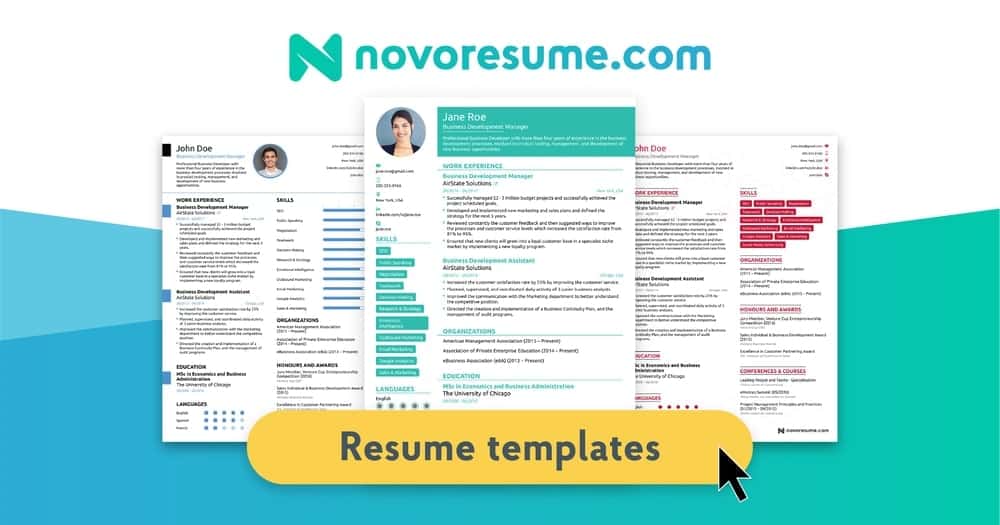 Key Features:
It provides a stand-out resume layout in which content is aligned and organized to represent a quality presentation.
If you don' no idea about resume making, you get help from a professional content optimizer who guides you on improving your content quality.
Moreover, you may find lots of resume templates for different job types.
You can access many resume templates, but you can also get ideas from HR experts' suggested resume examples.
You can create multiple versions of your resume just in a second by using its awesome editing tool.
Pros: Novoresume can create both resume and cover letter. So you do not design different cover letters for job applications.
Cons: You can use a free version of this software. But the free version is limited to few features.
7. My Perfect Resume
---
My Perfect Resume is a good online resume-making software that can create unique resumes most easily. It has a useful resume templates library and customization option. Anyone can access the resume library and create a personalized resume by using customization tools. However, users need to subscribe to My Perfect Resume to download the resume. Already 1 million user trust on My Perfect Resume service. Are you interested?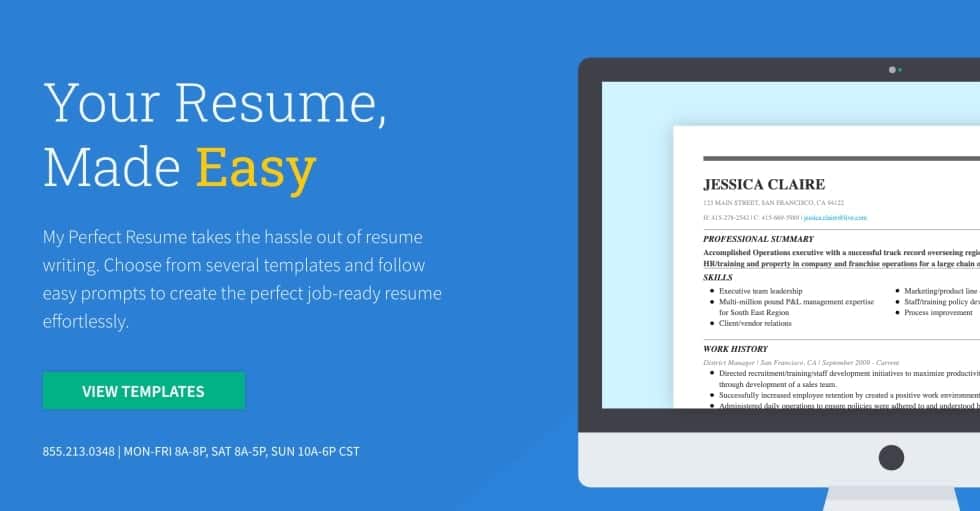 Key Features:
There are 30+ resume templates in 10 colors make your the freedom to create multiple version resumes.
Besides, you can create your cover letter to match your resume, increasing the chance of winning the interview call.
There have many pre-written job-specific phrases crafted by resume writer experts and career advisors. You can stand out your resume using these job-specific phrases.
You can review your resume from HR experts to personalize your resume more exclusively and stand out.
It has a built-in spell checker. So it helps you to create a perfect resume where no grammatical error or spelling mistake has been found.
Pros: It highlights your skill and keywords that catch the attention of recruiters. So they become more convinced to meet with you for the next conversation.
Cons: My Perfect Resume customization options are limited compared to other resume service providers.
8. Resume Genius
---
Resume Genius is another popular resume builder to create a professional resume just in 15 minutes. It has a drag and drop interface that helps you create an excellent resume effortlessly. Besides, it has plenty of resume templates and many resume-building tools to create stunning resumes. Moreover, it supports many styles and animations that make your resume more eye-catching. More than 60 million job seekers get support from Resume Genious.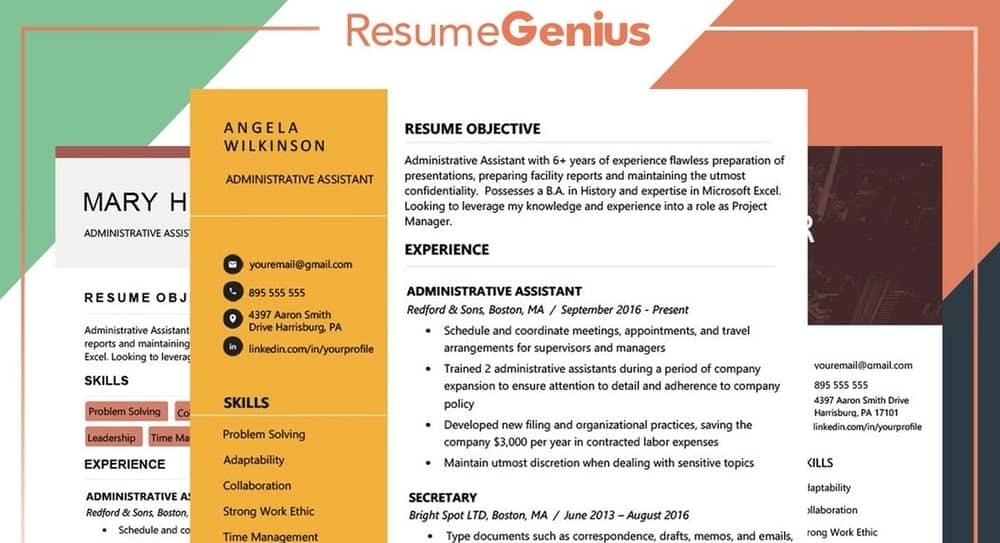 Key Features:
Free users can access career-related resources like different types of resume and cover letter templates, useful articles, and expert advice.
You can turn your simple resume in a modern and professional look using more than fifty beautiful templates in different industries.
Besides, you ask HR experts for advice for resume checks.
It has plenty of pre-written job-related phrases that make you quick and concrete to build a perfect resume.
In addition, there have many career tools like thank you notes or resignation letter samples that make your career journey smooth.
Pros: There are more than fifty thousand job description bullet points. So you can find a convincing job bullet to win the recruiter's mind.
Cons: There is no option to upload a pre-written resume. So, all-time starts with the beginning that is time-consuming.
9. Adobe Spark
---
If you are looking for an eye-catching online free resume builder with advanced creative design, Adobe Spark would be the best pick for you. Adobe Spark is the product of the Adobe family. And, we are well known for the Adobe products quality. Though, most of the Adobe products are too pricy. So maximum can not access these. However, you can enjoy the Adobe Spark features for free. Sounds cool!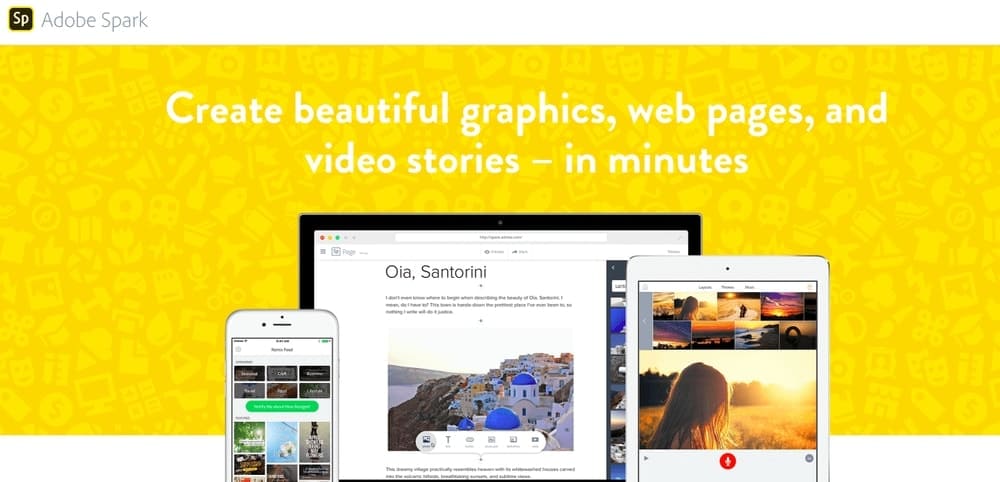 Key Features:
Similar to Canva, you can create graphic and video presentations.
Its intuitive graphic tool is easy to use. No design skill is needed to design a creative.
Moreover, it covers all resume-related content like short videos, animation, templates that make your resume stand out.
This software is integrated with stock photo sites like Unsplash and Adobe Stock to create a beautiful resume in just a few minutes.
You can design your personalized resume using beautiful typography and themes.
Pros: It is a nice tool if you are creating an online-based resume or portfolio.
Cons: In the free version, all content is trading with the Adobe Spark logo.
10. Kickresume
---
If you are looking for a free resume builder, you pick Kickresume service. It offers all resume-related features for free. Though it has a premium subscription service, its free package is good enough for personal use. The most interesting feature of the Kickresume is that you can convert your simple resume to a simple website easily. Moreover, it has plenty of beautiful resume templates with full customization features. More than 1.2 million job seekers get their job by submitting Kichresuem CVs.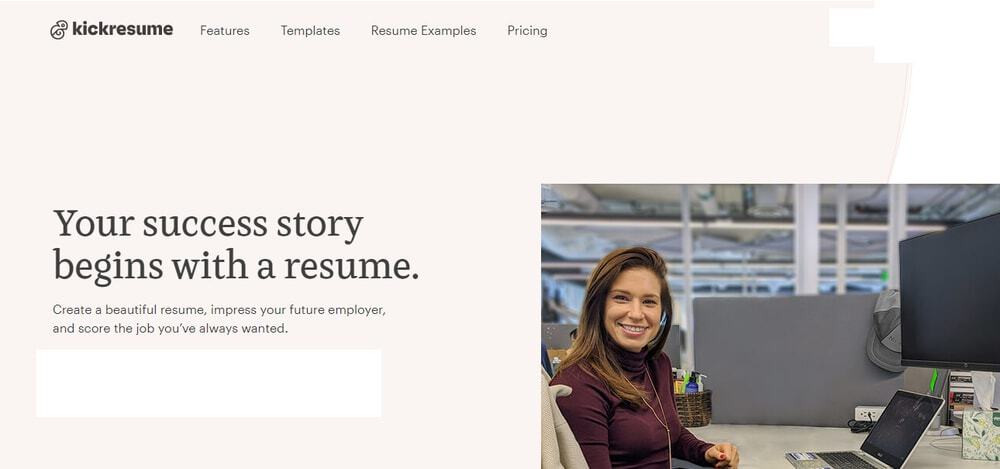 Key Features:
It has plenty of beautiful resume templates design by HR experts and typographers. So every resume makes your CV more appealing.
Kickresume is a complete career support institution. It has a career center to search for university jobs.
Moreover, Kickresume provides a personal career assistant to guide step by step for resume writing.
Furthermore, it has more than twenty thousand pre-written phrases to find out perfect words for your resume.
In addition, it has a built-in grammar check tool that performs as proofreading.
Pros: You can apply for a job directly from the Kichresume website.
Cons: However, it does not support resume share in social media only can download.
Our Recommendations
---
So, there are the 10 best online resume builders you can use for a modern and professional resume. You can pick the best CV builder based on your requirements. Both free and premium versions are available for you. But truly speaking, you only get full resume-making features when you are subscribed as a premium user.
Overall, considering all resume builder features, VisualCV is the best pick for all. It has both free and premium options. You can choose any option based on your requirement. Another free resume builder is Kichresume. Besides these, if you are looking for a beautiful resume builder, you may pick either Zety or CV Maker.
Moreover, My Perfect Resume is cheaper than Resume Genuine. But Resume Genuine offers more features than My Perfect Resume. On the other hand, Canva is better than Adobe stock to design a beautiful resume graphically.
Finally, Insights
---
Many job seekers do not value making a good resume for a good job. But a good resume is the prerequisite for a good job. So every job seeker should consider this matter seriously. If you are not expert enough in resume writing, you should hire a professional resume writer or sign up in an online resume builder website to make a stand-out resume.
Here I have shortlisted the best CV builders website. All are marvelous. You can pick anyone from this list. Apart from the list, you can suggest other resume builders service provider's names, pioneers in the resume building industry. Moreover, I think this article help you and your friends to get a better job. So you can share this article with your friends. Let's follow this article. I wish you the best of luck in your next career. Go ahead.