Windows has many advanced and useful features to optimize your PC performance. Even then, if you notice that your Windows system runs into the problem and you can not diagnose the reason for the problem. One of the main reasons for this problem is the hardware fault. If you do not figure out the problem timely, it will harm your PC health. So, you could hire a troubleshooter to figure out the problem. But before hiring a troubleshooter, you can easily figure out this problem by using free hardware diagnostic tools for PC, which will save your money and time.
We have shortlisted some of the best hardware diagnostic tools for your Windows to detect your computer problem and fix it right away. It would be best to try these hardware diagnostic tools at least once. We are sure that you will be surprised at the performance of the hardware diagnostic tools. Even then, if you still cannot fix the PC problem, then you must hire a troubleshooter.
Best Hardware Diagnostic Tools for Windows PC
---
Choosing hardware diagnostic tools is no easy task that provides detailed information about the hardware. While installing hardware diagnosis tools, you should ensure that the software offers useful benchmark tools and consistently monitor all aspects of the hardware system.
You can resolve any issue obtained by the hardware diagnostic tool's analysis. So choosing a good hardware diagnostic makes a big difference in fixing a wide range of hardware performance-killing issues. This article has compiled the top 5 best hardware diagnostic tools that ensure your hardware usability and last longer.
1. CrystalDiskInfo
---
Do you want to know your hard disk drive or solid-state drive (SSD) condition? CrystalDiskInfo is a hardware analyzing tool that thoroughly analyzes your hard drive, including USB drives, SSDs, and HDDs.
Besides, this utility software calculates the hardware health status and provides detailed information about error rates, uptime, spin-up time, and temperature. It is a perfect hardware checking software if you have fair computer skills.
The good thing about this software is that it does not utilize many resources of your computer and does not slow down your computer speed. So this software could be the first choice for hardware diagnosis.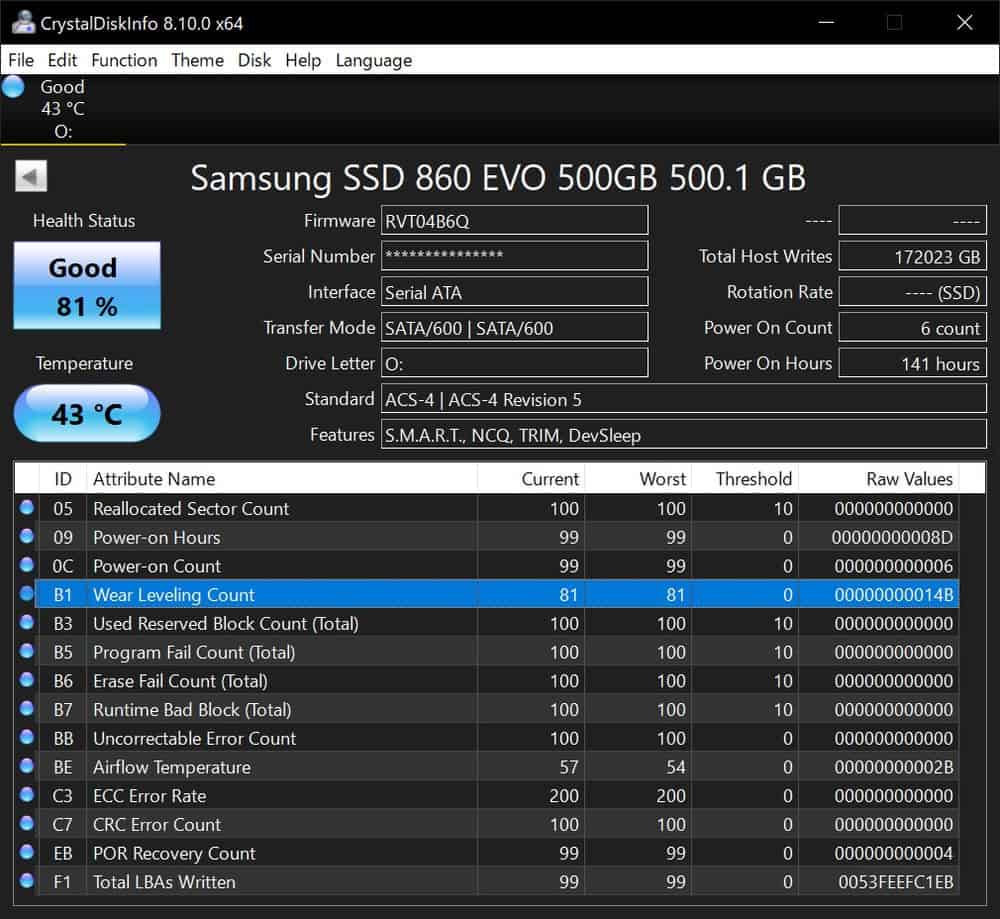 Key Features:
The straightforward interface provides system performance, health status, and temperature details.
It uses Self-Monitoring, Analysis, and Reporting Technology (SMART) to provide hardware performance information about spin-up time, start/stop count, seek time performance, spin retry count, device power cycle count.
Besides, it helps you find any error rate such as read error rate, seek error rate, soft read error rate slab.
It provides a fully customized setting so that you can enable or disable Automatic Acoustic Management (AAM) and Advanced Power Management (APM).
It automatically sends you warning mail or audio alerts when finding any malfunction in your system.
Pros: CrystalDiskInfo UI is simple but extensive that consistently displays detailed system performance status.
Cons: Users must have sound knowledge about the hardware to analyze the statistical meaning.
Pricing: Free
2. Intel Processor Diagnostic Tool
---
If an Intel processor is the component of your computer, you should install Intel's official hardware diagnostic tool for your Windows PC called Intel Processor Diagnostic Tool. This tool is easy to use to analyze several benchmarks on your computer.
It can verify the functionality of the microprocessor. With this Windows diagnosis tool, you can check brand identification get detailed information about operating processor frequency and temperature status. Besides, this tool also displays detailed information about RAM and USB devices.
Intel Processor Diagnostic Tool is lightweight, so it does not burden your system performance. Moreover, it delivers a quick solution when it runs to test the process performance.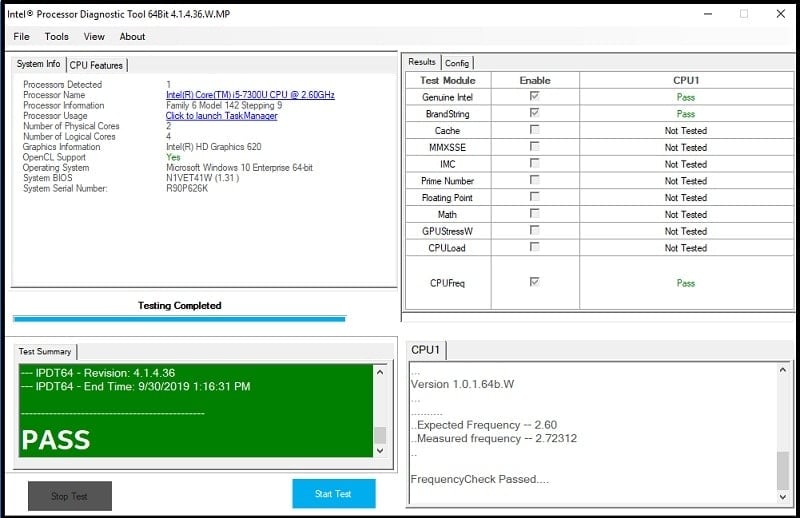 Key Features:
Intel Processor Diagnostic Tool provides detailed information about CPU speed, temperature, scan time, memory size.
With this diagnostic tool, you can check the processor's features.
This hardware diagnostic tool can analyze various stress tests on your processor.
You immediately receive a message when it notifies any changes of Intel PDT parameters from the default configuration.
You can export diagnosis test information in TXT format. Hence you can print the test result. Moreover, you can convert the test result from TXT format to HTML format to compare with the benchmark.
Pros: Intel Processor Diagnostic Tool is a simple tool that can your system details information by performing benchmark tests.
Cons: If your hardware is old, this software does not provide actual results.
Pricing: Free
3. HWiNFO
---
HWiNFO is the most comprehensive system analysis tool that provides detailed information about your computer. Typically, this software checks your computer hardware and software capacity and benchmarks. This software is always up to date with the latest technologies and standards, so you get accurate information about your computer.
Besides, you can customize the software settings with a variety of options. The great advantage of this software is that HWiNFO has a portable version, so you do not need to install it to run this on your computer.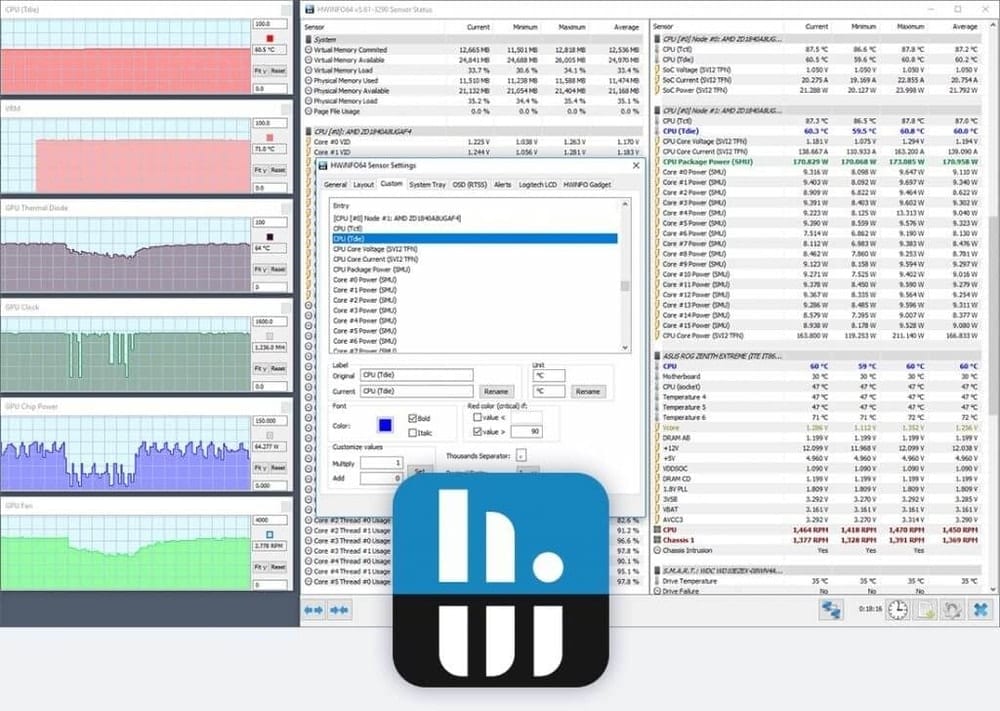 Key Features:
HWiNFO has a responsive user interface that provides details of CPUs, GPUs, drives, motherboard, memory usage, and more.
With this hardware diagnostic tool, you obtain hardware inventory reports and check the health status of various hardware components.
This utility software real-time monitors system and hardware parameters and detects any performance loss or failure, overheating issues.
It displays a graphical presentation report of the hardware hierarchy and performance. The report is presented in customizable tables, graphs, tray icons. Moreover, you can export the report or logs in multiple formats such as XML, CSV, HTML.
You can set a parameter to alert you.
Besides, you can expand the software functionality by adding third-party add-ons.
Pros: HWiNFO offers a comprehensive hardware utility monitoring solution for system summary and hardware sensor monitoring.
Cons: Although it provides information about system summary and hardware monitoring, you will not obtain both types of information together. For this, you need to close the software and reopen it.
Pricing: Free
4. CPU-Z
---
CPU-Z is another effective hardware diagnostic tool for Windows PC to troubleshoot PC problems. It provides detailed information about the current OS version. The primary purpose of this utility software is to monitor the inner system of the computer.
Besides, you can gather information about CPU, caches, motherboard, memory, SPD, graphics. So you can easily track your computer performance and reduce the risk of your system by using this utility tool. The software is updated regularly to be compatible with most processors and chipsets. So this software guarantees you to provide accurate information.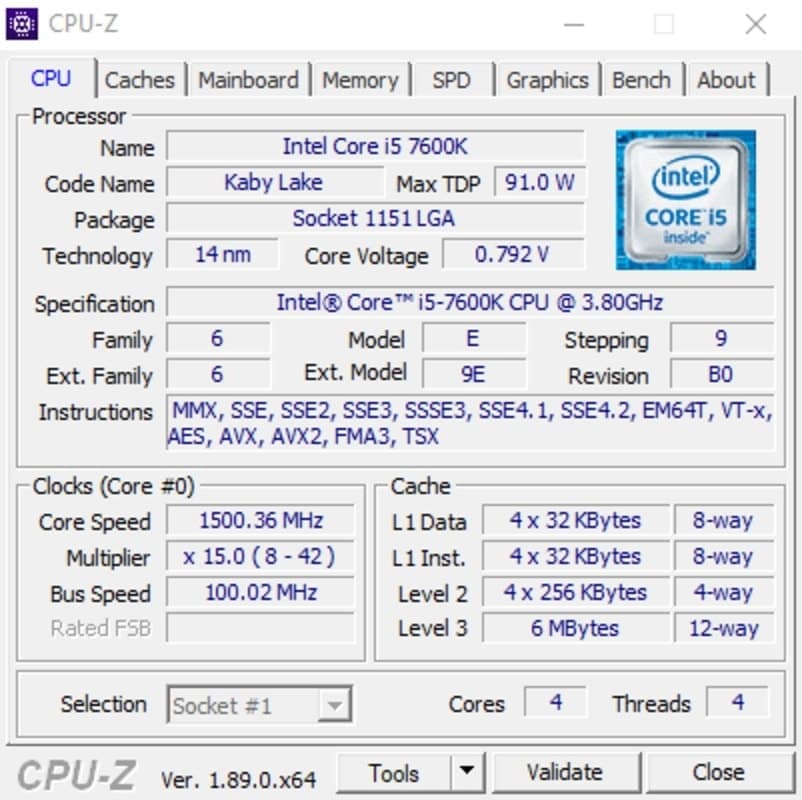 Key Features: 
CPU-Z is a very lightweight software. The size of the software is only 2MB. So you can smoothly run this software on your computer without overloading your system.
Do you want to know the available RAM and bus speed? CPU-Z lets you know the information in real-time.
This software highlights your computer's processor capacity, core stepping, and clock frequency.
This software lets you know the exact manufacturer and model of your motherboard so that you can find the latest drivers for your motherboard.
CPU-Z warns you when it detects any malfunction on your computer system.
Pros: CPU-Z introduces an excellent easy to use dashboard where you can easily navigate all tabs and obtain hardware-related information.
Cons: CPU-Z provides raw data. If you are a novice computer user, you can not correctly analyze the data.
Pricing: Free
5. System Explorer
---
System Explorer is an award-winning utility tool that includes a range of handy tools to investigate your computer parts and software. It scans the file database from time to time to check for possible issues and inconsistencies. You can study details of processes, modules, performance, networking, services, drivers, and so on.
Besides, you can customize the tab to show what you want to know. Moreover, you can check security on the currently running processes using an online security database. System Explorer is a good option for consideration if you are looking for a hardware diagnostic tool to keep your system under control.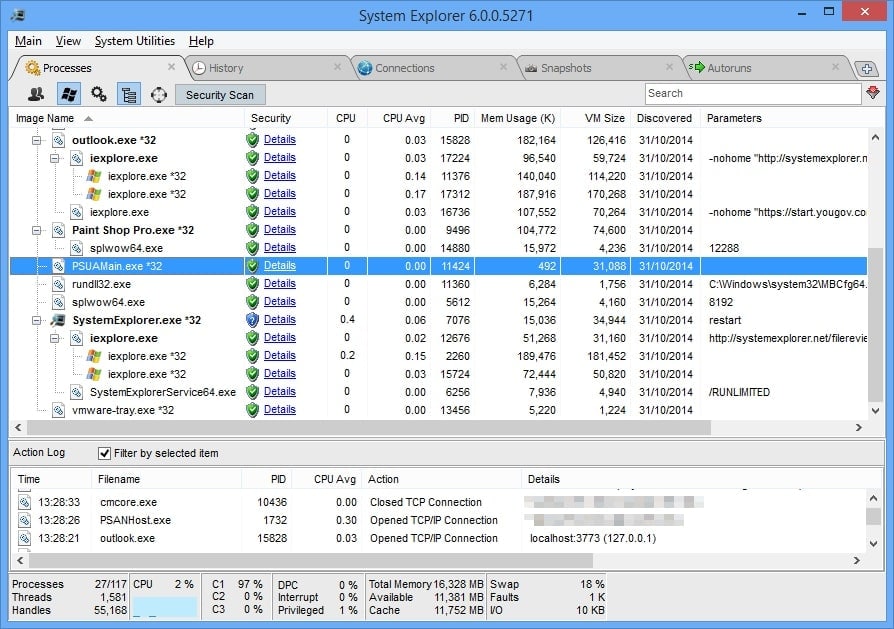 Key Features:
With this software, you can monitor the running process activities easily.
It lets you know in-depth information about processes, drives, Windows, internet connections, and security.
Besides, this computer diagnostic tool can quickly access file databases to detect any unwanted threat.
System Explorer draws graphs to represent the usage of system resources.
Moreover, you can create snapshots of the process activities and save them to file to compare them later.
Pros: System Explorer provides in-depth information about CPU load and memory usage.
Cons: No help documentation guides you on customizing the settings and analyzing data.
Pricing: Free
How to Pick the Right Hardware Diagnostic Tool for You
---
We do not have much more idea about hardware diagnostic tools. So we are hesitant about which hardware diagnostic tool to use. Because all hardware diagnostic tools are not the same.
Our research also found that hackers infiltrated our PCs with malware and bloatware disguised as hardware diagnostic tools. So you have to decide very carefully which software you will install or not install on your computer. The safest way to choose software is to download software only from official sources.
The official source provides the download link for all the software on our list. And you can use every software for free. So you can safely download any one of the listed software. However, if you only want to use a single software, we suggest installing CrystalDiskInfo or HWiNFO. And if you have an Intel processor in your PC, then Intel Processor Diagnostic Tool will be better.
Final Thoughts
---
PC health is an extremely important issue for every computer user. While you are looking for a troubleshooting solution to repair your computer, you can solve this yourself using these computer diagnostic tools.
So you do not need to hire an IT expert or troubleshooter to solve the PC issue. There are many hardware diagnostic tools for Windows PC, but they are not functional and secured.
So we recommend you pick any hardware diagnostic tools from the about list to keep your computer secure from any data loss. While your computer has much sensitive information, a computer diagnostic tool can secure your PC as a preemptive measure.
If you think this article is helpful, you can bookmark this for further reading. Additionally, you are requested to share this article with your friends so they can identify potential hardware issues and resolve them quickly.