Driver Updater is a smart utility that ensures the stability of your PC and fixes any driver issue. The core function of this software is to find the latest update of the software, download it and install it automatically. It fixes Windows driver-related troubleshooting issues. The alternative to using the device driver is to manually find the latest driver software from the device manufacturer's website. Then match the device model and choose the appropriate driver for Windows 32 bit and 64 bit operating systems. Overall, it takes a lot of time to fixes the Windows problem. But you can manage everything hassle-free just by installing a device driver fixer.
Best Driver Updater
---
The device driver checks the latest version of the software, then installs it automatically. So it saves lots of time and makes you relieved from finding the appropriate software. The most device driver is safe and convenient to up-to-date your Windows devices software.
But some device driver contains malware and trojans. So you need to be conscious to pick the right software for your Windows. In this article, we have reviewed the 10 best driver updaters that are trusted and safe to use.
1. DriverFix
---
DriverFix has a massive database of drivers, which is more than 18 million. It comes with the simple, secure, and latest technology that provides a detailed report of your drivers. So you can quickly know the status of your driver and decide on your next step. Besides, you can create a backup of all drives before installing the new version and save it in compression form.
Moreover, you can schedule a scan and get a notification of any updates available. This software is compatible for Windows XP and the above versions. In addition, it comes with 18 interface languages.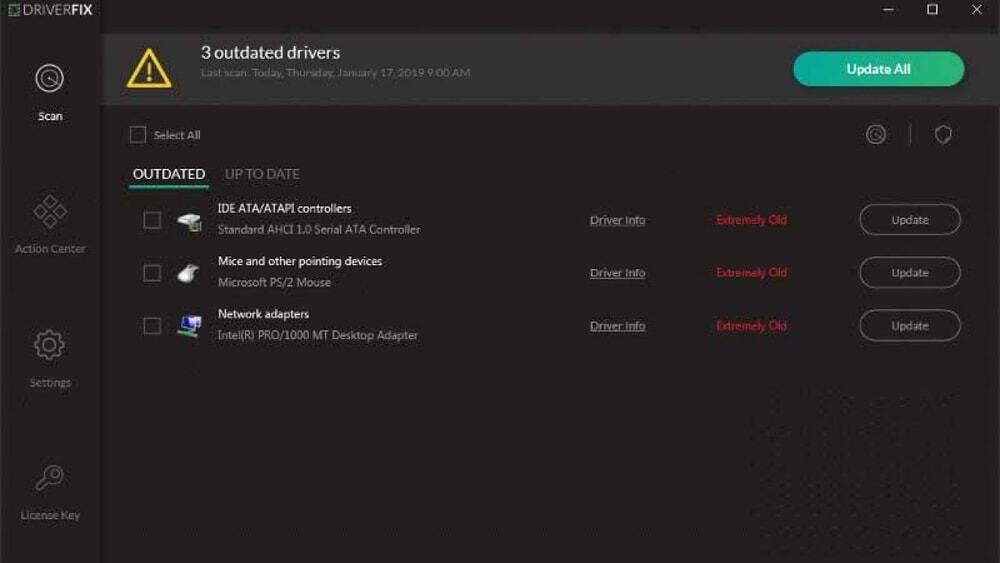 Key Features:
DriverFix covers a huge database of the newest device drivers, and every day it adds new drivers software.
If you have a corrupt driver problem, you can resolve it by using DriverFix.
Besides, it allows you to save the updated history.
It quickly scans your system and lets you know the list of outdated softwares.
It finds the driver's location, searches the latest version, unpacks it, and installs it on your computer in a single click. You do not need to make several commands to complete the process, and a single command is enough to complete the whole process.
Pricing: DriveFix has thee pricing plan. i.e., Personal Pack ($20/annually for 1 PC scan and repair), Family Pack ($30/annually for 3 PCs scan and repairs), Extended Pack ($40/annually for 10 PCs scans and repairs).
Pros: DriverFix has a large driver database where you find almost all driver software.
Cons: While you install new software for your driver, sometimes it can not remove the previous version, which you need to remove manually.
2. DriverPack Solution
---
DriverPack Solution is a free driver updater that automatically detects the outdated software on your PC and solves any problem on your device. This driver software is suitable for any device even USB 3.0. This driver software place in ultra voltage servers so that it lets you download suitable software quickly.
Moreover, it is a time-saving driver fixer that is ideal for both individual and professional users. You can download software both online or offline version. The interface of this software is simple and supports Windows XP and the above version.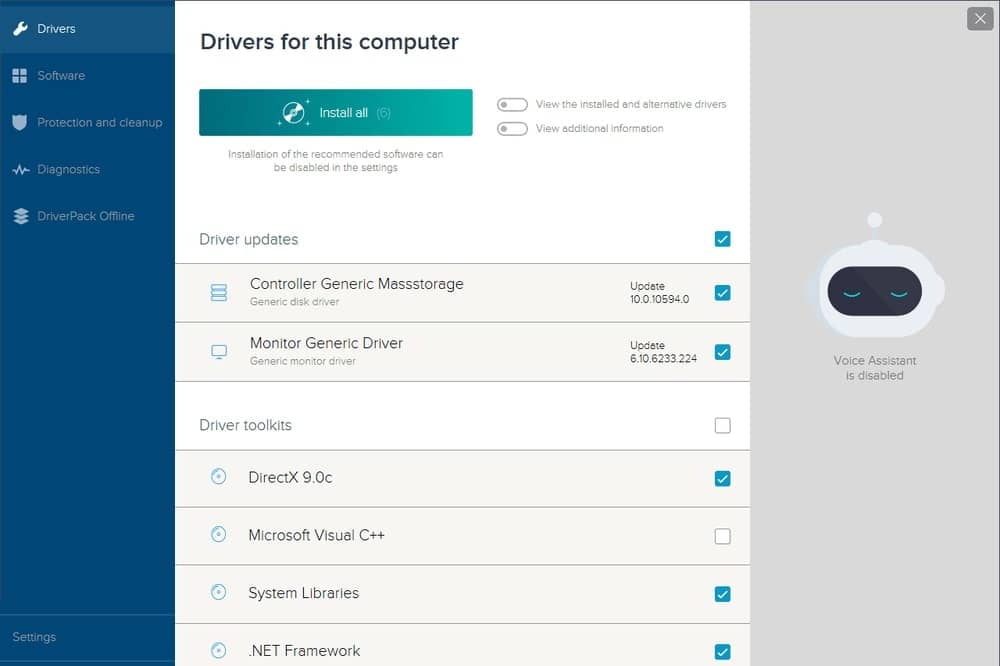 Key Features:
Though this software is hosted on ultra-speed servers, so it supports fast download.
Moreover, it supports bulk downloading.
Furthermore, it provides a one-click download solution. You can download and install driver software with just a single click.
It is compatible for all Windows and has a huge collection of drivers of almost all popular brand devices.
DriverPack Solution is a lightweight software so that you can install it quickly. Moreover, it has a portable version to use this software without installing it in your computer.
Price: Free
Pros: DriverPack Solution allows you to create a backup of your driver software. If you face any distortion of using the latest version, you can restore your system in a previous software version.
Cons: DriverPack lets you download the latest version of driver software, but it can not fix any troubleshooting issue.
3. Driver Easy
---
Driver Easy is an excellent tool for detecting missing drivers and finding them from the internet. It allows an in-depth scan of your computer and finds the outdated driver even if there is no internet connection. When your computer gets an internet connection, it lets you download certified drivers.
Driver Easy claims that it has an 8 million drivers database, so you may find every driver software in its database. So 3 million people around the world use Driver Easy. This software supports Windows 7 and above.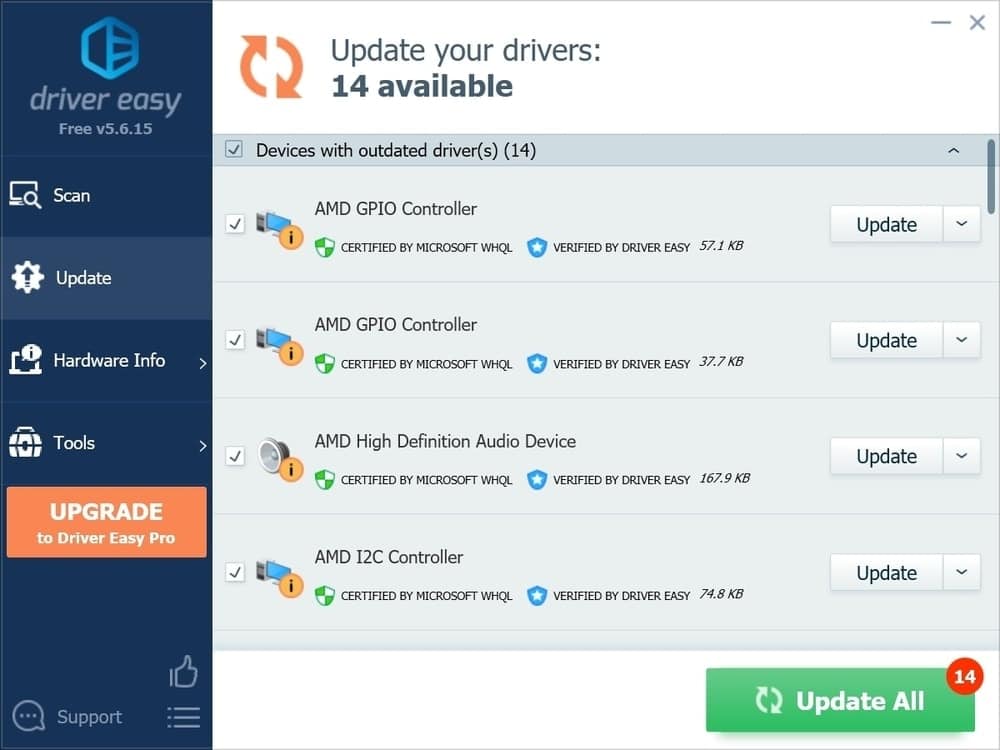 Key Features:
It can automatically detect outdated and missing drivers.
It provides only certified drivers from manufacturers. So you can let your utility tool install the new driver in your PC without worrying about viruses and malware.
No internet? Don't worry. This software lets you scan your computer offline and provides a list of software that needs to be updated. You can download this softwares either on your computer when the internet connection is available or on another PC.
The download speed of the Driver Easy is very fast.
If you use the Driver Easy Pro version, you can get automatic back service and restore service.
Pricing: Driver Easy has two paid pricing plans i.e. Pro ($29.95 3Pcs for 1 year), Technician ($99.50 50 PCs for 3 days each). Besides, you can use a free version of Driver Easy for 1 PC with limited service features.
Pros: This software provides details of the hardware devices. So you get a snapshot of your hardware condition.
Cons: Sometimes, it downloads outdated software despite downloading an updated version.
4. Driver Talent
---
Driver Talent is another reliable utility tool for monitoring and tweaking Windows drivers and devices. You can find missing drivers and install them by using Driver Talent. Moreover, it installs the new package to run Windows smoothly when it finds any outdated or broken driver.
Furthermore, it provides full details of the driver like release date and version to make sure that you install the right software on your computer. Additionally, it is compatible for Windows Vista, Windows Servers, and all other Windows versions.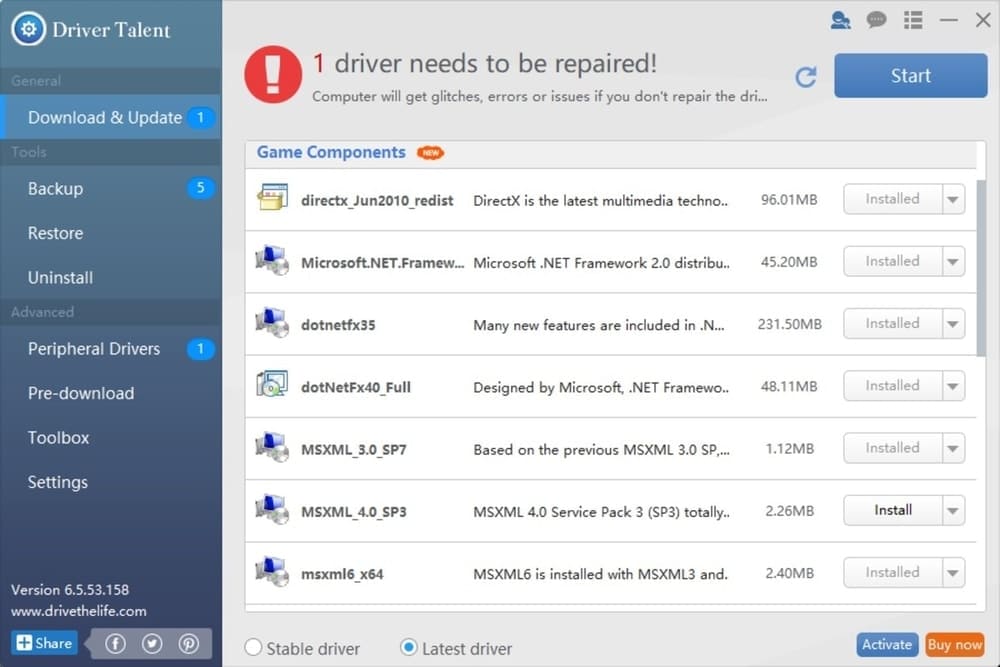 Key Features:
Driver Talent scan all outdated, missing, broken drivers and install best-matched drivers for your computer.
It offers to uninstall outdated drivers.
If you use the Pro version, you can create a restore point before installing a new driver.
You can save drivers on your PC and transfer them to another PC.
It provides a one-click updated solution.
Pricing: A free plan is available in Driver Talent. But if you want a driver fixing issues, automatic updates, auto backup solution, you need to purchase the Driver Talent Pro version, which is $12.95/year. However, you can get lifetime access at $19.95 for 1 PC and $35.95 for 3 PCs.
Pros: Driver Talent claims one of the fastest driver fixers.
Cons: However, Driver Talent detects fewer drivers as compared to other drivers fixers.
5. Outbyte Driver Updater
---
Outbyte Driver automatically searches the latest version of driver software and ensures installing up-to-date software. This software scans your computer to verify the installed driver software and devices as well as recommends the up-to-date version of the software from the official source.
It fixes the troubleshooting issue because of the outdated drivers. Besides, it also identifies the capabilities of the driver to optimize your PC performance. This software is compatible for Windows 7 and above.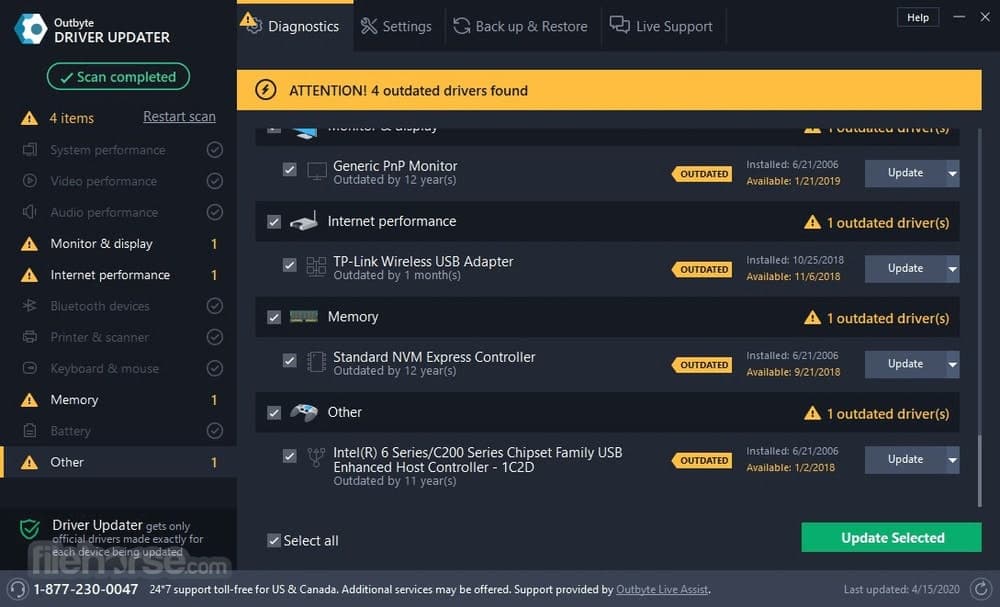 Key Features:
This tool finds outdated, corrupted, and missing device drivers that cause security and stability issues.
It recommends the latest version of the software from the official source so you can relax on installing trusted software. Moreover, you can create a ignore list to skip installing particular driver software.
You can set a schedule to scan installed driver software to find out the latest version.
It provides a backup facility so that you can store a copy of the previous software.
This software optimizes your PC performance by reducing CPU usage, prevents overheating, extends battery life, etc.
Pricing: The full version price is $29.95, but you can use a 7-day free trial.
Pros: This software recommends only office driver software, so you feel relax to install a reliable driver solution.
Cons: The price is higher compare to other driver fixers. You may find many alternatives for free or at lower prices.
6. DriverMax
---
DriverMax is an excellent driver fixing solution to keep the driver up to date. This software scans your PC and detects outdated drivers. The best part of this software is that it can export all outdated drivers to avoid mixing with the new drivers. You can install this software in all Windows Operating Systems, even in Windows XP.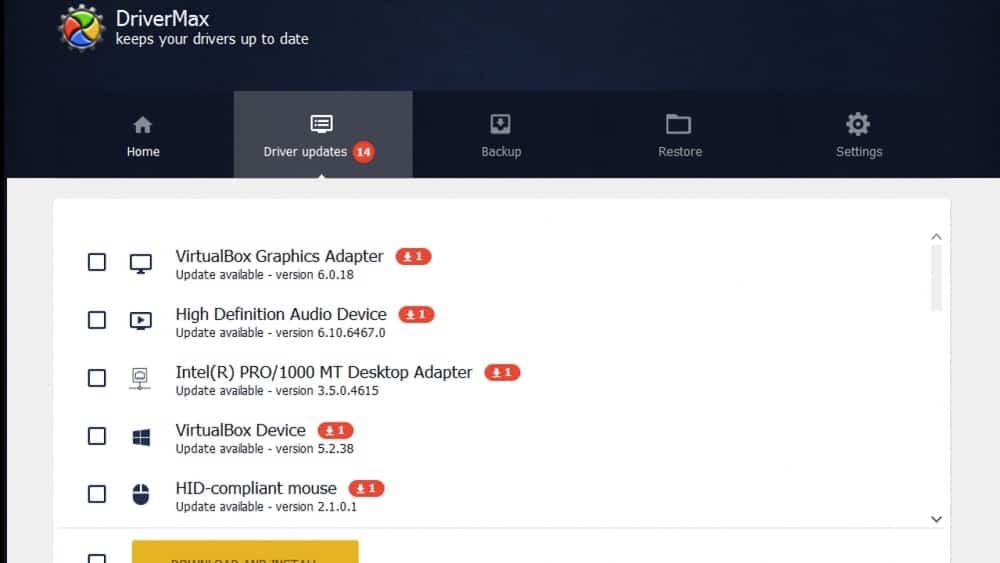 Key Features:
This software supports automatic checks of all drivers and finds any outdated drivers that need to be up-to-date.
It has a large database for drivers that provides the latest versions for over 2.3 million devices. So it covers almost all devices drivers.
Besides, it also updates various software packages, including Open AL, C++ Runtime, Oracle Java, and more so that it optimizes your PC performance.
Before installing any driver, it checks the driver functioning to ensure that the newly installed driver is virus and malware-free.
Like a premium Driver fixer, it can backup your computer system before installing a new driver so that you can roll back quickly if you need.
Pricing: You can either subscribe to this software package for a particular time being or purchase this software for a lifetime. The subscription fee for one month is $8.95, for one year is $10.39 and for two years is $14.51. On the other hand, the lifetime purchase price is $29.80.
Pros: DriverMax can update multiple drivers at a time.
Cons: It can download a limited number of drivers.
7. Smart Driver Care
---
Smart Driver Care is a powerful driver fixer that detects outdated, missing, and incomplete drivers and allows you to find out the latest version of the particular driver to fix the driver issues. Just in a single click, you can update your driver. Moreover, it can backup all drivers, so you can restore your driver if something goes wrong. It can keep your computer system stable by updating the outdated drivers.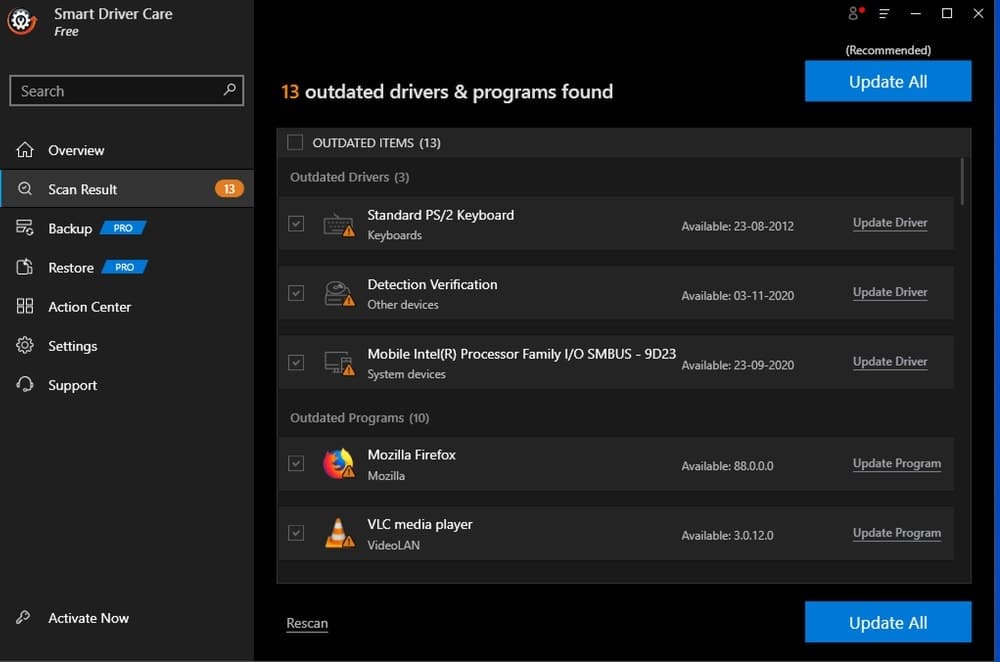 Key Features:
This software fixes the computer system error by detecting corrupt, missing, and outdated drivers and updating these drivers automatically.
You will know the summary of the out-of-date drivers' list.
First of all, Smart Driver Care detects the problem, finds the latest driver, and installs the driver automatically.
Besides, you can backup all existing drivers or some of them to restore in the future if you find something goes wrong after updating drivers.
You don't need to update one by one, and all drivers can be updated at once.
Pricing: Smart Driver Care sale price is $69.95 for lifetime access. But it provides offer price time to time. So you can purchase this software at a discounted price if you can grab the promotion period. Moreover, you can download free with limited features.
Pros: This software updates its features regularly. So you can get updated features frequently.
Cons: Though it provides a backup feature, this is not available for free users.
8. IOBit Driver Booster
---
If you are an extreme gamer and want to boost your gaming performance, you can install IOBit Driver Booster. It prioritizes the update of game-ready drivers so that you can experience smooth gaming performance. Besides, it claims one of the largest databases of drivers for Windows XP and above.
It supports over 3.5 million devices & drivers from more than 1,200 manufacturers. Moreover, hardware manufacturers certified all drivers and have passed the Microsoft WHQL test and IObit test. So you can assure that all softwares are malware-free.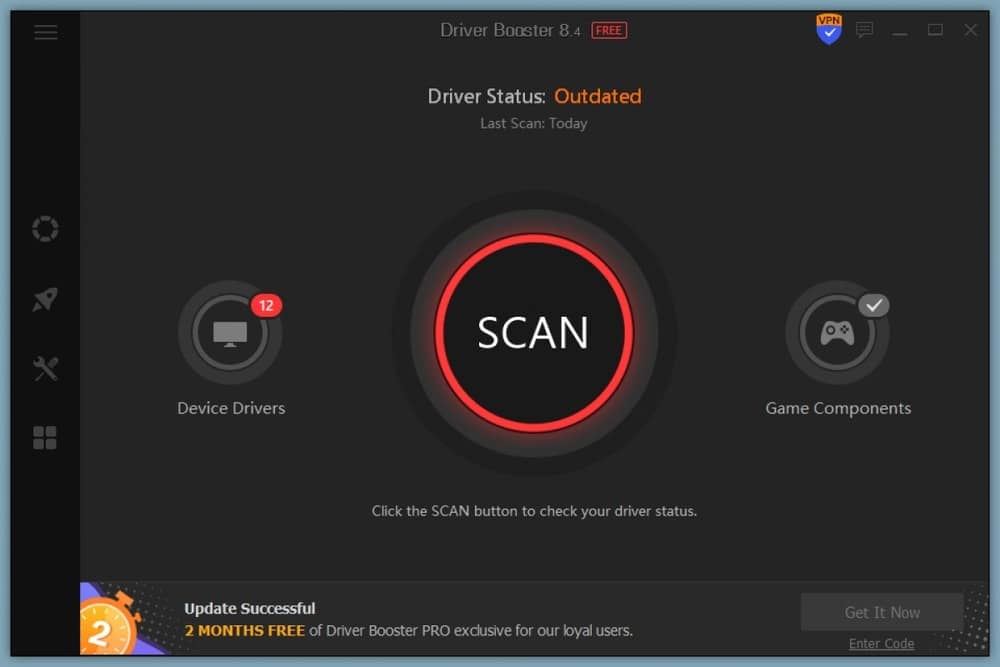 Key Features:
IOBit Driver Booster is the most renowned game booster. It can install a graphic card driver and scan for detecting missing drives.
If any external device is not working well, you can scan your computer to find out if there are any broken, missing, or outdated drivers and fix them.
Moreover, if you find your computer does not perform well for some broken drivers, Driver Booster examines the issue and solves the problem quickly.
You can set automatic update features always to keep your driver updated.
Furthermore, you can create a restore point before updating new software.
Pricing: IOBit Driver Booster has both free and paid plans. The price for the PRO user is $22.95/yearly for 3 PCs scan.
Pros: This software usually boosts your gaming experience by ensuring the graphics card is updated.
Cons: It does not support auto-downloading for some software.
9. SlimDrivers
---
SlimDrivers is another excellent driver fixer that detects the outdated drivers in your computer and finds the best executable driver to replace the outdated drivers. It uses the latest cloud scanning technology to find out the latest drivers. This software also creates a backup that is useful to restore your system. This software is compatible for Windows XP with the latest Windows OS.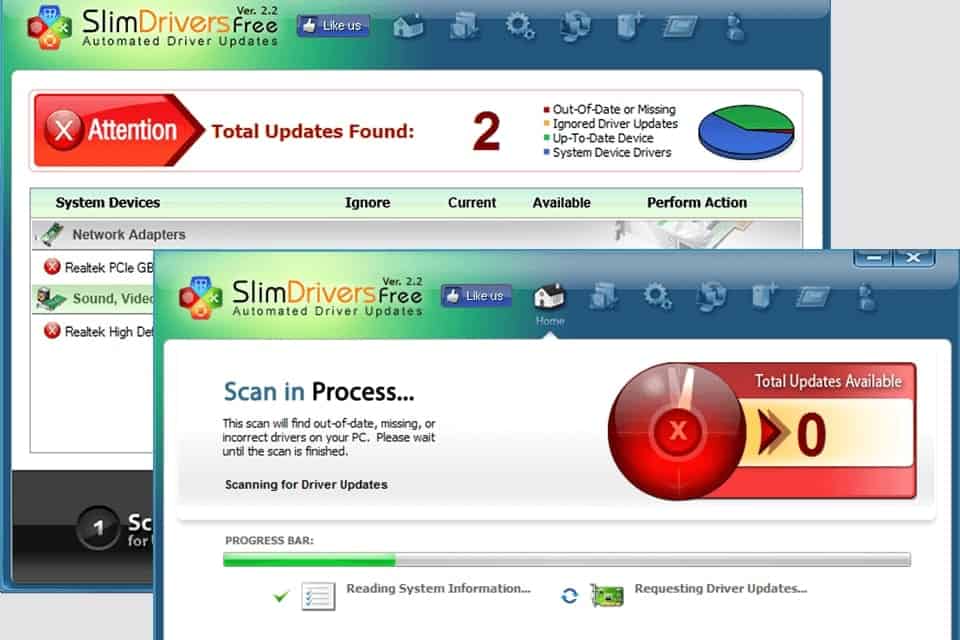 Key Features:
SlimDrivers is one of the fast driver fixers that can scan the complete computer system within a few minutes.
It provides a full report of all outdated drivers. You can now the current version and the latest version of your computer drivers.
This software can backup your system before installing a new driver.
When you decide to install a new driver, it automatically installs in your computer.
If you want to keep your driver updated, you can set a schedule in this software.
Pricing: SlimDrivers has two different pricing plans. The basic plan is for 1 pc at $19.97/year. On the other hand, the lifetime plan offers to scan 5 PCs at $59.97. Besides, it also has a free version with limited features.
Pros: This software lets you uninstall the outdated drivers.
Cons: When you install SlimDrivers, it automatically install some unnecessary software without notifying you.
10. Snappy Driver Installer
---
Snappy Driver Installer is an open source and free driver updater that can provide an updated driver for your PC. If you lost your driver disc and want to upgrade the driver, you use this tool to install the latest driver version of your computer.
You can use this software without an internet connection. Besides, it has a portable version, so you can use this software in any computer without further installing. This software supports all Windows OS, including Windows Server.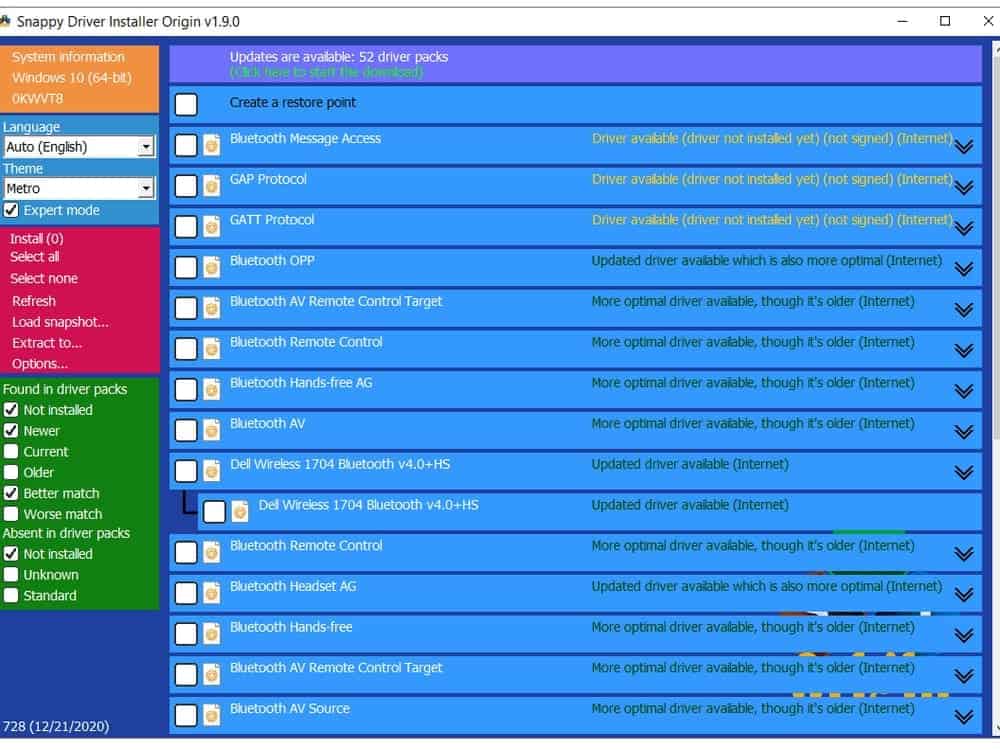 Key Features:
Snappy Driver Installer is useable both offline and online.
No installation is required for this software. It is portable, and you can keep it on your USD drive and use it which PC you need to scan.
Snappy Driver Installer supports twenty-seven languages.c
It has a customizable theme so that you can customize its interface as your choice.
You get an option to set a restore point before installing a new driver.
Pricing: Free
Pros: Usually, we experience that the free version display ads but this software free from advertisement. Moreover, you can download unlimited drivers with this software.
Cons: Snappy Driver Installer does not have a scheduler.
Our Recommendations
---
Downloading and installing the appropriate Windows driver manually is not an easy task. Besides, it is risky to install the wrong driver which has a chance of attacking viruses and malware on your computer. So you need to install a reliable driver fixer that helps you find the latest manufacturing recommended driver to provide the best function in your computer. You can pick any driver from our recommended driver list.
If you have no budget and want to install a free driver updater, you can pick either DriverPack Solution or Snappy Driver Installer. In our top listed software, most of the drivers have free software versions but limited features. If you wish, you can also choose any software from the paid software list.
To get the extra features, you need to install a premium driver. DriverFix has a huge database of the certified drivers, and this software is most recommended. But if you are looking for professional use to support network administration, you can purchase paid software like Driver Easy Pro, DriverMax, Driver Talent.
Final Thoughts
---
So we hope this article helps you find an appropriate driver updater that offers powerful features like automatic scanning, a more extensive driver database, one-click update, a backup option, and more. We would like to know your comment about this article. Do you think it is valid? Did this article help you find the right software? Your comment is most welcome in our comment section, where you can express the verdict for choosing a driver fixer and your user experience.