Technology has brought our world closer by curating out a continuous set of innovative tools. Video conferencing solutions are great examples of this fact. They allow individuals or businesses to conduct seamless communication across the globe without experience the limitation of geographical distance. They can be used for both one-to-one and group communications. The latter makes them a suitable choice for freelance business owners or corporations who have employees or agents all over the world. Being the industry leader in powering corporate systems, Linux offers a plethora of robust Linux video conferencing software that enables trouble-free video conferencing.
Linux Video Conferencing Software
---
We have curated this list outlining all the major video conferencing software for Linux you can get your hands on. Our experts have chosen the below picks after much research and made sure they can fulfill both your business and personal video communication needs in the best possible manner. Stay with us to find out the best choice for you.
1. Jitsi
---
Arguably the best open source video conferencing software available for Linux systems, Jitsi is the pinnacle of modern video conferencing software. It packs many powerful yet innovative features that make it a suitable choice for people who don't like to learn complex functionalities. It is, in fact, not a single tool but a collection of projects that will enable users to deploy secure video conferencing solutions very quickly.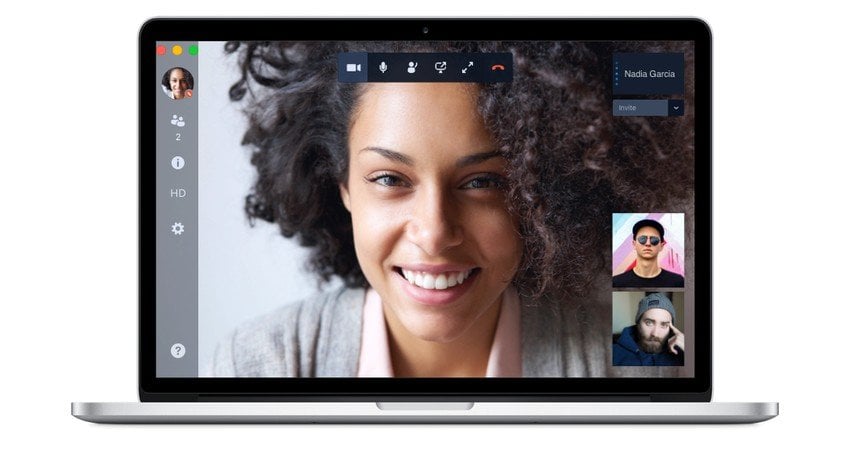 Features of Jitsi
Jitsi Videobridge and Jitsi Meet are the core component of this project, and other library tools allow additional functionalities such as audio, dial-in, recording, and simulcasting.
Jitsi is written using the Java programming language and comes with built-in support for WebRTC to create secure video communications.
It has pre-built support for NAT traversal and every major video communication protocol, including SIP, XMPP/Jabber, AIM/ICQ, and IRC.
The open source nature of the project allows developers to customize or extend the project as per their requirements.
2. Signal
---
Signal is a marvelous messaging platform that offers heavily secure text and video chat services for its users. It can be used as video conferencing software for Linux users all over the globe. The best part of this open source video conferencing software is that users won't be troubled with excessive ads, affiliate marketers, and disturbing trackers – a common pitfall of many free video conferencing solutions.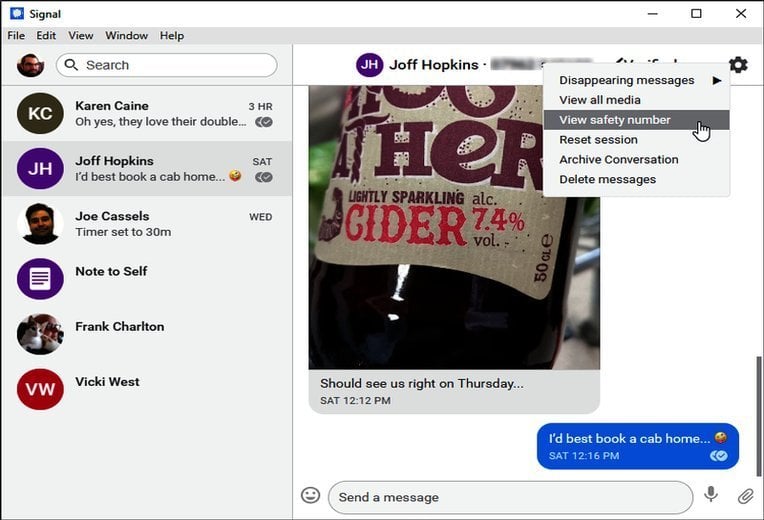 Features of Signal
Signal is built on top of the Electron framework, allowing it to be accessible from any JavaScript compliant devices very smoothly.
The user interface is simple and easy to use yet offers a ton of high-end functionalities to take care of your video communication requirements.
Users can reset their messaging sessions easily and check or verify encryption keys for secure communication.
Signal comes with default support for a wide range of UX enhancing features, including multiple themes, disappearing messages, quoted replies, detailed views, and many more.
3. OpenMeetings
---
If you're looking for a compelling Linux video conferencing software with a plethora of user-friendly video conferencing facilities, Apache OpenMeetings is arguably a great choice. It is a rewarding open source video conferencing software that will allow you to instantly set up your video conferences and leverage modern-day features such as screen sharing, recording meetings, streaming, and henceforth.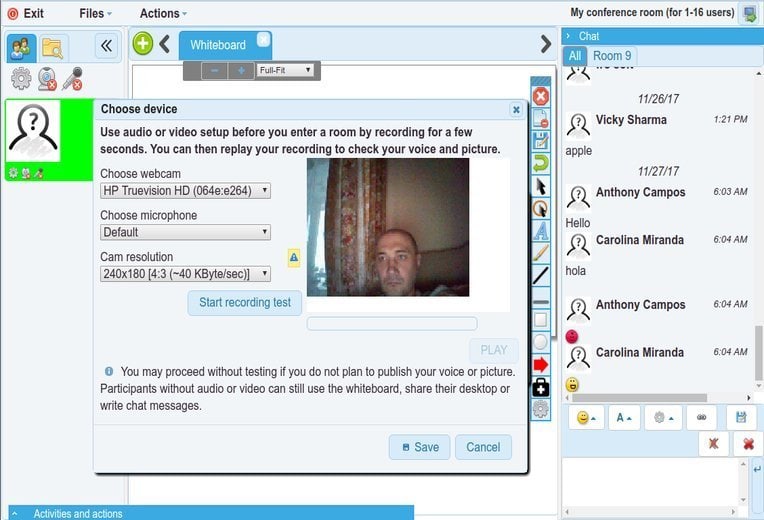 Features of OpenMeetings
Apache OpenMeetings is browser-based and can be utilized either as a hosted service or by installing the package on dedicated servers.
This video conferencing software for Linux offers robust API services featuring a broad range of abilities.
Users can download the recorded meetings directly as AVI/FLV files and organize them easily with an intuitive drag and drop File-Explorer.
OpenMeetings allows users to import a wide range of document formats and comes with in-built plugin support for Jira, Drupal, Joomla, Moodle, Sakai, and others.
4. Zoho Meeting
---
Zoho Meeting is an excellent video conferencing software for Linux that offers a wide range of professional video conferencing features. It aims to make video conferencing smooth and accessible to business collaborators and can even be used by people with very little technical knowledge. It is a proprietary video conferencing solution and is suitable for large businesses or corporations that collaborate between employees working in varying departments.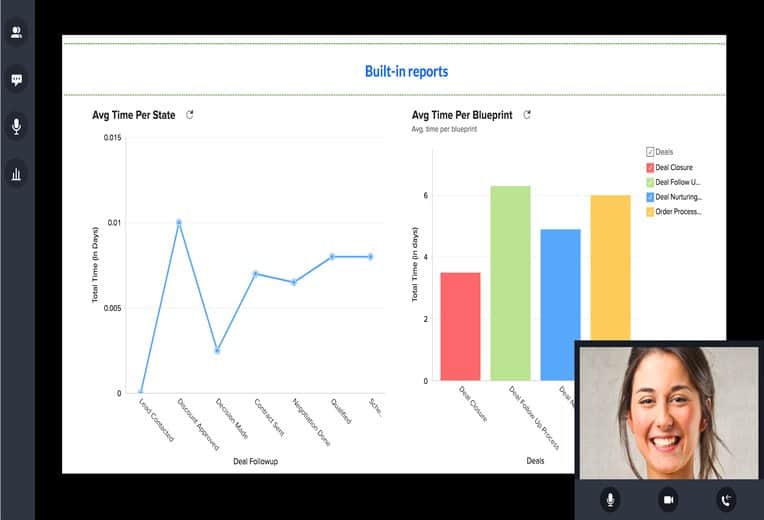 Features of Zoho Meeting
Zoho Meeting allows companies to organize useful webinars and enables abilities like presentations, polls, Q&A sessions, detailed analytics reports, and so forth.
It enables business collaborators to share audio conversations and video sessions and dial local or toll-free numbers.
Meetings can be created instantly, or companies may schedule them at their convenience.
Zoho Meeting integrates well with business CRM and offers robust mobile applications to make sure people never miss important meetings.
5. Livestorm
---
Livestorm is an immensely powerful Linux video conferencing software that can greatly help business people maintain those ever-growing conference calls. It is a modern-day video conferencing solution for people who like always to stay connected with fellow collaborators. Although Livestorm is proprietary and requires you to buy a license, it provides a convenient trial version alongside a live demo to give you a taste of the end product.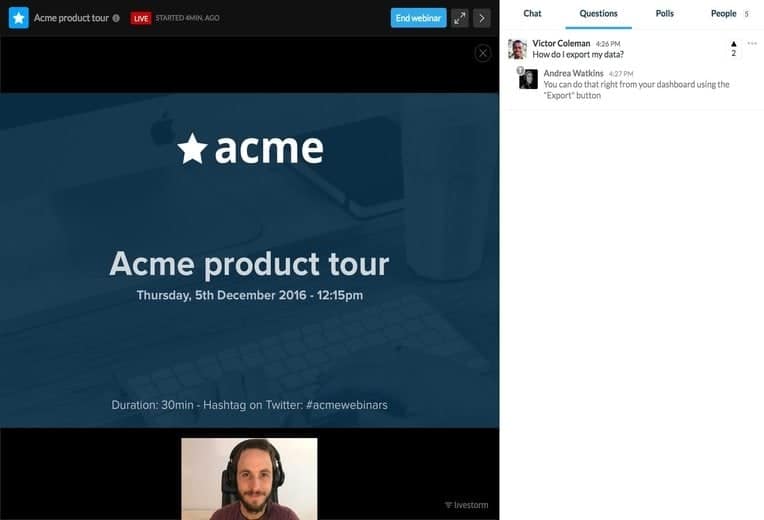 Features of Livestorm
This video conferencing software for Linux doesn't require users to download and install the system directly. Instead, a simple internet-connected system will suffice.
Livestorm comes with exceptional branding capabilities, including innovative UX, reliable emails, live meetings, and webinars, to say just a few.
Livestorm offers powerful native applications for both the Android and iOS smartphone platforms.
The developers engage in ongoing developments to curate next-gen features and provides exceptional customer support.
6. StartMeeting
---
StartMeeting is arguably one of the best video conferencing solutions for modern businesses. It comes with an extensive set of features aimed at making video communications effortless. It also allows video conferences between up to 1000 participants and enables users to connect to the platform from network-connected systems. If you're looking for a robust Linux video conferencing software for your corporation, we'd say that StartMeeting is a pretty feasible choice for you.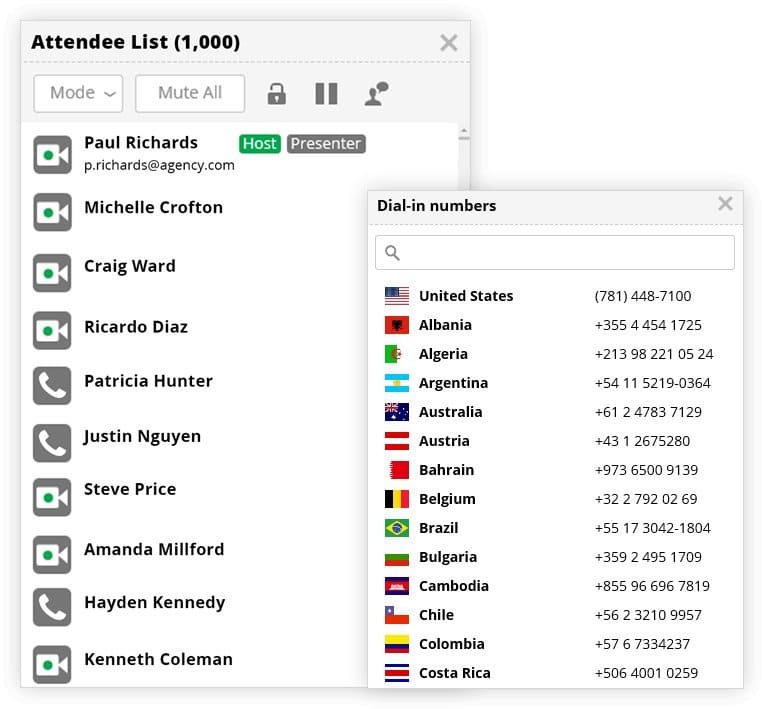 Features of StartMeeting
StartMeeting allows participants to share screens between peers and allows both audio and video communication at the same time.
Users can join on a conference through dial-in or Linux VoIP solutions, with local dial-in numbers available for several countries.
StartMeeting offers lucrative native applications for smartphone users and integrates very well with apps like Slack, Google Calendar, and Outlook.
StartMeeting enables several customization abilities to adapt the application's visual according to company branding.
7. BigMarker
---
BigMarker is an eclectic platform for hosting live video conferences, webinars, classes, and talks. It is a very feature-rich video conferencing tool that has potential in a number of different situations. The software is browser-based, and the participants only need to have a working internet connection and a browser installed on their system. BigMarker, like many paid video conferencing solutions, also offers native mobile applications for smartphone users.
Features of BigMarker
BigMarker allows companies to easily hold online events by providing advanced functionalities like scheduling, promotion, registration, ticket sales, lead generation, reminders, and effective live communication.
Users can set functionalities for making their events paid, setting ticket prices, and even accepting donations.
The user interface is simple yet very effective and enhances the video conferencing experiences of the users to a whole new level.
BigMarker comes with a robust set of APIs that allow businesses to integrate it easily with existing business solutions.
8. Onstream Webinars
---
If you are looking for the best professional video conferencing solutions for managing corporate webinars much more effectively, Onstream Webinars might be a perfect choice. This browser-based video conferencing software for Linux allows audiences to join meetings quickly without requiring any download, share screen, and documents from anywhere. This paid Linux video conferencing software comes with an impressive list of features and a convenient pricing policy.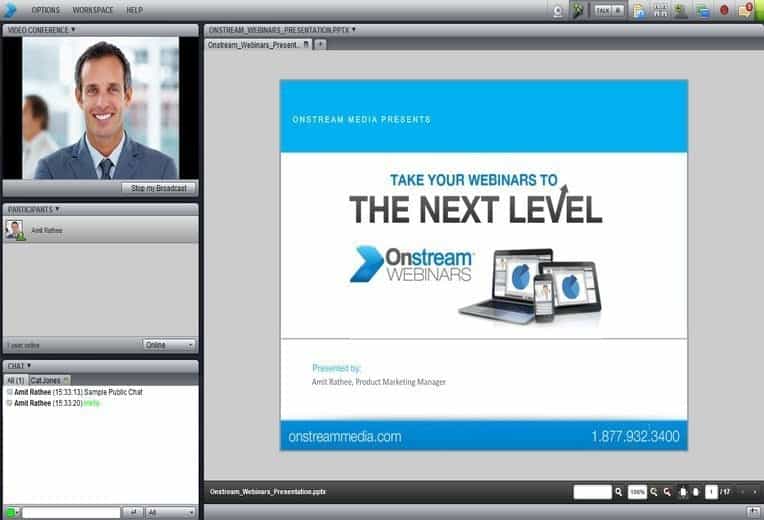 Features of Onstream Webinars
Onstream Webinars provides powerful native applications for both Android and iOS smartphone users.
Users can share desktop, application screen, video clips, whiteboard, and many more.
Onstream Webinars enables moderators to create polls that help to gain audience insights more effectively.
This application comes with the ability to provide both Toll and Toll-Free Teleconferencing.
Onstream Webinars offers a handy API set that makes integrations easier and allows the software to be more flexible.
9. Skype
---
Skype is arguably among the most prominent players in Linux video communications, and it's no wonder that it provides powerful video conferencing functionalities. It is a feature-rich application with a wide range of modern features, including immediate voice calls, instant messaging, file transfers, SMS, screen and video sharing, to name just a handful. Skype also offers a specialized version called Skype for Business for larger corporations that need to collaborate with numerous participants.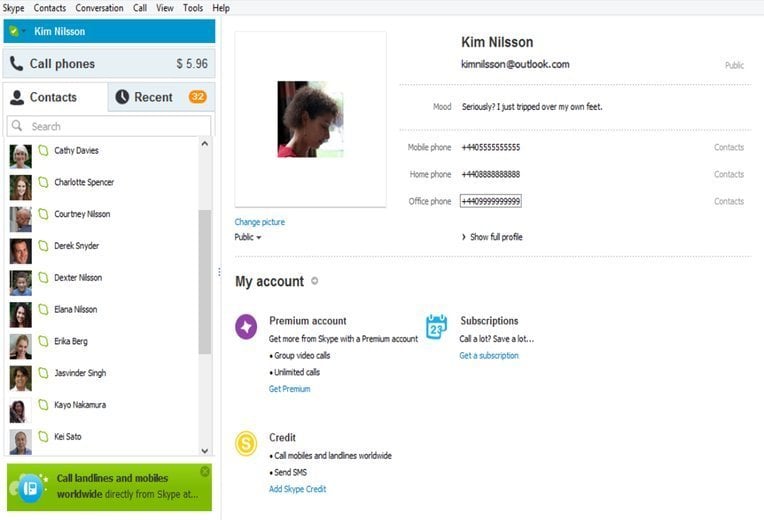 Features of Skype
Skype offers both one on one video calls and group conferences alongside calls to mobiles and landlines.
Users can record video conversations and share them with friends or collaborators very easily.
Skype is a multi-channel communication software and allows two-way audio and video calls simultaneously.
Skype supports multiple languages, filtered views, chats, SMS integration, file, and contact management, among many more.
10. TrueConf
---
TrueConf is, without any doubt, one of the best video conferencing software for Linux users. If you're a freelance business owner or a startup unwilling to spend big bucks on professional communication applications, then TrueConf is arguably an excellent fit for you. It is a popular video conferencing choice for many Linux enthusiasts due to the abundance of premium functionalities without any price tag.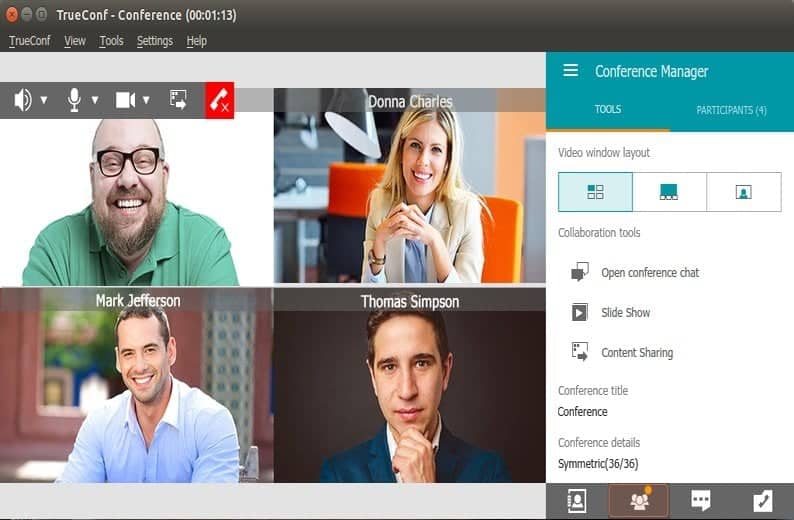 Features of TrueConf
TrueConf is one of those few Linux video conferencing software that delivers truly FullHD video conferencing.
Allows up to 250 participants in a single conference and enables them to share desktop screens smoothly.
The video and content layouts are very pragmatic, taking a smart approach to deliver modern-day user experiences.
Users can log into TrueConf with social network accounts or LDAP over secured and safe connections.
TrueConf is a few genuinely modern video conferencing solutions with the price tag set at zero for the Linux system.
11. HTML5 Virtual Classroom
---
Like many modern data science courses, learning platforms utilize Linux video conferencing software for delivering real-time lectures, receiving live feedback from students. HTML5 Virtual Classroom is an excellent solution for people looking for video conferencing solutions for their teaching platform. It comes with a wide range of innovative features that ensure your classes live up to the expectation of modern-day demands. HTML5 Virtual Classroom maintains current trends and reduces user's dependency on legacy technologies.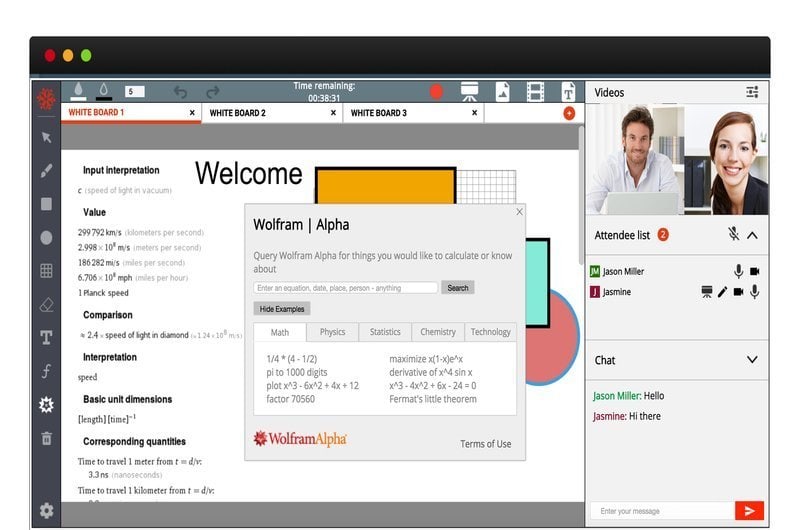 Features of HTML5 Virtual Classroom
It comes with a robust API set that allows users to integrate HTML5 Virtual Classroom effortlessly with existing websites, LMS, or CMS.
HTML5 Virtual Classroom allows features like electronic hand-raising, on-demand webcasting, real-time chat for better collaboration among participants.
This video conferencing software for Linux allows users to share screens and record communication sessions to access later.
HTML5 Virtual Classroom is packed with an elegant yet rewarding interface which makes navigation much more flexible.
12. TeamViewer
---
TeamViewer is one of the most popular Linux video conferencing software with an extensive list of additional capabilities. It is a proprietary team collaboration software with features like remote controlling, desktop sharing, online meetings, and file transfers alongside video conferencing. TeamViewer's primary video conferencing features include high-definition audio and video, VoIP, and session recording technology. TeamViewer is a genuine multi-platform software with native applications for most common systems, including smartphones.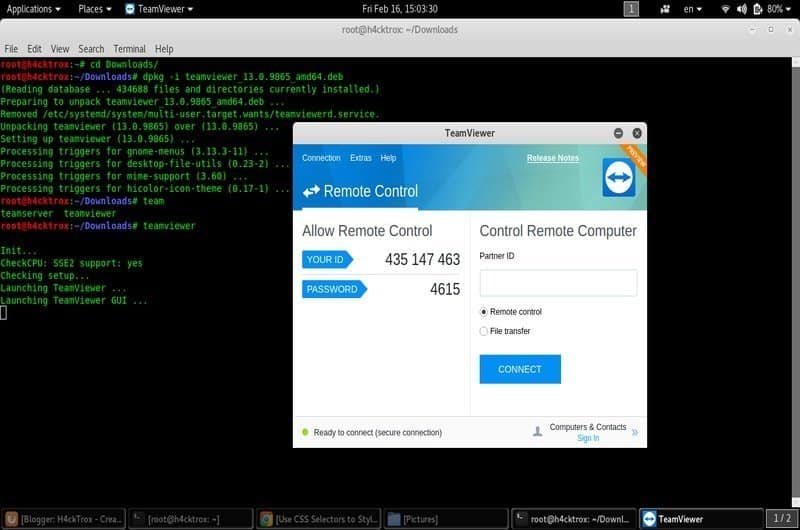 Features of TeamViewer
TeamViewer allows users to schedule meetings easily with its innovative scheduling tools and lets them utilize telephone conferences.
Its remote control functionalities include remote computer restart, printing, screen sharing, and installing software on another machine.
TeamViewer comes with a broad set of pre-built reporting features for helping users with incoming and outgoing connections.
TeamViewer integrates very well with most Linux service desk software and supports features such as collision detection, bulk actions, and quotes.
13. Hall
---
Hall is one of its kind when it comes to being slick yet bringing all the power required by modern video conferencing solutions. It is a proprietary chat service provider with options for text, audio, or video chats and conferences. Hall allows its users to choose from either group or private conferences, providing the necessary freedom people need to conduct their businesses properly. Hall's state-of-the-art development ensures maximum security for customer data.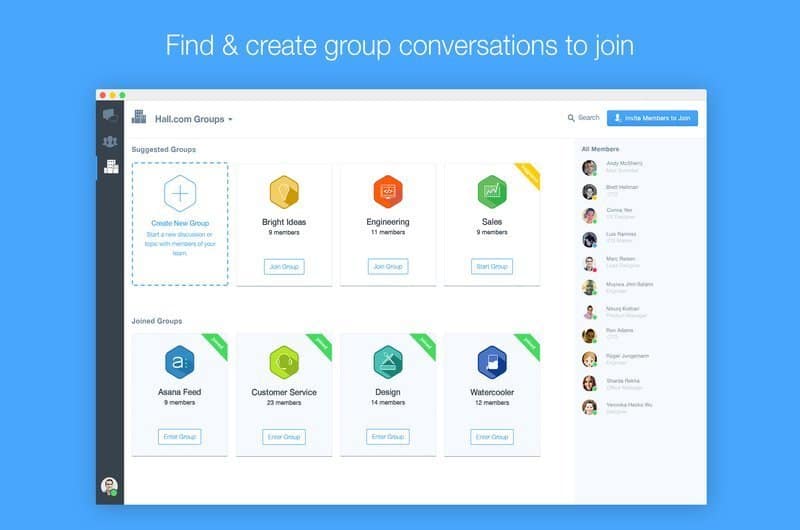 Features of Hall
Hall is truly cross-platform, with native applications for Mac, Windows, Web, Android, and iPhone alongside Linux.
It provides real-time updates and alerts from heavily used services such as Twitter, Asana, Github, Trello, and many more.
The chatting options include private chat, group chat, video chat, team chat, and of course – video conferencing.
Hall comes with a robust set of powerful APIs, providing greater control in terms of deployment and accessibility.
14. Join.me
---
Join.me is a compelling web-based video conferencing software for Linux users who can leverage it for creating and participating in video conferences on the go. Although paid in nature, Join.me offers a robust set of innovative features which make it hard to ignore this modern Linux video conferencing software. You can send meeting codes directly to your friends or collaborators, and they can join the conference by simply entering the code on the website.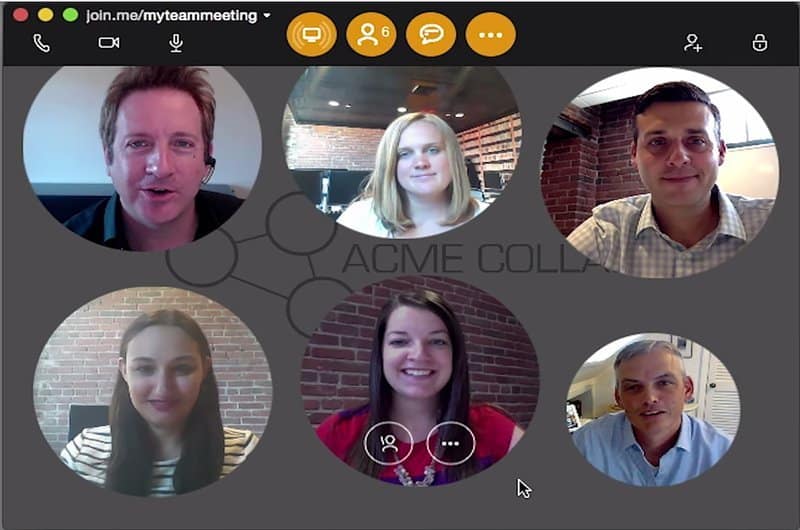 Features of Join.me
Join.me is entirely web-based, making it independent of systems and accessible to a broader range of general business audiences.
Users can claim their own personalized URLs and customize them according to company name, branding, meeting, or even personal taste.
Join.me allows toll-free audio conversations across a number of countries with enterprise-grade security and 24/7 administrative control.
It provides an innovative one-click screen sharing feature that empowers people in solving real-life problems fast.
15. Cisco Webex
---
If you're looking for a premium Linux video conferencing software for your enterprise, who other than Cisco can offer some? Cisco Webex is a world-class video conferencing solution that aims to make group communications hassle-free and does a much better job in terms of increasing team collaboration. No matter how many employees, teams, or departments your business handle, with Cisco Webex, it is guaranteed your subordinates will deliver maximum productivity.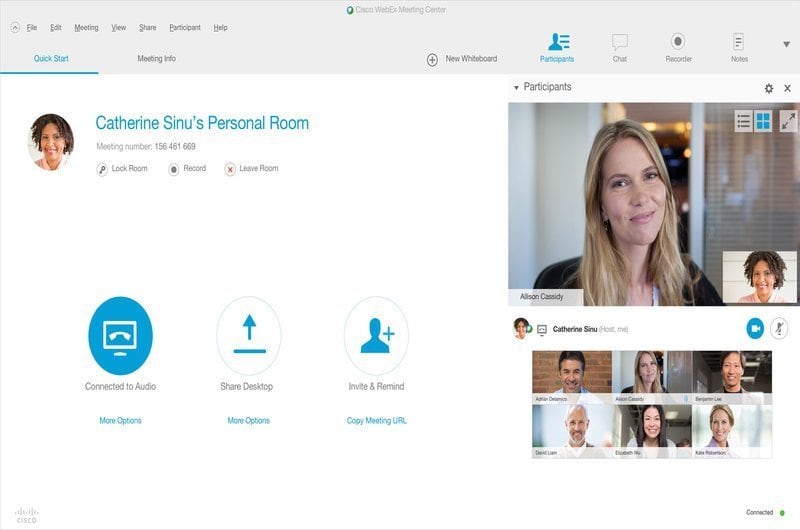 Features of Cisco Webex
Cisco Webex delivers arguably one of the most astounding video conferencing experiences with features such as one button to push, much clear audio and video, and instant screen sharing.
It comes with a simple to use yet visually elegant user interface that ensures maximum collaboration among team members.
The Cloud Calling feature of this paid video conferencing software for Linux provides all the benefits of traditional phones without facing the complexities.
Webex comes with rewarding integration abilities with services like Jira, Trello, OneDrive, Sharepoint, GitHub, Vbrick, Appspace, and others.
16. Google Hangouts
---
Google Hangouts is arguably among the best choices for people looking for free Linux video conferencing software. Google takes enormous pride in its modern communication platform that allows instant messaging, video chat, and VOIP functionalities. One of the best selling points of Hangouts is accessibility. Users can access and use Hangouts from any device, including Android, iOS, Wearables, and computers. Moreover, Hangouts doesn't require users to be an expert in telecommunications and can be utilized by anyone.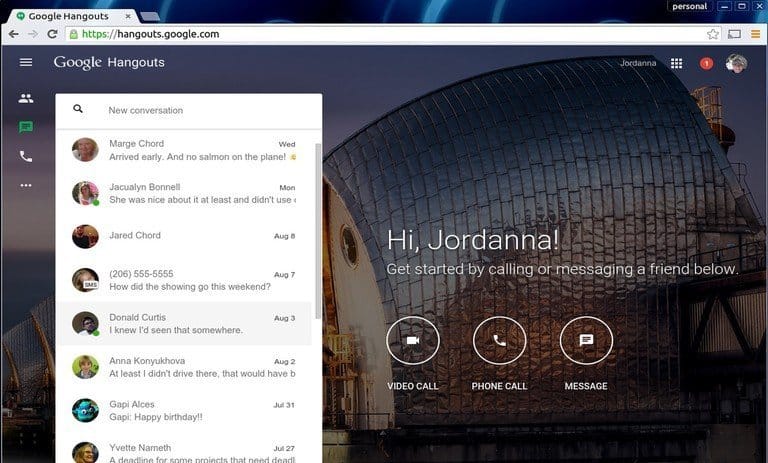 Features of Google Hangouts
The user interface is minimal in appearance and doesn't feel cluttered, providing the essential features in a simple yet useful manner.
Google Hangouts allow users to make free video calls between up to 10 people at the same time.
It enables users to make free HD video calls and HD group conferences with auto screen focus and built-in screen sharing.
Users can live stream events by leveraging YouTube Live in this Linux video conferencing software.
17. BigBlueButton
---
Since online learning platforms are one of the major applications of video conferencing solutions, it's no surprise a significant number of high-quality Linux video conferencing software exist for this purpose. BigBlueButton is an open source video conferencing software that allows educational institutes to leverage the power of advanced web technologies. This cross-platform application ensures users across different systems can utilize its robust features without any hassle.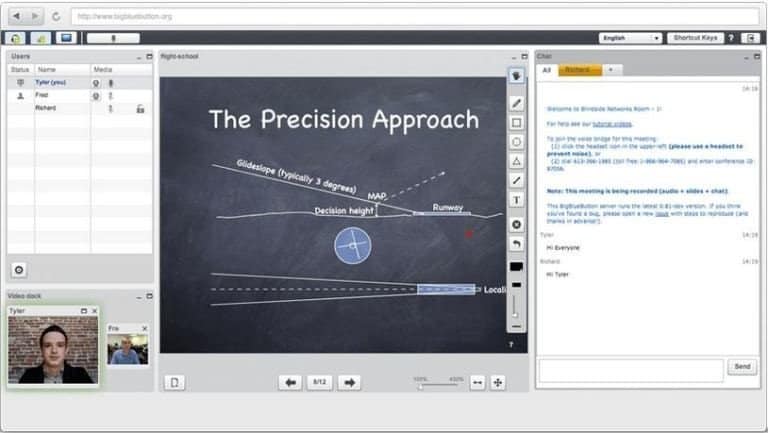 Features of BigBlueButton
BigBlueButton allows users to share documents, slides, webcams, whiteboard, chat, and screen alongside video conferences.
It comes with exceptional VoIP support and offers innovative controlling mechanisms to control audio sounds.
BigBlueButton employs features like screen readers for increasing accessibility to blind students.
This video conferencing software for Linux comes with pre-built support for advanced whiteboarding tools.
The open source GNU LGPL license makes BigBlueButton easy to adapt and encourages institutes to build their platform on top of the project.
18. HipChat
---
HipChat is a modern Linux video conferencing software aimed at enhancing team collaboration to the fullest. It features an astounding set of functionalities that include sharing files, talking in real-time, unlimited chatrooms, mentions, multi-system connectivity, and many more. The video calling features of this video conferencing software for Linux is up to the mark, and it also offers an easy-to-use screen sharing feature.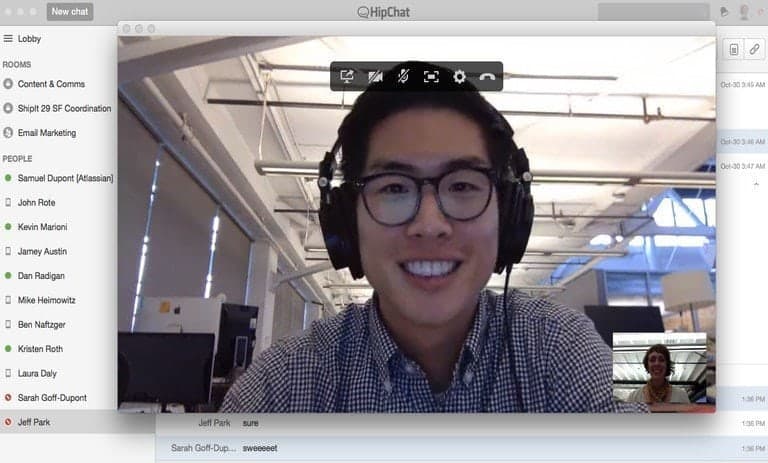 Features of HipChat
Users can create and control secure network communications very easily with HipChat's empowering administrative controls.
HipChat allows users to instantly share files like mp3, images, or videos with friends or fellow team members.
HipChat sits well with modern services and supports personalized emoticons, animated GIFs, Instagram feeds, and Twitter notifications.
HipChat is developed by the Atlassian group and integrates seamlessly with JIRA, Bitbucket, GitHub, Heroku, Zendesk, MailChimp, and many more.
19. Wire
---
Wire is a relatively new player in the world of Linux video conferencing software. It provides a secure collaboration platform for teams with end-to-end encryption for maintaining data integrity. Wire is very much cross-platform and comes with in-built versions for iOS, Android, macOS, and Windows alongside Linux. Although the software is paid, at $5 per month for a material of such quality, Wire seems to be a bargain to us.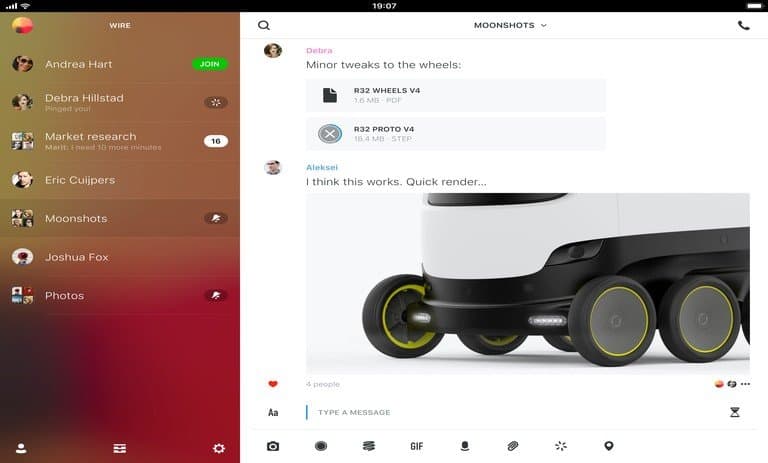 Features of Wire
Users can invite up to 128 participants in group chats and 10 members in a video call with screen sharing ability.
Wire comes with default support for markdown alongside emoticons, GIFs, embedded videos, previews, image annotation, sketching, and others.
This video conferencing software for Linux enables timed messages, which disappear after a user-defined interval.
Wire provides robust administrative controls to make maintenance much easier for people with little technical skills.
20. Mconf
---
Mconf is one of our editors' most favorite Linux video conferencing software due to its lightweight, built yet premium, high-performing features. It is a modern video conferencing software with a visually appealing user interface that provides every necessary functionality you'd look for in video conferencing solutions. This open source video conferencing software is totally free, and users can personalize the project as per their requirements.
Features of Mconf
Mconf is built on top of BigBlueButton and consists of several components such as the Mconf-Live, Mconf-Web, Mconf-Mobile, among others.
The source code of this Linux video conferencing software is hosted at GitHub and is free to download and modify open-source enthusiasts.
Each chat room has its own unique URLs based on the users' nick and can organize private meetings.
Mconf aims at making team collaboration effortless by employing both synchronous and asynchronous connectivity.
Ending Thoughts
---
Choosing the perfect Linux video conferencing software is not an easy task. The market is full of different solutions, and each has its advantages. We have put tremendous effort in preparing this informative guide to help you in your selection. Our editors have tried hard to pinpoint the heavyweight players in this regard and outlined the essential features. Hopefully, we could serve your interest and provide you the necessary insights you're looking for. Stay in touch to find out more latest Linux software ideas and reviews.