Linux is a strong open source platform where every type of necessary software tool is available for both beginners and professionals. If you are confused about which camera software or IP camera software to use in your Linux system, then I can only say that there are lots of IP, security, or surveillance camera software available for the Linux system. To help you sort it out, today, I will provide a list of Linux camera software where various kinds of webcam software, IP camera software, security camera software, and video surveillance software are included with focusing on various important features.
Best Linux Camera Software
---
The tools are not the same in characteristics. I sort out the different categories of software with some of its principal features. Hopefully, it will help you choose the best Linux camera software. Let's start briefing them one by one.
1. Webcamoid
---
Webcamoid is a simple and versatile webcam program for Linux users. This online tool is written in C++ and Qt. It provides a huge number of options by which you can configure it as per your needs. It is suitable for both picture and video capture.
Webcamoid has over 60 effects, including blur, broken TV, cartoon, color filter, edge detection, pixelate, photocopy, oil paint, scan lines, and many more. It has a great feature of custom controls for the webcam.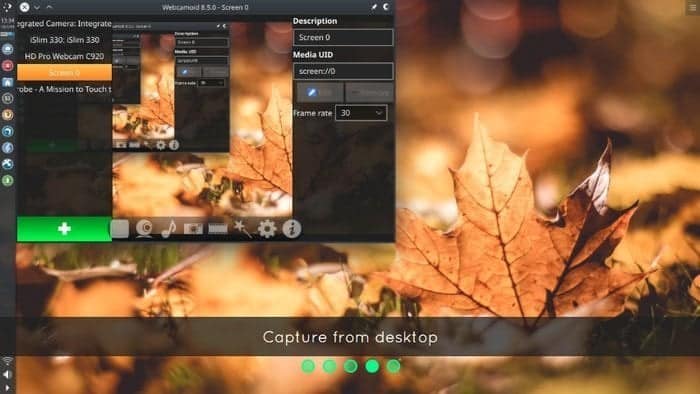 Noteworthy Features
Manages multiple webcams
Desktop recording
Adjust resolution, frame rate, contrast, sharpness, and more
Various recording formats (AVI, DV, FFM, FLV, PSD MP4, and more)
Applemage support
2. ZoneMinder
---
ZoneMinder is an open source Linux surveillance software specially developed for the Linux platform. It is written in C++, Perl, and PHP. It is a set of applications that provide a complete surveillance solution for users.
It allows you to capture, analyze, monitor, and recording of CCTV or security cameras. It supports video, USB, and network cameras as well. It is among the Linux security camera software that can be used for commercial or personal purposes.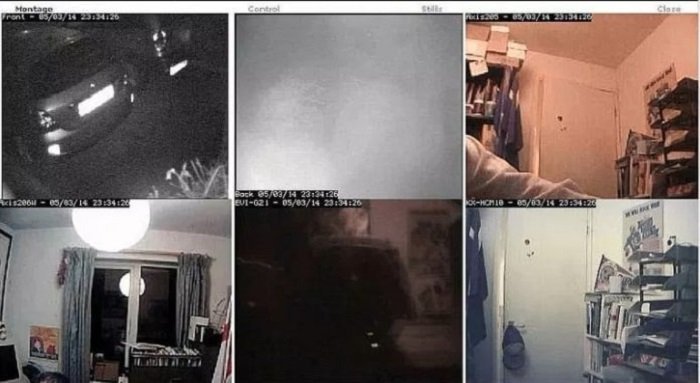 Noteworthy Features
Monitor from anywhere
Full control of systems with live views and event replays
Multiple users and user access levels
Supports external triggering by third-party applications
Supports live video in MPEG, JPEG, and stills formats
3. Motion
---
Motion is an open source, highly functional webcam software that supports motion detection. It can process images from several types of cameras. It is mainly a command-line motion surveillance tool without any graphical user interface. Motion has its own minimalist web server and can be controlled by a simple web interface. It also has the feature of automatic noise and threshold control.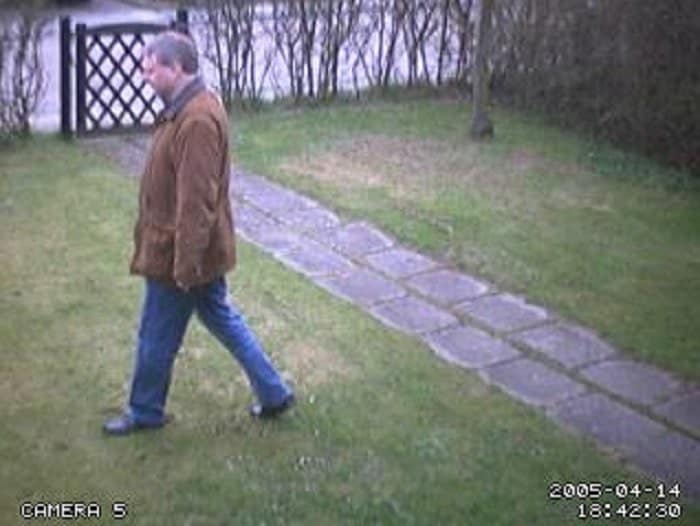 Noteworthy Features
Watch multiple video devices at a time
Motion tracking
Minimalist web browser
High configuration display
Customizable masks for motion detection
4. Cheese
---
Cheese is another Linux camera software written in C and Vala programming languages. It is a part of GNOME and licensed under GNU general public license. It can take images and videos as well.
With the help of GStreamer, it can apply various graphical effects to its photos and videos. To work with this, it has to be compatible with the GStreamer Framework and Video4Linux. You can easily view, save, and delete a photo or video.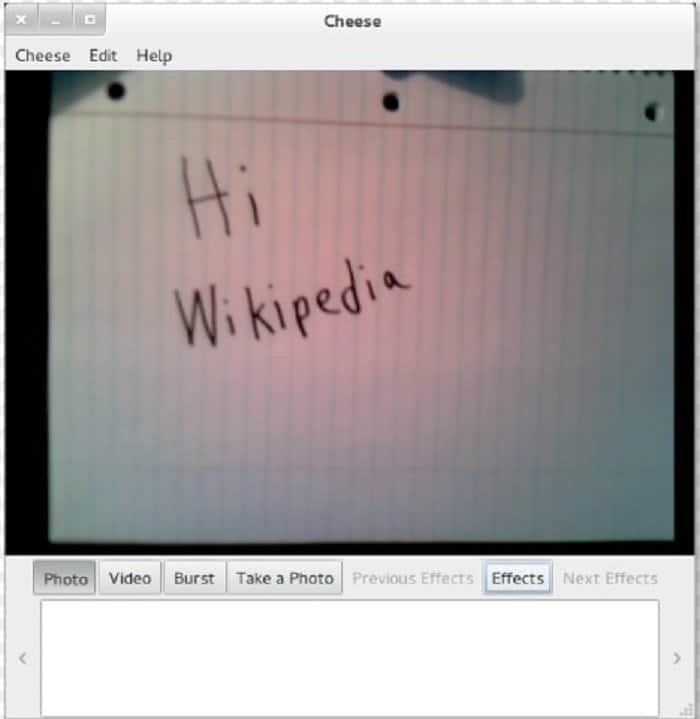 Noteworthy Features
Capture video and photos
35+ graphical effects  (Edge, Dice, Hulk, Kung Fu, Quark)
Adjust saturation and brightness
Internationalization support
Countdown facility
5. Ekiga
---
Ekiga is a smart open-source Linux video surveillance software designed for both the GNOME and KDE desktops. It has a stunning graphical user interface with free audio and video calls through the internet. Ekiga has high-definition sound and video quality for its users.
It has the feature of an automatic video bandwidth limitation system. This video-conferencing application includes all the telephony features like call transfer, call hold, and call forwarding.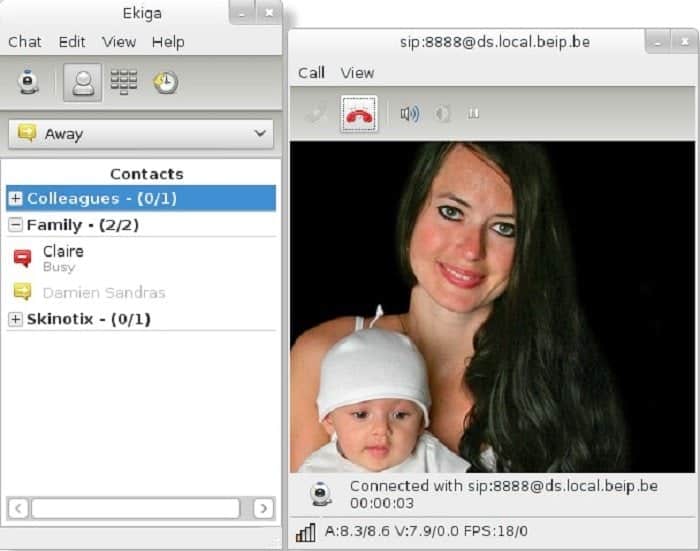 Noteworthy Features
Video transmission control
Support advanced address book, dial pad, and call monitoring
Cross-platform support (Windows and Linux)
Transparent and Assisted NAT support
Configurable port changes
Download
6. Kamoso
---
Kamoso is a Qt-based Linux webcam software from the KDE community. It is an open source program that allows recording videos and capturing images from your webcam. Kamoso is written in the C++ programming language.
One of its characteristics is the ability to capture images rapidly without complexity. It is under the open-source license. It has a very user-friendly graphical interface, and any user can easily handle this tool.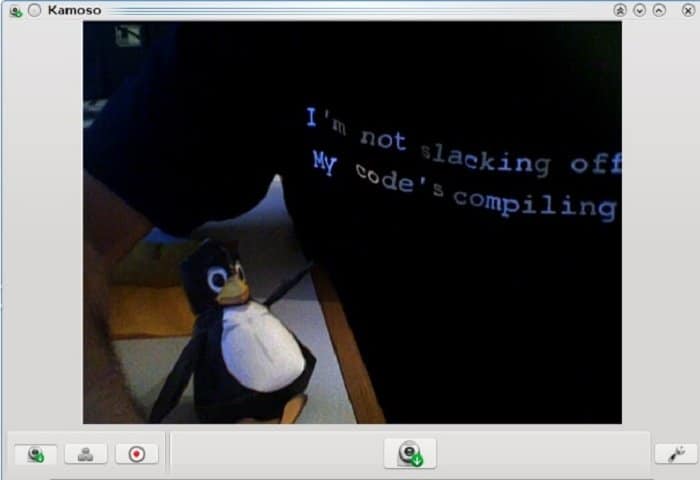 Noteworthy Features
Apply various graphical effects to its photos and videos
Allow pushing media to web 2.0 services
Internationalization support
Integrates with social networks
User-friendly interface
7. Guvcview
---
Guvcview (GTK+UVC Viewer) is an open source Linux camera software developed in 2008 for Linux enthusiasts. It has a user-friendly graphical interface and has the capability to capture and view videos by UVC driver.
It is a GNOME standard webcam application that can be used as an alternative to another Linux webcam software, Cheese. It is one of the easy-to-use software written in the C programming language.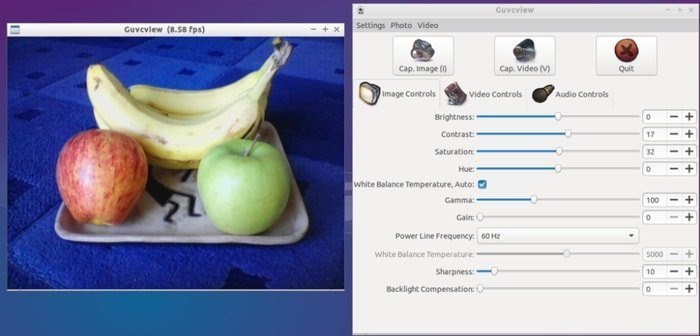 Noteworthy Features
Two-window interface
Offers extension controls and vendor-specific controls
Different image formats can be recorded (BMP, JPG, PNG)
Support standard video formats
Support special graphical effects
8. HasciiCam
---
HasciiCam is another Linux video surveillance software to capture video. It captures video from a tv card and tenders into ASCII letters. You don't need extra applications or plugins to show the live video.
It just needs a tv card, a Linux box, and a modem. This online tool is written in the C programming language and operated via the command line. Another special feature of Hasciicam is the facility of live cam streaming at low bandwidth.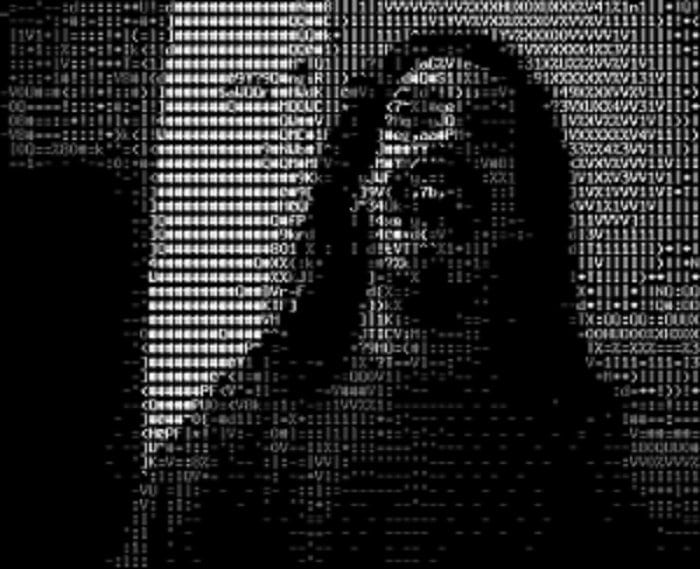 Noteworthy Features
Simple user interface
Live mood
Low bandwidth live streaming
Support standard video formats
Render web page with an automatic refresh mode
9. Shinobi
---
Shinobi is an open source Linux CCTV software that can record both the IP and local cameras. It is written in Node.js. You can monitor viewing, editing, and deleting from your home with this tool easily. It has a time-lapse viewer with two-factor authentication. Shinobi can capture images from streams directly. Even in lower bandwidth, it can run smoothly.
Noteworthy Features
Built-in stream analyzer
Customizable user interface
Supports local and IP cameras
Control system with real-time recording and stream
Two-factor authentication
10. Camorama
---
Camorama is another simple Linux webcam tool with many outstanding features. It can connect and record video files to a remote location. It has the capability of capturing images and can save them in both JPEG and PNG formats. Camorama users can customize the white balance, brightness, and color. Though it only supports FTP, it has an FPS counter at the bottom of the interface.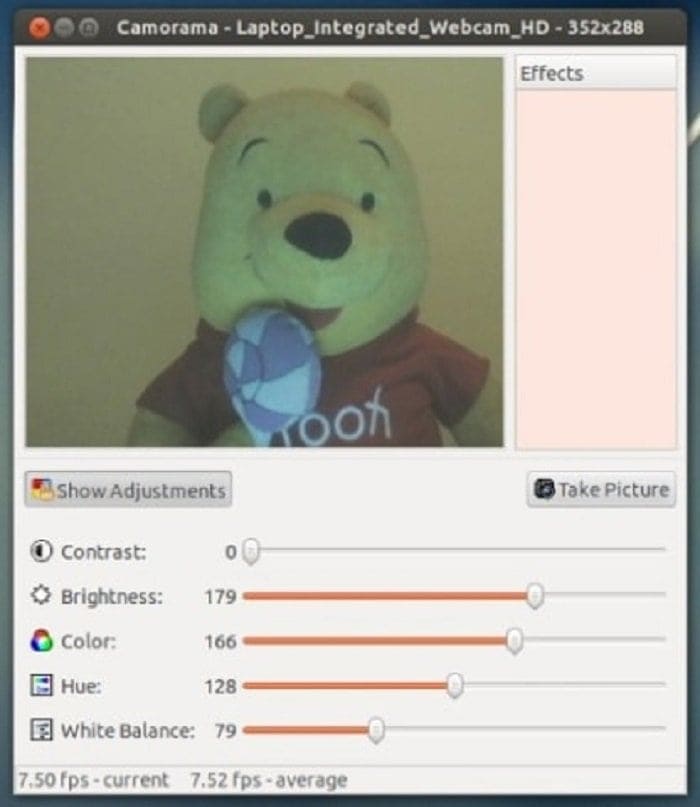 Noteworthy Features
The automatic capture feature works
Capture video and photos
FPS counting tool to display average framerate
Support special graphical effects
Support standard video formats
11. wxCam
---
wxCam is a simple but helpful webcam software for Linux users. It offers to capture photos and video with Video4linux. It can save in several formats like JPEG, BMP, PNG, PCX, and XMP. wxCam allows its user to access different video effects like mirror mode, color correction, and monochrome. The recording of wxCam looks stunning and doesn't let you put in a crisis. It also has the ability to support tweaking shutter speed FPS and more.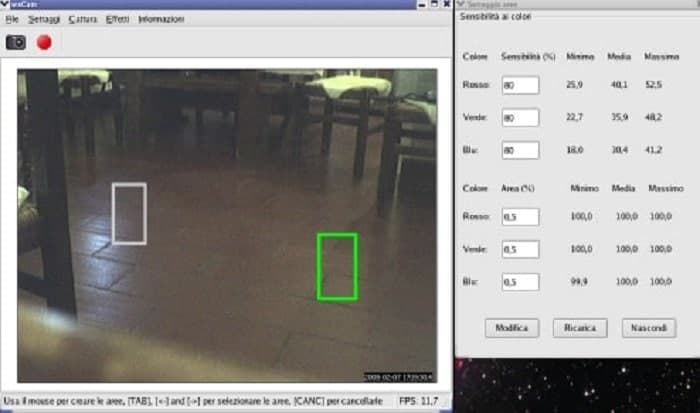 Noteworthy Features
Adjust resolution, brightness, contrast, saturation, and gamma.
Photo capture is saved in many formats (BMP, JPEG, PNG, TIF)
Video and audio recording
Graphics collections are available
Movement recording
12. Xeoma
---
Xeoma is another Linux security camera software with a simple interface and professional functions. This surveillance software offers a free version, a trial version, and a commercial version as well for Linux users.
Xeoma can run in almost all operating systems, including Windows, Linux, Mac OS, Android, and iOS. Its lite edition has basic functionality with 4 cameras, and the standard edition provides all the possible benefits with unlimited use of modules.
Noteworthy Features
Video analytics and artificial intelligence modules
Fast and dynamic user support
Cross-platform support
Supports IP cameras (H.264, H.264+, JPEG, MPEG-4)
Supports up to 2000 cameras can be connected (single computer)
13. Bluecherry
---
Bluecherry is an open source Linux video surveillance software that offers a complete solution for capturing video and images as well. You can also install Bluecherry on Ubuntu and Debian. It supports about 2800 IP cameras. You can use both the free and paid version of this tool. Before using the paid account, you can go through the trial version and justify it.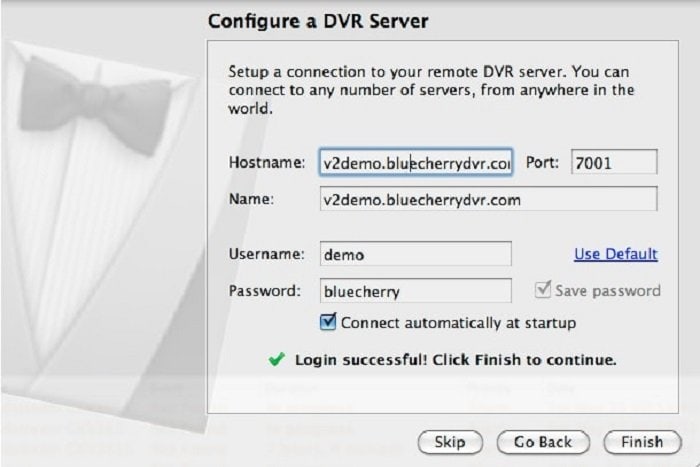 Noteworthy Features
Cross-platform support
Easy to install and friendly user-interface
Both business and residential use
Support standard video formats
Network scan and detection tool
14. Ivideon
---
Ivideon is an affordable Linux IP camera viewer with an advanced video surveillance system. It has had millions of users around the world in the last 9 years of its development.
It can be easily integrated with corporate management systems with the open source API. You will get full control of creating users and also deleting them. With the help of Ivideon API, you can integrate the tool with third-party business apps.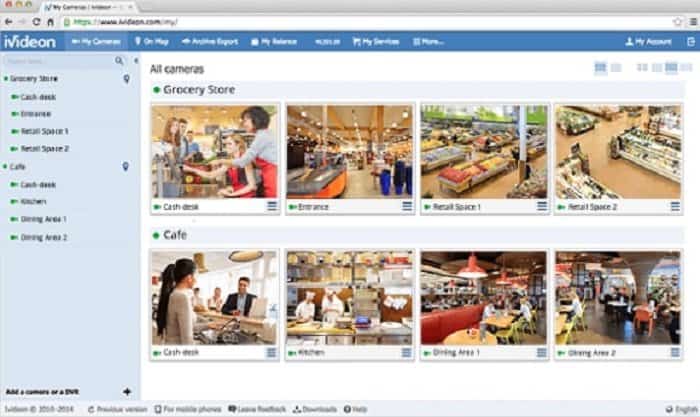 Noteworthy Features
Fast and easy-to-use tool
Works with stationary and mobile cameras
Server localization for corporate networks
Mapping surveillance areas by the search tool
Cross-platform support
15. C-MOR
---
C-MOR is a popular tool that works as Linux security camera software. It supports most operating systems, including Windows, Mac, iPhone, Android, and Linux. You can monitor this Linux IP camera viewer from home over a network or the internet. As all the settings and options are already set up, you don't need to install them on a PC. That's pretty cool, right?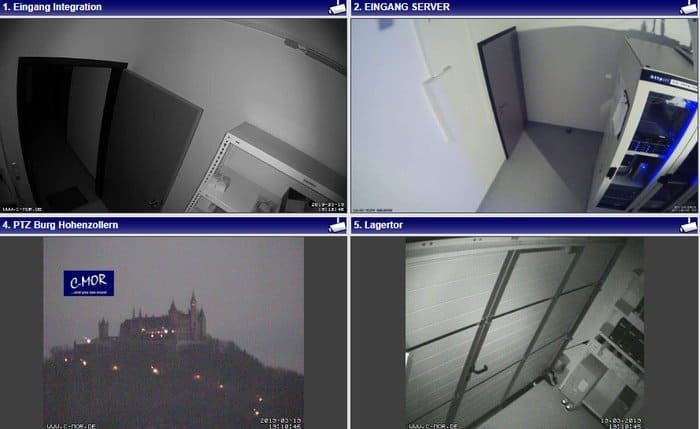 Noteworthy Features
Motion detection facility
A simple and interactive interface
No installation required
Cross-platform support
Support standard cameras (Vivotek, Axis, and LevelOne)
16. Kerberos
---
Kerberos is free and easy-to-use motion surveillance software for Linux enthusiasts. This open source program is compatible with most cameras and works fluently for the users. This Linux nvr software is also adaptable in Windows and OS X operating systems. It has a simple and clean interface. Anyone can easily work in this user-friendly environment.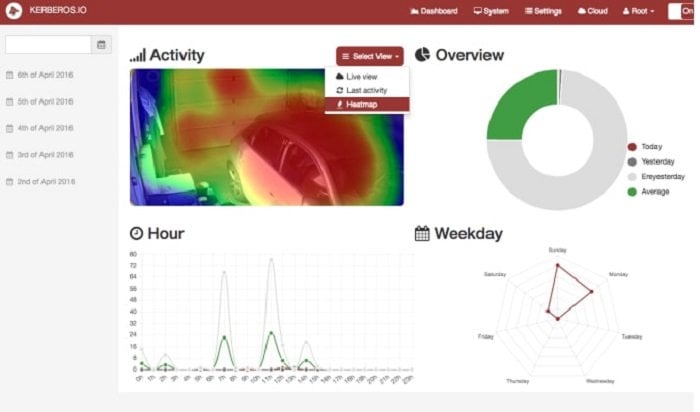 Noteworthy Features
It can be deployed in multiple environments
Raspberry Pi and Docker support
Cross-platform support
Easy to install and use
Support several image formats (BMP, JPG, PNG)
17. VokoScreen
---
VokoScreen is a minimalist Linux camera software and screen creator. It can easily zoom in and out efficiently and capture images and videos. It has a simple and attractive interface that can gain users' attention at first look. VokoScreen supports different video formats to play after recording the video. It also supports webcam preview and the delay timer.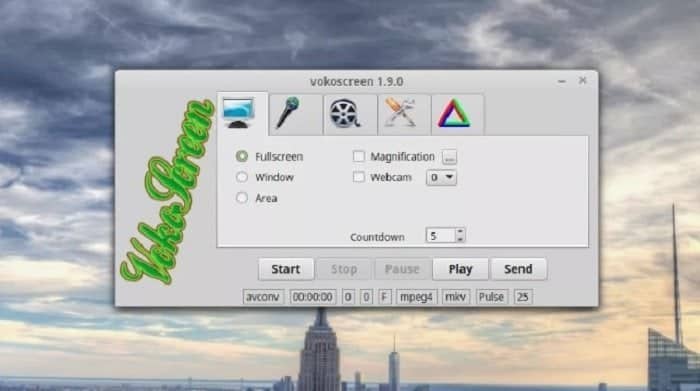 Noteworthy Features
Audio and video recording
Preference options for tweaking video output
Optimized for screencasting purposes
Simple user interface
Standard video formats
18. Contaware ContaCam
---
Contaware ContaCam is a user-friendly, open-source video surveillance software to capture manual records and images. This Linux security camera uses motion sensors and can send files via email or FTP. It runs on both Windows, Mac, and Linux platforms. It works as a live webcam and is able to show daily history videos.
Noteworthy Features
Motion detection recording
Strong password protection
Support remote access
Unlimited parallel cameras set up
Support USB webcams
19. Gifine
---
Gifine is simple and easy-to-use Linux camera software that helps to record and capture videos and short gifs. After exporting the file, it has the ability to edit and trim any gif file. With the help of Gifine, you can quickly remove a frame when it is unnecessary. This open source program is built with leafo and runs under an MIT license.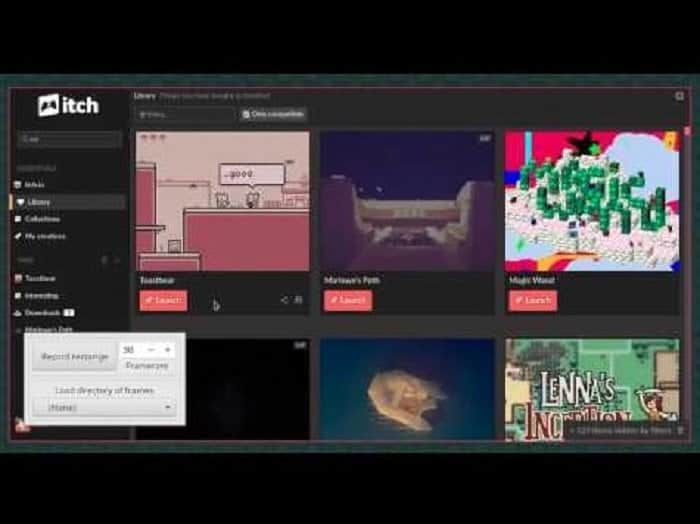 Noteworthy Features
Very simple interface
Support graphical effects
Helpful for small snippets
Create gif animations and videos
Supports GIF and MP4 video formats
20. QtCAM
---
QtCAM is an open source program known as a popular Linux webcam software. It is a free application, and anyone can modify it under the GNU General public license terms. It has a user-friendly interface developed by e-com systems. QtCAM supports most image types like JPG, PNG, RAW, and BMP. Users can easily adjust brightness, contrast, and supported UVC controls as well.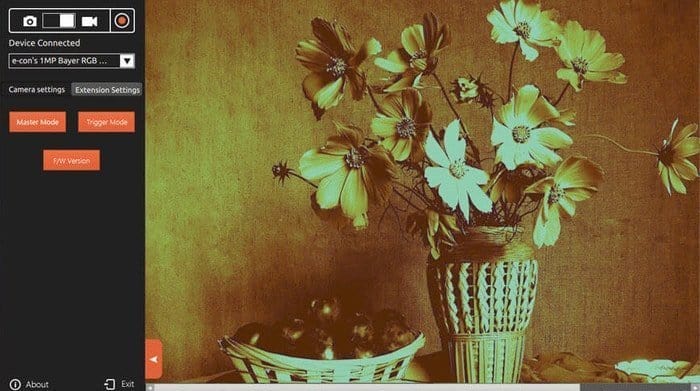 Noteworthy Features
Easy and user-friendly interface
Supports most image and encoder formats
Available image control settings
Enables sending data over the network
Supports third-party cameras
21. Clight
---
Clight is a lightweight Linux camera software that enables changing screen backlight levels to match ambient brightness. It is an open source program, and the script is written in C. Clight has many features and a very interactive user interface. Several transitions like gamma, dimmer, and backlight are available in this tool.
Noteworthy Features
Supports internal and external monitors
UPower support
Supports GAMMA, DPMC, and DIMMER
Manage screen temperature
User-friendly interface
Wrap Up
---
Well! I am at the finish line of finding the best Linux camera software for you. Hopefully, you have some significant resources, including Linux webcam software, Linux IP camera viewer, Linux CCTV software, and Linux video surveillance software. I also added some tools to work with Linux security camera software too. Now, it's up to you to select the proper one as per your demand.
Do you think something is missing apart from the tools I shared? Which one do you like most? Please share the information with the audiences who are also Linux enthusiasts like you. I believe in building a network where all Linux users can get help and resources. Feel free to share your thought too.
Till then, have a cool time!