Linux guitar tools are helping the guitarists for a long time. I always say that Linux is a great environment for music composers. Yet some people have different arguments. In their logic, Linux is not that useful for multimedia because of the lack of some popular paid tools. It's a partial truth. But still, there are a lot of free Linux tools available for acoustics and mixing. You know the electric guitar completely relies on electronic devices and software. Even there are some great tuner and amp tools for the acoustic guitars also. As a music enthusiast, I love tinkering with these audio-related programs.
Best Linux Guitar Tools
---
The Linux kernel has great support for different APIs and drivers for audio equipment. This flexibility led many music enthusiasts, developers to develop different tools. For this reason, you will find an adequate number of guitar-related tools for Linux. Of course, not all the tools will serve your purpose. But I have compiled a list of 10 best Linux Guitar tools that will help the guitarists.
1. Guitarix
---
Guitarix is a feature-packed open-source guitar tool for the Linux distros. This is mainly a software-based virtual amplifier consists of pre-amp and rack. The pre-amp is very powerful that helps weak guitar signals to be boosted. Besides, you can control different aspects like gain, volume, etc.
You can select from the presets to suit the guitar for different genres of music. The rack section can add different sound effects to the raw signal. For example, echo, reverb, modulation, EQ, distortion, bass, treble, and many effects are built-in with this tool. You can even install some official plugins to extend the functionality.
Key Features of Guitarix
It can create stereo output, just like a hardware amplifier.
More than two dozens modules are built-in with the amp.
Guitarix can analyze the signal with zero latency.
This tool supports a wide list of LADSPA and LV2 plugins.
Although it is intended for the guitar, you can attach it to other instruments.
2. Nootka
---
Nootka is yet another Linux guitar tool. But this time, it is mainly for leaning guitars. Although it serves as a generalized musical notation tool. You can learn the basic musical scores and notations with this software. This tool is completely free and written in the C++ language.
Nootka works in a different approach. It will help even the intermediate level musicians to practice the scores. This wool will ask you to play a specific score. You can play that with your guitar. This amazing tool will check and give feedback based on your playing in real-time. Cool, right?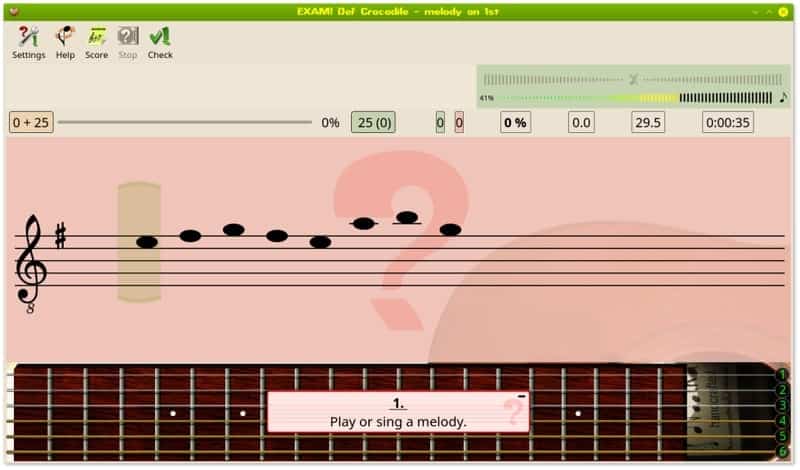 Key Features of Nootka
This tool was originally developed for the guitarists in mind.
Nootka uses a clean and easy to use user interface that is interactive also.
The algorithm is fine-tuned, and it can detect your composition pretty well.
No matter what kind of guitar you are playing, this tool will support that.
It has a companion mobile app to teach you on-the-go.
3. TuxGuitar
---
TuxGuitar is a simple yet powerful guitar tool for Linux. This is originally a tablature editor. On top of that, you are getting an integrated scrolling player. This is very helpful for the beginners who can't remember the notes.
This tool doesn't come with a built-in library of music. However, the editor allows you to write any music and save it for future usage. This is a cool feature for advanced musicians. TuxGuitar also has some additional sound effects for composing entire music without any other tool.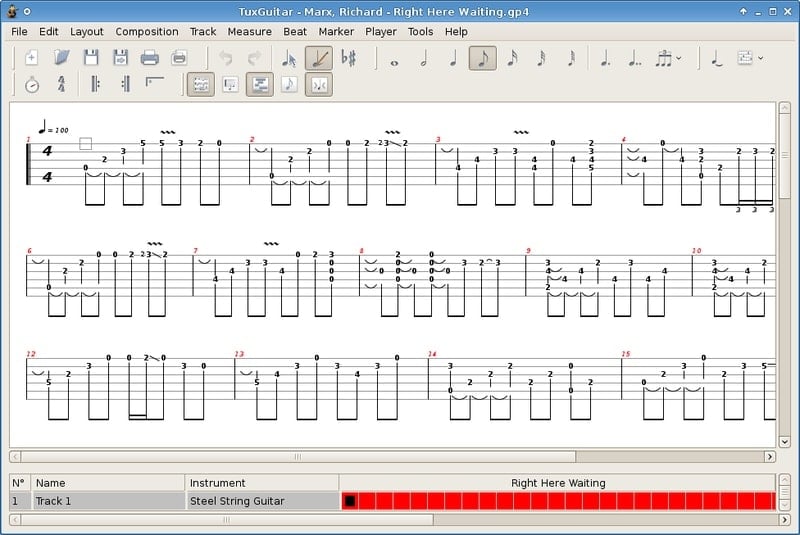 Key Features of TuxGuitar
The time signature and tempo management feature are great additions.
Different types of blending, sliding, and vibration effects.
The editor is very user-friendly with support for dark mode.
It has a multitrack composition option for advanced users.
You can import and export tablatures in different formats.
4. Lingot
---
Lingot is one of the most popular tools for musical instruments. This is a tuner software and is mainly used for tuning guitars. But I liked the fact that this tool serves well for all kinds of instruments. Therefore, you don't need to install different tuner tools for different instruments.
The most important factor of a tuner is the accuracy. I found this tool quite accurate while comparing it with other tools available on the internet. The user interface brings a vintage look with the level gauge. However, you are getting modern features like dark mode and so on.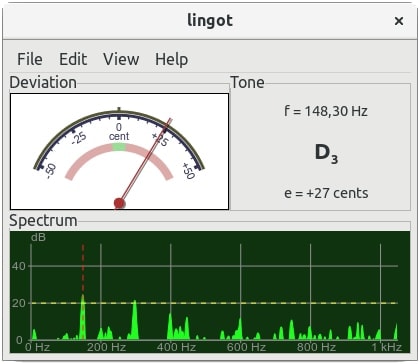 Key Features of Lingot
The user interface is configurable according to your taste and productivity.
It shows a graphical spectrum bar for the specific note.
You can adjust different parameters like noise, fain, visualization, etc.
This tool supports .scl formal by the Scala project for universal adaptability.
You can build your features by editing the source code.
5. Rakarrack
---
Rakarrack is a guitar effects generator. This is mainly an emulator that can emulate the guitar pedalboard. Normally, pedalboards cost a lot of money. If you are not that professional, it's better to use this free and open-source software instead.
This Linux guitar tool features a lot of functionality and effects. The developers used the FLTK UI library for creating a lightweight and user-friendly user interface. However, it requires a learning curve to use this kind of software pedalboards.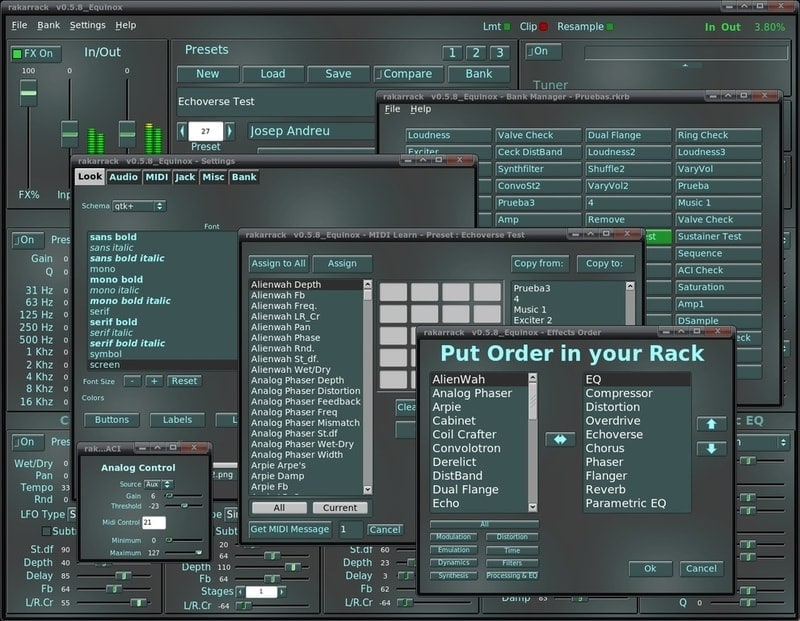 Key Features of Rakarrack
This tool features more than forty different presets and sound effects.
You can script the orders of the applied effects on your own.
The user interface is modern but uses fewer CPU resources.
You can remove the guitar generated noises by using built-in tools.
The developers have provided demo music on their websites to check out.
6. Songwrite
---
This is not yet another dedicated guitar tool. However, this universal music composition tool is so powerful and helpful for the guitarists that I had to include this. As the name suggests, this tool is mainly for writing and editing tablatures.
The source code uses Python and is intended for amateur musicians. By default, this tool uses the guitar as the instrument. However, you can add supportive instruments like the flute. Songwrite has some additional features like lyrics management.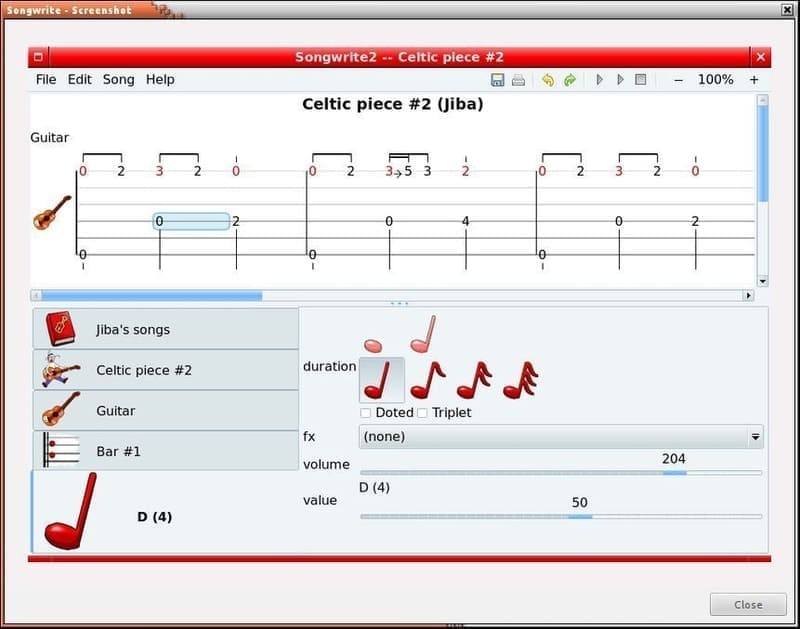 Key Features of Songwrite
This tool can play and print a specific partition of the songbook.
You can create your songbook and export that into many other file formats.
Songwrite has a built-in converter for converting tablatures to fingerings.
The latest version 3 uses all new Qt widget toolkit for GUI.
It has many learning features for real guitar beginners.
7. MuseScore
---
MuseScore is a free musical notation tool. This is a cross-platform software. However, their Linux variant works like a charm. This tool is used to compose music using different musical instruments. The developers put a lot of features for the guitarists in this tool.
The tool supports a lot of tablature styles. This is fully compatible with the Guitar Pro tool. Hence you can export and import a lot of file formats for speeding up the workflow. On top of that, you can use mice—keyboards and MIDI tools as the input devices.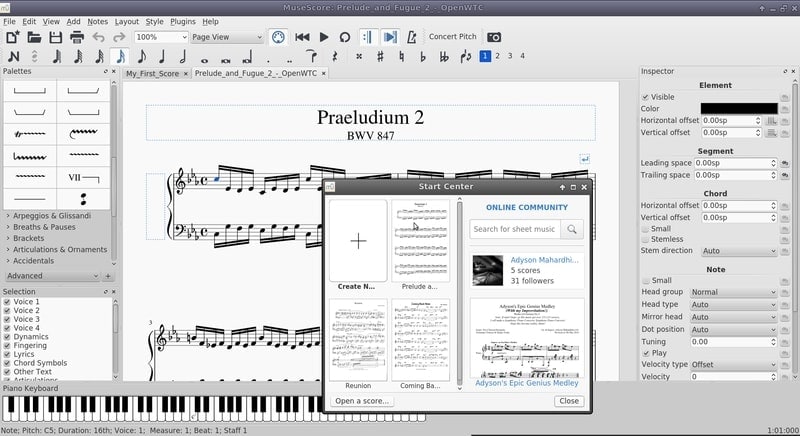 Key Features of MuseScore
You can directly share a screen capture of notations to YouTube.
The user interface is very intuitive with a companion mobile app.
It has several built-in templates so that you can easily get started with.
This tool supports almost all the common guitar notations.
It features some additional percussion and drum effects for music composition.
8. OpenSong
---
OpenSong is a simple free tool for managing guitar chords and tablature sheets. It is just a general-purpose tool for music notations and composition. However, it works great with string-based instruments like the guitar.
The Linux guitar tool is completely open-source. If you are a musician and Linux enthusiast, you can contribute to its source code for further improvements. Still, it offers many features for free that are only supported by paid tools in other operating systems.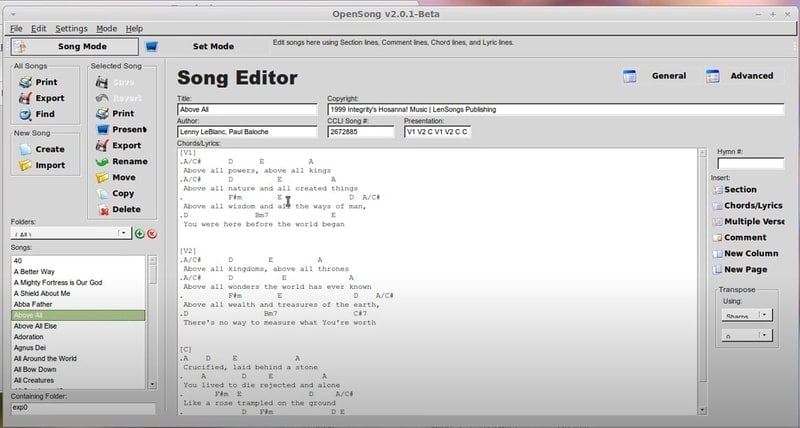 Key Features of OpenSong
You can customize the sheet's elements for a distraction-free view.
The font size, style, face, etc. can be changed, and you can print the sheet anytime.
This tool has some useful features for presenting songs in front of a live audience.
You can change the dashboard background with an image of your choice.
It has built-in support for a lot of Asian and European languages.
9. Aria Maestosa
---
This is a completely free and open-source music making software for Linux. Aria Maestosa is, however, not limited to guitars. But this tool provides all the basic functionalities for the guitarists in a small package.
It is a midi editor. The users can easily create and edit midi files by using it's easy to use graphical UI. It has a built-in guitar view for the guitarists and other basic instruments like drums, keyboards, etc.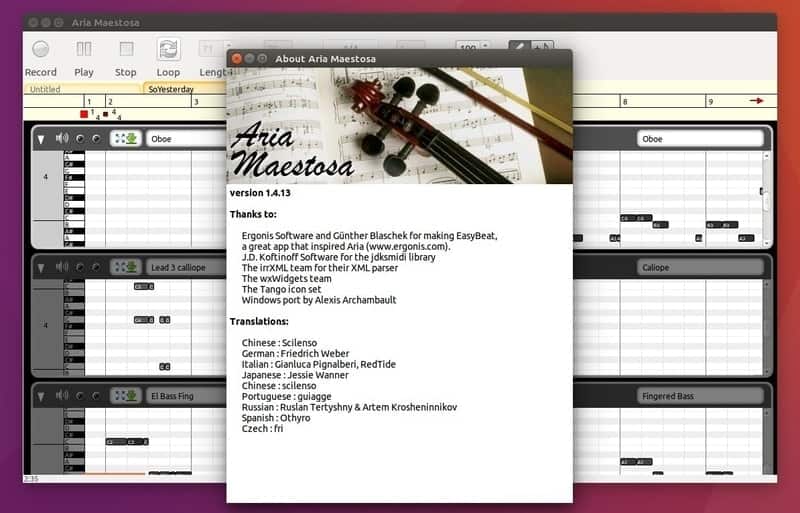 Key Features of Aria Maestosa
You can export the edited files into popular MIDI file formats.
The dashboard has multitrack functionality for increasing productivity.
This tool has a built-in function for editing guitar tablature.
The lyrics management feature helps in live performance.
You can add a lot of effects while post-processing inside this tool.
10. MusE Sequencer
---
The last one in this list is not just another basic guitar tool. Rather this is a full-fledged MIDI sequencer for Linux machines. This is a completely free and open-source tool with a lot of functionalities to help the guitarists.
Being a general-purpose tool for professional musicians provides all the functionalities to compose a piece of complete music. That means you don't need to switch over to other tools in most cases, even if you are a professional composer.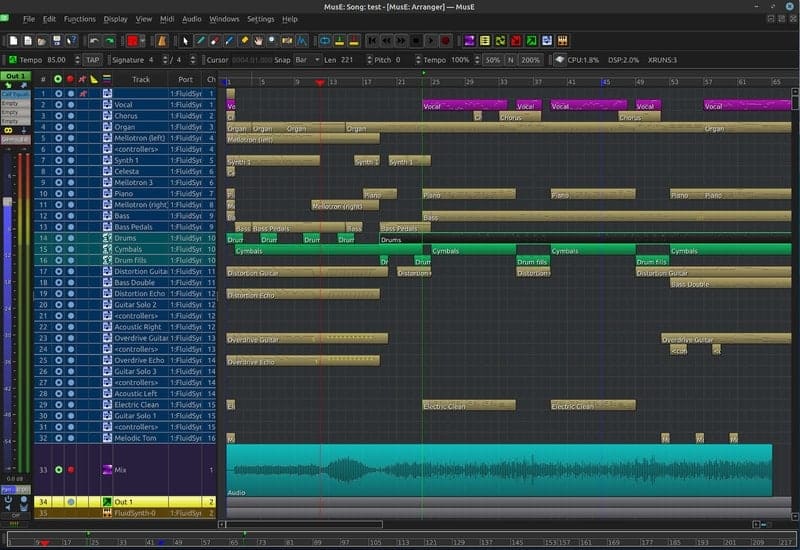 Key Features of MusE Sequencer
It supports various Linux audio libraries like JACK, FLAM, LV2, etc.
This tool can record music sessions and play them back in real-time.
You can edit, create, import, and export MIDI files with this tool.
The basic functionalities can be extended by using plugins.
The user interface is compact and not that difficult for the beginners.
To Conclude
---
Most of the Linux guitar tools have similar functionalities. Ultimately it depends on the musician's comfort and personal choice while installing an audio mixing software. But it helps when you get an overview of all the tools that are worth checking out. I hope this list has helped you to make your decision. However, if you already use a tool for guitars not mentioned here, you can let us know by commenting below. Happy composing!