Every person wants a customized desktop environment based on his choice. The most important visual element of a desktop environment is its wallpaper or background. You can easily set your desired wallpaper in the Linux system. Just like Windows PC, you can even create a wallpaper slideshow. But if you want full control and more customization, you need to download an extra piece of wallpaper changer for your Linux or Ubuntu system. With these Linux wallpaper changer programs, you can download wallpapers from different sources, schedule them and customize your desktop in your style.
Best Linux Wallpaper Changer
---
Linux-based distros, mainly Ubuntu, have got some huge advantages in customizing the desktop. For this reason, you will find numerous wallpaper changers for Linux or Ubuntu on the internet. So it's not an easy task to choose the right one according to your needs. But here, we have aggregated the best possible wallpaper changer programs for your Linux or mainly for the Ubuntu machine.
1. Wallch
---
Wallch is a free and open source program that you can use for changing the wallpaper on your Linux computer. This program is not currently under development, but it is supported in GNOME and other desktop environments with or without Unity integration.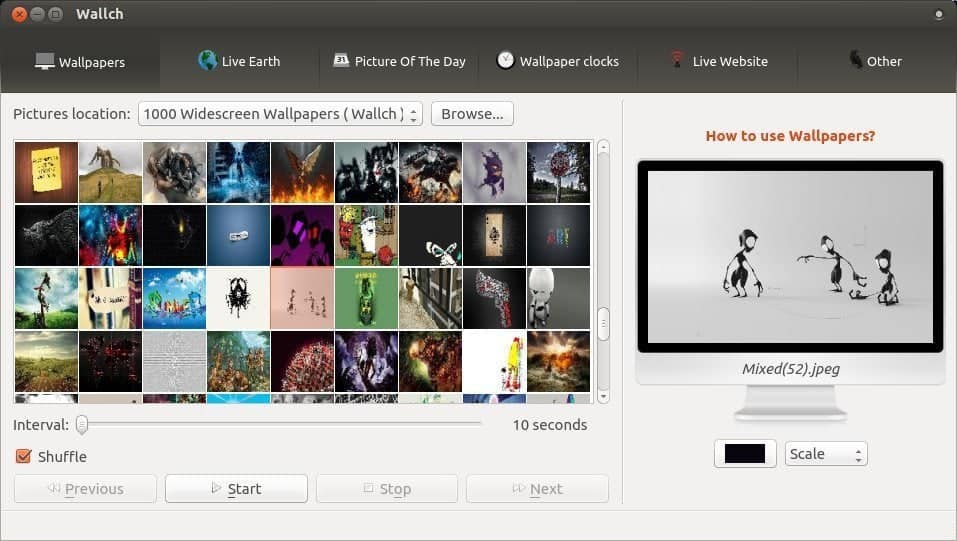 Key Features of Wallch
It has a Live Earth Wallpaper feature that can replace the desktop background with a satellite image of the earth's surface.
You can turn on the Picture of the Day feature, and it will change the wallpaper daily according to Wikipedia's Image of the Day.
It has an extra feature called Wallpaper Clock. With this feature turned on, you can set your desktop to change the wallpaper according to the time and date.
The coolest feature is the Live Website option. You can sign in to different websites and set a portion of the webpage as your desktop background. For example, you can set your wallpaper with a live view of your Facebook Newsfeed. How cool is that?
2. Variety
---
Variety is an open-source program for changing the wallpaper for Ubuntu Linux. It is a light yet powerful tool. Apart from local wallpapers, it can fetch images from different online sources. The addition of a digital clock feature is a cool part. Moreover, you will get all the basic features of a Linux wallpaper changer.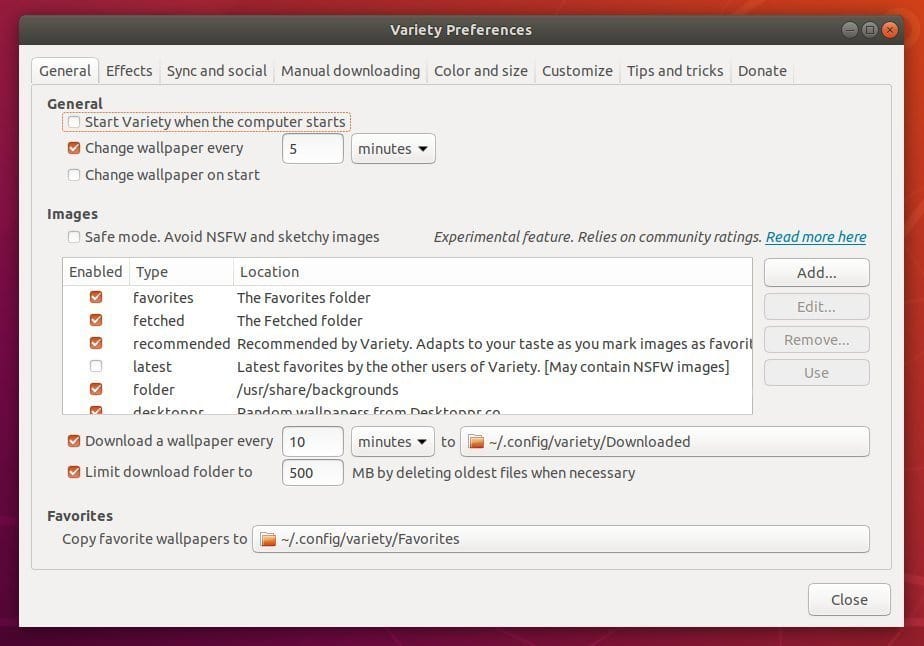 Key Features of Variety
It can fetch images from Unsplash, Bing, and Flickr. In this case, you can only use which are licensed under Creative Commons.
You can alter your wallpaper automatically after a specified duration.
It can display a beautiful digital clock on your desktop.
You will see different funny quotes on your desktop with this tool.
It has the option to sync your settings with different cloud services.
You can even set different effects to show with your wallpaper.
3. WallpaperDownloader
---
This is a cross-platform tool for managing wallpapers. This tool runs smoothly on any Linux-based distribution. It is built with Java. For this reason, your PC must need Java installed to run this program. The tool has all the basic customization functionalities.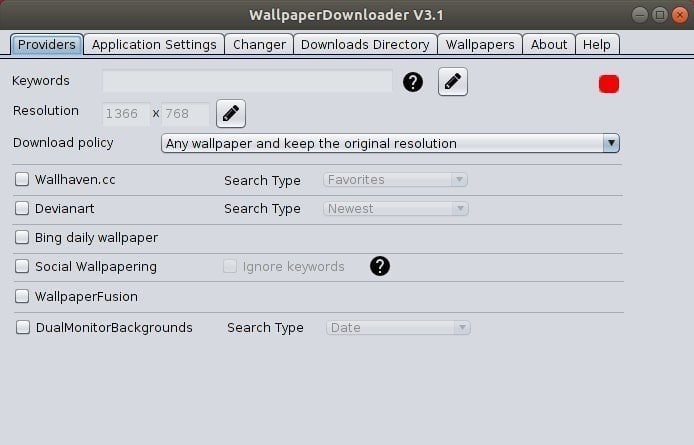 Key features of WallpaperDownloader
This tool can download wallpapers automatically from different services, including Devianart, Bing, WallpaperFusion, etc.
You can set up custom intervals for changing wallpapers.
It has the option to set up a global preferred download resolution for wallpapers.
You can set your preferred keywords so that it can download wallpapers according to your taste.
4. Shotwell
---
This is not a dedicated Linux wallpaper changer; instead, it is a photo management program. You will find this pre-installed with most of the Linux desktop environments. So in most cases, you don't need to download it separately. People love it because of its simplicity.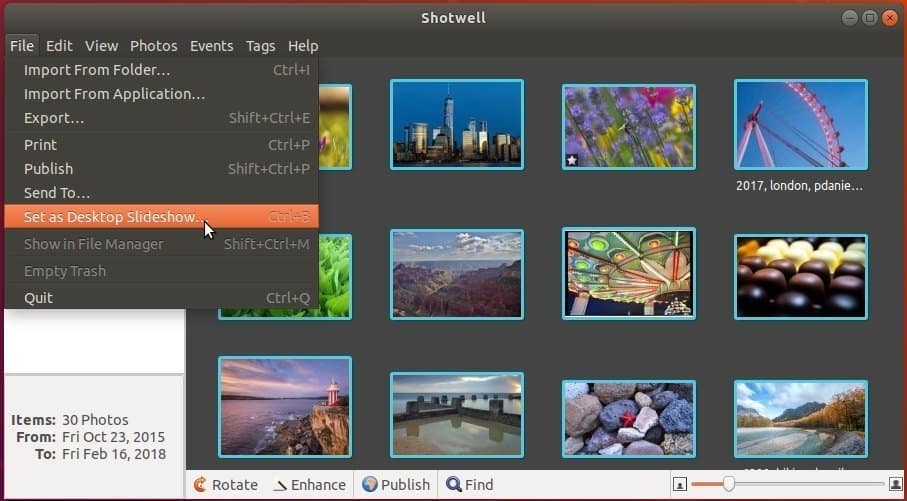 Key Features of Shotwell
You can enable the wallpaper slideshow option, which will change wallpaper after a certain duration.
You can organize all of your local photos from here and select the best one for wallpaper.
As it is a two-in-one program and does a lot of photo management jobs.
It can edit your photos right inside the app to make your wallpaper look better.
5. Webilder
---
It is one of the most popular Ubuntu wallpaper changers. But you can use it in any Linux distro. There are some common features of all these wallpaper changer programs. It can handle all these basic tasks. Besides, it has a dedicated inspiration webpage called "Webilder Channel" if you have run out of ideas.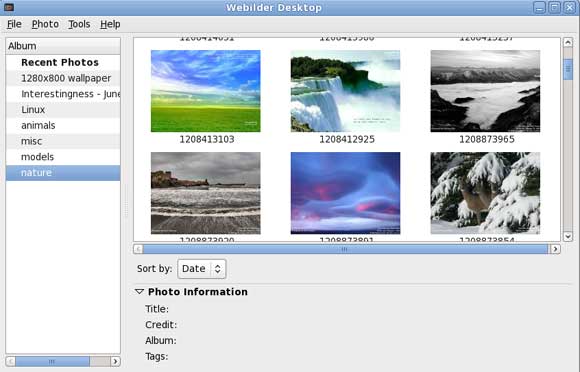 Key Features of Webilder
It can download the photos from Flickr with your chosen keywords.
If you have a premium Webshots account, it can even display wallpapers from that.
You can turn on the daily wallpaper changer feature or can go with the regular photo slideshow.
It has the ability to import your Webshots collections in .wbz or .wbc formats.
It has got a simple photo browser to preview your images in fullscreen.
6. Wallpapoz
---
It is a simple but powerful tool. The developer has decided to quit the development, but its final version is loaded with many useful features. Apart from some basic features and customization abilities, it has one unique feature. It can set up different wallpapers for different workspaces. For this reason, when you switch your workspaces, you will get a different ambiance.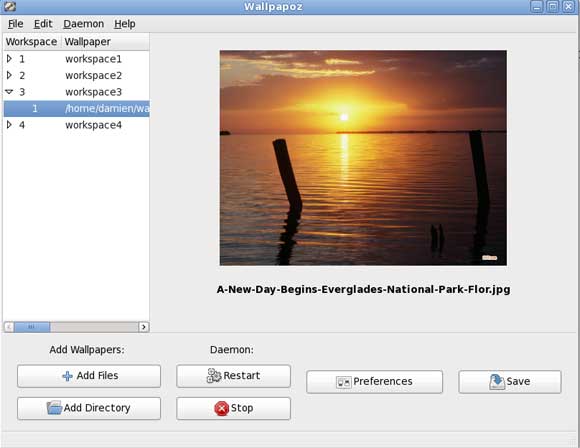 Key Features of Wallpapoz
It has the ability to create separate wallpaper profiles for an unlimited number of workspaces. You can easily manage each of your workspaces.
It will change the GNOME and XFCE wallpaper after a certain time interval.
You can select a large number of wallpapers to show on a certain workspace.
Its UI is capable of organizing and previewing wallpapers.
7. Wonderwall
---
Wonderwall is a very basic desktop wallpaper management program for Linux or Ubuntu systems. It lacks some advanced features, but it has a wide range of wallpapers collections right into the program. The user interface is very neat and fluid. It is compatible with almost all desktop environments. Moreover, the developers are very active in solving any issue.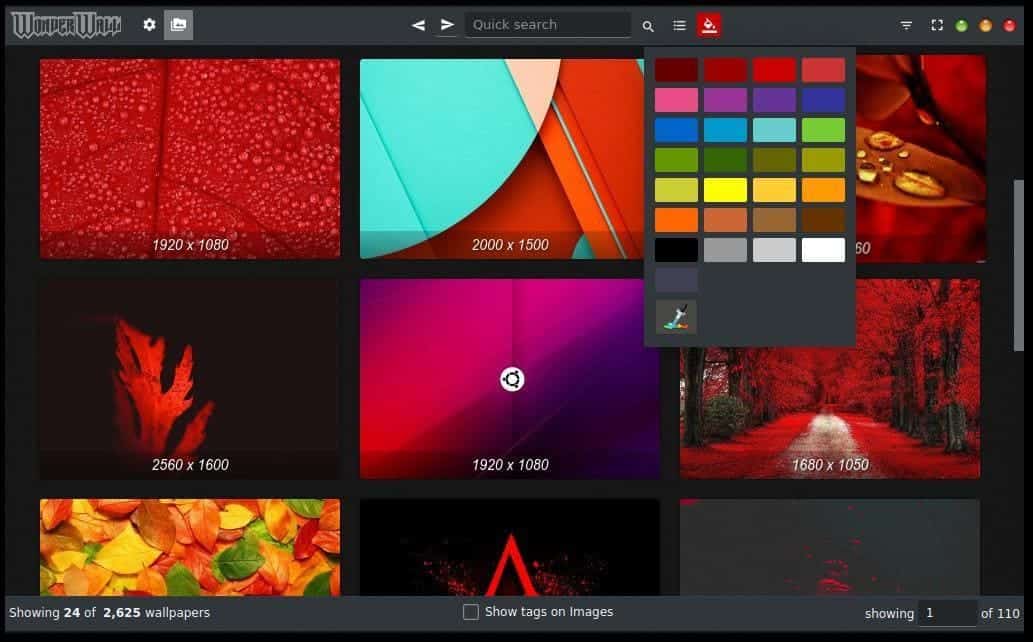 Key Features of Wonderwall
It can search wallpapers into its online database based on different criteria.
You can filter search results with Colors, Tags, Categories, Resolution, Popularity, Views, Rating, etc.
You can crop your downloaded wallpapers so that they can fit into your desktop.
It will organize downloaded wallpapers based on categories.
The database contains a wide range of UHD and 4K wallpapers.
8. Slidewall
---
Slidewall has a wide range of features. It can make slideshow wallpapers. This program is written in python. It works on almost any Linux distro. It has a minimal wallpaper changing daemon for GNOME. The live wallpaper function is the main aspect of this program.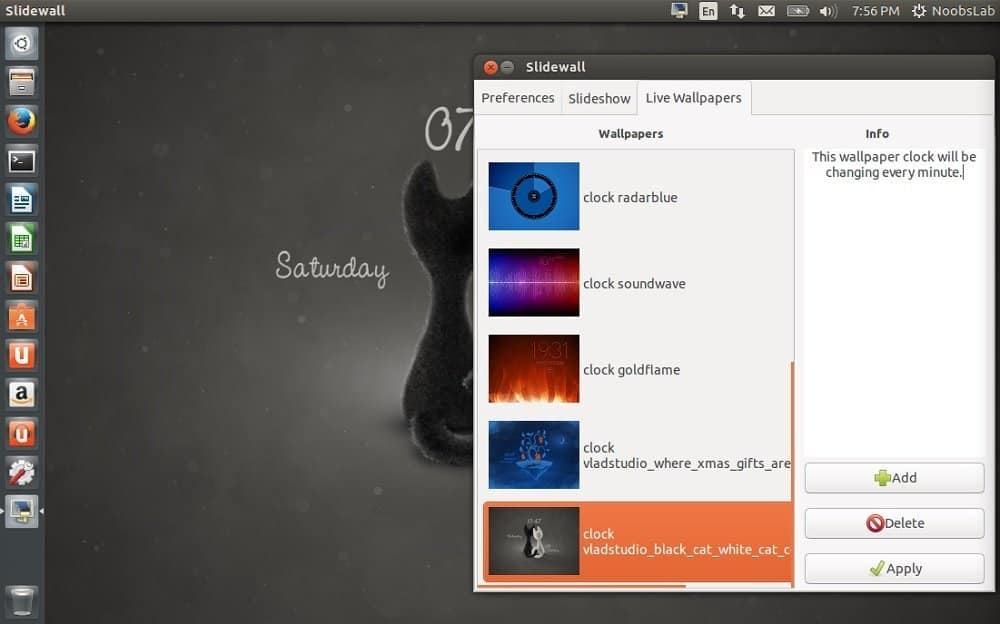 Key Features of Slidewall
It can show wallpapers directly from the wallbase.cc website.
You can set different time intervals for changing wallpapers.
The wallpaper slideshow can be shown from the local database also.
It has the ability to display live wallpaper with different cool clock faces.
9. Drapes
---
Drapes is a little desktop wallpaper management tool for Linux systems. But it perfectly does what it is supposed to do. Its user interface doesn't have rich visuals. Rather it sits quietly in the notification bar of your Linux desktop. This tool is written in C# with the help of Gtk#/Gnome#. If you need a simple tool and don't wanna mess with the settings tab, then this is a tool for you.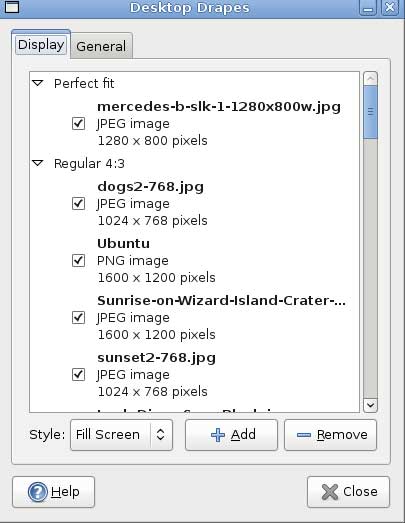 Key Features of Drapes
It is a lightweight tool, and it doesn't take much space.
It will start in the background and will be seated in your notification bar.
The settings tab is quite straightforward.
You can specify a certain folder for it, and this tool will change the wallpaper from time to time.
10. Wallpaper-tray
---
It is the most basic tool for changing the wallpaper on any Linux system. Its user interface is minimal and simple. Just select a directory for your wallpapers, and you are good to go. After installing, it will sit on your GNOME panel.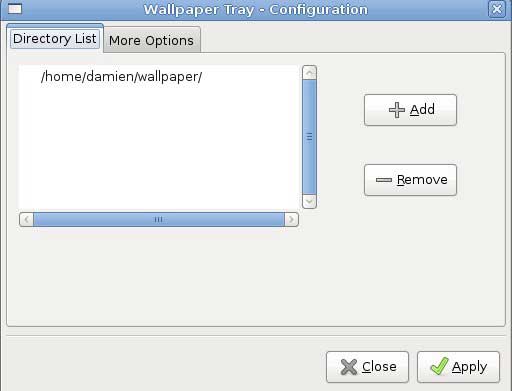 Key Features of Wallpaper-tray
It can change the wallpaper after a certain duration.
You can select several directories at a time to display wallpaper slideshow.
It has a wallpaper searching feature that will search for wallpapers based on keywords from your local directory.
11. Komorebi – Animated Wallpapers for Linux
---

Komorebi is another popular animated wallpaper changer software for all the major Linux desktop environments. Besides changing or customizing desktop wallpapers, it let you create your personal wallpapers also. You can also use a simple image, video, or web pages as wallpaper for the Linux desktop.
Final Thoughts
---
The tools mentioned above will help you to change your wallpapers on Linux or Ubuntu systems. Some of them are loaded with features; again, some are pretty basic. We have included them so that you can make a wise decision based on your preferred features. If you think any of your favorite tools should be included in this list, please let us know in the comments below. And of course, if you find this tool useful, don't forget to share it with your community.