If you are looking for the best note taking apps for Windows PC, then you are in the right place. Taking notes and keeping to-do lists is always the quality of organized people. And, there's no doubt that organized people tend to do better than others in most cases. There was a time when a personal diary or a notepad was the only medium to keep notes. But with the digitalization of all things, notepads have also become digital.
You don't have to carry a heavy notepad in your backpack, which is a big reason for using an app or computer program for taking notes. On top of that, these apps can sync your notes over the clouds, which is a great advantage for the users who have to use multiple devices. The user interface of some tools can even simulate the physical sticky notes, which makes taking notes fun and easy.
Best Note Taking Apps for Windows PC
---
Most Windows users rely on web apps for their taking notes compared to mobile users. But that doesn't mean Windows lacks good programs for taking notes. With the development introduction of the UWP platform, the developers are bringing some great apps for Windows that you will find in the Microsoft Store.
Again, there are some classic sticky notes desktop apps for Windows PC. So, the choice is not limited at all. But as always, it's not easy to find the best possible tool that will be most helpful to you. Therefore, I have made the following list of note taking apps for Windows that can serve you in many ways.
1. Evernote
---
Evernote is probably the most popular cross-platform notepad app out there. It provides plenty of features free of cost. However, there are two different subscription options named premium and business that will offer more flexibility and cloud storage. The desktop app is beautifully designed, and you can use the app for taking notes when you are offline.
It is also possible to use the web version from any device when your desktop or mobile is not with you. And, last but not least, the basic plan will offer you to upload materials worth 60MB per month, which is huge for a note taking app.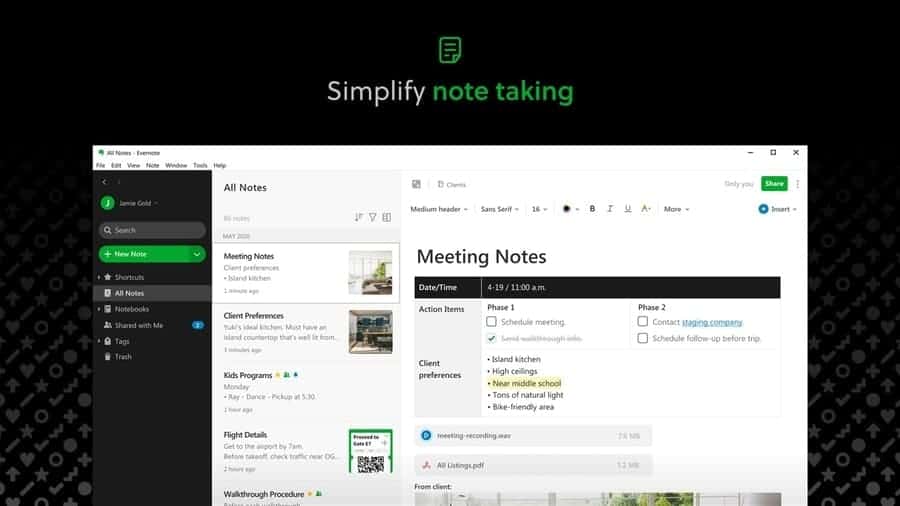 Key Features
The web clipper option is great for saving a snapshot of useful content from the web.
There are several note templates to help you quickly organize your tasks.
It lets you search for a particular text even inside the uploaded PDF or DOC files.
Advanced OCR option can recognize your handwriting and convert it into regular texts.
Evernote has an advanced dashboard to manage and organize the tasks allotted to colleagues and team members.
Pros: The biggest advantage of Evernote is the capability of integrating with many third-party cloud and SAAS. This will definitely boost your productivity and automate your tasks.
Cons: The price of the premium and business plan is not affordable for many users. And, you will miss some great features if you aren't a premium subscriber.
2. OneNote
---
OneNote is a proud member of Microsoft's productivity suite. In fact, this tool is competing pretty well with other powerful digital notepads. The biggest advantage of this tool is the integration with other Microsoft services. This is why Windows users get more benefits from this tool, and they can manage OneNote just by signing into their regular Microsoft account.
The free version of OneNote can be accessed from any device through the app or web interface. However, you will get some exclusive features in OneNote if you sign in through your Microsoft 365 premium account.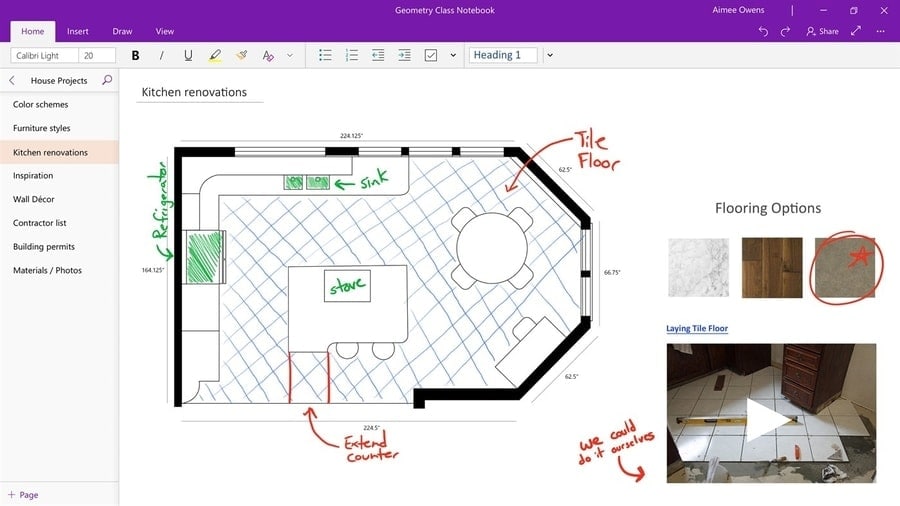 Key Features
OneNote has the best annotation and drawing tools integrated within the app.
The notepad can be accessed right from the taskbar of the Windows desktop.
You can create to-do lists and checkboxes for organizing your goals and tasks.
Sharing is very easy with friends and colleagues using other Microsoft services.
It works with Office Lens and screen snipping tool for quick capturing contents.
Pros: Seamless integration with Microsoft Office suite and other Windows-related services is the key selling point of this app. It also works great with touch screen devices.
Cons: Not many third-party services support this app for automating your stuff. Besides, if you use Google services most often, it will let you down sometimes.
3. Microsoft Sticky Notes
---
Microsoft Sticky Notes for Windows is a great legacy tool for taking notes on desktops. It came preloaded with the older version of Windows. However, with Windows 10, they have converted Microsoft Sticky Notes into a UWP app and pushed this to the Microsoft Store.
So, you can download and use this note taking app for Windows completely free of cost. It doesn't offer many features like OneNote or Evernote. But the actual sticky notepad like user interface and integration with the desktop makes it stand out against other tools.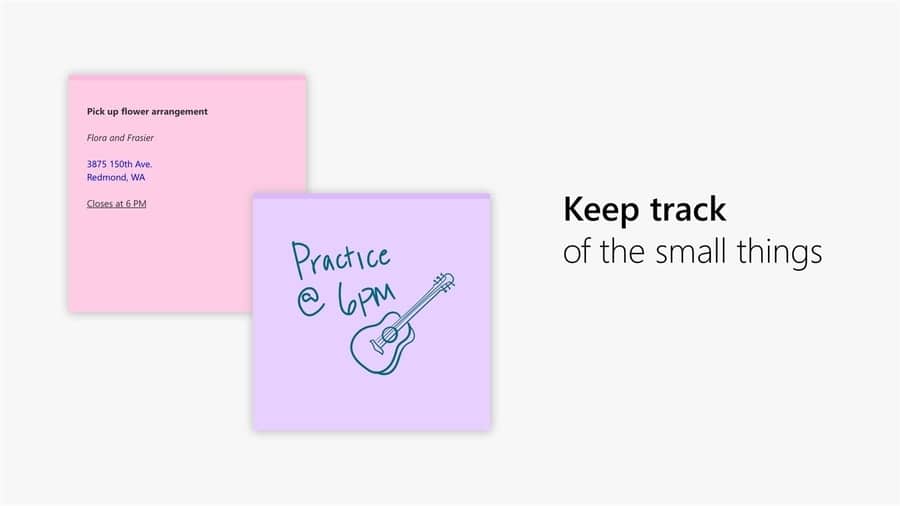 Key Features
It supports colorful sticky pages for organizing your notes and to-dos.
You can sync notes across devices through OneNote and Microsoft Launcher (on Android).
This tool supports inputs through keyboard typing and stylus drawing.
You can use the Cortana virtual assistant to set up reminders in this app.
It supports image notes as well as there is a dark theme to match with your desktop.
Pros: This tool can pin the notes right on the desktop to not forget what to do next. Besides, the revamped UWP version is very modern in terms of visuals.
Cons: You won't have the ability to take notes through a large canvas in this app. If you are looking for a full-fledged notepad, then there are other options to go for.
4. Samsung Notes
---
Honestly, I didn't know that Samsung has a note taking app for the Windows system. So, I was quite surprised when I first installed this tool. I thought this is just a gateway to the web app, and  I didn't even expect much from it. But this tool totally impressed me. From the user interface to the functionalities, this tool has the ability to compete against all the popular titles.
It has seamless integration with the Samsung S Pen. So, if you are running any touch screen or S Pen supported Windows device from Samsung, you will get some extra benefits from this app.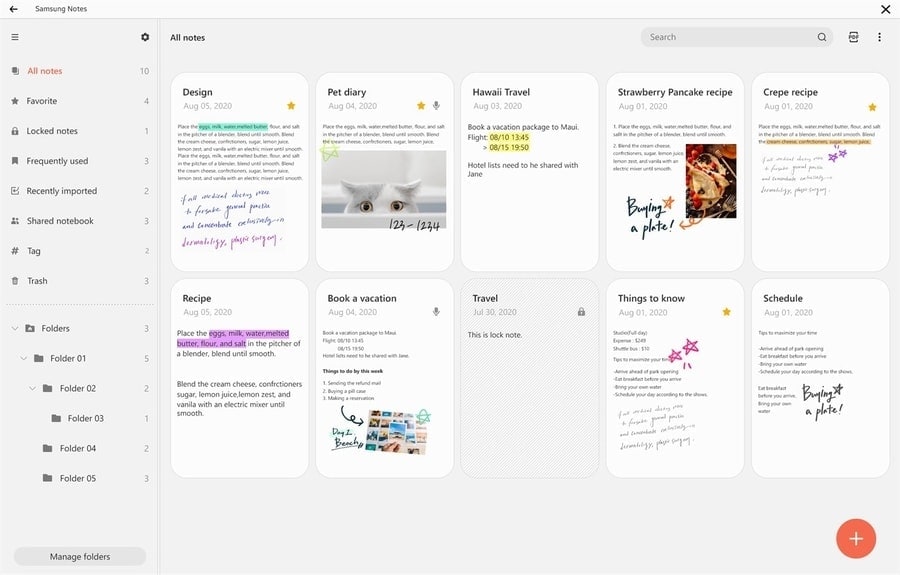 Key Features
It supports numerous brushes and pens for annotating on the notes.
This tool also works great as a stand-alone drawing app for creative people.
You can import PDFs and take notes on them for making a review report.
Samsung Notes can organize all the notes and files using the built-in folder management feature.
It syncs with Samsung Cloud in real-time so that you can catch up on your other devices.
Pros: If you like to annotate and draw on the notes, then I think there's nothing better than this. S Pen support is also a great selling point of this app.
Cons: The package size is huge. So, if you are running a tab with low storage, then you might face some problems.
5. ColorNote
---
You might have used this app on your Android devices. When Microsoft launched their UWP platform for developing apps, the developers brought ColorNote to Windows. This tool provides some nifty note taking features to the users. The user interface is crafted beautifully, keeping the touch-screen users in mind.
The design will remind you of Windows 8's Metro UI. You can add regular text-based notes as well as to-do lists for boosting your productivity. And, as the name suggests, you will get colorful pages that look pleasant in the eyes.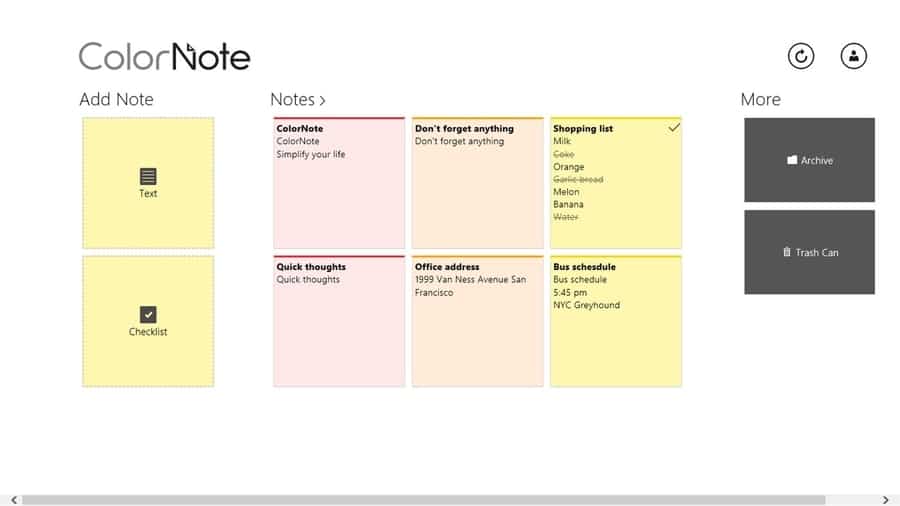 Key Features
It supports syncing notes by using Facebook and Google accounts.
You can use this for event reminders, shopping checklists, and much more.
The tool has search and organizing features finding notes quickly.
You can archive your notes for future usage without cluttering the homepage.
This tool supports side-by-side windows for better productivity and multitasking.
Pros: Simplicity is the strength of this tool. If you don't need extra features and just want text-based memos, this is a perfect choice.
Cons: It doesn't support handwriting inputs, and an annotating tool is a bummer. Besides, the developers should update the UI to adapt to Windows 10 design language.
6. Simplenote
---
We all know Automattic, the developer of WordPress. But how many of you guys knew that they have a notepad app designed to work for various operating systems? Yes, I am talking about Simplenote. This beautifully designed note taking app for Windows PC will let you digitally preserve your valuable ideas.
The design of the app is not that fancy. It followed a minimal approach while designing the UI. But you will get all the modern features of an internet-connected notepad completely free of cost.
Key Features
This app is available for all the major platforms, and the notes automatically sync across them.
You can tag noted by keywords just like a WordPress post and can find them easily later.
The users can publish their notes online whenever needed to collab with their friends.
You can browse your editing history anytime through previous weeks, sometimes even months.
It supports markdown tools to format your notes just like an HTML webpage.
Pros: Simplenote is more than a basic notepad. You can use this as a personal diary and share them with the world by formatting them just like a blog post.
Cons: It doesn't have drawing tools or support for taking inputs from handwriting, which is a negative side.
7. My Notes
---
My Notes is a popular digital notepad for Windows 10. This is a pretty lightweight tool with some great features. The UI is designed with the modern, fluent design language developed by Microsoft. Although this is a third-party app, it syncs nicely with Microsoft cloud services.
On top of that, you are getting a live tiles integration feature that will show you the overview of your tasks right inside the Start menu. My Notes has got a few million downloads so far with great customer satisfaction. This tool is worth trying for these exclusive features.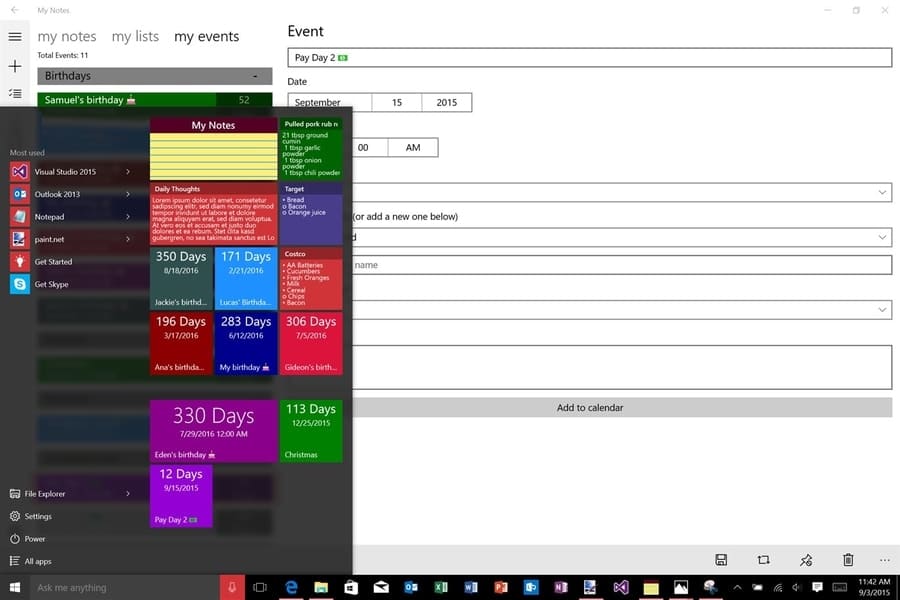 Key Features
It supports organizing notes into colorful folders.
This tool can add notes, events, lists, tasks, etc., in its directory.
You can backup your notes into the computer storage for future restoration.
Supports Windows Ink feature for drawing and annotating on the notes.
You can pin your important notes as Start menu tiles.
Pros: I liked the feature of pinning notes and events on the start menu as live tiles. It makes this tool a great alternative for physical sticky notes.
Cons: The tool doesn't support syncing tools online, which might be a deal-breaker for some people.
8. Quick Note
---
Quick Note is yet another notepad for Windows devices. It also follows the traditional Windows 8 design language. But it looks great and provides that old-school vibe, which is cool indeed. The tool feels like a physical clipboard where you can pin your to-dos and tasks.
The clips are organized neatly in grids with date and title. On top of that, you can also pin them on the Start screen for your convenience. The colorful UI resembles another popular app, ColorNote, while this surely exceeds that in terms of some features.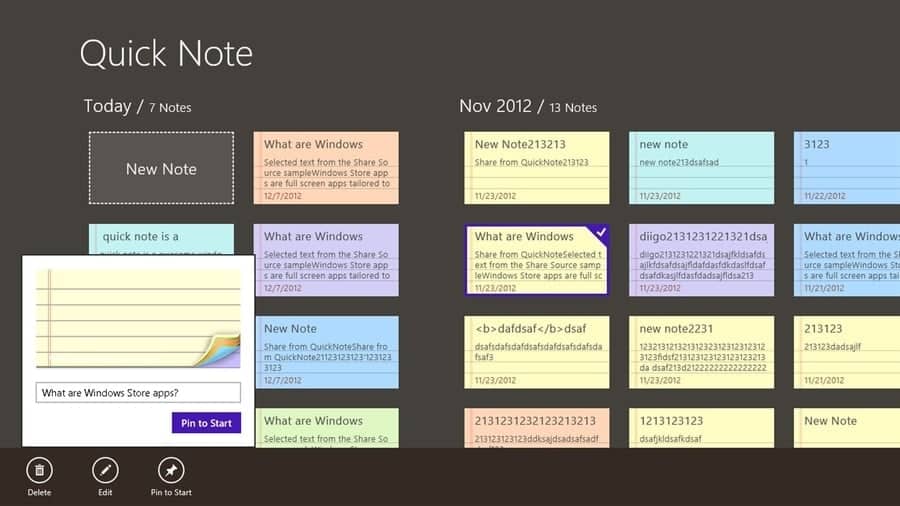 Key Features
You can choose from 7 different colors as the note background.
The users can add tags for organizing notes of similar types.
The most important notes can be pinned on the Start menu.
You can backup and restore all the notes by using the built-in feature.
The UI is very neat and doesn't have unnecessary clutter on it.
Pros: The notes and your personal data doesn't leave the computer since it doesn't use cloud services to backup things. This is why it is more secure.
Cons: You can't add images and web captures in the clips, which will not be a bummer for you to use images in your notes.
9. Skolar
---
Skolar is not just a mere notepad. It is, in fact, a complete daily planner for your productive life. This tool was originally designed for the school students in mind. So, you will get some extra features that will really help to organize your student life.
Apart from using the default templates for planning your daily goals, you can use the blank notepad pages to write down important information. The user interface is very modern, with colorful visual elements. All these things make it a perfect companion for the students.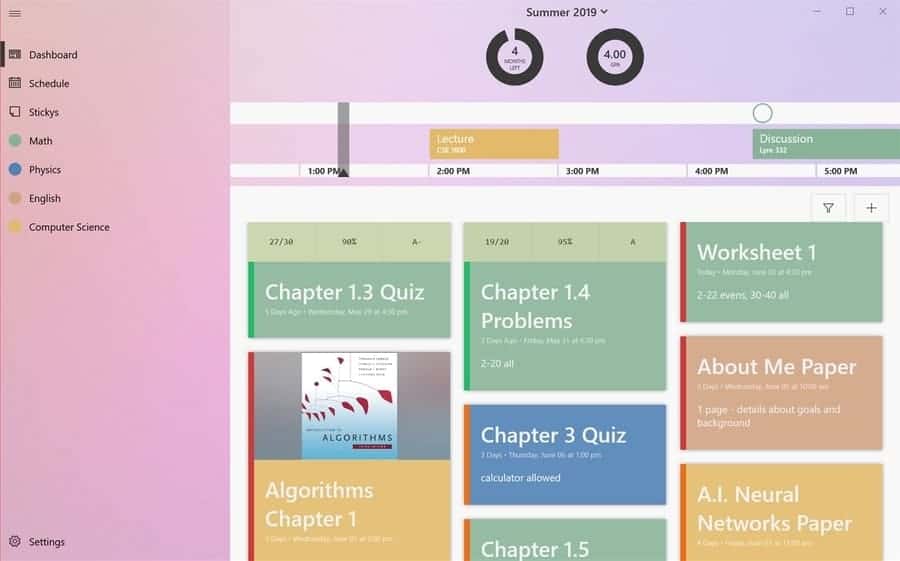 Key Features
You can schedule your assignments and classes using the built-in templates.
The students can put their course information in a more organized way.
The dashboard will show your deadlines, goals, other important pending tasks.
You can add sticky notes on the homepage using images and texts.
It can even visualize your progress by beautiful curves and graphs, which is a handy feature.
Pros: If you are a student and struggle with regular notepads, this can be your lifesaver with those great student-friendly features.
Cons: This will not help if you are looking for a general-purpose note taking app for Windows systems.
10. NoteLedge
---
NoteLedge is a powerful note taking app with an easy to use interface. Anyone can use this tool without going through any kind of learning curve. But that doesn't mean it has fewer features than other tools in this category.
Rather it gives you the flexibility to add rich multimedia like videos, audios inside your notes. This is a very convenient feature if you don't want to type a long text for taking notes. It can also be used as a whiteboard for quickly sketching up your ideas digitally.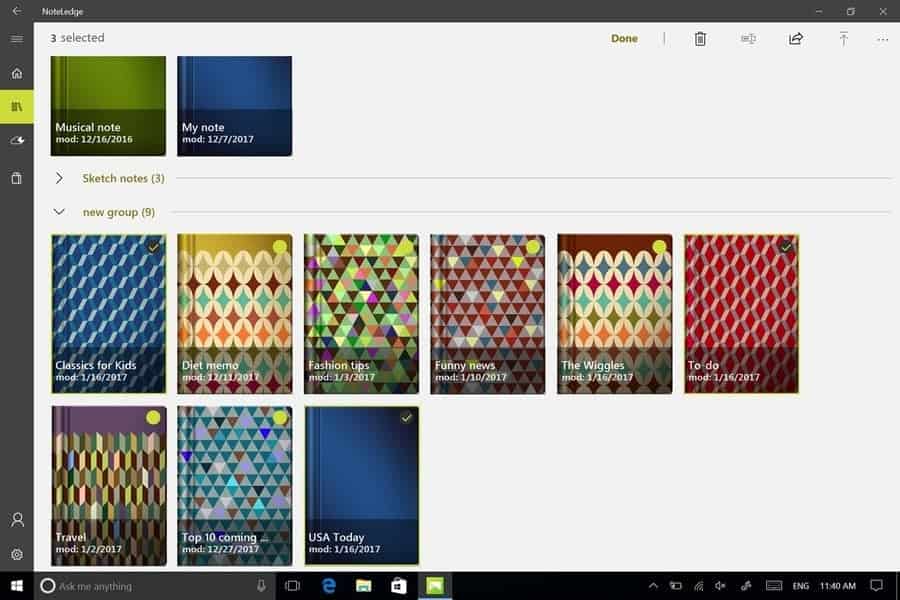 Key Features
You can customize the font faces, which is an exclusive feature of this tool.
It features an advanced drawing canvas with a lot of brushes and strokes.
You can export your notes into PDF files for sharing them with friends and colleagues.
Adding margins and gridlines is a nifty feature while taking notes through freehand writing.
It has a library of stickers and graphics to add a new dimension to your notes.
Pros: This tool has made note-taking an art. If you love decorating notes with audio-visual elements, then there's nothing to beat this tool.
Cons: It doesn't support integrating with other third-party cloud services and cross-platform syncing.
Our Recommendation
---
Choosing a digital notepad depends entirely on your personal preference. I can just guide you through that. If you change your devices most often and have to use different operating systems simultaneously, then I'd say Evernote is the best choice for you.
OneNote can also be considered if you are a Microsoft fan. Otherwise, if you love privacy and offline solution, then My Notes can be your pick. And, the students already know what should be their pick! It's Skolar without any hesitation.
Final Thoughts
---
I didn't forget that Windows has a built-in note taking solution named Notepad. But that is more of a text editing tool rather than a convenient digital notebook. On top of that, you can't organize your texts in Notepad. This is why the note taking tools from Microsoft and other third-parties come into play.
I hope this article has helped you to choose your next note taking app for Windows. If you are satisfied and happy, don't forget to share this awesome article with your friends and colleagues so that they can choose their own.