The chance of data breaching has reached its peak due to the ever-growing competition of data collection all over the world. It is our responsibility to keep our privacy secured and remain safe from cyber threats. If you are a Windows user, then password managers for your Windows PC can be your greatest companion in this war.
Besides, they can be really useful when creating complex passwords and remembering them become next to impossible. On top of that,  as nowadays every website, eCommerce, or application asks you to create an account on their portal, your privacy or sensitive information can easily become vulnerable as long as you do not use any standard tool for security.
Best Password Managers For Windows PC
---
To enable you to get your hands on all the great password managers for Windows PC, we have gone through the insights and tested many tools before making this list. You will find other options and make sure they can render quality service to optimize passwords, protect data vaults, and detect threats or malicious activities for you.
1. Keeper Password Manager & Digital Vault
---
You can use Keeper across all the platforms, which gives you the flexibility to use complex passwords for all the websites you are going to use. Besides, you can use it on any of your devices, so you can just forget to worry about the passwords.
You will get all the advanced features, and this app takes cybersecurity seriously by offering well-designed browser extensions. The user interface is elegant and well managed, keeping all of your passwords protected from cyberthreats.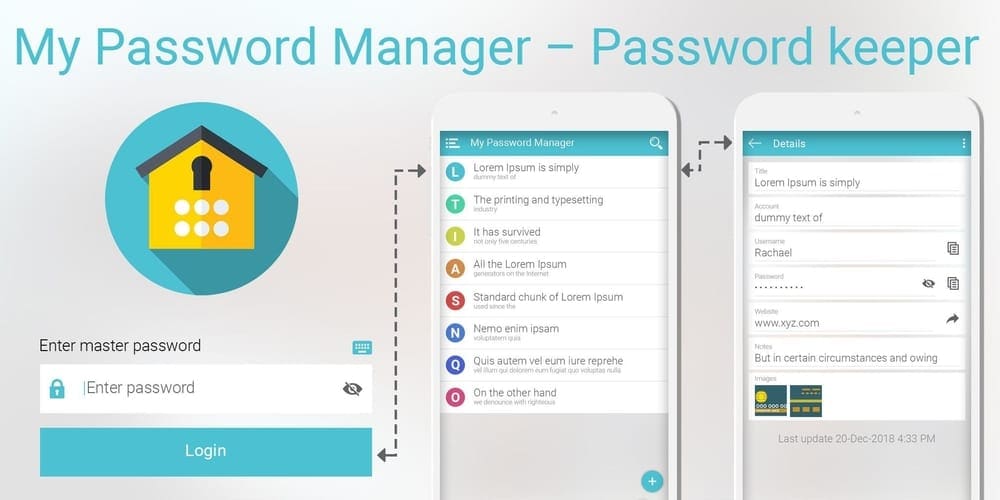 Important Features 
Comes with an awesome feature known as KeeperFIll which can generate random password and autofill on the websites or apps. 

When you are shopping online, this app can securely process your payments for faster checkouts. 

It will guard your data while managing, creating, or sharing with family, friends, and colleagues.

You will get a highly secure digital vault in the package that is really useful for storing documents, photos, and videos. 

Will enable users to have full control over the versions of the assets they have been storing in the digital vault.

Moreover, you can grant permission to 5 people to access the vault in case of emergency. 
Pros: Keeper is powered by two-factor authentication that includes Fingerprint, Face ID, and U2F security keys. Besides, all your personal information, even the driving license information or passport number, will remain in safe hands. 
Cons: Although you will find many web form filling options, it is still pretty less compared to its competitors. Besides, the free version really limits the features to a great extent. 
2. Dashlane
---
If budget is not a problem and you are searching for industry-standard password managers for Windows 10, Dashlane should be considered. It takes smart password management to the next level through its well-designed UI. It inherits all the quality required to be a top-notch tool for your computer.
Although there is a free version available, you will really love to get your hands on the pro features. You will have to pay $59.99 only for the Dashlane Synced Plan, while for the Dashlane Premium Pro Plan, this price goes up to $119.99.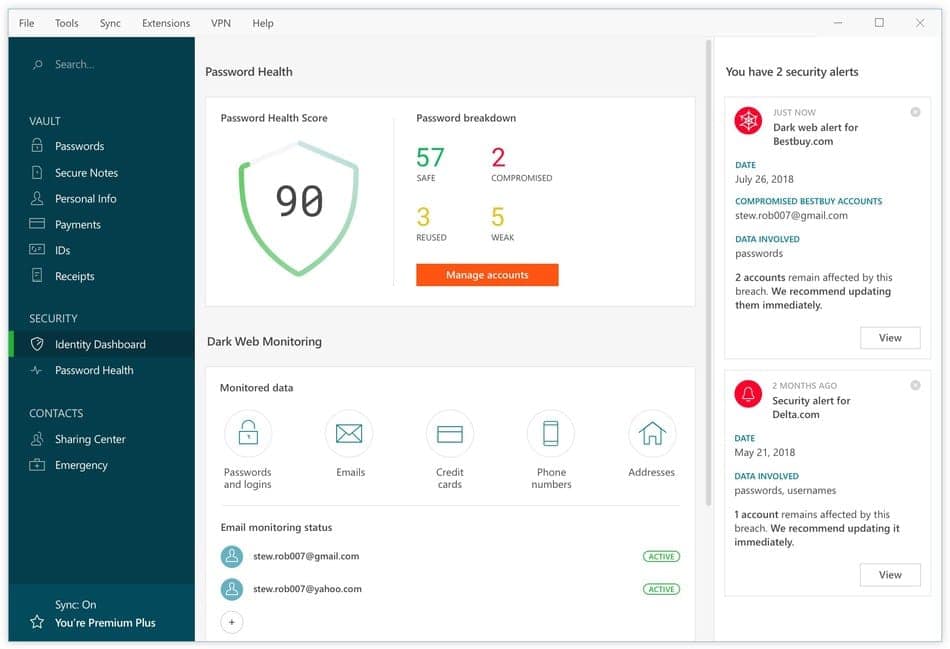 Important Features 
If you are not using a free version, all of your devices will be synced no matter which OS they are using. 

Unlike other password managers for PC, it comes with a VPN within the package. 

Get rid of password theft as Dashlane is really efficient in generating strong and unique passwords for every site. 

Besides, it offers well-functioning browser extensions that are really fast and simple to use. 

It can be your great companion while surfing the web as it can auto-fill up your personal information whenever required. 

You can collect an unlimited number of passwords and log in to different sites automatically. 
Pros: While you will get all the essential features of password management, Dashlane can scan the dark web if your account is compromised. 
Cons: When it comes to multipage login, you may notice some issues, and also, the cloud storage can not be upgraded, which may become inadequate anytime. 
3. LastPass
---
When it comes to computer software, you will find one software from all categories that everyone knows about. There are many people who are not concerned about their security but still use LastPass on their browser.
Even with the free version, it offers so much that you will never feel the importance of upgrading to the premium plan, which is quite expensive. This software can guarantee that if you ever store a password in LastPass, then you can never lose it again. 
Important Features 
Can be easily considered as one of the best free password managers for Windows. 

To protect you from the security breach, LastPass automatically fills up all the payment and personal information while making a purchase. 

It comes with a built-in password generator capable of creating complex and randomized passwords. 

LastPass can keep your digital records such as Insurance cards, memberships, or even Wi-Fi passwords safe. 

You can also focus on maintaining security while sharing anything over social media networks. 

You will remain protected from being hacked due to its continuous dark web monitoring. 
Pros: LastPass is the most popular password manager you can get right now. If you are running an organization, you can check their business plan also. 
Cons: You will get No U2F support, and also, it is not able to fill in some personal information on the forms. Although there are many extras available, some of them are pretty outdated. 
4. LogMeOnce
---
LogMeOnce can easily come under the most flexible password manager for PC due to the wide range of variety in pricing plans it is offering. It is intended to meet all the requirements one could ever ask for cybersecurity.
Their products are based on three main categories, and you can select any plan from Family, Premium, Professional, and Ultimate package for password management. The two other categories are Identity protection and cloud encryption. You can access the 7-day trial before paying for the premium version.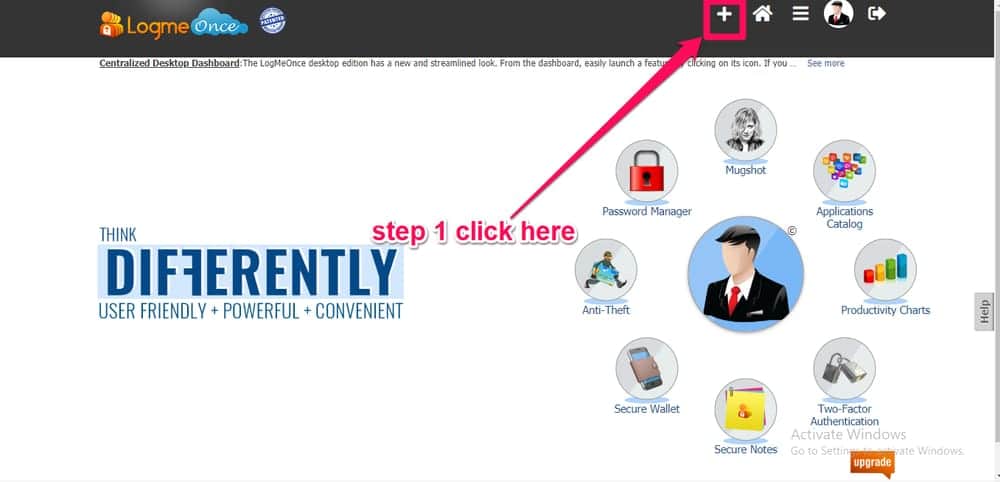 Important Features 
This software will send a push notification if your security is at risk of being breached. 

Can continuously monitor the dark web and protect your password across the websites. 

Features like Identity Risk Scorecard, anti-hacking protection, LogMeOnce mugshot, and account freeze are also available. 

Can get up to 10GB of encrypted storage for storing your sensitive files. 

One can create unlimited complex and long passwords along with unlimited secure notes. 

Besides, it is ready to make your life comfortable through remote logout and scheduled login. 
5. 1Password
---
Security should be the first priority when you are running an organization. If you lose your data, then you can easily lose your place in the blue whale market. 1Password is a tool suitable for organizations of any size. Although you will not find limitless features like other alternatives in this list, it tries to solve specific problems for delivering high-standard solutions. 1Password can easily track your passwords, and one can access personal data from all the devices.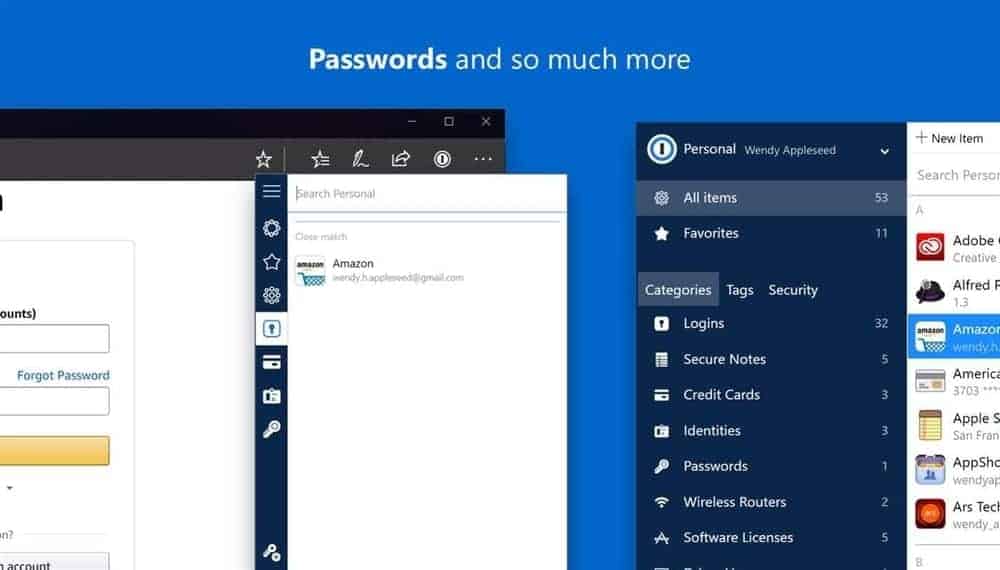 Important Features 
You can use 1Password on all the platforms, including Windows, macOS, Android, iOS, while you will get great browser extensions as well. 

Password organization is well-managed, and you can add new devices through simple authentication. 

This application is lightweight and super fast. You will hardly find any lag on the extension.

It allows you to log in securely and store private documents in the password vault. 

All of your usernames and passwords will be stored and auto-filled up when required. 

Gives data security the top priority and incorporates innovative thinking and a combination of policies. 
Pros: One of the widely used Password managers that have been trusted by more than 70,000 businesses already. Besides, it can identify your family and friends so you can happily share your credit card or any other personal details. 
Cons: The browser extensions are outdated and could be improved a lot. Besides, the importing option is limited, and you will find the absence of adequate password management features. 
6. Bitwarden
---
If you are a developer, you know the importance of open-source projects where you can contribute to the development and get high support from the community. Although you will not find so many options for the open-source and free password managers for Windows, Bitwarden is proudly one of them.
It comes free for individual use, but you will have to upgrade to Bitwarden premium to get support for your business. For sharing information with all the people securely within an organization, Bitwarden is a perfect tool.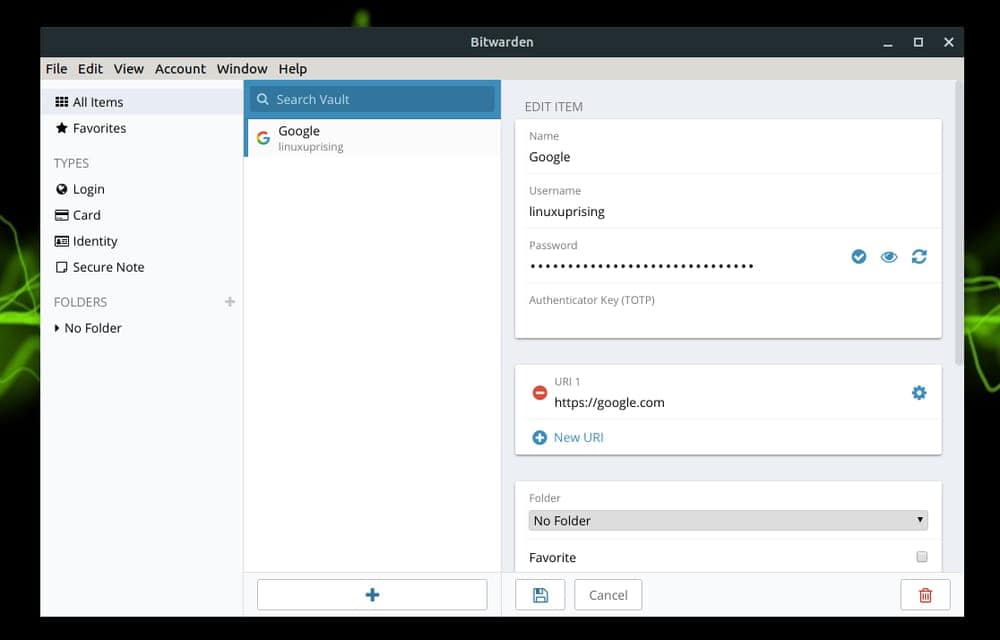 Important Features 
You can get rid of cyber attacks, the rising data breach, and security threats for confident web browsing. 

Private data can remain safe with end-to-end encryption, which makes it suitable for businesses. 

Along with end-to-end AES-256 bit encryption, Bitwarden uses salted hashing and PBKDF2 SHA-256.to lock passwords. 

It is a cross-platform application that allows you to use it on mobile, browser, computer, etc. 

You will have full control over your data, and the Directory Sync can connect the onboarding and streamlines users.

Features SSO authentication and powerful APIs that let you integrate Bitwarden into your systems. 
Pros: You will get a detailed event log to overview who is accessing your data and update the permissions. Besides, Users can expect always to get quality customer support. 
Cons: For full access, the price is too high, while iOS users will get limited support. You will also notice bugs while using edge extension.

7. Password Boss
---
Many people do not want to spend too much time exploring the available options and getting a reliable product that they notice first. If you are someone who inherits the same characteristic, Password Boss will be the best choice for you.
You will find many other password managers for Windows 10, but Password Boss simply changes the game when it comes to managed service provider business. This tool will help you to protect influential data, customer information, privacy, and anything that really matters. 
Important Features
Along with all the basic functionalities, you will get hands-on experience with the advanced features. 

Customer's data will remain in safe hands, and Two-factor authentication is also available. 

Intended for business where you can grant permission based on the member roles. 

You can easily integrate platforms like ConnectWise Control, TeamViewer, Datto, Splashtop. 

Even if you share a password with your members, the data will be passed through a secured channel powered by  2048 bit RSA key pairs. 

Will store all the data in secured storage that comes with AES-256 and PBKDF2 multi-layered security. 
Pros: You will have a customized dashboard and can generate reports. Besides, built-In Dark Web features, multi-device access set it apart from other applications. 
Cons: You will find the configuration process really complicated at times, and the absence of online access to stored passwords is the only mentionable downgrade. 
8. Zoho Vault
---
If you are looking for a premium password manager for your PC, Zoho Vault is the answer to your thirst. You cannot really compare Zoho with others in terms of capability, usability, and also modern interface.
It has taken the password management process to the next stage by integrating access management needs and best-in-class functions. It is powerful and can handle all of your passwords securely, yet you will find it really simple to use. You can install their Android or iOS mobile application for your mobile security.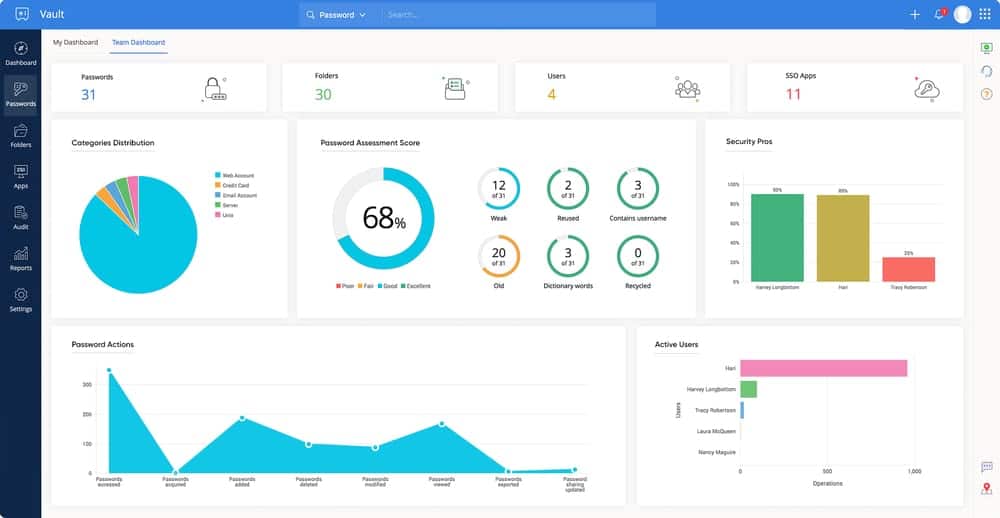 Important Features
Zoho will automatically take the backup of your data, and you can integrate Microsoft, Azure AD, Office 365, G Suite, OKTA, and OneLogin as well. 

You can use it in your business workflow to get an overview of the members' behavior and track the actions they have performed. 

On top of that, you can always block unauthorized access or unknown IP to protect your organization's vault. 

Updates all passwords periodically to minimize the chance of password theft. 

Features real-time audits and monitors any changes in the organization's vault carefully. 

To take extra care of the important access, you will enable access as an extra layer of security.   
Pros:  Zendesk, SDP On-Demand, and other popular help desks can be easily integrated, and powerful extensions for Chrome, Firefox, Safari, and Edge are also available. 
Cons: One of the major downgrades of this software is its inability to automatically fill up the forms. Besides, you can not expect it to import your passwords from browsers. 
9. Sticky Password
---
You will find many people who do not want to use any of the password managers for Windows as they think these tools might be too complicated to handle, especially for non-tech people. Sticky Password is designed to make password management convenient and flexible for all users.
To keep things simple, it does not offer advanced features. But all the basic features are covered so well that you will never feel the necessity of switching to another password manager at any stage in the future.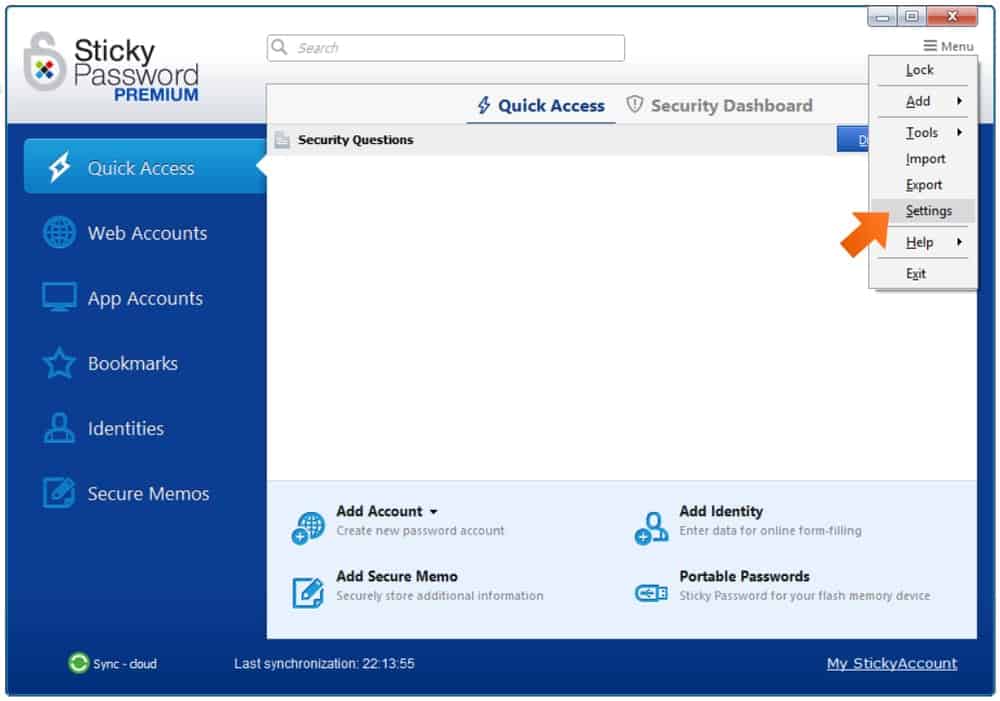 Important Features
It will sync all of your devices, so even if you create a password on a device, this app will autofill it when you are trying to log in from another device. 

It comes with no-cloud Wi-Fi sync to enhance the security to a great extent. 

Efficient enough to track passwords for all of the applications you are using. 

Advanced features like Two-Factor authentication can provide an extra layer of security. 

Cross-platform compatibility allows users to use this app on macOS, Android, and iOS devices along with Windows. 

Although it does not come for free, the pricing plan starts at a lower point than the alternatives available out there. 
Pros: The user interface is sleek and easily understandable. Besides, it can fill up web forms automatically, which can save a lot of time for you. 
Cons: This software may not be useful for advanced users. If you are a pro and looking for high-grade security with digital inheritance and password breach checksPassword audit, then obviously Sticky Password will not be preferred. 
10. RoboForm Everywhere
---
RoboForm covers all the blank spots left by Sticky Password mentioned above in this list despite being super simple to use. If you are a beginner and not very comfortable with using different tools on your computer, you can consider RoboForm as an all-in-one solution when it comes to managing passwords. Besides, even the free version has included almost everything, so you may never need an upgrade.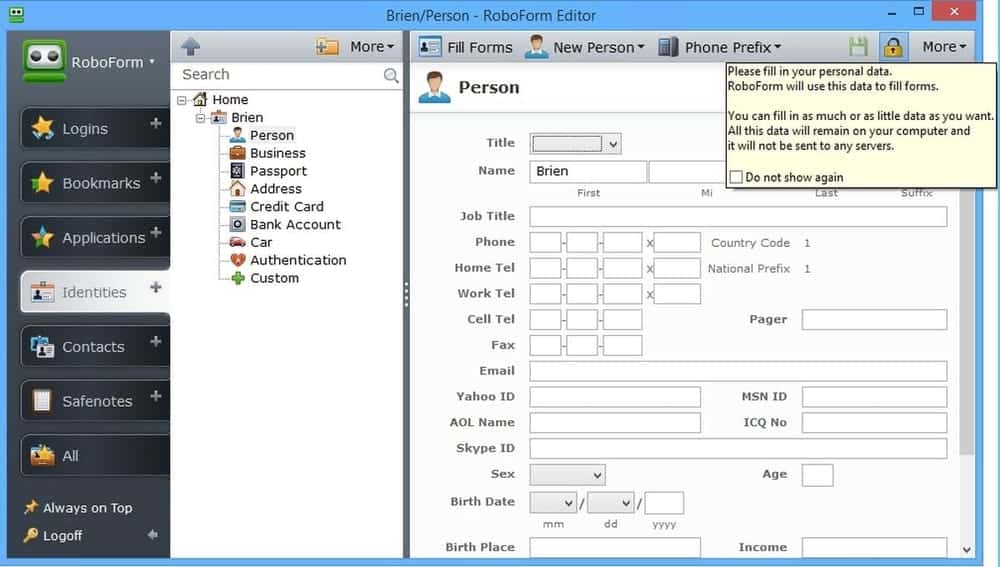 Important Features
A massive number of people rely on this, and you can start using this tool without any hesitation. 

It can make creating and remembering passwords pretty simple, just like a piece of cake. 

You will get unlimited Logins and take advantage of auto web form filling and multi-platform support. 

Capable of protecting influential data and assets through strong encryption. 

Besides, it features advanced functionalities like Password audit, digital inheritance, and password breach checks. 

You can grant access in case of emergency, and this tool is also great in managing all of your bookmarks. 
Pros: This tool is super powerful in creating strong passwords. It can even detect if you are using any weak or duplicate passwords on websites or applications. 
Cons: You will find the default password generator is not well optimized, while the absence of two-factor authentication is the main reason behind its falling in the competition. 
Our Recommendation
---
It is impossible to generate strong passwords and remember them for access constantly. So, you have no other choice but to use one of the password managers for Windows mentioned above to automatically create complex and long passwords and protect yourself from all the potential cyber threats.
I want to let you know that we have taken the features, pricing plans, usability, advantages, and disadvantages into consideration before choosing the best password manager. Depending on that, I am declaring LastPass as the best password manager tool for Windows PC. Even with its free version, you can feel so relaxed that you will not have to worry about your security again.
Finally, Insights
---
So you have got the names that represent the list of the best password managers for Windows. Password managers have become an important tool when we are becoming more engaged with web applications, eCommerce, or social media sites.
As a result, the number of criminal activities on the web increases along with the number of cyber threats, data breaching, and unauthorized access. Besides, hackers are always active in cracking your credit card number and pin, while window shopping can cause you a devastating loss.
If you are using multiple devices, emails, or social media accounts, it is high time to start using a password manager to have full control over your passwords and store essential files securely. Take your time and make your decision wisely to pick the most suitable one from the list.