This article is for those users who want the best podcast app for their Linux system. You might be lost to find the best one as thousands of Linux Podcast Software is available in the market. Installing and checking all will be a time-consuming, tiresome task and obviously not resource friendly. So to overcome this situation, I will share a generic list of the best Podcast app for Linux enthusiasts.
Best Podcast Apps for Linux System
---
Podcasting content has rapidly become a mainstream form of news, entertainment, knowledge sharing concept. A lot of major content creators are now using this form of content creation for a wide range of audiences. Many Podcast apps are there outside, and moreover, there are some best RSS feed readers available, which also can extract and play podcast content out of the box. In this quick article, I will review a generic list of 20 Best Podcast Apps for Linux. This list doesn't follow any specific order, and all the features are not exclusive here.
1. CPod
---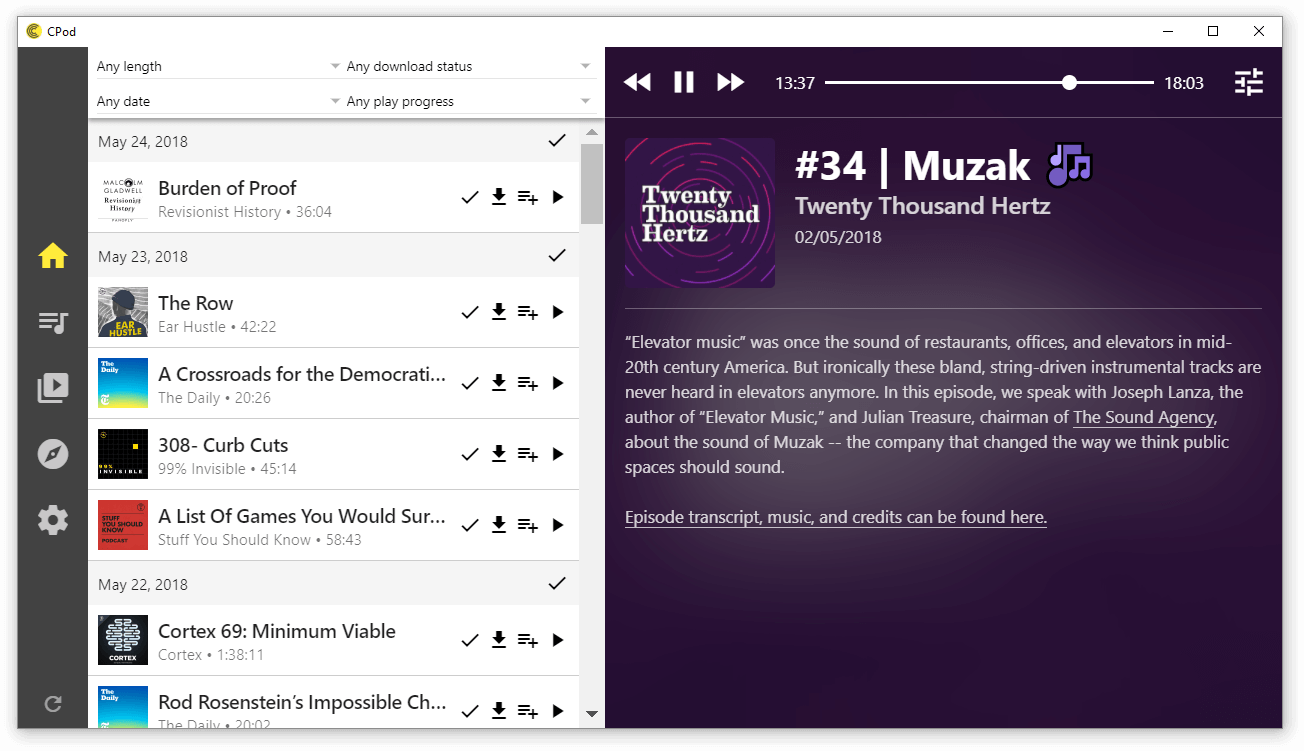 CPod (formerly known as Cumulonimbus) is a free, open source, and cross-platform podcast player for Linux, macOS, and Windows. CPod is built on top of web technology, written in JavaScript, and used the Electron framework. It's easy to install a .deb file that is available for Debian/Ubuntu system. Moreover, It offers "AppImage and Snap package" for installing on any Linux distros.
2. Vocal
---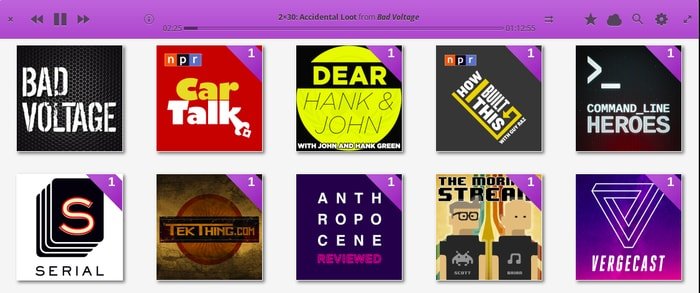 Vocal is a beautifully crafted podcatcher app that comes pre-packed in elementary OS, another best-looking Linux Distro. It offers lots of features out of the box, including full audio and video support, streaming and downloading the podcasts, saving and custom skip interval, smart podcast management, etc.
Install:
Make sure to follow how-to install flatpak apps in Linux before installing.
flatpak install flathub com.github.needleandthread.vocal
Run:
flatpak run com.github.needleandthread.vocal
3. gPodder
---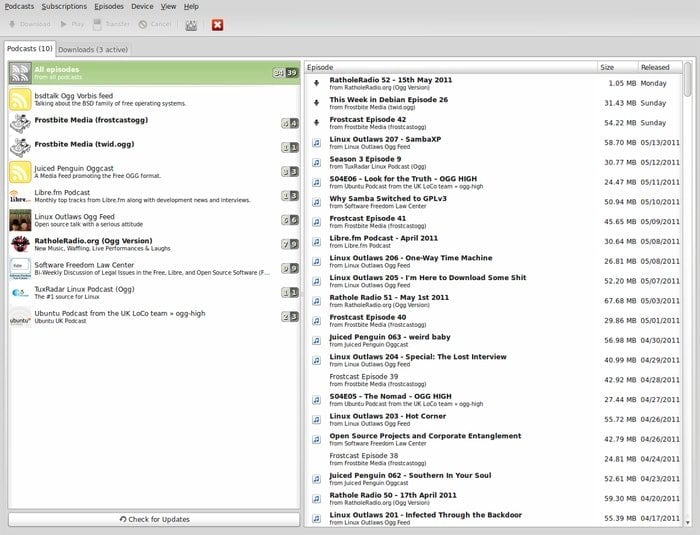 gPodder is another best news aggregator and podcatcher for Linux, Windows, and macOS. It's a simple but powerful and open source podcast software. This dedicated cross-platform podcast app is written in Python using GTK+.
4. VLC Media Player
---
Are you looking for the Best Podcast Player? You can go with the VLC Media Player. VLC is one of the Top Podcast Apps. It's a free, open-source, streaming media player and server and also a Cross-Platform Podcast App.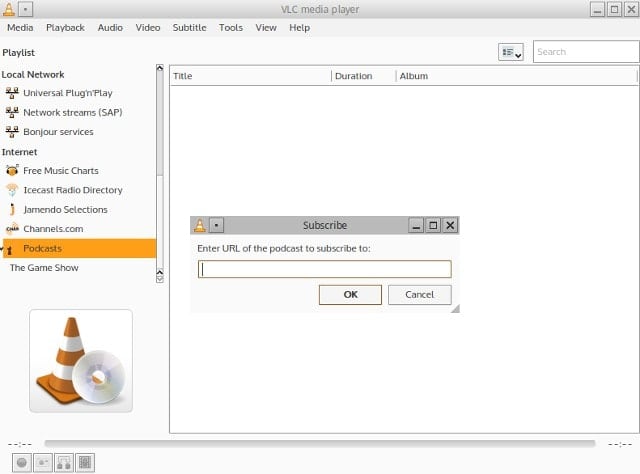 With VLC, you can stream unencrypted and live videos to your monitor. It also offers you to stream and record your desktop and save it. VLC comes with the basic support for podcast management along with the amazing multimedia player.
5. Clementine
---
Clementine is another Best Free Podcast App available for Windows, macOS, and Linux also. It's a wonderful open-source audio player as well as Podcast Software. It doesn't provide video podcasts support. Clementine can search and download new podcasts automatically. It can update or refresh the whole podcasts and even delete the played ones after a fixed period.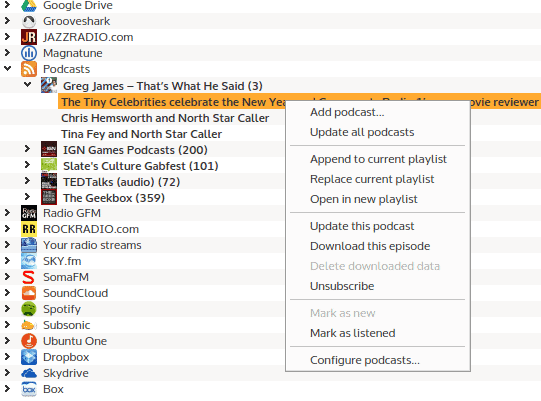 With Clementine Podcast Software, you can create and customize dynamic and smart playlists of your favorite music. It will also help you to keep track of the podcasts by marking every single piece of them. You can keep Clementine in your Best Podcast App list.
Install Clementine in Ubuntu
Run the below command to install:
sudo add-apt-repository ppa:me-davidsansome/clementine
sudo apt-get update
sudo apt-get install clementine
Download Clementine for Other Linux Distros
6. Cantata
---
Cantata is also a Best Podcast App quite similar to Clementine. Along with the podcasts, it also comes with other online music resources like SoundCloud, Magnatune, Jamendo, and even Streams. As the Best Free Podcast App, Cantata comes with some fantastic features, including a flexible interface, dynamic playlists, informative notes, tag editing, ReplayGain, and snappiness.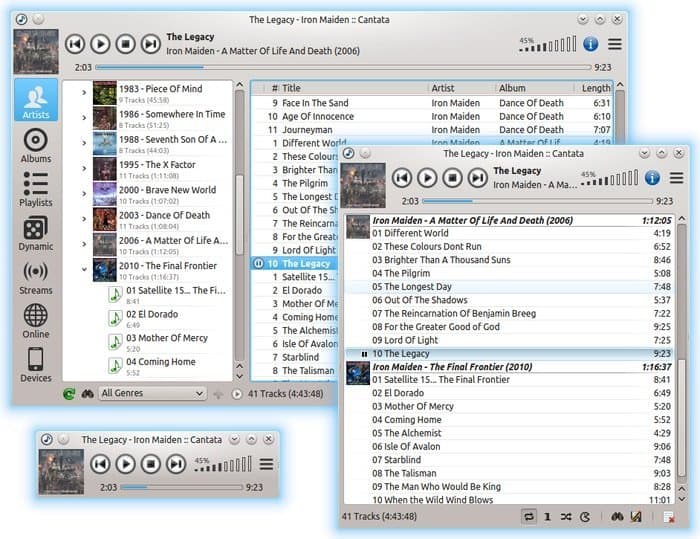 Cantata can run and process very quickly to collect and provide important information to the users. It has an info window that shows the artist, album, and tracks with a scrolling tree view. But, you're going to need MPD to use Cantata as it's a frontend of MPD.
Install Cantata via Unofficial PPA
Open the Terminal (Ctrl+Alt+T) or from the app drawer. First, run the below command to add the PPA:
sudo add-apt-repository ppa:ubuntuhandbook1/cantata-qt
sudo apt-get update
sudo apt-get install cantata mpd
7. Guayadeque
---
Guayadeque is an open-source and free audio player and also a Linux Podcast Software. It's one of the lightweight Top Podcast Apps with a lot of amazing features. This Podcast Software comes with both dynamic and static playlists along with the mode "smart play." It supports tagging and labeling, crossfading, the last FM scrobbling, and even radio streaming recording.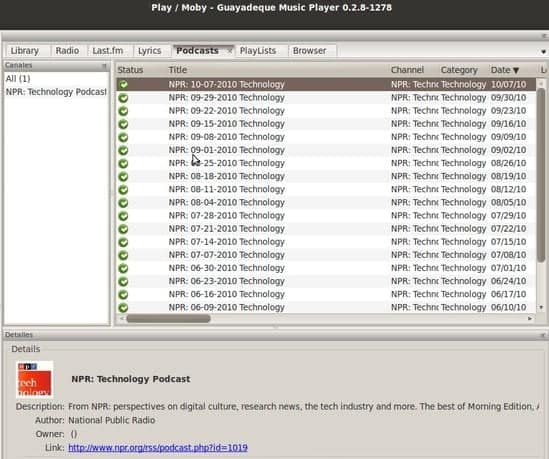 Guayadeque can automatically download new episodes and lyrics and keep old episodes instead of deleting them according to your choice. It can find similar songs, automatically create a playlist, and continuously play them.
8. Spotify
---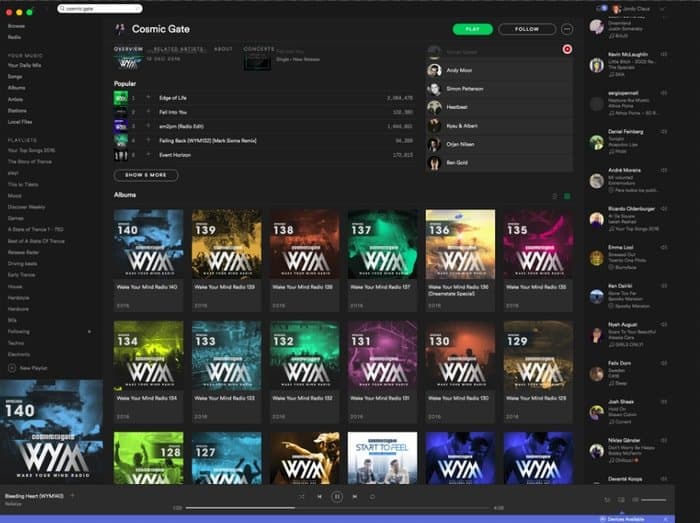 Among the Top Podcast Apps, you can also choose Spotify. Spotify is one of the most popular and best streaming services all over the world. It can also be the Best Podcast App for you. The fact is the free version of Spotify comes with a few audio adverts. If you want to enjoy the ad-free full service, you have to pay $9.99 per month. Spotify is much reliable and easy to use.
9. Rhythmbox
---
Another Best Podcast App is Rhythmbox. It's an open-source and free audio player. Rhythmbox was primarily designed for the Gnome desktop environment, but it can work on other desktop environments as well. Its podcast section provides the available episodes in the library. This Podcast Software downloads the new podcasts automatically from the library.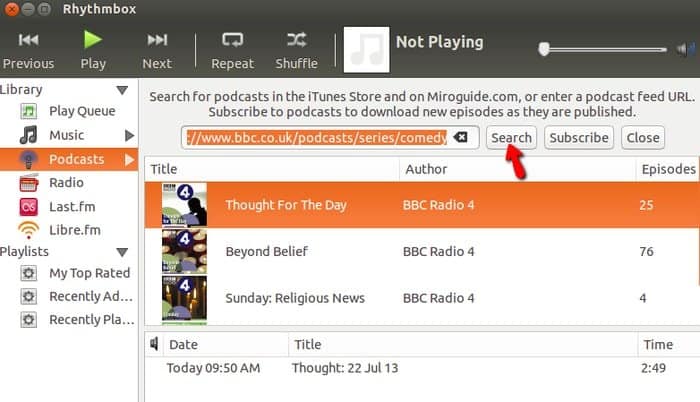 Rhythmbox can be your Best Podcast Player. It comes with many fantastic features, including gapless music playback, audio CD burning, music importing, audio scrobbling, song lyrics and album cover display, Jamendo support, SoundCloud, and web remote control, DAAP music sharing, and so on.
10. XiX Music Player
---
You can also use Xix Music Player as the Best Free Podcast App for Windows, Linux, macOS, and Linux ARM. This Podcast Software provides you with a bunch of fine features. There are an equalizer, batch-renaming and tagging, recording online radio playback, and also audio CD ripping. Xix Music Player comes with an easy way to add and remove podcast subscriptions.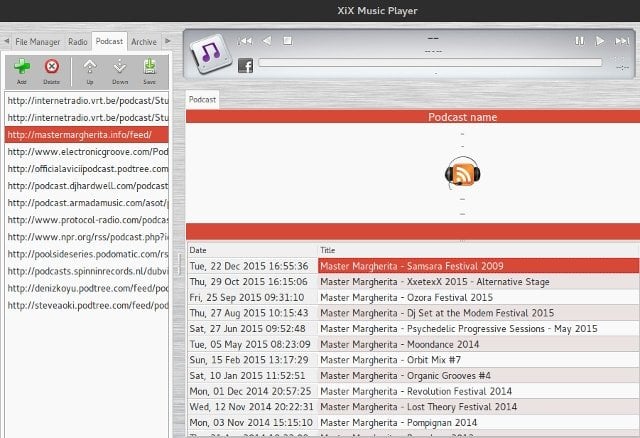 It's an open-source music player with multiple performances. This Best Podcast App can support so many file formats such as WAV, FLAC, DFF, APE, MP3, M4A, OPUS, AAC, and OGG. It creates playlists and plays them. You get options to repeat, shuffle or reverse the music.
Get XiX Music Player for Linux
11. Winds
---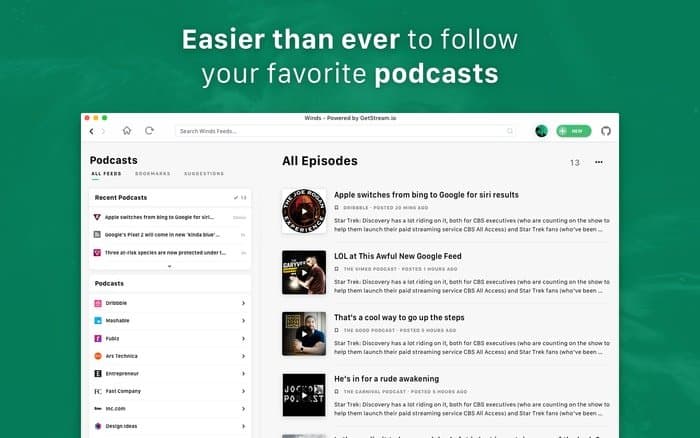 Winds is another open-source Best Free Podcast Software and also an RSS Reader for Linux, macOS, and Windows. It's available in the web version as well. "Winds" comes with an instinctive UI and so you can enjoy the podcasts and follow the websites you like. This Best Podcast App provides you with a clutter-free interface and a clean and minimal home screen. It's entirely free.
Install "Winds" in Ubuntu
You can install it using the Ubuntu Snap package. Run the below command:
sudo snap install winds
Moreover, you can also download the software AppImage and install it.
12. Liferea (Linux Feed Reader)
---
The list of the Best Podcast App also contains Liferea. Liferea is not an actual music player. It's basically a Linux Podcast Software and feed reader. This is actually short for Linux Feed Reader. Liferea provides you with some pre-installed podcasts and feeds along with its first installation. It can support feed formats like OCS, Atom, CDF, RSS/RDF, OPML, and more.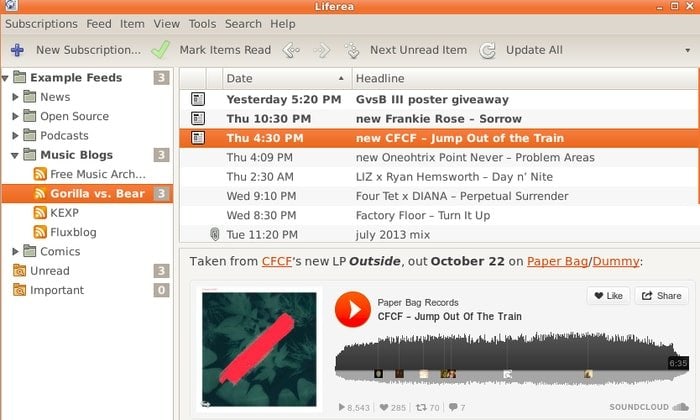 Liferea comes with the support to import and export OPML format subscription lists. It's fast and easy to install and use. Users can read any weblog comments or linked article easily using an embedded browser like Mozilla Firefox.
Install Liferea in Ubuntu Linux
In this quick tutorial, I show you two ways to install Liferea in Ubuntu Linux. A third-party PPA repository is available to install in Ubuntu, Linux Mint, and other Ubuntu derivatives. Run the below command to install it:
sudo add-apt-repository ppa:ubuntuhandbook1/apps
sudo apt-get update
sudo apt-get install liferea
If you are not comfortable with the Terminal command, then download the source code and install it in Linux, FreeBSD, and Cygwin.
13. Amarok
---
Amarok is an open-source, free, and Cross-Platform Podcast App as well as a music player. It's one of the Top Podcast Apps, which comes with a whole bunch of interesting features, including podcasting. This Podcast software is available for Windows, Mac OS X, and also for Linux. In Amarok, there are 45 plus language translations available as a contribution of the community.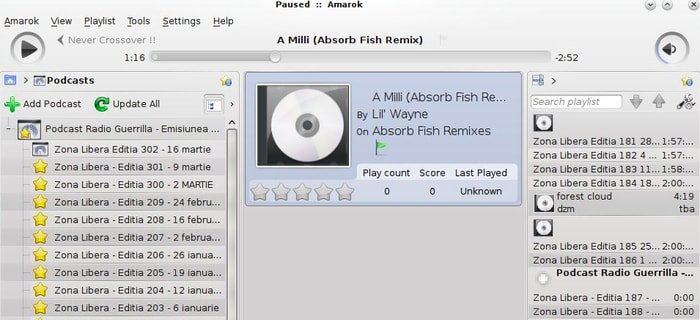 You can create dynamic playlists on it. Amarok supports a vast number of file formats, including MP3, WAV, FLAC, Windows Media Audio, AAC, TTA, Ogg, WavPack, Musepack, Opus, Apple Lossless, and many more. It provides tagging, sorting, and renaming the files. You can mark the tracks when you leave the app. It always keeps track of all the files.
14. Icepodder
---
You can add Icepodder to the Best Podcast App group as a podcast aggregator. It's available for OS X and Windows. You can download music on your computer or copy it to a digital audio player using Juice. It supports files with mp3 and Ogg formats. Icepodder can be the Best Free Podcast App for you. It allows download scheduling and also notify the arrival of new episodes.
15. Miro
---
Miro is another Podcatcher in the Best Podcast Player list. It's basically audio, video player, and internet television. It's available for Linux, Microsoft Windows, FreeBSD, and macOS. It can support almost every well-known and most used file format like MPEG, QuickTime, XVID, Windows Media Video (WMV), Audio Video Interleave, and etcetera.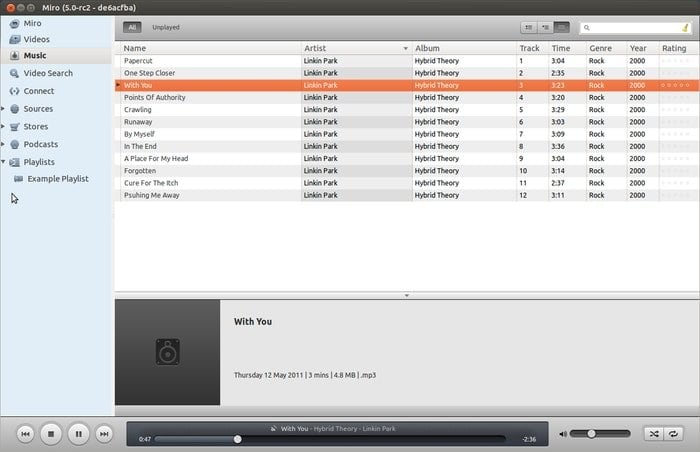 Miro downloads videos automatically from RSS-based channels. It's very easy to manage and play audio or video files with Miro. It can be your Best Podcast App.
Command-Line Tools for Podcasts
---
Now I would like to highlight some of the best command-line tools for podcasting in the Linux system.
16. Podfox
---
There is another software for the Best Podcast App list. You can use Podfox as the Best Free Podcast App. Podfox is a command-line application for podcasts. It's basically a Python script that can assist you in downloading and updating podcast episodes you like. With this command-line-based Podcast software, you can customize the podcasts' names and also update them either all together or one by one.

To use Podfox, you should remember the required commands for every step. It's not that difficult. Podfox shows all available podcast episodes with a list but can't check for the updates automatically. You have to do it manually.
17. Podcatcher
---
Despite being a command-line app, Podcatcher can be the Best Podcast App for you. From the podcast episodes in your podcast list, it can create playlists. It offers you to download a huge size of episodes. If there isn't enough space for your download, it will delete from the old episodes and manage the required space for the new ones.
Podcatcher provides you with options for downloading both audio and video podcasts. There are also available different options for download. You can pick as you wish. There is no need to type the same commands again and again. This Podcast Software reads options from a file.
18. Greg
---
Greg is another Best Podcast App for you. It's also a command-line-based podcatcher. There is no need to worry about the commands. The commands are straightforward and simple. Via this Podcast Software, you can subscribe to podcasts, make lists of recently available episodes, and download them. You can download both audio and video files with Greg.
Greg allows you to delete old episodes manually. It can keep track of your podcasts episodes by automatically tagging them. Even if you're a beginner, Greg is going to be very easy to download, install and use.
19. Mashpodder
---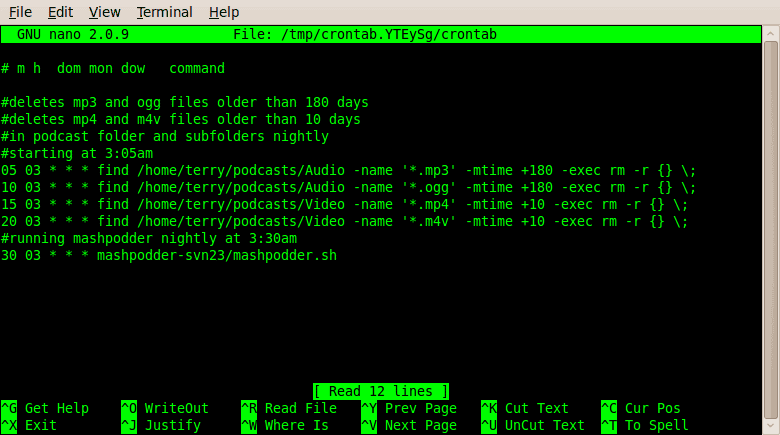 Mashpodder is also a podcatcher that you can include in the Best Podcast App list. You can download podcast episodes using this podcatcher. There are options for the users to download a set number, none or all of the podcast episodes. You can mark the downloaded episodes. Mashpodder gives you two directory options to save the downloaded files: name and date.
20. Podbeuter and Newsbeuter
Newsbeuter and Podbeuter can also fit in your Best Podcast App list. Newsbeuter is basically a text-based news aggregator that runs on the Unix-type system. It's also a podcatcher. Meanwhile, Podbeuter is an integrated podcast downloader tool of Newsbeuter. Newsbeuter shows you the notes and episode titles. Podbeuter lets you download and manage those episodes.
Download Podbeuter and Newsbeuter
The Last Words
---
It's true that nowadays, people hear the podcast content from the smartphone. But still, as Linux is a vast area of interest for many, I hope the above list of best podcast apps will help you get your desired podcast content in the Linux system. Each Linux Podcast Software has its advantages and disadvantages over others. Try to install some and check whether it meets your requirement or not.
Is this list of Top Podcast Apps helpful? If so, please take a moment to share this content on your personal and professional social media. This small step will encourage us to write more engaging content for you. And don't forget to share your suggestion and experiences in the comment below.