Has this ever happened to you that you were planning to do something but you forgot? Well, this often happens to me. I keep forgetting things I have been planning to do for a long time. It can happen to anyone. Making a list of the tasks you want to do is the solution. But, what if you lost the list? To completely solve this problem, developers have created lots of software as a to-do list application. There are a couple of to-do list applications out there in the market. Here, we're going to share about another to-do list app, and that is "Wanna."
Wanna is an electron-based, modern, open-source, and cross-platform To-Do list application. It's an execution of a 21st-century to-do list application. The one special characteristics of Wanna is it comes with its philosophy and workflow. Its primary focus is time management. With Wanna, at first, you have to make a list of tasks you want to do. If you don't like an idea from the list, you can always delete it any time you want. Scroll up and down and go through the list. As soon as your list is completed, you can set them as tasks.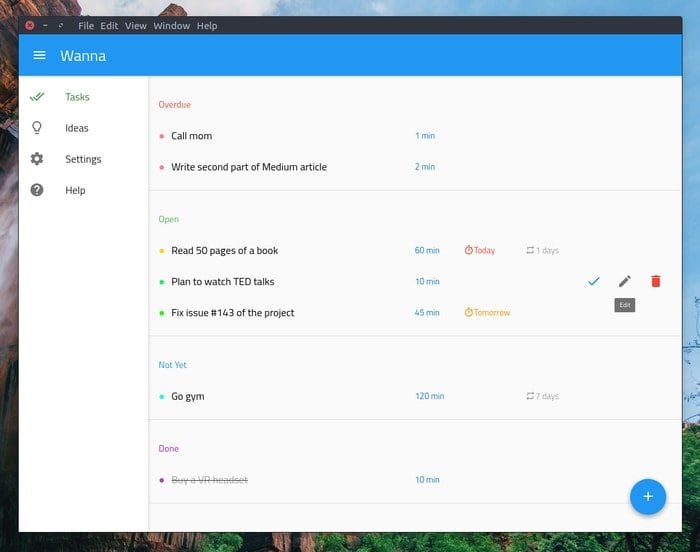 Important Features
---
Options to set time period with a starting and an ending time for each task.

Flexible and efficient user interface based on Google's Material Design guidelines.

Offers intuitive and colorful application window.

Show a status bar with a colorful circle for each task.

HTML, JavaScript and CSS based application.
Download
---
As it's an open source application for Linux, so any time you can make the contribution either by coding or suggesting features to the dev team. For testing its effectiveness, you can download and checked it whether it fits your requirement or not.
Final Words
---
Wanna will alert you about the due date of your task. The circle keeps getting red when the due date is close enough. You should try to complete the task before the due date, right? No app can make you do your work done. Only you can. Otherwise, all of this will go in vain. This app can only assist you.
There are many more to-do list apps you will find with both pros and cons. Why don't you try this? "Wanna" could be the perfect to-do list app for you. Just try it for once. It won't disappoint you.
Tell us if you like it or there's any suggestion to make it better. Please, drop your thoughts in the comment box below. And you can also share the article on social media if it's helpful.