People who need to download bulk files often look for the best torrent client for Linux. Basically, torrents are an excellent source for downloading large documents like motion pictures, Movies, Games, and TV appearances. They transform your PC into part of a host where information is shared as it's downloaded, so while you're downloading something from other individuals, you're likewise helping other people download the bits you've just got.
The outcome is an extremely reliable and frequently quick approach to getting your hands on galactic documents. Here come the questions about the best open source torrent client for Linux, which helps get the job done. This article will only discuss open source torrent clients for Linux, leaving some favorite closed source Torrent clients untouched.
Best Torrent Client for Linux
---
There are lots of famous torrent clients available in the market. But it's challenging to find out which one comes with the best set of features. Here, I will be reviewing and sharing a set of open source torrent clients for Linux so that you don't need to waste your valuable time installing and checking all those torrent clients one by one.
1. Transmission
---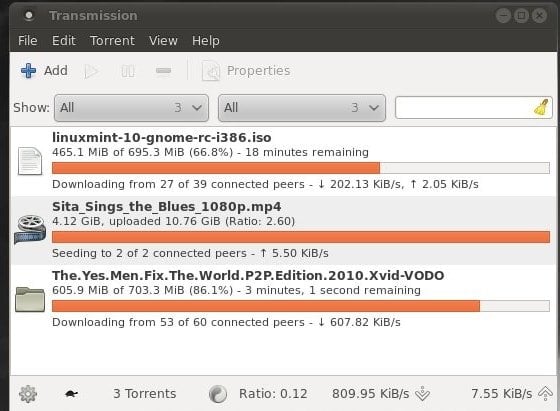 If you are searching for something entirely free, open source, and comes with minimum configuration, then the Transmission torrent client is one of them. It supports cross-platform like Windows, Linux, Mac OS, and Unix-based systems.
This powerful torrent client for Linux is incredibly lightweight and a system optimizer that doesn't take many resources from your system. It's neat, simple, and comes in plug-and-play mode. Transmission is perfect for users who want to download Torrents and nothing else.
Important Features
You can initially use peer caching for quick pausing and resuming.
The transmission uses Sparkle to get automatic updates.
It is also compatible with Azureus and μTorrent encryption.
This application comes with unique features for automatic port mapping and IP blocking.
It indeed supports multiple torrent protocols and contains an advanced progress bar.
2. QBittorrent
---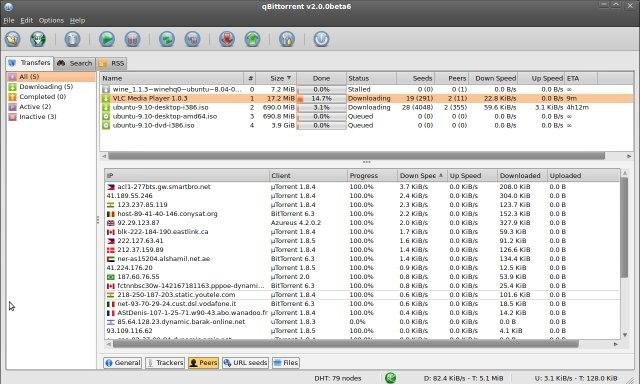 qBittorrent is an excellent name for a torrent program if you want speed, simplicity, and all the necessary features bundled up in one package. This free torrent client is neat and clean without any complexity for someone new to the world of downloading Torrent files for the first time.
qBittorrent runs in the background, which lets you do other light tasks on your system. So you can say that this open source torrent client is the closest competitor to the most popular uTorrent software.
Important Features
This powerful torrent client for Linux provides an integrated media player, Torrents search, and encryption.

You can check the video and audio preview before downloading a file.
This application support Vuze encryption and µTorrent Peer eXchange.
You can indeed make a limitation for the download and upload speed.

It takes a minimum number of system resources.
qBittorrent Official Snapcraft Flathub
3. Deluge
---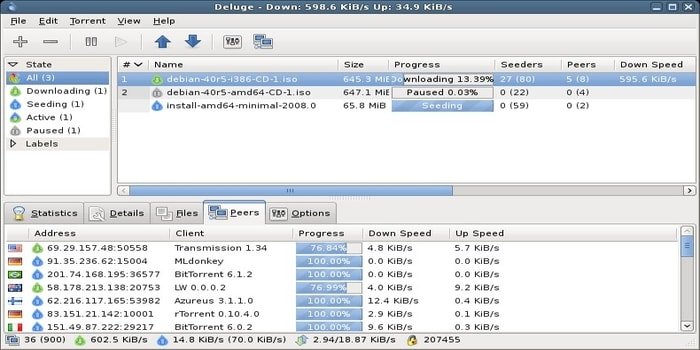 Deluge is one of my personal favorite open source torrent clients. It's straightforward, lightweight, and comes with a set of powerful tools for downloading tasks. Maybe many users haven't heard about it because they were too busy with stuff like uTorrent, BitTorrent, or QBittorrent Torrent.
It also provides easily integrated add-ons for Google Chrome and Firefox Mozilla, making it extremely easy to download. The interface of Deluge is straightforward and extendable through plugins.
Important Features
This high-end Linux torrent client comes with complete pre-allocation and compact allocation.
You can also select files from a torrent protocol even before starting to download.
It lets you specify and manage the global download folders.
Eventually, you can share files directly from this software.
You can check the file ratio, display the bandwidth details, create a block list, and monitor the network's health.
Deluge Official Snapcraft Flathub
4. FrostWire
---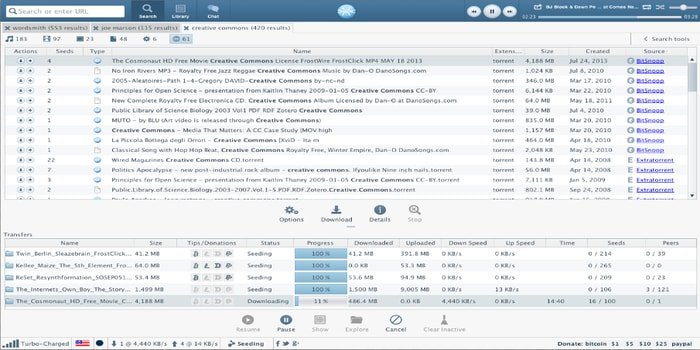 I am sure that you have already heard of FrostWire. It is one of the most popular and free Open Source Torrent Clients available out there. It supports a multitude of operating systems, including Windows, Linux, Android, and Mac OS.
It's a very resource-efficient torrent client that doesn't cost the system. Though It offers a simple configuration and provides a ton of advanced features for a computer wizard, you can quickly adjust the advanced settings for better performance. 
Important Features
You can open torrents from several paths, such as using a URL, magnet link, or locally downloaded torrent files.
This application supports in-app search, so you don't have to visit other websites to get many files.
You can also open the video files and get a preview event before the file is downloaded.
It indeed lets you manage the Media Library for the index files.
You can certainly choose multiple files at a time to download together.
5. WebTorrent Desktop
---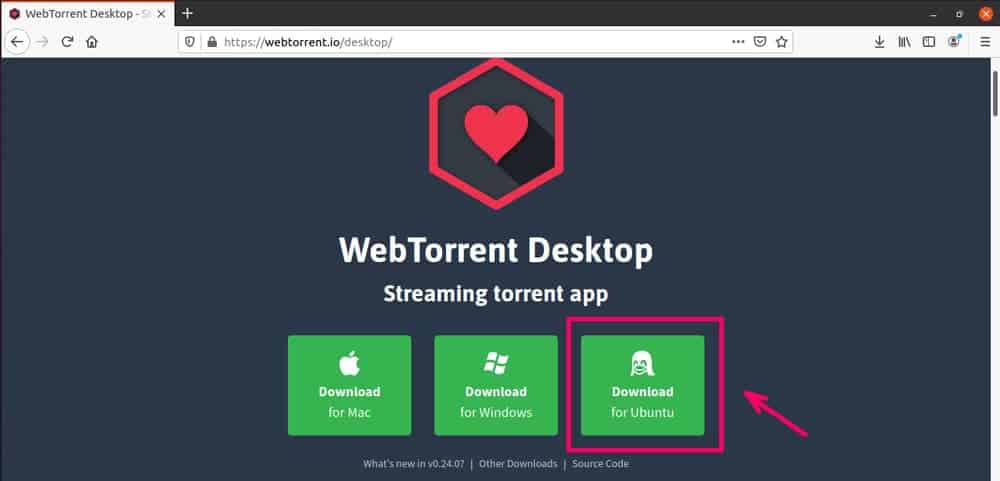 WebTorrent Desktop is one of the most unique, utterly open source torrent clients available for Linux, Mac, and Windows. It's one sort of streaming torrent app that allows users to play video and audio files without waiting for fully downloaded content. It is a fast, lightweight torrent app with a modern user interface. It provides drag-and-drop support for adding magnet links and torrent files.
Important Features
This application is written completely in JavaScript.
WebTorrent initially uses WebRTC for peer-to-peer file transport.
You don't need to use any browser plugins as it is a full-featured torrent client.
It gets regular updates, so you will get more features in the future.
This streaming torrent client for Linux even lets you use BitTorrent to share files.
WebTorrent Desktop Official Flathub
6. Tribler
---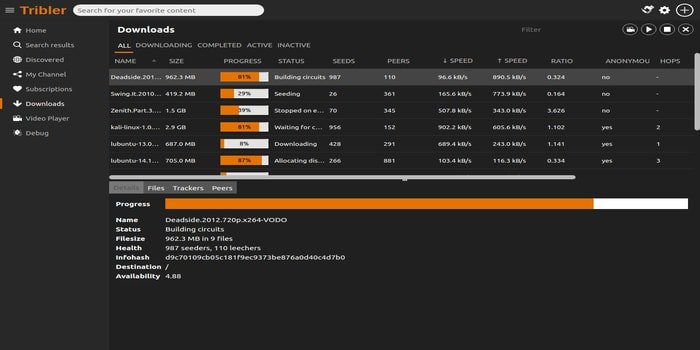 Tribler is like FrostWire, a fast and lightweight open source cross-platform torrent client. If Privacy is your first priority, you should try this app for sure. This app also doesn't require downloading the whole file. Instead, the user can stream and download the data simultaneously. This torrent provides Privacy using Tour-inspired onion routing. Let's see what's more it contains to offer.
Important Features
It comes with a minimalist UI, and you can easily share files directly from the application.
You can download torrent files anonymously; this application will support you with strong encryption.
Eventually, you can check out the download and connectivity speed too.
Tribler lets you open the video files even before it has been downloaded.
In this application, you will have an active reach engine to find video files. You don't need to visit any other websites for that.
7. RTorrent
---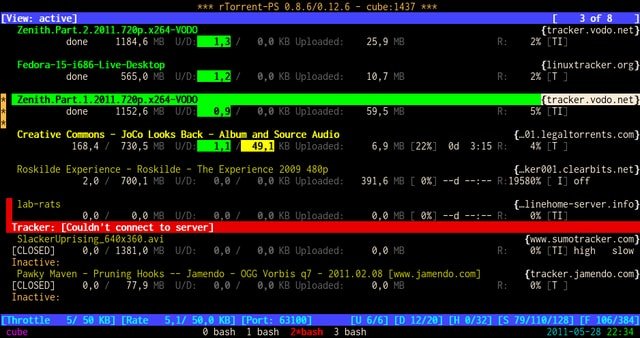 RTorrent is entirely different from familiar open source torrent clients like uTorrent or Deluge. All the above-described torrent clients for Linux offer a graphical user interface, but rTorrent is a text-based app used in Terminal.
RTorrent is written in C++ and demands an extremely low resource but provides a large scale of various features. Also, it comes with a complete user manual, so it can be the best option for beginners.
Important Features
Using this torrent client, you can control the entire torrent downloading operation via XMLRPC.
It supports options for automatic scrapping, IP filtering, choke groups, and many more.
You can also control the download speed, pause it, and resume as well.
Managing the files you have downloaded with this torrent client is easy.
You can indeed watch the directories and handle the download ratio too.
8. libtorrent
---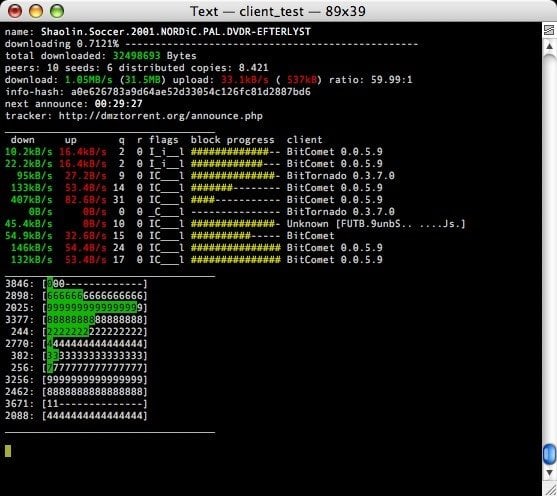 libtorrent is a text-based torrent client like RTorrent written in C++. The primary goal of the torrent app is efficiency and scalability. It's straightforward to use and provides a CPU and memory-efficient atmosphere. Besides, it supports the μTorrent peer exchange protocol and compact=1 tracker parameter. Also you can use this application to read and write disk cache as well.
Important Features
It comes with support for HTTP seeds, Mainline DHT, IPv6, and so on.
libtorrent has already gained its platform independency using Boost.Asio.
This application comes with http proxies, proxy authentication, and sparse and compact file allocation.
The disk will never get blocked on the network as it uses a separate disk I/O thread.
For a better experience, you can use lots of BitTorrent extensions with this application.
9. KTorrent
---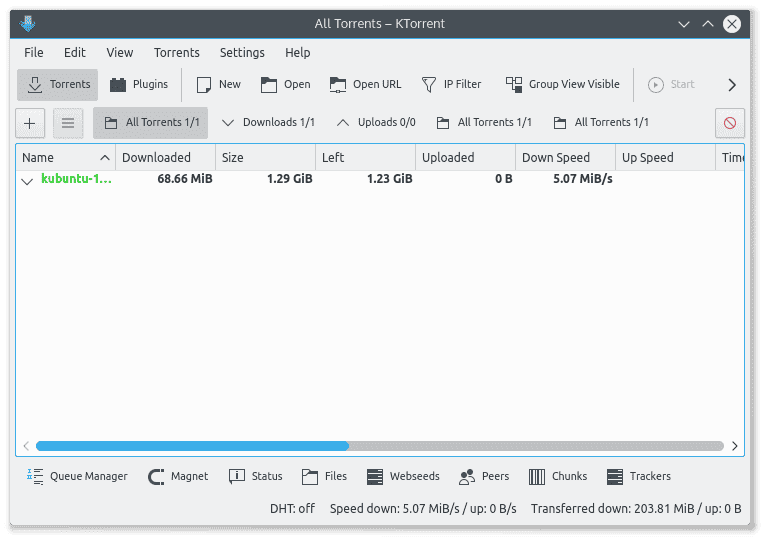 KTorrent is an open source BitTorrent software by KDE, which is blazing fast and lightweight. This high-end torrent client for Linux offers you to download multiple threads simultaneously without putting heavy pressure on the system. This open source torrent is written in the C++ programming language. Both versions of the IP address (IPv4 & IPv6) can be used for downloading content.
Important Features
This Ubuntu torrent client initially supports grouping torrents and UPnP.
You can download torrent files automatically from RSS feeds.
It lets you import files fully and partially that you have downloaded.
You can indeed control the download speed and rename the files too.
KTorrent also lets you control the bandwidth and manage the entire download system.
KTorrent Official Snapcraft Flathub
10. Tixati
---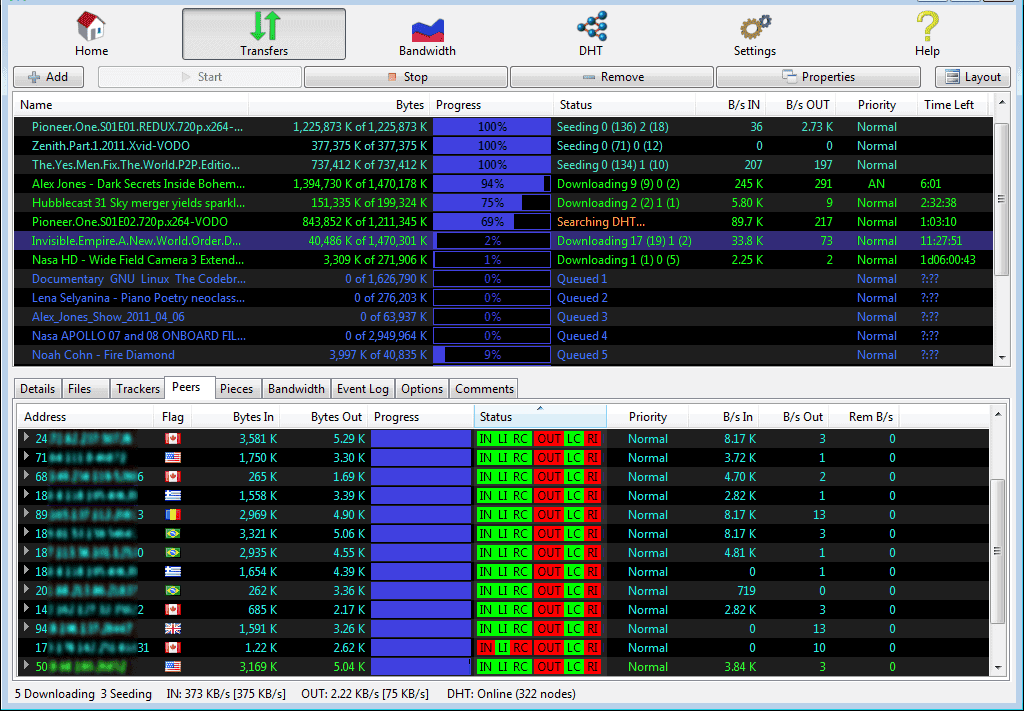 Tixati is a free open source torrent client for Linux used to download various internet content using P2P technology. It's a very lean and lightweight application that comes with little configuration and is user-friendly. This application blocks all the adware and Spyware, so you will get an amazing torrent experience. Besides, you can use it on all Linux native versions. Indeed, it comes with ultra-fast downloading algorithms as well.
Important Features
This application comes with a lot of unique features like IP Filtering, RSS, Event Scheduler, and so on.
Tixati contains UDP Peer connections and supports magnet links, DHT, and PEX.
It ensures extra security with RC4 connection encryption.
You will get a details bandwidth chart, and this application lets you manage the bandwidth as well.
You can also select the Super-efficient peer of torrent.
11. Vuze
---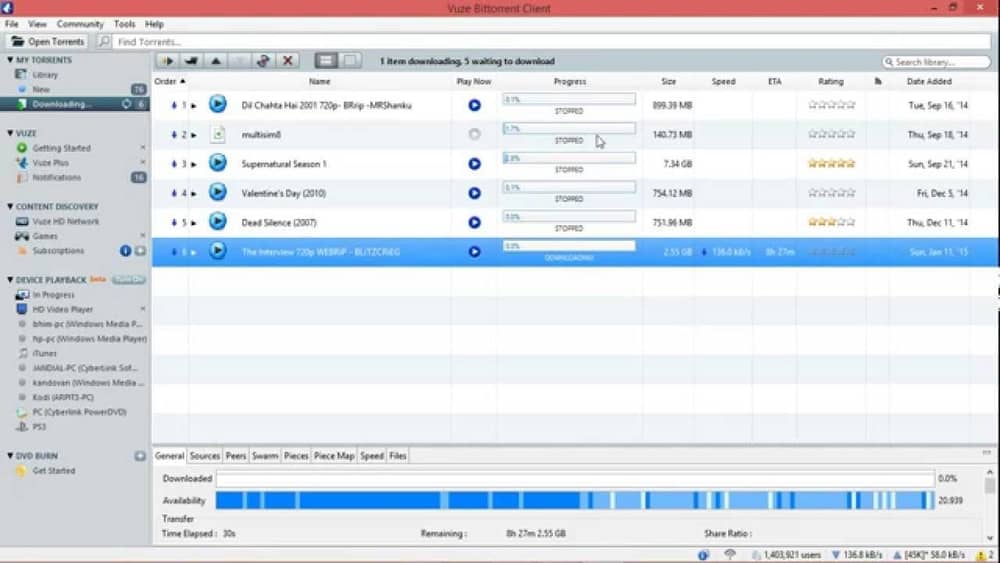 If you are looking for an open-source torrent client, Vuze is definitely a good option. Basically, it's a program for P2P, and it is written in Java programming language. You can use this software on almost all Linux distros and GNU-based environments. It is completely compatible with the BitTorrent network, and it comes with a peer network that lets you categorize the video, rate them, and provide reviews.
Important Features
You will get all the information about the torrent's progress, transfer, and activity.

It will organize all the torrent files you have downloaded and categorize them based on the name of the files.

This Ubuntu torrent client comes with a built-in chat function and a customizable disk cache.

You can download multiple torrent files simultaneously.

It also supports proxy, UPnP, download summary, IRC plugin, and so on.
12. Fragments
---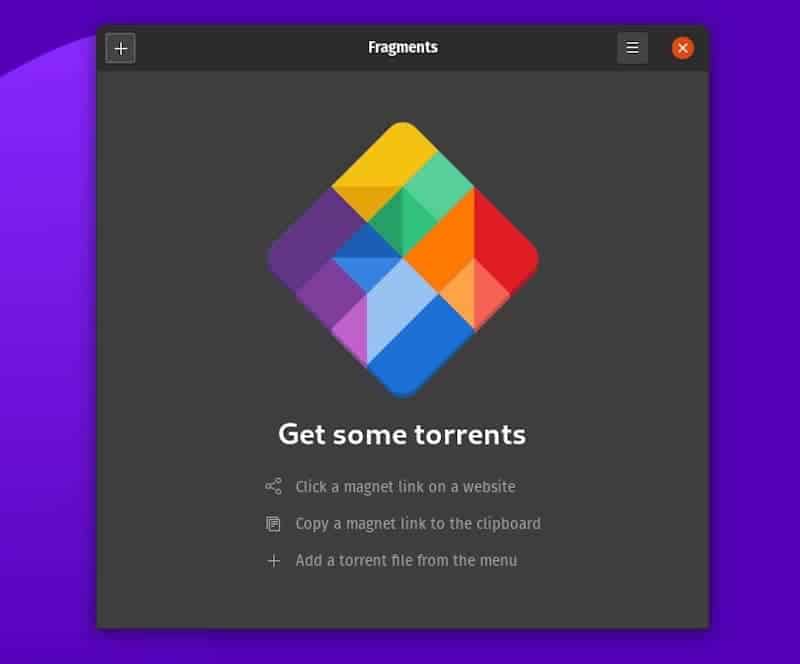 Looking for an easy-to-use BitTorrent client for Linux? Try Fragments if you are using a GNOME desktop environment. You can use this application to receive files from the BitTorrent protocols. You can eventually download and transfer huge files as well. To get this application, you check out the GitHub page, which is available in the Flathub. Let's check out some of the best features of this application.
Important Features
It is one of the best open source torrent clients specially built for BitTorrent protocols.

Fragments come with a simple user experience.

You will get a lot of extensions to use with this high-end torrent client.

It is easy to install, and there is a complete guide to using this client.

You can eventually add a torrent file from the menu, which lets you copy the magnet link directly from this application.
Fragments Official Snapcraft Flathub
13. Aria 2
---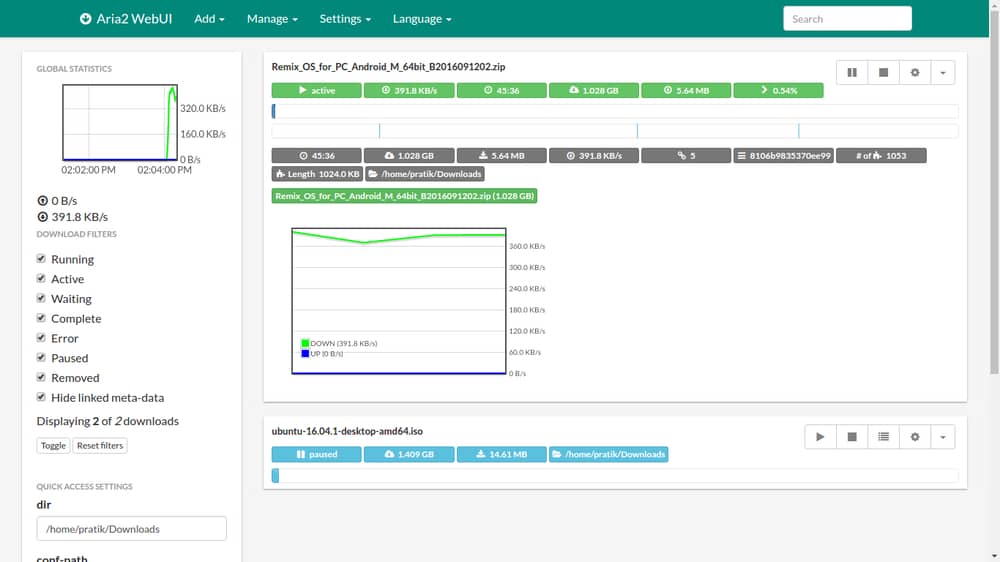 Aria 2 is a very popular download manager that comes with additional functions for downloading files from BitTorrent. So, we can count it as an intuitive torrent client for Linux. Not just from BitTorrent, you can download files from varieties of sources, protocols, and consoles. Also, this high-end tool supports HTTP, HTTPS, and FTP protocols as well. Let's see what more it will offer.
Important Features
It lets you use various extensions for BitTorrent.

Aria 2 supports additional support for persistent connections.

You can change or rename the directory tree structure of the files you have downloaded.

It supports proxy authentication and a custom HTTP header.

You will get a console interface in this software, and it comes with basic authentication support.
14. Torrentflux
---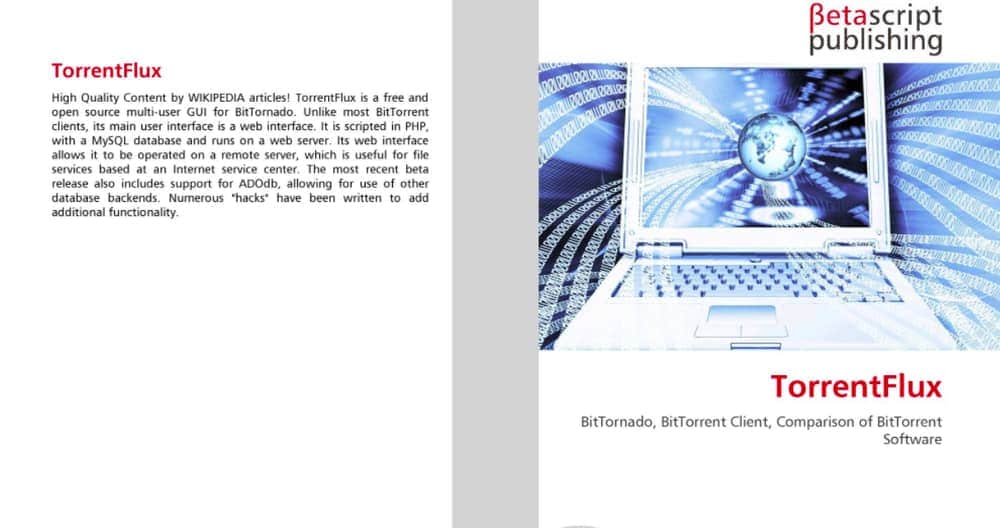 Want to try a dedicated BitTorrent client for Linux? Then try Torrentflux, which will provide you access to torrent program administration. This application comes with a very minimalist web interface. If you are not comfortable with English, this application lets you change it and use your native language. You can check the administration panel and add new files to the queue. Also you can modify configuration parameters as well.
Important Features
This Ubuntu torrent client supports HTTP, FTP, HTTPS, Usenet, and BitTorrent protocols.

You can check the download and upload speed and control the Unified transfer.

This application lets you start, pause, resume, and remove operations with single clicks.

It indeed comes with a seeder, leecher, and x torrent graphics.

Functions for scheduled download are also available here so that you can set a time for downloading the file.
15. µTorrent
---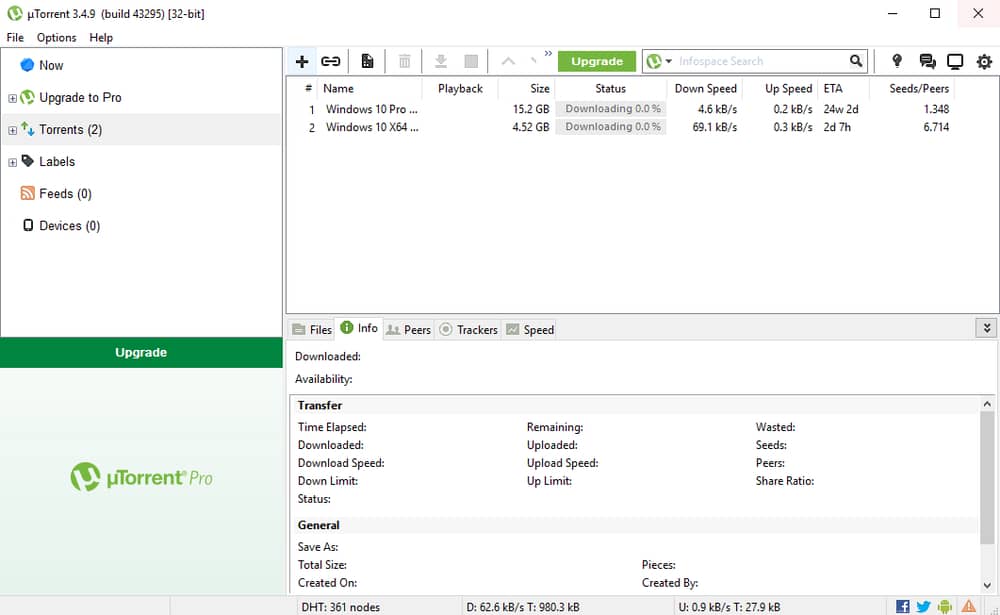 We have reached the final recommendation for today, which is for those looking for a lightweight torrent client for Linux. Being lightweight doesn't mean µTorrent is less compatible than other options. Instead, this application has more than you need. Both free and premium versions are available here, and you can choose the premium version if you want extra security and no distractions.
Important Features
You can download files from different torrent protocols.

This application lets you download bulk files at the same time and manage the files as well.

If you want to download some files later, you can use the schedule function and set a time when you love to download the file.

You can also add this application to the µTorrent classic remotely.

Apparently, it lets you optimize your bandwidth with the auto-adjust bandwidth function.
Final Thought
---
I have tried to provide you with a comprehensive list of the best open source torrent clients for Linux and their respective download links. I hope amongst this popular top-rated torrent software, and you will be able to find the best one.
Personally, I use QBittorrent, and before it, I had used KTorrent for many years. However, I checked all these Linux torrent clients to testify to their capabilities. I am now sure that any of these applications won't disappoint you.
However, let us know which one you like most. Also, share this content with your friends who are also looking for the best Ubuntu torrent clients. We will come back next time with something new. Till then, stay happy and support us with your feedback. Thank you.