Who doesn't like to watch videos? We all watch videos regularly. Some of us watch to entertain ourselves. Some of us have to watch videos for learning purpose. In the modern world, now we can get videos on any topic we want to learn. To play any videos, it's a must to have a video player. No matter either you're watching video online or offline, it requires a video player. There are lots of video players out there. Movie Monad is one of the best video players for Linux which we are going to focus and review for you.
Movie Monad is an open-source, free, and cross-platform video player application. Movie Monad is a GTK UI app written in Haskell. This video player is simple and entirely free to use for Windows, Linux or MacOS users. Day by day the number of Movie Monad users are increasing all over the world. You can watch any type of video in just the way you want.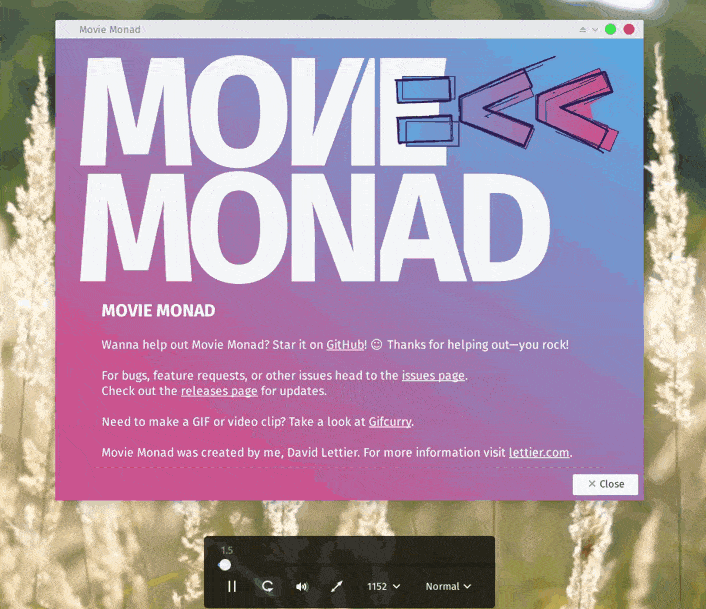 Important Features of Movie Monad
---
Both play and pause options.

Allows both remote and local files to play.

Supports video streaming from the web.

Customizable window.

Allows playing videos from the command line.

Option to scrub or seek through the video.

Video repetition option.

Quickly resizable video to standard or custom sizes.

Supports subtitles.

Allows choosing the subtitle language.

Options to increase, decrease or mute the volume.

Supports fullscreen view.

Available keyboard shortcuts.
Final Words
---
You may be using a video player already. Maybe, you've been using it for a long time. Most probably, you're not looking for a new video player. That doesn't mean you can't use a new one. People love to experience new things. There's no harm to try a new video player. You can switch back to your previous player anytime. So, don't hesitate. Give Movie Monad a test drive.
Let us know if you like this article or have any suggestion. Feel free to share your thoughts by leaving a comment below. If this really helps, don't forget to share it on social media.