Among the most popular gaming genres out there for Android, tower defense is one, young people are getting interested in. It's because this genre is quite a smooth combination of a few other gaming genres, including strategy games and tactical war games. The basic plait is about attacking others' territory to claim your kingship and protecting your territory from the enemies. Seems interesting, right? Yes, it's quite exciting as it needs your skill and tactics. However, if you plan to try one, you can simply check out the best tower defense games for Android right below.
Best Tower Defense Games, Must-try for Strategy Games Lovers
---
On PlayStore, you will have a lot of games that claim to be tower defense games. But most of them disappointed us with lower strategic management, a common environment, no unique features, and below-average graphics.
A few games were also there that literally addicted us even when we were tasting the features. So, we captured them all in a list, and here you can find the best tower defense games for Android. You can check out the little details to find the most appropriate one for you.
1. Toy Defence 2 — Tower Defense game
---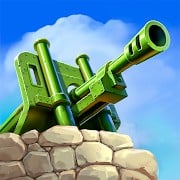 Melsoft Games Lmt has brought the Toy Defence series, and the 2nd version is the best of all the games here. You have to show your best strategy on defending, and it's the basic rule of this game. You have to make sure that your preparation is strong enough against the enemy. And then you have to defend the tower of your kingdom. However, this game is developed by the inspiration of the greatest events of the XX century.
Important Features
There is a vast detailed environment. You can play in desert areas, Ice land, and green forest.
With the multiplayer gaming mode, you can enjoy real-time PvP battles.
You will have over 290 tower defense gaming missions all over the gameplay.
Love to drive vehicles? There are special vehicles from the UK, USA, Germany, Japan, Korea, and others.
You can enjoy fighting wars with your friends.
There, you will have a big army team, and you have to upgrade your team regularly.
Pros: PvE missions, classic tournaments, and the best one, real-time PvP battles on Arena, are the three different gaming modes here. The tournament mode provides a rating as well.
Download
2. Tower Defense King
---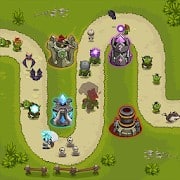 The next one of the best tower defense games for Android will be Tower Defense King by Mobirix. Maybe, this game will be the best place to show your tower defending strategy gaming tactics. But instead of having a lot of e I'm, you will have tons of monsters around your kingdom. And you have to defend the base tower anyway. Besides, you will face countless enemies from all over the world and compete with other players in numerous campaigns.
Important Features
There are indeed 25 different maps to explore, and each of them comes with different themes.
If you love boss fights, there's good news for you. There are, in total, 5 different boss fights around the game.
You can build 12 basic towers and 9 average towers in your kingdom.
To defend against all the persistent enemy attacks, you can initially use around 15 strong upgrades.
You can also use different magic tools to eliminate all the enemies.
Pros: This game holds regular tournaments and challenges, which you can play to gather rare rewards and in-game items. Additionally, you will enjoy infinite mode and a global ranking system.
Cons: It shows commercials after each round, and people don't particularly like it.
3. Alien Creeps TD – Epic tower defense
---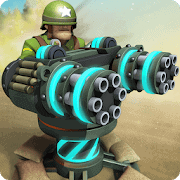 An array of destructive towers are here at Alien Creeps TD. Your mission is to save the earth from aliens. Here you will get helicopters, lightning bolts, explosions, and so much more. Armed heroes will assist you in fighting the battles. In the Tesla Tower, you can use sturdy infantry units. All the weapons you get are upgradable so that they become more deadly against alien creeps. You can decide your way of defense.
Important Features
Up to 50 thrilling levels are full of adventure in each step.
There are indeed 3 exciting game modes from which you may pick the one that matches your ability.
You can discover new towers as you progress in this game.
For proper defense against enemies, you can initially apply different abilities.
Here, you can invite allies as well as share reinforcements and airstrikes with them.
Extra 58 challenges are to be completed within 2 minutes.
Pros: Fast forward feature will allow you to blitz at high speed. Besides, you can defeat enemies in a variety of territories.
Cons: You have to wait a long time to earn enough coins.
4. Wild Sky TD: Tower Defense Kingdom Legends in 2021
---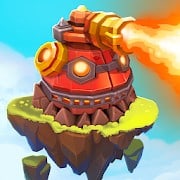 Wild Sky TD is one of the best tower defense games for Android, where you will get a twist of RPG style. Unique puzzles are there to solve with your wit. As you play more, your skill will develop, and the power you have will grow stronger. If you can defend the mines, you will unlock surprising rewards. You will fight against the bosses in medieval fantasy kingdoms or steampunk islands.
Important Features
A variety of game modes are available in this game, and you can choose any.
More than 1500 tower defense maps will give you the feel of thrill.
You can fight the battles along with the mighty heroes here. Also, there are frozen zombies to battle against.
This game has daily trials where you can sharpen your skills daily.
It has different tournaments in which you can take part if you wish.
Against the enemies, you can use spells, each with its own power.
Pros: The game is designed with amazing 3d graphics. Initially, there are PvE quests as well.
Cons: Some users complained that the tutorial is long.
5. Kingdom Rush – Tower Defense Game
---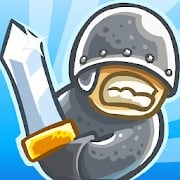 Do you wish to build your own army? Kingdom Rush lets you play action cartoon combat with your army. You can pick any of the tower styles from a collection. Mountains, forests, or even wastelands are all yours in the game. Here, you can experiment with different specializations. From goblin to the demon, each enemy initially has its own powers, and you can use rain fire or reinforcement against the enemy. Are you ready to save the Kingdom from evil forces?
Important Features
Over 18 towers have a variety of abilities, and you can upgrade those.
More than 50 powerful enemies will try to knock you down.
Up to 60 achievements and challenges are to be found with easter eggs.
Over 12 greatest heroes will assist you throughout the journey.
The In-game encyclopedia will provide information about enemies and towers to help you out.
If you take part in the Boss Fights, you will eventually face enemies head to head.
Pros: You can play the game both online or offline. Furthermore, there are some extra game modes available here for more fun.
Cons: The heroes seem a little stupid to several players.
6. Empire Warriors: Tower Defense TD Strategy Games
---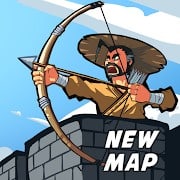 ZITGA offers Empire Warriors one of the most versatile tower defense games for Android. It runs flawlessly on Android phones and tablets without any screen issues. It is free to play and includes in-app purchase facilities for extra generous players. Additionally, the game requires strategy-based approaches from the players to thrive in the game world.
Important Features
This game offers stunning 2D-style graphics along with beautiful visual effects.
You will initially have 11 different heroes to choose from and upgrade the hero's skill as you progress.
It indeed offers over 120 maps and endless levels that you can explore and enjoy without getting bored.
You have to choose a faction and tower type and upgrade it for dominating in the epic wars and numerous events.
This game eventually features epic bosses and over 30 different types of enemies with numerous skill sets.
You will have complete freedom to fortify your tower and power up your heroes with unique runes and gears.
Pros: You can play the game in offline mode. Additionally, it integrates more than 100 achievements that you can acquire gradually.
Cons: Some players claimed about the abundance of advertisements within the game interface.
7. Realm Defense: Epic Tower Defense Strategy Game
---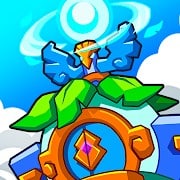 Realm Defense is a strategy-based tower game for Android which you can play for free. There are options to buy additional amenities using in-app purchases, which is completely optional. This game runs smoothly on both Android phones and tablets. You will defend your strong tower with dependable heroes against hordes of enemies. You are free to use any tactics to defeat the evil forces.
Important Features
It eventually offers stunning visual effects and a unique character design.
There are numerous barracks, magic towers, canons, archers, etc., that you can choose from and upgrade as needed.
You can initially change the skins of your heroes by collecting loots, crafting, or redeeming them from special events.
This game additionally includes multiple worlds and realms within this war strategy game.
You have to defeat epic bosses and difficult enemies such as skeleton mage, goblin king, and so on.
Pros: You can initially gather several epic heroes and upgrade them with formidable skills as you progress in the game. This game offers over 300 levels of exciting gameplay.
Cons: Some players did not like the overall gameplay.
8. Bloons TD battles
---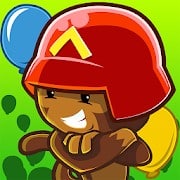 New gamers can easily get along with this exciting tower defense game for Android, Bloons TD battles. The best part of this game is its bunch of tutorials to start with. You can play head to head in private matches with any of your social media friends. It lets you power up with the bloons. If you play Monkey Tower Boost, you have to attack your opponent very fast; otherwise, you will run out of time. In addition, you can enjoy Arena Mode as well.
Important Features
About 27 Battles tracks are fully personalizable in the way you wish.
In this game, you will initially get around 22 monkey towers full of fun.
Each tower can be modified with 8 powerful upgrades.
There are more than 16 achievements that you can earn.
You can indeed personalize the bloons with decals to give them a new look.
In the Assault Mode, you have to send bloons for strong battles.
Pros: When you play in the Defensive Mode, you can make your income better. Moreover, you can pick the bloon cards and deck of the tower in the Card Battles Mode.
Cons: A few players complained that one tower is too overpowered against new people in the game.
9. Defender II
---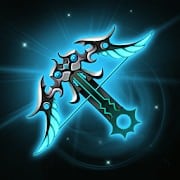 A lot of exciting gaming features are available with a new look in Defender II. Both local mode and battle mode are available here. In battle mode, all you need to do is to stay alive till the end. The higher the stages, the stronger the bosses. So you have to become more careful when you fight. Agility will increase shooting frequency to improve your attacking power better.
Important Features
This exciting strategy game has a Lava Moat where you can drop the enemies to burn them.
It features a Magic Tower that will offer MANA for spells.
In the tower, you can initially use magic to defend and attack the enemies.
As you progress in the game, you can upgrade the city wall.
To cast spells, you must need Mana that.
You can eventually select any weapon which should be the right one to fight.
Pros: To battle against the strongest monsters, you need to use a Power shot. Plus, Fatal Blow will cause more damage if you can use it in the right manner.
Cons: Some users eventually complained that the 2v2 mode is not balanced enough.
10. Radiant Defense
---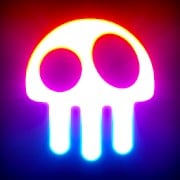 Just as the name suggests, Radiant Defense gives you radiant powers to fight. Numerous alien hordes will try to capture your Universe in the plot of this rushing tower defense game for your Android device. To defend them, you must build a fortress that will be strong and protective. The fortress is fully customizable as per your preference. You can pick up any of the weapons from a wide range of choices. Also, you can choose traps and use them.
Important Features
There are up to 400 alien waves throughout about 15 exciting missions.
You will get 9 powerful weapons to fight against the aliens.
The weapons are eventually upgradable as you progress to upper levels.
For mass defense, you can initially use the 3 superweapons to achieve better results.
In the Radiant Universe, you will indeed find the Tower Defense set.
If you can score enough, you will earn a position in the Online hall of fame.
Pros: The game has a signature soundtrack by Kubatko. Again, you are allowed to play it on NVIDIA SHIELD.
Cons: There are complaints that the game has not enough playable stages for the long term.
Our Recommendations
---
All these 10 games are unique from their own place. In that sense, it's pretty hard to narrow down the list and recommend one or two games. But I can simply share my personal preference for these games. For around a year, I love to enjoy Tower Defense King in my leisure. But while checking the other games, I certainly get very much interested in Toy Defence 2 and Realm Defense. So, you can check them too as well.
Finally, Insights
---
You must see that we have tried to find out the drawbacks and positives of each game from the list of the best tower defense games for Android and expose them here. Hopefully, it will indeed help you to select your favorite game from the list. So, don't forget to share the name of the game you have selected to try. Also, inform us if you find any other tower defense games more interesting than these. Thank you for your time and support.