The ability to convert paper-based documents into electronic copies has added a great advantage to every aspect of our life. It was once impossible to think about transferring documents to other people without meeting in person. Still, scanning has made it easy as you can easily store soft copies on your PC or cloud platforms like Google Drive, One Drive, DropBox, and so on. You will find some excellent scanner software for Windows PC available out there, which have enabled us to save a massive amount of paper.  Besides, they can help you store documents in various formats and offer a wide range of specialties.
Best Scanner Software for Windows PC
---
For any scanning software, it is crucial to produce accurate documents as scanned. If your scanned documents cannot represent numbers, images, or texts clearly, they can become valueless. In this article, we will represent a list of the best scanner software for Windows PC capable of generating enterprise-level solutions and delivering advanced features to cover all of your needs. 
1. PaperScan
---
If you are new to computers and do not feel confident, then try this software to scan your important documents. It is available in three editions: Pro Edition, Home Edition, and  Free Edition. As a powerful TWAIN & WIA scanning application, you can expect the best quality scanning anytime, anywhere from this software. On top of that, it is designed to work with any scanner effortlessly, while many popular scanner software for Windows is dedicated to one scanner only.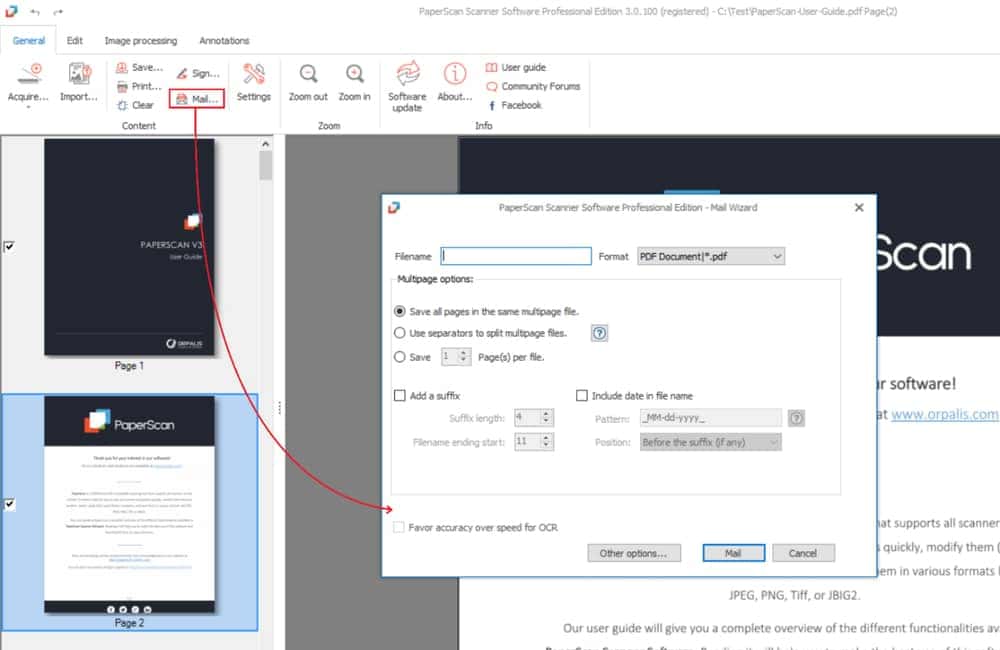 Important Features
The professional edition of this software has taken document acquisition to the next stage. 

One of the most complete and feature enrich scanner software for the end-users. 

It can process documents efficiently and uses efficient storage domains. 

Besides, the home edition is super light-weight yet can handle scanning and printing flawlessly. 

Even in the free edition, you will get superior post-processing capabilities.

You will find tutorial videos on their website to get started with PaperScan. 
Pros: While it supports more than thirty languages, developers can integrate powerful imaging and scanning SDK. 
Cons: Although there is nothing much to mention as the con of PaperScan, it sometimes becomes freeze, and you will need to restart the app to continue your work. 
2. OmniPage
---
One can never make a list of pdf scanner tool for Windows PC without including OmniPage. It is another software that is designed for enterprise solutions, small businesses, and home use also. The developer of this software has identified how documents can play a crucial role in your organization's activities and included every type of feature one may need for document acquisition. It can be considered a business-oriented OCR solution ready for converting, managing, and sharing documents at a lower operational cost.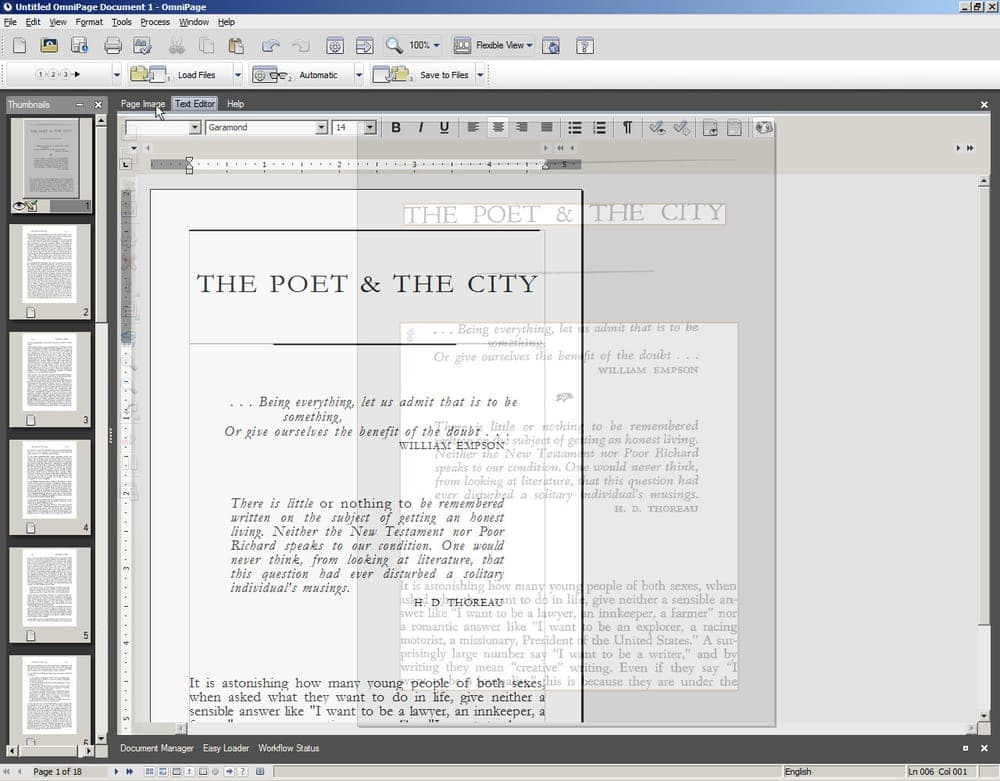 Important Features 
Uses Optical Character Recognition for reading machine-printed text on a document. 

Can process all types of paper documents seamlessly in a quick and effortless manner. 

You can use search operations to find your desired texts and customize any documents to a great extent. 

While scanning, it maintains the high-quality and can handle contents like columns, tables, bullets, and graphics. 

Supports a wide range of software, including Word, Excel, PowerPoint, Corel, and Wordperfect. 

It comes with its own PDF tool, which has also been developed by Kofax. 
Pros:  This software can process a wide array of devices. If you have a smartphone, you can capture, scan, edit your documents using this software anytime, anywhere. 
Cons: It is not suitable for beginners, and also the pricing plan starts from $149 even for the standard edition. 
3. Abbyy FineReader
---
If you are looking for a smarter PDF solution, then go for this software without thinking twice. Any sort of document is important in the digital workplace. When it comes to converting, editing, sharing, or collaborating on PDFs, you will not find many scanner software available out there that can even come close to Abbyy FineReader. There is a free version available also that you can try before making a final decision.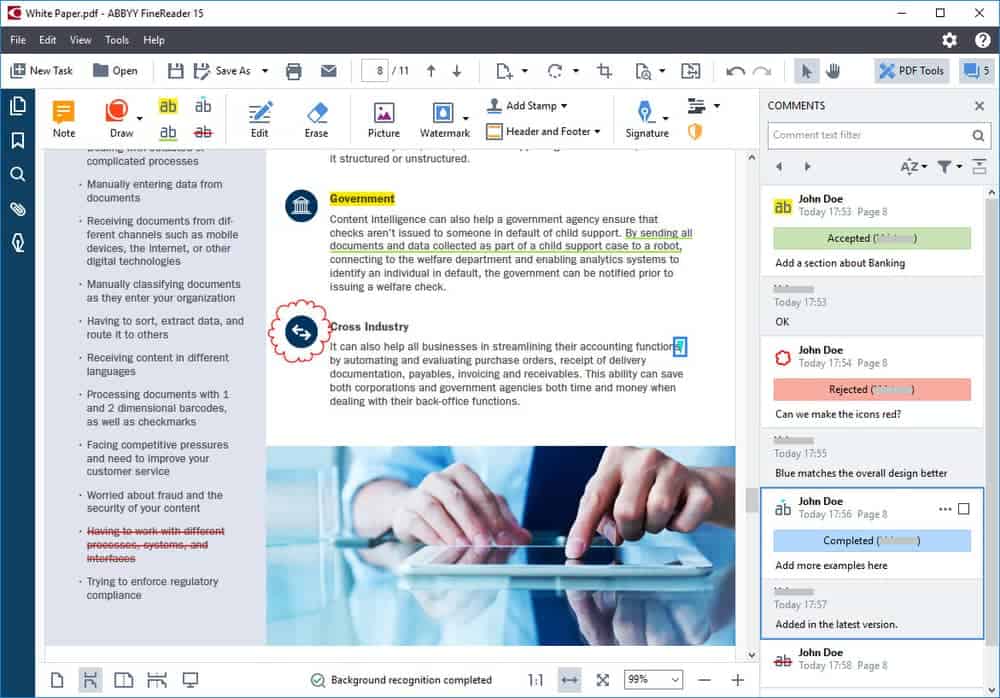 Important Features
Currently, more than 100 million people are using this tool, so you can never double its reliability and authenticity as well. 

It has been in the market for 27 years now and can astonishingly recognize 198 languages. 

Allows users to create fillable PDF forms, which are highly required for any business or organizational activities.

You can work in a team where people can collaborate on the PDFs while admins can approve or disapprove them. 

It comes with a great feature that can be useful for comparing different file formats. 

Besides, users can protect and sign PDFs essential for claiming ownership. 
Pros: Digitization and conversion routines can be automated while per seat, concurrent, remote licensing is also available. 
Cons: One of the major drawbacks of this tool is you will not be able to check the trail of changes. Merging multiple files into one is also not possible through this app. 
4. Adobe Acrobat DC
---
If you are using any computer for a while, you must have heard Adobe's name already. Adobe is known for delivering quality software that has made our life comfortable and opened up diversifying opportunities. Adobe Acrobat DC is nothing but another great production from Adobe intended to make the most of your PDFs.
It will let you discover the unthinkable opportunities and keep your business moving. From converting any document format to PDF, it will allow you to edit and customize files according to the requirements.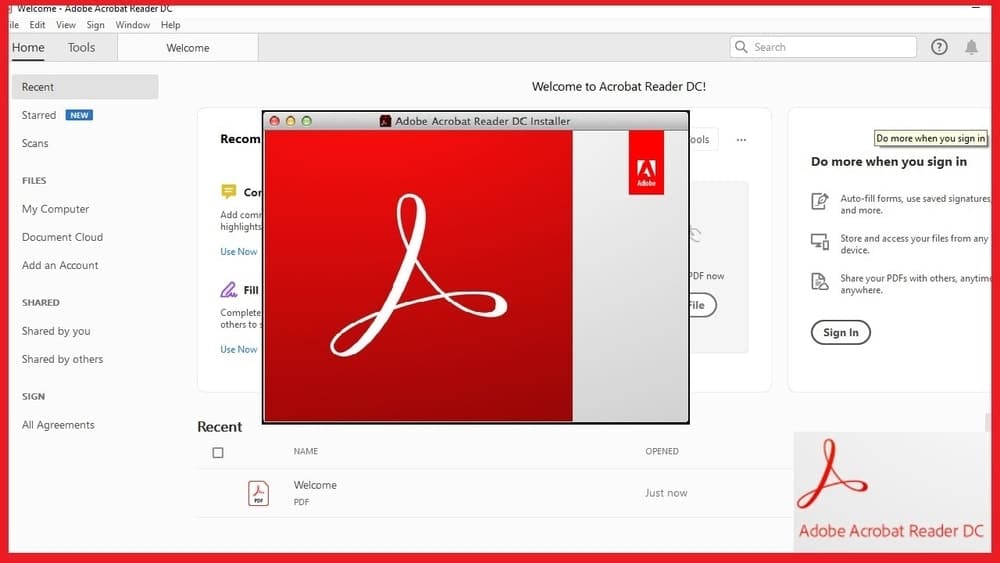 Important Features
After scanning your documents, you will be able to add comments, reorder pages, recognize texts, and crop pages as well. 

It will enable you to rotate pages and split any PDF into multiple files. 

You can share files without any hassle and collect feedback from your clients or customers. 

Filling and signing are often important to protect files after scanning, which is included within the package. 

Any type of files, including JPG, HTML, PPT, Word, can be converted into PDF. 

Acrobat Pro comes with a dedicated tool that allows incorporating custom actions to any PDF. 
Pros: Scanning is super easy. You will just need to visit the tools for creating PDFs and start scanning. Although the free version can meet all demands, the PRO edition unlocks many exciting features. 
Cons: You will need to spend some time with the app to get used to the user interface, which is complicated, while collaboration options are limited as well. 
5. Readiris
---
This is an important software in this list of most used scanner software for Windows PC due to the collaboration features it includes with the package. Most of the features are so useful that you will be surprised once you start using them. There are other interesting features equipped with this tool. Among them, the option to convert to audio is simply amazing. Besides, it is affordable, which makes it convenient for both professional users and beginners.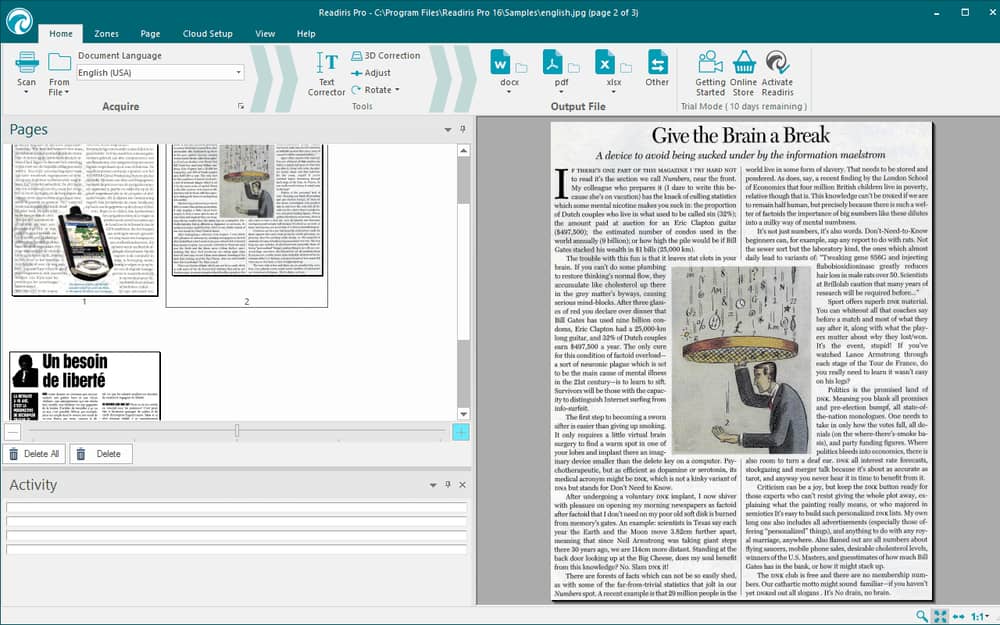 Important Features
Just like other leading scanner tools, Readiris uses OCR technology for scanning documents. 

It will allow you to convert images and texts into Word, Excel, Powerpoint, or an indexed PDF. 

Files can be annotated, and you can add comments, which makes it suitable for collaboration. 

You can convert your documents, books, or files into MP3 and Wav files. 

Besides, you can add voice comments, making it handy and easy to use on the go. 

It can recognize 30 languages and is capable of delivering faster processing as well. 
Pros: This software is available in three packages to match the demand of any customer out there. You can add protection while signing, and batch processing is also available. 
Cons: Limited keyboard shortcuts are the major problem of this tool and the inadequate options for the plain text files.
6. NAPS2
---
When it comes to the free scanner software for Windows PC, nothing can come close to NAPS2. It is open-source software and offers all the useful features to meet all of your requirements. It is completely dedicated to scanning, but with a whole bunch of tools, it has taken place in this competitive market. Besides, you can convert any scanned file to PDF and other file formats effortlessly. The user interface is straightforward, which makes it convenient for beginners.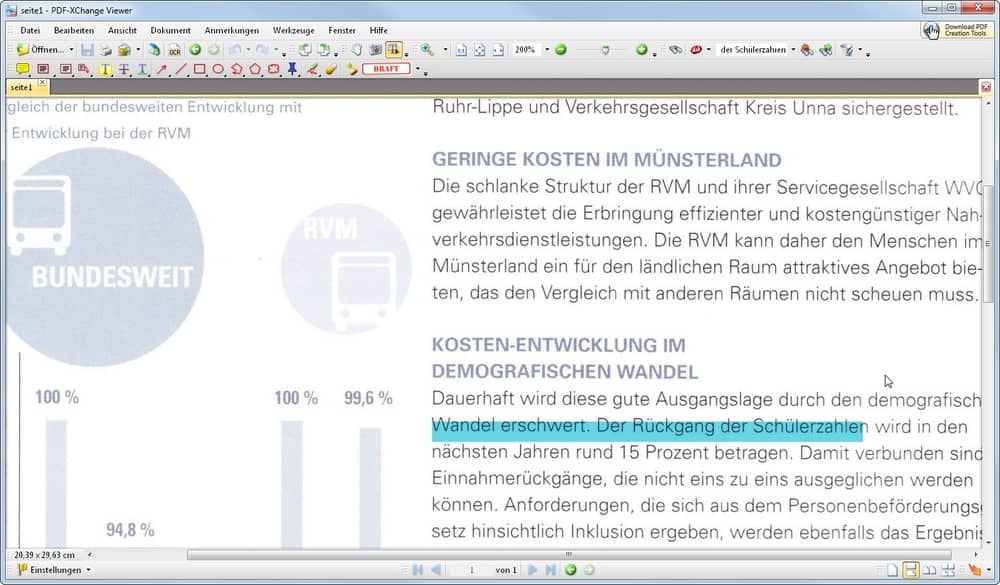 Important Features
You can scan any document with just a single click and save it as PDF, TIFF, JPEG, PNG, or other file types.

Multiple profiles and multiple configurations can be set up for different devices. 

Sharing is also simple as you can share your files from within the software. 

Compatible with WIA and TWAIN while you can customize DPI, page size, and bit depth. 

Will allow you to order or rearrange the pages according to your requirement. 

It uses optical character recognition and can recognize more than 100 languages. 
Pros: It comes with a command-line interface to facilitate automation and scripting. Besides, this PDF scanner for Windows is available as a portable edition where no installation is required. 
Cons: You will not find any tool for image straightening, so scanning documents like magazines can become really hard. 
7. Advanced Scan to PDF Free
---
As the name suggests, this scanner software for Windows PC produces high-quality scan results for any of your documents. If you visit their website and explore the scan result, you will be simply amazed after seeing the quality. It runs perfectly on any Windows 10 running PC, and it will not restrict you from using any feature like other free software in this list. It can deal with a wide array of devices while a variety of software support is also available.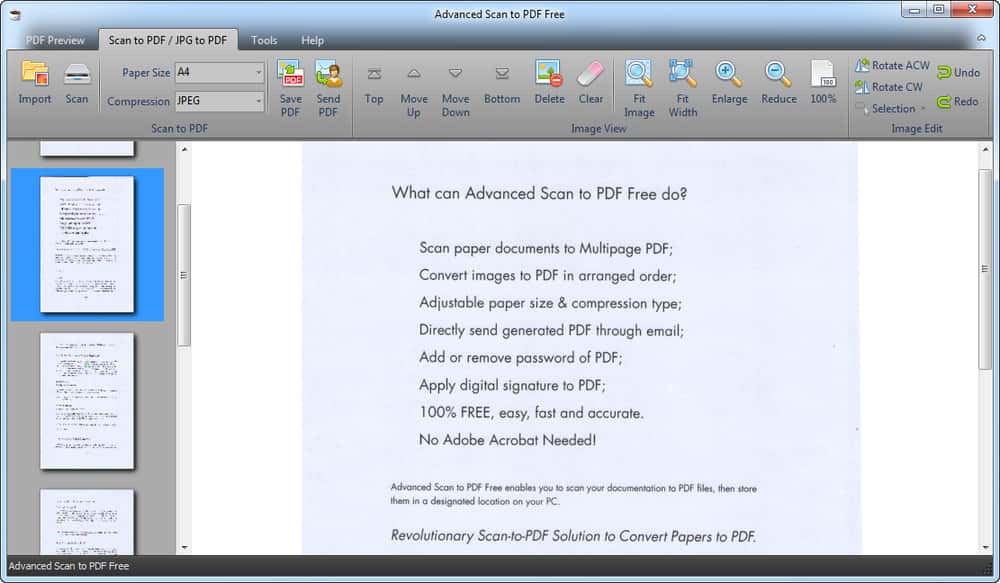 Important Features
After scanning any document, this app will allow you to adjust the screen size before converting it into PDF. 

It comes with a built-in preview window that gives users a real-time preview of files. 

You can also choose this software as a lightweight PDF viewer on your desktop PC. 

Metadata information like title, author, and subject can be added to your documents. 

People can share their PDF files through email attachments without compromising the quality. 

Encryption and decryption are also available to ensure data integrity. 
Pros: To keep you safe from data falsified, a secure and reliable digital signature feature is included within the package. Besides, the multi-core CPU technology makes scanning and printing super fast. 
Cons: If you want to uninstall this app from your computer, you may find difficulties, and also, the user-interface could be much improved as well. 
8. PDF Document Scanner
---
You will find this software on Microsoft Store. It is intended to make our life easy when it comes to document acquisition and convert to a wide range of file formats. The scanned documents quality will be so good that you will never need another app for scanning. It can be used on Windows 10 and your Xbox One as well. If you want to complete scanning effortlessly, your PC should have a minimum architecture of ARM, x64, or x86.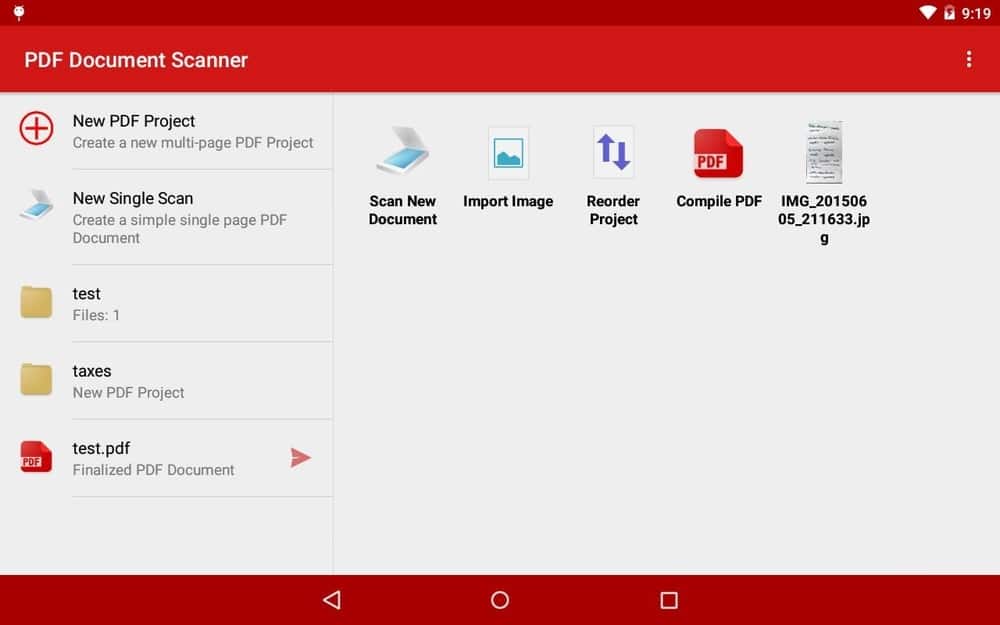 Important Features
This PDF Scanner for windows is developed by Ape Apps and suitable for people of any age. 

It is undoubtedly the best one if you are looking for free scanning software for your PC. 

The user-interface is pretty simple and modern. You will not find many navigations. 

It is available for your smartphone as well. You can download this app from PlayStore.

 PDF scanning is super easy and fast makes it convenient for a novice. 

The dashboard is enriched with the most useful features you can ever need for document scanning and printing. 
Pros: After scanning and converting, PDF documents can be stored on your local computer or sent as an email attachment to your friends, family, or co-workers. 
Cons: If you are looking for scanner software that will suit your organization's workflow, it is not appropriate. Rather, one can use it for personal or home use. 
9. VueScan
---
It is another great software in this list of best scanner software for Windows 10/7 PC. It is designed to meet everything one can ask when it comes to document acquisition. The developers have used reverse engineering to enable people to use old scanners as well. So the scanners that are no longer supported can be useful once again.
It is suitable for office use. It includes plugins and drivers from manufacturers, so you will not face any difficulty to connect any hardware and start scanning on different Operating Systems.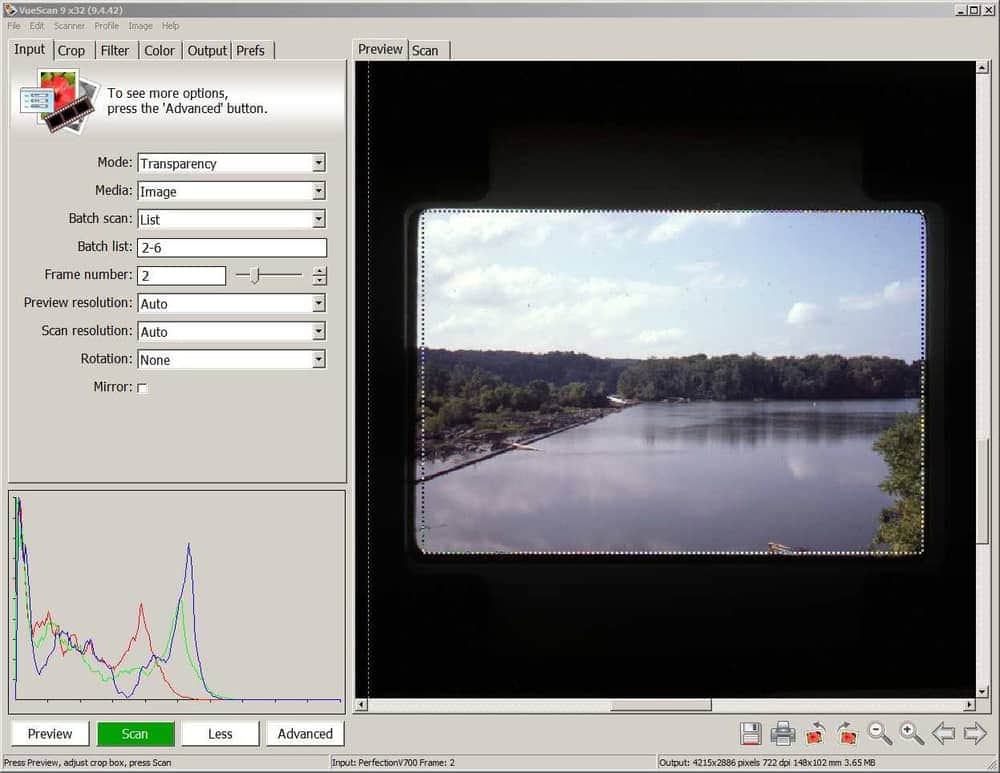 Important Features
Enables users to scan documents, images, films, and sliders easily. 

You will be able to get quality Single and Multi-Page scanning to PDFs. 

This software for Windows 10 comes with Optical Character Recognition and automatic color correction.

Convenient for low configuration PC as it generates small size documents. 

Features T8 Calibration, Photoshop Integration, and Infrared Dust Removal. 

You can scan your images to JPEG/TIFF/RAW format as well. 
Pros: You can try this software for free. It can be used on Windows, macOS, and Linux, while documents can be translated into 28+ languages. 
Cons: The selection box could be nice, and if you have a flatbed scanner, you may find it tricky to scan multiple photos. 
10. FileHold
---
Although this scanner software for Windows 10/7 PC has come last on this list. It comes with its own electronic library where you can store your images. Besides, viewing and approving documents is so simple that many people will find it easy to handle. It is designed for businesses as by decreasing costs and increasing productivity, your business can achieve significant growth.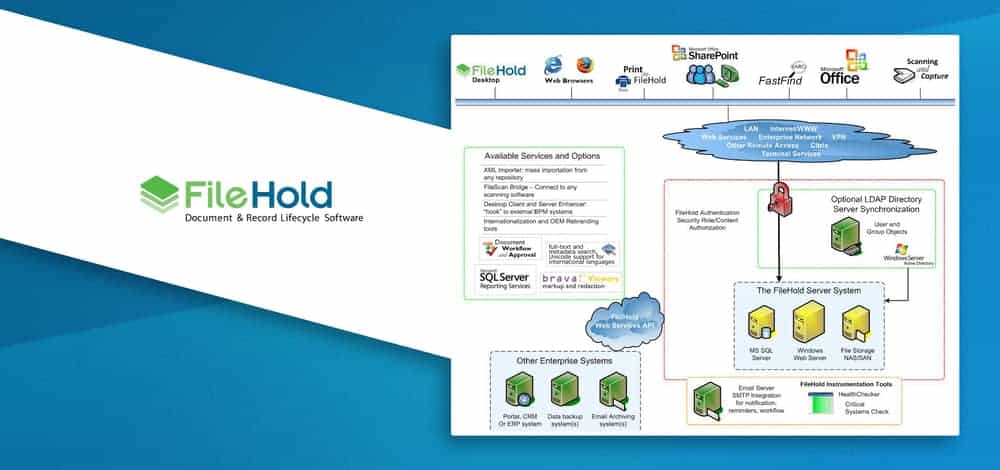 Important Features
It comes with a fast option for searching on third-party desktop applications. 

You can collect metadata collection useful for database mining. 

Allows you to split and join separate PDFs to match your requirement. 

For analyzing the document, usage lets users track document numbers. 

Check your documents on both Webview and desktop view as well. 

Three pricing plans are available, which are Express, Enterprise, and cloud. 
Pros: For complicated environments, it offers a basic and advanced set configuration and controls. Effective features like redaction, sticky notes, the content search are included. 
Cons: It could include a  graphical representation with a drag & drop viewer for better performance and not suitable for beginners at all. 
Our Recommendation
---
Scanner software has become one of the frequently installed software on your PC nowadays. The paper-based workflow is about to finish, and it is evident that electronic documents will be the only way to keep records. There are many scanner software for Windows 10/7 available out there that can significantly improve the scanning, editing, and printing experience. 
Although you can start using any of the mentioned software right now, we will recommend VueScan. It has solved the problem of finding a perfect driver for your scanner. Besides, its cross-platform compatibility is another thing that motivated us to declare VueScan as the best scanning app for your PC. 
Finally, Insights
---
Scanner software can plan an important role in the workflow of an organization. For home use, it can help to decrease the use of paper. Again, it is important to get a clear view, accurate information, exact numbers, perfect pictures, and customization capability when it comes to document acquisition.
We have completed a detailed assessment, considered important KPIs, and picked the best scanner software for Windows 10/7 PC. Go through the features, pros, and cons to get an overview while you can visit their website to extract more information before finally making a choice.