macOS transformation packs can make your Windows PC look like an Apple computer sporting the macOS. Of course, the Windows 10 operating system has a much beautiful UI after recent updates. But if we compare it against macOS, Windows still lags in terms of cleanliness and aesthetics. Since devices running macOS are costly, people tend to apply macOS themes and other components on their Windows computers to bring that macOS vibe. Luckily, there are a lot of designers who are constantly designing and improving these macOS themes for Windows 10. And, you can install those by using third-party system patching software.
Best macOS Transformation Packs
---
The number of available macOS themes for the Windows operating systems on the internet is not huge. But that doesn't mean you are short of options. Another thing is that all the macOS themes are more or less similar since they are all focused on looking at a single operating system. So, it's kind of confusing to choose a macOS-looking theme. So, here I have enlisted my ten favorite macOS skins for Windows.
1. macOS Big Sur by ProTheme
---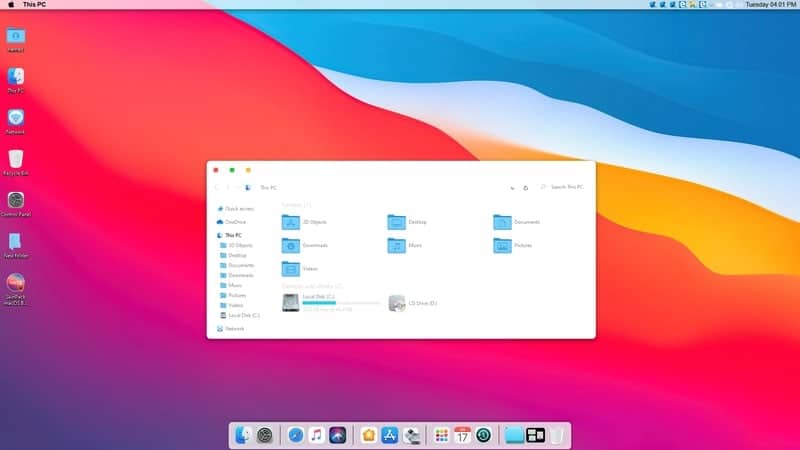 ProTheme is a well-known design group for Windows 10 themes and skins. This is one of the most feature-rich macOS themes out there for Windows desktops. This theme has features and functionalities that will make your computer look like the latest macOS Big Sur. Besides, the dark mode is much improved with some additional tweaks.
2. Mac Classic
---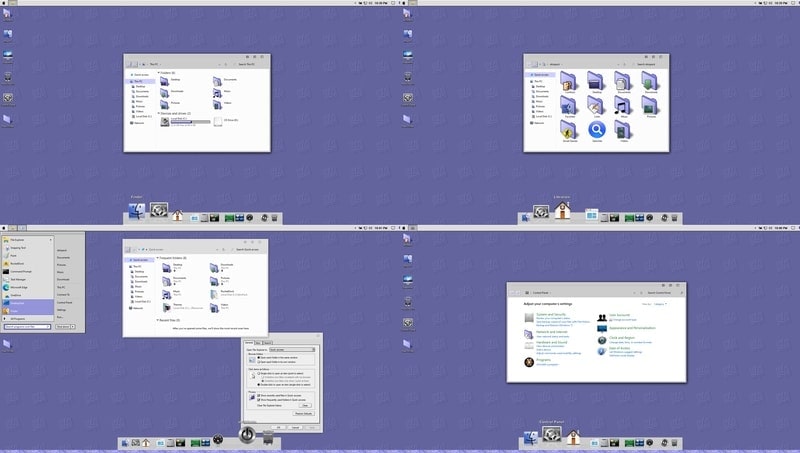 The latest macOS features the most modern user interface. It's smooth and seamless. However, the earlier versions of macOS weren't like this. But still, some people crave classic beauty. If you want to get that retro look on your Windows computer, then this Mac Classic macOS transformation pack will be the best choice for you.
3. macOS Black Glass
---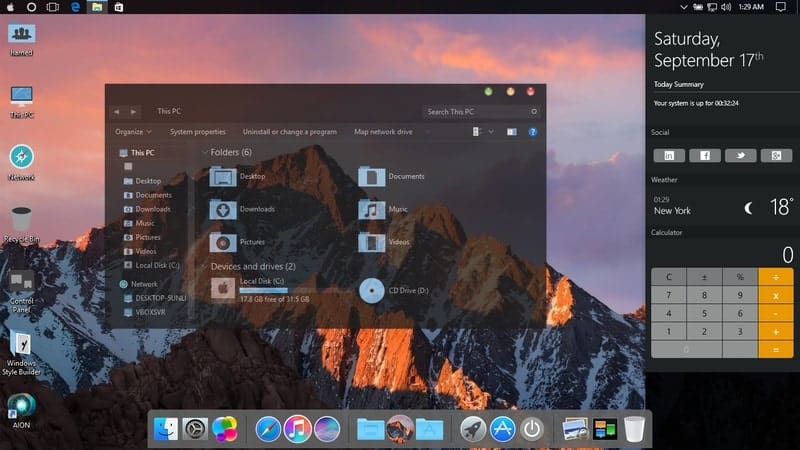 The stock macOS Big Sur has a beautiful user interface. Although it has that glossy look, you won't get fully transparent panels and windows there. However, this variant of the macOS theme features glass-like transparent window backgrounds. That makes the default apps such as file explorer look more modern and elegant.
4. macOS Wood
---

This is yet another beautiful macOS theme for Windows 7, 8, 8.1, and 10. This one has deviated a lot from the stock macOS user interface. It has used a wooden texture on the window background, icons, and the dock. I don't think that everyone will like this theme. However, this is my personal favorite because it matches nicely with my wooden desk and interior design.
5. macOS Big Sur
---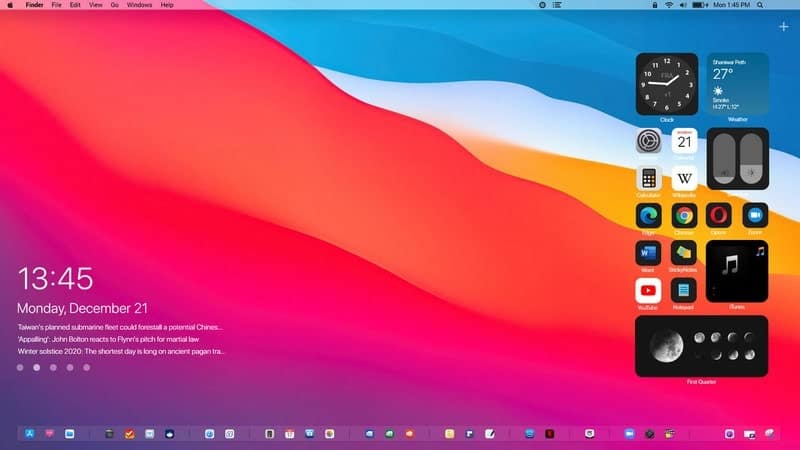 Although the developer has named it macOS Big Sur, it doesn't totally look like stock Big Sur. Rather it is a hybrid of macOS and iPadOS. The widgets on the desktop add up to the overall beauty and aesthetics. Besides, the design also tweaked the interface highly so that it serves the Windows users better. This heavily modified skin requires Rainmeter to run properly.
6. Mixed macOS
---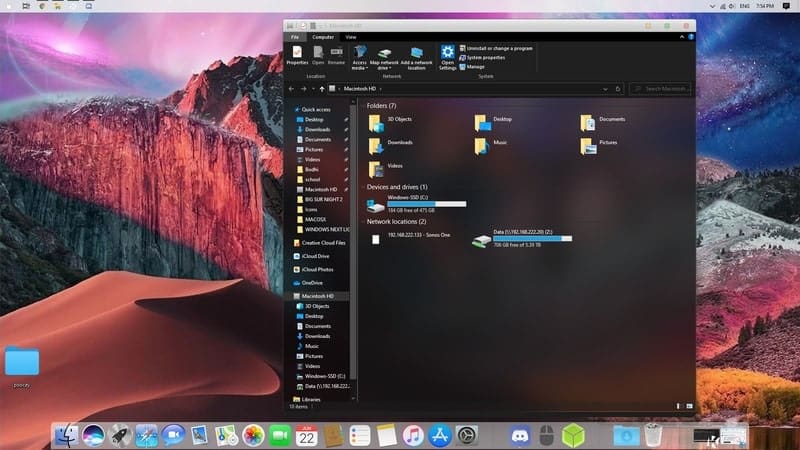 Well, this is neither a complete Mac theme nor a complete Windows theme. Rather the designer used his creativity to bring out a hybrid of the above-mentioned two operating systems. So, you are getting the dock and transparent window background from macOS and the classic application icons from Windows 10. I think it looks good and if you are a common fan of both, it will be perfect for you.
7. macOS High Sierra
---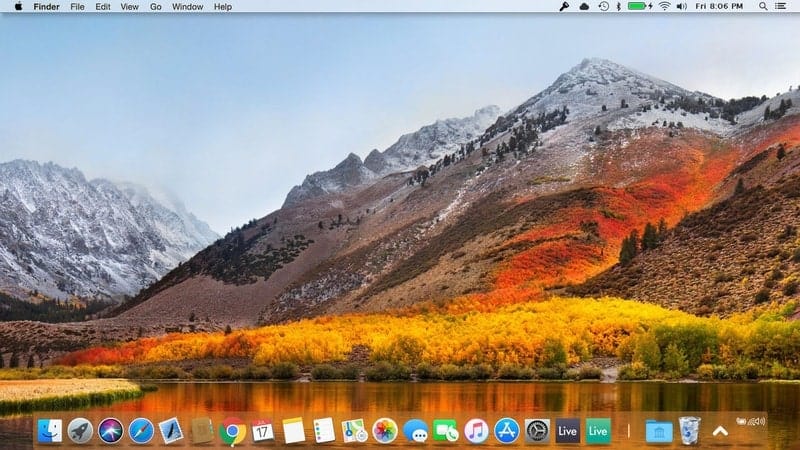 macOS High Sierra was ahead of that time. It brought some massive UI changes, and it is still one of the most popular macOS versions. This macOS transformation pack will bring that High Sierra look to your desktop, and I am pretty sure that you will love this. The icons and tasks panel have a bit of old-school design compared to the latest version, but it is quite stable and consistent.
8. macOS Dark
---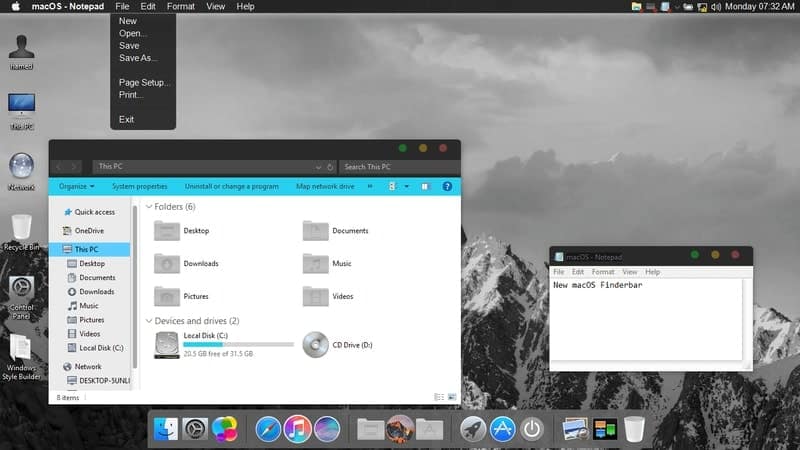 The latest versions of macOS come with built-in dark mode. However, this macOS Dark theme for Windows OS is a bit different. The icons, dock, and application windows look a bit old school here. The window backgrounds are not dark here, which is the main twist here. Rather the file explorer icons have a dark accent that blends nicely with the overall user interface.
9. macOS Mojave
---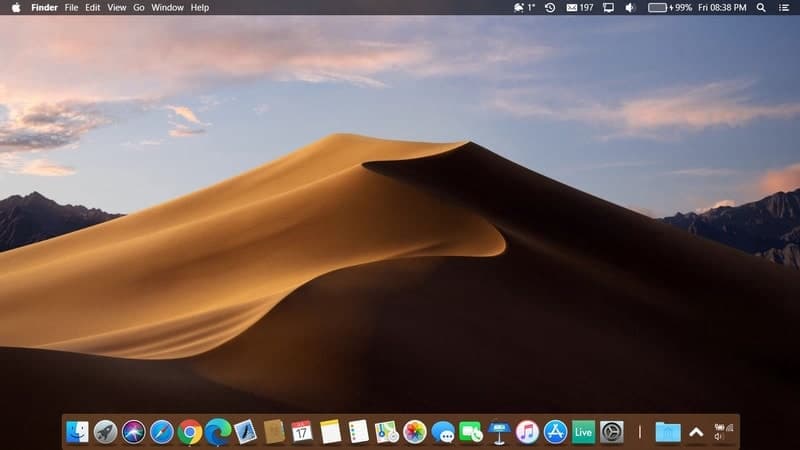 This theme is no different from the other macOS themes out there. So, it is very likely that you will rather choose any theme based on the latest version of macOS. But the problem with those themes is that those are not as stable as themes built upon older versions. This is why if you want consistency and stability, I will highly recommend this theme for your Windows PC.
10. macOS Big Sur Black & Light
---
This is yet another theme based on the macOS Big Sur operating system. The designer has modified the backgrounds of this theme and gave it a different look. The black version has white window background and a black header. This color combination has brought contrast, and it looks gorgeous on any kind of desktop. Overall, the theme is very polished, and I didn't find any glitches anywhere.
How To Get The macOS Themes For Windows
---
The macOS transformation packs for Windows are more than regular skins or themes. They consist of the main theme file, icon pack, and necessary software for getting specific macOS features such as docks, task panel, etc. To apply the macOS skin on Windows, you have to use UXThemePatcher to patch the Windows system core files. This is a risky process, and I will suggest you backup your entire system before doing that.
To install the icons, you need another software called iPack Builder. Besides, you might also need additional software to get the wholesome look that you have seen in the photos. You will get the instructions and download links to those on the theme download page. Although installing these themes is a bit hectic process, it is worth taking the hassle if you want that seamless macOS-like look.
Final Thoughts
---
Here I have discussed a few of the macOS themes for Windows 10 available out there. Of course, the choice varies from person to person. So, I am not recommending a single theme for your desktop as a conclusion. Rather try out all of them if possible and see which suits your eyes best. After all, it's your PC, and you will use it. And, if you think I have missed a great macOS-like skin in this list, you can comment below to let us know. Happy customizing!