A DWS or Digital Audio Workstation is software used for recording, editing, mixing, composing, and mastering audio. This tool helps you to produce real-time audio previews with sound effects. You may enhance audio by using DAW software either you are an audio engineer, musician, or audio-video content creators. Moreover, this software turns your idea into music easily.
Well, you may find lots of digital audio workstation software in the web if you are trying all demos to find out the best suited DAW application for you. Yes, you can do it, but it is time-consuming. In this article, we have reviewed the top 13 digital audio workstation software. But not all of this list will be suitable for you. You need to find out the right software for you from this list. Here, we guide you on how to find out the best suited DAW software from the list.
How to Find out Best DAW Software
---
To choose a digital audio workstation software, you have to consider few important points. Firstly, you have to make sure that your computer operating system and hardware are compatible with the software requirement. Secondly, you should determine your production purposes. Thirdly, you need to decide about the type of audio plugins. Finally, you have to set your budget.
In this article, we have compiled the list of the 13 best DAW softwares. The list contains both free and paid version software. Please check out the list below and find out the best suited audio editing software for you.
01. Adobe Audition
---
Adobe Audition is a digital audio workstation software. It comes with huge audio features, including multitrack, waveform, and integration pristine sound. This powerful audio editing tool is developed by Adobe Inc. Adobe's products are most prominent in the creative industry.
Adobe Audition is one of the full-featured audio editing software. It is the best audio restoration and perfect audio integration tool to produce professional audio for podcast, music, and video content sound effect.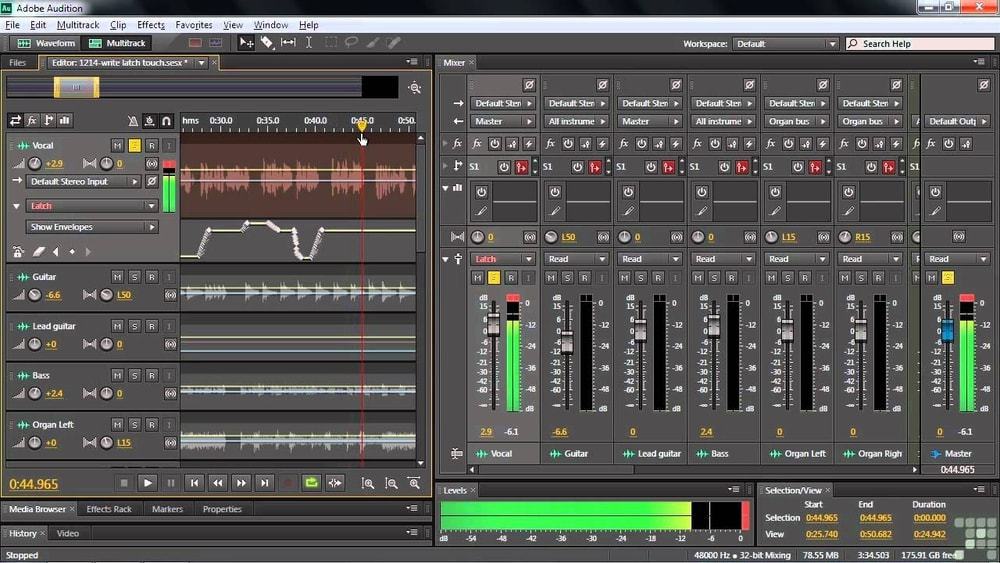 Key Features:
With Adobe Audition, you can easily record, edit, mix, and restore audio content.
Moreover, you can create a podcast using Adobe Audition.
Furthermore, you can produce a piece of remix music to rearrange the music duration.
While you record sound, you can integrate the sound simultaneously that makes the audio more professional.
Adobe Audition has all the essential sound effects libraries. And, all sound effect is tagged perfectly. So you can find any sound effect and create professional sound even if you are not a professional sound editor.
With Adobe Audition, you can remove background noise easily. In addition, this software helps you to enhance your audio quality.
Pros: Adobe Audition has a large audio effect library. So you can mix any sound effect easily. Moreover, you can save a preset sound effect for reuse the sound effect.
Cons: The interface is messy. If you are a beginner, you had to hard work to learn about Adobe Audition tools. Along with it is expensive software like other Adobe products.
02. Audacity
---
Are you a new learner in the audio engineering industry? Do you want to produce professional-quality sound without having audio editing experience? Audacity is the best pick for you. It is the most popular open source digital audio workstation software. So you can produce high-quality sound for free. It supports multi-tracker. Moreover, it has numerous sound effects and plugins, so you can easily produce professional audio content.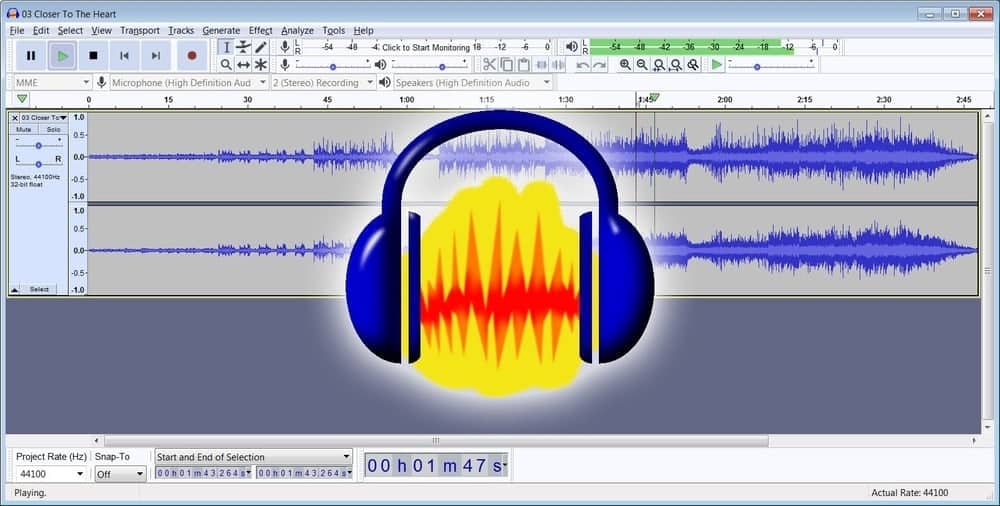 Key Features:
With Audacity, you can record live audio using a microphone or other recording devices.
It supports 16-bit, 24-bit, and 32-bit sound quality. So you can reproduce your sound by using resampling and dithering effects.
Audacity editing panel is easy to use. There are enough tools to cut, copy, delete, merge or rearrange the audio track.
It has a background noise removal effect. With this background noise remove effect tool, you can minimize the background noise. Moreover, it has some essential effect tools to boost the audio quality.
It has real-time preview options. So you can frequently analyze the output of the audio before the final export.
Pros: Audacity spectrogram view mode helps details analysis of the audio. This tool makes it easy to edit any audio content.
Cons: However, Audacity supports only a few audio file formats for import. And, it does not allow to apply effect while audio is recording.
03. Reason
---
Reason is an online-based DAW application that helps you create amazing sounds from scratch or the Reason music library. This is the best DAW software if you are going to compose electronic or hip-hop music. The software has a huge library of synthesizers, instruments, and effects.
Moreover, it has big sound banks containing more than 29000 device patches, loops, and samples. Overall, it is a masterpiece music mixing tool. This software company offers 7 days free trial before purchasing the premium package.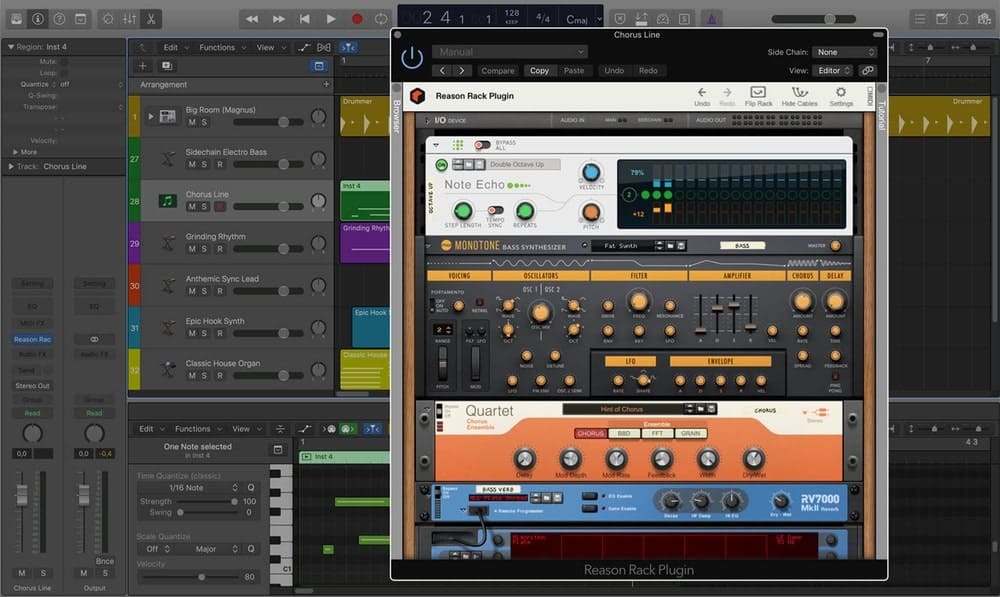 Key Features:
You can easily use any instruments and plugins in the Reason's rack because of a built-in VST plugin with Reason.
Moreover, Reason allows adding more instruments and effects plugins from the 3rd party music developers.
You can transpose and time stretch audio in real-time.
Reason offers unlimited vocal recording. And, this pitch editing tool polishes your vocal recording.
Though Reason supports multicore and 64-bit sound quality, it has become compatible in all types of computers.
Pros: Reason has a versatile bundle of instruments and a utility pack. So you can easily compose stunning music with these supporting tools.
Cons: However, Reason does not support ReWire.
04. Waveform
---
If you are a music enthusiast, you should pick Waveform for producing music effortlessly because Waveform is specially designed for musician's sound editing. A musician can easily compose professional songs by using free DAW applications like Waveform. You can produce unlimited music and MIDI tracks by using Waveform.
Waveform supports all operating systems. It provides full features of music-producing tools. You can add unlimited tracks, popular plugins, instruments, and effects. Obviously, there is some audio featuring that is missing. But if you want to start music-making, you can pick Waveform as a free DAW application.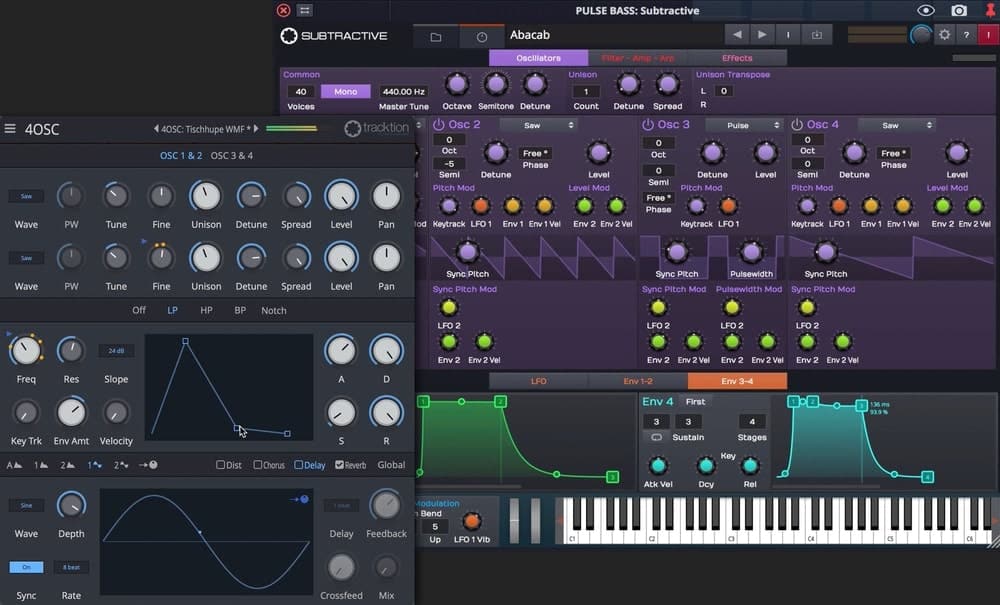 Key Features:
Waveform introduces a clean and clear interface capable of simultaneously doing multiple tasks like a live recording, DJ mixing, electric setup, etc.
It designs the synth and effects integration option simply. It can render the sound effect instantly and deliver high-quality sound quickly without heavy processing.
With MIDI Chord Player, you can create your custom chord. This provides a ready-made chord to use, so it would be helpful for those who keyboard skilled is below the professional standard. They can easily produce professional sound using this MIDI Chord Player.
Waveform is a great composer for the band, record podcast, and produces professional music for singers.
You can play a virtual micro drum. This micro drum comes with 808 and 909 kits, or you can create your own kits.
Pros: As a free DAW tool, waveform performs outstanding performance. It offers unlimited tracks, massive customized workflows, and lots of advanced tools to create amazing soundtracks.
Cons: However, Waveform free stocks plugin is limited.
05. SoundBridge
---
SoundBridge is another free digital audio workstation software for musicians. This software is designed based on simplicity. You can easily operate this software even you have little or no more experience of using daw software. You can access all tracking, sequencing, and mixing features easily. Besides, this software supports third-party VST and high-fidelity drivers. SoundBridge is compatible only for Windows and MAC OS.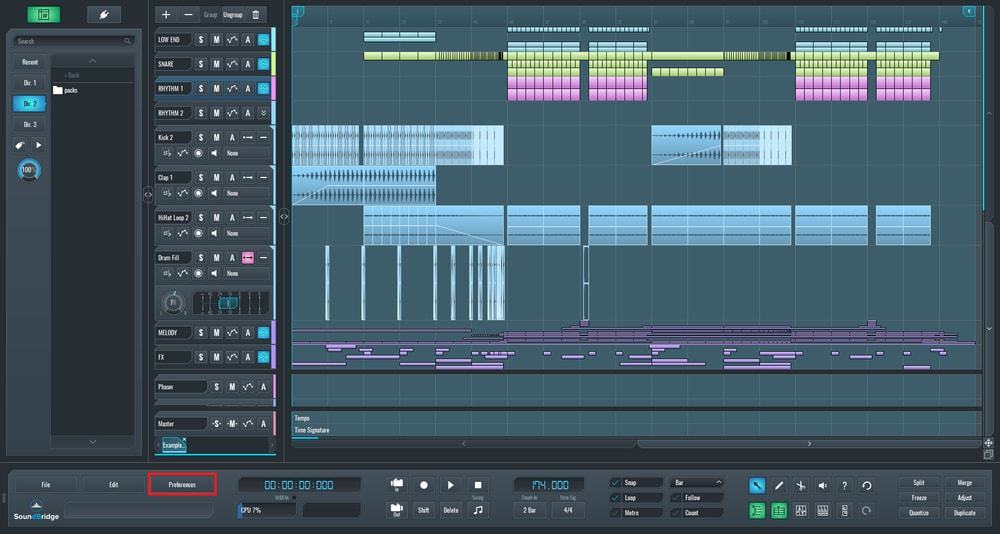 Key Features:
SoundBridge offers simplicity in operating the DAW tool. So you can easily edit audio.
SoundBridge has a huge variety of FX.
With SoundBridge, you can enjoy full-featured DAW for free.
Soundbridge has a touch interface. So you can control the music by your hand gestures.
The software is responsive and fast. So you can change bitrates frequently.
Pros: With SoundBride, you can enjoy a full-featured DAW experient for free. In addition, its interface design is so simple that you can easily understand all keys functions within a few hours.
Cons: SoundBridge comes with FX but no instruments. Moreover, you need to produce audio in this software because it does not support input audio.
06. Reaper
---
Reaper is another free digital audio workstation that is compatible with Windows and Mac OS. It offers a huge amount of plugins for effects and virtual instruments. This free DAW application supports 64-bit audio.
There is a battle in the audio industry between two free digital audio workstations, Audacity and Reaper. Audacity is the best for simple audio editing, but when it needs high-quality audio processing and advanced technical capabilities, then Reaper is the must-choice DAW application.
Key Features:
Though Reaper offers a complete-featured audio editing tool, it is lightweight. So it loads fast. You can run the program by installing or from a portable device or network drive.
Reaper allows drag and drops features to input audio. After processing the audio, you can export the file in any format.
Reaper allows multichannel through the integration of MIDI hardware and software.
Moreover, it supports unlimited third-party plugins for effects and instruments, including VST, LV2, AU, DX.
While you apply many effects and instruments in your project, it does not affect your computer CPU. It runs smoothly.
Pros: Reper is extremely customizable. You can use an unlimited number of tracks and effects without effect the CPU power usage.
Cons: Reaper's MIDI drum has limited features compared to other DAW programs. Its MIDI Editor is not well functioned. So if you use MIDI frequently, you are not suggested to use Reaper.
07. Zenbeats
---
Zenbeats is the smart choice for an emerging musician. This free music creation app is compatible with all types of operating systems like iOS, Android, Windows, Mac. It has around ten thousand preset tones and a hundred MFX effects covering a wide range of sounds. Moreover, it has a loop builder to create a loop for live performance. So you can create music effortlessly in any device using Zenbeats.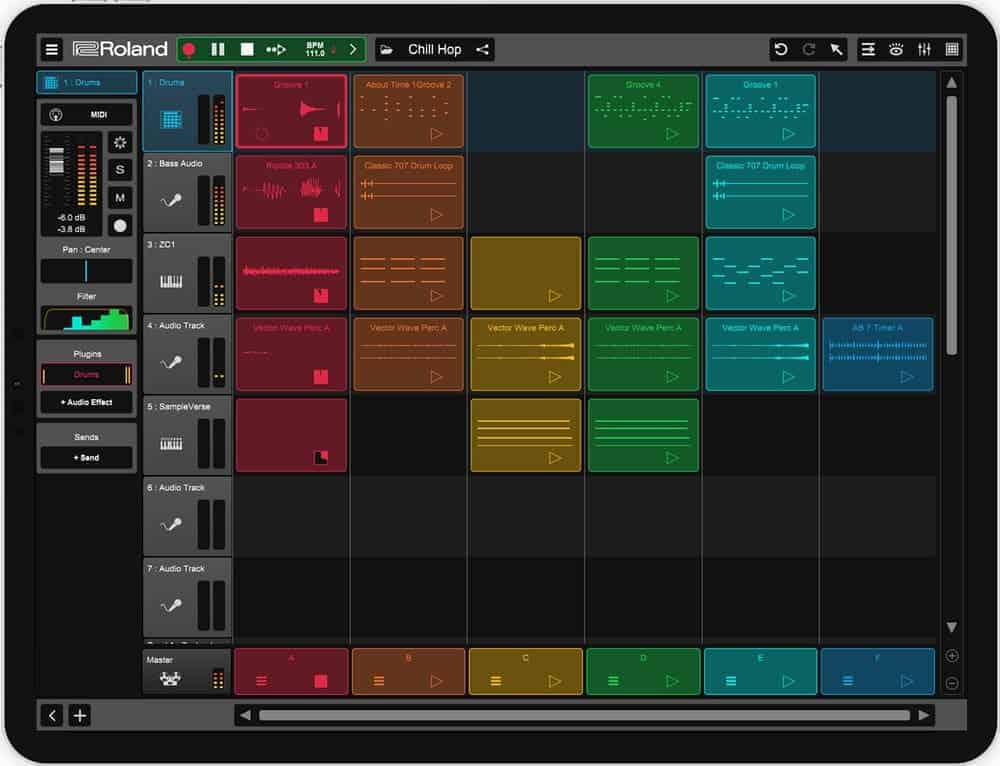 Key Features:
Zenbeats allow a touch-based interface. So you can optimize your music easily.
It covers a wide range of musical instruments.
It allows changing the music modes according to my choice.
You can integrate your music in the cloud like Google Drive, OneDrive.
It comes with an unlimited plugin for instruments, effects, and sound packs. It provides more than ten thousand presets, full ZC1 Synthesizer with MFX to produce unlimited mixing of sounds.
Pros: Zenbeats is a touch-friendly cross-platform that comes with great loop builder digital audio workstation software.
Cons: However, it does not provide a VST plugin.
08. Garageband
---
Garageband is fully-featured music-creating software is specially designed for Mac users. It provides a complete sound library that contains plenty of plugins for instruments and effects. Moreover, its interface is touch-friendly. So you can easily record, create, play and share music with Garageband.
Furthermore, you can set your music as a mobile ringtone. Besides, you can create a virtual drum session. In addition, it has well-documented tutorials to guide you learn about composing music.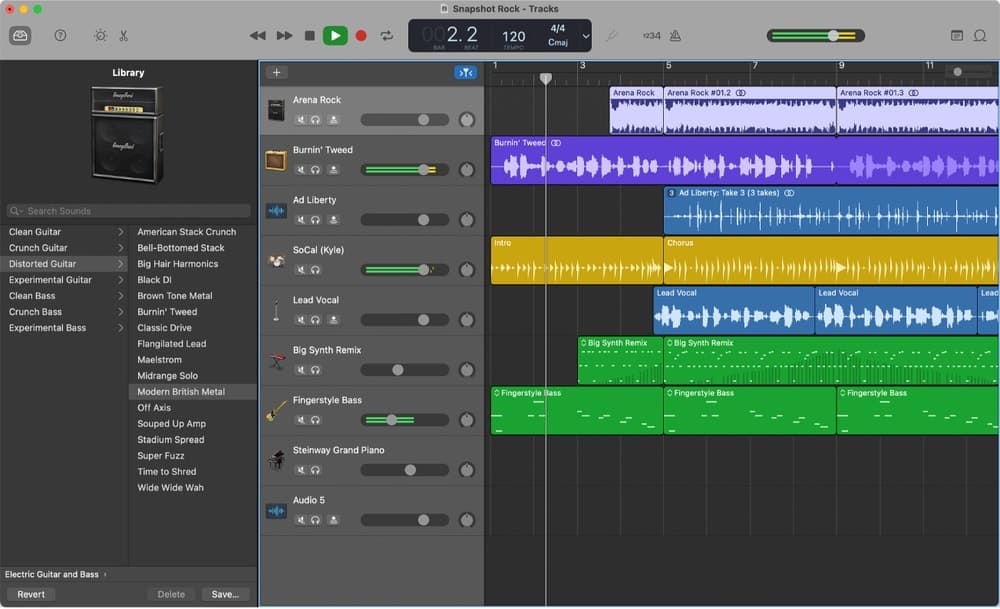 Key Features:
The user interface is so simple that anyone can play this and compose music.
You may find many presets, synthesizers and instruments are ready to produce music.
You can produce professional music instantly by plugging your guitar, microphone, or any audio input device into your music system.
Moreover, you can enjoy the freedom of making a variety of music by using built-in instruments and loops.
Besides, you can tweak sound as you like by synth 100 EDM- and Hip Hop.
Pros: Because of its intuitive interface, you can easily manage the whole process quickly.
Cons: Though it has plenty of music-making features, it has limits in tracks. You can only use 32 tracks to compose music.
09. Cakewalk by Bandlab
---
Cakewalk by Bandlab is another best free DAW software that provides a complete music production solution. But this software is only compatible with Windows OS. The software company works with Microsoft to provide a better touch screen experience in Microsoft Surface and iPad.
Moreover, it provides unlimited audio tracks, instruments, loops, and MIDI in every sound project. Besides, you can add drums to your music. Cakewalk by Bandlab helps to compose songs by using creative songwriters tools easily.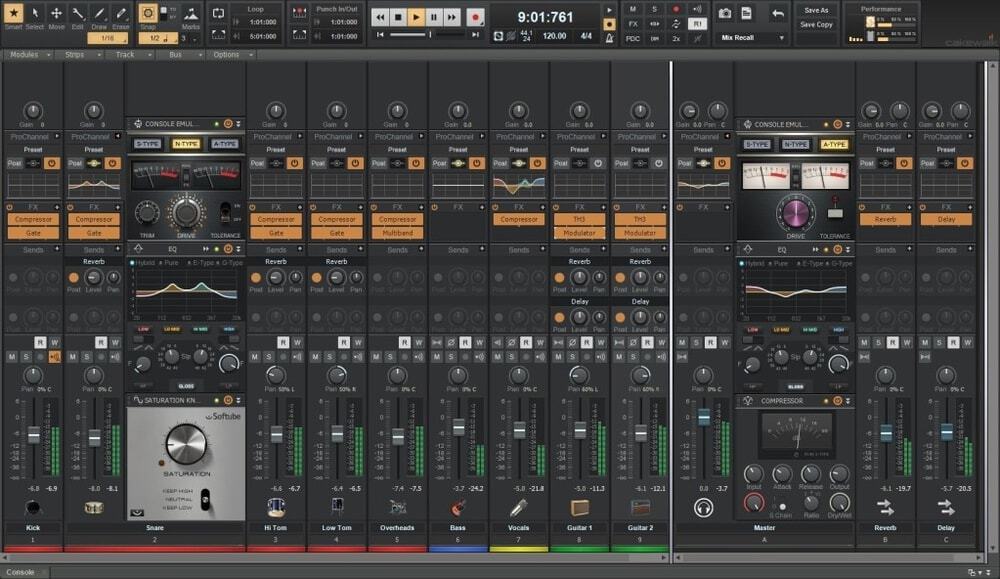 Key Features:
Cakewalk by Bandlab supports the full VST plugin.
It has unlimited tracks and sound packs.
This software enables resample audio tracks. So you can produce high-quality sounds.
Though it can control peak, so you can polish your sound mix.
The program complies with 64-bit, but it supports both 32-bit and 64-bit plugins.
Pros: Cakewalk by Bandland comes with a basic set of instruments like drums, e-piano, bass, etc.
Cons: Cakewalk by Bandland does not support third-party plugins. Moreover, sometimes you have experienced a crash in the system.
10. LMMS
---
LMMS is an open source and community-driven based digital audio workstation software that is developed by community contributors. You may find unlimited tracks and MIDI audios.
Moreover, the community contributors have developed many synthesizers and effects. Besides, it supports Soundfonts, Giga, and Ultrasound formats, as well as 64-bit  VST Plugin. Though musicians develop this software, they know how to better way optimize the music.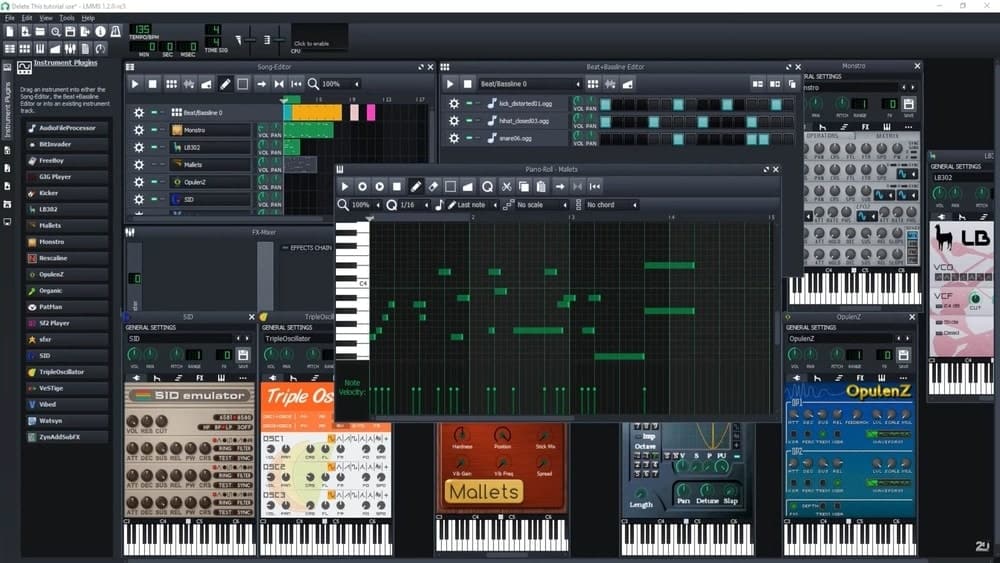 Key Features:
LMMS supports all operating systems. So you can use this software in Windows, Mac, or Linux. Moreover, you can move projects from one OS to another OS.
LMMS user interface is designed as a simple to compose, mix and sequence your project file easily.
It has a piano editor. You can fine-tune patterns, notes, and chords by using this awesome piano editor.
And, it has a base editor to consolidate instruments tracks.
With LMMS, you can import MIDI and project files.
Pros: LMMS is free and open source software. Moreover, this software is developed by musicians based on their experience. So you can produce music easily. It has great features of mixing sounds, rearrange samples and compose songs.
Cons: When you load the VST plugin, the programs crashed frequently.
11. VCV Rack
---
If you are looking for a modular synthesizer, you may pick VCV Rack. VCV stands for Voltage Controlled Virtualization. But it is more familiar as VCV Rack. This cross-platform modular synthesizer software is lightweight and easy to use.
It is an open source software, so many users and enthusiasts worldwide can experiment with this software at no cost. VCV Rack can produce great sounds. You can synthesize sound to connect in multiple modules.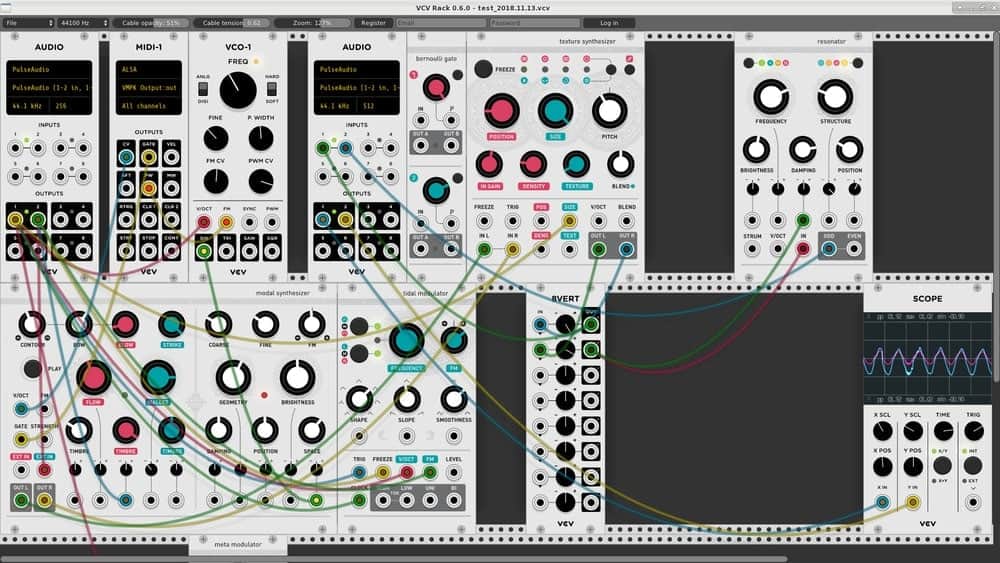 Key Features:
VCV Rack has virtual 3D rooms along with virtual microphones and speakers.
It has a quad note chord sequencer that can expand a single pitch into 4 notes.
VCV Rack console contains 8-channel modular mixer so you can easily process input audio and CV signals.
Moreover, it provides a stereo parametric equalizer with filters and an awesome spectrum viewer.
In addition, you can scale up to 24 tones with VCV Rack.
Pros: VCV Rack is a great tool for electric musicians. It is rare to see a phenomenon similar to VCV Rack. It is the best alternative solution to traditional DAW.
Cons: The music composition process is complex compared to traditional DAW tools.
12. Ableton Live 
---
Ableton Live can record and create music. This software provides you a real-time experience of producing music that seems you are performing on the stage. It has plenty of instruments and sound effects to record a song. Moreover, you can shift your pitch and make the sequence using this Ableton Live software. Overall, this recording software supports multiple MIDI editing.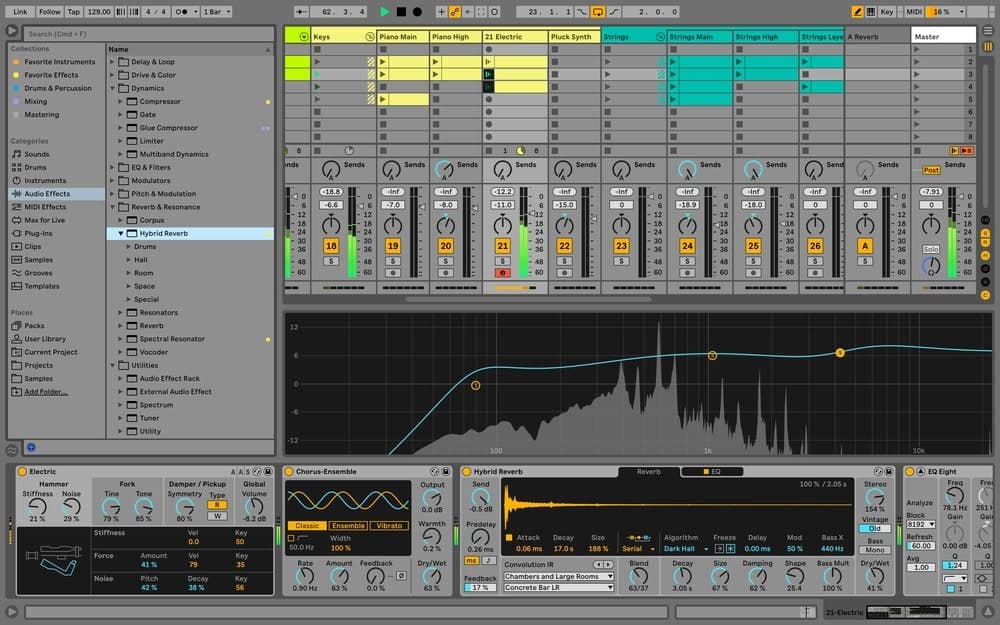 Key Features:
Ableton Live is standalone live recorder software that provides fast navigation. So you can add effects during record audio.
Ableton Live has a dual-oscillator, dual-filter synthesizer to compose innovative music.
It has plenty of instruments and sound effects. Ableton package includes more than 3,000 instrument sounds, 3 samplers, 5 synchronizers, almost 400 drum kits, and unlimited royalty-free loops.
Moreover, it has plenty of plugins to provide you the freedom to produce various kinds of excellent music.
There are plenty of sample materials that can help you to manipulate the audio at the time recording and create completely new version audio easily.
Pros: Ableton Live is an awesome clip-based live performance recorder. It features a fast navigator and powerful automation workflow.
Cons: However, Ableton Live has no pitch correction tool. Furthermore, it does not have a notation viewer.
13. PreSonus Studio One
---
PreSonus Studio one provides all from one DAW software. You can record, compose, mix, and produce music by using Studio One. It comes with an intuitive single-window that faster your work process. Moreover, it is also touch enable software that provides unlimited audio tracks and MIDI tracks. Furthermore, it has a powerful workflow which is called Presence XT. And, it has unlimited instruments, FX channels.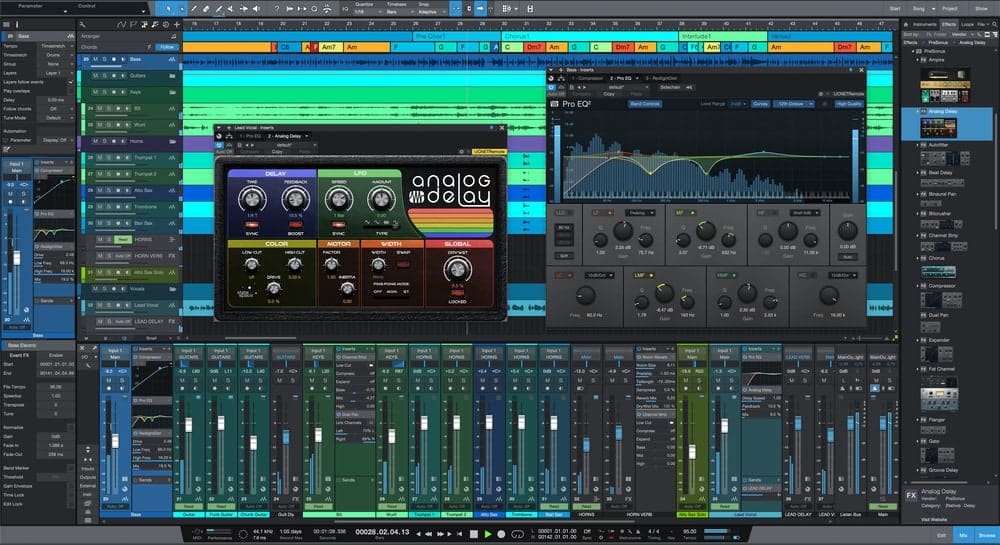 Key Features:
PreSonus Studio One is one of the DAW applications that provides printable notation.
It offers a keyboard shortcuts feature. So you can use keyboard shortcuts to quickly audio processing.
Moreover, it more emphasizes easy-to-use features. For this reason, you can create an FX bus, grab an audio loop, add plugins or even play virtual instruments just using the drag and drop command.
It comes with a complete set of plugins for instruments and audio effects.
Furthermore, it provides an easy process of your input audio by mastering composition and track sequence. In addition, you can share your output audio by uploading it in the cloud.
Pros: PreSonus Studio One provides a complete package of audio editing tools. From beginner to professional, everyone can use this software.
Cons: PreSonus Studio One has not VST plugin.
Download PreSonus Studio One
Our Recommendations
---
Finding the best-suited digital audio workstation software is really challenging job. Because every DAW application has some standalone features, all softwares are not developed for the same purposes. Every DAW tool has a definite work mechanism. So before finding your DAW solution, first of all, you need to set your requirement.
If you are looking at only basic digital audio workstation applications, you can pick either Adobe Audition or Audacity. Here, Adobe Audition is the paid version, and Audacity is free software. For the beginner, these two is the best suit. Besides, some best free DAW softwares for beginners are; CakeWalk, Zenbeats, and Garageband.
On the other hand, you may choose either Waveform or Ableton Live for professional music creation. These two DAW is the best for audio recording and mixing. VCV Rack is the standalone performer for modular synthesizers. Finally, you may pick a smart music composer tool among Reason, Waveform, CakeWalk, and LMMS.
Concluding Words
---
We have noticed that you are still with us and read this article that means you are really enthusiastic about music. Your enthusiasm about music is appreciable. We hope you find out your best-suited DAW software from our list.
Apart from the list, you have experienced another digital audio workstation software that you like, and you may share your experienced software name in our comment box. Moreover, you tell us the reason for your choice. Moreover, we request you to share this article with your music enthusiastic friends. For sure, they love this article.