DVD is a dying medium nowadays. Once there was a time when we stored media on CDs and DVDs. Even the developers retailed video games and software through DVD. Then the BlueRay took that place for a few years. Now that we are entering a new decade, everything is going to be digital. Even PS5 Digital Edition and Xbox Series S have also ditched the disk drive. But still, we need DVDs sometimes. To save the contents of a DVD into a computer digitally, DVD ripping software comes in handy. If you are a Windows user like me, then you will need DVD rippers for Windows PCs, and I guess this is why you are here in the first place.
Best DVD Rippers for Windows PC
---
As I said earlier, disks are dying. But it was not like this even a few years ago. There were a lot of software companies and indie developers who developed and marketed commercial and free DVD rippers for Windows. But nowadays, most of them are not under active development anymore.
Fortunately still, we have some decent DVD rippers for Windows 10/7 that can read and save your precious memories or files stored in a DVD. Hence, I thought, why not make a list of them to pick the best one easily. So, without further ado, let's take a look at our hall of fame of DVD rippers.
1. DVDFab DVD Ripper
---
The first one in this list is the DVDFab DVD Ripper, a freemium DVD ripping tool for your Windows PC. While the free version is adequate for most users, it has some obvious limitations. For example, you can't choose your desired format while exporting the DVD files. However, the premium edition can be availed by a one-time payment, and if you need this tool daily, then the cost justifies it.
This tool supports powerful ripping profiles that can extract the files and convert them for you. On top of that, you can upgrade anytime from this free version whenever you need all the features.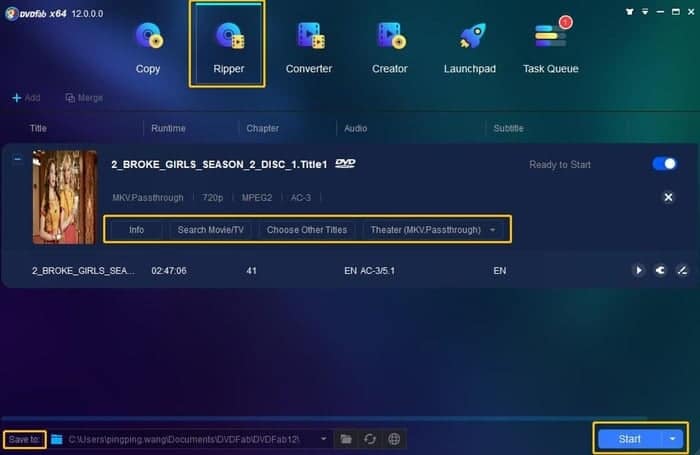 Key Features
The interface has a modern material design with vivid colors and icons.
If your computer is powerful enough, you can batch export to get your job done easily.
This tool supports a powerful AI-based addon that will upscale the video to 4K UHD.
The original metadata is kept even after the conversion to not have to worry about organizing them.
It can break into protected DVDs even with the newest protection algorithm.
Pros: It supports multichannel audio output along with the support for BluRay disks, which is incredible. The full trial and the free version is also useful to try out before making the purchase decision.
Cons: The output resolution is capped into 480p unless you use their paid HD upscale plugin.
2. WinX DVD Ripper Platinum
---
This is yet another premium DVD ripping tool for Windows PC. WinX DVD Ripper Platinum is here for a long time. But, developers haven't updated the graphical UI lately. This is why you will see an old school interface. However, the tool still works perfectly. The free version doesn't have many features.
So, I will recommend you to go for the pretty affordable premium package. This tool has some basic audio-video editing features, which is a great addition if you are serious about DVD ripping.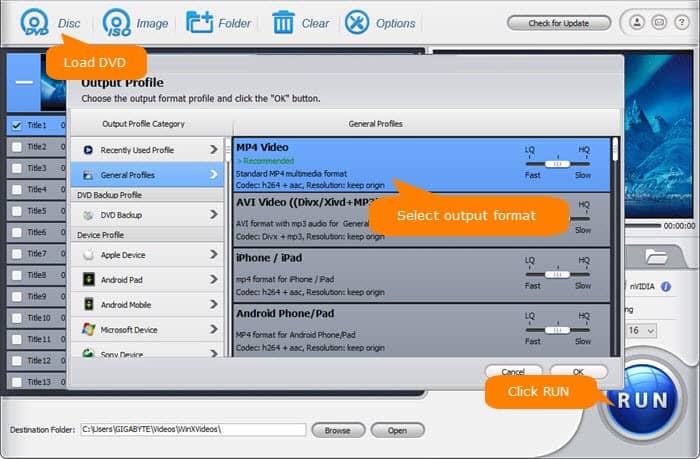 Key Features
This tool is quite successful at ripping from the damaged DVDs.
It can convert files into different formats with the latest HEVC codec.
The tool takes significantly less time for decoding on capable computers due to the hardware acceleration feature.
You can adjust resolution, aspect ratio and will get a trimming option for large videos.
There is a DVD cloning feature that will provide you the lossless and uncompressed video files.
Pros: There are many features that are rare on other similar tools, and you are getting these through the most affordable plan.
Cons: The GUI is a bit cluttered, which I didn't like personally. I think it won't be easy to use for beginners.
3. DVD-Cloner
---
DVD-Cloner is currently in its latest version. So, you aren't missing anything in this tool. So, I love this tool because of the regular feature and security updates despite the costly plan. This tool also works as a DVD burner to create hard copies of the videos. You can easily compress your movies and files into a DVD supported size, which is a great addition.
DVD-Cloner is popular for removing DRM license from BluRay disks and DVDs. This feature has made DVD-cloner one of the best DVD rippers for Windows 10 in terms of breaching the protection.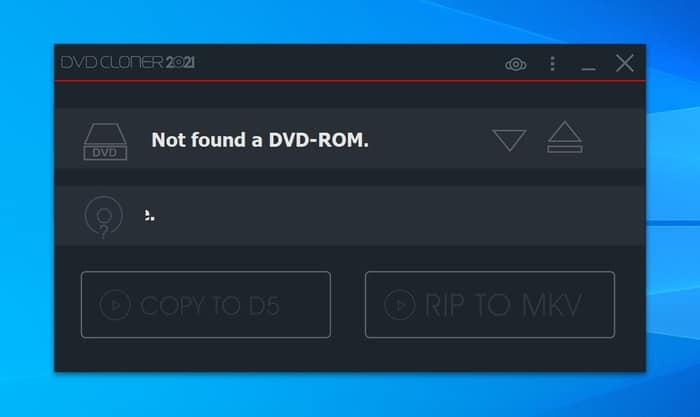 Key Features
It can rip DVDs in a bulk amount, and the process is automatic.
The videos can be exported into lossless MKV format along with other popular file formats.
You will get the see the same HDR10 and Dolby surround sound effects in that ripped video.
Copying speed is faster than most other typical DVD ripping tools for Windows PC.
The developers release major versions every year with new algorithms and features.
Pros: Due to the extensive developer support and regular updates, you can easily use this software in your organization where you have to deal with sensitive files in the DVDs.
Cons: The operations are not beginner-friendly as far as I have experienced so far. The UI should've been made much cleaner.
4. WonderFox DVD Ripper Pro
---
This premium tool is known for its 1:1 lossless conversion. No matter how the DVD is protected, you can always rip it off by using this tool in your desired format. WinX DVD Ripper has more features than this, but this tool excels in speed and performance. Even my old computer without any dedicated GPU could rip a DVD within a few minutes. Hence, this tool can be a great help if you are struggling with the deadline of ripping a bulk amount of DVDs and BluRay disks.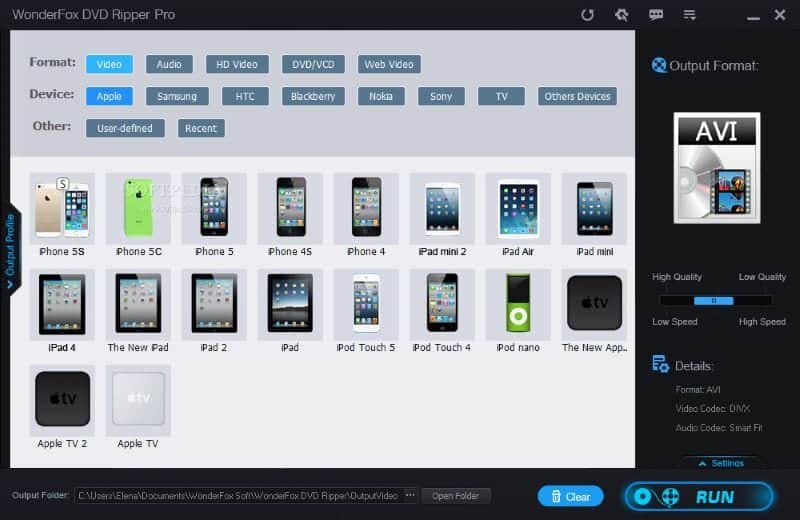 Key Features
The impression algorithm is so powerful that it can reduce file size drastically, retaining the original details.
There is a mode that will enable you to rip DVD into MPG format within a few minutes.
It can preserve the subtitles and metadata of the movies and TV shows automatically.
You can easily remove bloats from the DVD, such as ads, trailers, etc.
The resolution will be HD or Full HD based on your preference.
Pros: WonderFox made this tool compatible even with the older version of Windows such as Windows XP, Vista, which is incredible for the users who want to stick with those versions.
Cons: The developers have kept several subscription plans for this tool that are confusing and costly as well.
5. Handbrake
---
Handbrake is a popular open-source video conversion tool for Windows. However, it can also rip from the DVDs. Being a multipurpose tool, this tool deserves a decent position in this list. You can also rip from BluRay disks, which is awesome if you want to store high-quality movies and videos on your computer.
Despite having a lot of features, Handbrake is quite easy to use. You can select from several exporting presets that will help you convert videos from DVDs even if you don't know the technical aspects.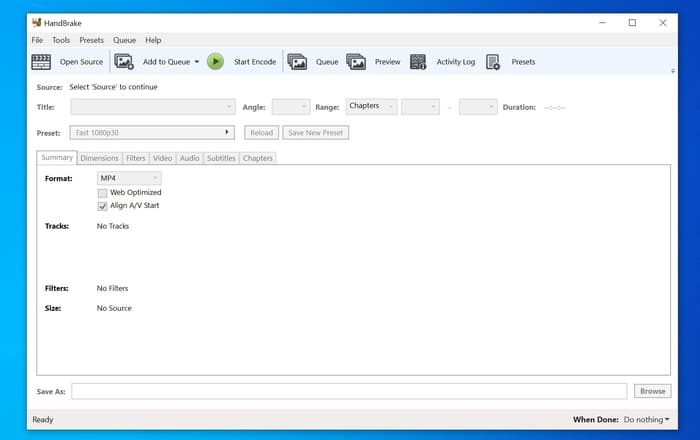 Key Features
You can convert the videos into any format from the DVD.
It supports BluRay disks without any additional plugins.
The ripped videos can be tweaked with basic parameters right into this app.
You can modify the presets on your own if you want to get the best output.
Handbrake supports both h264 and h265 video codecs for advanced compression without losing quality.
Pros: This is a cross-platform tool that is convenient for multiple device owners. On top of that, the portable version for Windows removes the hassle of installing on the system.
Cons: If DVD ripping is your only goal, I will suggest you not installing this since it takes a significant amount of space.
6. AnyDVD HD
---
AnyDVD is developed by RedFox and works great as a DVD ripper for Windows 10/7 PC. This is probably the most costly option on this list, which might be a problem for casual users. However, the tool is reliable and feature-rich with regular support from the developers.
But still, I'll suggest you check out the trial version before making the purchase. The thing I like most about this tool is its silent processing capability. You can schedule tasks, and it will create the output file in the background without distracting you.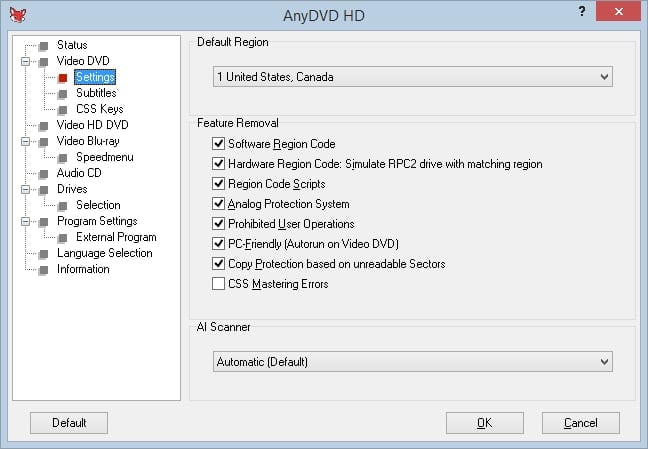 Key Features
It supports HD output from the BluRay disks as well as from the DVDs.
You will have full control over the export properties and parameters.
The drive speed can be optimized for noise-free video decryption on computers.
It has some exclusive preview features for providing you home theatre experience.
You can remove unwanted sections from the DVD before ripping on your PC.
Pros: It offers the maximum number of features in lightweight package size. This tool is a great option for viewing videos from the DVD in real-time.
Cons: The life-time license is very costly. If you are just a casual user, it's better to use affordable alternatives.
7. Freemake Video Converter
---
Don't be confused with the name, folks. Although the main purpose of this tool is to convert videos into different formats, this tool is more than that. It can do professional-level DVD ripping from any kind of protected disks. It supports up to 500 different video formats, which are incredible.
The most exciting thing is the DVD ripping feature is free to use, and you don't need the PRO version to do that. Freemake Video Converter is also great for burning videos on the DVD.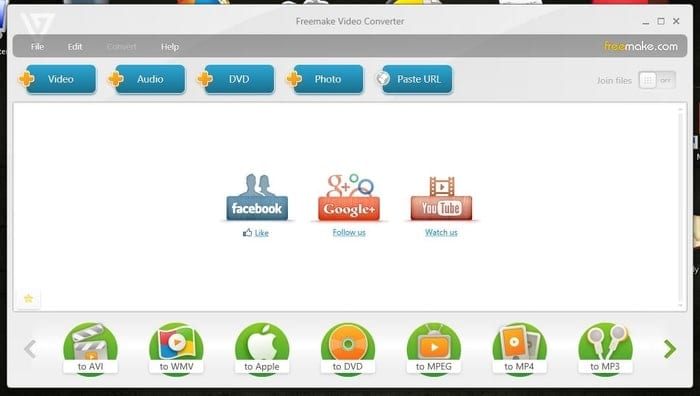 Key Features
You can select from several device-specific presets for converting.
Basic video editing options are available, thanks to the developers.
This tool does well in ripping lossless videos from the disks.
The user interface is suitable for touch and small screen devices.
You can keep the subtitles and DVD menu while extracting the files.
Pros: The videos can be uploaded directly to social media such as YouTube, a great addition to this connected world.
Cons: Although the PRO version is not that necessary, if you want hardware accelerated fast ripping, then you have to spend those extra bucks.
8. MakeMKV
---
This software is available for the Windows system since 2007. Although it's still in the beta stage, this software runs on any version of Windows without any issues. Besides, the support for BluRay disks with regular DVDs is amazing. Kudos to the awesome team of developers who have made this possible.
Because it exports the decrypted files into MKV format, you aren't losing the quality. Therefore, this software is great if you are ripping movies for watching them on your computer.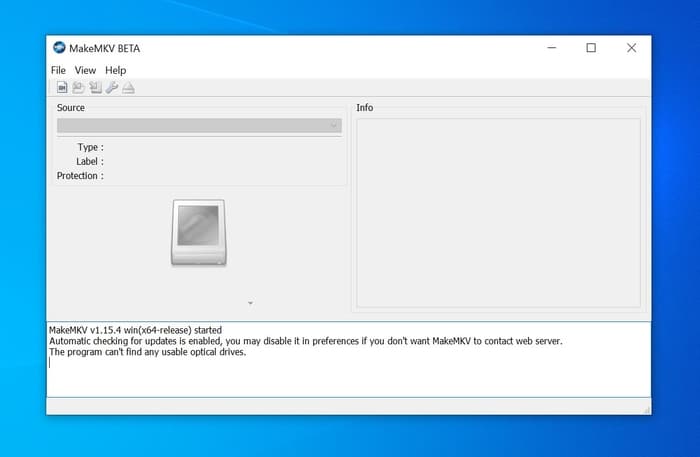 Key Features
It can retain original metadata and chapter information while decoding the video.
You don't need to install an additional plugin to convert into MKV files.
This tool can even read AACS and BD+ protected BluRay disks.
Supports hardware acceleration using your GPU for faster ripping.
It can stream decrypted videos in real-time while the ripping process is ongoing.
Pros: The developers have declared that this software will be free forever. On top of that, the beta version contains a free BluRay ripper, which will likely be here for another few years.
Cons: This tool only supports converting to MKV files, a bummer for this type of software.
9. DVD Decrypter
---
DVD Decrypter is a tool of my type. If you have read my software listing before, you know very well that I like minimal design with straightforward features. This thing does the same thing. The tool is very lightweight and completely free to use.
However, the DVD decrypter only comes in a 32bit installer, which is not appreciable. But believe me, even if you use this on your 64bit computer, you won't miss anything. This free DVD ripper for Windows 10/7 PC works like a charm on any computer.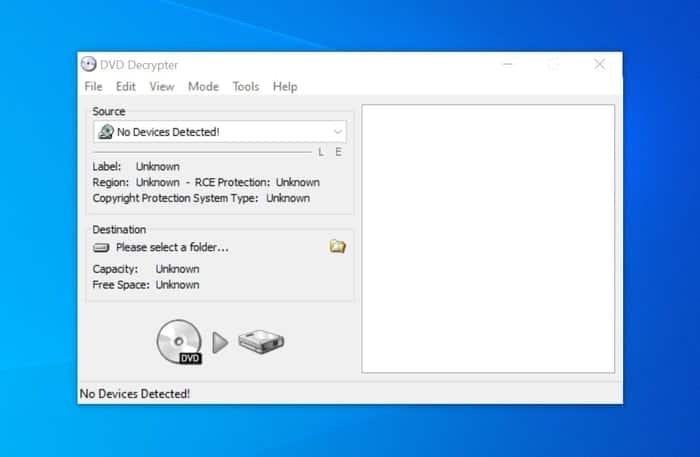 Key Features
There are a bunch of customization options in the settings tab.
This tool takes a little space on the computer hard disk after installation.
DVD Decrypter can even write to the original ISO file when needed.
It supports output in almost any modern video file format.
You can choose from three different modes, such as File, ISO, and IFO.
Pros: If you are looking for a tool that is free from unnecessary features and does the ripping job properly, then this is a perfect tool for that.
Cons: This tool is not currently under any active development process. So, there might be some security risks involved.
10. DVDshrink
---
This DVD ripping software for Windows PC is free of cost, but you can support the developers with donations. DVDshrink is a popular name for the veteran Windows users out there. However, the new generation is not aware of this powerful tool. This is because it is not commercial software, and the developers are not actively maintaining this tool.
But still, this tool can surpass other paid tools in terms of performance and ability. Although this is a standalone tool, you can use this as a companion with other DVD burners for backing up DVDs.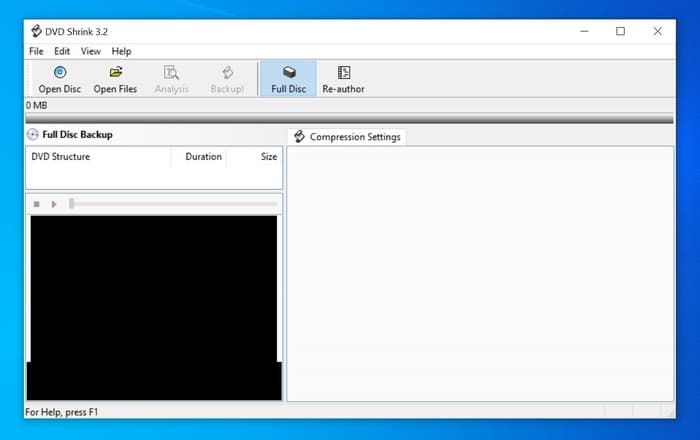 Key Features
You can remove subtitles, audio, and other properties from the exported video if you want.
The advanced compression algorithm will help you to reduce the file without losing quality.
You will be greeted with a clean and minimal user interface after opening the app.
The developers provide support through forums for the new users.
There are a lot of customization options in the settings menu to optimize it for faster ripping.
Pros: Apart from DVD ripping, you can make your files ready for burning into other DVDs with this tool. It can compress your files into a 4.7 GB file so that they can be burnt into a DVD.
Cons: The official site will force you to donate to the developers while generating a download link for this tool. It was annoying, and I had to download this tool from an alternative mirror.
Our Recommendation
---
As you can see that most of the DVD ripping tools for Windows PC in this list don't look modern in terms of features and visuals. This is because of the decreasing popularity of DVDs. However, if you still want to use them, I will suggest you check the features before installing whether that supports your requirements or not. If you want to spend some money, then WinX DVD Ripper Platinum is a great choice. But if you love freeware, then Handbrake can be your pick.
Final Thoughts
---
DVD rippers are indeed useful for personal and commercial usage. However, you must follow the ethics of DVD ripping. In some, countries ripping commercial DVDs is strictly prohibited and illegal. If you still want to perform ripping, please make sure that you are not violating any copyright law.
If this listing has helped you pick the best DVD rippers for Windows 10/7 PC, don't forget to share this article with your friends who have a large collection of DVDs.