As people of today's day and age, we already know the importance of computer in our lives. Every industry depends solely on the computer now for the work processings. All of our resources remain stored on our computers, and we cannot just ignore their role in any aspect of our life. So, the worst thing that can be happened to you if you lose access to your computer. Besides, it is almost impossible to log in to your computer in the latest Windows version without cleaning or overwriting the existing OS if your password is lost. The only alternative option you can choose is going for the Windows password recovery tools to retrieve your password and enable you to get your access back again. 
Best Windows Password Recovery Tools
---
These password recovery tools can become a lifesaver in case you have lost your password. These are often called password crackers as hackers use these applications for illegal purposes. But you should always follow the legitimate practice of these tools by limiting the use for gaining access to your own computers only. 
1. Ophcrack
---
If you consider only the best password recovery tools, then Ophcrack will definitely take its place on your list. It is super easy to use. If you have a basic understanding of how to use Windows OS, then you are good to go. You will not even need this tool installed on your computer to get access. The process is automatic, and the password can be recovered within a few minutes.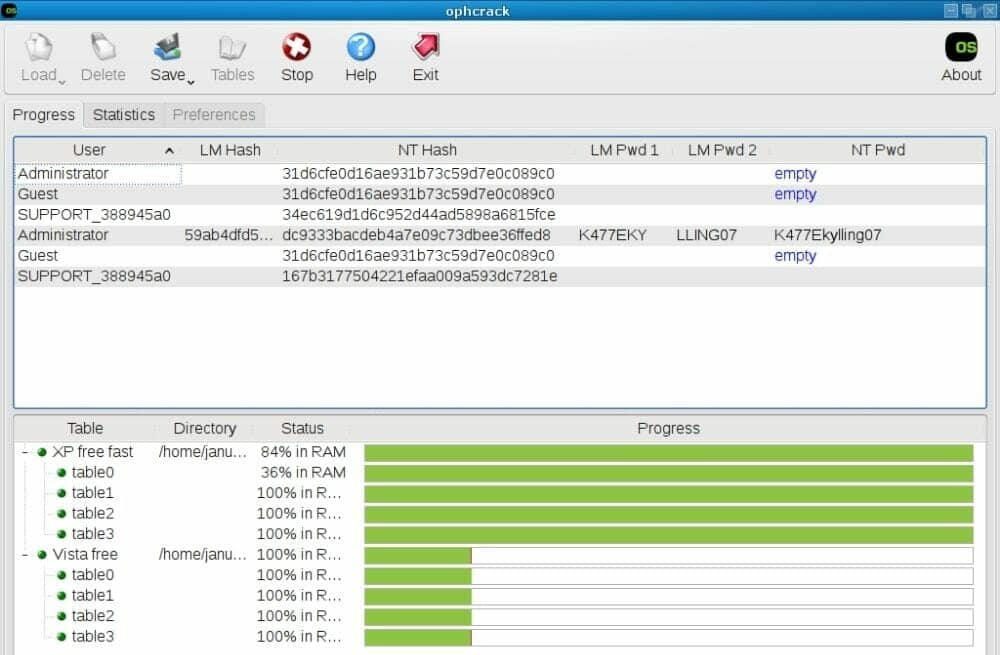 Important Features
Due to its cross-platform compatibility, you can use it on your Mac or Linux desktop as well. 

It is an open-source app, but it can crack LM and NTLM hashes. 

Allows you to download the ISO image from another computer and burn the file on a flash drive to boot your computer. 

After running the program, it will locate the user accounts first before proceeding to recover the password. 

You can use it from a disc or flash drive, so no installation is required. 

The original password will not be required, and it can crack 8-character passwords well.
Pros: This password recovery software for Windows uses a brute-force model for cracking simple passwords. 
Cons: You may face difficulties in cracking the Windows 10 password in some cases, and there is no other way to run this software without booting the media. 
2. Passware Password Recovery Tool
---
When it comes to decrypting files and quickly recovering passwords on Windows, no software can beat the performance rendered by the Passware Password Recovery tool. While it is backed by the massive user community, there are many prestigious clients who rely on this application.
It offers a simple password recovery process by providing bootable media, which you can use to recover the lost password. You can also use this tool to recover domain admin account passwords.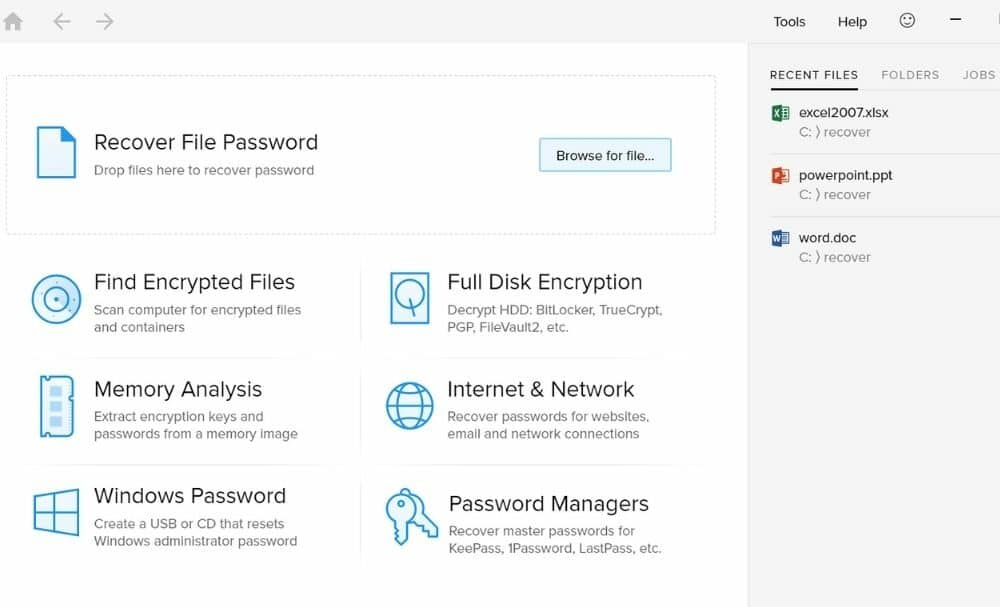 Important Features
It is simple to use and can help recover passwords, Zip, and many other files.

The latest edition comes with GPU-accelerated password recovery, which is now 350% faster. 

Offers flexible pricing plans, although you cannot recover password using the free edition. 

Users can rely on this app to recover passwords from TrueCrypt system partitions as well. 

It supports more than 80 types of files and allows you can customize the recovery setting. 
Pros: It has a feature called Password history, which tracks all of your passwords and stores them in a file to speed up the recovery process to a great extent. 
Cons: It is quite expensive, and the price, even for the standard edition, is higher than other available password recovery software for Windows. 
3. PassFab 4WinKey
---
It is another excellent software to recover your password. It is super fast and renders a supreme user experience even for a novice computer user. You can use this on any edition of Windows. As it uses the decryption codes, you can easily create a Windows password reset disk.
It does not restrict the recovery process based on the length and complexity of the password, which really pushed us to consider PassFab 4WinKey for this list.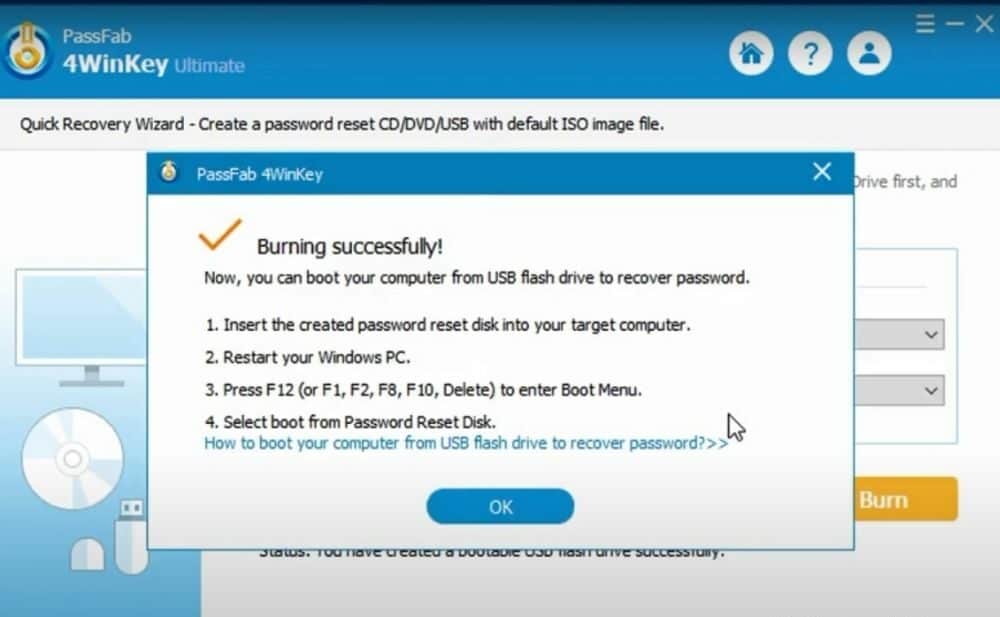 Important Features
The complete password recovery process only takes a few minutes and includes 2steps only. 

It comes with a user-friendly interface, while you will require no computer skills to get along with this tool. 

You can expect to get a guaranteed password reset frequency while your data and files will remain protected. 

It supports almost all types of hard drives, including RAID / SCSI / SATA, while FAT16, FAT32, NTFS, and NTFS5 file types are also supported. 

There is no additional charge required to claim technical support and upgrade service. 

It is equipped with a wide array of password recovery tools, varying depending upon the OS. 
Pros: You can recover passwords from the local Administrator password instantly, and the domain administrator and password can be removed as well.
Cons: This software does not provide any solution for Linux users or Smartphones. 
4. Lazesoft Recover Suite
---
We have included this software because it has a frequency rate of 100% when it comes to recovering passwords on your Windows computer. It is not only appropriate to crack passwords but also powered by a handy and sleek user interface.
Besides, its self-explanatory wizard helps any user to recover passwords without any trouble. But the most critical reason behind its place on the list of Windows password recovery tools is its ability to retrieve product keys from unbootable Windows installations.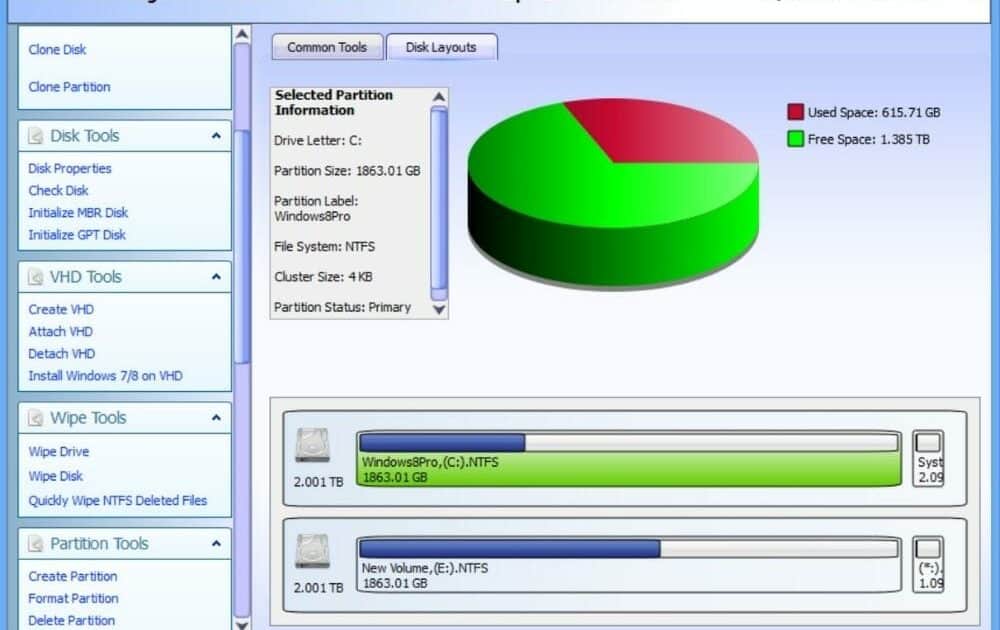 Important Features
It can automatically detect if you are using several operating systems on your computer. 

It comes with a WinPE Recovery CD Builder, and it uses a bootable CD/DVD/USB drive to reset the password. 

Users can use this app to reset the local Administrator password and remove user accounts as well. 

You can use it on any hardware specification while it can disable the password expiry option. 

Provides support for 86-bit, 64-bit, and 32-bit Windows operating system, and enhanced guidelines are also included within the package. 

Besides, it can enable users to create a UEFI boot USB disk/CD/DVD. 
Pros: Some additional features are available in the special WinPE version like you can type while building a boot disk. 
Cons: If you are using multiple OS, you will need to create separate CD/USB drives for each OS for gaining access. 
5. Windows Password Reset
---
It is the most premium software in this list of password recovery tools. Instead of recovering your password, this software is designed to delete your password. Like other recovery tools, it provides bootable media, which you can burn on a CD/DVD to reset your password. So your computer must have an internal/external cd-burner to take advantage of this tool. You can use it in all editions of Windows OS, and a free trial version is also available.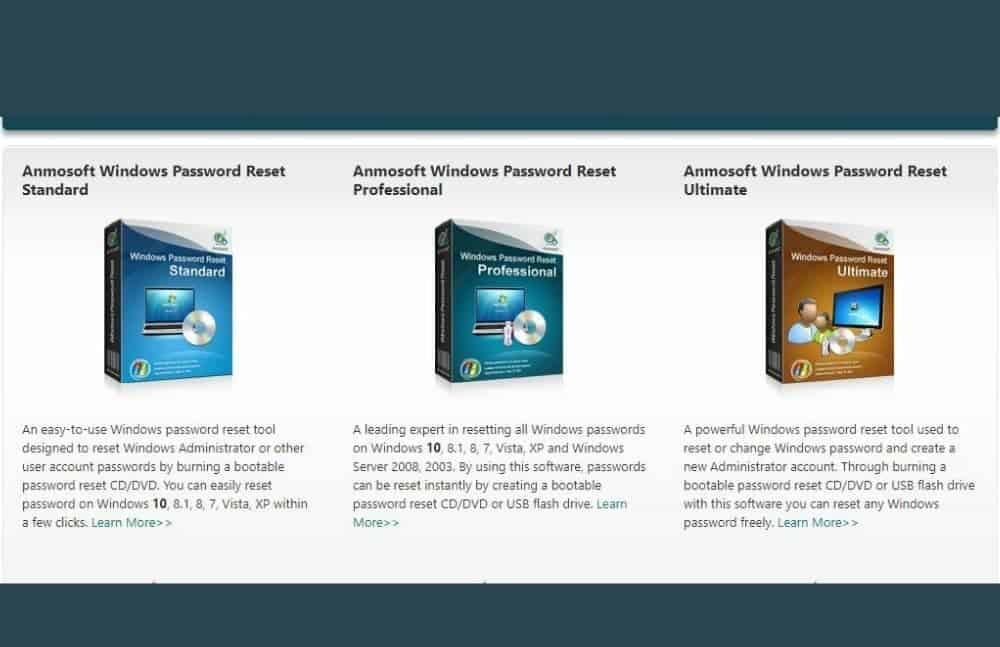 Important Features
This is a well-written software which makes it stable and reliable. It can enable you to reset your password on your own safely and swiftly.

If you choose to purchase this app, you will get a free lifetime upgrading service. 

It is a professional tool and has a 100% success rate when resetting your password. 

You can use Windows Password Reset on all laptops and desktops brands and can expect 24/7 technical support. 

A wide range of file systems like NTFS and NTFS5 are supported along with hard disks like SATA, IDE, and SCSI.

There are 4 editions available coming in different price ranges, making this product convenient for all users. 
Pros: You will get a detailed guideline on their website, which shows a step-by-step guide to reset your password. 
Cons: Although it comes at a lower pricing tag, the features are limited compared to its alternatives.
6. John the Ripper Password Cracker
---
If you are looking for one of the most reliable open-source Windows password recovery tools, you might be interested in this software. It can also be considered as a security auditing tool that can be used on many operating systems.
Along with personal and commercial computers, this tool can render excellent performance to recover passwords from encrypted archives, filesystems, keychains, wallets, and so on. But it should also be noted that you will not be able to recover passwords for any remote Internet service.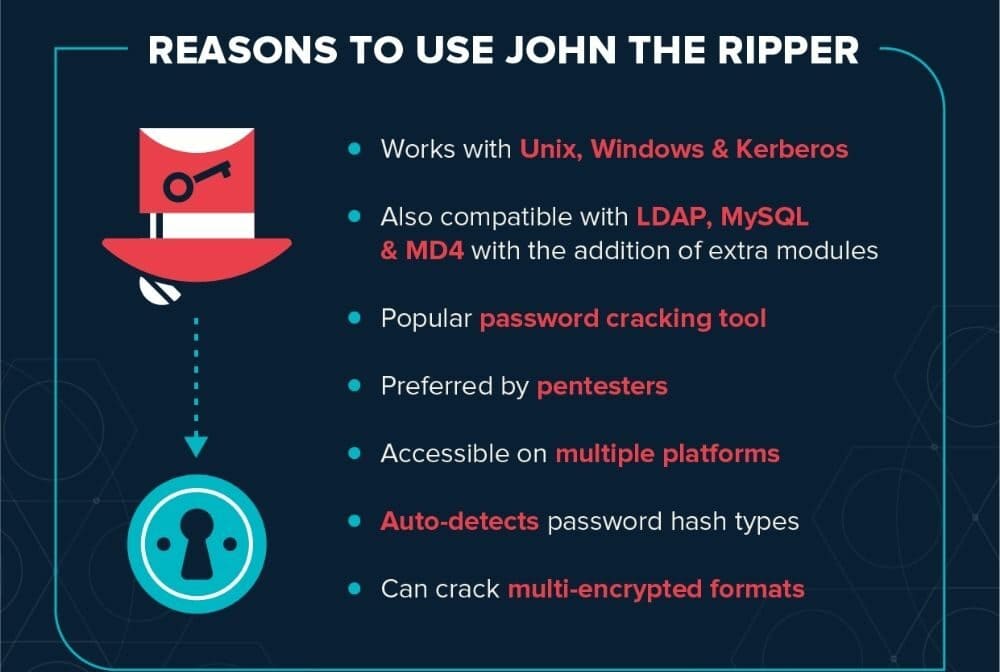 Important Features
The downloadable file of this application is really small and can be run quickly from and within a Windows computer. 

You should go for this app if you are an advanced user, as you will need to operate through the command-line interface. 

More than hundreds of hash and cipher types are supported along with document files and networking traffic systems. 

You can recover or reset passwords for popular CMS like WordPress and UNIX flavors like Linux and Solaris.

Allows users to recover passwords for the database servers SQL and LDAP

Besides, it also provides support for macOS .dmg files and Windows BitLocker as well. 
Pros: Primarily, you can get this software in source code form, although you can upgrade to the commercial edition anytime. 
Cons: It is difficult to use, and most people will find it complicated to understand the software. Also, installation requires logging into an administrator account. 
7. iSunshare Windows Password Genius
---
This nifty tool for recovering passwords offers different pricing plans, which makes it convenient for all users. You can use this tool on any Windows version, while there is no need to access Windows for recovering your password. The pricing point starts with the Standard edition, which will cost you as low as $19.95, while for the Raid edition, the price will go up to $79.95. There are two other pricing plans available as well.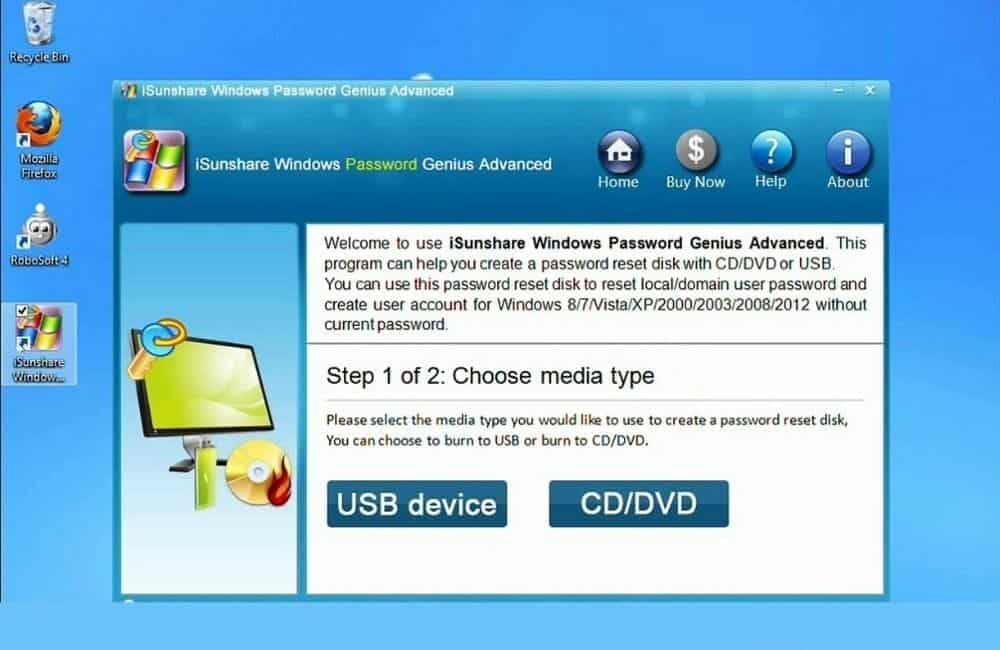 Important Features
Allows users to create a CD/DVD password reset disc. You can also use a USB flash drive. 

Forgotten Windows password can be recovered within a few minutes with the minuscule hardware requirements. 

RAID servers and hard drives like RAID Server and SATA, SCSI, and IDE, are supported. 

Enables users to reset local user password and local administrator password for Windows OS and Windows servers. 

You can also delete the user accounts without logging into Windows through this app. 

It comes with an easy grasp tutorial, and the password recovery rate is 100%, even for the latest Windows edition. 
Pros: You can create a new admin user, which makes the password recovery process really efficient. Besides, all users can expect to get lifetime technical support. 
Cons: The user interface is outdated, and the trial version limits users with a limited number of functionalities. You may also face difficulties as this software often fails to detect USB drives. 
8. Passper Winsenior
---
This tool takes the password recovery process to the next level through its modern and dynamic user interface. Besides, it is easy to navigate and approaches the problem with a straightforward action. Even if you are a first-time Windows user, it will not be a major problem to recover your password.
Besides, its capability of working with Windows rainbow tables has influenced us to consider this software while describing these Windows password recovery tools to a great extent.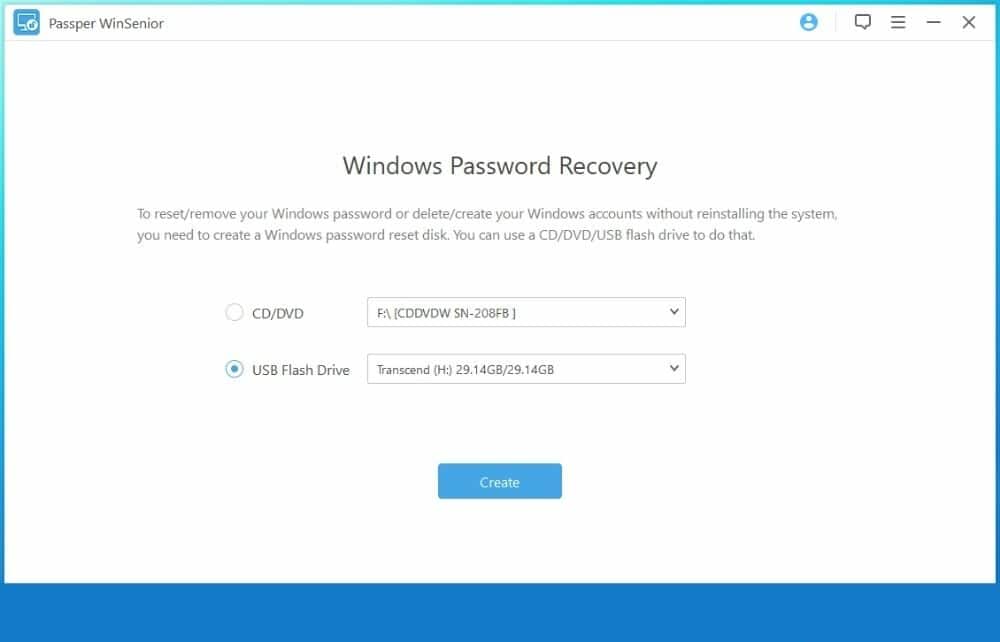 Important Features
When it comes to recovering lost passwords for your Windows, this software renders 100% accuracy and takes just a few clicks. 

It is also available as a portable edition, so you will not need to install it on your computer. 

Can deal with all passwords, and you can recover passwords of any length and complexity. 

A new administrator account can be created instantly while it allows users to reset Microsoft account passwords.

It offers a money-back guarantee in case you have failed to recover your password with this software. 

 Supports all versions of Windows and guides thoroughly to recover Windows passwords. 
Pros: This tool will enable you to create, change, or delete user accounts while there is no need to format or reinstall windows. 
Cons: It is not available for Mac users, and also a minimum of 1GHz CPU and about 512 MB of Ram are required to make this app functioning properly. 
9. Offline NT Password & Registry Editor
---
If you are looking for a free and open-source password recovery tool, then you can explore the features of this software. NT Password & Registry Editor has set its standard, which is really high, and the huge support from its community is there to authenticate its reliability. Unlike other password recovery tools, a text-based program targets the registry editor, where all of your passwords remain saved. 
Important Features
It is a rapid and minimalistic tool, and you can get support for all versions of Windows. 

Gaining access will require 2steps only. It will remove the forgotten password first and then allow you to set up a new password. 

No installation is required and works great for passwords of any length. 

It comes in a compact size, while its ability to adapt to the user requirements makes it unique. 

You will need an internet connection for this software to work properly. 

On top of that, you will not be forced to format or reinstall your Windows. 
Pros: It comes with a registry editor and additional registry utilities, allowing users to work under Linux/Unix and other important tasks. 
Cons: One of the major downgrades of this software is you will need extra software to burn ISO image into the USB drive or CD/DVD. 
10. WinPassKey
---
Although we have placed this software at the last of this list of Windows password recovery tools, there is no reason to doubt its capability. Rather, it is an extremely powerful tool when it comes to recovering your lost password without damaging any of your resources.
The whole process of password recovery is rapid, and it has successfully maintained a 100% recovery rate so far. On top of that, this tool allows users to create a backup of the password storage file before changing the password.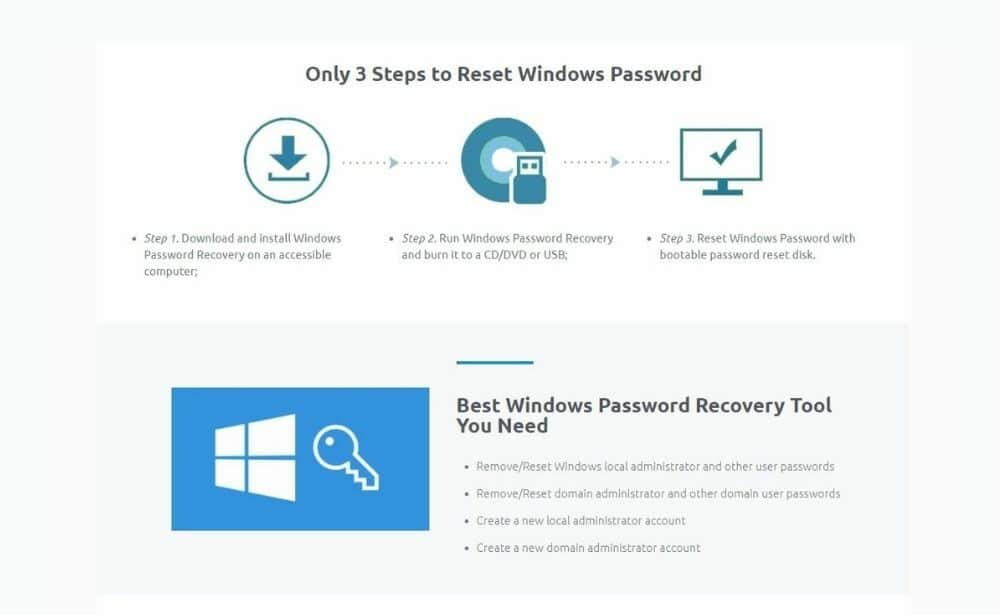 Important Features
While being constant, efficient, and simple to use, you will not need to reinstall or format your Windows. 

You will be able to recover previous passwords and can expect to get responsive technical support. 

You will need to run this program and burn it to a CD/DVD or USB. And then, you will be allowed to reset your password through a bootable disc. 

New local administrator accounts, as well as new domain administrator accounts, can be created. 

Supports FAT16, FAT32, NTFS, NTFS5 file systems, and all versions of Windows. 

To match all of your requirements, this software offers four different pricing plans as well. 
Pros: The user-interface sets it apart from others, while you will not need to be concerned about your privacy. 
Cons: Although it is equipped with great features, it often faces difficulties to recover passwords for Windows 10. Besides, it does not support Mac and Linux OS. 
Our Recommendation
---
Here I have included the best password recovery tools and solutions for you. So, it is really tough to compare one software against another. It mostly depends on the users who have lost the password for their Windows PC. While some of these tools can deal with passwords of any length and complexity pretty well, some restrict users to limit the password's length. 
However, I am going to suggest you go for the John the Ripper password cracker tool. It supports a wide range of file types and can recover passwords for web applications, cryptocurrency platforms, database servers, and so on. But if you are not comfortable with the command-line interface, this might not be the most suitable option for you. 
Finally, Insights
---
I know how worse the situation can become if you lost the password of your computer. It does not hamper your usual work processes only; rather, all the resources can become inaccessible unless you cannot regain access. In the past days, if you lost your password, it could bring a permanent loss to the PC owner. But thanks to this software that can help get access back to our computer even after losing the password while our data and files will also remain safe. 
These Windows password recovery tools claim to be the best, although they share the same functionalities in most cases. They are designed to outline the core feature of password recovery while keeping the process simple and steady. You will have to make your choice depending on your need.

To conclude, I want to add that you create a password reset disk after choosing your official Windows password recovery tool. It will really help you to avoid hassles in the future as you will be able to reset your password anywhere, anytime. So you will not be in a situation when you are unable to access your account or computer ever again.