Microsoft Edge is a pretty and decent web browser that comes with Windows OS. This is a powerful web browser after top-ranking Google Chrome. Similar to Google Chrome, Microsoft Edge supports the extension feature. However, its extension library is not huge as in Google Chrome. But its extension library is growing and has some excellent extensions that increase your web browsing experience. So in this article, I have shared some best extensions for the Edge browser that you can install right now.
Best Extensions for Microsoft Edge
---
Below I have shared the 10 best extensions for Microsoft Edge that improve your productivity. From the huge extensions library, I have just picked all time required and most useful extensions. I assure you that this extension makes it easy for many tough jobs. So let's check out the lists.
1. Office Online
---
Office Online is a simple and pretty extension to create and open Microsoft Office files into the browser without installing them in your PC. There is a browser extension for Microsoft Office. After installing this extension, you can access your Microsoft Office account and easily create, open, edit Microsoft Office files to your browser. In addition, you can bring your entire Microsoft Office Suite into the Edge browser. You can download this extension for free.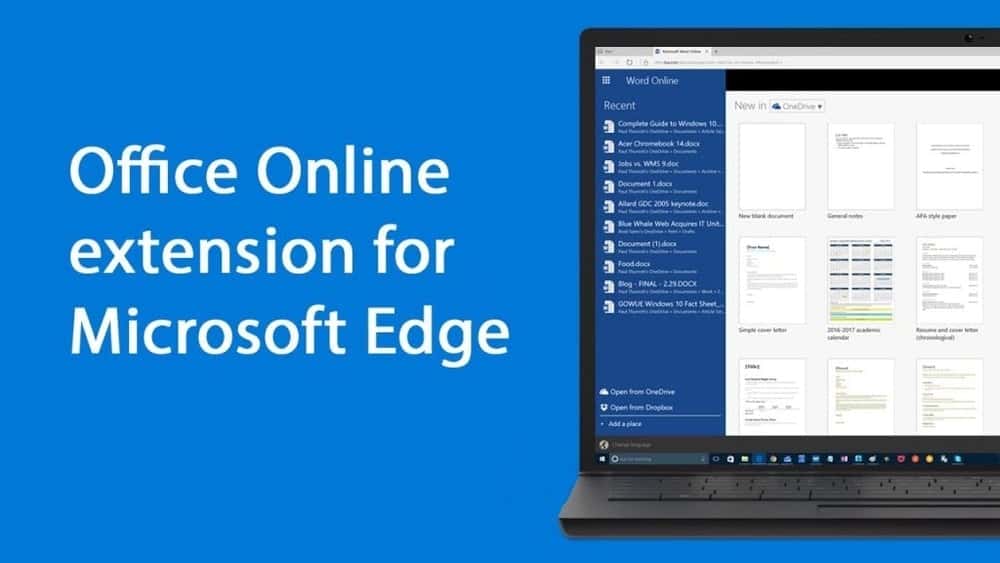 Key Features:
The default view shows the last 7 Office Online, and you can access this documents. Moreover, you can access more recent documents click on the "View More" command button below.
You can create new Microsoft Word, Excel, PowerPoint, OneNote, and Sway files on the Edge browser and works as like as you work in a Microsoft Office file in your computer.
Besides, either you can open the OneDrive file or the Browser file, which is locally saved on your computer. So you can store your file locally to your drive.
With Office Online, you can store your browsing data on your device for the next review.
In addition, it has real-time collaboration tools that help you and your team to work together.
Pros: Office Online is completely free. You can download it from the Edge library and access it from any device.
Cons: Though it claims to complete Microsoft Suite is free. But only a few applications can be accessed here.
2. Evernote Web Clipper
---
If you are a regular user of OneNote or Evernote, you can install the Evernote Web Clipper extension into your Edge browser. This digital notepad browser extension makes easier OneNote or Evernote job. When you are working on OneNote/Evernote, this extension automatically syncs to other devices. Moreover, it helps to highlight, screenshot, and annotate any part of any website. So it's time to goodbye bookmark and enjoys Evernote.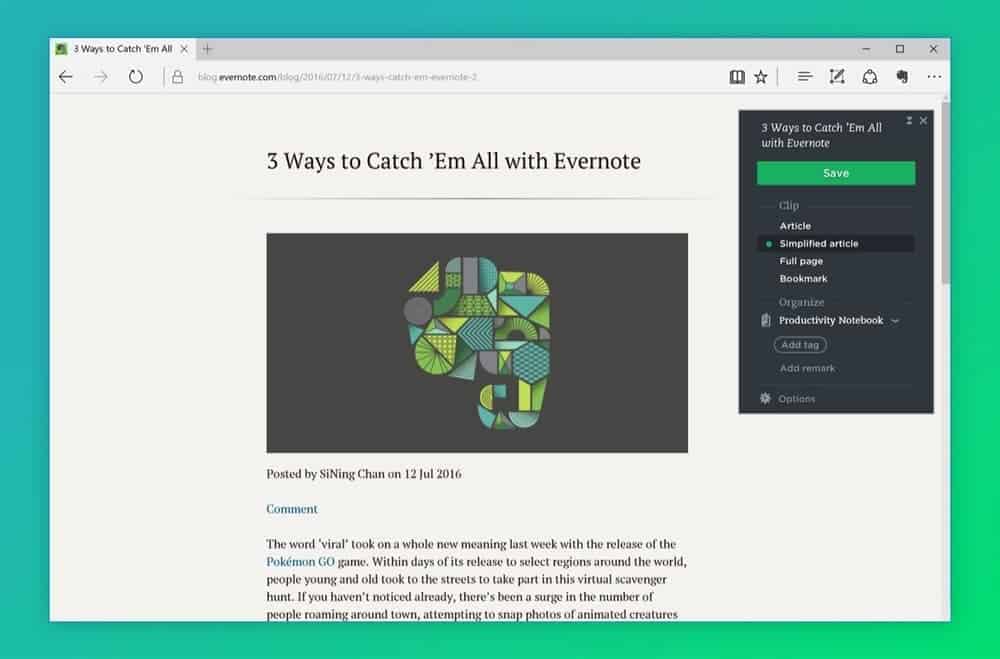 Key Features:
If you are a researcher or writer, Evernote Web Clipper is a great tool to save the article or website content that you can analyze for your writing.
This extension improves your productivity by assign tags or remarks and clips them to a specific notebook.
Besides, you can highlight and annotate important notes from any websites or articles.
Moreover, you can take screenshots of the full pages, specific paragraphs of the articles.
In addition, you can share the content via email or create a link to share in social media platforms.
Pros: This digital notepad is a great tool to highlight the important contents of the website, take notes and organize your thought and information in a common platform.
Cons: Though it is free to use. But the only a limited number of tags and note sizes are offered for a free account. Its premium account is too costly.
3. LastPass
---
This is a great password management extension for Microsoft Edge. This awesome extension relief you to remember all websites password. The saved password auto-filled the corresponding website password when you enter the LastPass master password. So it secures all your accounts to hack. Because when you use LastPass, it suggests a strong password for all websites. But you don't need to memorize all passwords except the master password. So it makes easy to protect all website with a strong password.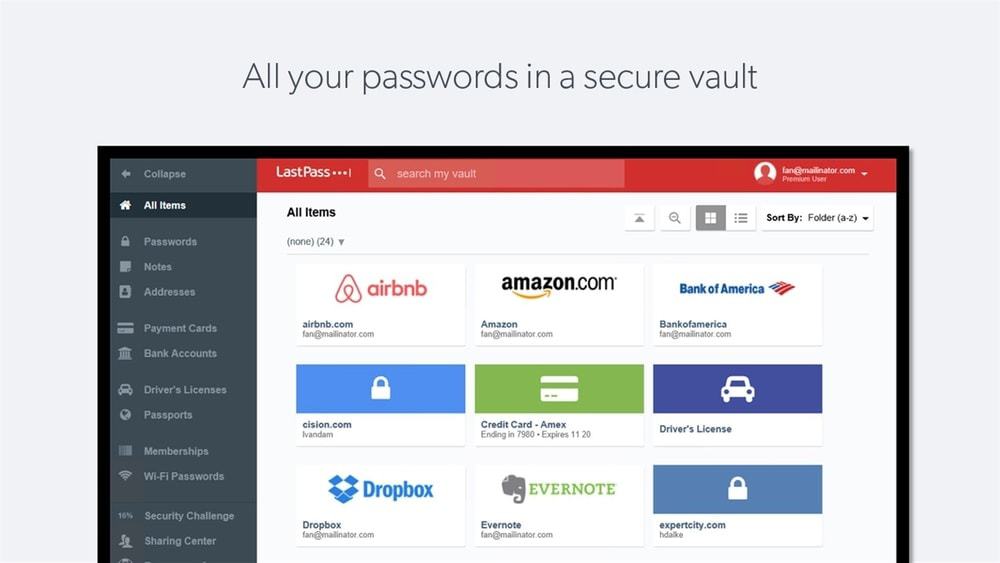 Key Features:
It secures all your accounts with two-factor authentication. So you never being hacked your account.
Its auto form filler automatically filled your details such as name, address, credit card number, and much more information that saves time and ensures accurate information input.
This tool remembers your login information in various websites. So you don't need to memorize the password except for the master password that relieves you to use a repetitive password for different websites.
You don't need to concern about password generation. This tool generates strong passwords randomly that become less possible for hacking.
While you are login into LastPass, you get a secure password vault where your personal details are encrypted and
Pros: This is a wonderful password management tool to secure your various account with less effort.
Cons: Everything is good, but the password changing process is boring, and it takes so many clicks to do it.
4. Mouse Gestures
---
This smart tool loves everyone. Mouse Gestures tool makes faster the web browsing job by predefined tasks. For example, right-click and hold the mouse button to perform a certain task, move down the mouse and drag on the left side to open a new tab. So you are recommended to use Mouse Gestures to boost your productivity.
Key Features:
The Mouse Gestures enables a faster browsing experience using shortcuts.
Mouse Gestures supports four basic gestures: navigate back, navigate forward, create a new tab, and reload the current page.
This gestures are fully configurable. You can configure your actions according to your requirements.
Though the mouse sensitivity is high, a tiny movement makes an action. So you can adjust the mouse gesture detection movement range.
In addition, it introduces rocking gestures where you hold the right-click button as you left-click and vice versa.
Pros: Recently, it fixes some bugs based on customer feedback that ensure more smooth gesture experiences.
Cons: However, it makes web browsing easy, but sometimes it creates unnecessary actions if gesture detection is not perfectly used.
5. Enhancer for YouTube
---
Enhancer for YouTube browser extension is specially developed for Edge browser. This extension improves your youtube browsing experience into Edge browser. It comes with lots of features, and you can customize these features as you wish. For example, you can quickly adjust playback speed, volume level, player size, and many more.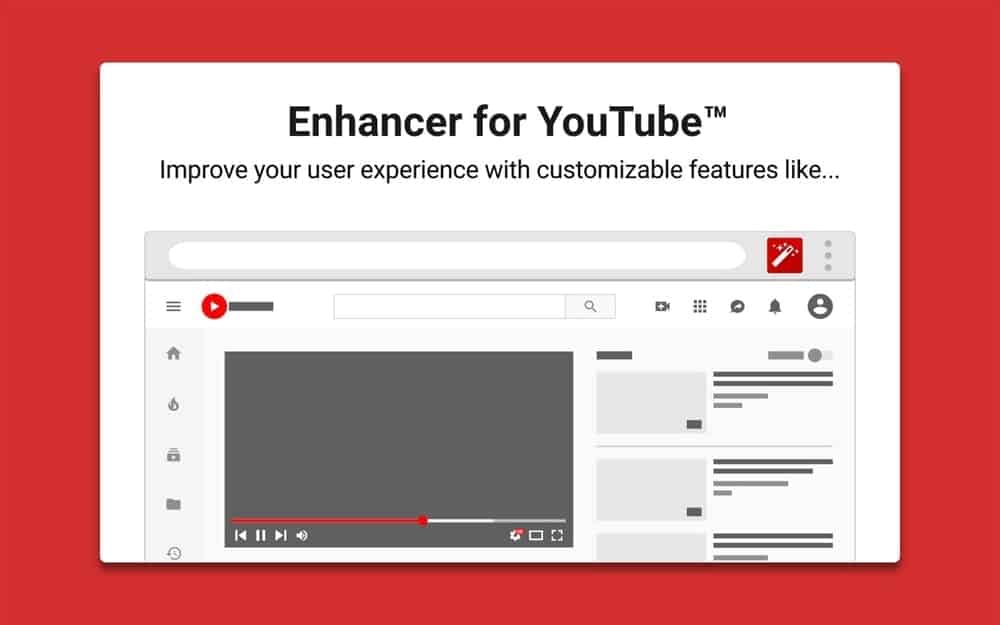 Key Features:
You can set video playback quality like 4K, HD, or any preferred format. So your video is automatically run on predefined formats.
You can create a whitelist to show ads or remove ads automatically or manually.
In addition, you can remove annotation automatically or on-demand.
It has 15 dark themes that protect you from eye strain when you run youtube at night.
You can watch the video in an "Always on Top" minimalist browser window.
Pros: Enhancer for YouTube for Mircosoft Edge gives you an amazing experience run Youtube. Though it allows pop-out players, you can enjoy the video and read comments simultaneously.
6. Adblock Plus (Beta)
---
Adblock Plus is a free ad-blocking extension to remove ads from all web pages. It is a great tool for blocking annoying ads. Moreover, you can configure the types of ads for blocking. However, this extension for Microsoft Edge is still in the developing stage. So sometimes, it fails to remove ads or block web page content. But it is a useful tool to block ads and fight against malware.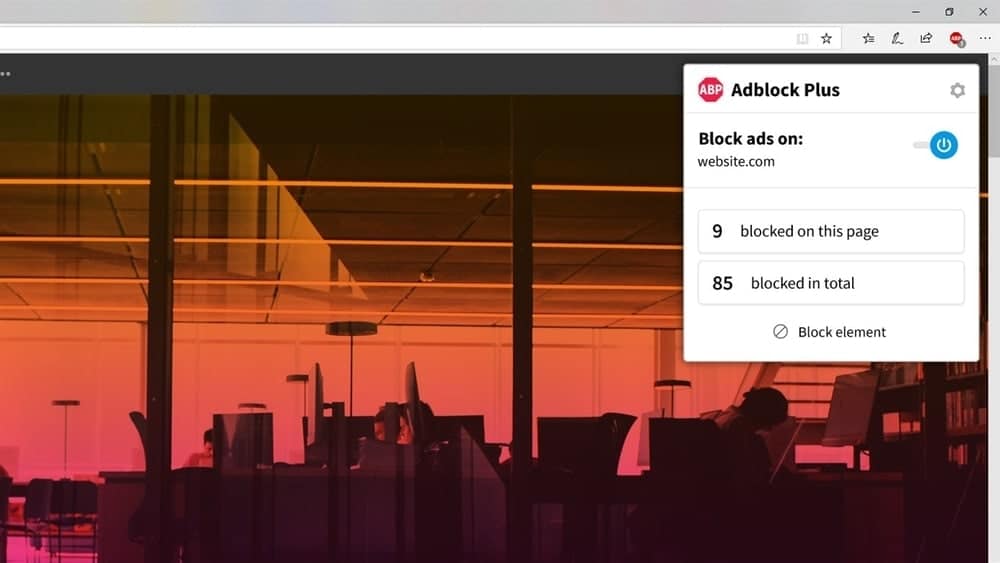 Key Features:
First of all, it is a great tool to block annoying video ads, banners, and pop-ups.
It secures your personal data by stop tracking your surfing activities. Moreover, it ensures personal privacy.
This tool fight against malware that is hidden in ads.
Though it blocks all unnecessary contents to load, so it gives you a faster browsing experience.
This also allows creating a whitelist to display ads of favorite sites.
Pros: Adblock Plus is an open source application, so it regularly updates and adds new features based on users' feedback and fixes bugs.
Cons: Though Adblock is still in the development stage, sometimes you may experience fail block ads or mistakenly block web pages' important contents.
7. Amazon Assistant
---
If you are a regular customer of Amazon, this extension boosts your shopping experience. Amazon Assistant is the Amazon Official's extension that helps you save time and money wherever you are shopping. This extension supports 10 locales, including the US, Canada, France, Germany, Italy, UK, Spain, Japan, India, and China. Let's check out how to help you.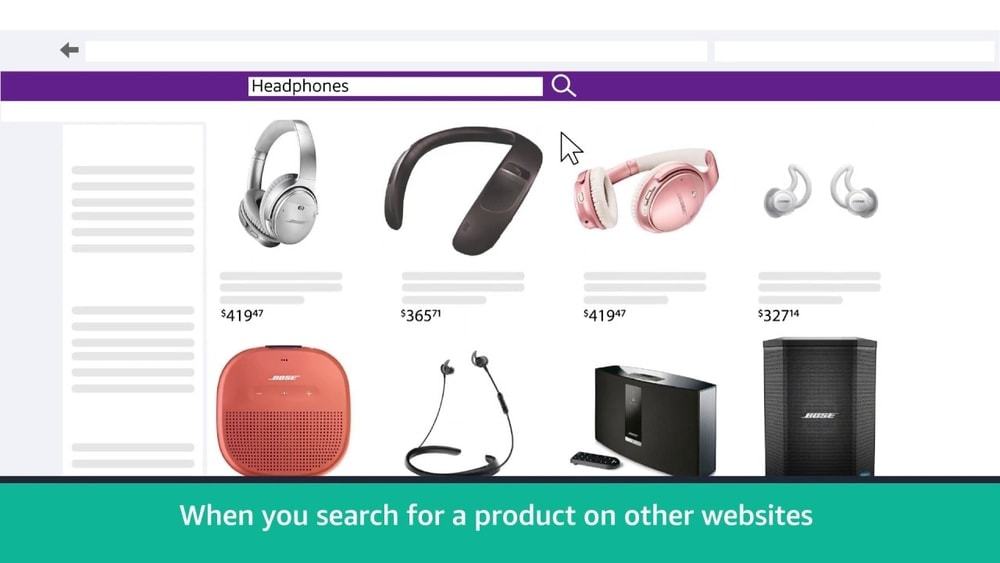 Key Features:
Deal of the day is always exciting. This extension notifies you of every day's deal. So never miss Amazon exclusive offers.

Moreover, this extension notifies you about recent order status,

including shipping and delivery confirmations.

This extension makes it easy to compare product prices. You will discover Amazon's 30-days price history of most products. So it saves both money and time.

You can create a wish list tab to save your favorite products from other sites.

Amazon Assistant gives you shortcuts to find your product in your browser. So it saves time.
Pros: This is a great tool to track orders and wishlists easily. Moreover, you can personalize your favorite product to receive exclusive offers.
Cons: Amazon Assistant service is restricted to only local regions.
8. Grammarly
---
Grammarly is the best extension for people who regularly draft or write articles. It is a great tool to correct your grammatical errors and sentence structure. It helps you to deliver error-free, friendly writing. Moreover, it boosts your productivity and time. When you are writing, you aren't concerned about your writing error. It helps fluent writing without concern about grammatical errors.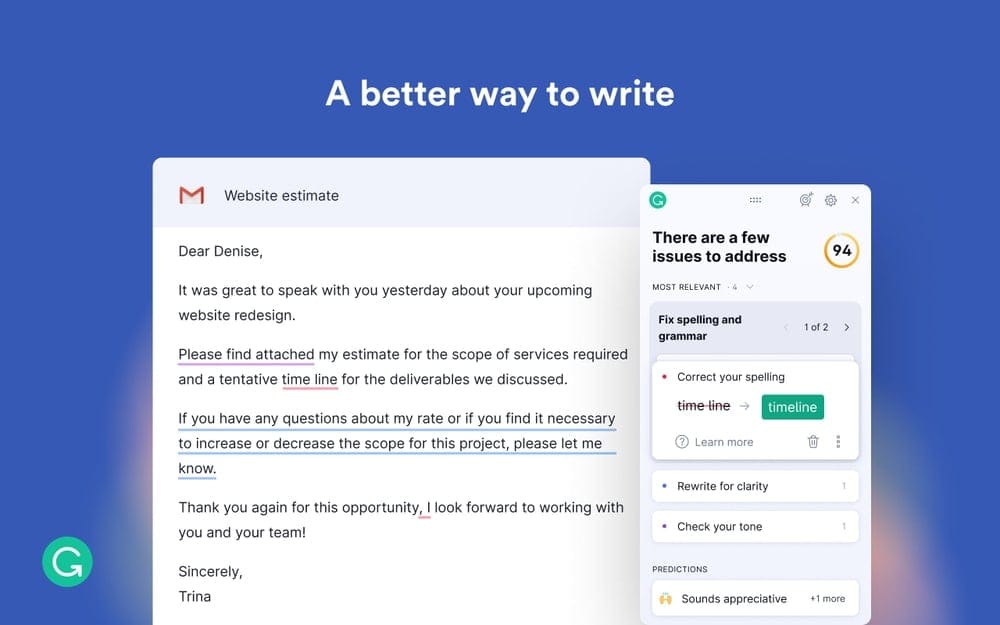 Key Features:
The editing happens in real-time. So you can save your time by correcting errors when you are writing.

You never worry about spelling or grammatical errors. This AI tool ensures almost 100% accurate grammar.

It not only finds errors but also explains the reason behind this error.

The grammar is highly customized. So you can edit as your need. Moreover, you can add new phrases if required.

Moreover, it suggests the best sentence structure based on the types of writing conditions.
Pros: Grammarly performs as a digital proofreader. So it improves your writing quality.
Cons: However, its free version has limited access. If you want to get the perfect features of Grammarly, there is no alternative to purchasing a premium plan.
9. Momentum
---
Momentum is a cool extension for Microsoft Edge that helps you to focus on your daily task. You can personalize your Edge dashboard by including data, time, welcome message, and beautiful wallpaper. When you open a new tab, it lets you know the priority task that motivates you to complete the daily task. So this extension boosts your productivity. Moreover, it includes many useful widgets to deliver variant information.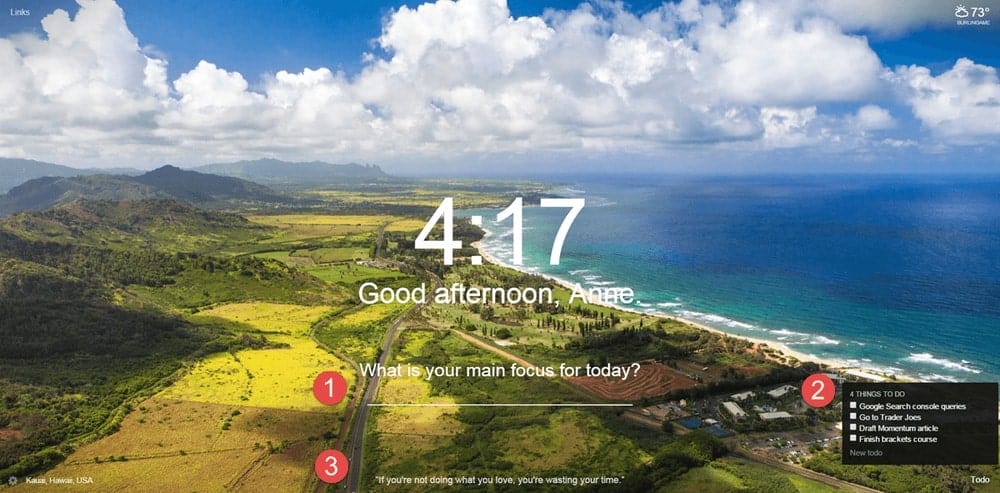 Key Features:
This extension allows you to set daily tasks, goals, and focus so that you can track your to-do list.

The Windows user usually installs weather apps for weather forecasts. But Momentum has some weather widgets that provide weather updates on the browser dashboard.

You can customize your theme and browser font. In addition, you can add your personal photo as dashboard wallpaper.

You can access the new tab via Hotkeys.

Moreover, you can customize your browser dashboard, which suits your personality.
Pros: Momentum is a fantastic Edge extension that inspires you to complete your daily task and personalize the browser dashboard.
Cons: When you set your to-do list. You can not edit this. Either you delete this list or rewrite it.
10. Translator
---
Why do you limit your browsing experience within your language? You may find many website foreign language websites that are useful. To read out the foreign language, Microsoft Translator is the best extension. It is easy to translate foreign language websites in an easy and fast way. Currently, Microsoft Translator can translate more than 60 languages. By clicking on the translator icon on the Edge extension toolbar, you can quickly translate the foreign language pages in your language.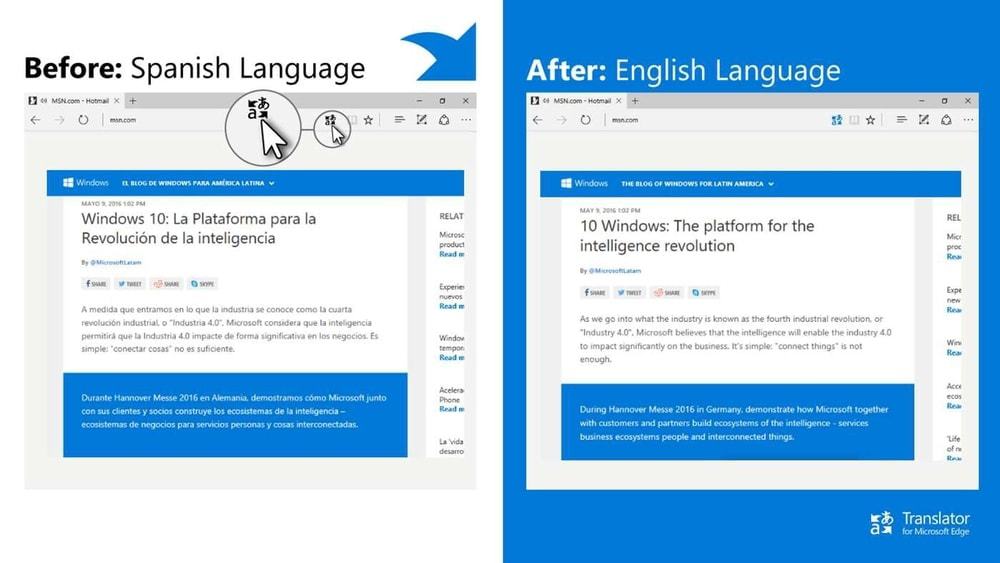 Key Features:
Microsoft Translator can translate more than 60 languages. And it covers the most popular languages. I hope it also covers your language too.

You can pin the translation that you frequently use to increase translation jobs quickly.

Moreover, you can share the translation text with others via email or on social media platforms.

Not only translation, but you can also listen to the translated text in three speech languages.

You may look up alternative translations and find the best translation to express your mode.
Pros: It provides a high-quality translation service. When you translate, it does not translate word by word but also translates meaningful sentences.
Cons: Although the feature is great, it still has a lot of room to develop.
Our Recommendations
---
These are some of the most useful Microsoft Edge extensions so far. But this list is not limited to these 10 extensions. Basically, the list depends on your requirement. I only shared some common usage extensions for the Edge browser. You install any of these. But my personal opinion is to install LastPass, Grammarly, Translator for all types of users. The installation list can be expanded based on your usage.
Ending Thought
---
If you want to boost your productivity and make your browsing experience smooth, I insist you check the Microsoft Edge extension list. Install the extension that you think fits with your personality. Besides, there are so many extensions that are also useful for different purposes. So I request you to share your extension lists in the comment box. Moreover, if you think this article is useful, you share it with your friends and family members via social media links.