Internet is the revolutionary communication media that make our life easier. And, IRC is the part of the Internet that helps the Internet to grow. Here IRC stands for Internet Chat Relay, which is text-based communication technology. Besides, users can share files through IRC clients. This software is designed for communication between multiple IRC users by either joining or creating a communication group. Each communication group of IRC clients is known as Channel, and these channels are hosted on servers. So users can manage their own set of networks and make communication between different networks and channels from a single platform. This article will introduce you to some of the best IRC client software for Windows PC.
Best IRC Clients for Windows PC
---
You will find a wide variety of IRC clients on the internet. There are both free and paid IRC clients. However, the paid IRC clients have a free trial version, and it can use to get an idea of ​​the paid service. IRC client service is so competitive that every client offers unique features. So it is a tough job to choose your IRC client, considering which features will suit you. Here we have compiled a list of 5 top-rated IRC clients to help you choose the right one for you.
1. HexChat
---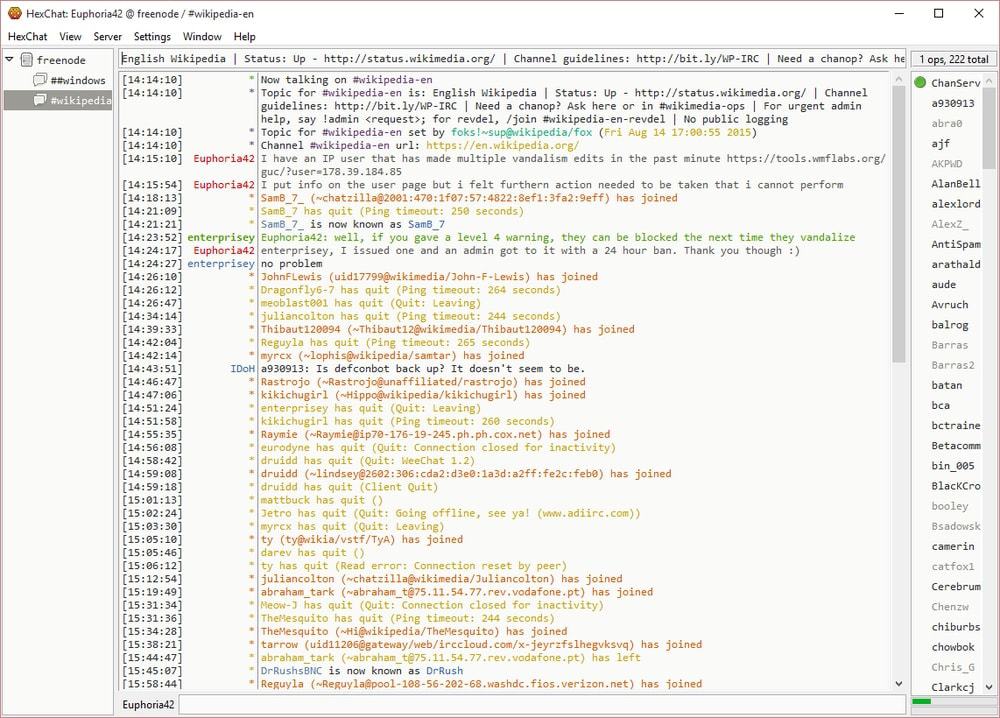 HexChat is an open-source IRC client software that is the top list in our complied list because of its user-friendly interface and customizability. While you launch HexChat on your computer, you find multiple networks available, and you can join any network.
Besides, this software allows you to mark your favorite networks. Moreover, you can join multiple networks simultaneously. Your connected network lists are displayed on the left side of the interface so that you can switch between your connected networks.
In addition, this tool lets you download or save the channel list. Overall, HexChat is a highly recommended IRC client software for you because it is actively developed.
Key Features:
HexChat is a built-in XChat framework and is available in highly scriptable languages such as Lua, Python, and Perl.
This IRC client tool supports cross-platform on Windows and Unix.
Besides, this software offer translation in multiple languages.
With HexChat, you can also feature of private chat option.
Moreover, you can create a friend list by entering the nicknames of your friends.
It has a spell checker to make corrections to your writing.
2. IceChat
---
IceChat is another great IRC client tool that people like for its unique features. This is a lightweight tool, so you can quickly launch it on your computer and start messaging. While you launch this software, first of all, you have to enter a nickname as a user.
However, you can change your nickname later. After completing the setup, you get multiple servers are available in your network. Either you can join the existing channel on the server or create a new channel.
In IceChat, you can connect with multiple servers at the same time. Each server is opened in different tabs. In the left panel bar, you find the list of active and inactive servers. From the list, you connect or disconnect servers. After connecting with a server, you can type your message and press Send button to send your message.
Key Features:
The great news for emoticon lovers is that IceChat comes with emoticon features. Click on the emoticon button from the left panel to open the emoticon and apply these in your message.
This software lets you apply different font styles for console, tab, inbox, and more.
Besides, this IRC client tool lets you apply different color schemes for the message, channel tree or tabs, nick list, favorite channel, and buddy list.
Currently, IceChat provides 13 themes to apply. Additionally, you can load more themes from your computer, but the theme would be in XML format.
With IceChat, you can create a favorite channel list or friend list.
3. Pidgin
---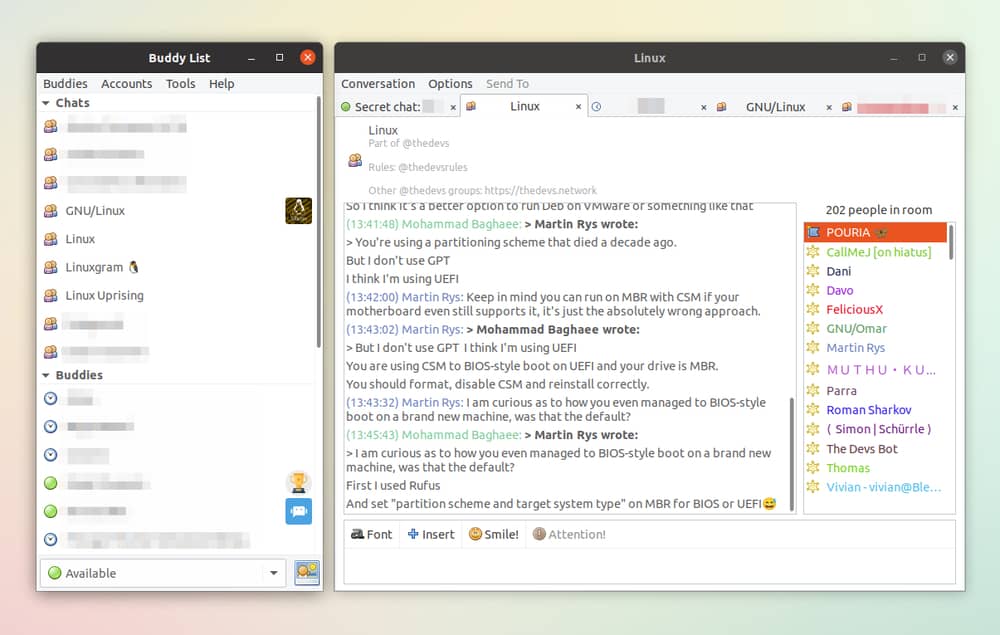 Pidgin is another open source and free IRC client software built on libpurple and allows you to connect multiple messaging platforms simultaneously. The software is under constant development and frequently releases new features. This IRC client software can run on all major operating systems such as Windows, Linux, Unix.
Besides, it is compatible with multiple chats networks such as Gadu-Gadu, Jabber, Google Talk, Yahoo! Messanger, AIM, Lotus Sametime. You can join all chat networks at the same time in different tabs.
When you are login into Pidgin and connect your chat networks, you find channels and users list in the Room List. Here click on the Join button to enter any channel from the list. You can join more than one channel at the same time. Moreover, you can extend the Pidgin functionality to install plugins.
Key Features:
Pidgin is compatible with all major OS and chat networks so that you can communicate with all networks on a single platform from anywhere.
With this IRC client tool, you can send messages and transfer files.
It supports emoticon, so you can send emoticon by clicking on the emoticon icon.
Moreover, you can send away messages by using Pidgin.
Furthermore, this IRC client tool supports the feature of typing notification.
In addition, it supports multi-languages so you can translate into different languages.
4. Smuxi
---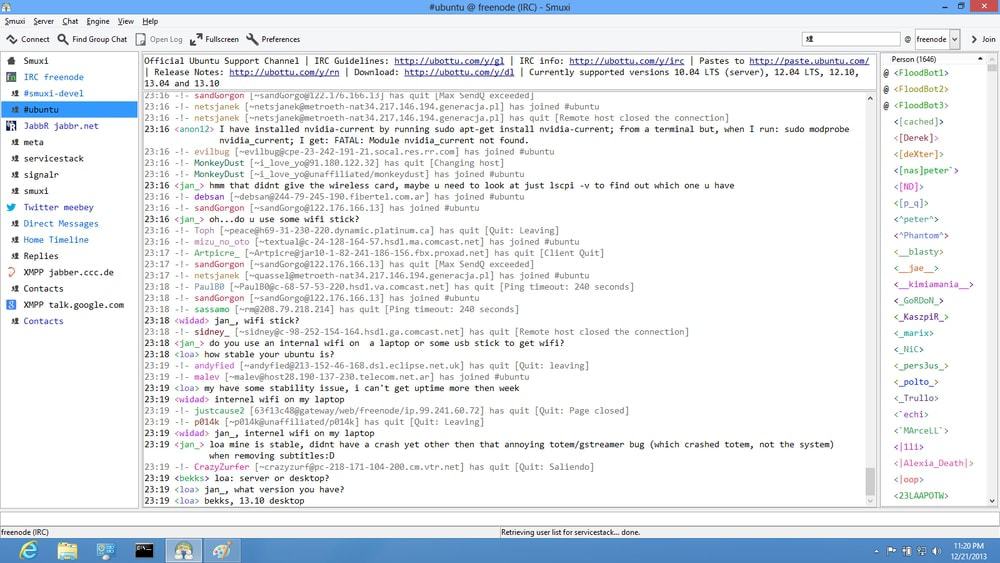 Smuxi is a text messaging platform that allows you to connect with different chat networks like IRC, Twitter, XMPP, Campfire, JabbR, etc. Basically, at the launching period, it is connected with the Smuxi server by default. However, you can join another IRC server from the server list on the left side of the software.
By entering your name, nickname, and password, you can connect with other channels. After connecting with the channel, you can find the name of the channel's member on the right side of the interface. Besides, the software comes with GNOME / GTK+ that can integrate all major OS platforms such as Windows, Linux, Mac.
The best part of this messaging software is integrating your Twitter account with this software. So you can send direct messages, replies, and show timelines through Smuxi.
Key Features: 
The Smuxi user interface is highly customizable. This software allows you to use Caret mode, browse mode.
This software allows you to differentiate channel and network by using identical colors.
Besides, this software allows you to apply your favorite theme to the interface.
Moreover, you can filter messages through the Filter feature. Additionally, you can select a channel or user name before filtering the message to quickly find the message.
This software allows translating your message into 25 languages.
Smuxi supports plugins and scripts written in any language.
5. WeeChat
---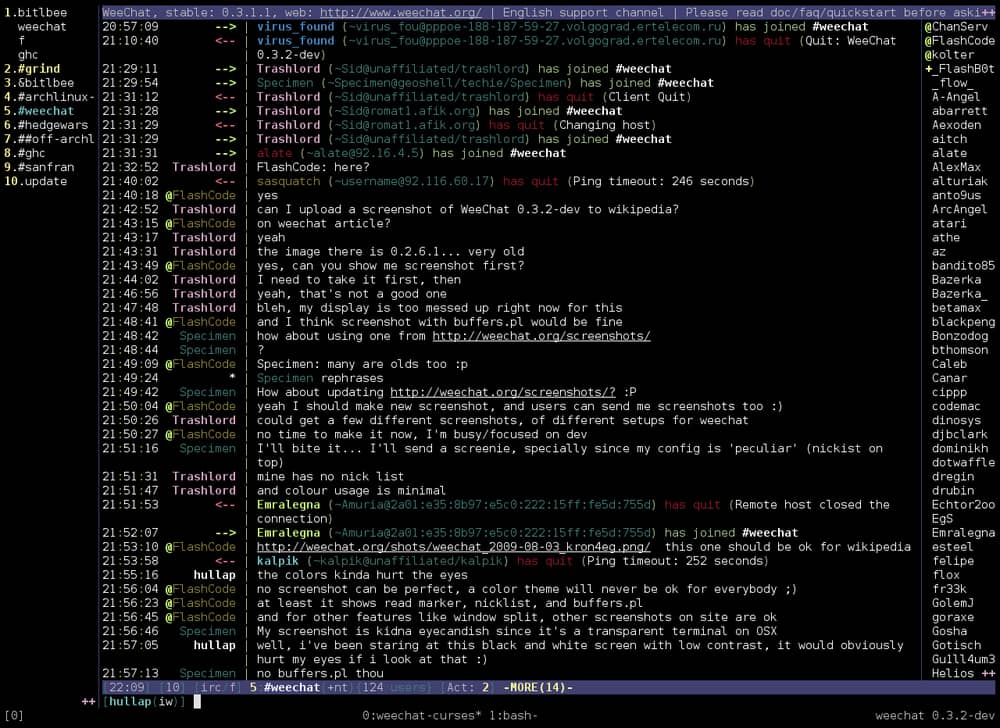 WeeChat is a lightweight and speedy IRC client tool that support multi-platforms such as Linux, Unix, BSD, GNU Hurd, Haiku, macOS, and Windows. The software is extensible with a full-featured IRC plugin that comes with multiple servers, IPv6, SSL, proxy, smart filter, anti-flood, DCC, and more.
Moreover, it offers many power-pack features such as customizable bars, dynamic filtering of lines, FIFO pipe, scripts manager, spells checking, and more. The best part of this chat client is that it has comprehensive documentation and several language translators that make your job easy. It is an active project, so continuously innovative features are added.
Key Features:
WeeChat is basically a text-based chat platform that performs fast.
It supports 256 colors, mouse, upgrades without quitting.
This IRC client tool introduces a script manager that supports 8 scripting languages.
You can remotely access your chat client from your browser, Andriod, Qt, Emacs, GTK. The list of interfaces can be extensible by developed by project developers.
WeeChat has an excellent support solution platform. From this platform, you can get a user's guide, got trivial questions and answers, a scripting guide, and a developer guide. Moreover, the support replies to your any asking question quickly.
Our Recommendations
---
We only cover the free IRC clients list in the article. However, there are many paid IRC clients which also have a free trial version. Before purchasing a paid IRC client, we recommend you use the trial version to get an idea about the feature and performance of the paid IRC clients.
Although, the free IRC clients are good enough to satisfy your requirement. So our suggestion is for you is to pick a free IRC client from the complied list in this article.
HexChat and Pidgin are the most popular and functional IRC clients, so we recommend you to pick anyone between these two tools. If you are looking for an IRC client to integrate your Twitter account, Smuxi is the best tool for you.
Concluding Words
---
Although the IRC client is an old concept and is decreasing its popularity day by day, the chat room concept has become popular, and many users still use it. Basically, IRC clients make our life easier to stay connected with many communication channels in a single platform. So we recommend you select one from our compiled list and install a free IRC client on your PC.
Lastly, please write down your user experience about the IRC client tool in the comment in this article. If you think this article is helpful for your friends, you can share easily by clicking the share this link below the article page and sending the link directly to your friend.