Are you a mechanical engineer? Or do you love to design products? If yes, then you surely know about different CAD software. Here, we're going to share about one of the fantastic CAD software, and that is FreeCAD. It's an open Cascade cross-platform parametric 3D object designing software. It's mostly used in mechanical engineering to design real-life products. Its 3D modelers come with CAD, MCAD, CAx, PLM, and CAD along with a whole package of customization option and extensions.
There are various types of user cases in FreeCAD such as the educator, the programmer, the hobbyist or the home user, and the experienced CAD user. Its users can easily use FreeCAD like the way they want to use it because of its QT-based user-friendly nature. This software can support and integrate different file formats like IFC, DXF, STEP, SVG, DAE, OBJ, STL, IGES, and so on. You can easily create a 3D shape from 2D. It will also help you extract design details or adjust dimensions with enough components. FreeCAD also comes along with the Open Inventor-compliant 3D scene representation model, toolbars, toggle panels, a broad Python API, and layouts.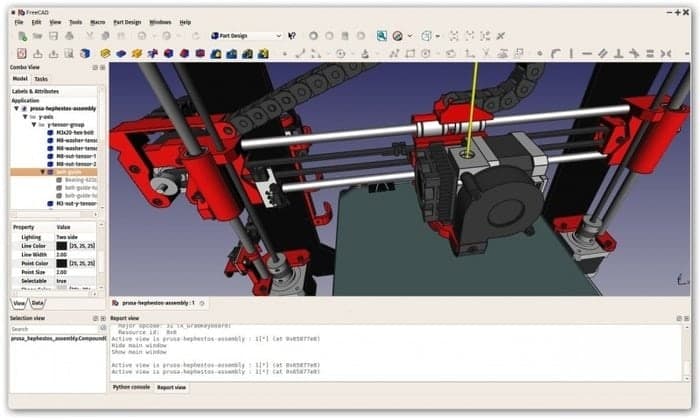 Important Features of FreeCAD
---
Wide-Ranging online documentation.

Available free download for everyone.

Available for MacOS, Linux, and Window as well.

Allows user contribution to its source code.

Allows option for project showcasing.

Comes with scriptable and easily customizable UI.

Provides built-in Python support.

Helps beginners with a free online manual.

Provides its user with every perfect and extendable tool they need such as Path workbenches, Geo data workbenches, experimental CFD, Finite Element Analysis (FEA) tools, robot simulation module and also BIM.

Support annotations like dimensions and text.
Final Words
---
You may think that why you should use FreeCAD where there are lots of other designing software available in the market. Well, let us remind you that FreeCAD comes with a lot of amazing features and it's entirely free for everyone. If you like designing 3D objects or you need CAD software for your profession without any cost, FreeCAD will always be there for you. Feel free to share your thoughts and leave comments below. Share the article on social media if it helps you.