Grand Strategy is a multiplayer strategy game. The RISK game has inspired it. You have two modes to play the game: Campaign and Casual. In a campaign mode, you have to play under a faction. You can choose under which faction to play. Depending on the win or lose, you or your faction gain territory or lose territory. Also, you gain points if you win the game. The Grand Strategy is one of the best steam games that comes with user-generated content.
Game Info
---
Denizen Seven is the publisher of this user-generated game. Here is the game information of the Grand Strategy game:
Developer(s): Denizen Seven

Publisher(s): Denizen Seven

Genre: Casual

Initial Release: October 24, 2018
System Requirements
---
To play this game, you need a 64-bit processor and operating system as well. The following are the other requirements:
OS: Ubuntu 16.04

Processor: AMD Phenom II 2.6 or Intel Dual Core

Graphics: 1 GB & AMD 5570 or Nvidia 450

Storage: 100 MB available space

Memory: 4 MB RAM

Network: You need a Wi-Fi or a Broadband connection to play this game.
Gameplay
---
The Grand Strategy is different than other RISK games. The campaign makes this game different. Unlike other RISK games, you need to play alone. You play as an individual. If you win you move up in the leaderboard and if you lose you move down in the leaderboard. This game brings the persistent online user experience concept. In this strategy game, you need to play in a campaign.
In Grand Strategy, You can choose to play under a faction. Later the two factions fight with each other. Each of these RISK games is conducted on a territory map. Then the overworld map links to the individual territory maps together. If your faction wins the war, you will gain the territory and earn points to the overworld map. And your faction loses the territory map as well as the overworld map points if your faction loses the game. Therefore, you can tie up the whole experience together.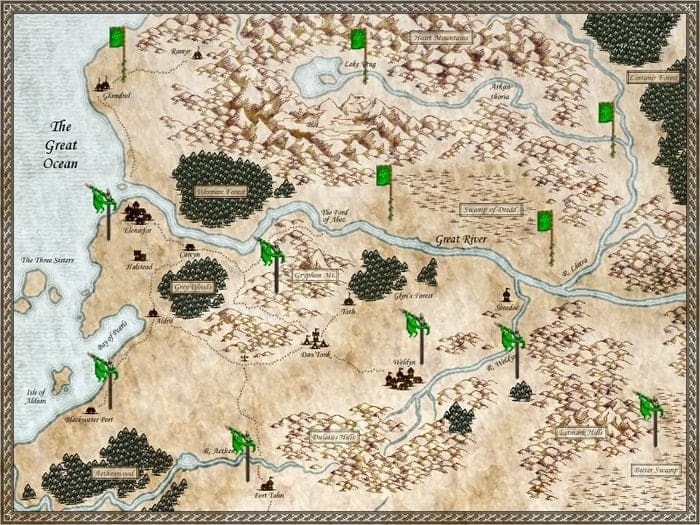 Here is an example of the overworld map. As you can see, there are two territories, and a river separates them. Different flags help to identify the territories. First, you need to choose the territory. Then you will start playing the game.
Graphics
---
Compared to other free Linux games, Grand Strategy comes with a satisfactory graphics quality. The colors are quite accurate. The edges of each object can be differentiated with bare eyes. Moreover, on the map, you can identify the stones, rivers, grass, and paths.
Pros
---
 Free strategy game.

 The graphics are quite satisfactory.

 You can play online with other players.
Cons
---
 The game has a little number of maps. It needs to add more maps.

 The game has many things to develop. The current state will not please you completely.
Download and Play
---
If you want to play this interesting game, you can download it from the steam from playing Grand Strategy games in Linux.
Download & Play Grand Strategy on Steam
Conclusion
---
A strategy game is always fun to play. Moreover, playing online is much more fun. Grand Strategy is one of the free Steam games that can fulfill your demand. Currently, it is in early access. Many things are still under development like leaders, command cards, missions, capitals, a fog of wars, and more. If you are not satisfied with the current state of this game, then you have to wait for its further development.
Did you enjoy these Linux steam games? If you do so, share this game with your friends and family who like to play games on Linux.