The MIUI/Xiaomi/Mi Android phone screen is getting bigger and bigger these days. Sometimes, operating one-handedly can be challenging with these kinds of phones. Though having a large display on your phone has many advantages, yet nothing can match the convenience of the smaller display. The easiness of having a one-handed mode on MIUI/Xiaomi Android can be considered as a beggar description. Despite the device being able to be operated with just one hand, it is very convenient for your user experience. Having a one-handed operating option feature on your Mi/MIUI/Xiaomi Android doesn't mean you are no longer able to use full display. Rather it means you can use the one-handed feature whenever you would like.
One-handed mode just makes your device's screen a bit smaller so that you can reach the entire screen with one hand. It is simply an extended feature on your Android that allows you to operate your device one-handedly.
As a result, you no longer have to use both hands to operate the device. You can either use full-screen mode or one-handed mode. It's entirely up to you. However, having the one-handed mode feature will greatly enhance your Android user experience for sure.
One-handed Mode on Your MIUI / Xiaomi Android Devices
---
If you would like to take your Android user experience to another level then this post will be just for you to read out fully. Do you have a Mi Android phone and find it hard to operate one-handedly? Well, there's nothing to worry about anymore.
Certainly, you're in the right post. In the entire post, I'll demonstrate and show you the process to use your phone one-handedly. So, I'm asking for your full concentration on this because you should not skip a word here.
And, I'm assuring you that you'll find it very easy and convenient. However, you might be wondering at the end of the post by thinking why you did not know about this before? So, let's get started without any further discussion.
And, please be notified; the process may vary from device to device but the basic things will certainly remain the same for Mi Android devices. Well, let's get started with the quick steps below-
Step 1: Setting App on Your Android Device
---
The first thing you need to do is click on the Settings app on your Android device. By clicking on the settings you'll get reach to the entire setting section of your device. If you're done let's move into the next one.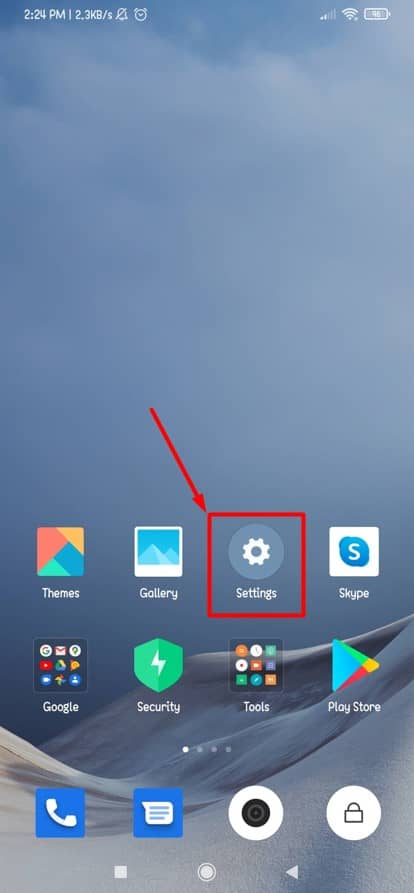 Step 2: Additional Settings and Its Function
---
The previous step takes you to the below-resulting page. Now, what to do? Just scroll down and take a pause whenever you find an option called Additional Settings. Basically, this section is all about new features that make your user experience very handy. Okay, without any further delay tap on the Additional Settings option to enable one-handed mode on your Android.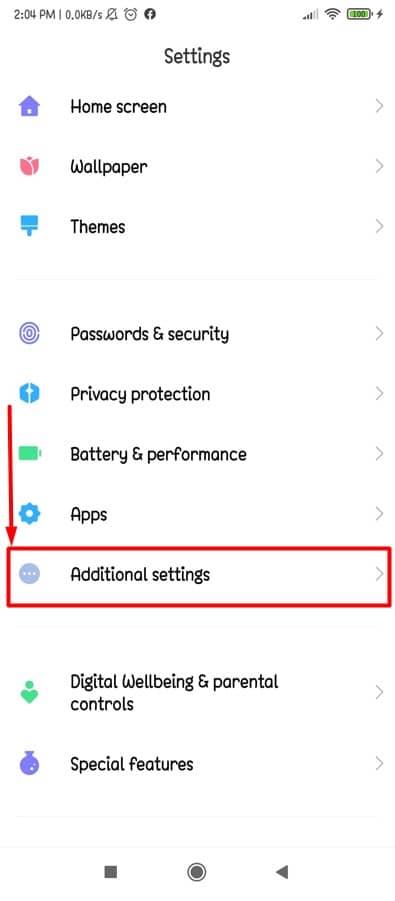 Step 3: On-handed Mode Feature on Your Mi Android Device
---
Here we are finally! One-handed mode, the option we were looking for can be found in this section. Besides, there will be many other useful shortcuts and features available in this setting section.
For instance: Button shortcuts, Quick ball, LED light; are some useful features as well to provide you with the best Android usability. Okay, let's get back to the main business. Click on One-handed mode for taking a step ahead with the process.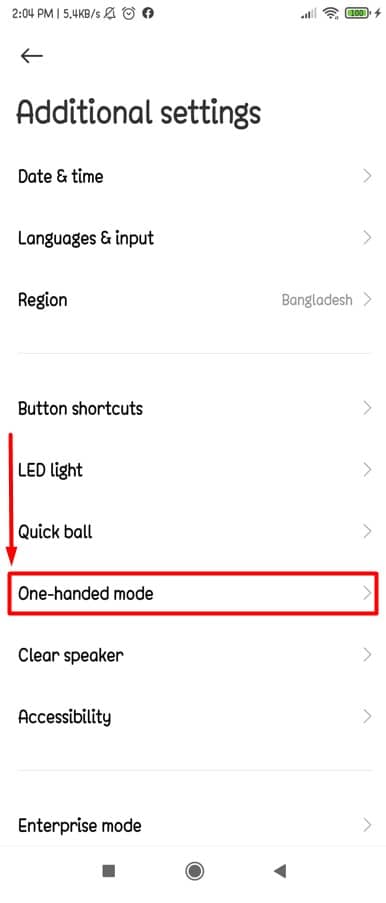 Step 4: Let's Enable One-handed Mode on Your Mi Android
---
Yes, you read the heading out clearly. Finally, you're in the section from where you can make one-handed mode on/off easily. Enabling/disabling the one-handed mode just needs a simple swipe, nothing more than this.
In the below-resulting page, swipe right to enable the one-handed mode on your Mi Android, and what needs to be done to disable it? I think you already know. YES, turn left indeed.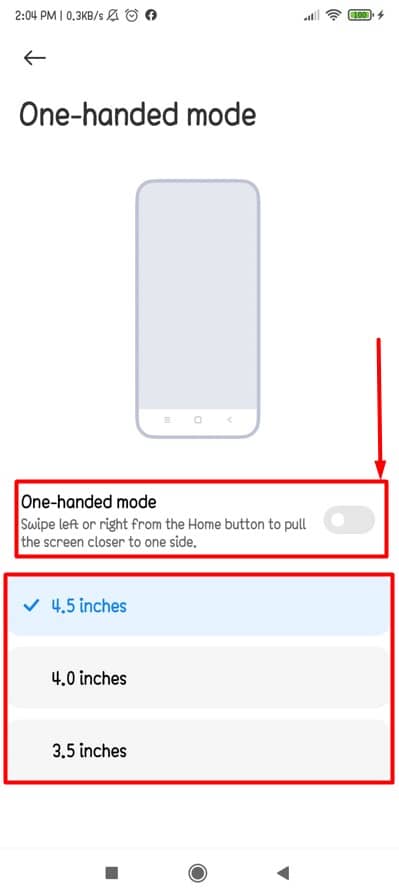 You might be seeing and thinking, what are these marked inches sections for? Well, these are the options you can choose for using the one-handed mode. Okay, let's take your mind into a ride to a few years back and think, how cool and handy those smartphones were with these above-marked display sizes! And that's the reason behind getting these display sizes by default to choose your one-handed usability option.
One-handed Mode on Full-Screen Gesture
---
From the heading, you might be understood what will be the discussion in this section? Yes, one-handed mode with the full-screen gesture on your Android device. Nowadays we all tend to use full-screen mode on our Android because it creates a good vibe to the entire screen. You might be one of them who loves this feature.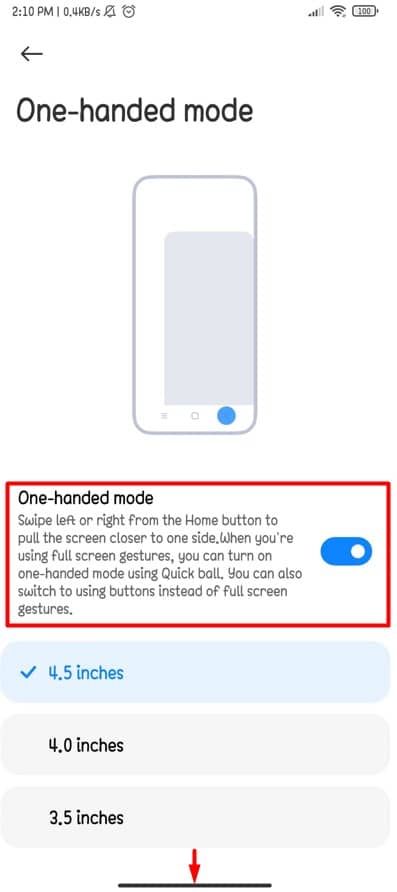 So, here's the thing that needs to be done for this purpose. When you'll be using full-screen gestures, you can turn on the one-handed mode using the Quick Ball. Quick Ball, an another and convenient feature you'll get on your Android device. But, using buttons instead of full-screen gestures would be easier for anyone to operate the one-handed mode on your Android device.
Wrapping Up
---
Well, you have done & dusted with the process of enabling and using the one-handed mode feature on your Mi/MIUI/Xiaomi Android devices. Having said this, you can easily use one-handed mode from now on to operate your Android device more conveniently. However, it's entirely up to you that which one-handed display size option you'll go with to operate your device.
All the three default display sizes options will be easy for you to operate one-handedly. So, What do you think? Wasn't the whole procedure seem like a piece of cake to you? I think it was because it's very easy to set all things up.
Well, it's time to take a leave. Thanks for being with me in the entire post. If you find this helpful and informative then feel free to share it with others. A comment of yours in the comment box will also boost me a lot. These things would appreciate me a lot coming up with more new tricks and tips like this one.
Lastly, feel free to share with me if you're already familiar with any other process of enabling the one-handed mode feature on your Android.