When it is about smartphones, we have only two operating systems to choose from if we are not talking about the recent invention of Huawei, the HermonyOS. It's not vigorously popular yet. However, the most popular Mobile operating systems are, for sure, Android and iOS. And the most common matter of discussion about them is Android vs. iOS.
So, we decide to specify some essential and common facts of a smartphone and discuss them in terms of these two operating systems. We cannot specify exactly which one is better, but this discussion will definitely help you reach a conclusion. Indeed, it will help you learn which one is better, especially for you.
Of course, we don't know which fact of using a smartphone is more important for you, like gaming, camera, interface, or the price. So, we decide to discuss all the common facts about a smartphone. Hopefully, it will help you get a proper idea about the question, 'is iPhone better than Android?' So, stick to the discussion till the end.
Common Facts of Smartphones: Android vs. iOS
---
It is true that we cannot simply call one worthless while taking the side of another completely, whatever fact you are talking about. It's because Android has so many varieties, and they feature differently. You cannot simply compare the Redmi note 7 with iPhone 11 pro max. While comparing, you should pick two phones with similar features.
However, we select the most common facts people to check while buying a smartphone or any operating system. And we try our best to provide information about the performance of both operating systems regarding the facts. So, check them out thoroughly to make the right decision.
1. Interface
---
Back then, when iPhone was first introduced, it was more intuitive in comparison to the other ones available in the market. You can not really come to a conclusion that one is better than the other when it comes to user-friendly interfaces. But things did change a lot up until now.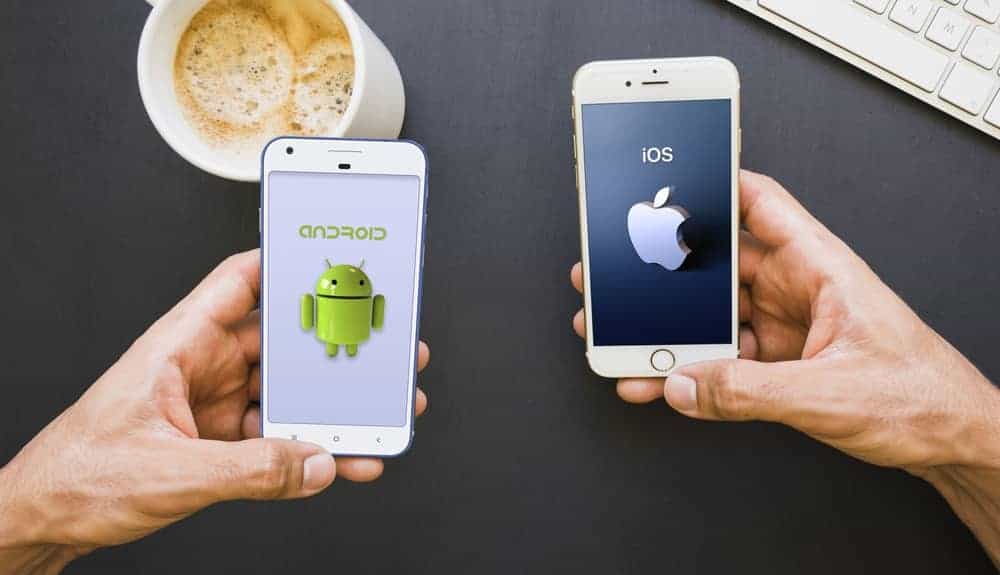 Both the operating systems are getting better day by day and updating according to the consumer's demand. They have their individual superiority in particular ways. If we count home screen and appearance into the interface category, iPhone has a simple appearance, whereas Android offers more customization.
However, some people may like more control, but it can make things complicated for users at times. But those who like to enjoy the little details, even like icon placement. Additionally, different brands of Android vary different personalization settings. So a beginner can get their head around a bit with a new one.
On the other hand, Apple has its own fan base for keeping it simple. All of the versions have no difference in the operating system. The home page is layered with icons instead of an app drawer. Although, you can decide the placement of icons.
Keeping in mind the senior citizens or someone with not much knowledge about technology, Android phones offer easier solutions. For instance, Samsung has a customized feature called "Easy Mode." Both the iPhone and Android have a bunch of apps in the store for this purpose.
2. Security
---
Back at a time, Android used to get a lot of blame regarding security issues. But now that Google has taken the problem into count, you can totally rely on Google's security updates. So, now, we cannot possibly complain about Android's security issue anymore. And of course, as always, iPhone is dependable for this point.
Google is providing two-step verification, app permissions, sand-boxing, and many more features to ensure the security of the data in your Android phone. It claims to keep user privacy protection to its best and regularly works for better safety on Android devices in the future.
Besides, iPhone is not totally out of danger. It has iPhone malware too. But in comparison, it seems a step ahead in the competition. With FaceID, Touch ID, encryption in iMessage, and so on for privacy protection, iPhone is a relief to the users. Furthermore, Apple has a more strict app store, frequent updates, etc.
3. Device Fitness and Finishing
---
When the concern is about fitness and finish, iPhone definitely wins the game of Android vs. iOS. Android is not much behind with a variety of models introduced from different brands. The latest Samsung Galaxy, Google Pixel, is a stylish fit as a rival to iPhone. However, Apple takes great care of the manufacturing process in detail than the Android brands.
4. Price
---
Many people often ask, 'is Android better than iOS when it comes to the price?' In terms of the market price, Android is way more affordable and beats the iPhone with a big difference. Apple has always been more costly since its first release. But it has a market advantage because of its popularity, and it sells at a high price even after it becomes secondhand.
But again, if the question is about the worth of the price, well iPhone may present you with a high-profile look for sure. That doesn't mean that Android phones are useless. They serve you decent features to get the tasks done.
You can simply go for the latest Android devices from MI, Samsung, OnePlus, etc. that are sometimes more expensive than the latest iPhones. As usual, they feature better than iPhones as well. In that case, the price of Android can easily bite the iPhone from all sides.
5. Updates
---
There is no debate that iOS advantageously updates the software, bug fixes, and security patches from time to time. This facility is not so easily available on a regular basis in Google's Androids except Google's own products like Pixel or those which are compatible with Android One.
As soon as Apple launches a new update, all the iPhone models, no matter new or old, can avail the update smoothly. In contrast, different Android manufacturers collect the update from Google, so it takes a long time to get updated. Some older versions are not even eligible for the new changes.
6. Battery Life
---
It is a tie between the two OS on this arguable matter. Two different platforms have different hardware for charging the phone. Between a same-priced Android and iPhone, you will get a more capable mAh rating battery with Android. You can check out the battery usage anytime in both iOS and OS using an app. If you need more specific details like the battery life, only an Android phone can give you the information.
The application of power-saving mode is supported in Android and iPhone. It can assist you to save battery power which can stretch out battery life too. The features related to the battery, such as restriction of performance, connectivity, and others, are personalizable on Android.
7. Camera
---
The camera in both iPhone and Android has a bunch of differences. However, in most cases, the Android camera stands one level lower than the cameras on the iPhone. iPhone has an ultra-wide camera, and you can even personalize the image look as well. Additionally, it is packed with advanced lens and auto-focus functions to get sharp focus nearly as 2 centimeters.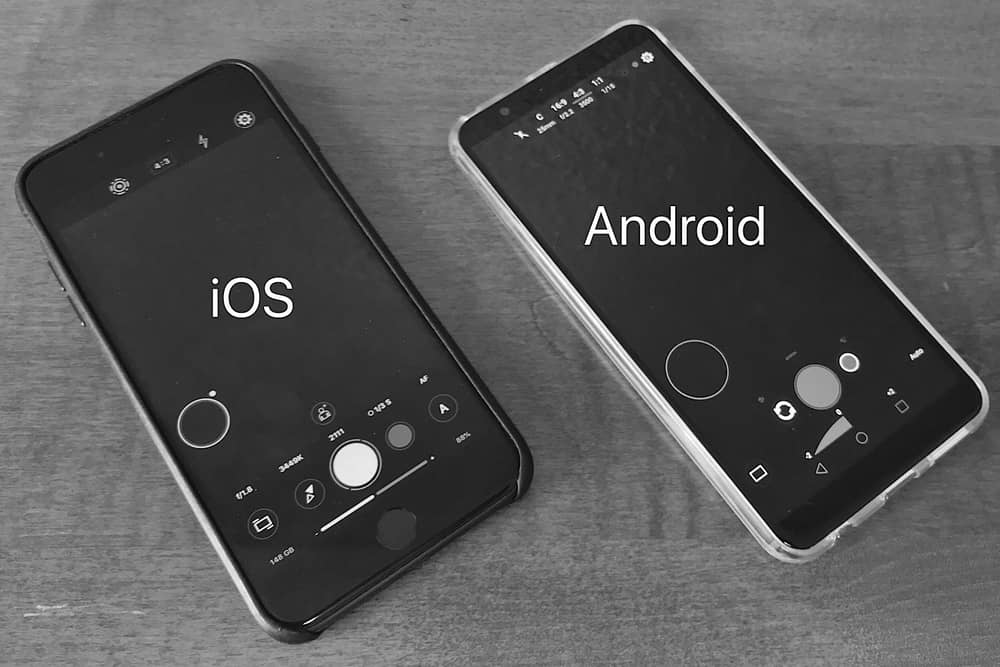 In contrast, most Android camera bummers quite often. Moreover, the cameras have minus 12 Mega Pixel. Besides, the optical zoom option is not so great, and the sensors are small too. Only you can manage the shutter speed smoothly. Hence, iPhone stands for better professionalism than the camera quality of Android. So, when it is about the camera, iPhone must get the crown in the battle, Android vs. iOS.
8. Video Conference
---
Initially, iPhone offered the top video conferencing app, which is Facetime. Additionally, you can either do audio or video conferences and tap to add more people as well. Only you need to type the numbers or names of those you want to join with. Thus, the navigation system is really handy, and you will see the suggested numbers in call history too.
It is true that Google Hangout in Android helps to make a lively conversation from anywhere. However, the platform is more like a homey environment, and the view automatically shifts to the person who is speaking. Therefore, the Apple group is much smoother and stands lesser issues compared to Android device's services.
9. Cloud Integrated
---
For cloud integration, iCloud stands a little complex. Initially, syncing on other devices is never too smooth. And sometimes, third-party apps store data in iCloud automatically. Therefore, anyone unauthorized can access your files. Moreover, you always need to be connected to a WiFi network. Otherwise, backup any data is not possible.
However, cloud integration in Android is closely integrated with Google's service and applications. In Android, Google allows access to all sorts of info, from personal to global news. Additionally, it has unlimited storage, and you will surely find a basic photo editor too.
Furthermore, cloud integration in Android will help to change the app's features and functions as well. Although iCloud has some advantages like iCloud photo library, when it comes to Android, it takes one step ahead in quality and services.
10. Maps
---
Even though the journey of Apple maps had a good start, the features and navigation have improved largely. The downloaded maps can be used offline, and it gives apposite Infos of current traffic situations. Likewise, you will find very clear directions for walking and driving.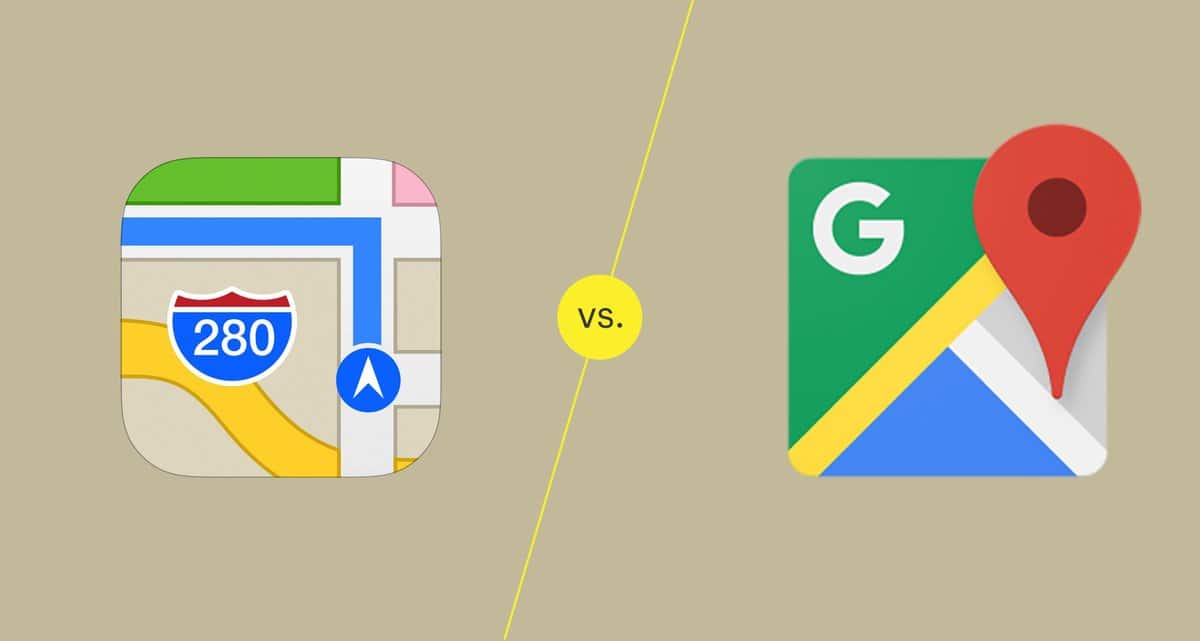 Still, Google maps on Android stands better for its larger database, and it displays business with images. Furthermore, there will be an explore tab for finding new local places, and it showcases nearby traveling and food places as well.
In addition, it gives clear instructions of how the route will reach you to your desired address. No wonder keeping in touch with Google maps in Android rather iPhone Maps will help you in any complex situation. So, Android wins regarding the map in the battle, Android vs. iOS.
11. Calls and Messages
---
Calls and Messages functions differ in both Android and iPhone devices. Initially, Google in Android always crumples message, video chat, group call into Hangouts. Also, the message texting app is currently Google's leading messaging app.
Even though some Android offers their own dialer and messaging application so, the whole system stands quite confusing. Contrariwise, messaging and calling in iPhone is smoother as it is controlled by Apple. Moreover, Facetime and iMessage helps to connect with friends and family, and the navigation system is user-friendly as well.
Here, iMessage offers third-party software integration, Gifs, fun stickers, and so on. Therefore, compared with Android, iPhone performs better in messages and calls. Indeed, we cannot say Android is not worthy unless you buy a backdate phone.
12. Apps Availability
---
To get the apps for Android, you have the Play Store, and for iOS, you have the App Store. Now, the question is which store is richer. Undoubtedly, it is the PlayStore. It has more apps and games available than AppStore. But you must find most of the popular apps available in both of them. But if you just ask about the number of apps, PlayStore will win for sure.
Now, the internet says, PlayStore includes around 2.7 million apps, whereas AppStore has approximately 1.8 million apps. So, here is the results about the number. So, in the battle of Android vs. iOS, PlayStore will bring the cup to Android definitely.
But the number is not everything you should look for. Indeed, we never prefer just prioritizing the matrix of the number. You should look for the apps that are worth using. In such a case, I wonder AppStore will satisfy you a little more.
Generally, Play Store contains thousands of fake apps that are simply good-for-nothing. Indeed, AppStore contains such apps too. But the number of fake apps and games in AppStore is not so much as in PlayStore. However, popular apps are available in both of the stores, so you don't have to think much about it.
13. Multitasking
---
We have to use our smartphones for multitasking most often. And now, it is about which operating system performs the best in this case. Basically, it depends on the RAM and the processing unit of your Smartphone. The better internal parts the device includes, the better it will perform while multitasking.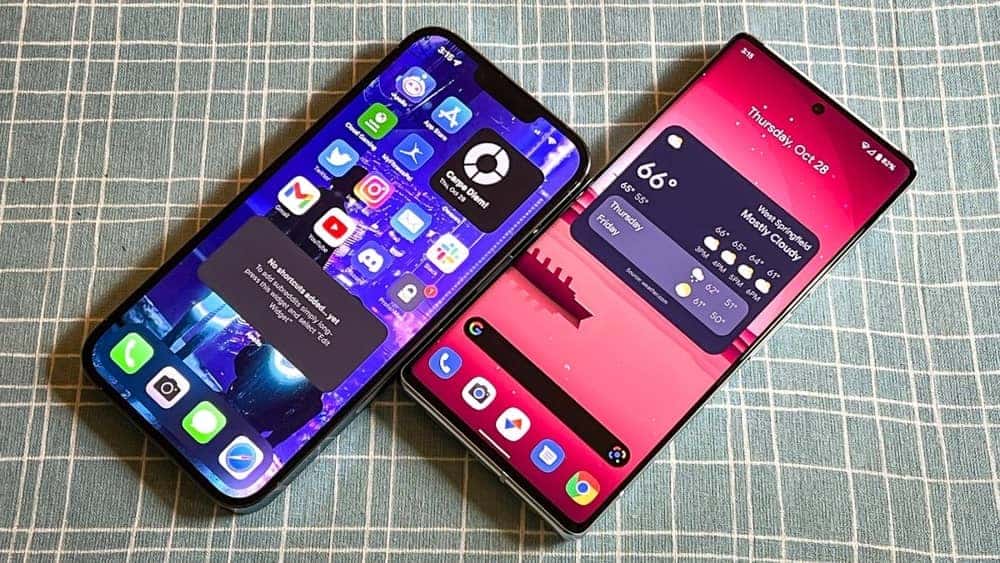 However, for multitasking, iPhone is always good, especially the lasted version models. Android is also good, but you have to be picky while choosing an Android device if you are planning to use it for multitasking. It's better to go for a device with 8 GB RAM or more. So, using your Smartphone for multitasking won't be an issue if you get the latest and high-end device.
14. Customization
---
If you are an Android fan, I guess it's your time to be proud of it. It's because, when it is about customization, undoubtedly, Android wins from all sides. Generally, Android offers easy and available customizing functions like launchers, icons, typography, widgets, themes, and so on. I bet you cannot find them so easily in the iPhone unless it has iOS 14.
For sure, iOS 14 is like a revolution in the case of this particular operating system. This update brings lots of customizing options like new widgets, launchers, icons, etc. Indeed, there are widget customizing apps available that make things easier for iOS users as well. Still, we cannot deny the supremacy of Android when it is about customization.
15. Gaming
---
And lastly, it is about the gaming fact. Gamers are always becoming so confused about Android vs. iOS. Indeed, for the young generation, choosing and getting a new phone depends on its gaming features. So, the question is which operating system is better for gaming. If we discuss it in the context of some of the popular games, you must get a better idea about it. Let's dig it deeper to understand the fact.
PUBG Mobile
---
PUBG mobile is one of the most popular battle royal games on the mobile gaming platform. It supports almost all modern devices from iOS and Android. However, it is quite demanding if you want flawless performance in high settings. This game is quite optimized on the iOS platform and offers consistent performance on iPhone.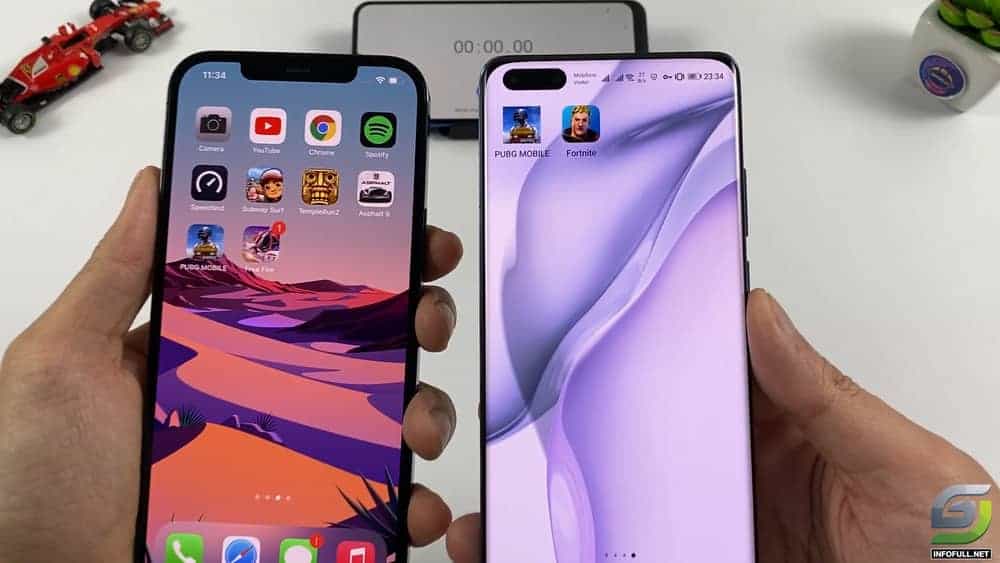 Even in iPhone x, you can have a pleasant gaming experience. On Android phones, gaming performance is good but not flawless. But, if you play PUBG mobile on flagship-grade devices from Android such as Samsung Galaxy S20, Mi 11, OnePlus 8, etc., you will have a great experience. The android platform needs some polishing to get iPhone-level performance from budget phones.
Asphalt 9
---
If you are a racing game lover or just a casual one, you must know Asphalt 9. It is a widely popular racing game among Android and iOS. Asphalt 9 runs well on almost all the mid-tier to high-end Android phones. This racing game just loves Qualcomm chips from the 700 and 800 series. It also runs well on iPhone 11 and upwards. Yet, the high refresh rate and lower-priced Android phones provide better overall value.
On iPhone 12, you can have lag-free high-quality gaming performance, but not all can afford an iPhone. So, for mid-range phone users, Android plays a vital role. Phones like Motorola G60, Poco X3, Mi 11 lite provide excellent Asphalt 9 performance at an affordable price range. Phones like Xiaomi POCO X3 PRO using Qualcomm 860 CPU will continuously provide top-notch performance without investing tonnes of money.
Genshin Impact
---
If you are into open-world RPG-style games, then Genshin Impact is a must-try. This is available on PC, PS4, Android, and iOS. It is highly optimized for both iOS and Android. Players can cross-save and play from different devices of their choice. However, iPhone users have a more pleasant experience than their Android counterparts. The main reason is heavy hardware requirements and a graphics-intensive game engine.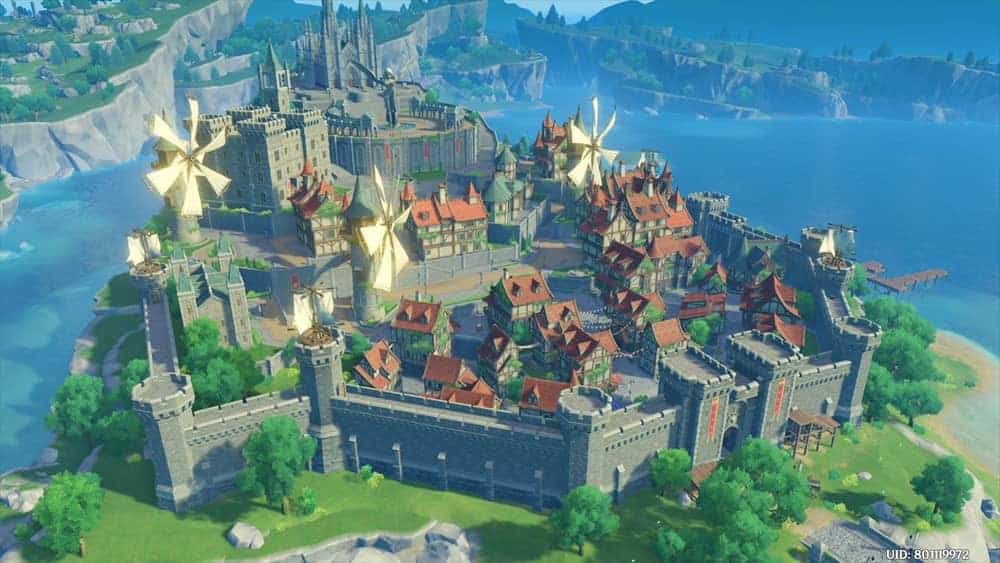 You will surely have a flawless performance if you have a flagship-grade Android phone like Samsung Galaxy S21, Mi 11, Motorola Edge 20, and OnePlus 9. Then having an iPhone or not will make much difference. Many gamers have pleasant Asphalt 9 experience on Poco X3 PRO. It is also one of the most affordable gaming phones available in the market. Moreover, it performs on par with an iPhone 11 Pro or greater.
Other Games
---
There are many other interesting games available for iPhone and Android. Not all of them are optimized for both platforms. Some perform well on iPhone for iOS's bloatware-free ecosystem, and some games suit Android's hardware and execution patterns. Games like; Garena Free Fire, Clash of Lords, Clash of Clans, Pokemon GO run pretty good on any low to mid-tier Android phone.
Android phones like Realme 8, Motorola G40 Fusion, Redmi Note 10, and similar ones are more than enough for casual games. iPhones are great, but you might not find in iOS the same amount of games available in PlayStore. Moreover, you have to invest a significant amount of money in owning an iPhone. On the other hand, you might have to use flagship devices for competitive multiplayer games, such as PUBG, Call of Duty, and so on.
If only you are at the competitive level and serious about gaming. An iPhone might make more sense in this segment for its exceptionally long-time software support, better exchange, and resell value. Phones like Oneplus 9, Asus ROG 5, Mi 11 are fantastic gaming devices from the Android segment. If you are interested, you can check out the most popular Android games and the popular iOS games.
So, these are the most common factors you should check when discussing Android vs. iOS. If you still think about the question, 'is iPhone better than Android?', we suggest finding out the fact of your priority first. And then judge which one is better for that.
Final Verdict
---
Android vs. iOS is a neverending matter of argument, and we all know about it. Android has thousands of options when it comes to devices models where iOS offers a limited number. Still, the configuration, features, and other factors got them often equally compatible. However, the above description must help you make the appropriate decision for yourself.
Still, if you have any questions regarding the topics 'is Android better than iOS?' please mention your confusion in the comment section. Also, feel free to make the correction if we make any mistakes here. Thank you for being so cooperative.