The most powerful visual media – video can deliver what texts can't. Since watching video is how one-third of online users spend time on, videos, however, editing could be more powerful, attention-grabbing, and inspiring.
Now, creating and professionally editing videos on Linux has become surprisingly complicated. It may be because choices for such software are not visible. To that end, I decided to discuss an outstanding video editor for Linux platforms.
Now, you may not be an expert. Or, your video editing skill may just be limited to cutting and merging.
That's okay!
I'm writing this article to show you that with this incredible video editing software, you too can create sleek, professional-looking video content.
The software we've picked out is KDEnlive! Yes, armed with KDEnlive and with a little spark, regardless of your experience level, you can successfully create and edit top-of-the-line video content right on your Linux!
How so?
Keep reading to discover all about it.
KDEnlive: Best Video Editing Software
---
Specially built for all primary Linux distributions, KDEnlive is exceptional, multipurpose, open source video editing software. KDEnlive from KDE can help you create exclusive videos with a multi-track timeline, customizable layout support, transitions, significant effects, and more!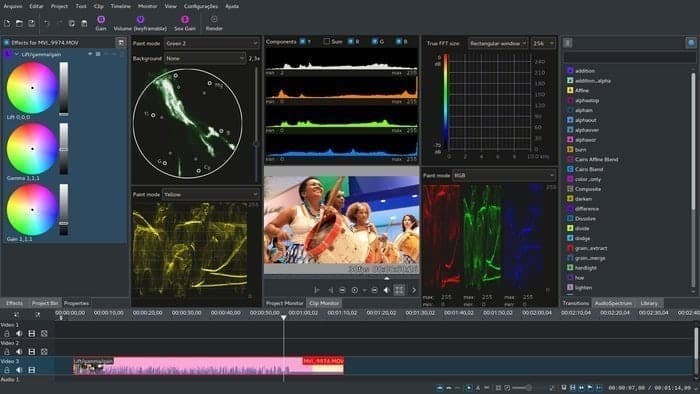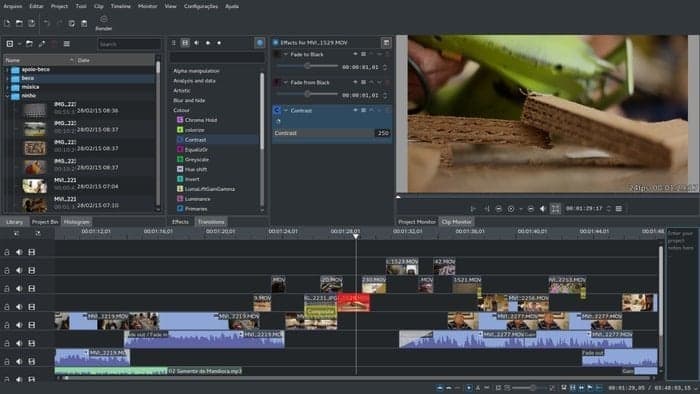 Main Features
Beginner-Friendly: Coming with an incredibly easy-to-use, customizable interface, KDEnlive has one of the shallowest learning curves. No doubt, it is designed to serve the average needs of those with little to no experience. KDEnlive comes well-stocked with plenty of effects to perfectly handle your video editing needs. It's a non-linear video editor and a powerful one with it, which should replace all other existing video editors on your Linux.
Open-Source: Of course, you have the freedom to spend money as you feel like it. However, it's a bit pointless to spend on pro video editing software when KDEnlive offers unbeatable features without costing you a cent! As intuitive and user-friendly as any pro video editing software, KDEnlive is the product for you if you mind shelling out needless bucks for software.
Extensively Versatile: KDEnlive's outstanding support for a variety of audio, video formats, effects, and transitions will sure provide the best possible experience for Linux users exclusively.
User-Friendly: Not to mention, artistic control and terrific quality editing you'll enjoy for many camcorders, camcorders, and cameras.
Professional Editing: No worries for those who don't own high-resolution camcorder, as you too can effectively edit videos taken in Raw and AVI DV format. Another thing worth mentioning in the same sentence is KDEnlive's adaptability to high-resolution camcorder formats, i.e., HDV, AVCHD. Professional camcorders deliver broadcast imagery. Editing XDCAM-HD™ streams, DVCAM (D10), DVCAM, DVCPRO50™ streams, and DNxHD™ streams is possible with the fantastic KDEnlive. Not bad for open-source software, right?
Wrap Up
---
KDEnlive is a piece of software designed for the individual looking for a professional-level video editing solution. KDEnlive comes replete with transitions, effects, filters, and functionality for a wide range of formats.
If you have any queries or comments related to KDEnlive or any other software discussed on this site, please do not hesitate to submit your question or opinion. The constructive idea helps us move forward. If you think someone else could benefit from this page, do share. Thanks!