Computers have been playing a significant role in modern healthcare systems since their inception. Have you ever wondered how medical imaging like MRI or X-ray scan copies is implemented? Your computer utilizes a special kind of file schema for this purpose. The DICOM (Digital Imaging and Communications in Medicine) is an internationally recognized standard for storing and distributing crucial medical documents.
A high number of medical imaging software for Linux exists, making it possible to view these documents easily on your Linux machine. Today, we'll discuss the 25 best software used as modern Linux DICOM viewers.
Best Medical Imaging Software for Linux
---
Below, we're outlining the best 25 medical imaging software for Linux enthusiasts who want to use their favorite distro when working with such imaging. Our experts have selected an impressive number of Linux DICOM viewers to empower you to open these files while briefing other medical imaging software for Linux, which comes into play at times.
1. Amide
---
A compelling cross-platform GTK+ tool, this medical imaging software for Linux allows medical professionals to view, register, and analyze complex medical documents with ease. It's typically hailed as one of the best Linux DICOM viewers due to its intuitive GUI, which features a long list of convenient features. Some of these features include the ability to load multiple datasets, anisotropic filtering, and independently thresholding datasets.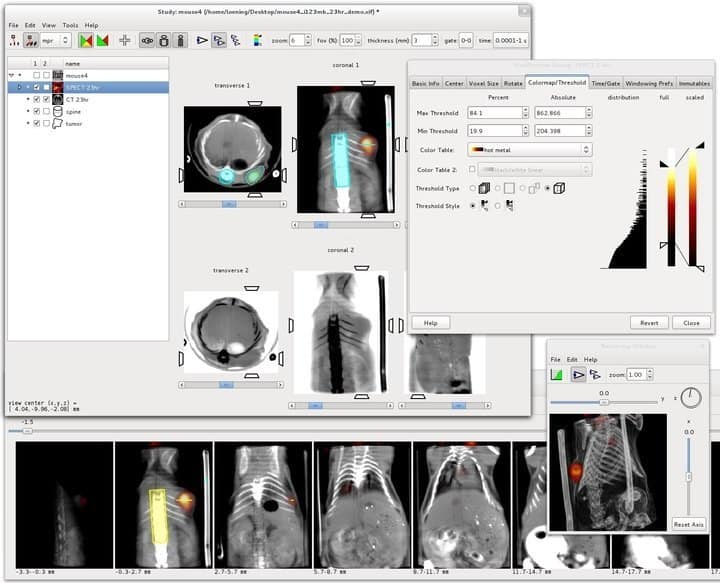 Highlights of Amide
A handy GUI interface that lets the user perform a wide array of essential tasks quite efficiently.
The powerful anisotropic filtering wizard can use Gaussian, 1D Median, and 3D Median filters.
Users can crop and clear regions of their datasets easily with Amide and export studies as XML files.
This medical imaging software enables users to draw 3-D ROI's directly on the images.
2. DicomBrowser
---
DicomBrowser is one of the most powerful Linux DICOM viewers that you can get your hands on. This compelling medical imaging software for Linux is built on top of JAVA and offers quite some features.
Users can inspect the metadata of their DICOM files very quickly with this modern-day medical software. Developed at Washington University by the Neuroinformatics Research Group, DicomBrowser entirely lives up to the hype around it.
Highlights of DicomBrowser
This medical imaging software can load thousands of relevant medical images concurrently.
Users can quickly send the modified files over the network to a predefined DICOM C-STORE service class provider like PACS or XNAT.
The open-source nature of the software enables developers to adapt and customize it according to their own needs.
DicomBrowser also comes with a handy command-line interface.
3. 3D Slicer
---
3D Slicer is one of the best platforms for medical professionals to analyze their medical documents conveniently. This medical imaging software for Linux includes medical image informatics, powerful image processing abilities, and three-dimensional visualization of medical data.
This is among those influential Linux DICOM viewers that enable users to view and analyze medical documents and offer advanced image analysis algorithms for diffusion tensor imaging.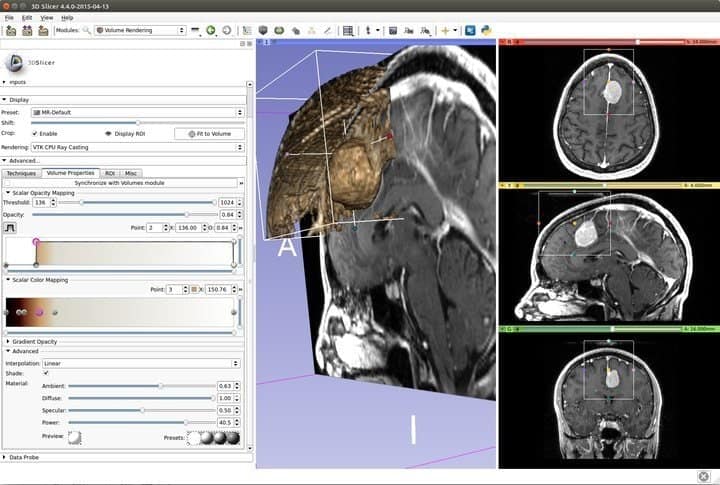 Highlights of 3D Slicer
The sophisticated visualization capabilities of this Linux medical imaging software leverage VTK, a GUI library that provides an easy-to-use interface to OpenGL.
Users can capture scene snapshots to visualize all the parameters of a specific scene.
It allows for the automatic segmentation of medical data.
3D Slicer can track devices used for image-guided procedures.
4. Mango
---
Mango (Multi-image Analysis GUI) is a mighty powerful medical imaging software for Linux which comes pre-packaged with powerful image analytics tools for medical professionals. The minimal yet intuitive user interface of Mango helps users to navigate even large volumes of images without any hindrance.
Upon starting, the software shows the menu for opening images, setting options, getting help, and selecting windows, among others.
Highlights of Mango
It can analyze a wide range of medical documents, including but not limited to DICOM, MINC, NIFTI, and NIFTI2 formats.
The core software is developed with JAVA but supports both JAVA and Python API developments.
This medical imaging software is exceptionally customizable, and users can easily create personalized filters, color tables, file formats, and atlases.
It supports kernel and rank filtering, ROI calculators, Time-series analysis, and Semi-automatic image coregistration, among others.
5. Ginkgo CADx
---
One of the best medical imaging software for Linux, Ginkgo CADx, is among those striking Linux DICOM viewers that can also act as a DICOMizer. This powerful medical image processing platform provides an out-of-the-box solution for viewing and analyzing essential medical documents like MRIs and X-Rays. Ginkgo CADx also features quite a list of advanced capabilities matched by only a few.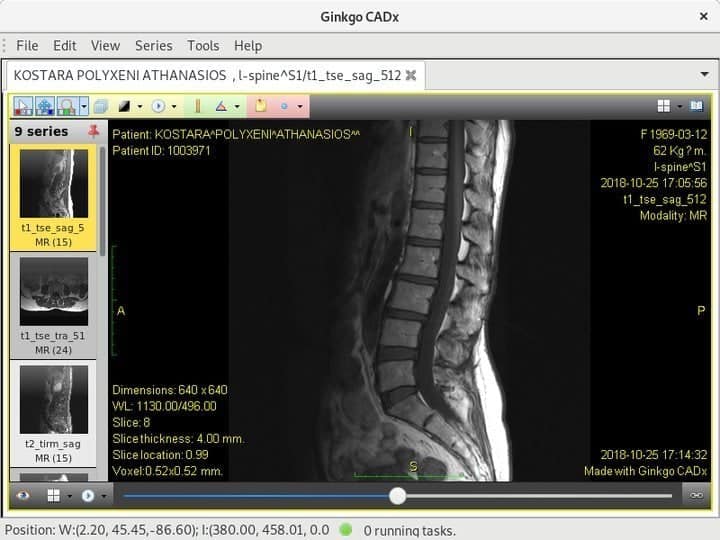 Highlights of Ginkgo CADx
This Linux medical imaging software can convert a range of different file formats(PNG, JPEG, BMP, PDF, TIFF) directly into DICOM files.
Users can easily create and personalize their profiles to customize the interface.
It supports a substantial list of modalities, including but not limited to Neurological, Dermatological, Ophthalmological, and Ultrasound.
Thanks to its open-source nature, developers or enthusiasts can easily extend the functionality of this software through custom extensions.
6. XMedCon
---
It's arguably one of the most productive medical imaging software for Linux used in converting medical documents across a broader range of formats by professionals. This open-source library is useful for quite a several purposes. Among them, image conversions and reconstruction of nuclear medical images are the most prominent. XMedCon also allows users to read unsupported files even without any conversions.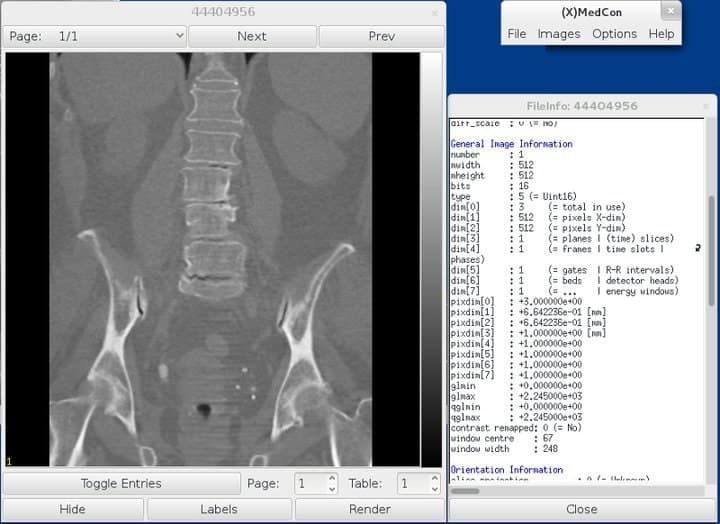 Highlights of XMedCon
This medical imaging software is especially suited to professionals who are new to the Linux ecosystem.
The prepackaged command-line interface enables advanced operations like batch image conversion and automated scripts.
The built-in API lets developers extend this tool to support even non-supported image formats.
Advanced users can easily hack the tool with Acr/Nema tags.
It can quickly reslice images into multiple views such as transverse, sagittal, or coronal views.
7. 3DimViewer
---
If you're running an older Linux machine and are looking for lightweight yet flexible Linux DICOM viewers, then 3DimViewer seems to be a pretty decent choice for you. This open-source 3D medical imaging software aims to provide a powerful medical image viewer tool, and we are seriously pleased to see the result. This source is up for grabs if you're looking forward to tailoring this tool according to your requirements.
Highlights of 3DimViewer
This powerful DICOM file viewer is written using C++, thus offering a performance matched by only a few others.
3DimViewer allows for both a multiplanar and orthogonal view of your medical images.
You can make the software even faster by utilizing the shaders of NVidia and AMD graphic cards for volume rendering.
It also implements a powerful tissue segmentation feature based on thresholding.
8. Weasis
---
Weasis is modern-day medical imaging software for Linux based on Cloud technology. It comes with a highly modularized architecture that enables very high-quality renderings with top performance. Although a standalone desktop version is available, healthcare professionals tend to opt for the web version due to its available offerings. It's arguably among those Linux DICOM viewers that empower users to view their medical documents on the go.
Highlights of Weasis
Users can easily connect to PACs by utilizing the web portal and send and retrieve DICOM files over a network seamlessly.
Weasis can be configured with a shallow memory footprint, thus proving an excellent choice for people on older systems.
The handy API endpoints give developers the ability to integrate Weasis with new software or build custom plugins.
Weasis can use various options when exporting DICOM files (DICOMDIR, ZIP, ISO, TIFF, JPEG, PN).
9. MRIcroGL
---
If you're looking for compelling medical imaging software that can display 3D medical images without any trouble, MRIcroGL is a suitable option for you. This open-source therapeutic tool comes with powerful features for displaying 2D and 3D medical images. If you're using modern systems with added graphics card facilities, then this software will allow for real-time interactive rendering.
Highlights of MRIcroGL
MRIcroGL can display both 3D renderings and 2D slices of medical images.
The clipping tool of this powerful Linux software enables users to view a 2D slice cut through a 3D rendered image.
It's among those Linux DICOM viewers that can convert DICOM files to NIfTI files directly.
Users can change the appearance of the intensity-color bar to quickly find the range of intensities.
Get MRIcroGL
10. Aeskulap
---
Aeskulap is arguably one of the most popular Linux DICOM viewers for medical professionals. This awe-inspiring Linux medical imaging software allows users to load a series of medical documents. On the plus side, Aeskulap can query and retrieve DICOM files over the network from PACs, which makes it extremely useful for healthcare systems. The open-source software comes with a GNU GPL license and enables developers to customize it as per requirements.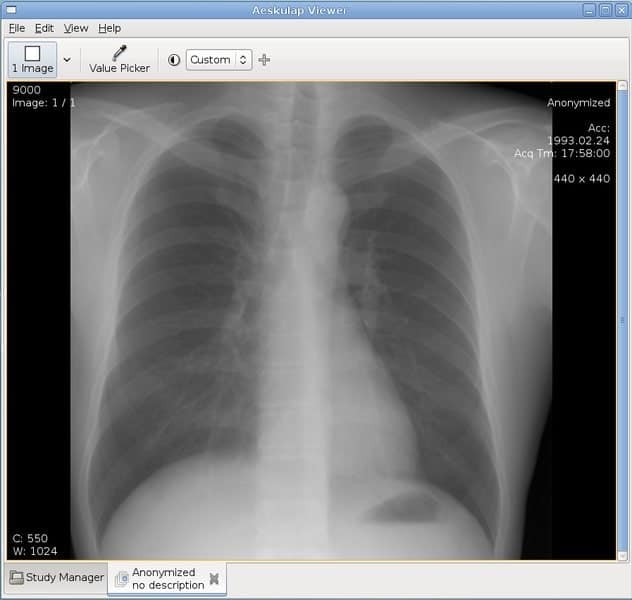 Highlights of Aeskulap
Aeskulap supports a diverse set of DICOM files, such as compressed (lossless, lossy), uncompressed, and multi-frame.
The display support for Rescale or Intercept tags works exceptionally well.
It can handle color images quite well, and users can also define their custom window-level presets.
Aeskulap allows for real-time image manipulation and renders reference images in multiple views.
11. SMILI
---
SMILI(Simple Medical Imaging Library Interface) is another excellent medical imaging software for Linux machines with an easy-to-use Linux DICOM viewer and library. This lightweight medical imaging library is adept at quite a several useful things.
Some of its features include displaying n-D images, vector images, DICOMs, anonymizing medical documents, and shape analysis. The use of several top-notch image-processing algorithms results in a mesmerizing performance.
Highlights of SMILI
The tool is pronounced 'Smiley' in regular use.
It enables users to quickly smooth, threshold, and mask medical images with the built-in GUI and command-line interface.
Being built on top of Qt, the user interface of SMILI is uniform and provides quick access to the Insight Toolkit (ITK) and Visualisation Toolkit (VTK).
Professionals can view and deformation field visualization with SMILI.
12. dcm4che
---
The dcm4che is a collection of powerful and enabling open source applications and utilities for healthcare professionals and aims to provide a convenient means for managing clinical images and objects.
This JAVA-based medical imaging software for Linux offers a robust and flexible interface running entirely inside a web browser. The dcm4chee utility of this library is useful for managing and archiving critical medical documents.
Highlights of dcm4che
It's mostly a library for medical image processing rather than a standalone software on its own.
dcm4che is among those Linux DICOM viewers that can store every DICOM object to the standard Linux filesystem.
It comes with powerful built-in support for the Client/Server PACs model.
Some of the DICOM services of this library include storage commitment, instance availability notification, output content to cd media, etc.
13. ImageJ
---
ImageJ is a mighty powerful medical imaging software for Linux built on top of JAVA, one of the best software programming languages. It can analyze and process 8-bit, 16-bit, and 32-bit medical images. It's one of the most empowering Linux DICOM viewers that allow users to read medical images in TIFF, GIF, JPEG, BMP, and "raw" formats. The software also allows multiple images to share a single window.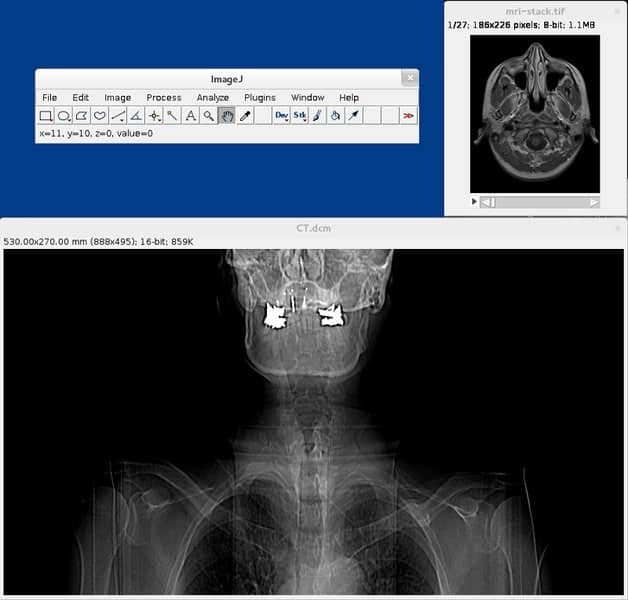 Highlights of ImageJ
The multi-threaded nature of ImageJ places it among the fastest medical imaging software available right now.
The software is released in the public domain, meaning developers can modify and distribute this software as they like.
ImageJ can analyze mean, measure area, standard deviation, min-max selection, and profile plots, among many others.
It enables professionals to perform geometric transformations very efficiently.
14. kradview
---
kradview is professional medical imaging software for Linux systems that allow healthcare professionals to view medical documents from X-ray, NMR, and all DICOM-compatible imaging devices. It's easiest to use Linux DICOM viewers available and can render images instantly, irrespective of size and dimension.
This is a complete platform for medical image analysis and processing and can be used for viewing radiological images and their metadata.
Highlights of kradview
Using this medical imaging software for Linux is comparatively easier than everyday Linux DICOM viewers.
kradview provides several levels of zoom to make sure professionals can analyze the documents quickly.
It can read and edit metadata of medical images obtained from several sources pretty fast.
15. openDICOM.NET
---
openDICOM.NET is a cross-platform open-source DICOM viewer that provides a lightweight and easy-to-use file navigator for easily opening and viewing important medical documents. It comes with a built-in DICOM file browser for Mono written in C#. The opendicom-sharp utility of this powerful medical imaging software for Linux provides a handy API to DICOM.
Highlights of openDICOM.NET
It has full support for ACR-NEMA and DICOM files right out of the box.
This is among those Linux DICOM viewers that can export medical imaging directly into XML files.
Users can view their images with either single or multiple frames.
It also supports gray images with variable bit rates, image slide cycling, and image processing with GIMP, among others.
16. postDICOM
---
Most modern-day healthcare professionals look for robust and portable Linux DICOM viewers for many reasons. postDICOM is one such compelling medical imaging software for Linux that's entirely cloud-based and aims to provide a secure platform for professionals to view and analyze sensitive medical data. Patients can see their documents directly from the web and can share them with doctors.
Highlights of postDICOM
It comes with built-in support for multiple modalities, including but not limited to MRI, CT, XA, PET, and others.
postDICOM cloud PACs enable both medical professionals and patients to utilize this fantastic medical imaging software for Linux.
It features a handy HTML5 viewer for DICOM files.
17. MatrixUser
---
If you want to run full-fledged medical imaging software for Linux on one of your older machines, you might want to stick with lightweight Linux DICOM viewers. MatrixUser is lightweight yet flexible imaging software that provides more than regular performance in even low-resource systems. We found the default GUI interface intuitive, while the image processing speed seemed to be well above the bar.
Highlights of MatrixUser
The GUI interface is highly interactive and provides a smooth user experience.
This is among those Linux DICOM viewers who can convert medical documents in other formats into DICOM directly.
Users can analyze their medical data directly in Matlab.
MatrixUser shines when it comes to manipulating both real and complex data matrices.
18. NextCloud
---
NextCloud is one of Linux's most popular and free cloud-based medical imaging software. It incorporates a rock-stable user interface to make the navigation as pleasant for the users as possible. NextCloud comes with in-built support for several clients, notably both desktop and mobile. The full-fledged DICOM viewer of this med tool is comparable to the best Linux DICOM viewers quite easily.
Highlights of NextCloud
This medical imaging software for Linux is machine-independent and works on the cloud entirely.
It implements several layers of security measures to make sure sensitive healthcare data and user identities remain secure.
The clients come with built-in synchronization ability.
Sharing and managing files is more comfortable than most everyday Linux DICOM viewers.
19. dcm2niix
---
dcm2niix is one of my favorite medical imaging software for Linux that I use to convert complex medical documents into NIfTI, widely used by scientific software. This compelling tool is different from ordinary Linux DICOM viewers because it's not intended for viewing DICOM files but to convert DICOMs into NIfTI. The open-source nature of the software ensures developers can modify the tool as they require.
Highlights of dcm2niix
dcm2niix comes with out-of-the-box support for raw, encoded, and regular JPEG lossless decoding.
A modular handler called NanoJPEG is included in the package to handle lossy decodings.
A flexible yet straightforward GUI interface named MRIcroGL is available for this DICOM conversion tool.
Optional support for Gz compression is also available.
20. DICOMscope
---
DICOMscope is among those top-notch Linux DICOM viewers who view and analyze such crucial medical documents in a child's play. This modern0-day medical imaging software for Linux is maintained by the Debian Med Packaging Team and offers some of the most cutting-edge functionalities you can find. It is free for use and encourages open-source developers to extend it.
Highlights of DICOMscope
It's one of the most lightweight Linux DICOM Viewers, according to our experts.
DICOMscope can receive, process, and transmit large-scale DICOM files over a DICOM network.
A fully functional print server is packaged within the application to print DICOM files efficiently.
21. Invesalius
---
Invesalius is a free yet compelling medical imaging software for Linux used to reconstruct human body parts images. It can generate 3D medical imaging from a set of 2D DICOM files acquired from various medical equipment. Users can import their DICOM files quite quickly in this therapeutic tool and analyze them thoroughly. These files can be exported after processing into several different formats, including STL, OBJ, and PLY.
Highlights of Invesalius
This is among the fastest Linux DICOM viewers and works well even in low-cost systems with hardware constraints.
The image manipulation features work just right out of the box.
Invesalius comes with built-in support for segmentation and region-growing segmentation.
22. Medcon
---
Healthcare professionals often require medical documents in several different formats for many reasons. Medcon is a compelling yet straightforward medical image conversion tool for Linux that focuses solely on this matter. It's unusual to your everyday Linux DICOM viewers and stands for Medical Image Conversion. The C-based application is blazing fast in execution and comes with several widely used features.
Highlights of Medcon
This medical imaging software for Linux currently supports Acr/Nema 2.0, Analyze (SPM), DICOM 3.0, InterFile 3.3, and PNG file formats.
It offers an elegant GUI for a better navigational experience for the user and a built-in command-line utility for advanced users.
The command-line tool makes batch processing with Medcon easy.
23. Orthanc
---
Orthanc is one of the best medical imaging software for Linux that allows the convenient creation of powerful DICOM servers. This lightweight yet flexible DICOM server software provides a RESTful DICOM server that makes it possible to turn your computer into a mini PACs system.
What this essentially means is you can collect your medical documents directly from several medical equipment and process or analyze them over the network.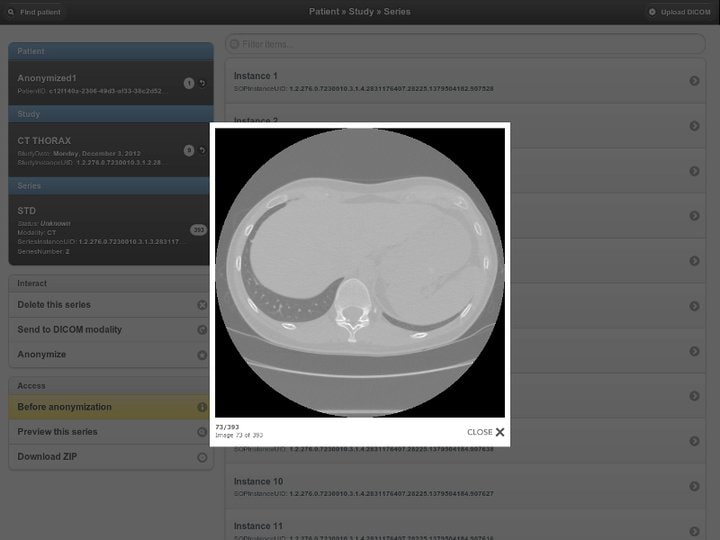 Highlights of Orthanc
The software is very lightweight and doesn't require any third-party dependencies.
Orthanc can generate regular PNG files from DICOM files on the fly.
The RESTful API enables developers to write extensions in almost any programming language of their liking.
24. Trimage
---
Trimage is a useful and flexible command-line utility for optimizing image files efficiently. A handy GUI interface is also available to let new users explore this mesmerizing medical imaging software for Linux. Trimage compresses all of its images in a lossless manner and succeeds at delivering high-quality images in the lowest possible size.
Highlights of Trimage
Users can take provide a range of inputs into Trimage to control their workflow.
Trimage comes with built-in support for file dialog, drag, and drop.
All images are converted without any loss by Trimage.
The official binary is available for Debian, Ubuntu, and Arch Linux variants.
25. Gwyddion
---
Gwyddion is an easy-to-use yet useful medical imaging software for Linux that makes analyzing and visualizing probe microscopy data a breeze. It supports a large number of microscopy data-obtaining techniques, including AFM, MFM, STM, and SNOM/NSOM. On top of that, its open-source license makes it possible to customize the software as required by professionals quite easily.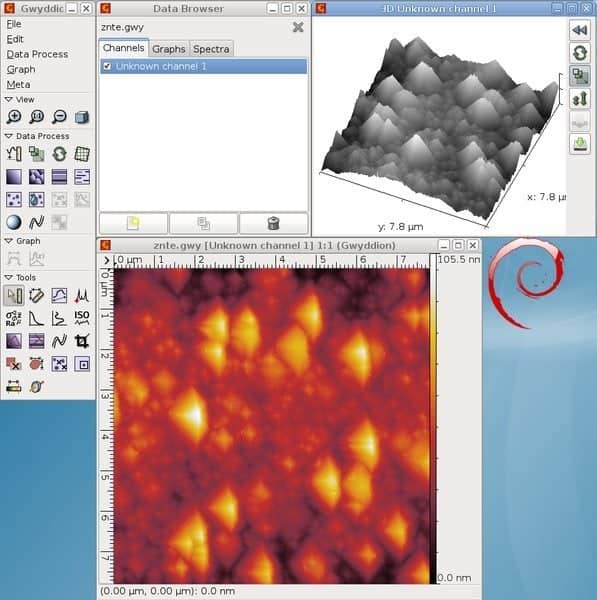 Highlights of Gwyddion
The modular application can be extended using third-party developer plugins and custom modifications.
The GUI interface is very interactive and lives up to modern-day requirements.
Gwyddion offers plenty of functionalities in a small package, from standard statistical characterization to leveling and data correction.
Ending Thoughts
---
Since powerful medical imaging software is abundant for Linux, you need to weigh your requirements above everything else when choosing the best Linux DICOM viewers. We also found image conversion tools to be helpful when it comes to analyzing medical data effectively. Hopefully, you've gained the essential insights you were looking for from this vast but informative guide. We'll see you soon with more such modern-day guides and tutorials.