Joplin is an open source and free Note-taking and to-do application for all the major OS including Linux, Windows, and MacOS. It can support a large number of notes in an organized notebook. You can create notes in markdown format and can be searched, tagged, copied, and modified directly into the app or from an external text editor. It has some unique features that make it stand apart from other note-taking apps. Worth mentioning features are the end to end encryption, markdown language, sync through third-party cloud storage services like Dropbox, Nextcloud, Onedrive, and WebDAV.
Read Also: EncryptPad: An Encrypted Text App for Linux to Protect Your Secrets
If you are using Evernote and worry about how to export and import all the data and notes, don't get tensed, Joplin can handle all the notes and information which are exported from Evernote or any other note-taking app. All the notes can be easily imported into the Joplin including formatted content, resources, metadata, and all other attachments. Moreover, you can also import plain markdown files.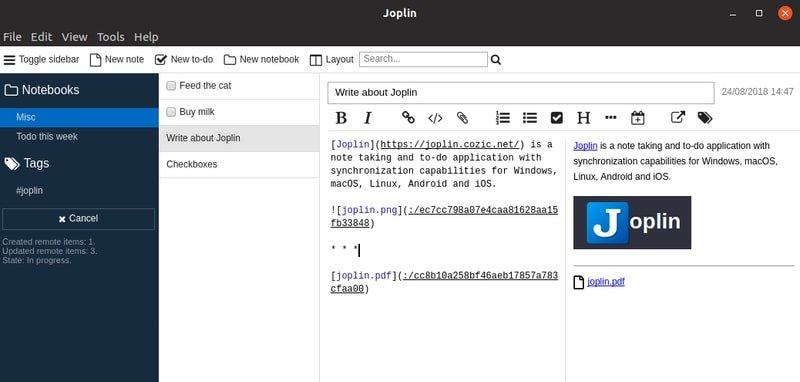 One thing I have forgotten to mention that when you sync the notes, notebooks, tags and other metadata into the cloud, everything will be saved in plain text files which in turn you can check, modify, move or take a backup also.
It has a Firefox and Google Chrome Extension called Web Clipper that helps to save pages and screenshots from the web browsers. Joplin provides an optional command line client. It supports various file format during import and export like Enex file and JEX file respectively. You can create or see all the notes and notebooks in offline mode, so you don't require internet all the time to get the required information.
Though this application doesn't provide all the features and tools than that of Evernote does. Still, it can be considered as one of the best Evernote alternatives for Linux. Joplin is designed in such a way so that it can import all the data format from the Evernote including notes, tag, attachment, images, geotag, creation and update time, etc.
Install Joplin in Ubuntu Linux
---
Joplin provides an AppImage format for installing it in Linux system. If you want to know more about how to install software in Linux, check my beginners tutorial on it. Follow the below steps to install the Joplin AppImage.
Download the AppImage from below link.
Double-click the Downloaded AppImage and select Make executable and run.
If the above step doesn't work, then make it executable by following : right click > Properties > Permissions > Allow executing file as program.
Is this tutorial helpful? I hope you liked it. If so, then please take a moment to share this short tutorial on your social media. And don't forget to share your experiences and suggestions in the comment below.