Are you looking for a tool to clone the partitions and restore them without any changes? If so, you're in the right place. Partclone is your desired application for cloning and restoring partitions. It's an entirely trusted software for your files backup and won't harm any of your files.
The NCHC Free Software Labs in Taiwan developed this outstanding software. Even Clonezilla uses it as its default backup application. This app comes with a backup and restores utilities for only the used blocks on your partitions. It won't even touch the unused blocks or free space file system.
It's also highly compatible with the existing file system libraries. It will amaze you that Partclone can support so many file formats, including f2fs, xfs, hfs+, jfs, nilfs, ntfs, ufs, reiser4, reiserfs, btrfs, fat (12/16/32), exfat, ext2, ext3, and ext4. This feature makes Partclone stronger and more useful. Besides, It has so many other features which make it out of the box. Let's have a look.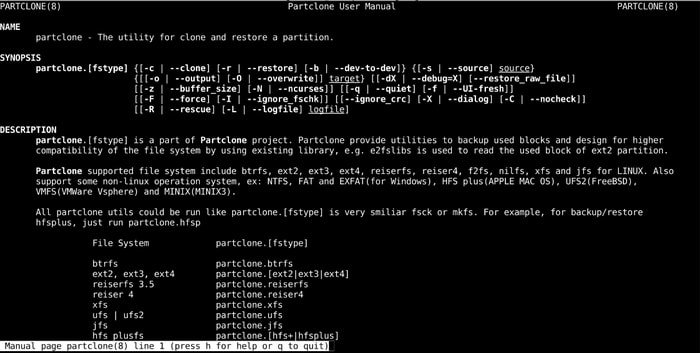 Features of Partclone
---
Cross-platform software is available on Windows, Linux, MAC, and ESX file systems.

An open-source software released under the GNU GPL license.

Available system backup and restore.

Partitions cloning to image files.

Faster cloning of partitions.

Comes with piping support.

Provides beginners with an online user manual.

Allows raw clone support.

Provides an online documentation page.

Available support for crc32.

Offers support for rescue.

Available FreeBSD.

Supports ufs for the FreeBSD file system.

Provides vmfs support for ESX VMware server.

Shows both the elapsed time and the transfer rate.
If you are in confusion about how to install it on Ubuntu, then please follow the below commands for installing and using this app:
Install This app in Ubuntu Linux.
sudo apt install partclone
Clone partition to an image.
# partclone.ext4 -d -c -s /dev/sda1 -o sda1.img

Restore the image to the partition.
# partclone.ext4 -d -r -s sda1.img -o /dev/sda1

Partition to partition clone.
# partclone.ext4 -d -b -s /dev/sda1 -o /dev/sdb1

Display image information.
# partclone.info -s sda1.img

# partclone.chkimg -s sda1.img
That's not all. With Partclone, a vast number of other programs are also available such as partclone.exfat, partclone.ext2, partclone.vmsf with v3 and v5, partclone.hfsp, and so on. Are you still thinking? Just give it a try. There will be no disappointments using this app. You can easily clone your required partitions using Partclone and restore them quickly. It can be your best backup for partitions.
Do you like this article? Is there any information I missed? Drop comments below and tell us your opinion and suggestions. And if you like this article, share it on social media and let others know about it.