Software has made our life really comfortable, and almost all industries now seek to enjoy the advantages of automated software solutions. Accounts payable software is one of the widely used software categories that we use for processing and recording payments. You will find a variety of invoice management software that can match the demand of small business solutions and large enterprises.
Automation is the major reason behind the impeccable popularity of accounting software nowadays. It can help to reduce labor-intensive work, and you can also minimize the number of mistakes. Although some manual tasks like data entry or matching invoices may still be required, it will save a lot of time for you in the long run.
What is Accounts Payable Software?
---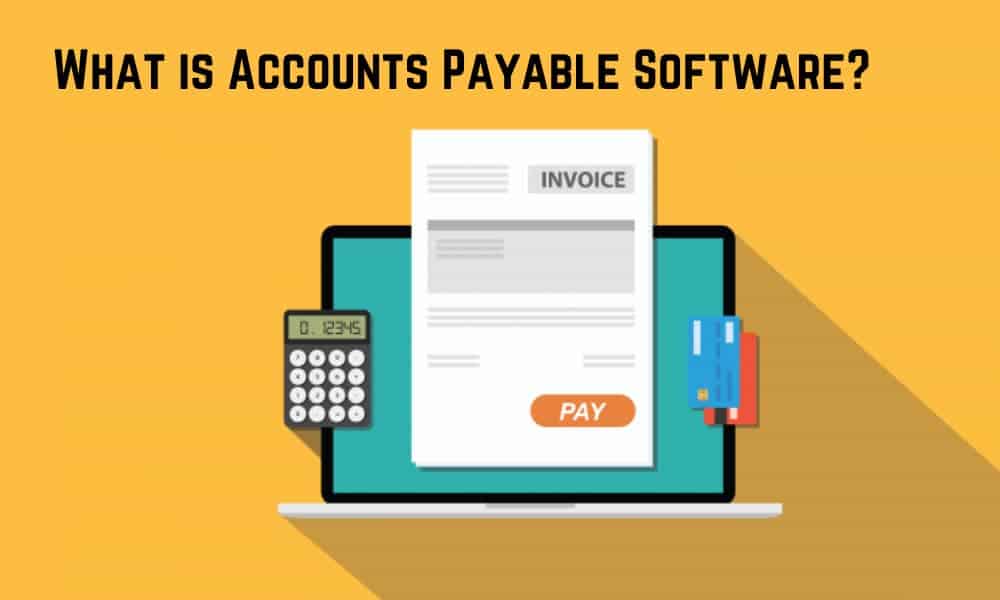 You will find a wide variety of accounting software available in the market. As a result, you may become confused about what accounts payable software does and how you can integrate it with your organization.
To keep things simple and understand better, you can consider account payable or inventory automation software to facilitate accounting and financial processes. These may range from basic single-entry apps to even advanced double-entry programs. Some of them again come with a general ledger, as well as accounts payable and receivable functionality.
Why Should You Use Accounts Payable Software?
---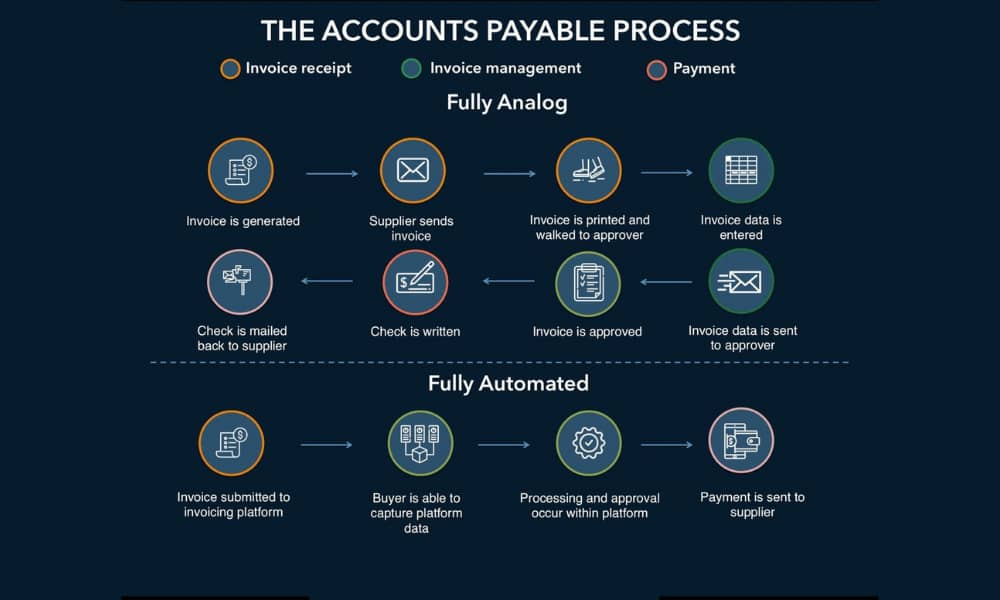 There are many advantages that you can certainly enjoy after successfully integrating any of the accounts payable software into your existing processes. We will mention why you should start using software for account management to gain more control over the operations and generate sustainable development for an improved outcome.
Improved efficiency and organization are the major reasons, although you can also consider integrating with General Ledger Software to avoid double entries. It can also eliminate the risk of duplicate invoice entries because any recognized invoice automation software can replace 50 percent of Manual Keying.
Besides, you can always store your invoices and keep them safe from fire, flooding, and theft. As a result, you will no longer have to depend on paper invoices, and digital payments can keep your bank numbers secure from third parties.
Accounting software can also make communication with vendors smoother and help to build a solid relationship. While you can save a lot of time for your vendors, they can also get paid faster and get rid of the unnecessary hassles. So you can easily understand how this software can reduce the use of paper and build high-quality financial records. You can also use this application to improve efficiency as well.
Top Accounts Payable Software and Solutions
---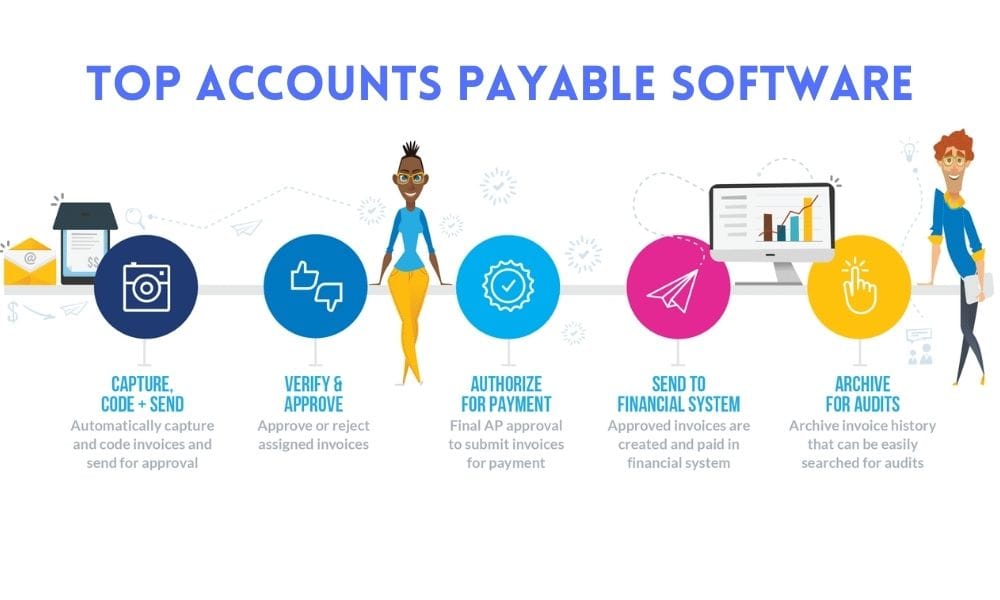 We are going to bring light on the best accounts payable software in this article. So evidently, if you are looking for software that can help you manage accounts, then you came to the right place. You should understand the requirements and demands you want to meet before picking the software most suitable for you. We will also highlight the key features and compare the insights to help you make a wise decision throughout this article.
1. Sage Business Cloud Accounting
---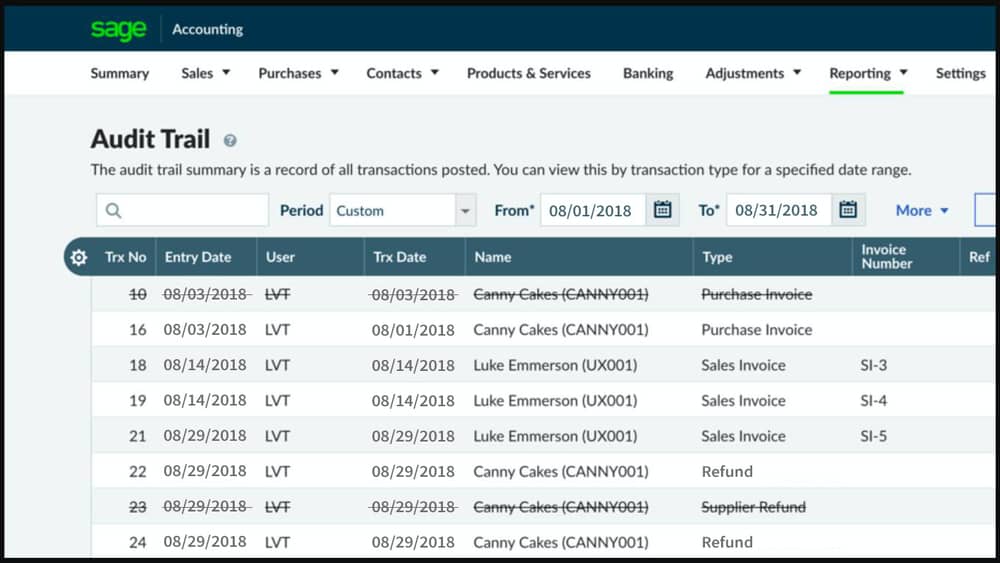 We are going to start this list with cloud-based ERP accounting software that is designed to simplify your accounting process. The AICPA also authenticates its credibility and endorses it. Users can easily access this application from anywhere in the world, which has made it a straightforward choice for accountants. There are several cool features while you can also integrate Sage 50Cloud as an add-on with the service. It will unlock useful storage in the cloud and store your accounting information securely.
Important Features
It is one of the cost-effective accounting solutions available right now. The price range is suitable for most small businesses and Midsize companies.
You can start tracking and monitoring payments in real-time. Also, this software can make approvals simple and assist in generating powerful reports.
Besides, AP automation is also there, which can extend the capabilities and efficiency of Sage Cloud Accounting to a great extent.
Equipped with extensive data visualizations, the dashboard can give an overview of your business and transactions anytime.
Comes with functionalities like supplier purchases, customer sales history, and bank statement imports to give full control over your banking and cash flow.
It is a smartphone-friendly application that lets you check customer information and records by logging on anytime using your Android or iOS smartphone.
2. Oracle NetSuite
---
Like other Oracle applications, this application renders exceptional performance and produces significant results for your business. It is another cloud ERP system that comes with exciting features to match the business requirements.
Netsuite can easily perform various functions because of the availability of many modules or suites. Equipped with accounts payable software, Netsuite can easily fit in any mid-sized and large enterprise. But if you consider the starting price, you will find more cost-effective solutions available out there.
Important Features
You will really enjoy the seamless integration of accounts payable automation with Netsuite that can enhance the capabilities of your business processes.
With features like financial and revenue management, fixed assets, order management, billing can automate the front and back-office operations.
It will enable you to easily get the result of the key performance indicators and generate reports for making more informed decisions.
You will find built-in business intelligence features and a well-connected order management suite to speed up order-to-cash processes.
We should also mention the production management features that are certainly best-in-class and leverage the full visibility of your workflows.
It is a developer-hosted software-as-a-service. Starting from finance, HR, sales, operations, and also service departments can use this software.
3. QuickBooks Online
---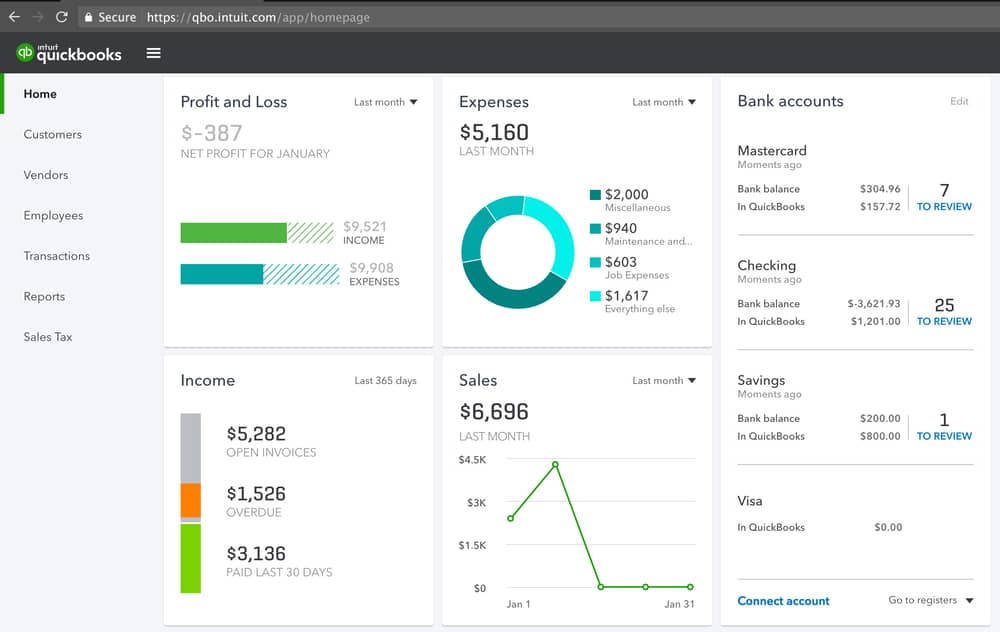 It is one of the handiest software we have tested in recent times. With the interactive and compact dashboard, this software makes the processes easygoing for beginners. Although it is the cloud-based version of the QuickBooks accounting software, you will find all the important features and tools functioning properly.
There are many people who will declare it as the best invoice automation software without a doubt. Besides, it is cost-effective and affordable, which makes it an obvious choice for small entrepreneurs.
Important Features
It comes with the QuickBooks Apps Store, where you will find a ton of third-party integrations for seamless automation.
Although you will find no difficulties while collecting Quickbooks with Bill.com, you will discover several essential payment features not included.
Supports a wide range of payment methods, such as Apple Pay, wire transfers, credit cards, debit cards, PayPal, ACH electronic bank transfers, and so on.
Along with entrepreneurs, freelance bookkeepers, organizers, and independent accounting firms can enjoy the benefits rendered by Quickbooks Online.
Dedicated features like invoice management, tax evaluation, cost tracking, and sales reporting set it apart from its competitors.
Simplifies accounting and financial management, and you will get support for loss control, invoice customization, or bill payments.
4. Tipalti
---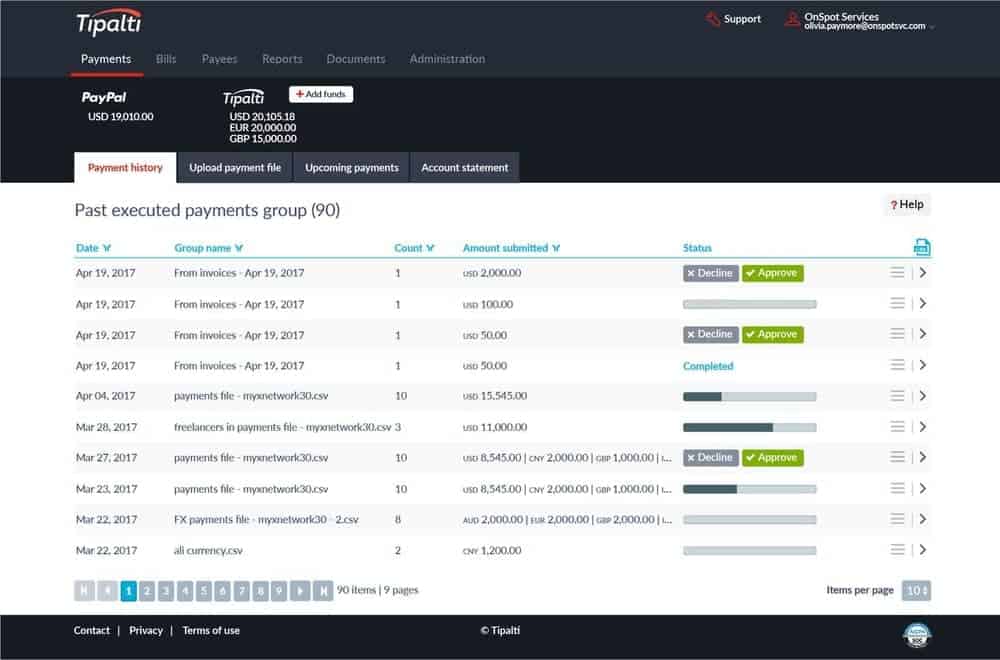 Tipalti is award-winning invoice automation and management software. If you are facing difficulties managing your invoices, then Tipalti can solve all of your pain. It is a cloud-based integrated SaaS that can automate the accounting process of your business. You can consider it as add-on software.
Equipped with features like self-service supplier onboarding, Tipalti can take pride in becoming a part of your business processes any day. This software can serve up to 20 employees at a time, which makes it ideal for midsize and large enterprise companies.
Important Features
You will discover all the useful features for automating your accounts, such as invoice automation, automated invoice approval workflows, and multiple payment methods.
It supports almost any type of currency, and you will get help when it comes to global mass vendor payments, tax compliance, and fraud reduction as well.
If you want to reduce the finance management time, Tipalti can optimize the payments, considered one of the major struggles in any business.
Transforms the complex and confusing process into simple day-to-day tasks. You will be fully satisfied, which you can understand if you see the number of their customers.
The most powerful feature of Tipalti includes its ability to enhance the vendor and customer payment experiences without compromising the quality.
Features like payment clearinghouse, supplier management, payment reconciliation, affiliate program management integration, and fraud detection are also there.
5. Xero
---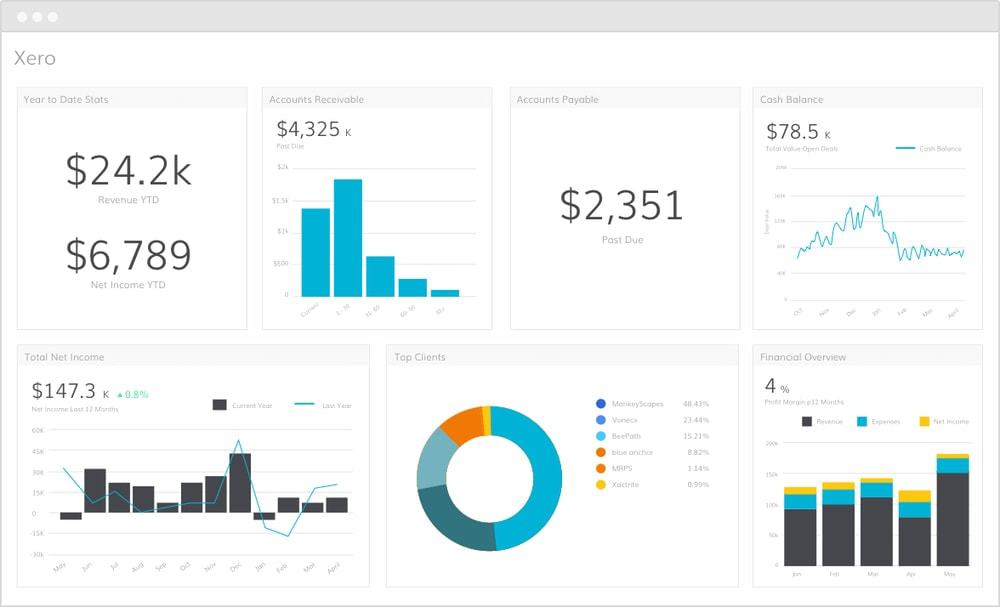 It is a New Zealand-based cloud accounting software that is designed to serve small and mid-sized companies. Xero is another significant addition to our shortlist of impressive accounts payable software. You can consider it as an alternative to Quickbooks Online, and you can integrate this will Biil.com.
But Xero is not ideal for global businesses that take cross-border transactions. Besides coming with strong account reconciliation, and data import, Xero can still be a great contender for becoming the best invoice management software available right now.
Important Features
Xero is a brilliant solution to have full control over your business operations, such as sales and purchase transactions, project tracking, and so on.
The setup process has been improved a lot in the newest version, and the pricing starts from as low as $60.00 per month.
You will find the dashboard very interactive and can render an overview of the important insights. Xero can also help you to generate fresh business views.
Accountants can take the support of the smart lists, while the Interactive quotes can make the work more enjoyable.
The project tracking features are exceptional and can meet all of your requirements effortlessly. You can also get super online support once you become a user.
You can integrate Xero with Gusto, considered one of the most popular payrolls but compared to its competitors, the mobile app is not comprehensive at all.
6. FreshBooks
---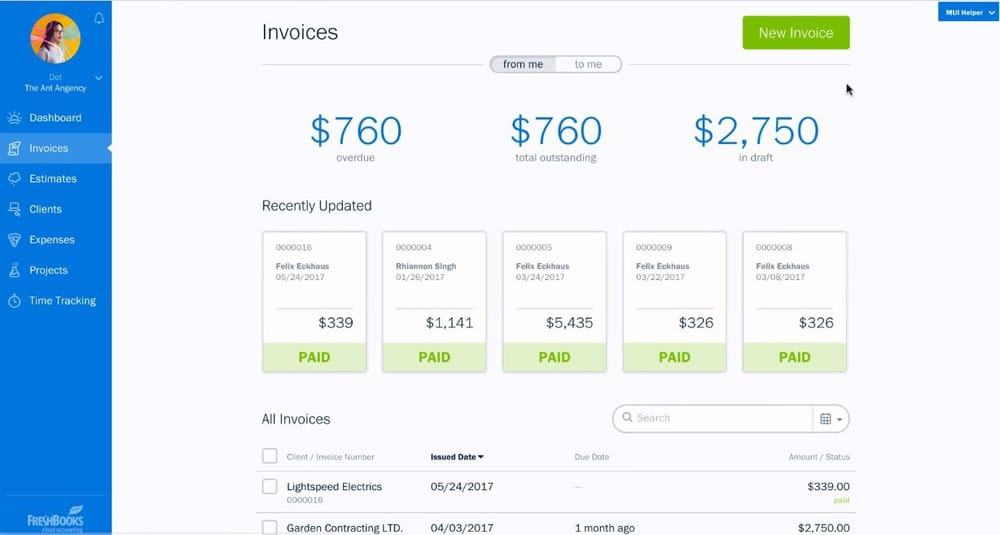 This software has got the recognition of becoming the best accounting software back in 2021. It is most suitable for small businesses, while other financial organizations can also take the help of this software by deploying it in their workflows.
It comes with accounts payable and payments, while this cloud computing accounting app can certainly make billing easy and efficient. FreshBooks can be considered as a guide when it comes to managing key processes. Besides, you can also generate expense files and track billable hours using this software.
Important Features
This software has the highest customer satisfaction rates when comparing it to all the leading accounting software currently available in the market.
Streamlining client invoicing and time tracking processes are the major reasons behind its popularity among businesses.
It comes with a set of features to match the demand of any accounting function. Freelancers can use FreshBooks for tracking sales cycles and collections.
Allows users to customize financial documents and modify design, colors, and logos to make them more presentable and professional.
It offers a reliable and fast accounting suite that can convert complex financial management into a fun enjoying the experience.
Supports a wide range of third-party payment applications such as Stripe, Shopify, PayPal, and G Suite. You can also chat and send invoices to customers.
7. Melio
---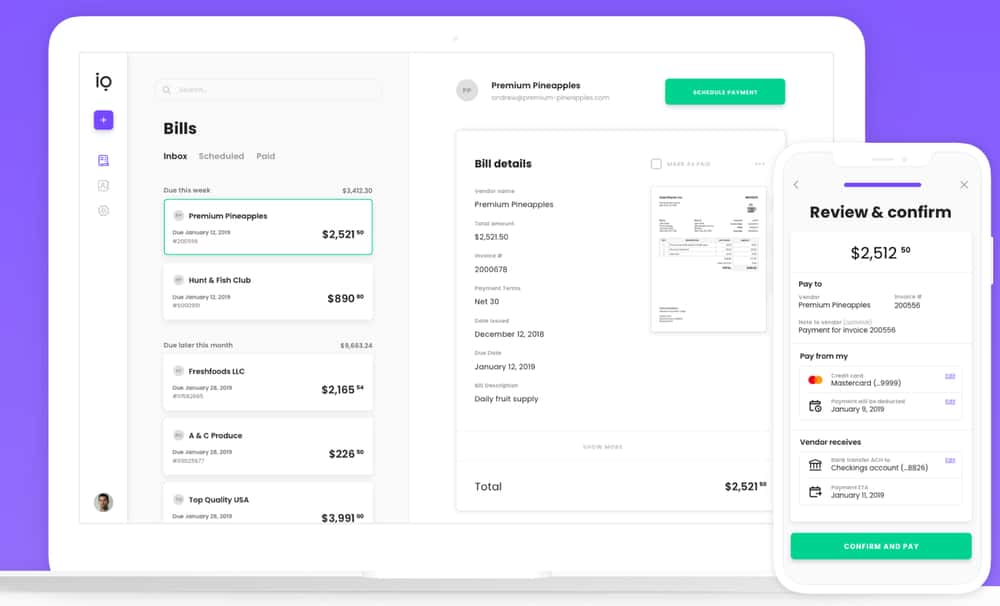 When most of the software deals with account management automation, Melio tries to focus on invoice automation. It is a web-based payment system that you can use to pay both your customers and vendors. A wide variety of payment methods include bank transfer, debit, or credit card. You can also complete the payment where only check payment is available. Besides, you can also connect other software like Quickbooks to manage payable accounts seamlessly.
Important Features
You can get rid of the delivery charges as Melio can take the responsibility of sending deposits or mails checks to your vendors.
The application is completely free yet powerful. You can keep using this software virtually from anywhere, using internet-connected smartphones or computers.
It can perfectly fit in for busy entrepreneurs and professionals. Melio can help in cash flow management and save a lot of money as well.
You will discover all the useful features packed within the application, including ACH payment processing and Approve Process Control.
Along with the core features to facilitate Billing & invoicing, this software offers fraud detection and protects you from enormous loss.
You can take advantage of a payment schedule that can enable you to avoid late payments. It will give you full control over the transaction approval.
8. Paramount WorkPlace
---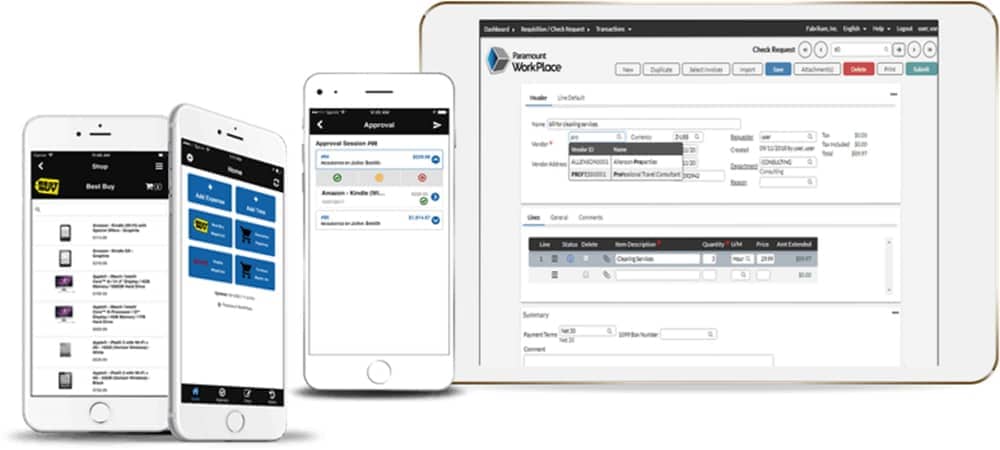 If you are looking for a reliable requisition, procurement, and expense solution, then Paramount Workplace should be your first choice. It will help minimize your organization's processing cost and increase procurement and requisition efficiency.
It is an ideal solution for companies of any size, starting from small, medium-sized, and even large enterprises as well. You can expect to get support for over 3,000 users at a time. Besides, it can fit in any industry, which has made it popular among accountants.
Important Features
Paramount Workplace can enhance the capability of your team to facilitate convenient purchasing to remain within the budget.
It comes with a pre-defined and ad hoc approval process where entry rules can be deployed for controlling the company's expenditures.
It works perfectly as an invoice automation management to easily eliminate the manual work process and go paperless.
Besides, features like detecting variances, smart optical character recognition processing, and imposing approval rules are also there.
Delivers all the useful and robust requisition and procurement features that include catalog purchases, purchase approval, payment processing, and tax assessment.
It is a modern application that offers mobile time capture, travel reporting, a secure RFQ portal, dynamic engine approval workflow, and punchout capabilities.
9. Kissflow Procurement Cloud
---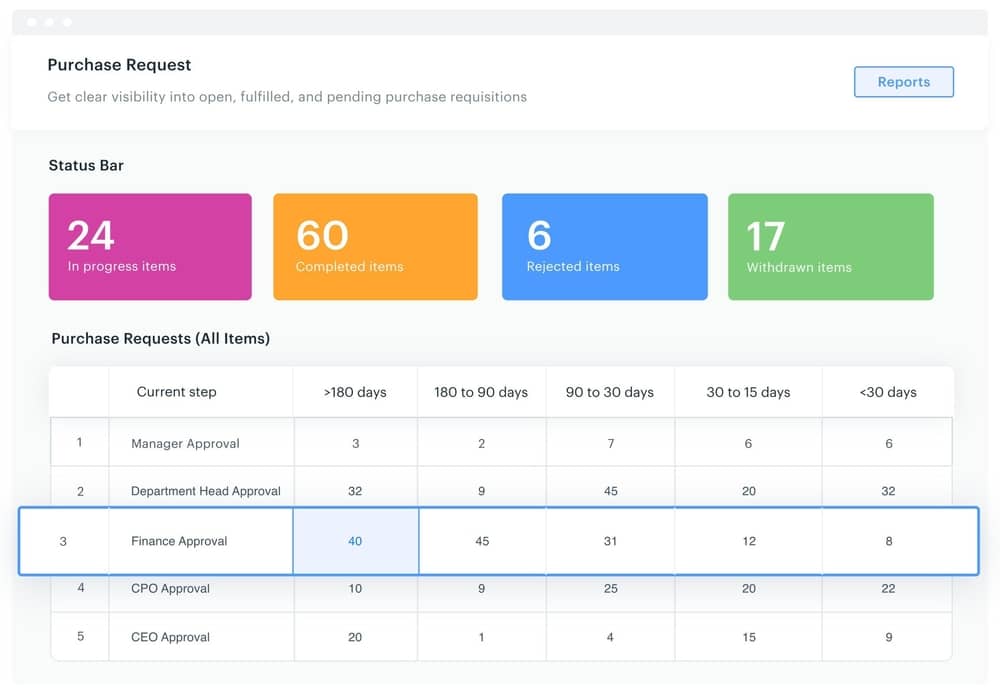 You will find a few accounts payable software that can come close to Kissflow Procurement Cloud when it comes to simplifying purchasing processes. Besides, it can also contribute to enhancing engagement with suppliers with its dedicated procurement tools.
It is a user-friendly app, and you will not have to face many difficulties to get going with this cloud-based software. If you are looking for an application to focus more on building strong relationships with the vendors, then Kissflow can be an ideal candidate to be in your priority list.
Important Features
Be able to handle all of your procurement processes using this flexible web-based procurement management software.
Starting from encompassing purchase requests, orders, and invoices, this software will enable you to monitor purchase data reporting and performance.
It comes with a customizable digital form that lets users make purchase requests and collect important information.
All of your approved purchase requests will be converted automatically to purchase orders that can save a lot of time for you and eliminate the manual workforce.
You will have full control to deploy automation. Accountants can also make the most of this software by increasing the efficiency of business operations.
Besides, powerful data visualization tools and smart alerts, 3-way matching, automatic routing, and vendor performance monitoring come within the package.
10. PaperSave
---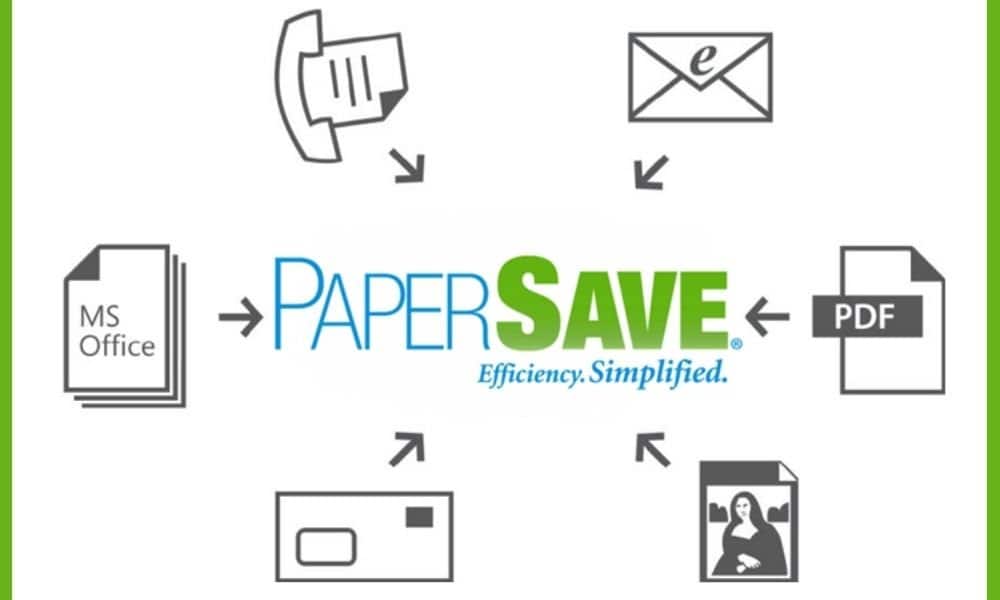 We are going to conclude this shortlist of the best invoice automation software with advanced document capture and management tool. It is known for its electronic workflows and smart forms, while you will find all the important features required to automate payments.
The best part of this application is its ability to capture any type of documents from sources like scanners, faxes, emails, Microsoft Office, etc. It can also validate data to modernize business operations.
Important Features
Equipped with an Optical Character Recognition Engine that increases the document imaging capability while extracting data from various sources.
You can automatically extract data using PaperSave, getting you rid of repetitive workflows and manual data entry.
Besides, PaperSave can help to generate efficient work processes using automation and innovative solutions consistently.
When it comes to streamlining auditing and monitoring corporate processes, PaperSave can generate reports and delegate tasks for your company.
If you want to generate new business rules for creating a general ledger distribution, PaperSave will be one of the best solutions you will find in the market.
You will discover a central document database, ERP integrations, Intacct integrations, search function, CRM, and Blackbaud integration as well.
Our Recommendation
---
If you have read this article up to this point, you should have already understood the power and importance of quality accounts payable software in any industry. It is not an easy task to declare one software as the best as they are quite common in features, capabilities, and functionalities as well.
It solely depends on your requirements and budget. However, there are other things you may consider, like the number of people it can serve, availability of third-party integrations, and so on. But there are many people who are going to count on us and pick the suggested software without a second thought.
So to make your decision easier and keep your journey smooth, we are declaring Quickbooks Online as the best invoice management software. You can integrate it into a huge number of third-party applications while it is super simple to use. Besides, it supports a wide range of payment methods, and the online support is phenomenal as well.
Finally, Insights
---
So here are the best accounts payable software you will find currently in the market. If you notice, you will find a lot of similarities that can make your choice harder while making the final call. We have highlighted the key features to enable you to understand the advantages and disadvantages of each software.
Accounting software has become a fundamental part of businesses of today's days. Starting from automating the accounts payable payment process, an account payable application can also serve you with OCR invoice scanning, automated approvals, invoice management, cost and loss tracking, cross-border payments, and document management. We believe this article will lead you to find the software that fits you best.