If you are looking for the best apps to clean Mac, then you are in the right place. Cleaning your Macintosh is doesn't mean clean the hardware. Rather it means cleaning the residual files from Mac's system partition. Regular cleanup is crucial for any computer, no matter whether it runs on macOS or any other operating system. It makes your computer virtually tidy and boosts up the overall speed of the system.
The day by day operations leaves a lot of unwanted files and cache in your system storage. They bloat the computer and make it slow. Of course, we can remove those residues manually. But that is time-consuming as well as risky. If you are a newbie, you might end up deleting an important file instead of the temporary files. This is why it's better to rely on automated cleaning software for the cleaning process.
Best Apps To Clean Mac Devices
---
Since the cleaning tools deal with your storage device, you should be careful while choosing one for your Mac. Cleaning software from unknown sources fishy vendors might make your computer vulnerable to privacy threats. Luckily there are some great tools from reliable vendors available for Mac to clean it up.
But which one to choose among them? Don't worry, and I was confused too when I switched to Mac from Windows a long ago. Since then, I have tried out several paid and free Mac cleaner software. So, to make your job easy here, I am providing you a list of the best apps to clean Mac computers.
1. CleanMyMac X
---
CleanMyMac is probably the most popular and best software to optimize and clean Mac out there. MacPaw develops this tool, and after a lot of upgrades, CleanMyMac is quite matured tool now. This tool removes junk files from the storage and optimizes the system to make it smoother and faster. So, this is kind of a "jack of all trades" for your macOS computer.
This tool comes with a yearly subscription model. But you can make a one-time purchase also. I think the performance totally justifies the price. On top of that, you can transfer the license if you change your computer.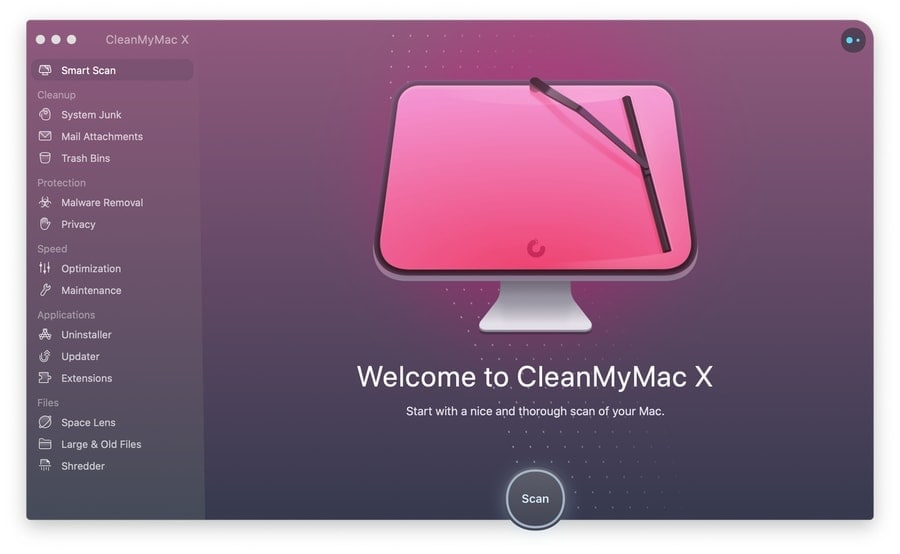 Key Features
The package contains 30 different modules to inspect the issues of your Mac and fix them accordingly.
It can protect your Mac from malware attacks by utilizing its built-in antivirus.
The tool works as an app uninstaller so that you can safely remove unused apps.
The user interface is quite modern with gradient effects, and it's pretty user-friendly too.
You can manage your disk space as well as can get an overview of the health status of the computer.
Pros: The one-time purchasing option is pretty affordable. Besides, the developers offer special discounts for the students on their official website.
Cons: The tool is a bit heavy, and sometimes you might find lag here and there on the older computers.
2. Macbooster
---
Macbooster is yet another powerful and one of the best apps to clean Mac. This tool is from IObit, which is a popular vendor of utility software for various operating systems. This all-in-one tool can perform system cleanup and removes unwanted residual files from the system. There is even a security module that works like a full-fledged antivirus. It will surely make your Mac secured and will boost the overall experience. Though this is a paid tool, you can have a free trial before making a decision.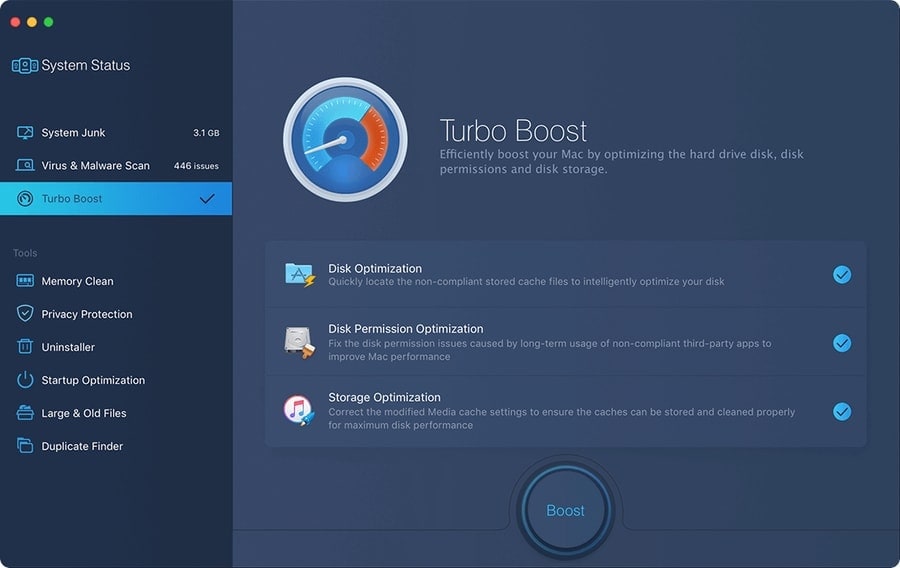 Key Features
This tool can find duplicate contents and removes unwanted files safely.
You can totally rely on this tool for cleaning up junks of 20 different types.
Optimizing start-up programs and memory cleaning speeds up the system.
There are various privacy-oriented features for browsing the internet safely.
The menu bar widget will show you the health analytics of the system.
Pros: The package can be downloaded for free without any cost. Hence, you are getting the chance to check it out before purchasing. Monthly subscription plans will be convenient for many users.
Cons: The price is a bit higher than the competitions considering the features it provides.
3. MacKeeper
---
MacKeeper is here in the game for quite some time now. Within this period, it gained much popularity. This is a complete optimization solution for your computers running macOS. Although the features are mostly performance-oriented, you will see a lot of privacy features too.
On top of that, some bonus modules present in this app are not always seen in this type of tool. Updating system software and drivers is a very convenient feature of MacKeeper. It has both monthly and yearly plans for availing of the features. But I think the yearly plan is quite a bargain.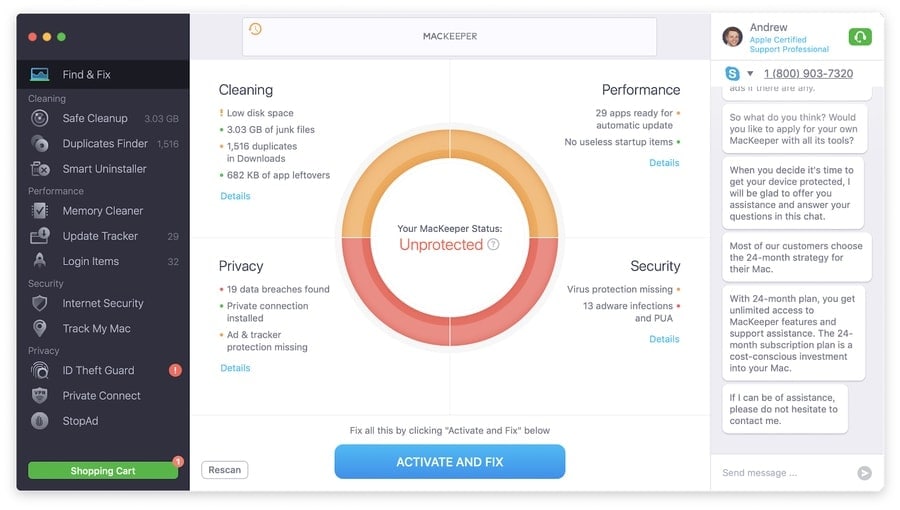 Key Features
There is a find device option that will help you to lock and erase the device remotely.
It can block unwanted ads as well as the adware that is putting stress on your system.
The detected junk files are neatly arranged so that you can manually take actions accordingly.
It acts as a guard within your storage to protect your data from stealing.
The optimizer can love the app crashing issue and boosts the overall speed.
Pros: Built-in complimentary VPN service is a nifty feature. These extra features increase the value of this software and make it stand out against the crowd.
Cons: This tool shows too many pop-up notifications regarding your system that is annoying sometimes.
4. MacCleaner Pro
---
MacCleaner Pro is a simple yet one of the best apps to clean Mac devices. Just like the name, you will get pro-level performance on this tool. It performs various operations like cleaning, optimizing, performance-boosting, and many more.
It will detect the apps and plugins that are eating up your system resources. Then you can take action against the unnecessary tasks. Analyzing the storage devices is also a great benefit you will get from MacCleaner Pro. You are getting the lifetime license of this tool at an affordable flat rate, I guess.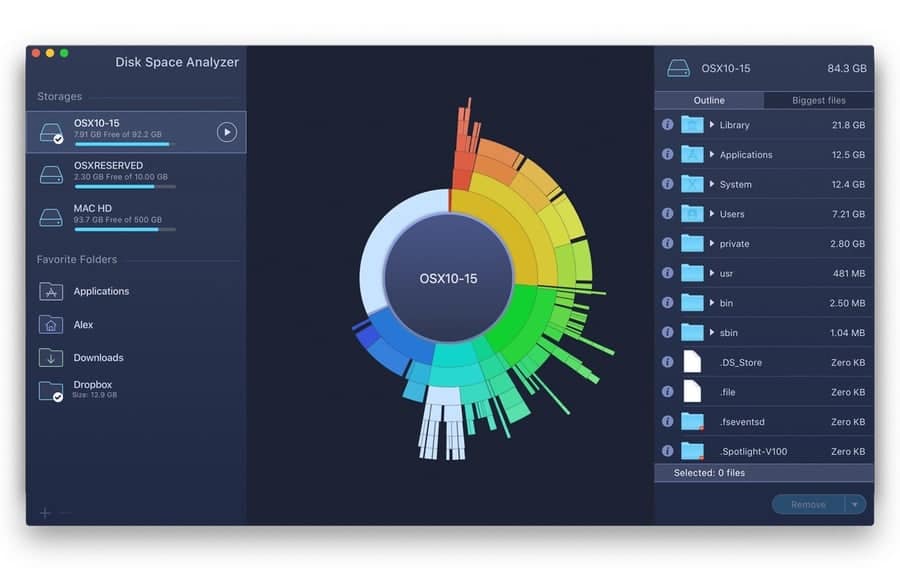 Key Features
It can detect similar looking photos and removes duplicate images and files.
You can sort the files based on various criteria to find out rarely used and large files.
The advanced uninstaller can remove apps without leaving any trace on your system.
Reindexing mailboxes, Spotlight, and other databases is a useful feature for the performance boost.
The app features multi-level security so that you don't lose your important system files.
Pros: The developers have optimized this pretty well for the newly launched macOS devices with Apple's in-house M1 chip.
Cons: You won't find security and malware protection features in this app, which would make it totally perfect.
5. Smart Mac Care
---
This tool beautifully does the cleaning job on Macintosh computers, and I will say that this is one of the smartest tools out there. It works like a doctor and finds out the issues to fix them accordingly. Along with the regular system junk removal features, you will find several privacy-oriented features in this software.
There is an automated scanner that will scan for malware or any kind of unwanted threats. You can also use the advanced functions to perform various optimization tasks manually on the storage drive. This tool can be downloaded for free, which makes it one of the best free Mac cleaners. But to use all the features, you need to buy the license key.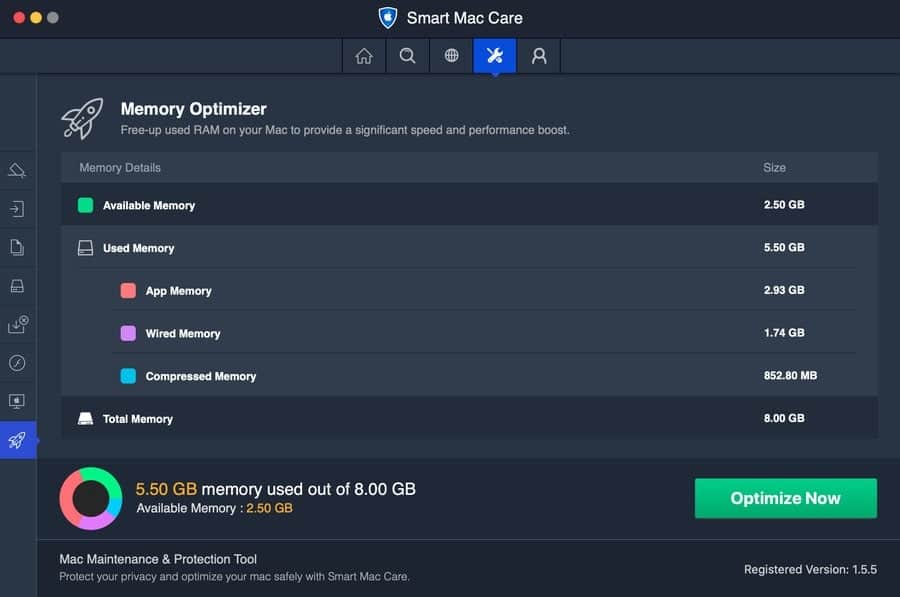 Key Features
It can completely clean your storage disk and make it organized.
You can scan the entire system to find any loopholes and security issues.
This app significantly decreases the time to start the device up.
It can automatically fix the detected issues in one-click.
Smart Mac Care makes your internet browsing tension-free by protecting you from spyware.
Pros: The user-friendly UI is the main benefit of this app. Even people with no technical knowledge can operate this tool.
Cons: The price of the license key is higher than other similar tools considering the features it provides.
6. CCleaner
---
CCleaner is very popular among Windows users. The Mac version works fine and is loaded with many features. This free Mac cleaner software is pretty lightweight and works even on the older versions of macOS. Piriform develops this tool, and there is an option to upgrade to the pro version of the app.
The pro version has lot more features like automatic updates and real-time protection. The UI design is a bit old-school, but luckily you will find all the important features neatly arranged in categories. This is considered one of the best apps to clean Mac for free.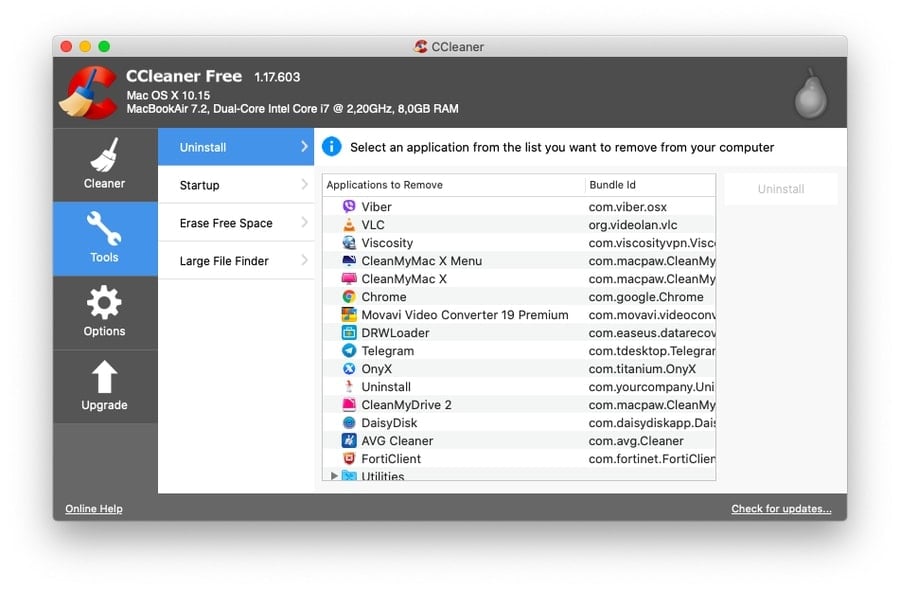 Key Features
This tool significantly boosts the start-up time of your Apple desktop devices.
It can search for temporary files in various directories to remove them safely.
This best free Mac cleaner protects you from tracking cookies from various websites.
The advanced users can customize the way CCleaner will behave with the junk files.
The lightweight UI uses fewer system resources and works great on weak hardware.
Pros: The free version offers a lot of features. Again, the pro version upgrade feature doesn't cost a huge sum of money at all.
Cons: The design of the user interface doesn't go well with the latest macOS design, which I didn't like personally.
7. TuneUpMyMac
---
This is a powerful software suite for your Mac to tune up its overall speed and performance. The most interesting part of this tool is the easy to use interface. I didn't find any difficulties to use it. There are some options to automate your tasks too. After analyzing the issues and junk files, you can remove them with a single click. Overall, the workflow is very straightforward. The lifetime license is a bit costly, but you will find it at a discounted price most of the time.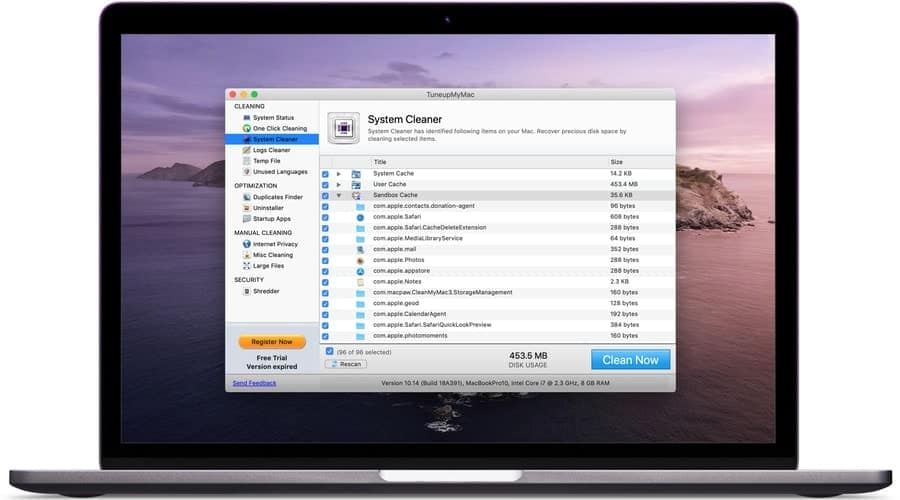 Key Features
It has three different modules such as cleaning, optimization, and security.
The cleaner can wipe out unnecessary log files and temporary directories.
It can even detect the language packs installed by different programs that are eating space.
There is a cool module that will help you to delete classified data permanently.
Duplicate finder and app uninstaller are also nifty features that will help you.
Pros: Although the look and feel of the app are not that great, it has brought some exclusive features for privacy enthusiasts. This is really appreciable.
Cons: The developers don't push updates frequently, which is kind of a security threat to your computer.
8. DiskCleanPro
---
This is one of the best apps to clean MacOS-based computers. If you want to get a clutter-free computer, then this is the easiest way out. I liked the automated cleaning feature, which makes the job much easier. But if you are an advanced user, then there is also an option for manually clean up your storage space.
On top of that, the optimization features are designed to make your Mac faster than ever. Considering the performance of the tool, I think the twenty dollar price tag is quite affordable.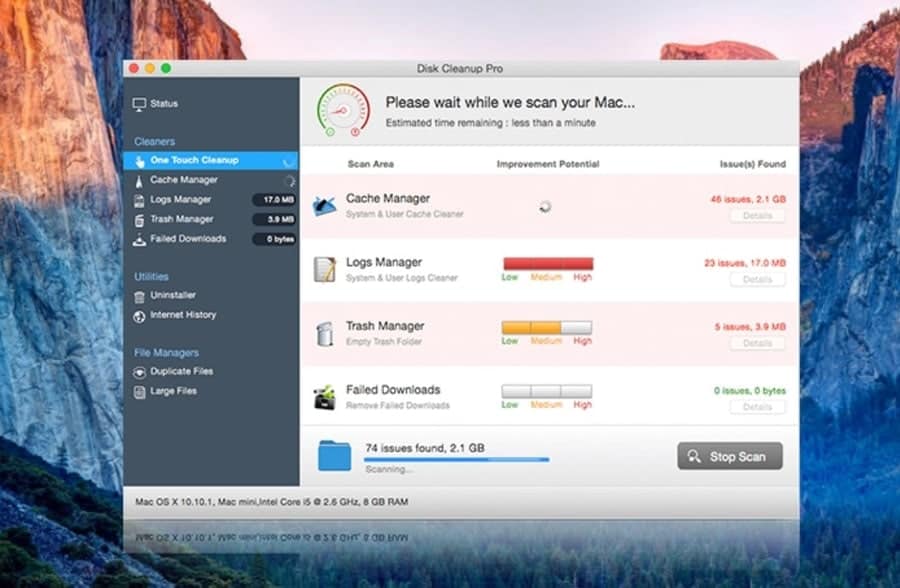 Key Features
This tool can clean up partial and failed downloads from the storage.
The advanced algorithm can detect rarely used files and abnormal file sizes to debloat your disk.
The privacy module deletes the browsing traces that might expose your privacy online.
You can clean up mailboxes as well as old backups and update files with his app.
The system scanner can generate a complete report about the detected issues.
Pros: The app can be directly bought from the AppStore. Besides, the cleaning tools are categorized nicely, which will help the beginners.
Cons: There are no app uninstaller or memory cleanup modules in this tool, which is a downside.
9. DaisyDisk
---
DaisyDisk is originally a disk management tool for macOS. However, it also works great as an optimization tool. This is not a new tool, but the developers have revamped it to support the Apple silicon. The UI of the app looks stunning. It visualizes the status of your storage devices graphically using a pie chart.
Real-time status checking is also very convenient to keep a check on your mounted drives. Hence, this tool reduces the security threat also. At just ten bucks, this tool is a must-have, I guess.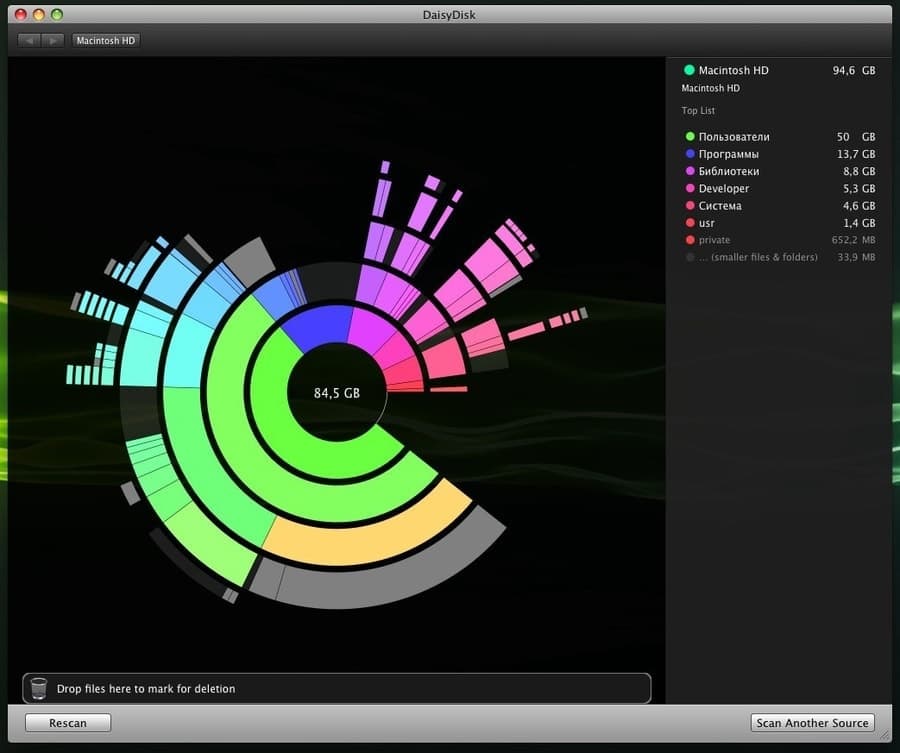 Key Features
The scanning speed is super fast, even on devices with the old Intel chip.
The quick glance screen will show you the overall disk usage.
You can sort files based on different criteria to remove them completely.
The UI is adaptive, and it matches with the resolution of the Retina Display.
The package size is just a few megabytes that don't take a toll on your storage.
Pros: If you want a visualization tool that will help you clean up your storage, this is the best app to clean Mac devices.
Cons: It can't do advanced optimizations apart from the basic disk cleanup.
10. Disk Doctor
---
Disk Doctor is one of the best software to clean Mac. As the name suggests, it works like a real doctor for your disk. This tool was developed by Fiplab and gained much popularity these days. Within a few clicks, using this software, you can regain access to a vast space of your storage device.
It can delete unwanted temporary files safely from your system and takes the necessary steps to optimize the speed and performance. Talking about the price, this tool comes at around three bucks, which is quite surprising for this powerful tool.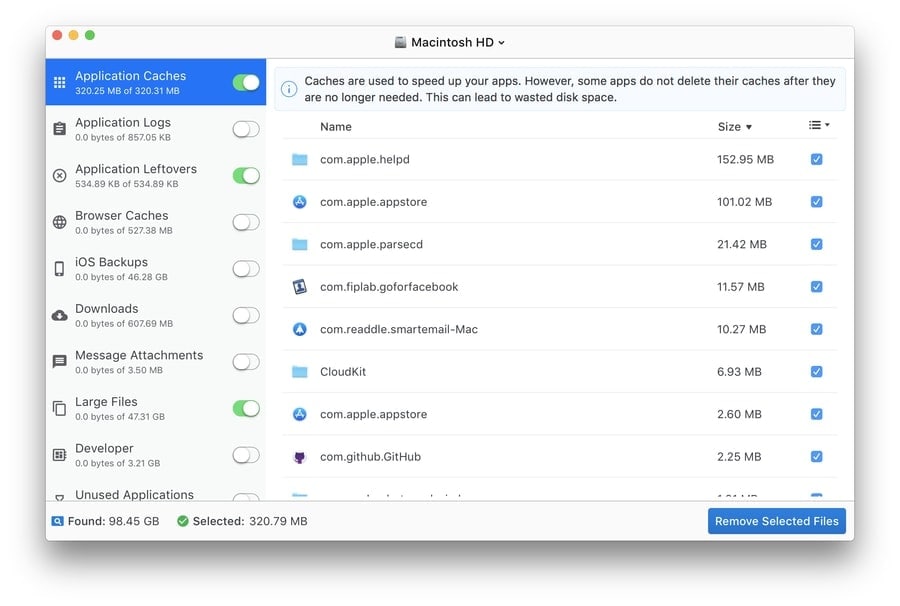 Key Features
This tool can dump away partial downloads and application logs.
You can easily remove junk from your mailboxes without losing useful mails.
The user interface is Retina Display supported and very easy to use.
Finding large files based on various criteria is pretty straightforward with this tool.
You can recover any files deleted by mistake, which is a lifesaver.
Pros: The price is the biggest strength of this tool. If you just need basic features and don't want to spend much, then it is the best option.
Cons: Sometimes, the scanning can't detect any issues, which is a bug, as some people reported.
Our Recommendation
---
In terms of choosing the best apps to clean Mac devices, the first priority is the performance of the tool. Since keeping more than one optimization tool will create conflicts between them, installing only one tool is better. Therefore, it becomes very difficult to choose the ultimate best software to clean Mac.
I think the CleanMyMac X will be the best choice for you if you don't want to compromise in any sector. Otherwise, CCleaner is a great free tool to get started. And, you can also upgrade to the CCleaner pro version if you want.
Final Thoughts
---
Optimization and cleaning apps work best only when you have decent hardware and specification. Sometimes, if you have too old Mac devices, these tools will not bring any benefits. But still, they can improve the performance and helps you to automate the cleaning process. I hope this article has helped to choose the best app to clean macOS devices. And, don't forget to share it with your fellow Mac user. Maybe it will be a great help for them.