FTP (File Transfer Protocol) is a program that helps you upload files from your computer to your website hosting account. However, you can also upload files from your computer to your hosting account through the Cpanel. But an FTP program makes the process easy and secure. You can easily upload, copy, paste, and edit any hosting files through the file transfer protocol client. In this article, I have compiled some of the best file transfer protocol programs or ftp clients for Windows and Mac that are reliable, secure, and easy to use. So dive into the article and find the best tool that makes your web building experience easy.
Best FTP Clients For Windows and Macs
---
There are plenty of paid and free file transfer protocol clients for different platforms to manage your website's files. We have analyzed and compiled the list of the best-performing FTP software for your Windows or macOS. So read this article thoroughly and point out the best suitable file transfer protocol client for you.
1. WinSCP
---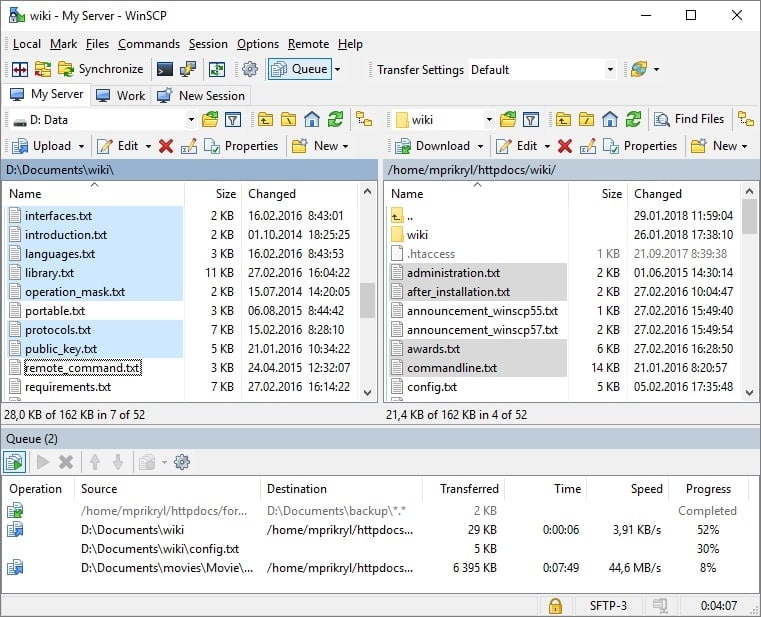 WinSCP is an open source and powerful FTP program for Windows OS. When you login into WinSCP, you may find many options in the user interface but can learn easily. The left side of the interface shows your computer's files, and the right side of the interface displays your server files. Then, click on the file to upload, download and edit the file.
In addition, WinSCP has many advanced features available in powerful FTP applications. It supports various transfer protocols such as FTPS, SFTP, SCP, and WebDAV. It automates file transfer and synchronization. You can use a portable version of this software without installing it on your computer.
Key Features:
WinSCP is fully integrated with Windows and third-party network applications like PuTTY, Pageant, FileZilla, and Password Managers.
It supports multilingual. Currently, you can use this software in 30 languages.
Besides, it supports a command-line interface such as parameters, syntax, executables, hint, and running from bash.
Moreover, it provides an encryption option to protect the accessibility of the website files.
Furthermore, it supports queue and resumes transfer files.
Pricing: Free
2. FileZilla
---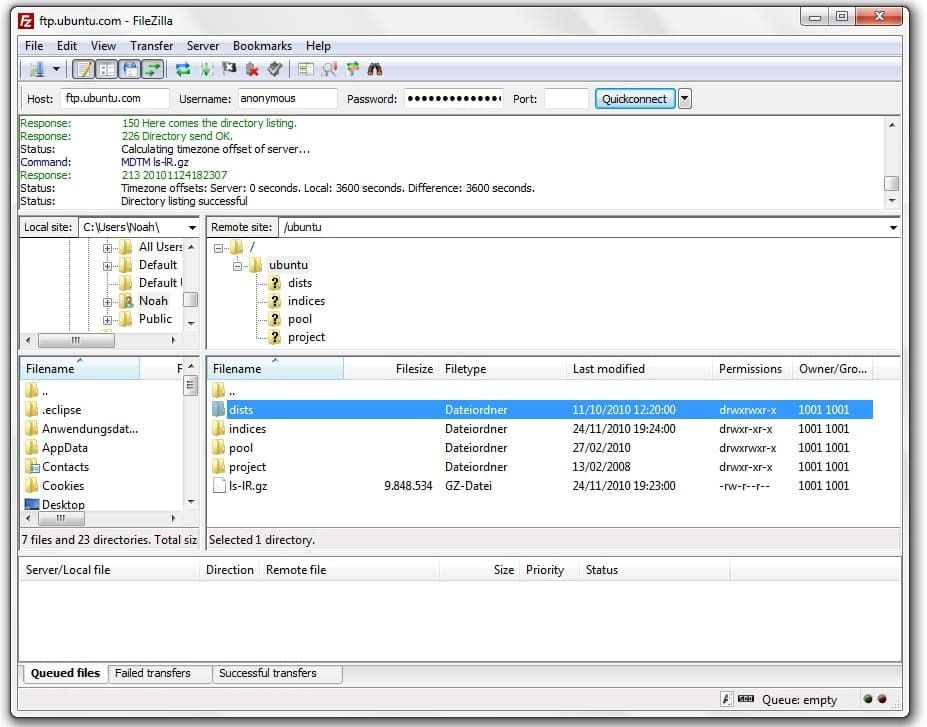 FileZilla is a free and highly reliable FTP client for Windows, Macs, and Linux. So if you are working on multiple platforms, for example, you use Windows in your home and Mac in your office. You do not need to install different FTP software for other OS. FileZilla can perfectly perform in all OS.
This software not only supports FTP but also supports FTPS and SFTP. The graphical user interface of FileZilla is user-friendly and easy to operate. Some advanced features that make this software useful include a tabbed interface, IPv6 support, bookmarks, network configuration wizards, and synchronization.
If you use FileZilla Pro, you can access cloud storage protocols such as Amazon S3,  Dropbox, Microsoft OneDrive, Microsoft Azure, Google Cloud Storage, Google Drive, OpenStack Swift, etc.
Key Features:
FileZilla has drag-and-drop functionality to manage files easily.
This software is available in 46 languages. If English is not your first preferred language, you can select another language.
With this tool, you can configure the transfer speed limit.
You can transfer and resume bigger files even if they are bigger than 4GB.
Besides, it offers remote file editing and search. Moreover, it allows bookmarks.
Pricing: Free, but FileZilla Pro claims $19.99.
3. Cyberduck
---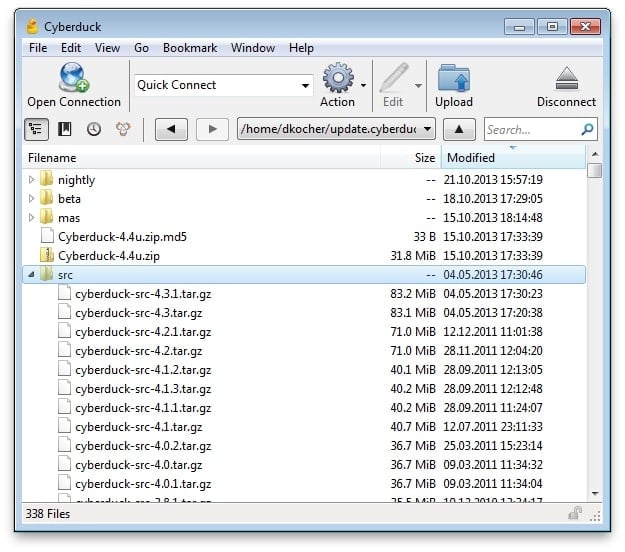 Cyberduck can take care of file transferring through connection to the server and enterprise file sharing. You can connect with various popular transfer protocols like FTP, SFTP, WebDAV, and cloud storage like Amazon S3, Google Drive, Azure, Dropbox, Backblaze B2, OneDrive, Dracoon, OpenStack Swift, Box.
The minimalist user interfaces of Cyberduck offer super easy-to-use functionality. This ftp client is compatible with both Windows and Mac OS. Besides, you can search quickly by using its filter field option. Moreover, this free FTP program provides advanced features to secure your FTP.
Key Features:
The file and directory names and every file are encrypted with Cryptomator interoperable vaults to secure your data in any cloud storage.
Cyberduck supports seamless integration with any external editor that lets you change any binary file and text.
It offers a drag and drop option to bookmark, along with you can import bookmarks from third-party applications and spotlight the bookmark files.
With this file transfer protocol client, you can transfer anything, and resume interrupted downloading and uploading files.
This program is available in English, Japanese, Korean, and Russian languages.
Pricing: Free
4. Classic FTP
---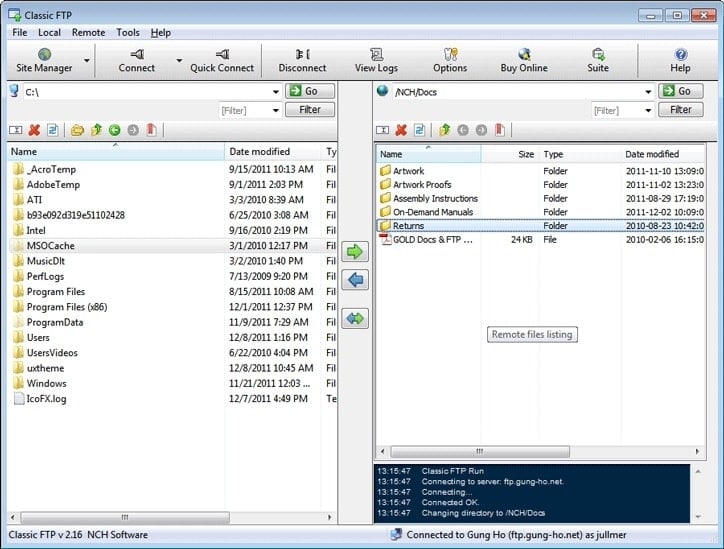 If you are looking for a simple interface and intuitive use FTP program, Classic FTP is another application you can consider. This file transfer protocol or ftp software is available on both Mac and Windows. The drag and drop option of this software makes file transfer easy.
Besides, the synchronize tool ensures the local and remote directory contains up-to-date files. Moreover, you can easily set up this program to connect with the FTP site. However, this is underrated software in the market but contains all significant features of the FTP client.
Key Features:
Classic FTP provides FTPS to secure your files. However, this program is compatible with all popular FTP servers.
This file transfer protocol allows you to bookmark your most visited location.
The directory tool can compare the file difference between your local and remote directory.
You can easily import or export your site information like username, password, bookmark, etc.
The filter field option lets you find the exact file matching the search term.
Pricing: The unlicensed Classic FTP is free for non-commercial use only. If you want to use Classic FTP, you need to upgrade its premium package, starting from $35.
5. Transmit
---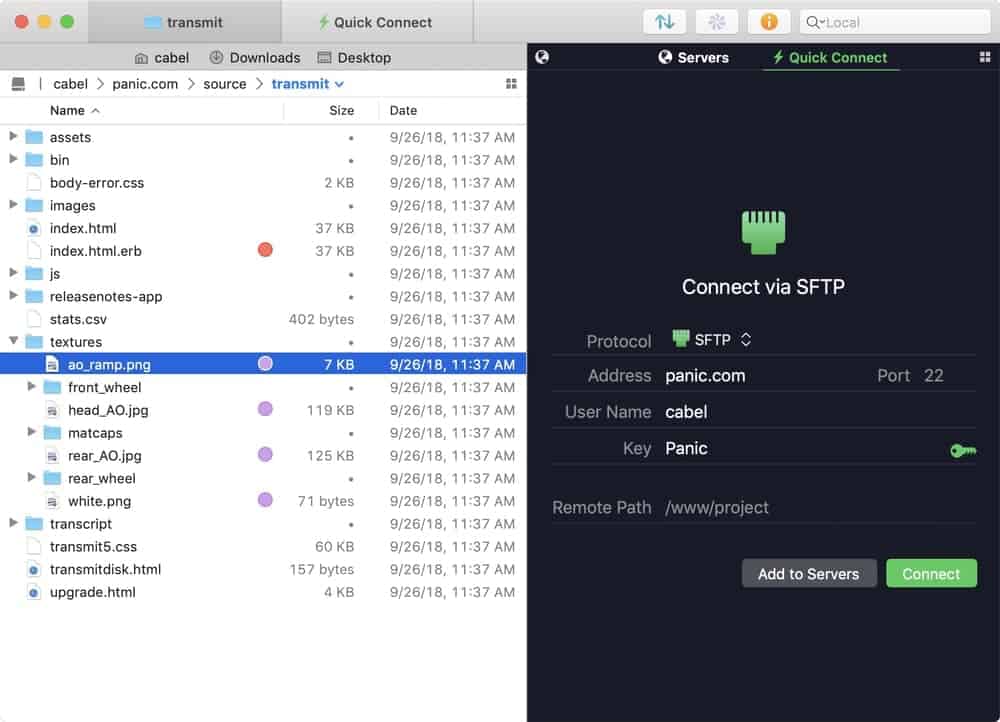 Transmit is a popular file transfer protocol client for MacOS users. This file transfer protocol client has innovative features and a powerful user interface. It transforms complex services into simple ones by introducing the drag and drop feature. The best part of this software is that you can gain more fine-grained control of your files by using its Panic Sync feature.
Moreover, you get more details information on a highlighted file using the inspector sidebar. Furthermore, the places bar tool lets you access multiple files from a single place. Transmit is an excellent FTP program to organize and manage your server simply and quickly.
Key Features:
Transmit can handle FTP, SFTP, and WebDAV transfer protocol better than others.
It is now connected to 11 cloud storage, including Amazon S3, Google Drive, Dropbox, and Rackspace Cloud Files.
Transmit introduces its own file sync service, which is called Panic Sync. It provides multiple sync services like local-to-remote, local-to-local, remote-to-remote, and selectable file sync data encryption.
With Transmit, you can rename multiple files at once.
Transmit manages and generates SSH keys that help you access encrypted data to ensure secure file transfer.
This software is now available in 4 languages: English, Chinese, German, and French.
Pricing: You can enjoy a 7-days free trial period. After that, you have to purchase this application for $45.
Which FTP Client Do You Use?
---
The above-listed file transfer protocol clients dominate the market. If you are looking for a personal use FTP application, I recommend trying FileZilla. FileZilla is free and compatible with all operating systems. Besides, it is user-friendly, so anyone quickly adapts to this software and efficiently manage their web hosting files. And if you want to use professional FTP software, you can use the classic FTP premium version.
On the other hand, Transmit is a more reliable and robust FTP application for Mac OS. With this software, You can easily manage files on the internet. So Transmit is a highly recommended software for MacOS users.
How to Use an FTP Client
---
After choosing the file transfer protocol client, it's time to connect your local directory to your website hosting directory. You need to enter your FTP username, password, and Host to do this.
You may be wondering where do I get this information? The answer is that when you created your website and set up your web hosting account, your hosting company sent the FTP username, password, and host number to your email. You can get this information by searching your email or by logging in to the control panel of your web hosting and getting the information from inside the FTP account file.
After entering the Host, username, and password in your FTP software, click on the connect button to establish the connection to your server. The login process is almost the same for all file transfer protocol clients. So you follow the same steps to accessing any FTP application.
Finally, Insights
---
Whether working professionally or personally, your dealing file must be safe and secure. A decent file transfer protocol client allows you to transfer files with the utmost reliability. Here I have covered the top 5 best FTP clients for your Windows and macOS.
I recommend you pick anyone from my compiled list. I provide all software's official download links. So you can safely download any software from the list and let me know your user experience in the comment box below.
However, if you do not find your favorite software on my list, you can write your favorite software's name in our comment box. And if you like this article, please share it with your friends.