In this modern world of technology, everyone wants to keep their data and information as safe as possible. While Apple devices are undoubtedly one of the safest technology available, it's still a good decision to use VPN apps (Virtual Private Network) as an extra layer of protection. While there are many apps available in the market, choosing the best VPN apps for your iPhone is a rather difficult task. A good VPN will ensure anonymity while browsing and provide a fast connection to not feel disturbed. In this article, I will give a brief description of the 10 best VPNs for iPhone and Mac devices with the important features they come with.
Best VPN Apps for iPhone and Mac
---
Since the use of VPN apps has increased significantly in the past years, the number of available apps has also increased. But not all of them are safe and fast for you. Some of them might even use your personal information and leak it to hackers. So, to remain safe, you need to know about the best ones available in the app store. Luckily, you found the right place to gather good knowledge about that.
1. ExpressVPN
---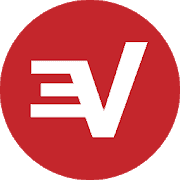 ExpressVPN is not only one of the fastest ones available in the app market but also is an app especially compatible with Apple devices. This one-click approach has won millions of people's attention with its satisfying and excellent connectivity.
Other options that make this app better than the rest are privacy and security tools, support age, and account settings. All you need to do is, access the three-bar icon from the top and left corner, and you will get everything needed to get started.
From over 3000 servers in 94 countries, you can choose one according to your preference and connection. Moreover, your data is completely protected by AES-256 encryption so that you can use the services assuredly without being worried about hackers. In brief, ExpressVPN is the most excellently featured VPN apps for iPhone that your money can get you.
Important Features
A maximum of 5 simultaneous connections.
The company offers 24/7 live chat support.
You can choose any server from over 3000.
Compatible with unlimited bandwidth.
Suitable for any kind of iOS device.
Pros: Really easy to operate as well as fast and effective.
Cons: No automatic kill switch.
2. NordVPN
---
With an excellent speed through the 5,500 servers and amazing safety with the 2048 but double encryption, NordVPN is undoubtedly one of the best VPN for iPhone and Mac. The app is really easy to operate and works almost the same as the desktop version.
For your easiness, the app comes with a blue-scale landing screen map that allows you to select the country you want and connects to its server almost automatically. Moreover, you can choose the apps you don't wish to run by the VPN with its split-tunneling feature.
You can connect almost six devices with its network, while most other VPN service providers will allow you a maximum of five. If you are looking for a faster connection, they offer dedicated IP options just for you!
Important Features
The kill switch option allows you to use the app safely without getting worried about your IP address getting exposed.
You can turn off the VPN for the apps you don't wish to run under.
The app contains a variety of extensions and other apps for extended services.
You get to choose any server from the 5500+ options available in over 59 countries.
The app maintains a strict no-log policy, which means that they never track or collect your personal information.
Pros: The app is really reliable and ensures a fast connection. It's best if you are going to use it for streaming.
Cons: It only takes payment through PayPal.
3. Surfshark
---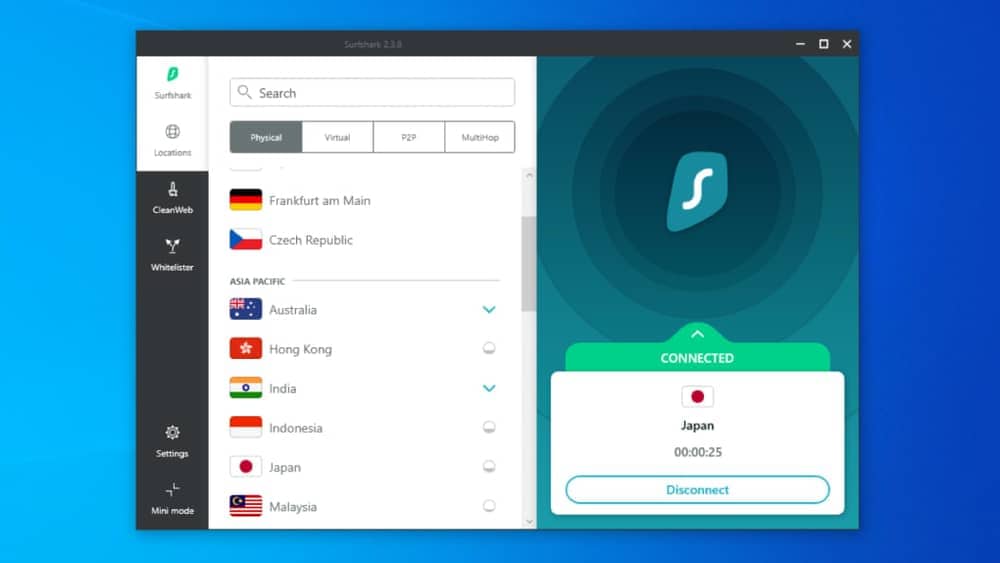 Since its launch in the VPN market, Surshark has been gaining ever-growing popularity due to the exclusively low pricing it offers with an unlimited number of connections. At only $2.50 a month, you get a well-rounded service with a fast and reliable connection.
The plug-and-play system is really satisfactory since it lets you do everything with a single touch. You can choose any server from the 1700+ available in over 63 countries with total safety and malware protection.
Moreover, the app allows you to explore a variety of features, including switching protocols. Though it's not up to the mark with ExpressVPN or NordVPN, it's still the best VPN for iPhone and Mac at a really reasonable price and the 24/7 customer service to help you with anything.
Important Features
This app offers you support for P2P connections.
Its design offers minimal battery usage so that your phone still works efficiently.
It not only uses 256-bit encryption but also applies DNS Leak Protection to your data.
The built-in security suite keeps your usage clean by blocking malware, ads, trackers, and phishers.
The no-borders mode allows you to use your favorite iOS apps from anywhere in the world.
Pros: The app offers an excellent connection speed for unlimited devices with top-notch security.
Cons: You have to install the app on your router with a pass-through code.
4. IPVanish
---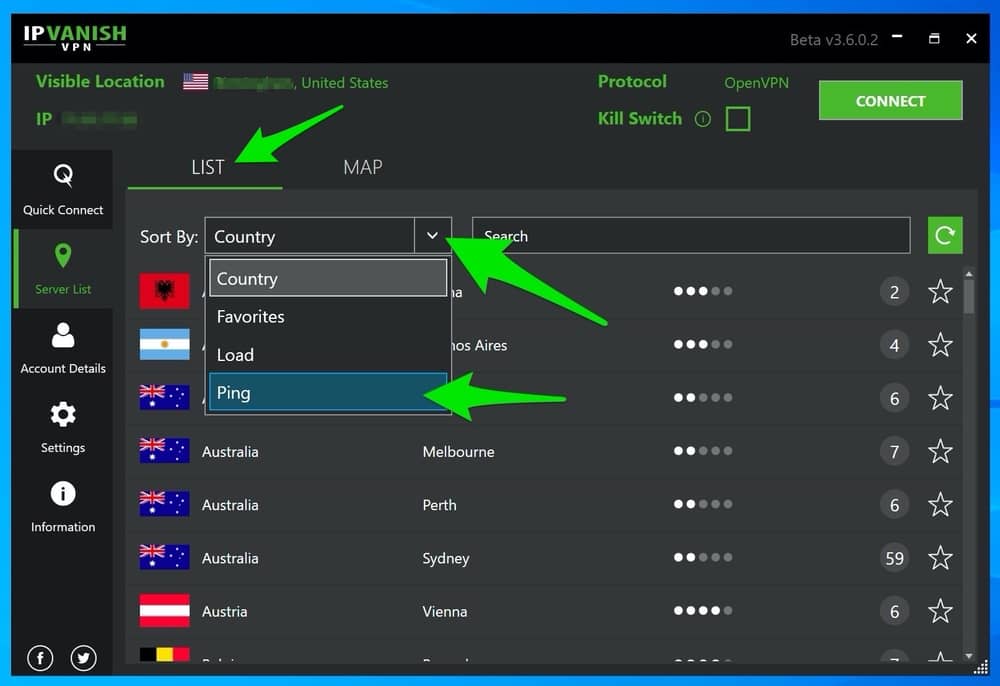 If you are looking for the best VPN apps for iPhone with an excellent connection speed, IPVanish is the one you should be choosing. Its user interface is really easy to configure and ideal for those who don't have a very clear idea about what a VPN actually does. Moreover, the app contains a number of exclusive features like a kill switch, auto-connect, and a choice of protocols and privacy settings. Recently, a new unlimited connections policy was added to the app to increase user-friendliness.
Important Features
The extremely high-speed network is available in 1600+ servers across more than 75 countries.
The automatic WIFI protection and 3D touch support are some awesome updates to the app.
They ensure your data safe with the IKEv2 and IPSec protocols.
You will get 24/7 customer support from their team to solve any problem you might be having.
The 30-day money-back guarantee allows you to give the app a try.
Pros: This one is a very powerful iOS app that offers excellent performance and amazing speed connections.
Cons: Doesn't work outside the 5/9/14-Eyes' jurisdiction.
5. Private Internet Access
---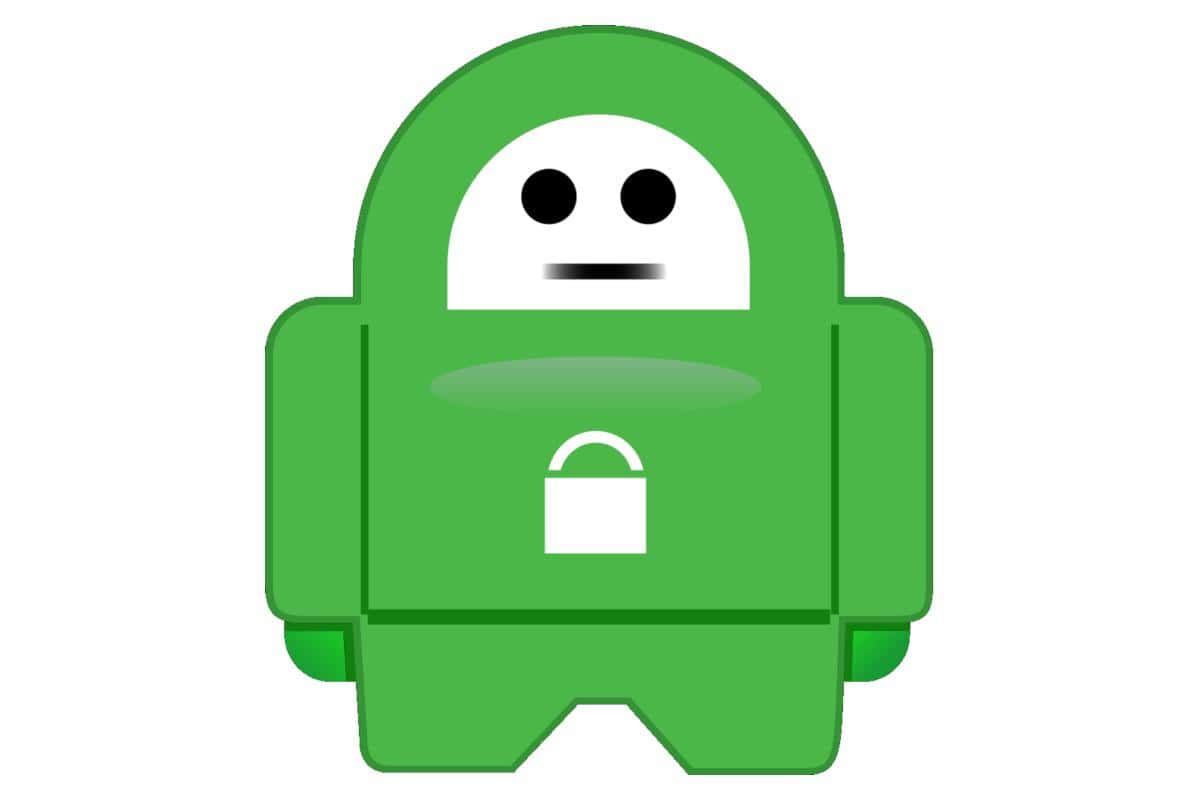 If you are looking for the most basic type of VPN at a much reasonable price, Private Internet Access is another mentionable VPN for iPad and iPhone in this regard. The app ensures data safety with 128-AES and 256-AES encryption and allows you to choose a protocol from many options, including the L2TP/IPSec, PPTP, and OpenVPN.
An extra feature that has gotten a lot of attention is the favorites system that allows you to choose the server you most commonly use with a single touch. Not to mention the malware and ad blocking options.
Important Features
The app offers a super strict no-logs policy and is compatible with all iOS devices.
You get to choose any server from the 18,300 ones available from almost 77 countries.
Any kind of streaming service can be used with it.
It contains many exclusive features like an ad tracker, kills switch option, and malware blocker.
Pros: This one is really easy to use, a streamlined app available within a low-price range.
Cons: Not compatible with older iOS devices and versions.
6. CyberGhost
---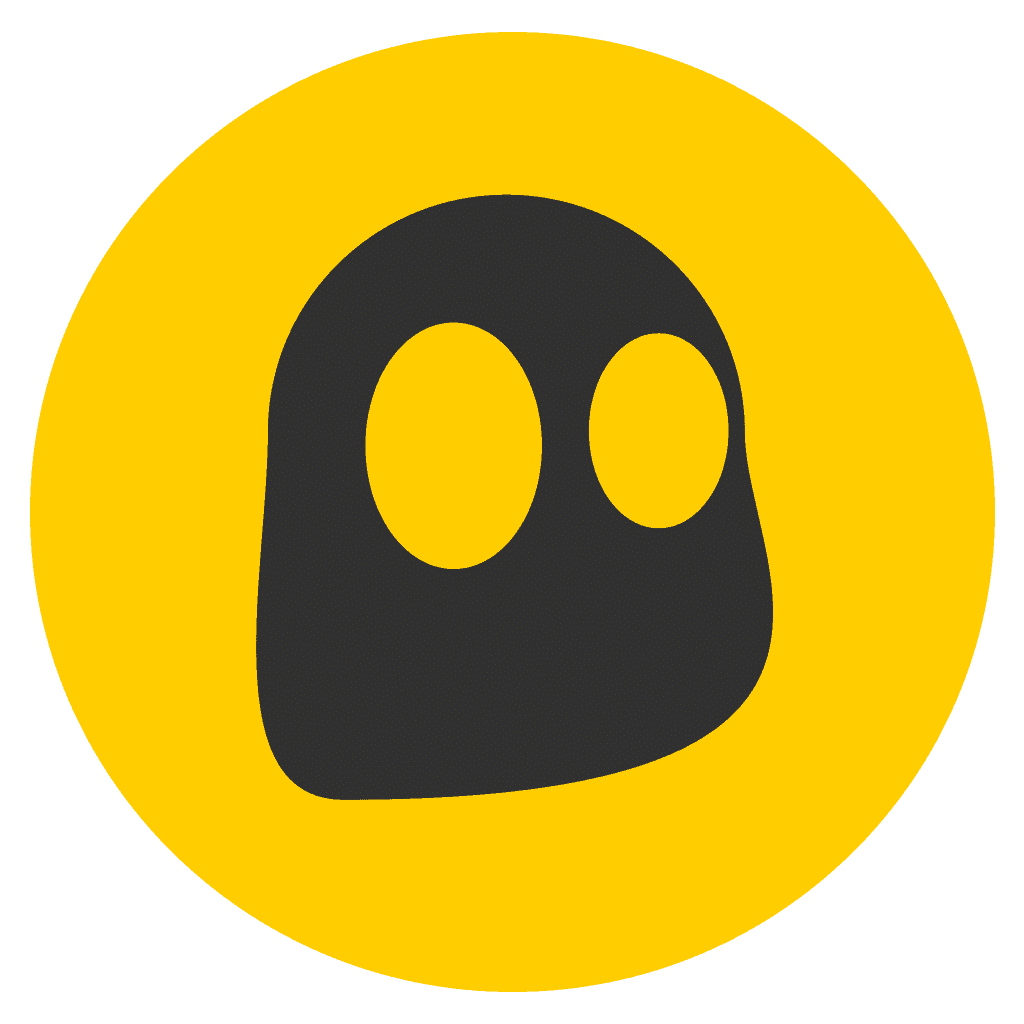 CyberGhost is another excellent iOS VPN app that offers amazing security settings and strong OpenVPN encryption-based in Romania. This outstanding app allows you to get any online content both at home and with public Wi-Fi without being tracked anyhow. While the app will automatically select the best server available for your work, you can choose any 5,500 servers from the 90 countries. From Netflix to the BBC iPlayer, you can get everything in your grasp.
Important Features
The app contains specially dedicated features for the Apple watch.
Auto-connect to the best server as soon as you log in.
High security and one of the fastest VPN apps available.
The app makes sure that ads won't disturb you while working.
You get a 45-day money-back guarantee to try the app.
Pros: The app features a really impressive speed when it comes to streaming or downloading.
Cons: It isn't compatible with China or the UAE.
7. Hotspot Shield
---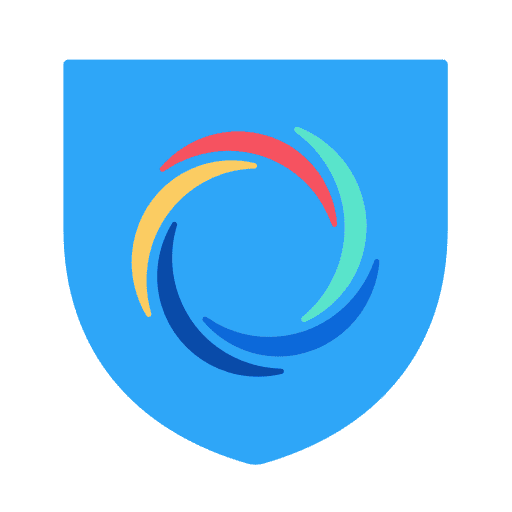 This free VPN app for iOS is made with modern device configurations, which works best with iPhone 11 or higher. With more than 3,200 servers from 70 countries, the app can unblock any of the streaming devices with incredible speed. Besides the front protection, Hotspot Shield has mostly gained popularity due to the military-grade encrypted traffic. They might keep your minimal login information, but your IP address past disconnection is not one of them.
Important Features
iPassword helps you to manage the password easily and keep them safe from hackers.
You get up to 500MB data allowance per month in the free version.
Data safety with 256-bit encryption and the automatic kill switch makes sure that your information never gets leaked even if you are disconnected.
This app is one of the fastest VPN available and offers reliable and safe services.
Pros: The app is compatible with all the latest iOS devices.
Cons: Many users claim that the design language could be a little easier.
8. Windscribe
---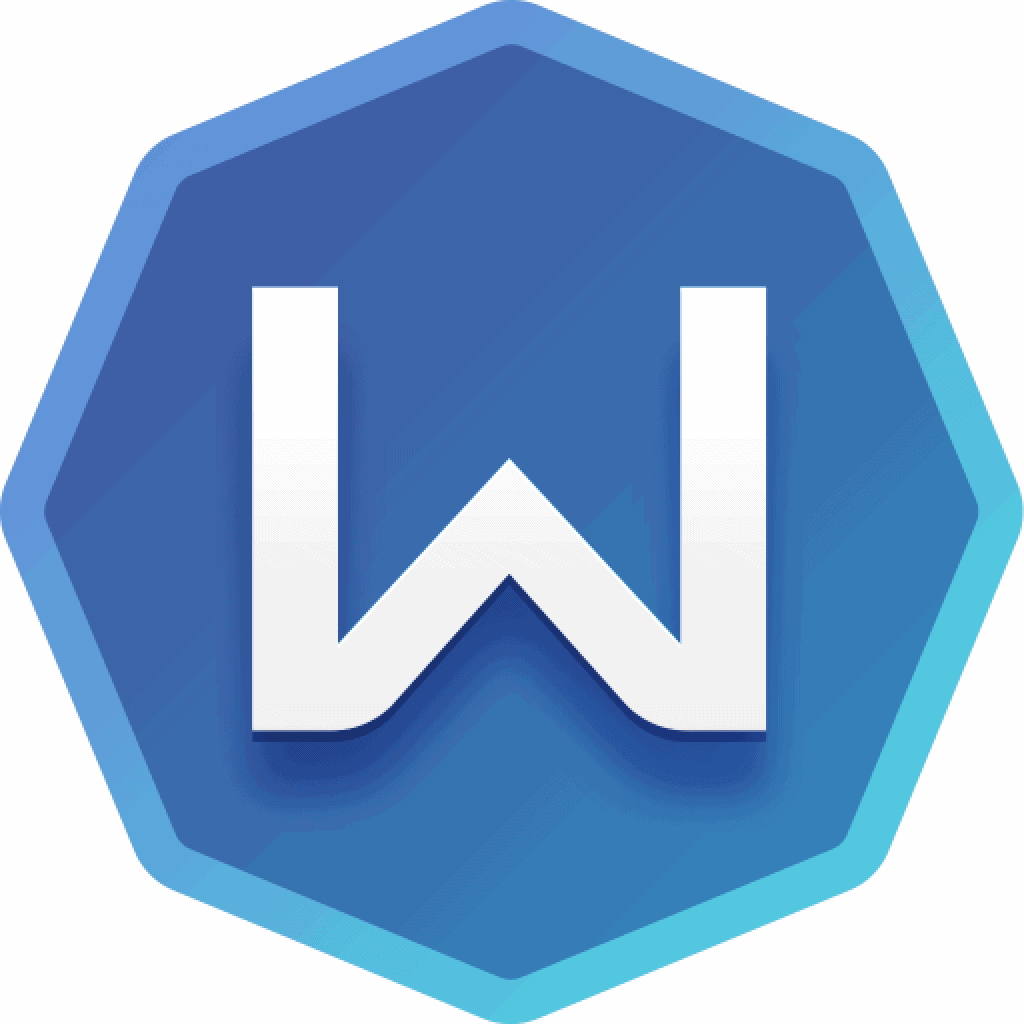 Based in Canada, Windscribe is another one of the best free VPN for the iPhone that has quickly paved its way to the top due to the strict user protection policy it offers. The best thing about this VPN is that it gives a 10GB data allowance per month that allows you to stream for like straight 10 hours or browse the internet for a month.
If you are a macOS user, you will be happy to know that this free VPN is especially suitable for Mac. One interesting fact is that they actually give you an extra 5GB if you tweet the company! Fun, right? The app is really easy to use, and you can start using the app with just one touch.
Important Features
The free plan offers you to choose servers from almost ten countries.
The P2P connections make it easier to use and offer you fast service.
The free plan lets you connect an unlimited number of devices simultaneously.
The military-grade encryption with the DNS leak protection ensures the highest level of data safety.
They have a strict no-logs policy that prevents them from sharing and preserving any of your personal information.
Pros: The app has the ability to bypass Netflix limitations, and torrents are absolutely allowed.
Cons: The live chat support of the company uses a chatbot instead of real human interactions.
9. TunnelBear
---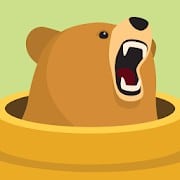 With a 500 MB allowance per month, TuneelBear is one of the best free VPN for Mac and iPhone that is really light, and people prefer to use it occasionally.  So, unless you have a lot of heavy streaming to browsing to do, you can give this VPN app a try. Just like WIndscribe, you can get an extra 1GB free if you tweet them.
The app offers an incredible speed that is even sufficient for on-the-go browsing. TunnelBear is a secure and reliable app and extremely mobile-friendly as much as it is for desktops.
Important Features
The free plan offers servers from over 23 countries in the world.
It has powerful encryption and a no-logs policy while allowing torrenting.
The interface is very user-friendly and really easy to navigate.
An additional feature allows you to put your chosen websites into a whitelist and blacklist.
It also includes an ad blocker and browser extensions.
Pros: The app not only comes with an amiable and approachable design but also offers great speed.
Cons: The data allowance is not very helpful.
10. PrivateVPN
---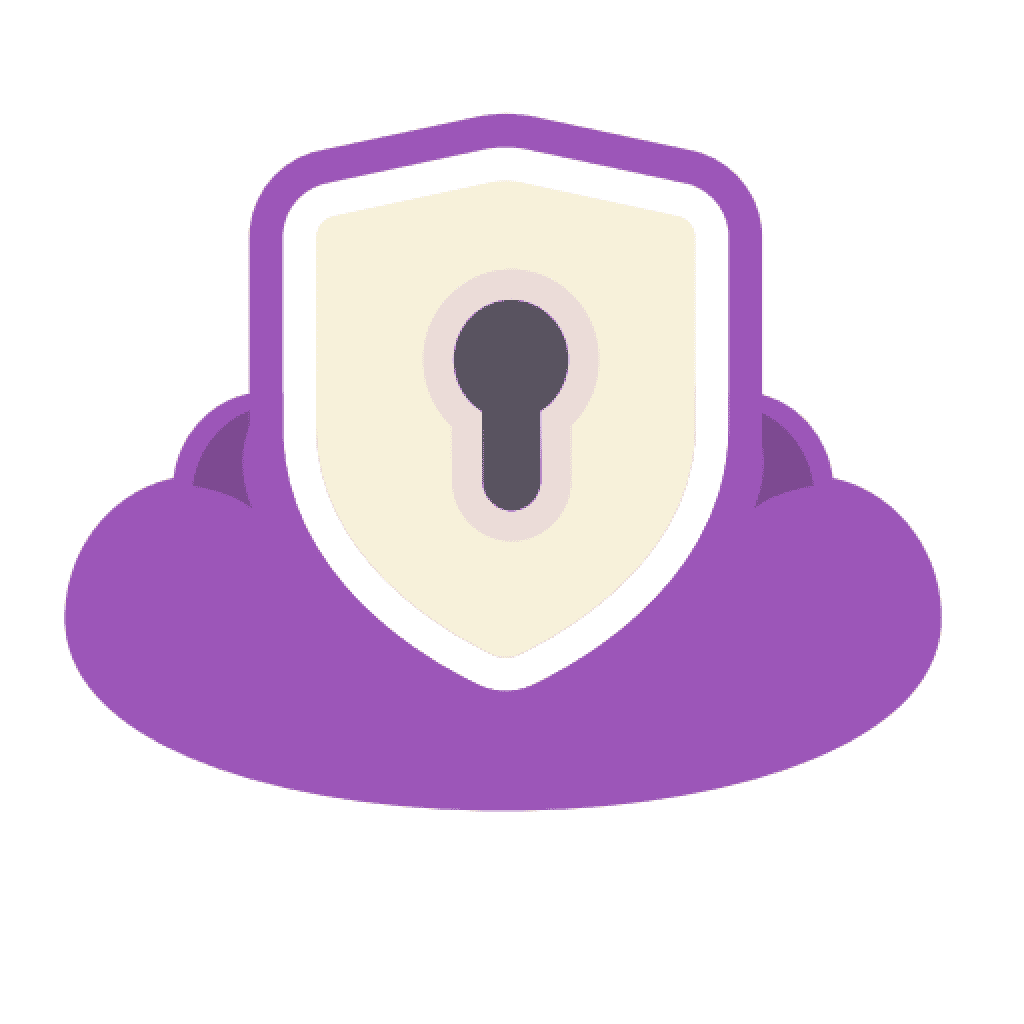 If you are looking for the finest high-end security VPN apps for the iPhone at a reasonable price, PrivateVPN is the one for you. The app is really easy to use, and it offers incredible customer service. This Swedish VPN comes with military-grade encryption that will allow you to use the app securely both at home and on public Wi-Fi.
Servers around over 60 countries of the world help the app unblock almost any kind of content from streaming to browsing. You can now give this one a try since the 30-day money-back guarantee is there to save you from trouble.
Important Features
The app provides fast connections to any kind of streaming.
The OpenVPN with DNS/IPv6 leak protection is there to ensure the highest safety of your data.
PrivateVPN is so powerful that it can easily bypass through strong VPN blocks.
The Stealth mode allows deep packet inspection.
Pros: It features in-house support with a number of advanced configuration settings.
Cons: it can get slow in a few locations of the world.
Our Recommendation
---
The apps we mentioned above are the best VPN service providers that will give you a fast and reliable service anytime, anywhere. While they are all one of the finest available, speaking overall, ExpressVPN is the most recommended by us.
This app offers a super-fast service while ensuring your data safety. Moreover, I think the value they demand from you is worth the service they provide. So, you can assuredly use this app on any kind of iOS or Mac device you are using.
Finally, Insights
---
So, here goes the top 10 most recommended VPN apps for iPhone that will provide you with an incredible service no matter wherever you are. Whenever you are using a VPN with weak protocols, you are always in fear of your real IP getting exposed in the network. But with the apps we mentioned, you have no possibilities like that and can enjoy your browsing and streaming while being relaxed.
I have put through a lot of research and experience to get the best ones for you and hope that this article has helped you find the best one for your iOS or Mac device. Don't forget to mention your thoughts in the comment section!