Color picker tools in your Linux system help designers in a lot of ways. Most people have got a common misconception that the Linux distros are not designer-friendly. Well, this is partially true because most of the designers use Adobe suite, which is not yet available for Linux. But Linux has some powerful designing tools that are completely free to use. Besides, they have got almost similar capabilities to other popular premium tools like Adobe Photoshop and Adobe Illustrator. This is why many designers who are open-source enthusiasts at the same time prefer Linux over other platforms.
Color picker tools help the designer to manage their preferred color palette and remove the hassle of remembering the HEX codes for every single color. They can just point to a certain spot of the reference color to get the web color code of that particular spot. This is very handy even for application and web developers.
Best Color Picker Tools for Linux
---
Most of the color pickers are simple tools. Some are even lightweight and portable. Though the name suggests a specific feature, most of them have some additional bonus features. These additional features and the quality of user experience make the difference between them. You don't need more than one color picker for your design and development works. But you should choose that single tool carefully.
Linux has a few color picker tools that are currently being maintained actively. Since you are unable to test out every color picker tool, we have made a list for you. This list contains the 10 best color picker tools for Linux. I hope the enlisted features may convince you to choose the best color picker for your next creative project.
1. Gpick
---
Gpick is one of the most color picker tools for Linux. It many many useful features that come in handy for creative artists and web developers. It has a clean and intuitive user interface. As the source code is publicly available on Github, you can contribute to its source directly.
The main feature of this tool is the floating color picker, whereas some additional tools are available, like exporting the color palette and so on. Apart from the graphical user interface, the users can use this as a command-line interface to integrate the features with other tools.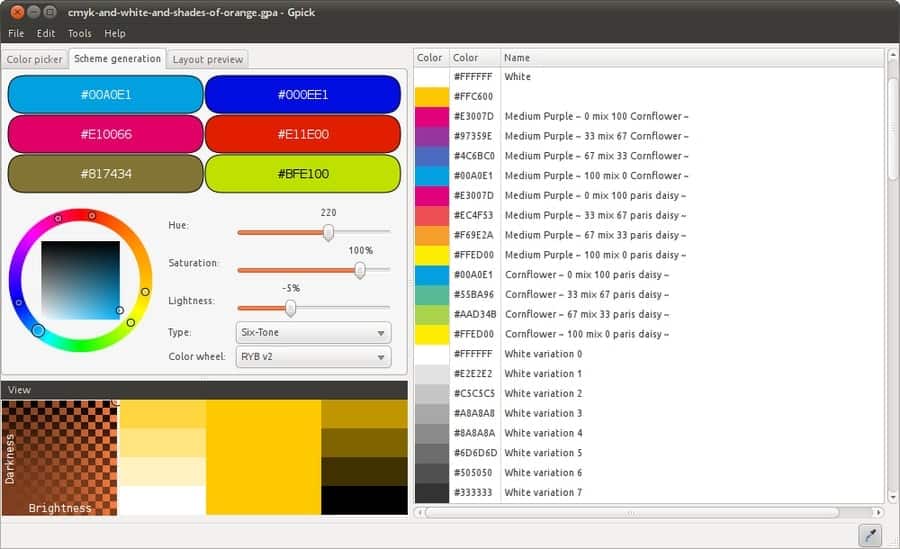 Key Features of Gpick
You can create a color palette from an imported image.
Users can import and export the color information to different file formats compatible with Inkscape, GIMP, and Adobe suite.
You can assign automatic color names while picking a certain color.
It can be minimized to a simple icon placed in the notification area for quick picking of colors.
You can export and share the full palette as an HTML page for other collaborators of your project.
2. Pick
---
The Pick is a GNOME color picker for Linux-based distributions. It can also be used on other desktop environments running Ubuntu apart from GNOME. The best part of this tool is that it attaches a screenshot of the source from which the color was picked.
It even assigns a name for the color and can save several colors at a time. You can later copy your desired item and paste the code wherever you want. Though the user interface has a minimal look, it is aesthetically very pleasing.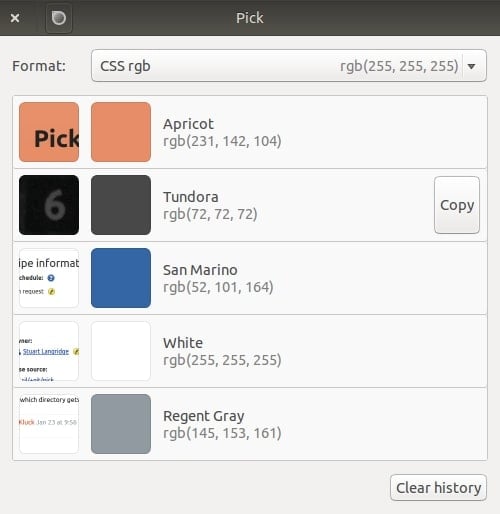 Key Features of Pick
It can show the colors in different code formats, including RGB, HEX, QT, and even GDK.
There is a magnifier that is controllable via the scroll wheel of the mouse to get into the accurate spot.
It shows the generic color name of the picked color by using a library developed by Chirag Mehta.
You can directly paste the color into any compatible graphics and editing tools for your convenience.
The drop-down menu lets you choose your preferred format, and you can clear the previous history anytime while loading a brand new project.
3. KColorChooser
---
KColorChooser is an advanced and feature-rich Linux color picker tool. It was originally developed for Plasma, the desktop environment by KDE. It is still a part of KDE's application suite. But you can install this on any Linux-based distribution.
This tool is not only a color picker. Rather it is a complete package of color palette for the designers out there. You can mix and generate your own color palettes and export them. A few web color palettes are built-in with this tool by default for your inspiration.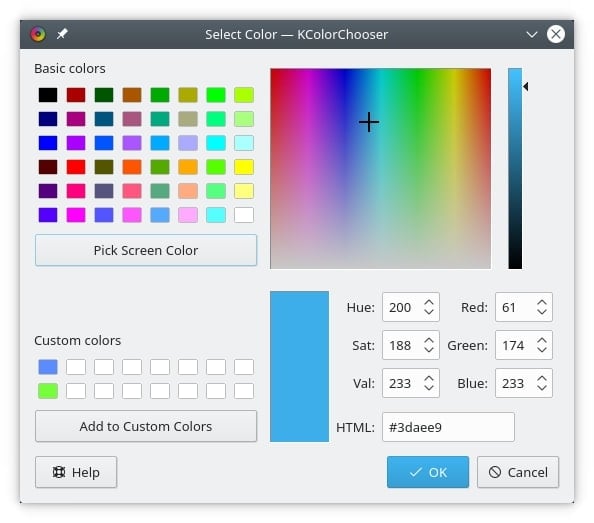 Key Features of KColorChooser
It can pick the color code in three different formats, such as HSV, RGB, and HTML.
You can select colors from anywhere on your desktop as well as from the predefined palettes.
The graphical color mixer helps you to mix and generate a random color.
You can input the corresponding values of RGB and HSV code to create a color of your own.
4. Gcolor2
---
Gcolor2 is a simple yet powerful Ubuntu color picker tool. The eyedropper feature helps to execute the core functionality of the tool that gets the color code of a particular pixel from anywhere on the screen.
It directly shows you the HEX code for applying to your web design and development projects. This tool was originally developed on the codebase of the popular tool Gcolor and used the GTK+ framework for working on Linux-based distros.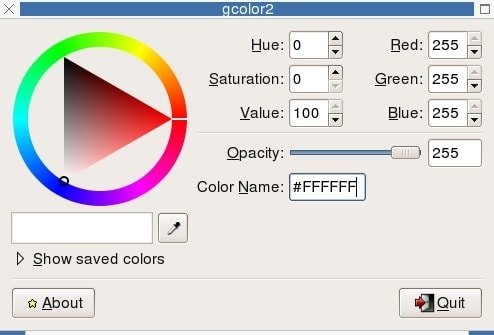 Key Features of Gcolor2
The user interface has a vintage but simple look that is very helpful for beginners.
It will show you the HSV and RGB values of a color that can be modified by inputting preferred values.
It can show the name of the color for the non-tech persons who are not familiar with codes.
You can save your picked color palette into the storage and retrieve it anytime if you want.
5. Delicolour
---
Delicolour is a GNOME color picker based on the GTK3 framework. The user interface is very sleek and stylish. It has all the necessary features that a standard color picker tool should have. Apart from this, the developer tried to provide users with the best user experience.
For example, it has an RGB and HSV slider that is very convenient to mix up colors. You can even decide in which format you want to copy the color code so that you don't have to modify the codes after pasting.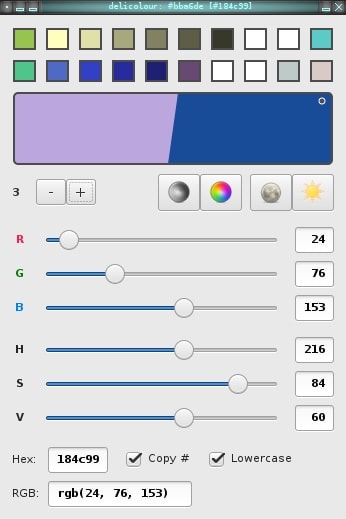 Key Features of Delicolour
The overall user interface is very responsive and minimal. You can do everything from the main windows.
It can copy two colors into its memory simultaneously. You can choose to paste one whenever you want.
The Plus and Minus buttons let you increase or decrease the values for fine adjustments.
It supports keyboard shortcuts to speed up the workflow of your projects.
6. ColorGrab
---
It is a very popular Ubuntu color picker for desktop users. Though most Linux users use this tool for their design and development works, it is originally a cross-platform tool. This is why using this tool is convenient when you have to switch your platform most often.
ColorGrab has different windows for different purposes, like HSV color picker, RGB color generator. There is also a built-in library of popular colors from where you can choose the primary colors for your palette.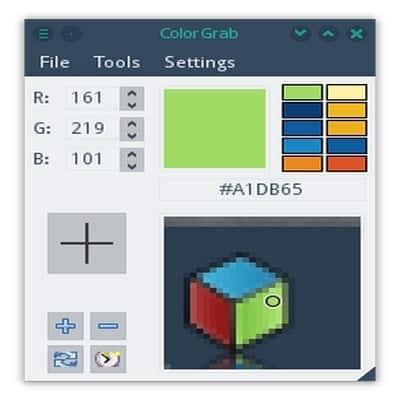 Key Features of ColorGrab
It has a cylindrical color mixer which helps mix random colors.
The color value fields have individual adjustment buttons for fine-tuning the color.
You can create and save additional colors into its color palette tool.
The color selector has advanced zooming capability for getting the most accurate pixel.
7. Deepin Picker
---
Deepin Picker is a color picker tool for Linux that comes exclusively with the popular Linux distro Deepin OS. Just like the Deepin OS itself, Deepin Picker features a beautiful graphical user interface.
Though it does not have a bunch of additional features like other color pickers in this list, it does perfectly what it was intended to do. This tool can obtain color codes from a certain pixel in different formats and saves them into the clipboard for further pasting.
Key Features of Deepin Picker
It rests silently in the system tray and causes less distraction to your desktop.
It supports multiple code formats, including RGB, RGBA, HEX, CMYK, and HSV.
You can fork the source code and port it into other Linux distributions.
You can instantly change the type of code while hovering over the color picker cursor.
8. Color Picker
---
This is a Linux color picker tool made exclusively for the Elementary OS. But you can easily deploy it into other Linux-based distributions. It is a very simple color picker that uses the least resources while running on your machine.
If you are on Elementary OS, you can install this from the AppCenter. But if you are on other distributions, you can compile this from the source code using some dependencies.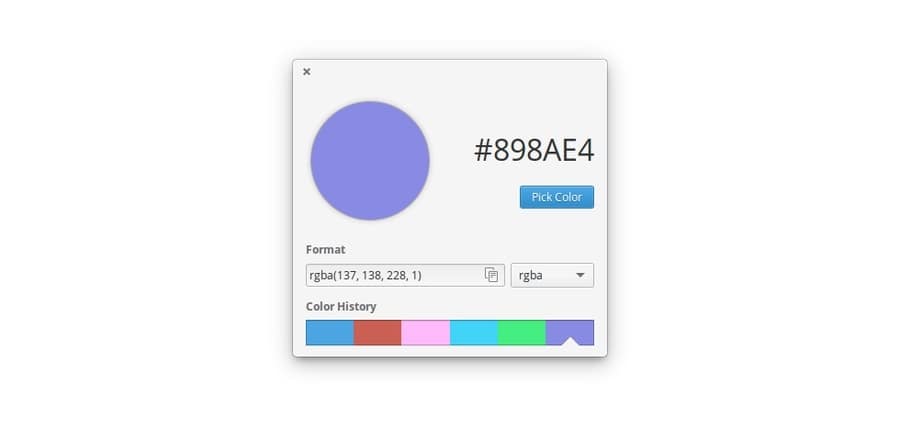 Key Features of Color Picker
The picking tool has a magnifier feature that lets you zoom in into your desired spot.
It can generate codes in different formats from the picked color.
Color Picker will remember the last six colors into its clipboard so that you don't have to search for the previously fetched color.
Though the feature is limited, it is very easy to use for beginners.
9. SlickPicker
---
SlickPicker is a gorgeous color picker tool for Linux. It has all the necessary features you need in this type of tool. The user interface is very easy to use and convenient. It is a complete package for the designers.
Unfortunately, you will not find this tool as a package for your desired Linux distro. rather you can fork and build a package from the source code if you want to. This tool was originally built with Python-Qt, and it can be quickly opened via a simple command.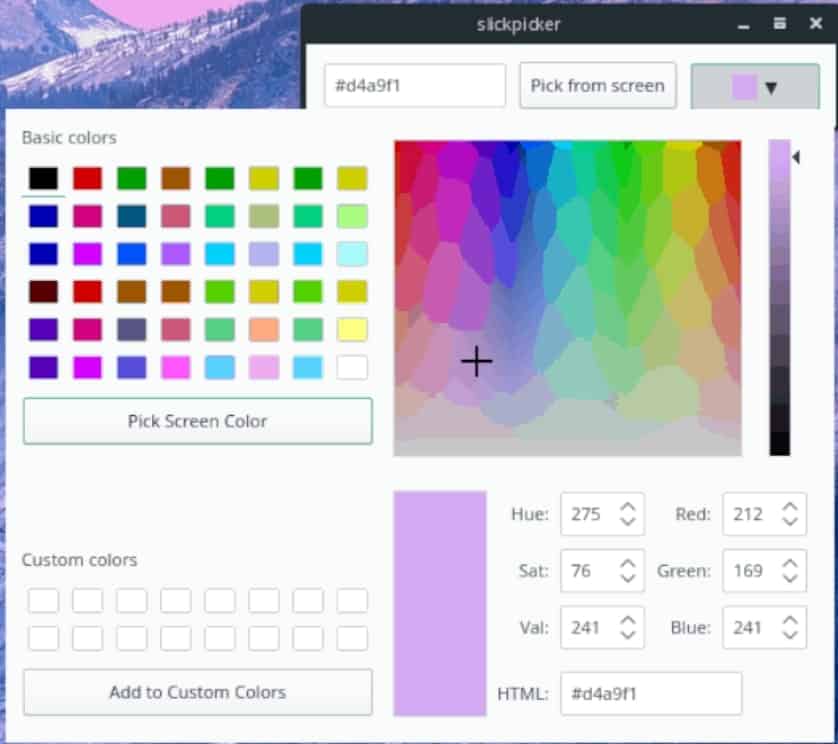 Key Features of SlickPicker
Apart from the beautiful graphical UI, it runs on the Linux terminal interface.
It has a cylindrical color mixer with an option to increase and decrease the value.
You can add up to 16 colors into its custom color palette options.
It has a built-in library for almost all the basic colors; you can choose your desired colors from that.
10. Color Picker Terminal
---
This is a Linux terminal-based color picker tool. When I first found it, I could not believe that a color picker tool can run without a graphical user interface. But after using it for testing purposes, I must say that it is amazing.
This tool will print the color code after you type the command colorpicker inside the terminal. Yet nobody will recommend this tool over other feature-rich color pickers, and you can give it a shot if you are a terminal kind of guy.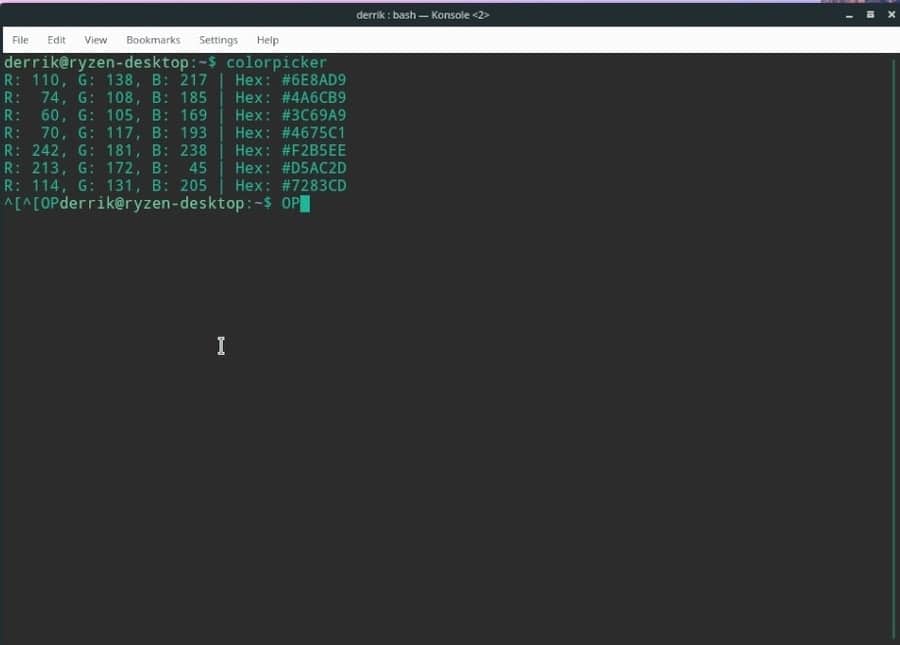 Key Features of Color Picker Terminal
It will print the color code in two different formats, such as RGB and HEX, simultaneously.
This tool will show you a color preview in a small rectangle if you command in that way.
You can use some modifiers for performing some extra operations.
The Github page has complete documentation on how you can use this tool.
Finally, Insights
---
Color picker tools for Linux provides much value to the designers and developers. Most of the power users can not live without a color picker. The above-mentioned color pickers are some of the bests that are being actively maintained. I hope this article will clear all your confusion and lets you choose your favorite color picker. If you think that your favorite Linux color picker is missing in this list, you can comment below to let others know.