PC fan is an essential component of a computer device to keep the computer cool when it performs heavy activities. There are two ways to control your PC fan. One manually connects a PC fan controller to your computer with knobs and set different fan speed. Another way is automatic through software that monitors temperatures from numerous sources and allows you to control PC fan speed. So, the automated method is easy to gain more control over the PC fan. Here I have discussed the best PC fan speed control software for Windows that allows you to change your PC fan speed based on your computer requirement.
The number of PC fan control software is few and far between. However, they also have differences in features. So choosing the best PC fan control software is not an easy job. This article guides you on finding the right PC fan control app by describing the features of these. So read this article thoroughly to make a better decision of choosing the right PC fan control software.
Why Are My PC Fan So Loud?
---
The two primary components of your PC to create loud sounds are Fan and a hard drive. When running high-end graphics software like game or video editing software, the computer produces extra energy on the CPU and GPU. As a result, the computer becomes hot, and PC fans increase the RPM to blow out the hot air and try to cool down your computer. During this cool-down process, the computer becomes crazy and makes a noisy sound.
There are three fans in a computer: main computer fan, CPU fan, and power supply fan, that work together to cool down the computer. However, the computer fan does not work itself. It has a sensor in the motherboard that informs the fan to run when the motherboard generates heat exceeding the critical level.
So when you have found your computer makes a loud sound, you should install fan control software to ensure your hardware is in good health. The fan control software utilizes the sensor to control the fan speed.
Best PC Fan Control Software For Windows
---
A good PC fan control software optimizes the CPU and GPU performance with minimum fan noise. So it would be best if you found good fan control software. We have compiled the top 5 best PC fan control apps that work with the Windows systems, including the latest Windows OS. Check out the list and learn more about the features, pros, cons, and prices of the top 5 fan control application to help you make a better decision.
1. SpeedFan
---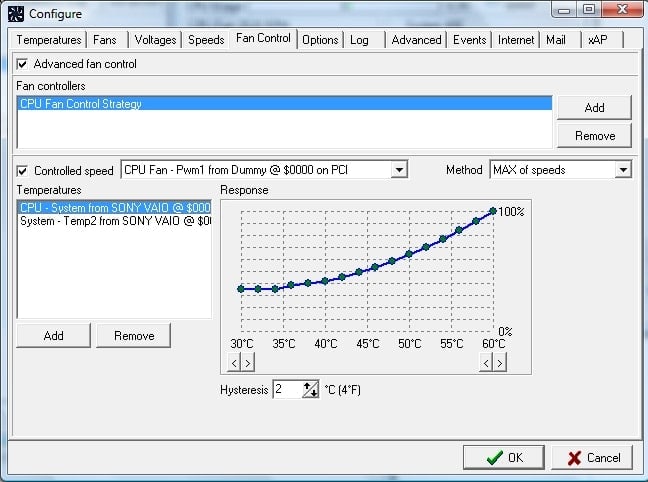 SpeedFan is the top popular PC monitor tool that helps you to monitor voltages, temperatures, and fan speeds in the system. With this system utility tool, you can control the entire hardware device. The best part of this program is that it is compatible with any PC brand and model.
This software is the first preference as a fan control software for offering excellent features for computer health monitoring. SpeedFan user interface is so easy to use that anyone can efficiently operate and control the software. Some of the key features of this fan speed control software are pointed out below.
Key Features:
SpeedFan monitors hardware temperature from different sources.
With this tool, you can get access to the digital temperature of the hardware and modify  PC fan speed, which helps you reduce fan noise.
SpeedFan supports both S.M.A.RT info and SCSI sensors so that you can get information about fan speed RPM and CPU temperature simultaneously. It helps you to change fan speed quickly.
Besides, you can get CPU temperature at Celcius or Fahrenheit. So you can alter the CPU temperature measurement scale as you like.
Moreover, SpeedFan displays the hardware information in charts and an indicator in the system tray. So you can quickly analyze the data and make a quick decision.
Pros: SpeedFan is highly customizable and easy to configure.
Cons: Some functions do not work perfectly.
Pricing: Free
2. Argus Monitor
---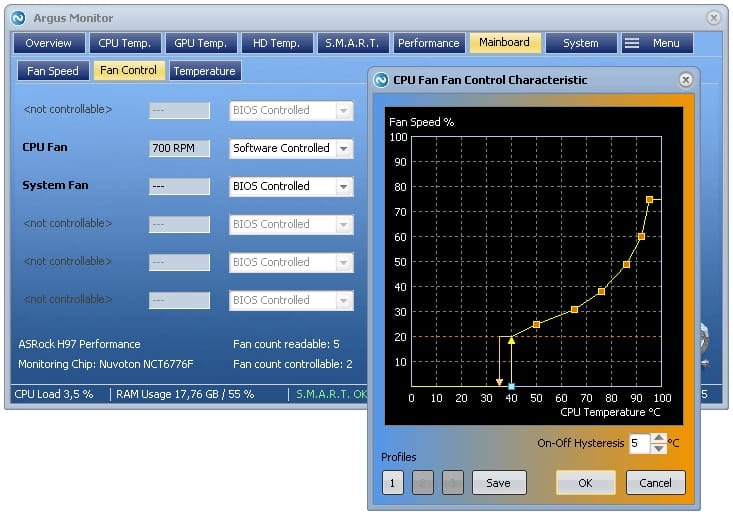 Argus Monitor will be the best choice for you if you look for lightweight fan control software for your Windows PC. This software consumes little RAM but provides complete control of your hard drive and a PC fan. So you can keep track of everything in your computer system without hampering the computer's normal process.
With this application, you can control each fan separately and create a nice control curve between the fans by inputting different factors for PWM fans. Another fantastic feature of this software is that you can save and even export the software's settings while you are reinstalling the software. Overall, this software offers all fan control features that other fan control software can do, along with a few more things.
Key Features:
Argus Monitor connects with all supported hardware parts linked in the motherboard and monitors all available temperature sources like GPU, hard drives, and SSDs.
With Argus Monitor, you can control all fans separately and configure a control curve.
This program comes with a graphical display of GPU and CPU temperature.
Besides, you can adjust and control the fan speed of the graphics card, which is very helpful for active gamers.
In 70% of cases, Argus Monitor can warn you before the hard disk fails so you can transfer your essential data elsewhere.
Moreover, it provides HDD and SSD benchmarks to analyze access and transfer time.
Pros: Argus Monitor comes with a simple UI that help you to monitor and control CPU and GPU temperature.
Cons: Argus Monitor user interface is static. You can not customize or resize its user interface.
Pricing: The license fee for Argus Monitor for 1 year is $13.90 and 3 years is $28.90. However, you get a 30-day free trial.
3. Corsair Link 4
---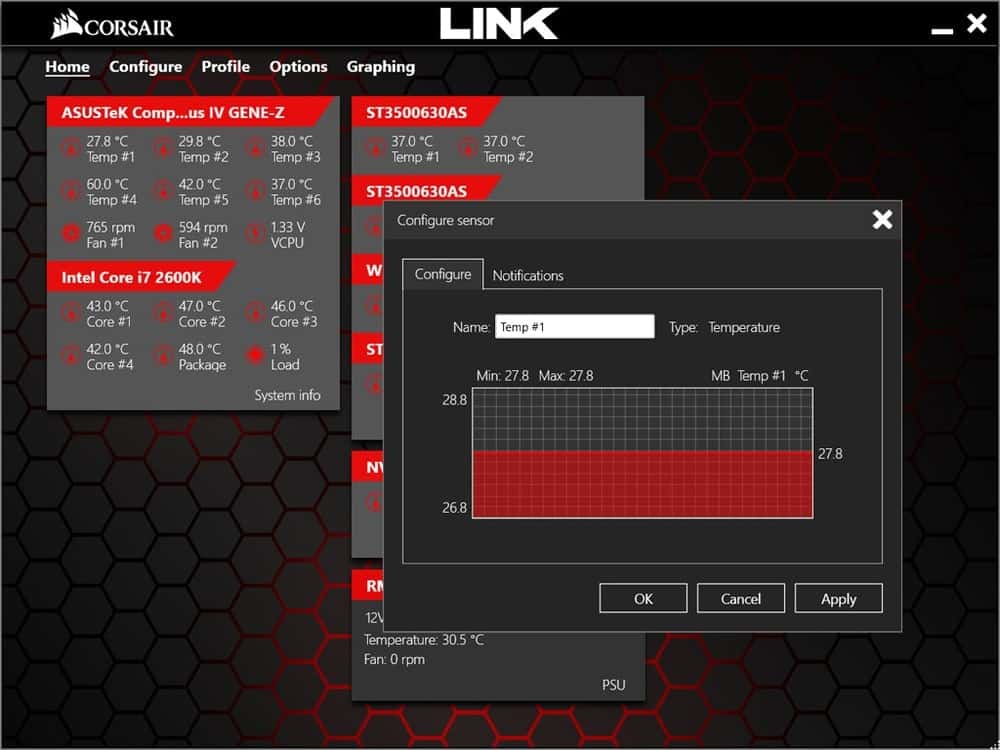 If your computer has been installed corsair fan, then Corsair Link 4 is the best for you as a fan controller software. This software monitors both the computer and its hardware. With this software, you can measure CPU and HDD temperature and control the fan speed.
Corsair Link 4 comes with a gaming interface that displays colorful lights in the dashboard. You can easily control your PC temperature by changing the number of lights colors. With the help of Corsair Link, you get details of CPU, GPU, and hard disk temperature and control fan speed.
Key Features:
Corsair Link monitors real-time CPU and GPU temperature, CPU load, DRAM frequency.
With this software, you can configure warning criteria of the CPU and GPU temperature and fan speed.
This software is compatible with Corsair power supply, lighting, graphics card, Hydro Series liquid CPU coolers such as H115i, H110i, H100i v2, H80i v2.
Corsair Link dashboard interface is fully configurable, where you can drag and drop the PC device according to your computer case.
This software has RGB LED to control PC temperature. When the PC temperature increases, the light turns Red color, and when the PC temperature decreases, the light turns green color.
Pros: Corsair Link 4 can automatically adjust your CPU cooling function.
Cons: If the computer does not have Corsair hardware installed, Corsair Link software usage is minimal.
Pricing: Free
4. HWMonitor
---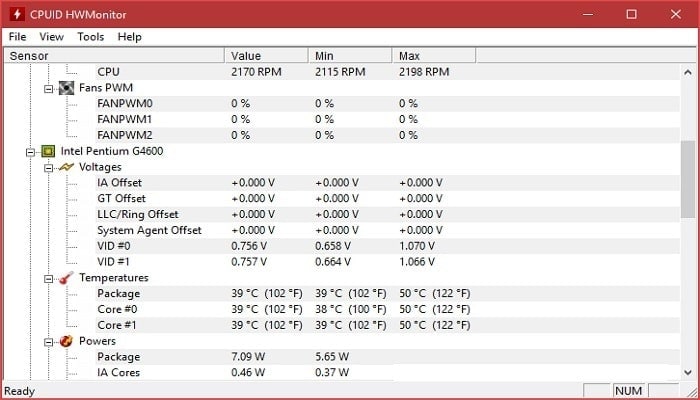 HWMonitor is another trusted hardware monitoring and fan control software available for Windows that reads the system's health sensors. It primarily monitors voltages, temperature, and the computer's fan speed. Besides, it also scans the Specific, Measurable, Achievable, Realistic, and Timely (S.M.A.R.T) information about the hard drive and graphic card.
To track the CPU power consumption volume, you can measure this using HWMonitor. This utility tool lets you know the power consumption volume in watts. Besides, you can regulate PC fans to cool down your hardware with this software.
However, the interface is a bit clumsy and takes a few times to accustomed to this. But, when you become familiar with the tools, you will never alter this software.
Key Features:
HWMonitor monitors three computer fans' speeds in real-time.
It also tracks the minimum and maximum CPU fan speed records.
Besides, it monitors the motherboard and processor voltages.
Moreover, it monitors processor, GPU, and HDD temperature.
All data about hardware monitoring is saved in TXT format.
Pros: HWMonitor updates all hardware internal performance data immediately.
Cons: However, this software has no alert option. So you always supervise data and take action manually according to the report.
Pricing: Free
5. ZOTAC FireStorm
---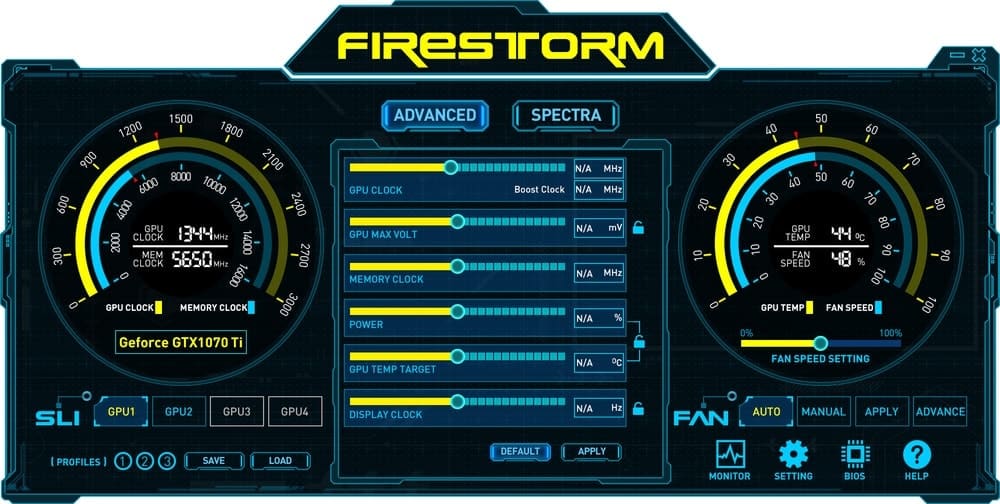 Since ZOTAC has been developing game development and graphics cards for a long time, they know how to play heavy games by keeping the computer cool. So ZOTAC introduces FireStorm as a fan speed monitor and overclocking tool.
This tool comes with a bundle of computer health monitoring features like overclocking the GPU, creating customs fan curves, changing the RGB lights of the graphics card, monitoring hardware performance.
This program allows you to tweak and tune graphics cards at the optimal level. The fine-tuning and straightforward user interface lets you easily manage graphics cards and fans. In addition, the program also copes with multiple Zotac graphics cards in the system.
Key Features:
With the ZOTAC FireStorm tool, you can monitor and manage graphics cards.
This tool allows you to monitor GPU clock speed, memory clock speed, and shader clock speed.
You can view the fan speed in real-time and can modify the fan speed with just a click.
The current clock rates and temperatures are displayed on two large round instruments. But there is also another view that shows all relevant parameters over time.
ZOTAC graphic cards have LED lighting, and the lighting can be adjusted in terms of color and effects using the Spectra switch.
Pros: The dashboard is updated with real-time graphics card and fan speed data.
Cons: The worst part of this software is that it can not monitor the CPU fan.
Pricing: Free
Our Recommendations
---
Although there are many types of computer health monitoring software, there are not many options as fan control software. So using any one of the 5 fan control softwares discussed above, you can control your computer fan and minimize the system's noise.
SpeedFan is mainly used as fan control software for any type of PC brand and model. The best part of this software is that it is free to use. So we recommend this software for personal and home use.
However, if you are looking for more control and simple user interface fan control software, you can pick the Argus Monitor. It is a professional fan control software for Windows that monitors and analyzes the hardware's temperature and health status.
On the other hand, Corsair Link 4 is mostly recommended where Corsair products are installed, and ZOTAC FireStorm is also recommended for Nvidia graphics card users for enjoying advanced fine-tuning features for that specific products.
Concluding Words
---
All of the softwares are easy to use, and anyone can easily manage a CPU fan. So, there is the top 5 PC fan control software compatible with your Windows PC or laptop. Here we have tried to compile the most effective fan controller app considering the features, pros, and cons.
Hopefully, this article has solved your PC fan-related problems. If you have any queries or suggestions, please comment in the comment box below this article. Our support team responded quickly.
And if you think this article will be helpful to your friend, then you can mail the article to your friend or share it on social media. One share of yours can bring great benefits to others. So don't forget to share this article!