The days of the printed calendar are coming to an end. In today's age of information technology, we rely heavily on modern technology. Spend a maximum portion of the day on mobile and computer. So instead of a wall or desk calendar, now a calendar app is becoming quite popular. This calendar app can be used to view dates as well as schedule important events and meetings. In addition, new features are constantly being added to this app. So today, I will describe some of the calendar apps for Windows users that will help them organize their daily tasks and schedule for the next.
Windows is the most widely used platform in the world. So in today's article, I have only discussed the Windows Calendar software as most computer users can benefit from reading this article. Moreover, some calendars are available on almost all platforms.
However, if you are a Windows user, I hope you will read this article. Because just by reading this article, you will understand how a good calendar app helps you achieve your personal and professional goals.
How to Choose the Best Calendar Apps for Windows
---
Picking the right calendar is not as straightforward as you think. Many great options in the market don't mean you have to pick anyone. Firstly, you need to consider how to use the calendar, essential features, and budget. You can also read user reviews on the internet before using any software and decide which software will suit you.
Windows has a calendar that shows you the dates. So you should use a calendar that helps you plan your daily life well. The features that a good quality calendar might typically be the following features which are scheduled creation, customizable view, integration with other apps, user-friendly interface. In this article, I have compiled 5 excellent calendar softwares for Windows that are best in class and functionality.
1. One Calendar
---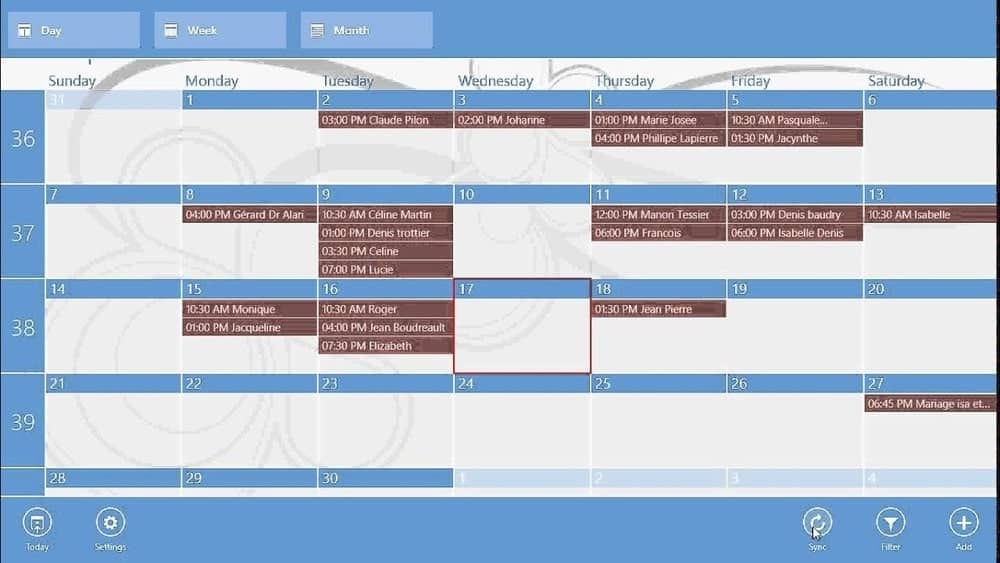 One calendar is one of the user-friendly and straightforward calendar software for Windows to manage multiple calendars in one simple place. With One calendar, you can manage your online calendars, including Google Calendar, Outlook Calendar, Exchange Calendar, Facebook Events.
The best of this One calendar is that you can use this calendar offline without an internet connection. You can view days, weeks, months, and even the whole year through the calendar. You can also save your favorite person's birthday or any of your future activities on this calendar and set reminders so that the important one is never missing out anyway.
Key Features:
With this excellent digital calendar, you can view and manage appointments, schedules, and events.
One Calendar lets you add, modify and delete the appointment as required.
Its search tool is advanced that you can get information that is saved in this calendar quickly.
This calendar is compatible with multiple google and Office 365 programs.
You can customize One Calendar's colors, theme, and live tile format.
Pricing: Free version is available. The premium package is $4.99.
2. Morgen Calendar
---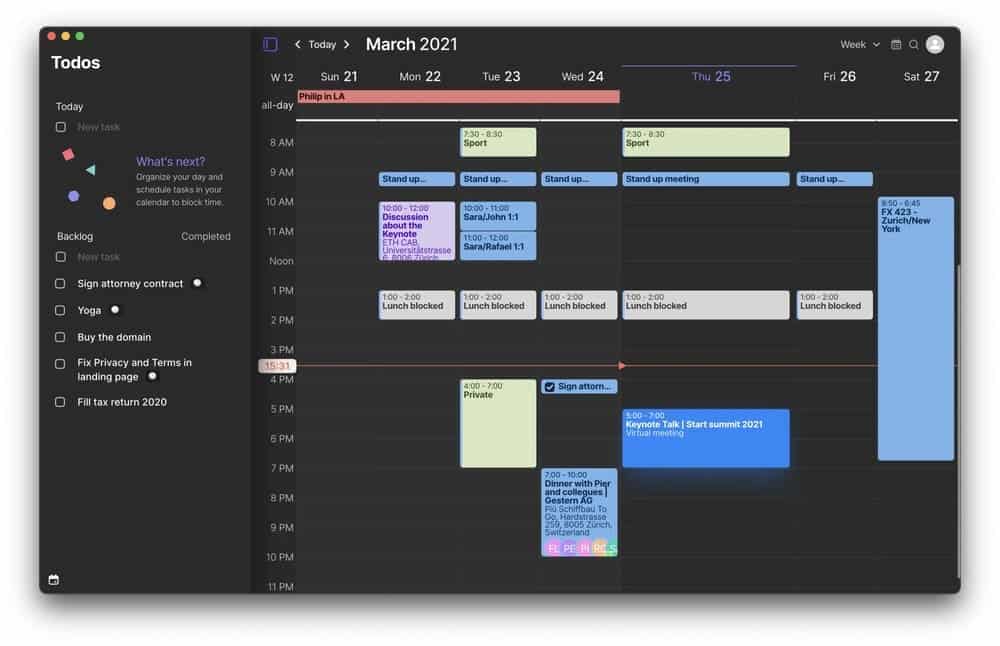 Morgen Calendar is another powerful calendar app for Windows that can manage multiple accounts, manage schedules, keep track of tasks and appointments in a single platform. Just with a single click, you can install it on your computer.
The best part of this calendar is connecting with your Google, Microsoft, iCloud account and managing all accounts in a single place. So this calendar displays all events of multiple accounts at once.
You can create a task list and assign each task in a different color to distinguish it from others and mark the importance of the tasks. Besides, you can sort and prioritize all tasks. Moreover, it has a dragging and dropping option to rearrange the tasks. In conclusion, it is an excellent calendar for professional usage.
Key Features:
By using this software, you will be able to know the schedule of any time in a quick time. A minimized version of the software helps you to recall quickly the date, time of the meeting.
You can extract meeting links from videoconferencing platforms like Zoom, Google Meet, Teams and join the meeting directly from the Morgen.
You can easily navigate the calendar by using keyboard shortcuts.
The universal search tool helps you filter and find everything that has happened or will happen.
Morgen also allows your invitees to reschedule or cancel a meeting.
It sends a reminder email to the attendees to minimize missing the schedule.
Pricing: Morgen has both free and paid packages. The Morgen free account is enough for you if you use the calendar for personal use. But to access multiple calendar accounts in commercial use, you can purchase Morgen Pro at $14/month.
3. My Calendar
---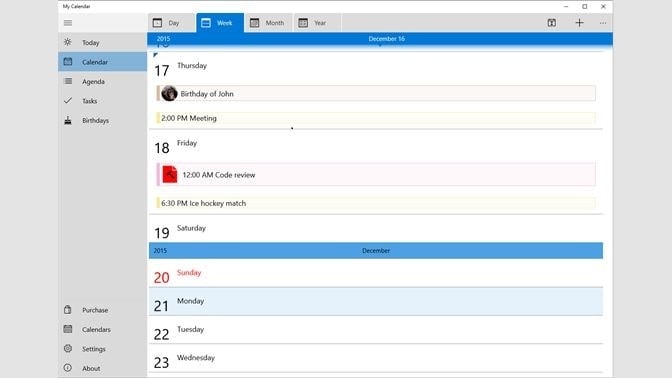 My calendar is a highly customizable calendar software suitable for Windows. It is a comparatively new calendar in the market loaded with many useful features. You can organize your daily routine with My Calendar. Moreover, this calendar app lets you manage tasks and schedule important data with photos.
My Calendar app has become popular because of its many eye-catching calendar templates and customization option to view the calendar. It lets you prefer the calendar view depending on your daily tasks.
Key Features:
My calendar allows you to view your calendar on a day, week, and monthly basis.
It lets you quickly switch between different calendar views.
You can create events, vacations, and special days such as birthdays with photos. Moreover, you can send a birthday wish through this calendar.
It has several live tiles and allows you to choose any live tiles from the multiple options.
It provides a grid mode in the week view of the calendar.
Besides, you can select the visible calendar from all available calendars in the system.
Pricing: If you want ads free calendar and an additional task management option, you need to subscribe to My Calendar Pro. Otherwise, you can use the My Calendar free version.
4. Chronos Calendar
---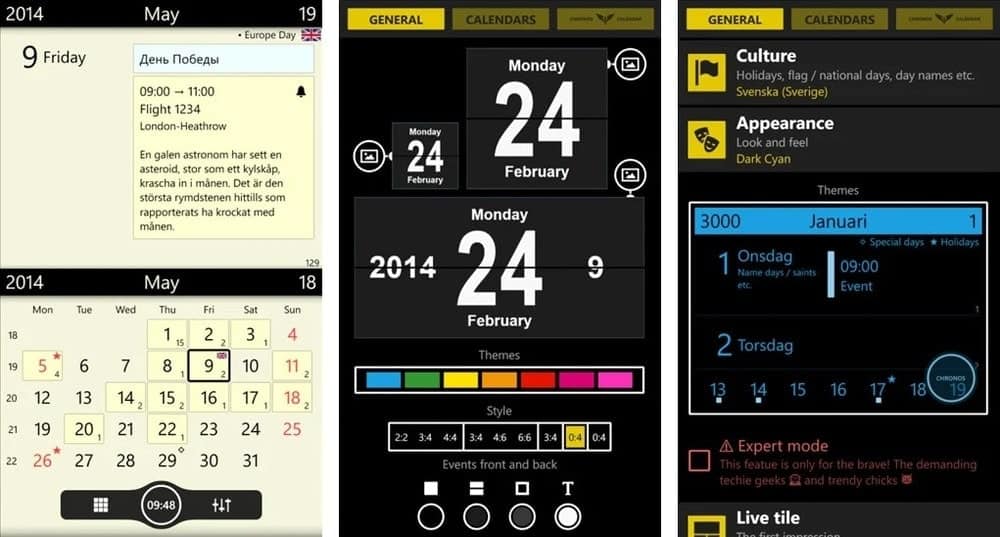 Chronos Calendar is the most beautiful calendar app for Windows with many attractive features. Besides, you can customize the calendar appearance as required. Moreover, you can customize the rich live tile, including background color, font size, and contents.
Chronos Calendar also lets you save events, and you can distinguish all events by applying different colors and icons. It also has a notification option to remind the event. Furthermore, you can quickly move the calendar to jump to a specific date and click a single back the today's date.
In addition, it has a cool animation to swipe between the months and selects the date that makes the calendar live. Overall, it is an effective calendar software for Windows users.
Key Features:
Chronos Calendar syncs all calendar accounts and personalizes your calendar appearance to match your style.
On the Chronos Calendar dashboard, you can add moon phases and explore ore with the zodiac calendar. If you are an astrology lover, this calendar helps you keep track of the moon's movement.
Chronos Calendar shows more than 70 countries' holidays and important dates.
Besides, the Chronos Calendar is available in more than 30 languages.
With this elegant Calendar app, you can add the event date, the ending date of the event, and recurring events. Moreover, you can set the notification for each event.
Pricing: Chronos Calendar's purchase price is $2.49.
5. Microsoft Outlook Calendar
---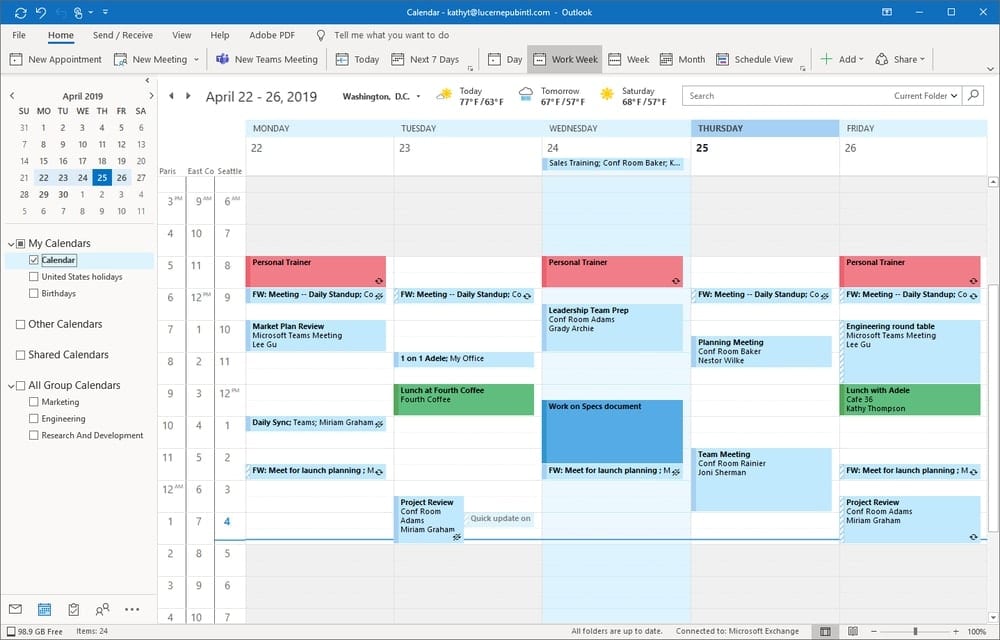 Microsoft Outlook is an email client software, but it is more than an email client. It has a calendar tool that allows you to organize your daily task conveniently. Besides, this software integrates with all Microsoft Office suites such as Word, Excel, OneNote, and more. Moreover, this software is compatible with all types of devices or media like desktop, web, mobile.
The best part of this software is getting a professional calendar for free. You need to log in to your email with Microsoft Outlook. After that, you enjoy all outlook features, including the calendar.
Microsoft Outlook Calendar has all the commonly found features in a calendar app. Moreover, since it is Microsoft's product, Windows users can easily use it as a calendar software.
Key Features:
Microsoft Outlook is smoothly integrated with the Windows platform, where you can quickly launch calendar tools without installing another calendar app.
This calendar app supports the standard view of the calendar such as day, week, month and
Microsoft Outlook allows you to create multiple calendars and view all calendars side by side. Besides, you can share your Outlook calendar with other Outlook users.
You can share specific parts of your calendar via mail instead of sharing everything, and you can control what information the receiver can see.
By using the delegate feature, you can manage other Outlook users' calendars while they give permission. For example, you can add, modify or delete the appointment schedule of your employees.
With this app, you can schedule the tasks that send you a regular reminder so that you never miss your lessons.
Pricing: Usually, Microsoft Outlook has been installed on your Windows. You can use Outlook Calendar for free.
Our Recommendations
---
So this is all of the top 5 best calendar softwares for the Windows platform based on functionality and ease of use that makes them stand-alone and suitable for you. Among the list, you may try the Microsoft Outlook Calendar to meet your basic requirement because this is the widespread software installed by most Windows users, including probably you.
However, if you want to use alternative calendar software, you can use One Calendar. This software will allow you to use the features of the calendar for free. And if you want to use multiple accounts for professional work, I think Morgan Calendar will suit you.
Concluding Words
---
In conclusion, a good calendar will be easy to use, compact in power features, scheduler, and customizable. All five calendars I have described in this article can organize events, track daily tasks, and maintain schedules.
However, apart from the list, if you know of any good calendar app for Windows that I missed. You can write the name of the calendar and its features in the comment box below. Then I can add your calendar to my best calendar app list.