Windows 10 has a built-in photo viewer called Microsoft Photos to view stored photos on your computer. Undoubtedly, this built-in photo viewer performs excellently, but it has some limitations, such as it does not support all file formats, providing limited editing features, etc. So you need to look for a third-party photo viewer app that helps you view all image format photos.
Fortunately, there are many apps of alternative Microsoft Photo on the web that you can use for photo viewing. In this guide, we have compiled the 10 best photo viewer apps. If you are looking for the best photo viewer app for your computer, you are in the right place. Explore our top list and find the best app for your Windows.
Best Photo Viewer for Windows PC
---
While looking for the best photo viewer app, you should consider app functionality like search features, sharing options, batch image conversion, image editing, cloud storage, etc. In our list, we only cover the photo viewer apps that fulfill the above criteria. Though everyone has their own choice, you have the freedom to pick the right one for you. Without wasting time, let's check out our list of best photo viewer apps for Windows.
1. 123 Photo Viewer
---
123 Photo viewer is an UWP-based photo viewer that supports both photo and animation file formats. It provides you with an outstanding experience of the handle animation files. This photo viewer tool lets you forward and backward each frame of animation, and you can also save every frame of animation.
Because of its ease of navigation and excellent user interface, 123 Photo Viewer is currently the most popular photo viewer software. Moreover, you can enhance your photo by using various effects and filters.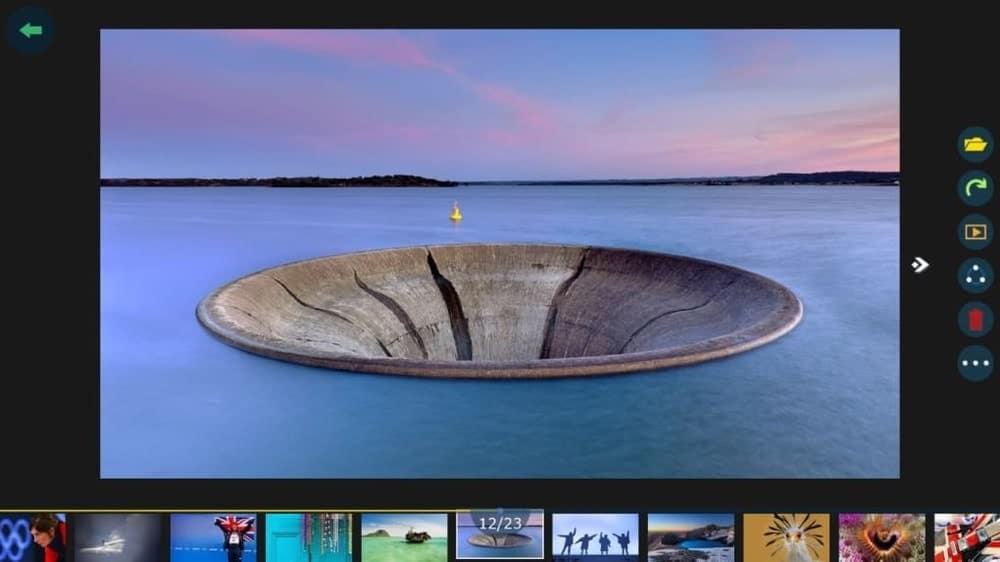 Key Features:
You can add images from the OneDrive cloud and Windows local drive.
Make your image more beautiful by using various effects and filters. Besides, you can quickly fix the red-eye problem, and you can resize or crop your photos.
123 Photo viewer has a nifty slideshow viewer.
With the help of 123 Photo Viewer, You can change batch image format.
It supports image and animation file formats such as JPEG, PNG, GIF, APNG, and WebP. Besides, it is the only photo viewer app that supports the ".bpg" format.
123 Photo viewer has an excellent magnifier tool to magnify images in one click, and alternatively, you can quit magnifying by moving the mouse or clicking again.
Pros: 123 Photo viewer provides the easiest keyboard support so that you can easily apply multiple comments just by pressing a single key. For example, press 'Esc' to quit the app, press 'F' to make fullscreen, press 'Delete' to photo directly.
Cons: However, its editing tool has some glitches.
2. Google Photos
---
Google Photos is a cloud-based photo storage site where you can store your photos and videos on the cloud so that you can access these anytime on any device. You can save Google Photos as a PWA to upload images on this app and use it as an alternative to Microsoft Photos.
The best part of Google Photos is that it organizes all photos based on the people, place, occasion. Besides, you can quickly find any photo by using Google Photos' advanced searching feature.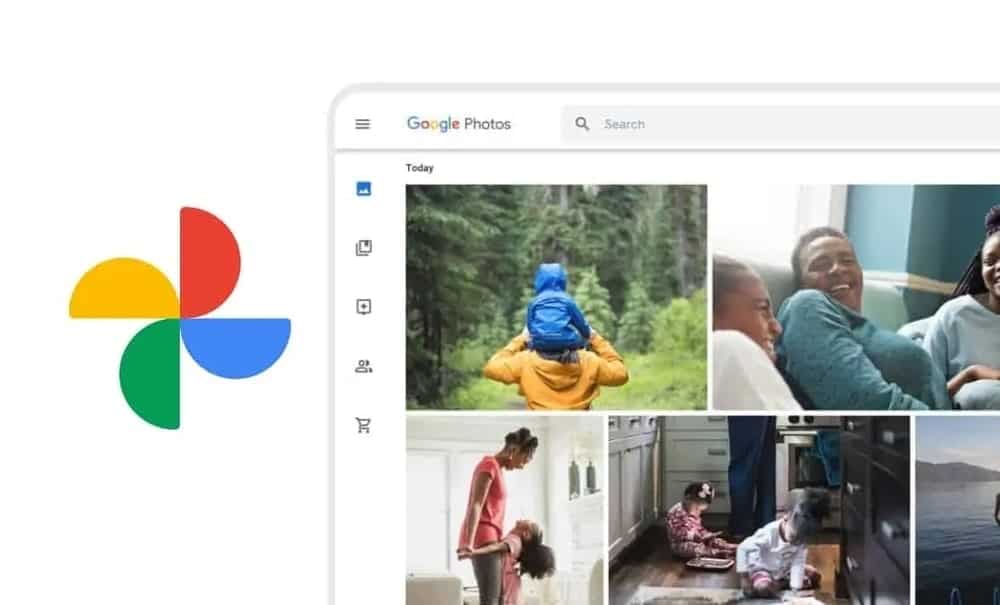 Key Features:
All photos are automatically syncing to Google cloud so that you can access your photos from anywhere on any device.
You can quickly access your photos based on the upload date. This photo viewer lets you jump to a specific date photo album quickly.
Besides, Google Photos incorporates an advanced search feature that lets you find a photo with a keyword.
It has a powerful editing tool to apply various effects, filters, colors, and more.
With Google Photos, you can share a batch of photos with a single click.
Pros: Duplicate photos occupy spaces of a hard drive, and Google Photos can merge two or more similar images by leaving one single image.
Cons: However, Google Photos is a handy photo viewer but not a dedicated app. You can use it as a PWA, and you need an internet connection to access photos from cloud storage.
3. Apowersoft Photo Viewer
---
If you are looking for a free photo viewer for Windows 10, Apowersoft Photo Viewer is one of the best options for you. This photo viewer supports various photo formats such as PNG, JPG, BMP, TIFF, RAW. Besides, it also works as a PDF reader app.
Moreover, another excellent feature of this photo viewer is that it can take screenshots. As a free app, it provides a bunch of useful features that you must convince to use as a primary photo viewer app on your computer.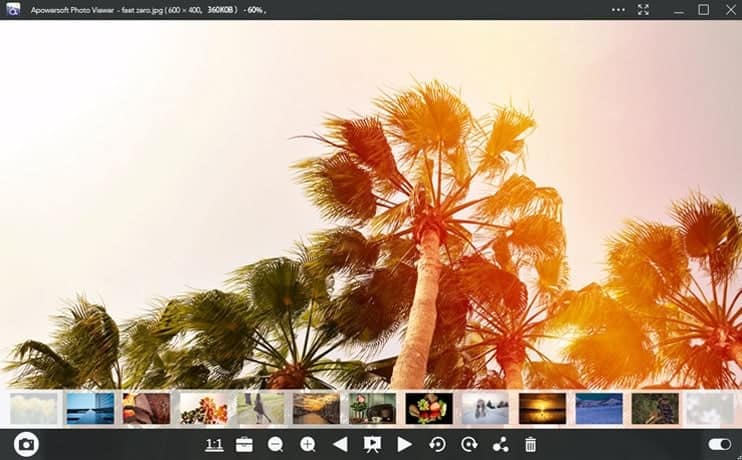 Key Features:
Apowersoft Photo Viewer comes with a friendly interface that provides you with a smoother experience in viewing photos.
This photo viewer occupies few resources to view photos smoothly even if you use a computer with low configuration.
With this tool, you can take a screenshot of any photo region and add shape, line, text, and other annotations to the screenshot.
It lets you batch processing images to change image formats, names, and sizes with a single click.
Besides, you can share your favorite image with others in a second.
Moreover, it comes with a built-in image editing tool to enhance your photo.
Pros: Apowersoft Photo Viewer has free cloud storage. In this cloud, after uploading a photo, you get a shareable link that allows sharing with others.
Cons: This tool is only helpful to view photos. You can not manage photos with this tool.
4. Moveavi Photo Manager
---
Moveavi Photo Manager is an advanced photo viewing app to manage and store an extensive collection of photos and videos. Besides, this photo viewer is compatible with both Windows and Mac. So you can seamlessly use this app in both operating systems.
Moreover, you can organize and sort images even find duplicate photos in the gallery. Furthermore, it supports a wide range of photo formats such as JPEG, PNG, RAW, and more. However, this app has no free version. You can buy this app at 39.95. Before purchasing this app, you can use a free trial for 3 days.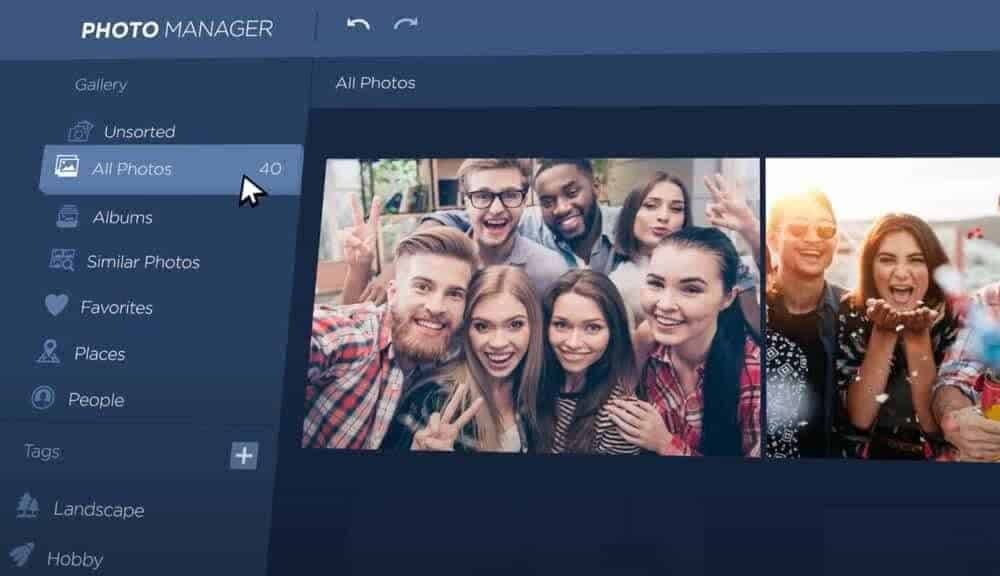 Key Features:
Do you want to manage your digital image gallery into a folder easily? Moveavi Photo Manager is a great tool to organize photos.
This photo tool can detect faces automatically and organize photos of each face nicely.
It lets you use the tag in each photo to organize your image based on the tag easily. Additionally, it enables you to navigate the image quickly.
Moveavi Photo Manager detects geolocation. So you can organize your photo based on geolocation.
If it finds similar photos in a gallery, it lets you edit the matching images in a batch and give you the option to choose the best and delete the rest.
Though Moveavi Photo Manager can find duplicate photos, you can free your hard disk space by deleting all the same photos by leaving one single photo.
Pros: Moveavi Photo Manager provides many editing options like crop, flip, rotates, resizes, straightens, and more. The best part of this photo manager is that you can edit photos in a batch.
Cons: Moveavi Photo Manager has a built-in search feature, but it is not practically workable to find the actual photo.
5. Irfanview 
---
Irfanview is a lightweight, user-friendly, compact photo viewer developed for Windows 10. However, this app is also compatible with other Windows versions like Windows Vista, XP. It is a unique photo viewer which supports multiple languages and Unicode. Besides, it comes with lots of powerful features that make it a popular photo viewer in the photo viewer industry.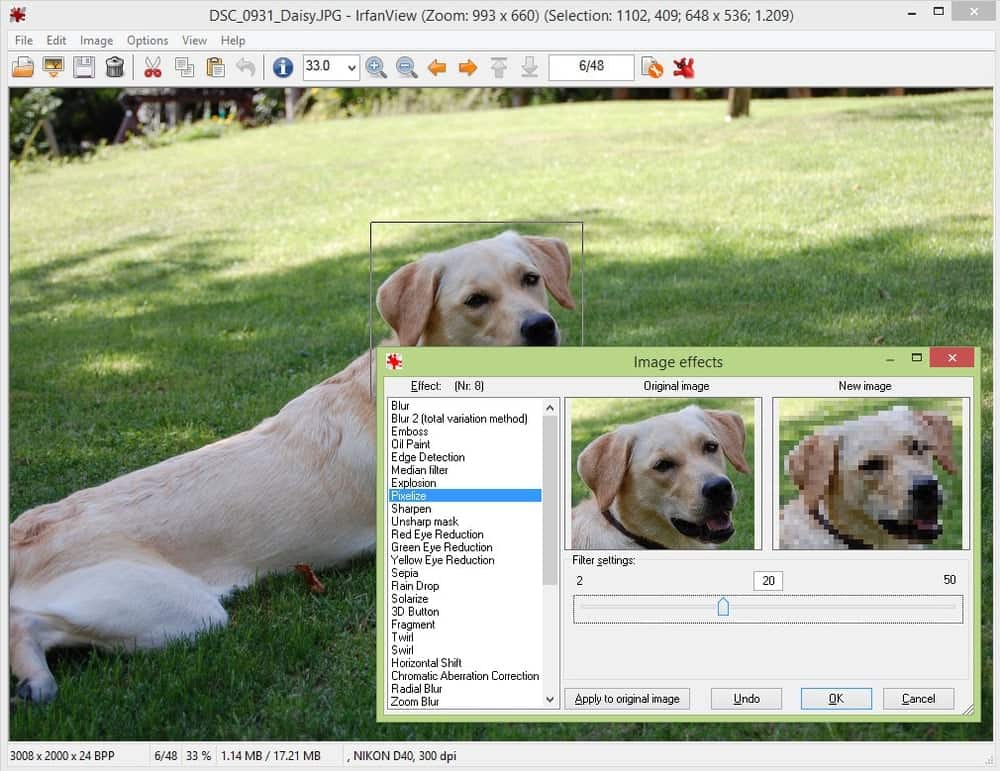 Key Features:
With Irfanview, you can convert images into different image formats.
Sometimes we need to add a watermark in the photo to make it personalized. Glad to announce that Irfanview has a watermark tool.
It is not only a photo viewer but also an OCR. So you can convert your photo to text with this multi performer tool.
You can create a beautiful slideshow by using Irfanview.
Irfanview has a batch processing tool to process multiple images at once.
Pros: Irfanview has an effective editing tool to make the photo beautiful. With this editing tool, you can also edit multipage TIF files.
Cons: Though it has an editing tool, it lacks helpful editing tools like filters, effects, etc.
6. Nomacs
---
Nomacs is a lightweight, free, open source photo viewer that supports multiple OS platforms. This photo viewer not only supports all photo formats but also supports PDF and PSD formats. Besides, it has a semi-transparent widget that shows metadata, histogram of the photos. Moreover, you can browse images in a zip and word file by using Nomacs. Furthermore, you can manipulate your photos by using a handy photo editing tool.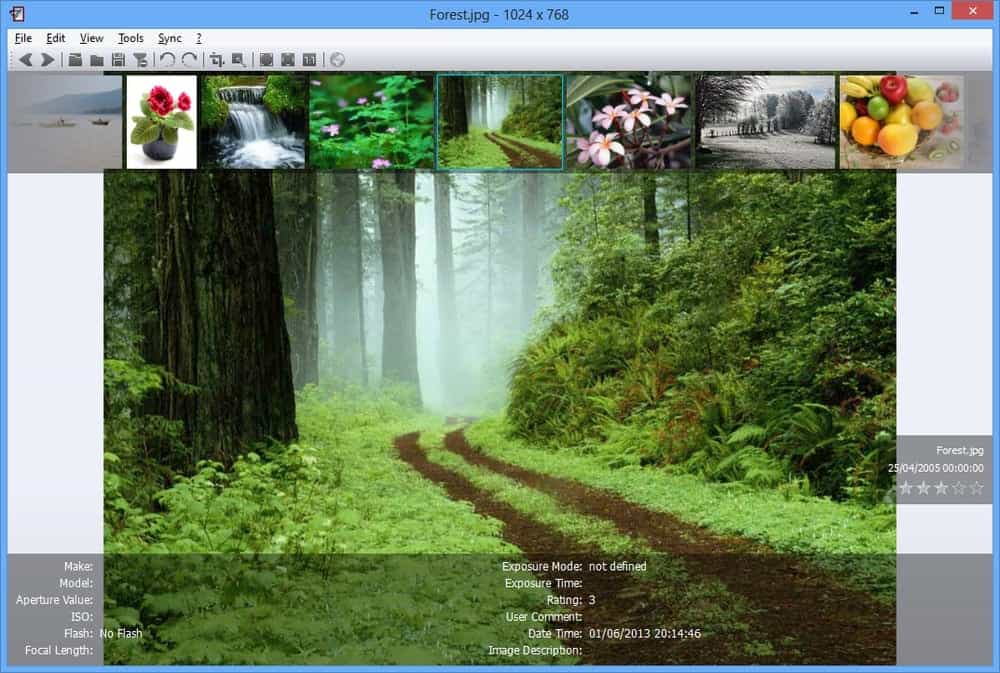 Key Features:
Nomacs provides metadata, so you can easily trace the additional information background of an image.
The best thing about this app is that you can access all photo formats, including PDF and PSD files.
It shows a thumbnail view of each folder, so you can easily find a particular photo folder and switch between folders.
Nomacs comes with a built-in photo editing tool that lets you adjust brightness, contrast, saturation, gamma, exposure, and more. You get unlimited freedom to manipulate your photo.
It allows synchronizing of multiple instances so you can compare images by zooming in exact positions.
Pros: Nomacs has a file filter to display images by matching a keyword or file extension.
Cons: The user interface is complex and not easy to navigate.
7. Adobe Photoshop Elements
---
No doubt, it does not need any introduction to Adobe products. Adobe Photoshop Elements is an excellent solution for organizing photos and enhancing the beauty of photos. Its intelligent photo editing tool makes your every picture fine-tuning.
You can create a beautiful slideshow, amazing collages, inspiring quote images with this super photo editor. With this software, you can design text by using multiple images. However, the software is pricy compared to other similar softwares.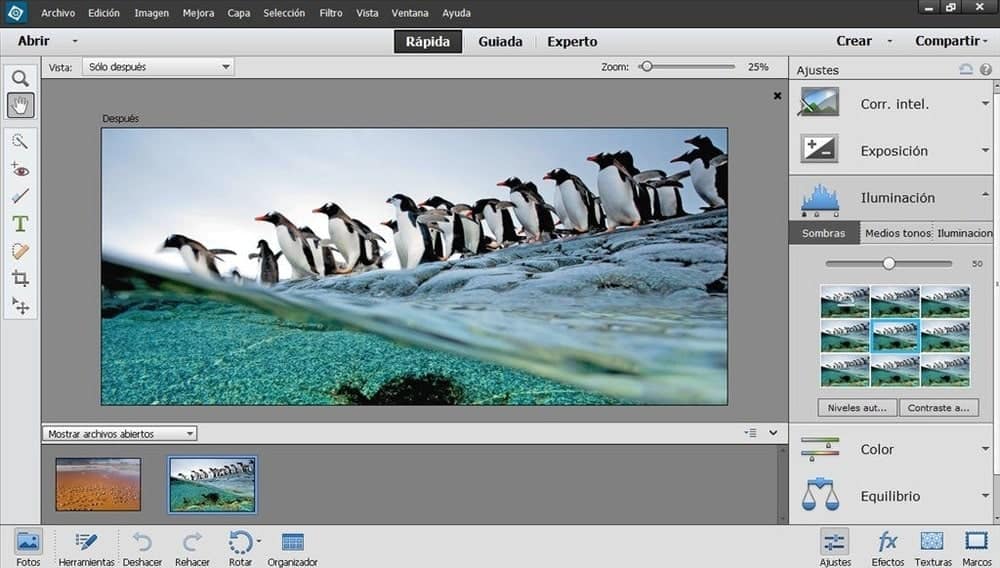 Key Features:
Do you want to apply motion in your static image? Yes, it is possible by using Adobe Photoshop Elements.
A perfect selfie brings more engagement to social media sites. Adobe Photoshop Elements helps to adjust the position of a person's face to produce a perfect selfie.
Turn your blank and white photo into multi-colors by using Adobe Photoshop Elements' automatic colorization tool.
The camera shake effect can be removed by using Adobe Photoshop Elements.
You can apply duotone effects and various filters to your photos. Besides, you can customize preset social media sizes for your photos.
Moreover, you can select an object with just a single click, and you can move, scale or duplicate the object.
This tool lets you apply the best exposure, remove distracting elements and create a beautiful panorama by grouping multiple photos.
Pros: Adobe Photoshop Element can organize and edit photos with a super powerful photo enhance tool.
Cons: Adobe Photoshop Element's price is too high. So it is affordable for all.
8. FastStone Image Viewer
---
FastStone Image Viewer is another excellent photo viewer for your Windows if you want a user-friendly and easy-to-navigate user interface. This tool displays your photos in thumbnail and fullscreen so you can easily access all your photos.
Besides, this software has some cool features like creating a slideshow with transition, HD magnifier, and more. However, this does not provide a free version. You can use a 30-days free trial, and after that, you have to pay $34.95 for getting a lifetime license.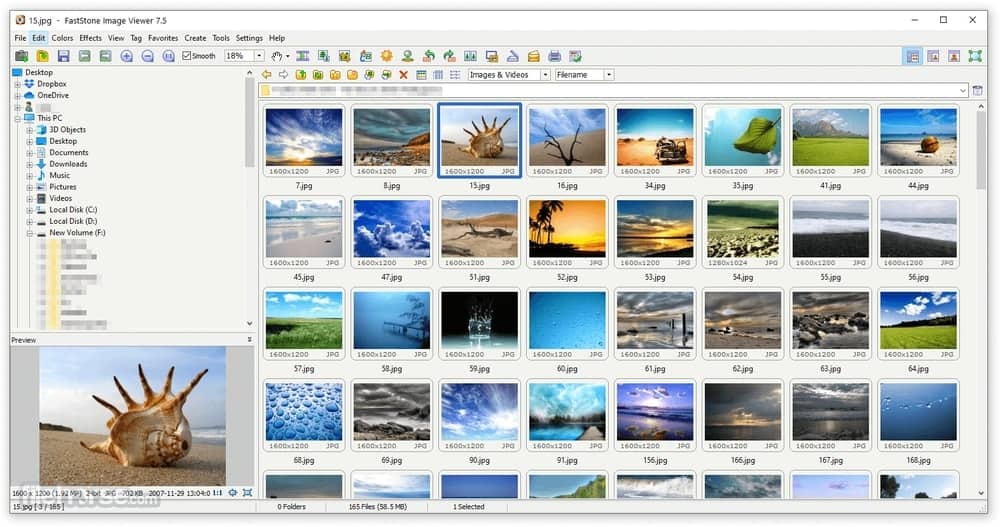 Key Features:
You can create a musical slideshow with over 150 transitional effects.
It supports all major photo formats like BMP, JPEG, PNG, GIF, and some popular digital camera raw formats like RAW, CRW, NEF, NRW, PEF, and more.
This software has a true full viewer with image zoom support.
It comes with lots of basic editing tools like crop, flip, blur, sharper, resizer. Besides, you can enhance your photo quality by adjusting color level, curve, lighting.
You can apply various color effects and special effects to your photo.
Moreover, you can draw different shapes, lines, text, and objects on the photo.
Pros: FastStone Image Viewer allows fast batch processing to resize photos for websites or email. Besides it accept image from the scanner.
Cons: FastStone Image Viewer has no album manager; you only view photos with this software.
9. ACDSee Photo Studio Ultimate
---
ACDSee Photo Studio Ultimate is world-class photo management and layer-based photo editing tool. With this software, you can review photos by providing ratings of your photo, categorizing these, and assigning keywords. You can check the sharpness, focus, and exposure of your photo. If there is any duplicate file on your computer, this tool helps you find out and merge everything. In addition, you can import photos from cloud storage like Dropbox, OneDrive.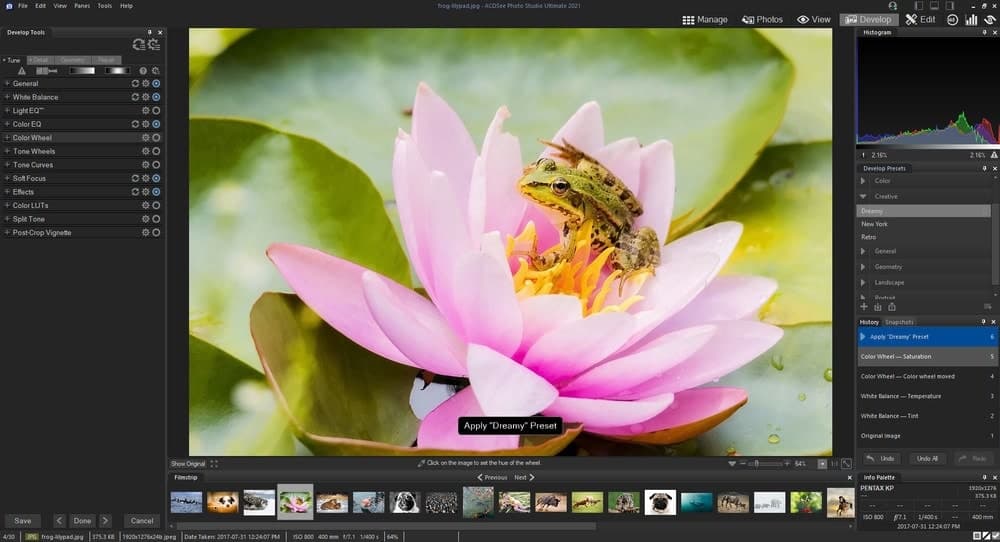 Key Features:
A developer mode to enhance your photo editing process allows you to view edit history and preset face recognition tool to detect a similar face in the ACDSee database and categorize photos based on the face.
You can create an action to record the editing process and apply this action to multiple images at once.
It supports all image formats as well as PDF and Microsoft Office documents. Besides, you can organize your file based on importance.
It has a bunch of editing tools like noise reduction, curve control, gradient control, red-eye tool, smart eraser, and more.
You can rename and resize multiple images at once. Moreover, you can add a watermark to a batch of images.
Pros: ACDSee Photo Studio Ultimate is the best choice for the professional photographer to fine-tune Raw photos. Moreover, it has a batch image converter that saves time to convert multiple image formats.
Cons: The interface is overcrowded with lots of tools. So it takes time to learn about the tools.
10. XnView
---
XnView is another free photo view solution for Windows users. Image view is super easy and smooth with this photo viewer tool. Besides, it supports 500 image and video formats like JPEG, TIFF, PNG, GIF, WEBP, PSD, RAW, and more.
Moreover, it has an arsenal of image editing tools to retouch your image. With the help of this tool, you can easily resize, rotate and crop your photo. Furthermore, you can also easily detect duplicate photos on your hard drive.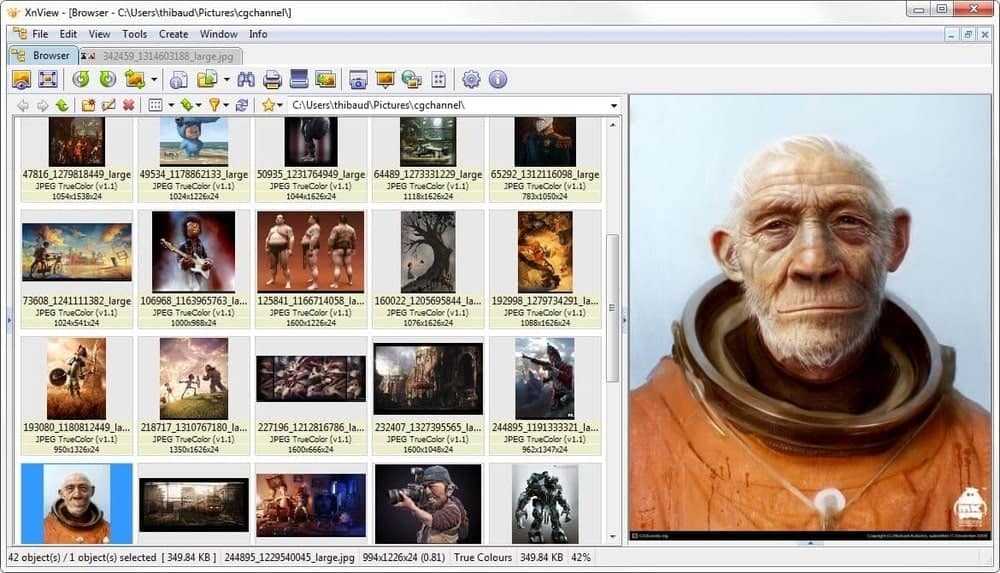 Key Features:
XnView organize image in different mode like thumbnail, full screen, filmstrip, etc.
This software allows you to process the image by using an editing tool such as adjusting brightness, contrast, level, and curve.
Moreover, you can modify the color tone of your photo by applying different effects and filters.
With this software, you not only create a slideshow but also create web pages.
It is a fast and powerful image batch converter, batch resizer, and batch name changer.
Pros: XnView supports more than 500 file formats, including multipage and animation formats like APNG, GIF, ICO, etc.
Cons: This software consumes a lot of CPU and memory resources.
Our Recommendations
---
All photo viewers in our list come with compact features, and it is hard to suggest a single one from the list. However, if you are looking for a third-party free photo viewer, we recommend picking Nomacs. It is a lightweight, open source free software that provides a decent package. Apowersoft image viewer is also another compact free photo viewer package you can also consider.
On the other hand, Adobe Photoshop Elements and ACDSee Photo Studio Ultimate are premium software for professional photographers to customize their photos. In addition, 123 Photo view and Irfanview are suggested for who mostly use photo viewer app for organizing photo and smooth navigation.
Bottom Line
---
We hope you find the best photo viewer for your Windows 10 OS from our list. Most of the software is free to use and is an excellent alternative to Microsoft Photos. Would you please put your verdict about choosing a photo viewer in our comment box? Lets us know what criteria you follow to select your photo viewer.
Apart from the list, if you find another photo viewer that deserves to add to our top 10 photo viewer list, let's know the name of this software. Finally, you can share this software with others who are looking for a Microsoft Photos alternative.