If you are here to bring back the nostalgia by using some desktop widgets for Windows 10 computers, you are in the right place. Desktop gadget was one of the coolest features of the older versions of Windows, such as Windows Vista and Windows 7. But unfortunately, Microsoft has discontinued this feature long ago.
You know desktop widgets were always built to increase productivity, and even mobile operating systems like Android and iOS have adopted this feature recently. But we are fortunate enough that there are a lot of third-party independent developers who have come up with some solutions like 8GadgetPack to install these widgets on Windows 10.
Best Desktop Widgets for Windows 10
---
Since there is no centralized repository from Microsoft to store and distribute publicly available widgets for Windows, it is very difficult to find the best ones from the internet. Besides, there are different software to apply those gadgets, which leads to compatibility issues.
But I think 8gadgetPack has the most support for third-party desktop gadgets, and this is why I recommend this. Here is a list of the 8GadgetPack gadgets for Windows that you can use on your desktop.
1. Laptop Stats
---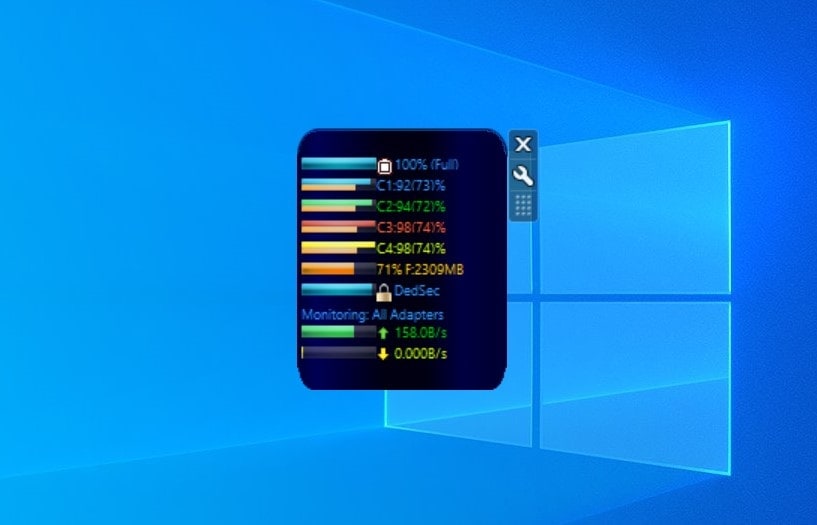 Laptop Stats is one of the most popular desktop gadgets out there. This is originally a system monitoring gadget with a battery percentage. This is why it is most suitable for laptops and other portable devices. Unfortunately, the color scheme and font choice are not the best in this gadget. However, in terms of productivity, nothing can beat this classic widget.
2. Minimal Notepad
---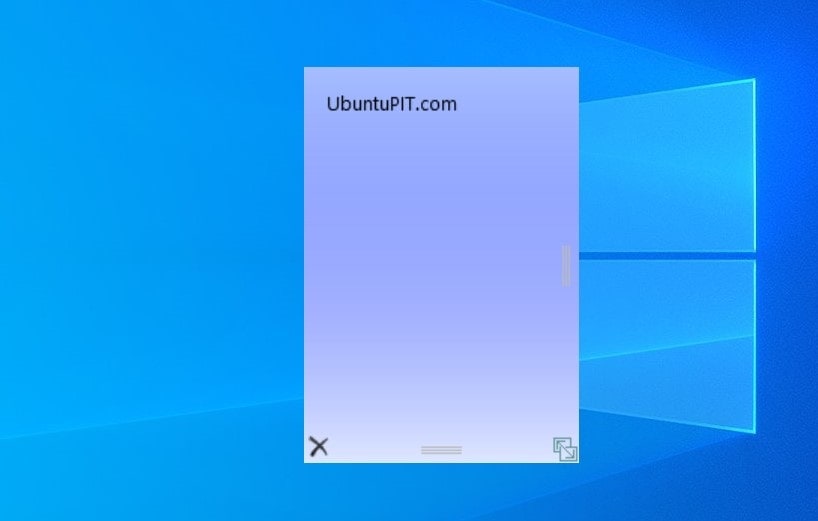 This gadget is specially made for office users. I know that Microsoft Sticky Notes has become a great option for taking notes right on the desktop. But if you want a quicker and simpler option, Minimal Notepad is the one to go for. You can also customize this gadget with your favorite font and background color.
3. Network Meter
---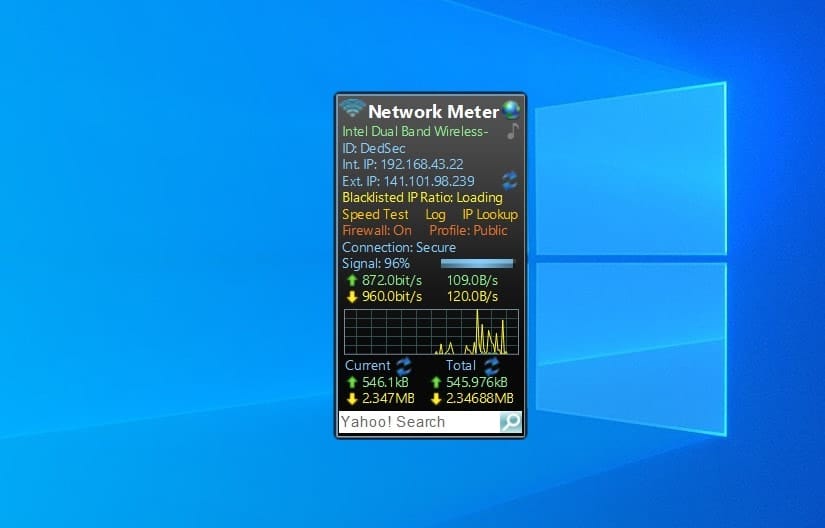 If you are a networking enthusiast, then this one will help you a lot. This is an all-in-one gadget for Windows that shows you various network parameters. IP address, firewall status, speed graphs are some useful additions to the features. The design of this gadget is a bit nerdy, and most people will fall in love with this.
4. GPU Meter
---
Most laptops and desktops are nowadays built with discrete graphics processing units. If you are a gamer, you would definitely want to check on the GPU status. This widget does the thing for you. It shows you the available memory, temperature, and a few other parameters. Besides, you can customize the look and feel based on your choice.
5. Drives Meter
---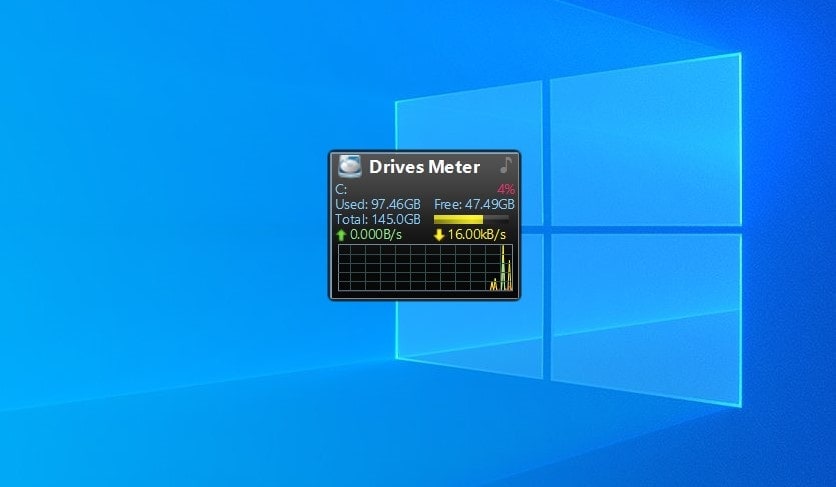 If your C drive becomes full of junk files, it might slow your computer down. This is why constantly checking on your free storage is a good practice. Of course, you can do it from the file explorer itself. But this desktop gadget will come in handy if you want to take a glance at your storage drives without wasting any time.
6. All CPU Meter
---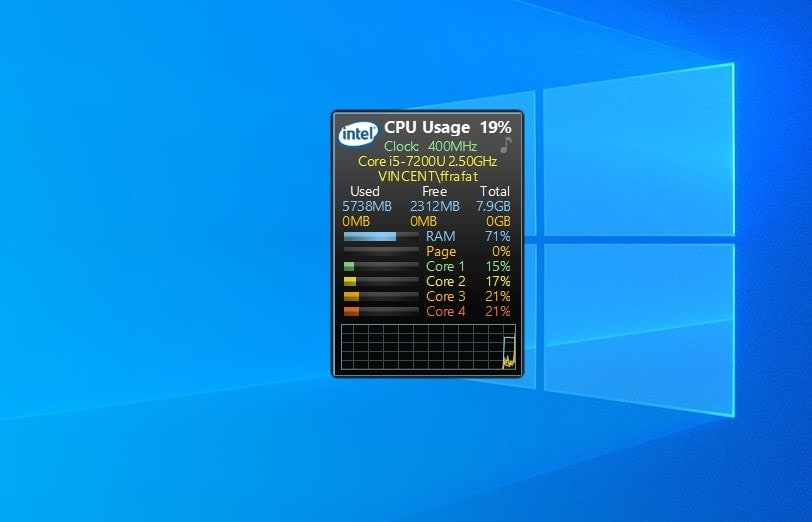 This is a fancy little widget for Windows to monitor your CPU status. As the name suggests, it will show the status of all your CPU cores in a single panel. In addition, the performance graph updates in real-time, and there is also a RAM indicator. Customization is a great aspect of this widget, and the addition of the processor brand logo adds up to the aesthetics.
7. Calculator
---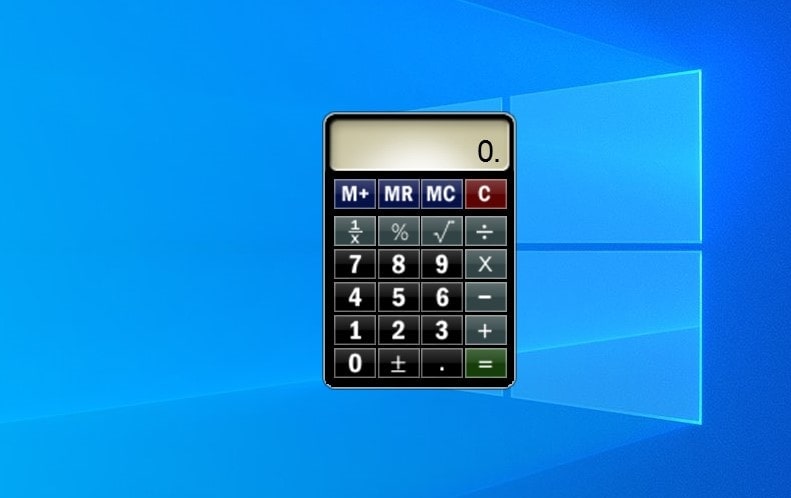 The calculator app that comes installed with Windows 10 is quite modern and powerful. But launching it from the start menu can take a while. But this calculator widget for the desktop will remain open all the time, and you can perform quick calculations right from the desktop. In addition, you can change the colors of the buttons, which is really appreciable.
8. Flipdown Clock
---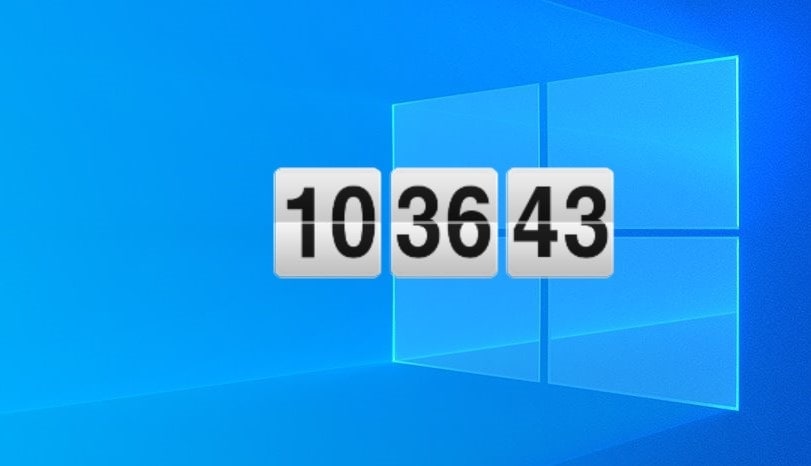 This is a simple flip-down clock for your desktop. But it will definitely add up to the aesthetics of your computer. It can show the second update, and the animation looks beautiful. Other aspects like the clock format and size can be altered from the customizer, which is great. You can choose from 5 different colors too.
9. Sunorb Alarm
---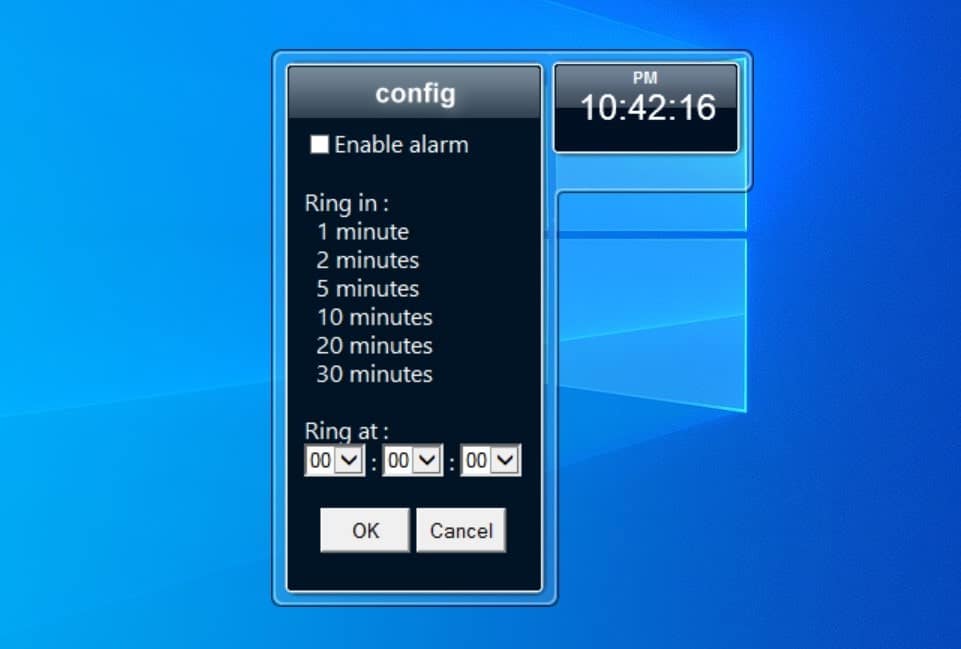 If you want to get the ultimate productivity, there is no alternative to segment your work into various time slots. To keep track of that time, this widget will definitely come in handy. It looks like a normal digital clock, but you can set alarms by choosing the time presets give here. Also, you can customize the time and choose the alarm sound from the computer itself.
10. Moon Phase
---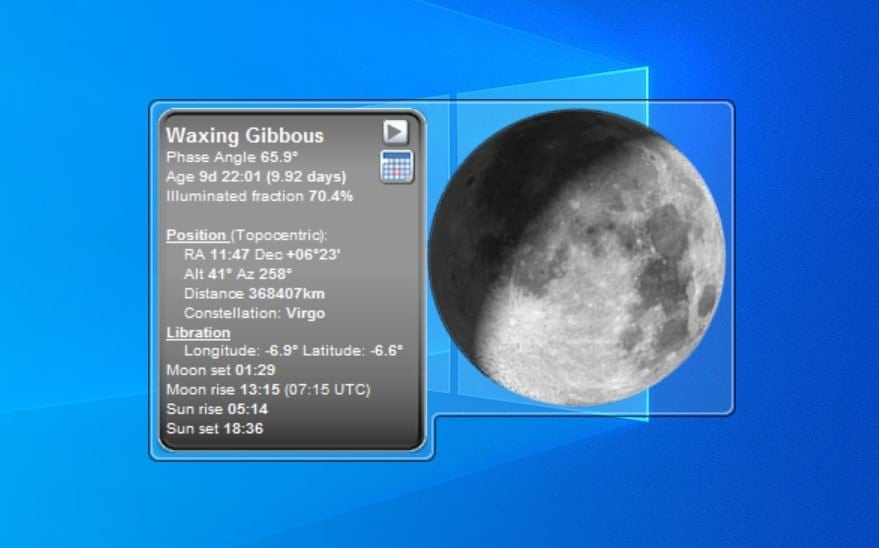 If you love astronomy, then I am sure you will love this gadget for Windows. As the name suggests, this widget will show you moon phases based on your current location. However, unlike other widgets of this type, it visualizes the data with a beautiful digital image of a moon. The data is collected from Yahoo, and this is quite reliable.
11. Power Status
---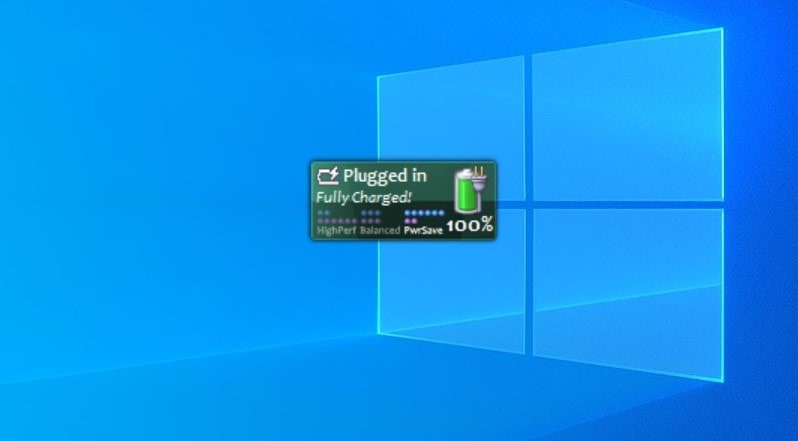 The default battery icon on the taskbar is quite small on Windows 10. Although if you click on it, you will get to see the battery percentage. But unfortunately, it doesn't provide you detailed analytics of the battery power. Luckily, this desktop gadget solves this problem. In addition, it has a beautiful design that also increases the beauty of your desktop.
12. Clipboard Viewer
---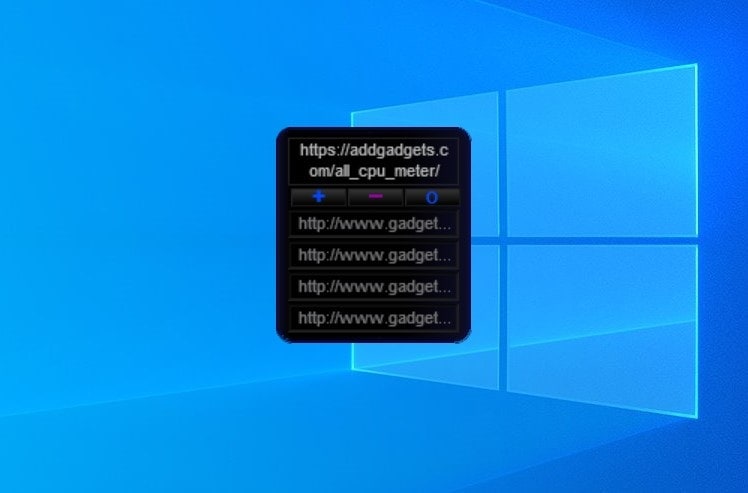 This widget for Windows is my personal favorite. In fact, it has increased my productivity to a great extent. This gadget is a tiny clipboard manager for your PC. The default clipboard manager for Windows 10 is powerful, but that is not easy to launch. This one can memorize your last copied texts, and you can increase or decrease the memory limit.
13. All To All Converter
---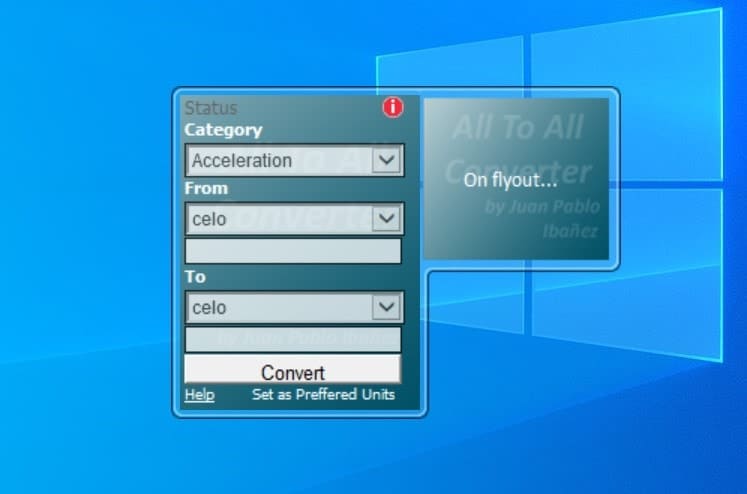 Why using online tools or bulky apps for unit conversion when you can do that with a tiny widget? This desktop gadget is so powerful that I didn't think for a moment that this is not fully-fledged software. You can choose from various units to convert them. Besides, the option for using custom conversion is a great addition, and it is quite useful.
14. Days Remaining
---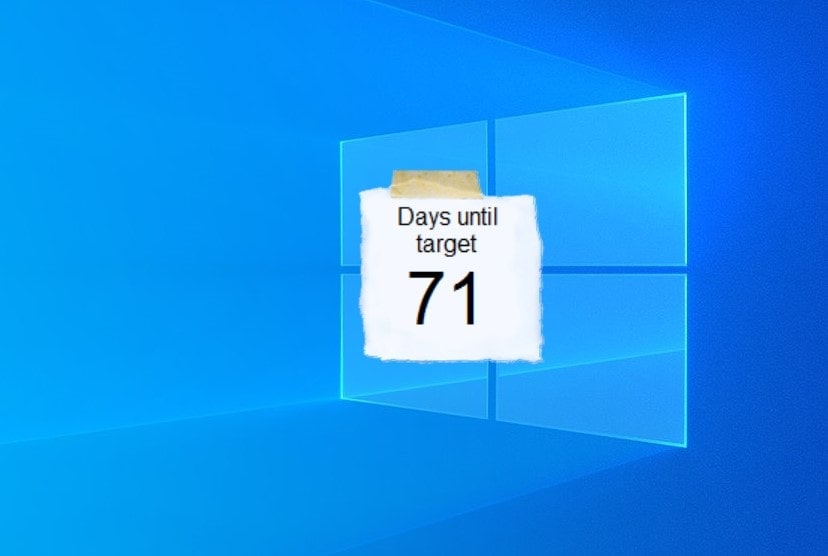 Imagine there is a special day such as an anniversary is coming, and you don't want to miss that at any cost; how will you keep track of that? There is an easy way for that. This "Days Remaining" widget will show you a countdown for that particular day on your desktop. It is very unlikely that you will forget the day even after watching the countdown every day! Besides, the design is quite elegant.
15. Carousel
---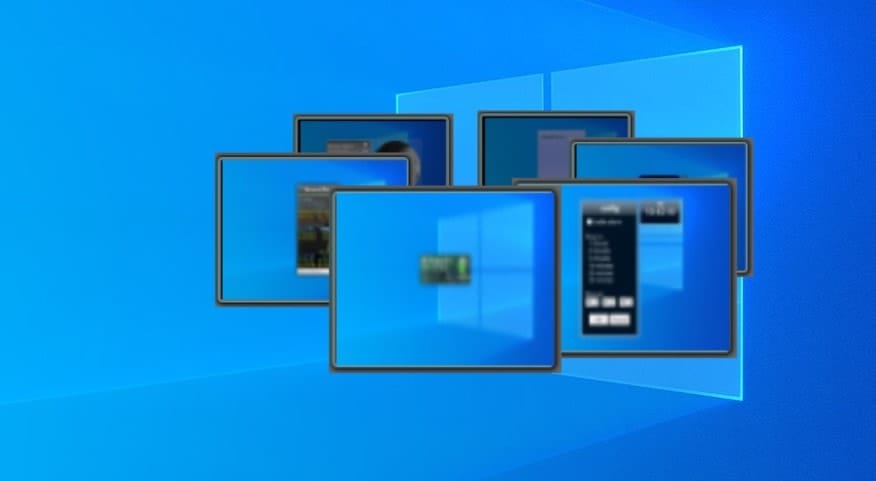 This is a fun little widget for your desktop. You can set up desktop backgrounds with your favorite pictures. But that static background can look dull sometimes. However, this Carousel widget will rotate and show your favorite pictures. The animation is soothing, and it is fun to look at. Although. I didn't find any option to change the animation speed.
16. Piano
---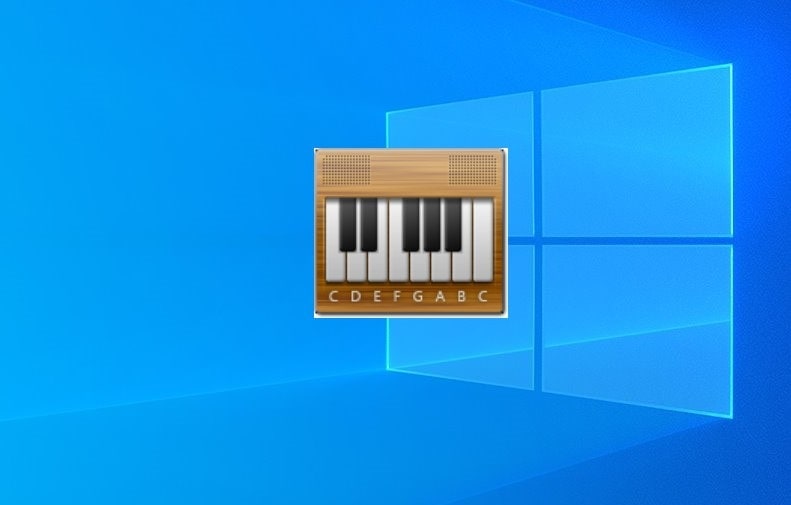 This widget brings you a full-size piano right on your desktop. So you can play your favorite tune when you are not working. Although I can't play, I randomly press the keys of the piano, and it is a great stress reliever. By default, the piano looks tiny, but you can enlarge it to get all the keys. Also, you can choose from various custom skins.
17. Sunlight Map
---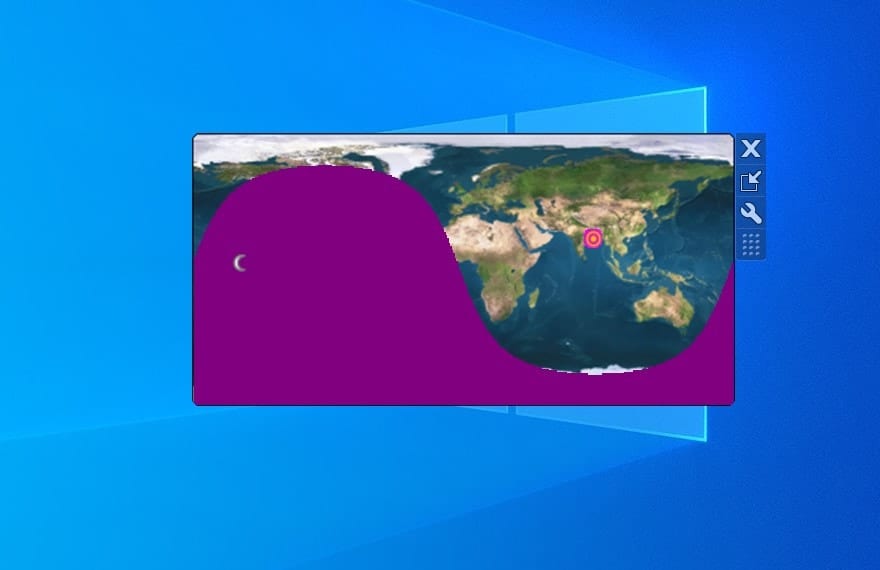 If you have to manage your team members remotely from all over the world, this widget will come in handy. The little map on your desktop shows your current location as well as the sunlight map of the world. It will let you know which part of the world it is night and in which part it is the day. You can expand the map too for a better view.
18. WinMedia Player
---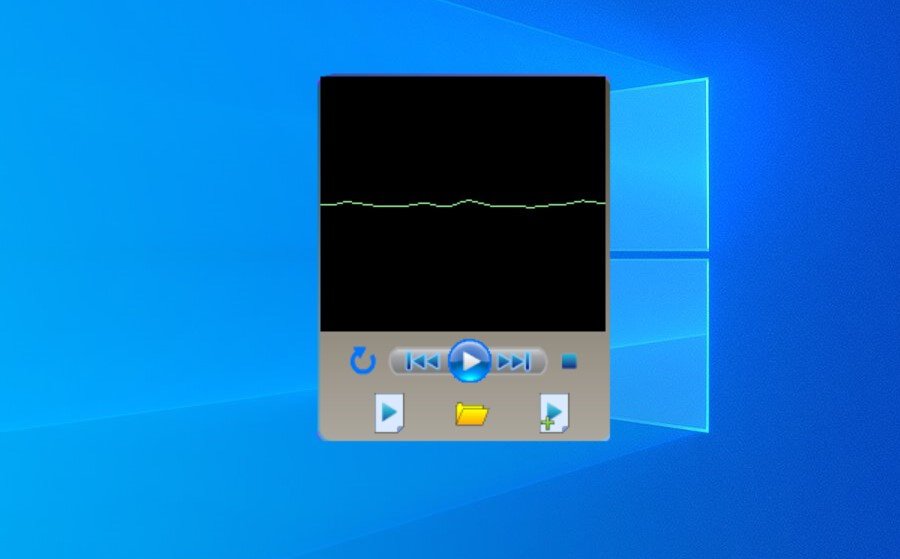 This widget the miniature version of the classic Windows Media Player that still comes preloaded with the Windows operating system. You can control the playback of your favorite music and video through this gadget right from the desktop. In addition, the widget size can be increased or decreased based on your preference which is another useful feature.
19. System Control
---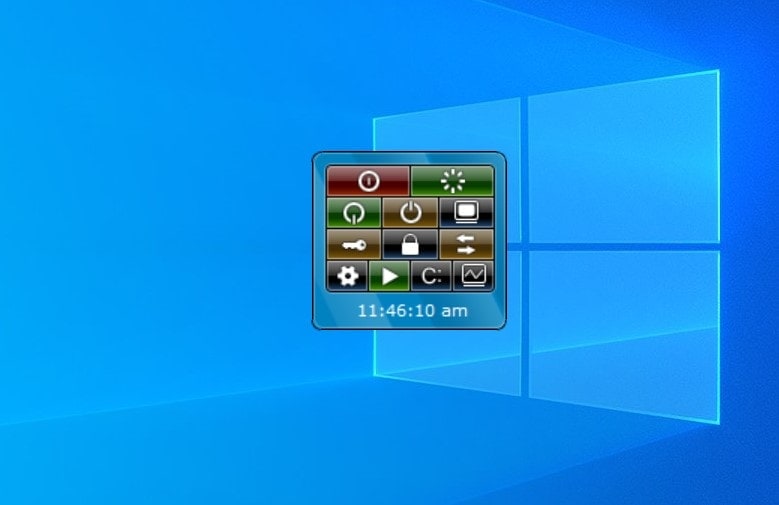 The system Control widget for Windows lets you place several buttons to access your system's core functions quickly. For example, you can set a button to restart your computer or turn it off quickly. Also, you can access to task manager, command prompt, and some other apps from this widget. There is a simple clock too, which comes in handy most of the time.
20. Stopwatch
---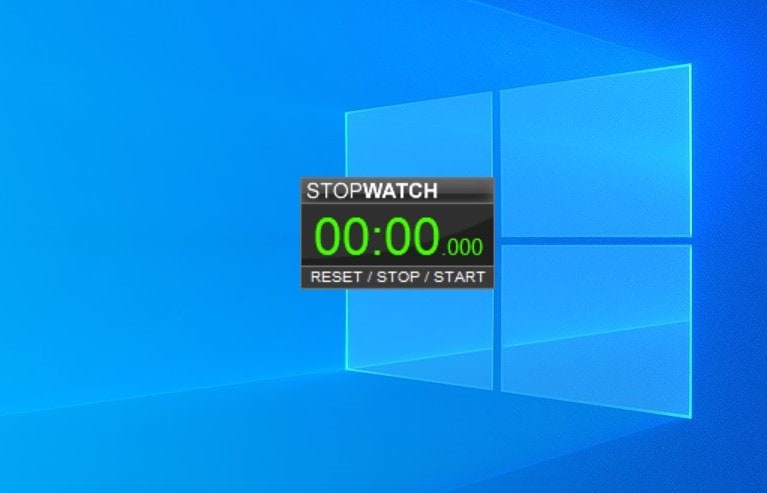 The list will remain incomplete without this widget. On Windows 10, you have access to the stopwatch function from the Clock app. However, why use that when you can access this tiny stopwatch right from your desktop? This stopwatch is pretty basic, though. But I love the minimal look and feel of this widget which is also easy to use.
Best Widget Packs for Windows Desktops
---
The above-mentioned widgets are individual scripts to display a particular gadget. But they need additional gadget packs installed on your computer to run properly. There are a few gadget packs out there on the internet. They come with some preinstalled gadgets. Also, most of them support sideloading third-party gadget files. All of them are somewhat similar in terms of functionalities. So, you can use the one that you like most.
1. Win10 Widgets
---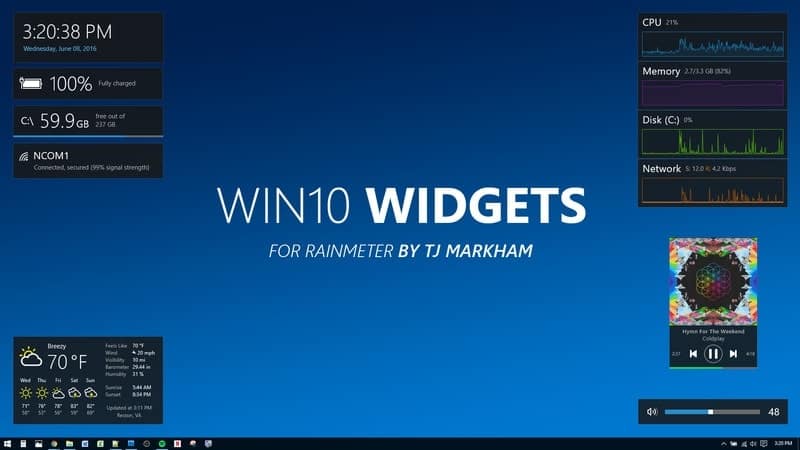 This is a popular widget collection for Windows 10 computers. You will find a number of beautiful and modern widgets preloaded with this pack. Unlike the above-mentioned gadgets, these widgets don't require a legacy Windows gadget engine to run. Rather you have to install a third-party open-source solution called Rainmeter. In addition, you will find gadgets for monitoring your disks, network, weather, and many more in this pack.
2. 8GadgetPack
---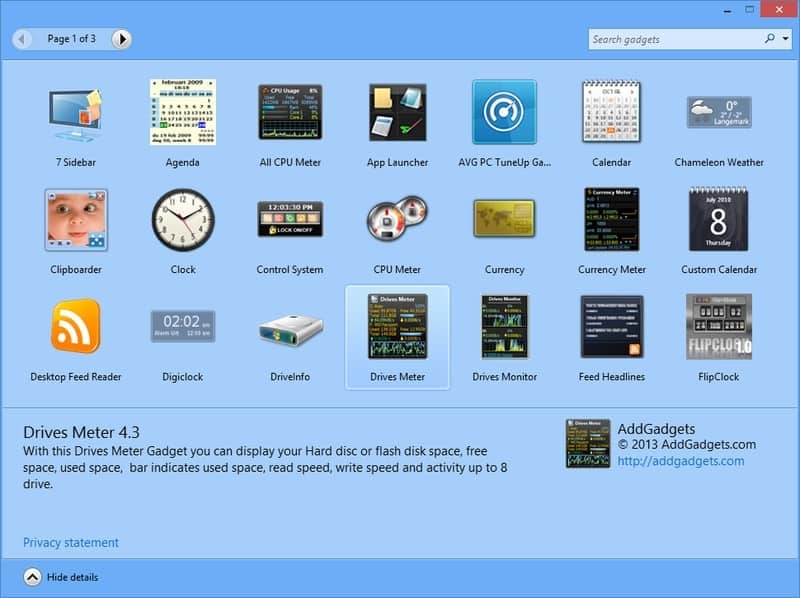 This is one of the most popular widget pack out there. This tool is built upon the source code of the original Windows Desktop Gadgets Engine. So, you will get the classic look and feel of the overall UI and functionalities. In addition, it comes with more than 50 widgets preinstalled. And, all of the legacy gadgets are supported to be installed in this gadget pack.
3. Widget Launcher
---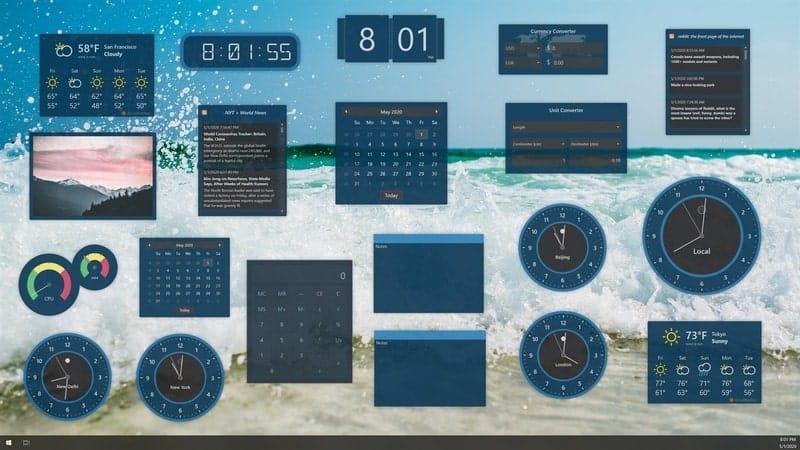 This is a standalone gadget pack for Windows. This pack also acts as a widget engine, which means you don't have to install additional software to run the widgets. Also, you can't import extra widgets here. But it has got all the necessary gadgets, and I think those will be adequate for most users. I really liked the overall design of the widgets. They look quite modern and elegant.
4. Gadgetarian
---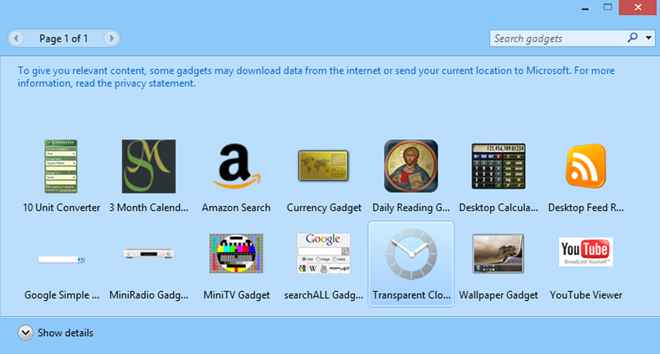 Gadgetarian is yet another cool gadget from Windows Live Gadgets. This is also a cool website that hosts a lot of classic Windows desktop gadgets. After installing this software, you will get some gadgets already preinstalled. Also, more gadgets can be loaded from their website as well as from the software itself.
5. Gadgets Revived
---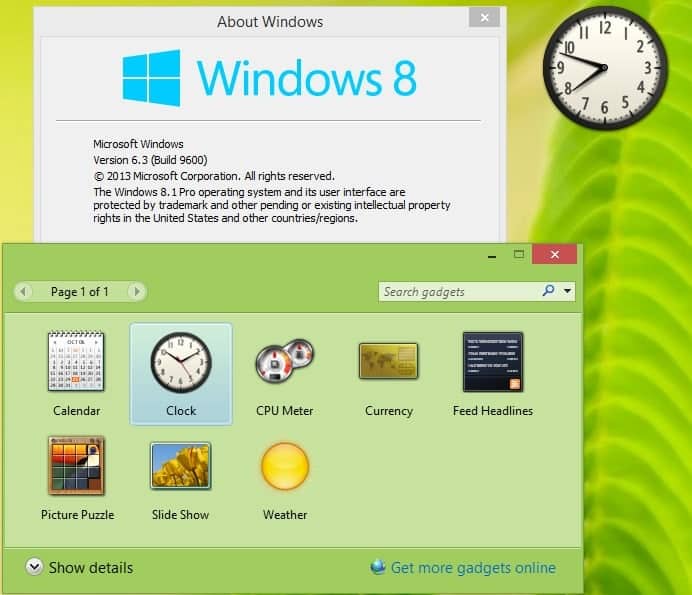 Gadgets Revived is originally a website for hosting free gadgets for Windows. But they also have software for installing those gadgets. The software is actually the modified version of Windows Gadget Installer, and you will find the UI pretty close to the original. But this tool is very useful to run your favorite widgets on your desktop.
How To Install Desktop Gadgets Using 8GadgetPack
---
Since Windows 10 doesn't come with the widget engine built to install third-party desktop gadgets, you have to use additional software or widget pack to do that. As you can see, there are some desktop widget packs available on the internet. Here my recommendation is to use 8GadgetPack. The software is pretty lightweight, and there is a huge library of widgets for this software.
8GadgetPack comes preinstalled with almost 50 different widgets. You can uninstall the widgets from the list that you don't find interesting. However, if you want to install additional widgets, install the zip file for that widget.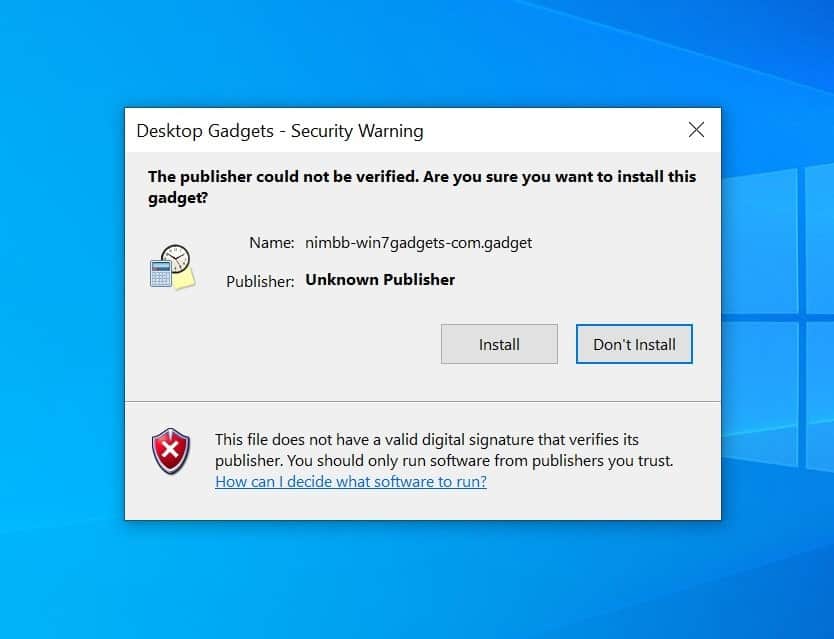 Just download and install 8GadgetPack first. Then you can download your desired gadget from our download links. Just double-click on the file with a dot gadget extension, and it will be installed on your desktop. Yes, it is that easy. Besides, there is no risk involved as 8gadgetpack doesn't tweak your system files. Since the gadgets are just a few kilobytes in size, they don't even take a toll on your storage.
Final Thoughts
---
Frankly speaking, there are numerous third-party gadgets available on the internet, and those can't be covered in this type of single article. Here I have just mentioned the widgets that I personally use on my desktop. I hope this article has provided you with a guideline on getting those beautiful widgets for Windows. If you have liked this article, don't forget to share it with your friends. Happy customizing!