Everyone has a sweet childhood memory to sing a song in front of a mirror. In the 1990s, the first karaoke machine was released to sing along with recorded music. Currently, you find many karaoke softwares that support various media formats and an extensive collection of popular songs library. The best karaoke software for windows lets you sing your favorite song by displaying lyrics on a separate display or transforming a song from lyrics. With the help of this karaoke software, you can sing in front of everybody with the background music at a party or disco club.
However, choosing the perfect karaoke software is crucial for producing outstanding music. It would be best to consider some essential functions when choosing karaoke software. In this article, I will guide you in finding the best-suited karaoke app for PC to arrange a karaoke party.
What's the Best Karaoke Software for Windows?
---
Typically karaoke is used in television, but you can perform karaoke using a computer and microphone. When you sing a song in a microphone, it produces well-tuned audio by computer speaker and karaoke music. So if you are a karaoke user, you face a big problem choosing a find tuning karaoke software. You may find many karaoke apps with varieties features.
I have listed the top 5 karaoke apps for Windows PC based on price and compatibility. Additionally, I have also considered basic features of the karaoke programs such as song management options, monitors share capability, file format support, playlist, and more. So I assure you that you can pick the right karaoke app for you by following the guide thoroughly.
1. PCDJ Karaoke
---
If you are planning to arrange a house party? There is no best karaoke software except PCDJ Karaoke to set up a house party. PCDJ Karaoke is a high-performance professional karaoke software to organize a karaoke party by adding song and editing music options.
This intuitive software displays lyrics on a separate monitor and displays editing the playlist option at the main monitor. You can easily keep continuing your playlist by intelligently mixing karaoke songs. This software is the best pick for professional KJs.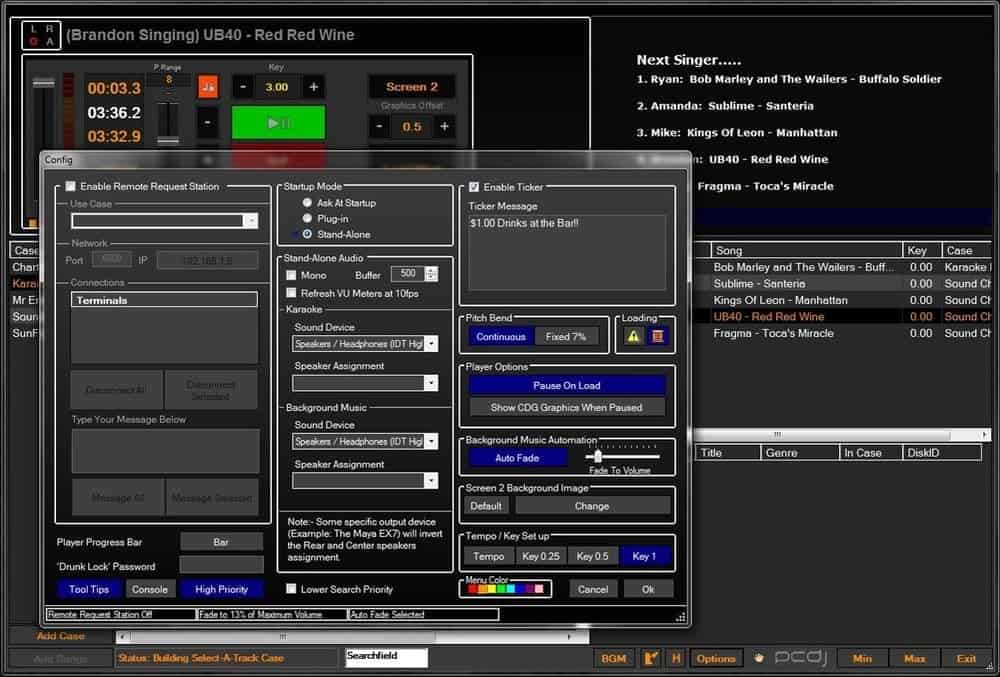 Key Features:
This software comes with many pre-installed songs with lyrics and dance so you can perform them with your voice.
Besides, this software has a video guide that helps you quickly learn how to set up karaoke software thoroughly.
It has a built-in karaoke track store to browse, purchase and download unlimited karaoke songs.
Moreover, it has a drag and drops playlist option and a rotation list. Additionally, you can preview the history and singer list.
This software supports MP3, WAV formats, and various video formats.
Pros: PCDJ Karaoke supports cloud integration, and you can control karaoke software remotely through a wireless or wired network.
Cons: The package is too expensive. Moreover, the user interface is complex, so you need some time to get used to this UI.
Price: Currently, the PCDJ Karaoke software purchase price is $99. However, it frequently offers bundle packages at a great price. So you need to visit the PCDJ website to grab the offer regularly. Besides, you can also download a 14-day free trial version from the PCDJ website.
2. KaraFun Player
---
KaraFun Player is one of the popular Karaoke software for Windows PC because it is preloaded with a great collection of famous studio-quality karaoke songs and popular karaoke features. This software offers a free download that also increases its popularity.
With this karaoke software, you can create a playlist of your songs and videos. Besides, it also allows you to sync songs offline to continue your party without the internet. Moreover, it supports a dual-screen display. However, this software can use for free, but to get full features of this software, you need to purchase a monthly subscription at $9.99.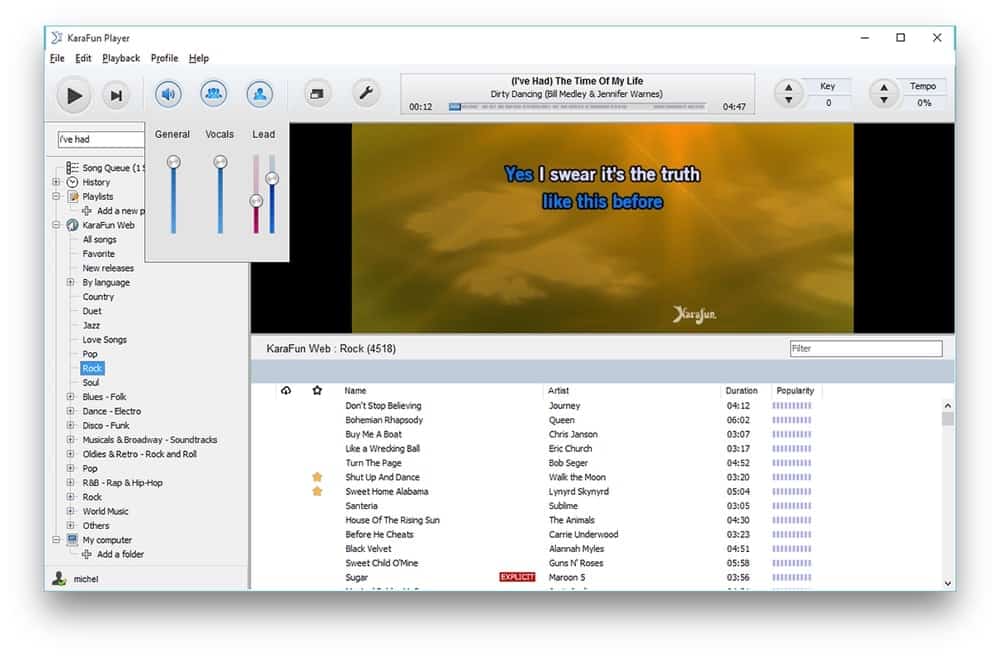 Key Features:
KaraFun offers more than 45,000 studio-quality karaoke songs that transform your computer into a Karaoke machine.
Though this karaoke software supports a dual-screen display, so you can move your external monitor.
Whenever you find a mind-blowing song in the karaoke studio library, you can save it to your favorite playlist.
It has an on-screen pitch slider that lets you change your voice pitch. Moreover, you can customize your song's tempo by using a vocal register.
KaraFun Player also has a mobile app. So you can use this software on both computer and mobile.
Pros: KaraFun Player UI is almost similar to the iTunes interface, which is intuitive and incredibly easy to use.
Cons: Despite this software including an extensive collection of karaoke songs, it has missed some popular songs.
Price: KaraFun Player is free to download. However, the party passes for accessing the karaoke library at $5.99 for 48 hours, and the monthly subscription fee is $9.99.
3. Siglos Karaoke Professional
---
If you are looking for a full range of karaoke software that provides complete and professional service, Siglos Karaoke Professional is the best pick for you. Power Karaoke company launches this software, especially for club or bar owners. This software host lots of features, including remote access, signer announcement, singer history, key changer, tempo changer, and more.
Though this software does not have any karaoke song library, you must purchase the song. However, you can play songs from YouTube to manage a small party. With this karaoke software, you can make your show better and more professional.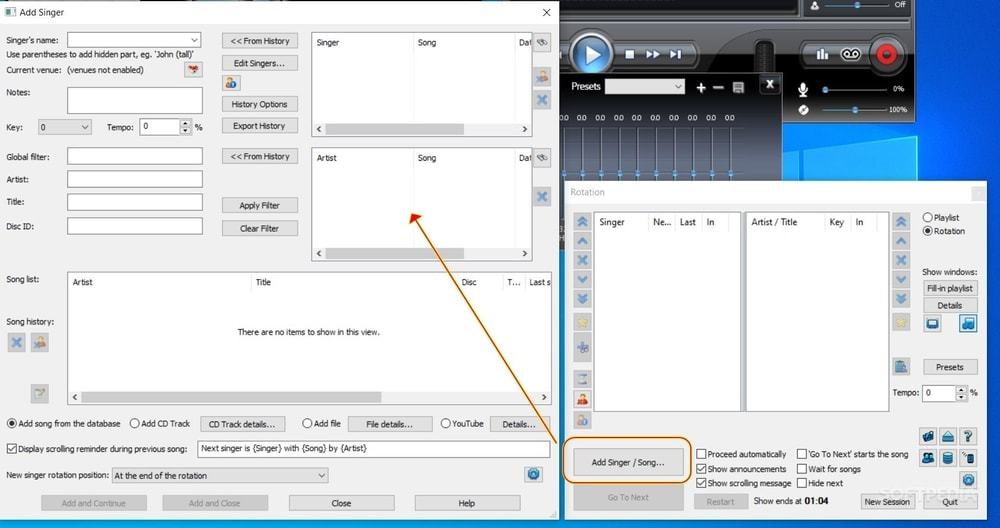 Key Features:
Siglos Karaoke Professional supports multiple displays; the main program displays on your computer and lyrics display on the external screen.
Although this karaoke software does not have any karaoke songs library, it enables you to import your song database quickly on your karaoke software.
The track silence detector can detect silence in a music track and delete it from the music track.
Singer rotation management is another excellent tool of Siglos Karaoke Professional that creates a singer queue order and adds a new song while you are performing.
Siglos can detect instruments and skip them during the performance.
The automatic mode plays predefined songs automatically when you leave the show for a particular time.
Pros: Siglos Karaoke Professional comes of tons of karaoke features that cover all requirements to manage a show. So this is one of the best for managing professional karaoke parties.
Cons: The UI is clunky, not easy for non-professional karaoke singers. Moreover, It does not have an online karaoke database or mobile version.
Price: The cost is only $99. However, you can buy this software at $50 if you already own Siglos Karaoke Player/Recorder.
Get Siglos Karaoke Professional
4. Karaoke One
---
Karaoke One is another free karaoke software for Windows PC that can run all major audio and video file formats. The user interface of this software is so simple that anyone can operate this efficiently. It has many karaoke songs library, and new song is being added to the library every day. Moreover, you can also make your playback film with this software.
It has diverse music genres, excellent video, and audio samples, which help you create a professional music video and publish it Karaoke One. Furthermore, you can share the video on your social media, earn appreciation from your friends and audience, and become a rockstar!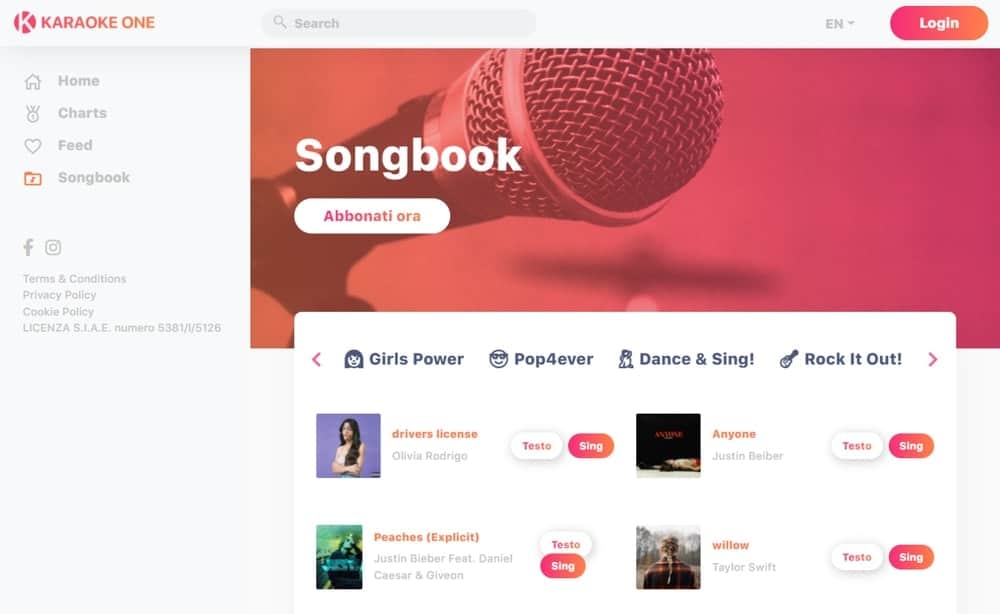 Key Features:
This software lets you produce a clear quality sound to make a great song along with the music.
Its interactive display shows notes, lyrics, and beats while singing a song.
It has an amusing interactive community where you can make friends with music lovers.
You can operate this software for both wireless and wired music instruments.
This software also offers a song management feature that keeps the singer's track.
Pros: Karaoke One manufacturer provides a user guide that lets you complete the basic setup process, so anyone can quickly adopt this software's user functions.
Cons: The karaoke app has no mobile version; it is only available on PC.
Price: Free
5. Kanto Karaoke
---
If you plan a get-together or reunion party, Kanto Karaoke makes your party more delightful by producing karaoke songs. This is professional karaoke software but easy to use. This karaoke software supports all major audio and video formats. Additionally, you can record your voice and stage performance video with this software.
This software comes with a microphone and transforms your computer into a Karaoke machine. Moreover, you can adjust your pitch with your voice to produce excellent quality audio. Overall, it is the best Karaoke combo package for Windows users.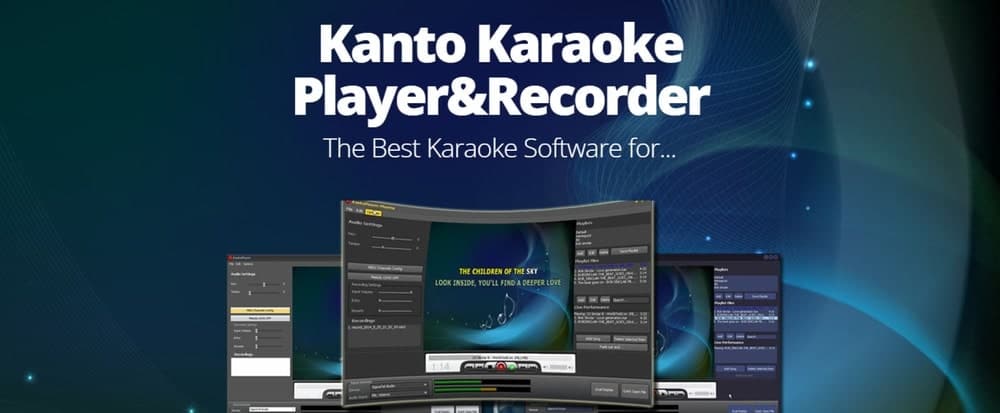 Key Features:
With this software, you can easily play multiplex karaoke files and control vocal tracks.
You can set live performance of unlimited playlists.
This software allows you to use a dual-screen to see song lyrics on the second monitor.
Besides, you can adjust the key, tempo, and pitch of the song.
Moreover, this software lets you add background music, effect your song, and manage live performance.
Furthermore, this software can play singer rotation and singer management features.
Pros: This software allows you to navigate the web browser to find thousands of songs ready to play.
Cons: However, it offers free to use, but the free version offers minimal features.
Price: Kanto Karaoke has three different packages. The basic package is free to use, the standard version is available for personal use at $49, and the professional version is available for professional use at $69.95.
Our Recommendations
---
Are you confused about which Karaoke software will be better for you? Then this section will help you to make the right decision. First, you have to decide which type of karaoke software you are looking for for your Windows PC. The best pick as a professional karaoke software is Siglos Karaoke Professional, but this software is too expensive.
At the same price range, you will find another professional karaoke software whose name is PCDJ Karaoke. The PCDJ Karaoke software UI is comparatively simple to Siglos Karaoke Professional.
So I recommend you pick PCDJ Karaoke as a professional karaoke software. You can also consider the Kanto Karaoke professional package, comparably less than Siglos Karaoke Professional and PCDJ Karaoke.
However, Karaoke One is free software containing all basic karaoke features. So, if you are looking for free karaoke software, you can pick Karaoke One.
Finally, Insights
---
This article reviewed the top 5 best karaoke software for Windows PC and explained each software's pros, cons, and price. In addition, our recommendation section also helps you find the right karaoke app for PC.
Apart from the list, you may find many alternative karaoke softwares, but all do not provide basic karaoke functions; some of them are not updated regularly. So my suggestion is for you to pick the right one from the compiled list.
Let us know what Karako software you choose, why you did it, and your user experience. If you think this article has helped you make the right decision, then you can share this article with your friends. Besides, if you want to know any additional information about karaoke software, you can comment in our comment box. We will reply to your comment promptly.