You may often need to use your computer remotely in this era when your personal computer has become an essential part of your daily life. There was a time when we could not think of accessing our computer remotely. Due to the development of network technology, and server components, the remote control has become straightforward and affordable. As a result,  you will find a wide array of software that can be used as remote desktop tools for Windows available in the market. It makes a choice harder to pick the one that suits you best, and this article is intended to help you make the best choice.
Best Remote Desktop Tools For Windows PC
---
There is no alternative to use your computer without using any of the remote desktop tools for Windows available out there. We are going to bring light to the best remote desktop apps through the list mentioned below. If you have time, go through his article carefully because in case of an emergency a remote software can enable you to collect data, documents, pictures, or even videos as well. 
1. Zoho Assist
---
We are going to start with Zoho Assist, often considered one of the best remote desktop tools for Windows PC. This has grabbed huge attention from the people, and it has become a common name in the market. It is a cloud-based remote application specially made for providing flawless customer support.
You can use this software for individual purposes and always expect to get industry-standard quality. It is trusted by large brands like Hitachi or OnePlus, which authenticated its reliability as well.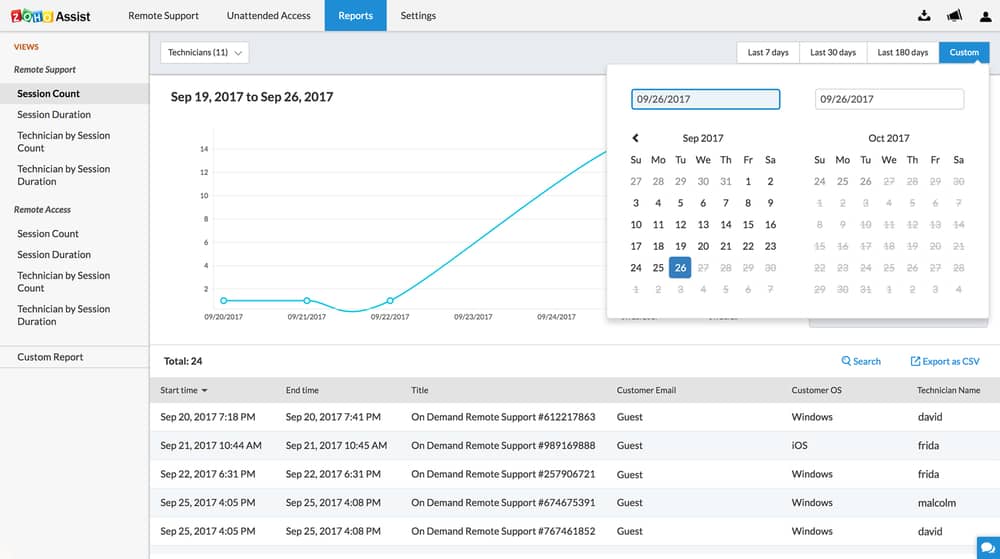 Important Features
Specially built for On-demand remote support. You can easily complete troubleshooting as if you are using the computer in person. 

There is no prior installation required to join any session, as you can invite anyone through an email. 

Unattended remote access is another great thing that comes with massive deployment options.

When it comes to sharing any type of file, you will find a few remote desktops for Windows that can come close to Zoho Assist. 

You can connect with your friends or family through voice or video chat. 

Zoho Assist will allow you to reboot any remote desktop manually, and you will still be connected to the computer. 
Pros: You will be able to connect any number of monitors and navigate between them. On top of that, the established connection is secured, so there is no chance of data breaching. It offers a trial period so you can try it for free.  
Cons:  User management is really confusing. You will have a hard time setting up privileges for users and adding other members as well. 
2. Parallels Access
---
You will find a few remote desktop apps for windows 10 that work like Parallels Access. It has set an outstanding example of how we can use Windows from a Mac. Besides, the software is so lightweight that you can always expect the fastest and friendliest solutions to establish a remote connection.
It will allow users to use VMware Fusion also. Besides, to get no cost applications through open-source VirtualBox Parallels Access can be used. There are two editions, while the price starts from $79.99 for the basic one.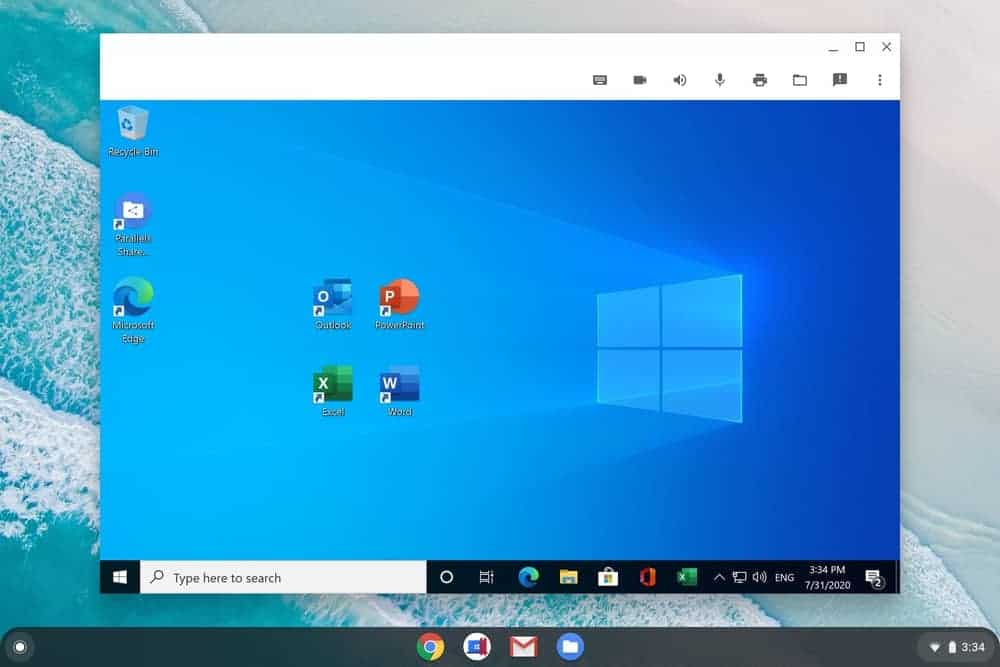 Important Features
It can be integrated flawlessly with guest's operating systems, so establishing a remote connection is super easy. 

You can directly boot into Windows using Apple's Bootcamp. So if you are a hardcore gamer, Parallels Access is for you. 

Installation is super easy, and anyone who can run a computer can start using Parallels Access conveniently. 

It comes with unified endpoint management, and Mac PC can be integrated with Microsoft SCCM. 

It offers a wide range of controls and customization, so you will have to face no hassle or complications.
Pros: You can share any number of files and folders, making it a pretty good choice. Besides, you can open mac files on Windows and use macOS virtual machines as well. 
Cons: Although advanced users can take many advantages, most users will have to pass tough times to get used to the ecosystem of this software. 
3. RemotePC
---
I have tried to cover applications that can become useful to meet the demand of all users. To make this article more useful, we have taken care of all the sectors where people need certain support from technology, and RemotePC is a product of this research.
RemotePC can be used as the best remote desktop for PC if you are a business guy or an entrepreneur. Starting from online messaging to whiteboard, RemotePC can exceed your expectation in every aspect of remote control.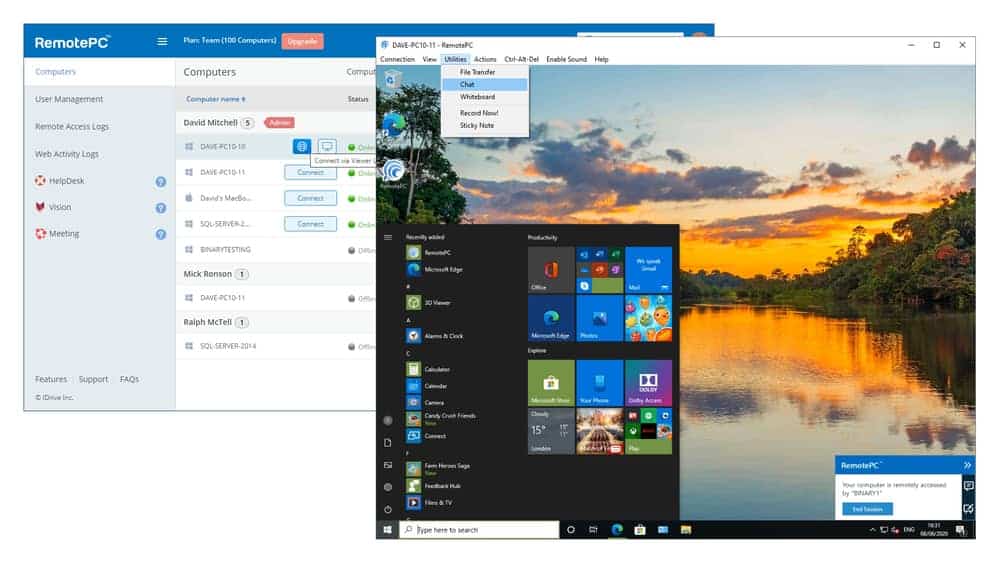 Important Features
This web-based application lets you connect to your home PC or office PC anytime, anywhere. 

It comes with TLS v 1.2 / AES – 256-bit encryption, which ensures security during a remote connection. 

Files transfers, or when it comes to folder sharing, RemotePC performs great. Users will be allowed to send files from mapped drives as well. 

Be able to use a wide range of web applications, which makes it convenient for any business. 

You will not only get 24/7 remote accessibility, but also one-click collaboration can help other members to contribute a lot. 

Enables users to use their iOS or Android smartphones to access computers remotely. 
Pros: If you want to print remotely, then you can do it using RemotePC. Besides, while you can record remote sessions, you will also be able to chat with your partner. 
Cons: The setup process takes comparatively more time than the competitors, and to get more features, you will need to use the desktop version. 
4. SolarWinds Dameware Remote Support
---
You can consider this platform as an all in one solution for remote desktop management. It is super fast, and the security is top-notch. This remote desktop software for Windows PC is used all over the world by industry giants, and you can be sure about the great quality.
Besides, you can share any number of files, and it will not restrict you with the limited file type option. To get remote assistance anytime, anywhere can be a very choice for a business or organization of any size.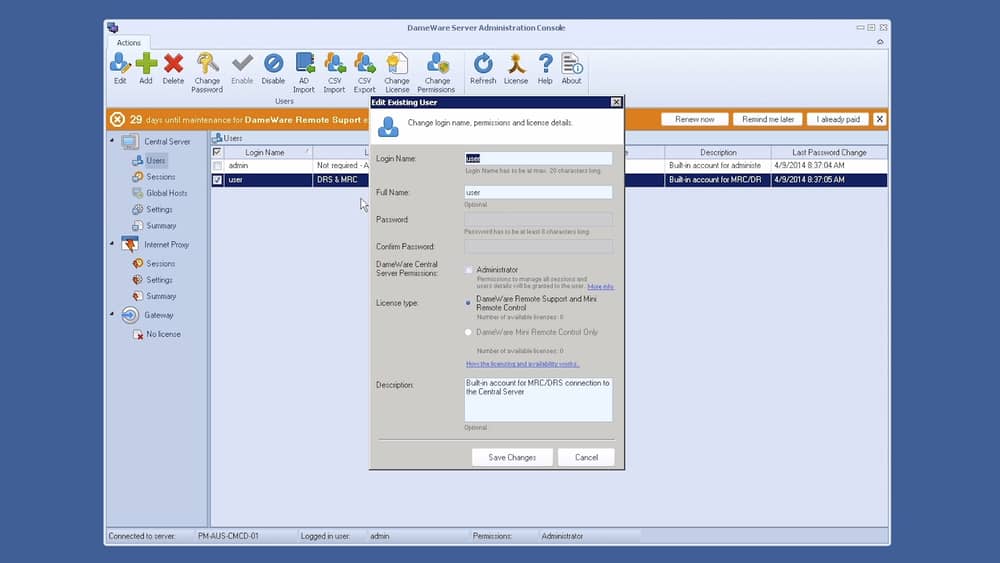 Important Features
If you need any type of Windows administration work, you can complete it effortlessly with this package management tool. 

You can have full control over the remote control due to its built-in admin panel. 

Alongside Windows, you can SolarWinds Dameware Remote Support on iOS and Android devices. 

You can even access active Directory environments remotely. 

It comes with enterprise-level security, and its thread monitoring can save you from being hacked. 

Besides, you can be sure about getting simplified customer support anytime you want. 
Pros: This is a very good and professional solution. It is intended for small to large organizations. Besides, Dameware Mini Remote Control is also there to access multi-platform remotely. 
Cons: One of the major downgrades includes the absence of a screen recording, and they could improve the user interface and the dashboard as well. 
5. Remote Access Plus
---
Due to the pandemic, the world has seen the highest growth of working remotely trend in recent years. As a result, it has become important to access your works remotely and maintain communication with your partners or coworkers efficiently.
Remote Access Plus is one of those remote desktop tools for Windows intended to make your life easier when facing the challenge of remote work. Although it can be used by individuals, it is specially designed for IT administrators and technical support providers.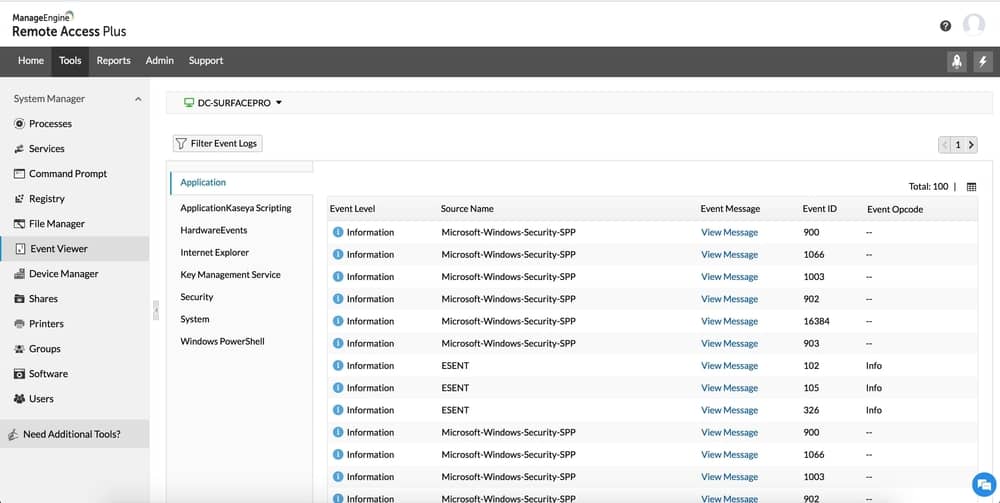 Important Features
It comes with an intuitive interface, and you will find the installation and setup simple. 

It is easy to use and can complete troubleshooting by accessing Windows, Mac, or Linux PC. 

As already mentioned, it is designed for professionals it comes with many advanced features. 

Features more than 12 diagnostic tools such as command prompt, event log viewer, file manager, device manager, and so on. 

While you can chat with others, this software will allow you to make voice or video calls as well. 

You will be able to control the on and off remotely, and the pricing starts at $6. 
Pros: If you want to access 10 computers at most, then you can keep using Remote Access Plus for free, which can be a great solution for small businesses or individuals. On top of that, role-based access control sets it apart from others. 
Cons: You cannot use this software on android, iPhone, or iPad. You will not be able to host webinars, which is another disadvantage of this tool. 
6. Supremo Remote Desktop
---
We have already discussed some of the great software that can be used for remote controlling on the first half of the list. To start the second half, I am going to include another lightweight remote desktop tool for Windows like RemotePC.
It is super simple to install and start using, which makes it convenient for any customer. Even if you have started using the computer a few days back, you will not find using Supremo Remote Desktop complicated at all.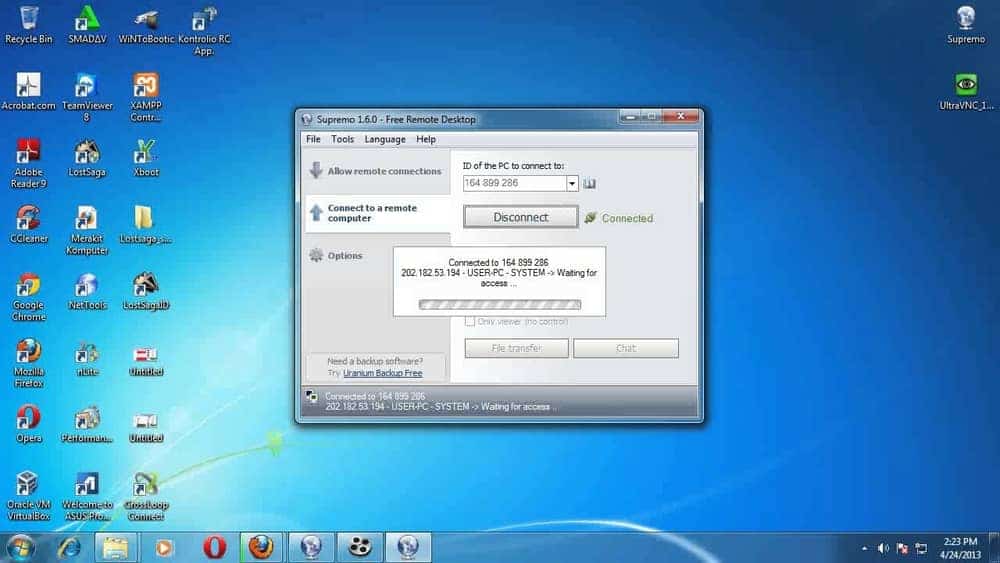 Important Features
You will not need to configure your firewall or router to start remote controlling with this software.

Multiple simultaneous connections can be completed from the same machine, which allows you to access two computers at the same time.

If you purchase the product just one time, you can use it on any number of the computer you want.

It comes with a free address book, which is powerful and enriched with features as well.

Also, if you want to add your logo Supremo will allow you to do so while the user dashboard is highly customizable.

Your remote connection will remain secure with the AES 256-bit algorithm powered encryption.
Pros: The developers have given security the highest priority, and this tool starts monitoring wherever you are trying to establish a remote connection. At the end of your session, you will also get a monitoring report, and the file manager is handy.
Cons: If you choose to go for this app, be aware of the fact that you will not be able to record any session, get voice support, or print remotely.
7.Ninja RMM
---
When it comes to convenient pricing, there are no other remote desktop apps for Windows 10 that can beat Ninja RMM. Even if you are running an organization and want to get a customized plan, you can ask them. They will reply with a free quotation and all the possibilities they are going to offer. It has already been used by the top IT leaders and more than 5,000 MSPs, which proves its authenticity in providing great service and quality as well.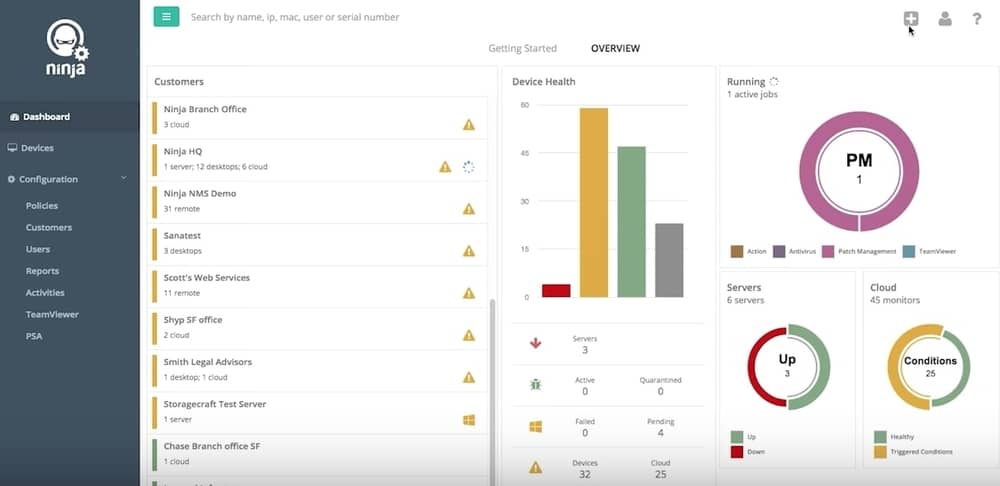 Important Features
This software is intended to save your time and money. It can contribute to growing your company rapidly.

Comes with best in class tools to deliver exceptional IT services. You will also get IT monitoring and management tools. 

It is not only intuitive to use but also can help to establish remote connections rapidly. 

All the workflows are saved in the dashboard, so you will never miss tracking the progress. 

You will only pay for the devices you are using, which helps to keep the budget low. 

Features an endpoint management system, and you can monitor data in real-time.
Pros: The robust suite of remote tools can enable users to manage remote connections without interrupting end-users, and when you want to patch any third-party application, it is super useful as well. 
Cons: We could not really find any big disadvantage that we could mention, but it is not a suitable product for personal use. 
8. ISLOnline
---
ISLOnline has taken place in this list as a reliable and secure remote desktop software for Windows. Starting from accessing the unattended computers, you can use this software to provide high-quality customer support as well. Alongside Windows, ISLOnline can be used on Mac or Linux computers.
Besides, you can use it on your smartphones to remain connected with your desktop remotely. Although it is a cloud-based service, this can be a very good alternative to the available on-premise solutions. 
Important Features
While it is super simple to use, you can control your server or computer as well.

It comes with an unlimited number of users, while screen sharing and file transfer are also there.

You can chat with your friends or remote partners and join them with a voice or video call. 

Features everything from email invitation to multi-monitor support, this program is ready to render a great experience. 

Besides, all remote connections will remain secured with 256-bit AES encryption and two-factor authentication. 

Users will be able to set up permanent access for more than hundreds of computers and exchange files between them as well.
Pros: The screen sharing is super fast, and you will notice no lag. Besides, once a session is started, you can reboot or restart your computer remotely. RDP connections can be established as well. 
Cons: The reporting tools are really complicated, and you will have to spend a significant amount of time implementing the remote printing. 
9. Iperius Remote Desktop
---
If you are looking for a free remote desktop tool for Windows 10, then Iperius Remote Desktop can be the best solution you can get right now. Although it is free, you will have no reason to hate this software.
Rather, once you start using this application, you will be surprised to see the stability and constant great performance. Besides, it has been downloaded more than 5 million times already and completing more than 500.000 sessions per month, which authenticates its popularity.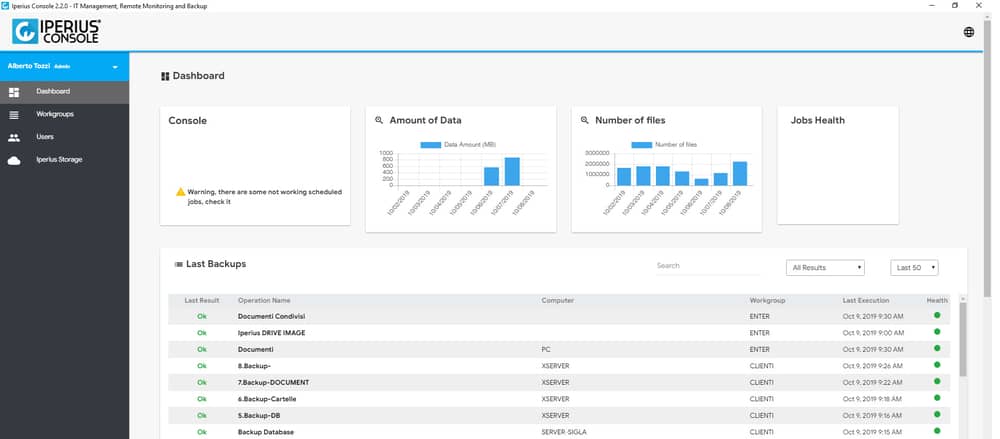 Important Features
If your remote computer is connected to the internet, then this tool will enable you to access it in a  simple and rapid manner.

The professional version comes with an address book where you can provide role-based access for other members. 

It intended to make your journey of work from home easy with its inbuilt solution for teams, custom login statistics, credentials, and permissions.

Renders a quick way to render customer support and troubleshoot technical issues. 

Be able to establish a remote connection with any computer, and it is also available as a portable version. 

If you decide to upgrade to pro, you will get a lot of insights and detailed statistics for all of your remote connections.
Pros: The best part of this free remote desktop tool is allowing users to use it for free forever and not restrict you anytime. But if you need the advanced features, you can always upgrade. 
Cons: There is no such disadvantage that we could mention here, but if you are really concerned about security, you will find better options easily. 
10. TeamViewer
---
We could not really avoid this remote desktop software for Windows PC while making this list due to its popularity, flexible pricing, and user-friendliness. It is one of the most popular remote control tools available out there.
There is some software we take as a standard in every sector, and TeamViewer has been in the leading position since it was released. When you establish a remote connection with TeamViewer, it remains so stable that sometimes you may forget that you are using a computer remotely.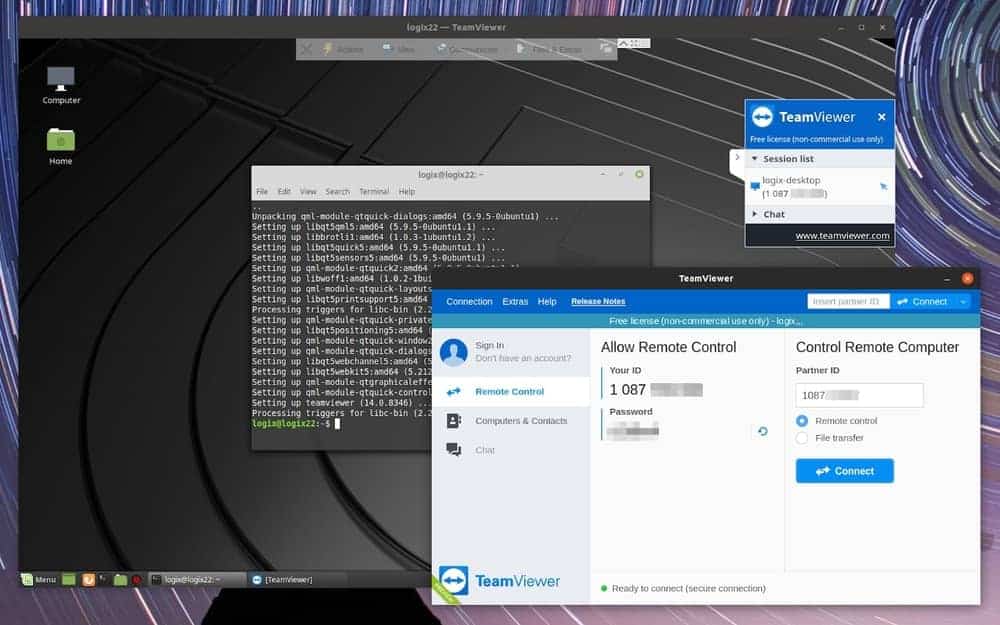 Important Features
Just like Iperius Remote Desktop, TeamViewer is available in free and premium versions.

But in the case of TeamViewer, the free version performs so great that you will never feel the importance of upgrading to pro. 

It can be considered as an outstanding collaboration tool to share your ideas and thoughts. 

You can attend virtual meetings and share presentations without any interruption. 

Features advanced options like full-time access to the remote computers and servers as well. 

Will allow up to 25 participants to attend an online meeting, which makes it suitable for official uses. 
Pros: Team viewer is simple and straightforward to use. It guides users thoroughly, and you can connect to any remote connection with a few steps. The user interface is clean and perfect for beginners. 
Cons: First of all, you will not be able to share large files, and if you want to use TeamViewer for commercial purposes, you will need to upgrade. 
Our Recommendation
---
Although the remote desktop software started the journey only with IT administrators and managers in mind, it has become a common tool for every people living in this modern era. With the increasing demand for remote offices, these tools are becoming so popular, and you will get many alternatives as well. But to pick the best remote desktop software for Windows, I had to think wisely and test each app mentioned here before commenting. 
Upon considering all the features, and its performance, I am going to declare Zoho Assist as the best remote desktop tool for Windows PC. While you are going to get cloud-based remote support, your connection will remain secured with advanced SSL and two-factor authentication. So you see, Zoho Assist can protect you from data breaching and misuse of information. 
Finally, Insights
---
So here are the best remote software for your Windows PC. There were other alternatives as well, by my primary concern were a stable remote connection, high-grade security, flexible pricing,  and outstanding customer support. Based on these parameters, I am representing this list, hoping that you will have an idea of what you can expect from a remote desktop for Windows and keep them in mind to pick the one you want to use. I have done half of the work, and you will just need to use these tools and come back with a comment on your experience.