Every day we deal with many files and documents and regularly add up these files and documents in our computer. The more files are on our computer, the more chance of duplicating these. As a result, files take large space on computer hard drives and make our computer hard drive junk. So the best solution for this is to compare the file and delete the duplicate file from our computer. However, comparing files manually is tedious and quite an impossible task. So the smart solution for this tedious task is to use a file comparison tool for your Windows PC.
While you are going the compare manually between two files or groups of files at your local drive, there is a high chance that you would miss out on something. On the other hand, with the help of using a file comparison tool, you can ensure that hackers do not alter anything. Moreover, you can re-compare the duplicate files and delete unnecessary files from your computer to save hard drive space and save your time also.
Here we have compiled a few best file comparison tools to help you find junk files on your computer. Both free and paid versions of file comparison tools are available on the internet. And the paid tool has a trial version, so you can ensure the tool's performance before buying the paid version.
Best File Comparison Tools for Windows PC
---
Anyone who already uses Google Drive or Dropbox has an idea of ​​the file comparison tool. These online applications save file versions of every session so that you can quickly return to any previous version.
But for this, you always need an internet connection. Besides, you need to upload all the files online. But you are never be assured that you are always online and all data are uploaded online. So we need to find an alternative tool that works offline and will always compare the files on your computer's hard drive and identify duplicate files.
Many file comparison tools are available, but only the top-listed tools can create a parallel comparison between files to identify duplication. So it would be best if you found an excellent functional tool.
In this article, we have shortlisted the top 5 file comparison tools to make your task easier. We hope you will find the right tool from our list.
1. ExamDiff
---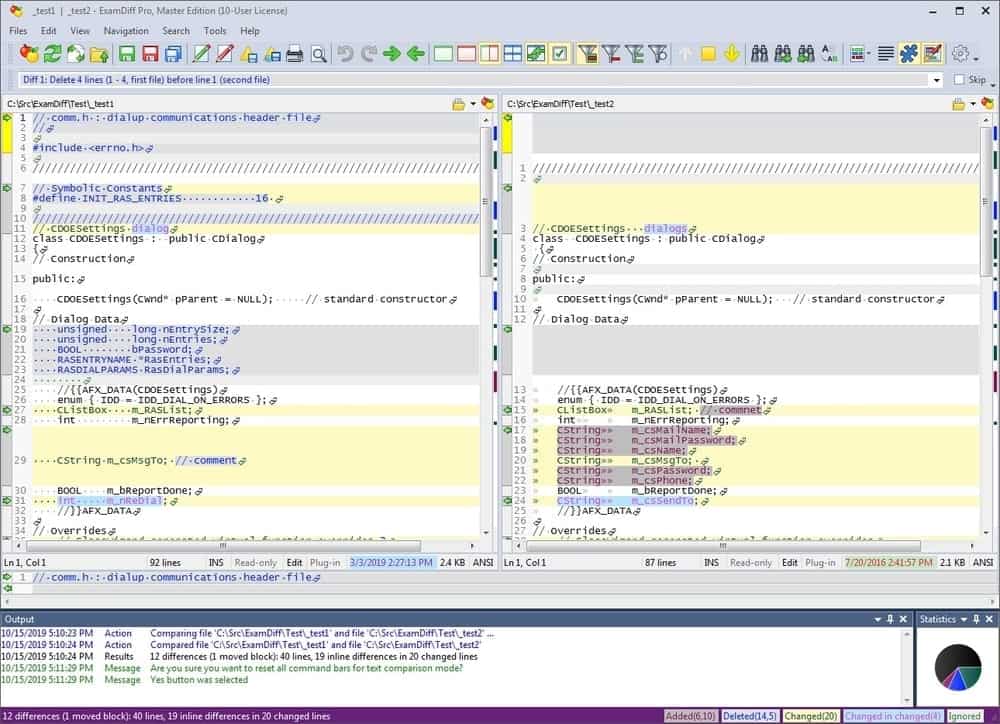 ExamDiff is an easy-to-use visual file comparison tool that offers many convenient features for file comparison. In ExamDiff, you do not need to provide both filenames but enter the directory name of one of the files to be compared. Then, ExamDiff will try to find the file in the specific directory.
Some essential features that make ExamDiff unique are automatically detecting file change, one-click re-compare functions, remembering matching file compare, drag and drop feature, easy navigation and search, and more.
ExamDiff is a freeware software, but it has a Pro version with numerous helpful features at $34.99. If you are looking for more user-friendly and customizable features, you can buy the Pro version; otherwise, ExamDiff freeware is good enough for your regular task.
Key Features:
ExamDiff can automatically detect file changes between two files and ask you to re-compare between these.
With the help of a file editor, you can easily edit the first and second files.
You can easily navigate the difference between file versions and see all differences in the drop-down list.
It can highlight syntax, text, colors, font and create a ignore list for comparison.
Besides, its search panel helps you find similar strings, and it can remember the most recent search.
Moreover, you can filter files by using a customizable file searching panel.
2. WinMerge
---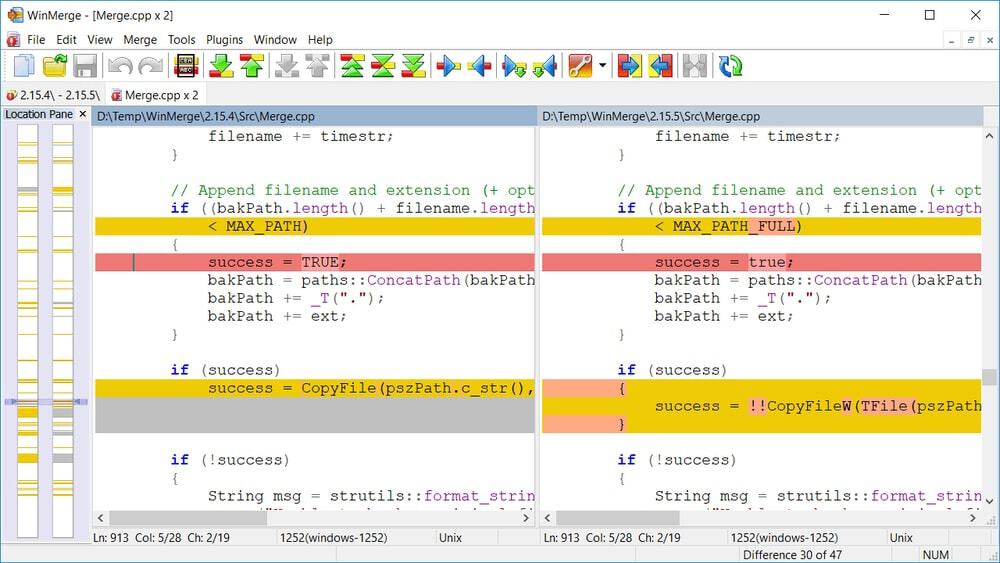 WinMerge is a free and open source file comparison tool for Windows. This software visually shows the difference between folders and files and merges them. With this file comparison tool, you can determine what changes happened between projects and merge between different versions.
In addition to files and folders, you can compare images and tables with WinMerge software. This software also supports Unicode, plugin, localization, and tabbed interface. The best of the software is that it can compare archive files by using 7-Zip software.
Key Features:
You can visually see the difference between two files and merge the text of the files.
WinMerge flexible editor can highlight the syntax line number.
Two vertical panes show the text changes in between files.
It shows folder comparison results in a tree-style view.
While comparing images, WinMerge can highlight the difference of the image block.
In the table comparison, this software shows the CSV/TSV file format in the table.
3. Litera Compare
---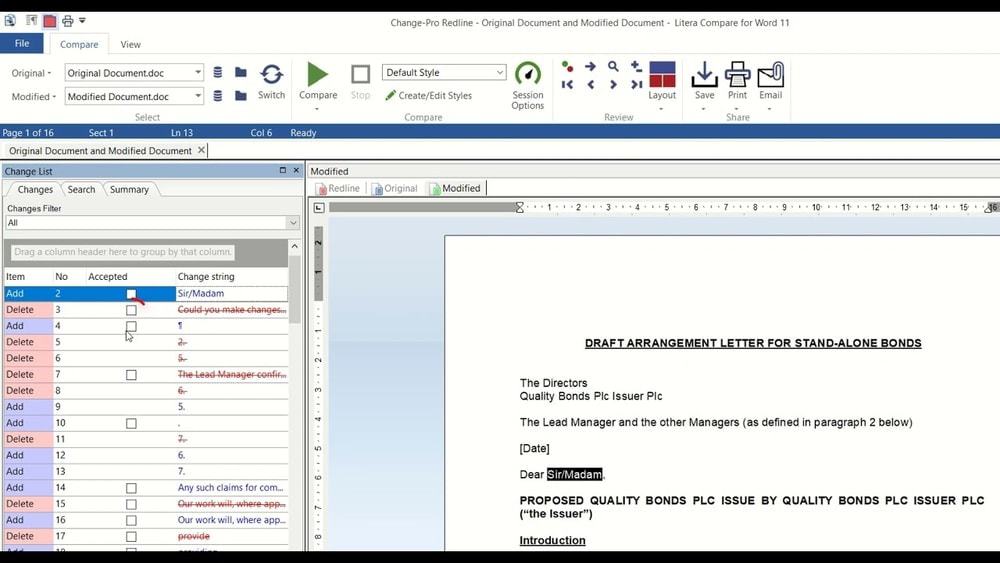 If you are looking for a bit advanced level file comparison tool, Litera Compare is perfect for you. With this tool, you can compare documents, PDF, Excel, and PowerPoint files within a few seconds. This software integrates your working life to use this software through your mobile, computer, or browser. This file comparison tool ensures that you never miss a little while comparing documents.
Litera Compare is compatible with Microsoft Office Suite, including Outlook, and it can compare embedded objects in the software. Moreover, this software provides cloud storage functionality. So you can compare documents to integrate with your existing operating system, mobile, or device that are hosted on the cloud.
Though, this software has no free version. But you can request a demo to experience the enterprise-level file comparison tool performance.
Key Features:
Litera Compare lets you compare entire documents or highlight parts of the documents that save time to compare the entire documents.
If there are any embedded objects or images on your documents, this software can compare them.
Moreover, it can compare any charts, tables and shows what changes between them.
Furthermore, it displays a change summary in a structured way that you can filter results by change type and quality.
You can either merge or create a new document and save and send it to the recipient.
4. KDiff3
---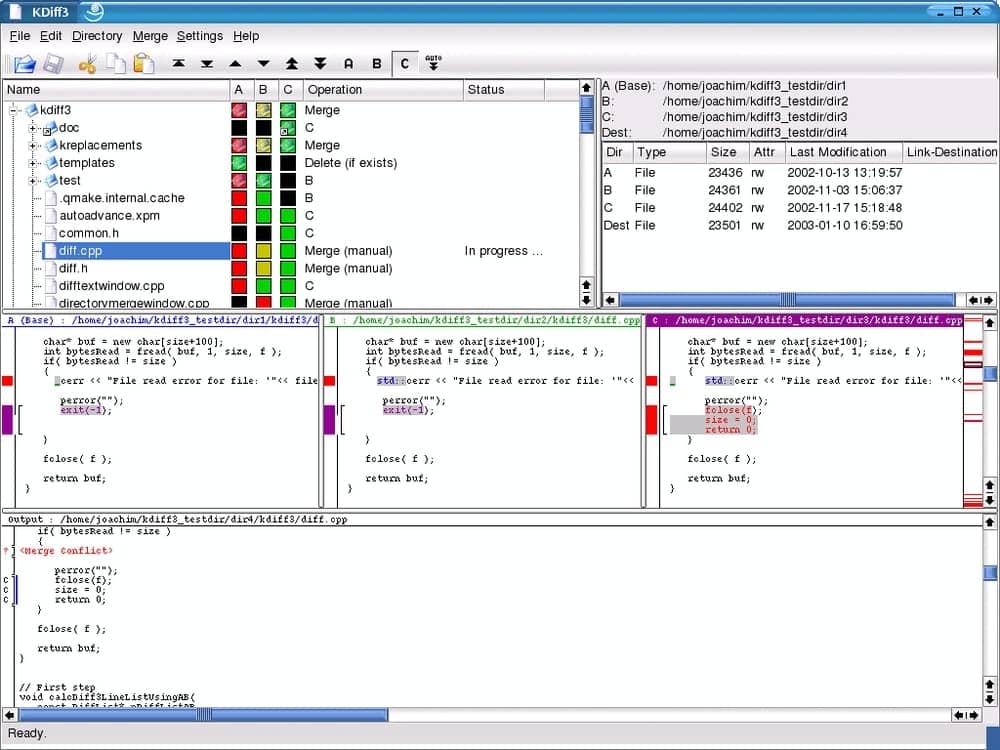 With KDiff3, you can upload three files to compare at once. The interface shows three files next to next and shows the difference line by line, character by character. Besides, it offers an automatic merge option between the files. Moreover, it has an inbuilt smart editor that solves the merge conflict.
This file comparison tool is compatible with Windows and Mac OS. Additionally, it supports Unicode, UTF-8, KIO on KDE, and other codec platforms. The best thing about this software is that it comes with a responsive graphical user interface.
Key Features:
KDiff3 allows you to simultaneously compare and merge the input text of three files.
With the help of byte-order-mark "BOM," this file comparison tool can detect text differences between files.
Though this software supports Unicode, UTF-8, and other codecs, this software comparison area is extensive. Moreover, KDiff3 allows you to access FTP, SFTP, fish, smb.
You can print the difference.
It allows you to arrange line alignment manually.
Moreover, it can control the merging of version history automatically.
5. Tkdiff
---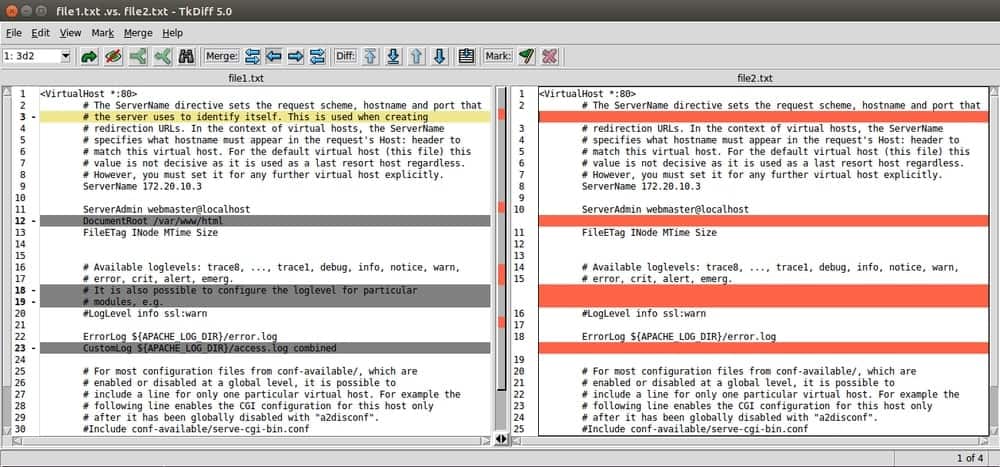 Tkdiff is a simple file comparison software that provides a dual-pane interface to compare two files. This software works on the text document (in text format) and also in TCL. In Tkdiff, you have the option to file compare by using your browser.
It has a syntax highlighting feature that marks differences in blue color. Moreover, its search feature is helpful to search quickly while you are handling a large amount of data.
The best part of this software is that its user interface is easy to use, so whether you are a beginner or an expert, you can easily handle the software. Another impressive point of the software is it consumes minimal CPU and system memory, so it does not hinder other run-time activities of the processor.
Key Features:
Tkdiff is highly configurable software where you can personalize the interface.
In this software, you can bookmark the difference point between two files.
Besides, it provides a graphical map of differences to navigate the difference quickly.
Moreover, this software shows line numbers, bypass white space, and previews the last or next differences.
Furthermore, it supports 3-way merging that helps you to solve merging conflicts.
Our Recommendations
---
The file comparison tools above are a great way to compare files and documents. With these tools, you can also merge the files and documents and resolve merging conflicts. We have compiled both free and pro version file comparison tools for Windows PC in this article.
If you want a file comparison tool for personal usage, we recommend choosing a free tool such as WinMerge or KDiff3. However, Litera Compare is a professional file comparison tool specially designed for law firms, corporate solutions, and services. If you have enough budget and want a professional file comparison tool, you can use Litera Compare.
Finally, Insights
---
This is a concise review of the file comparison tool to analyze files to find the changes between files and merge them. This tool turns your tedious task more accessible and more accurate. Apart from the list, you find many file comparison software, but you should confirm that they meet your requirements before choosing any of them. So pick the tool that you should see the most useful for you.
Finally, let us know which software you have picked for file comparison and what you are experienced with using the software? Moreover, if you find this article helps to choose the right software, you can share this with friends to benefit.