Why have I started to write this content on the best Evernote alternative app or note-taking app for Ubuntu Linux? The answer is straightforward: Evernote still does not offer any official client for Ubuntu or Linux distros. Here I will be sharing a generic list of Best 13 Evernote replacement clients for Linux, but one thing to remember that you can use any of these note-taking apps as standalone as it is on any Linux distributions. Before going to the list, you can see my previous article on Best 10 Linux Code Editor.
Best Evernote Alternative Apps for Linux
---
As of now, Evernote does not officially support Linux, so the below apps may be used for creating, modifying, or deleting, managing notes, tasks, or to-do lists. Many of these Evernote replacement apps support their own cloud storage, where others support external cloud storage like Google drives, Dropbox, etc. Let's not make it descriptive; we can go ahead with the list of the best note-taking apps or Evernote alternative apps for Ubuntu Linux.
1. Simplenote – A Note Taking App
---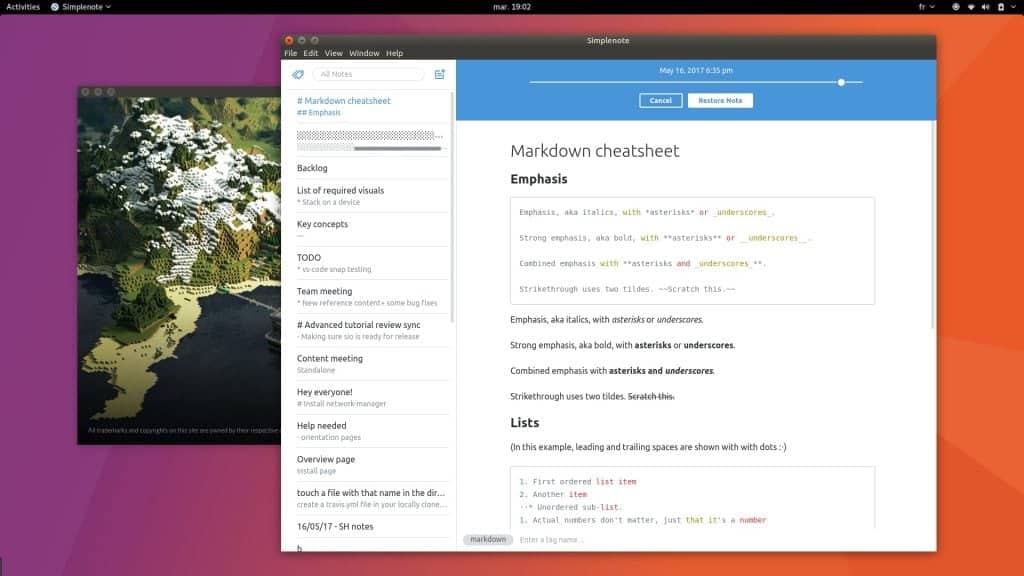 Simplenote is the best note-taking app for Linux right now. It provides all the features that a modern and professional note-taking app must have—this how it becomes the best Evernote alternative app for Linux.
This simple and elegant app is designed and developed by the same company that developed WordPress – Best Blogging open source platform, Automattic, Inc. So let's have a glimpse of the important features of it.
Important features
Packaged in snap form.

Very easy to create or edit notes, tasks, or documents.

The user can collaborate with other Simplenote users in real-time.

Supports markup and note tags.

The user can publish the link to public view.

Supports all the major OS platforms, including Windows, Linux, Android, iOS, macOS, and Web.

One app rules them all, the best alternative to Evernote for Linux.
2. Turtl – A Secure Encrypted Evernote Alternative
---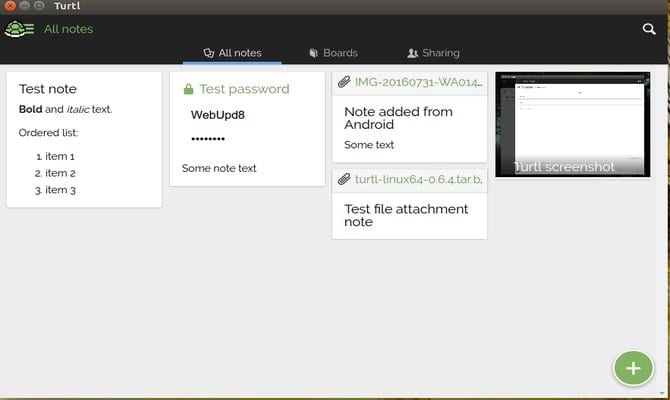 Turtl is a secure and privacy-focused note-taking Evernote replacement for Linux OS. You can use it for saving articles, bookmarking websites, project documentation, and much more. Users will get the look, feel, and similar experiences of Evernote by using this piece of nifty software. Let's have a look at its essential features.
Important features
Offers to use of the best cryptographic practices.

Supports markdown.

The user can convert the notes into HTML.

Provides an opportunity to share the notes and contents with others through encrypted channels.

Your privacy will not be compromised as it keeps all the documents and contents in an encrypted safe vault.
3. MedleyText
---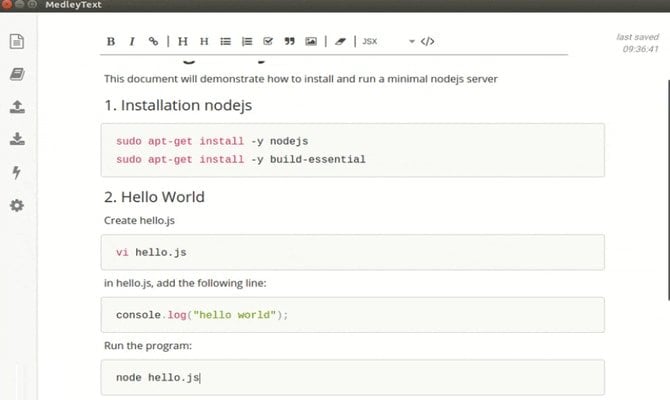 Medleytext is not just another note-taking app or alternative to Evernote. It's made especially for the developers and programmers. Though general users also can use it without any specialized knowledge or coding.
Important features
Open source and free cross-platform note-taking app.

Supports many programming languages, including Javascript, CSS, HTML, and Markdown.

Beautiful, modern, and intuitive user interface.

Supports all the major platforms, including Windows, Linux, and Mac OS.

Lots of options for text formatting, including color, size, style, images, links, etc.

Supports customizable keyboard shortcuts.

Customizable UI, custom themes, fonts, etc.
4. WizNote
---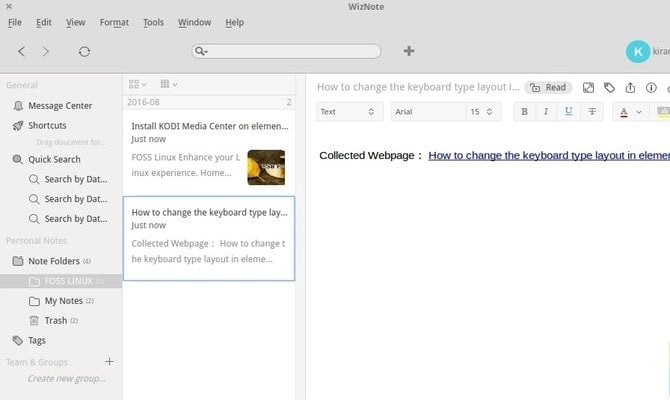 WizNote is an open source and completely free note-taking app for Linux, and apparently, it's a great Evernote replacement software available right now on the market. Users can create, edit, or view notes and documents on Windows, Linux, iOS, Android, and much more.
Install on Ubuntu
sudo add-apt-repository ppa:wiznote-team
sudo apt-get update
sudo apt-get install wiznote
5. Laverna
---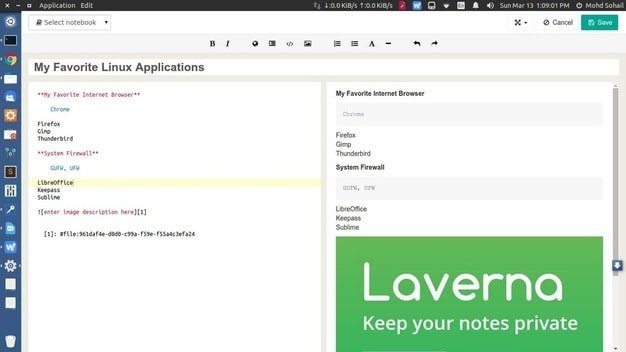 Laverna is an open source free note-taking app for Ubuntu, an excellent Evernote alternative for Linux. Its official Linux client is effective for making, editing, or deleting notes.
This app does not provide any in-house made cloud storage to keep or synchronize the notes. Rather Dropbox can be used as linked cloud storage for saving all sorts of notes or documents. This how the users get all the notes across the devices.
Important features
An open source Evernote alternative app or note-taking software for Ubuntu Linux.

Offers easy integration with external cloud storage synchronization.

Provides syntax highlighting and Markdown editing.

The user can create notes and tasks.

Provides distraction-free mode.

End-to-end encryption.
6. NixNote- An Evernote Client
---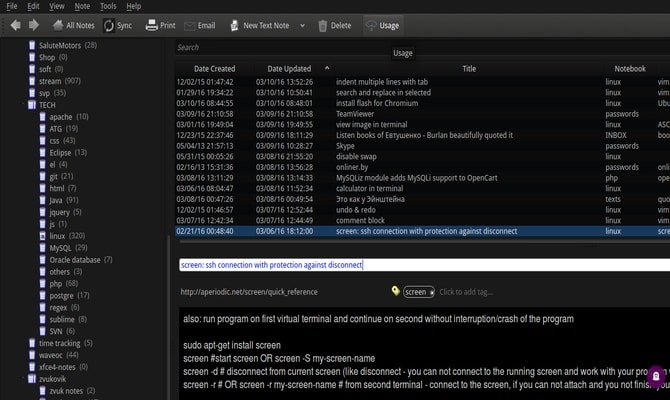 NixNote, formerly known as Nevernote, is considered one of the best alternatives to Evernote for Linux. It comes with lots of features for taking notes and tasks without any hassle. One important feature that makes it stand alone in the market as it uses Evernote serves for synchronizing all the notes, tasks, and documents across the devices, especially on a mobile OS. So users won't lose any notes if even NixNote is used on Linux.
Install on Ubuntu
You can install it via PPA on Ubuntu Linux. Run the following command into the Terminal.
sudo add-apt-repository ppa:nixnote/nixnote2-daily
sudo apt update
sudo apt install nixnote2
7. Google Keep
---
Google Keep is the best alternative to Evernote and an independent note-taking app for all the dominant OS, including Chrome OS, Windows, Linux, Android, and iOS devices. This excellent software is developed and maintained by the giant technology company Google. Users can do almost everything that excellent note-taking software must-have. You can install it as a standalone app or use a web app or extension on any system.
Important features
Can capture or save anything that a user can imagine like text, web page, documents, images, etc.

Offers a voice recording memo.

Can set reminders and easy integration with Google calendar app.

Easy to share their thoughts with others by using emails.

A group of users can edit or create notes or tasks at the same time in one place.

Various color palette and leveling system helps to organize and search the required notes quickly.

Can make To-Do list.
8. Zotero
---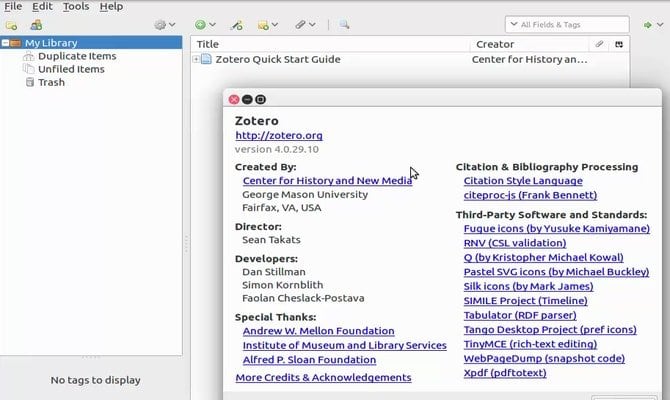 Zotero is an excellent Evernote alternative app for Windows, Linux, and macOS. It's a personal assistant who lets you create your own content library. You can create, edit, and view all the notes and tasks from anywhere on any OS.
Moreover, it offers easy browser integration, which helps to grab web content automatically. Literally, users can store anything, including text, image, web links, audio, videos, etc., with just a few keystrokes.
Content library can be organized and maintained by using a tag system and Playlist collections. It also synchronizes all the contents and notes across all the devices. Data backup and also restore available for offline archives.
Last but not least, Zotero provides a user-friendly atmosphere for collaboration tasks with other group members. You can create both public or private projects and, after completing the work, publish it for public view.
Install on Ubuntu
To install Zotero standalone from the PPA, run the following commands in a terminal:
sudo add-apt-repository ppa:smathot/cogscinl
sudo apt-get update
sudo apt-get install zotero-standalone
Or Download from the below link.
9. Tomboy
---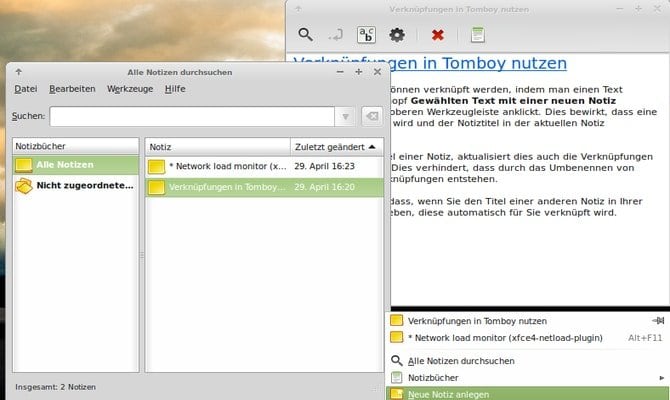 Tomboy is mostly a sticky note-taking app for Linux. Though it's not a perfect alternative to Evernote, users can do many more tasks than any other best note-taking apps in the market. Gnome project is responsible for developing this useful and original app.
Important features
One of the best sticky note-taking apps.

Users can create and save the notes locally on their system.

Provides backup and restore notes.

Supports text highlighting, email linking, automatic hyperlinks, spell checking software built-in, and much more.
10. RedNotebook
---
RedNotebook is powerful and features rich Evernote alternative note-taking software for Ubuntu. Mostly it's made keeping in mind diary entries. There is a calendar which helps you to put notes or task and let you search by dates.
Important features
Dairy like a note-taking app.

Text can be formatted and supports images.

Automatically grab web links.

Notes can be exported as text, HTML, latex format, or pdf.

The user can use tags for natural search.

Supports all the major platforms, including Linux, Mac, and Windows.
11. Boostnote
---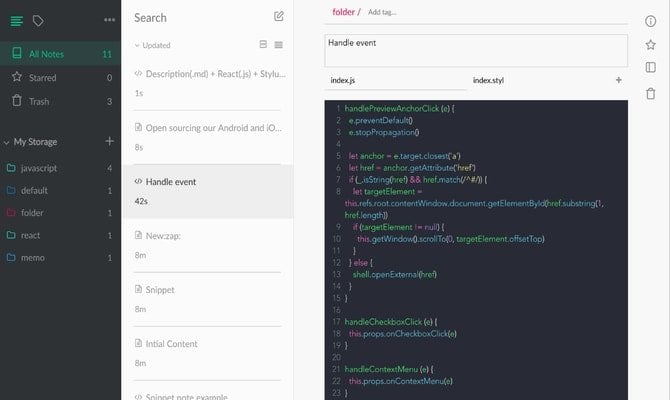 Boostnote is also an open source and advanced note-taking editor app for developers and programmers, just like MidleText. With a little bit of advanced knowledge, it can be a great alternative to the Evernote app for Linux. This Evernote alternative note-taking app saves the content when you write, and this how you never lost any notes or documents.
Important features
Supports Markdown and LaTeX.

A Beautiful and minimum design that can be decorated with color themes.

It can be used offline; no internet is required for creating any notes.

Supports cross-platform, including Linux, Windows, and macOS.

Tag support and text highlighting.

Lots of themes for an eye-candy look and feel.
12. TagSpaces
---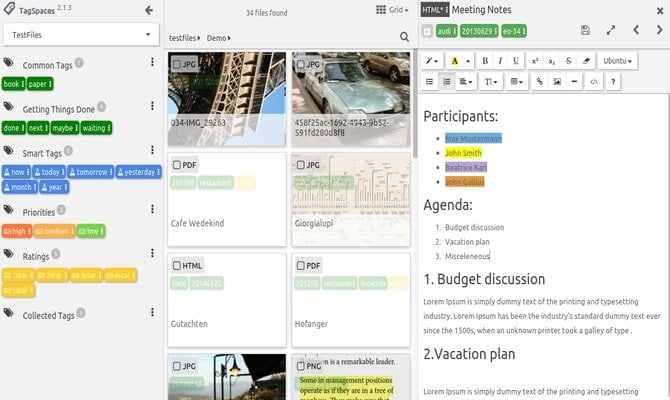 Though TagSpaces is not that familiar with the world of note-taking app or Evernote replacement app, still it's a feature-rich software for Ubuntu Linux. I might be wrong if I mention this app as the only note-taking app. Instead, it's complete data management software.
The user can organize and manage all the files of the system through this simple and highly customizable app. You can also host your files with a tag system, which helps search the files and documents quickly.
13. Geeknote – Evernote Console Client
---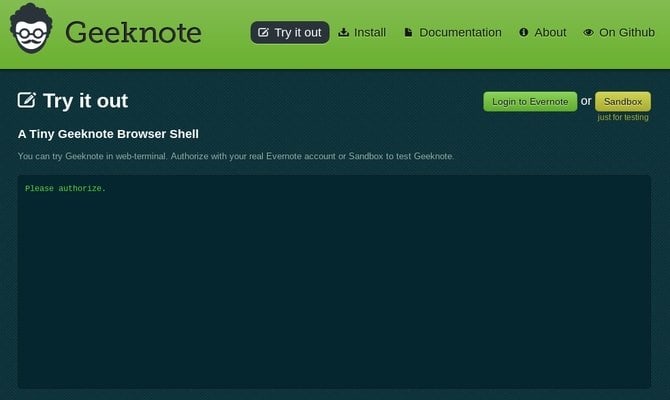 Geeknote is an unofficial command-line client to the Evernote app. It helps you to create or delete notes using any terminal text editor, sync directories, read notes in the terminal, and much more. Geeknote is a cross-platform app that supports Linux, FreeBSD, and macOS. It's an Evernote console client for the geek, by the geek.
Final Thought
---
Nowadays, note-taking apps are a must-have for any platform. And in this sector, Evernote was the best and unbeatable. But now the thing has been changed. There are many open source note-taking apps available in the market that can be used as independent software or as an Evernote alternative for the Ubuntu Linux system. Here I tried to include all the best alternatives to Evernote note-taking apps for Linux.
Don't forget to share your experiences and choices of selecting the best Evernote alternative app with us in the comment section. Also, let me know if I missed any essential apps to include on this list.