Stuck with a video encoded in a weird format? Looking for a video converter for Windows PC to convert that video? Don't worry; we got you covered. You might already know that there are a plethora of formats out there for encoding videos. Not all players or devices can play all of the formats. But if you convert that video to a compatible format, then it might become playable.
So you can see, a video converter is a tool that can preserve the video data and encode them into many file formats. It can even compress the videos to take little space in the storage, and devices with low memory can play that efficiently.
Best Video Converters for Windows PC
---
Windows is mostly used by home users and media-centric devices. This is why you will find a decent number of video converters available out there for Windows PC. Some of them are paid, while some are free and open-source. Different converters offer different features, and you have to choose one that will be the most helpful to you based on your requirements.
I have spent a significant amount of time so far tinkering with video converters on my Windows system. So, I thought I should share my experience with you all. Therefore, I made the following list of the best video converters for Windows 10, mentioning the key features.
1. Wondershare UniConverter
---
UniConverter is a feature-packed video converter from Wondershare. Wondershare is a great vendor of Windows software, and I didn't find anyone who has got negative impressions from their products. Just like all other tools from them, their video converter is beautifully crafted that runs without any issues.
UniConvertyer has both yearly and lifetime plans. But I think the lifetime plan is a better deal if you have to use this tool regularly. The students and educators will get a discount if they log in through their Student Beans account.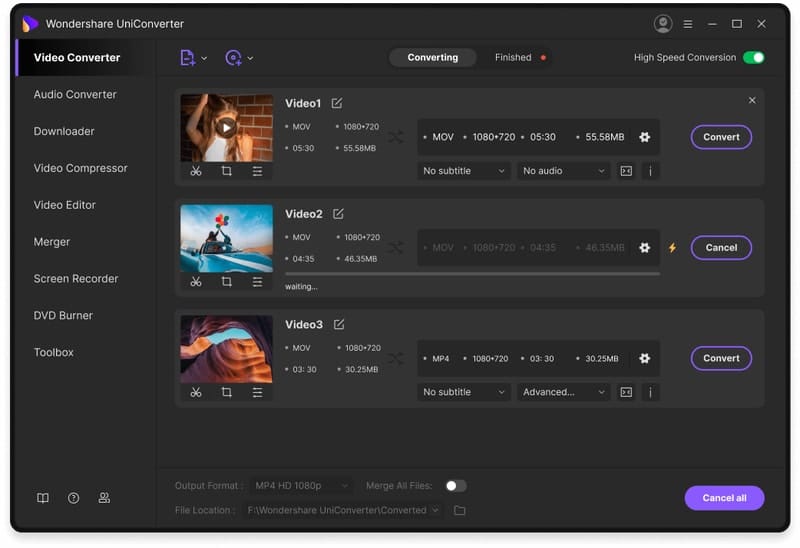 Key Features
This tool supports hardware acceleration to make the conversion process faster.
It supports up to a thousand different audio and video file formats.
The batch conversion feature is very convenient for commercial media agencies.
You will get to use basic editing features such as cutting, trimming, appending, etc.
It supports advanced compression without losing the actual quality of the video.
Pros: The user interface is very modern and neat. It also features a DVD toolkit, which comes in handy if you want to rip and burn DVDs or Bluray disks on your computer.
Cons: The tool is a bit graphic-intensive that often leads to stutters and hiccups on older and weaker machines.
2. Movavi Video Converter
---
Movavi Video Converter for Windows computers is a great solution for media conversion. This is yet another paid tool that provides real value for money. You can either go for the yearly subscription or lifetime licensing option to avail all the features of this tool.
The developers have kept a way to buy the business license if you want to use this on your organization. I liked their commitment of 30 days moneyback guarantee. However, this tool works perfectly, that I am sure you will never need to claim that.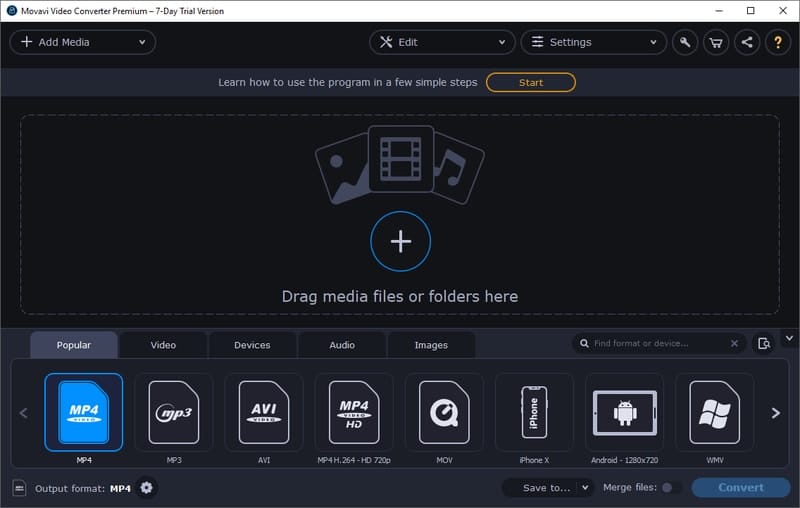 Key Features
It supports almost 200 different file formats for high definition conversion.
You can choose from various devices to make the video compatible with that particular device.
This tool supports NVIDIA, Intel HD, and AMD GPUs for hardware-accelerated encoding.
You can convert the videos on Movavi's web server for blazing-fast conversion even if your PC doesn't have a dedicated GPU.
It can show how the video will look after converting, helping you choose the best conversion option.
Pros: Movavi Video Converter has a proprietary feature called SuperSpeed, which enables faster conversion than regular encoding algorithms by using remixing technology. This feature totally bought me.
Cons: It supports fewer file formats than Wondershare's UniConverter, which is a negative side considering the price.
3. HandBrake
---
I was always a bit skeptical about the power of the free tools. But this HandBrake thing totally changed my perspective regarding a free video converter. This is originally an open-source tool for media transcoding available for multiple platforms. I used the Windows version, and it is worth trying out.
The most impressive thing about this software is how light-weight it really is! The user interface is a bit simple and old-school. But this is a plus point because all the processing power can be utilized on the video conversion instead.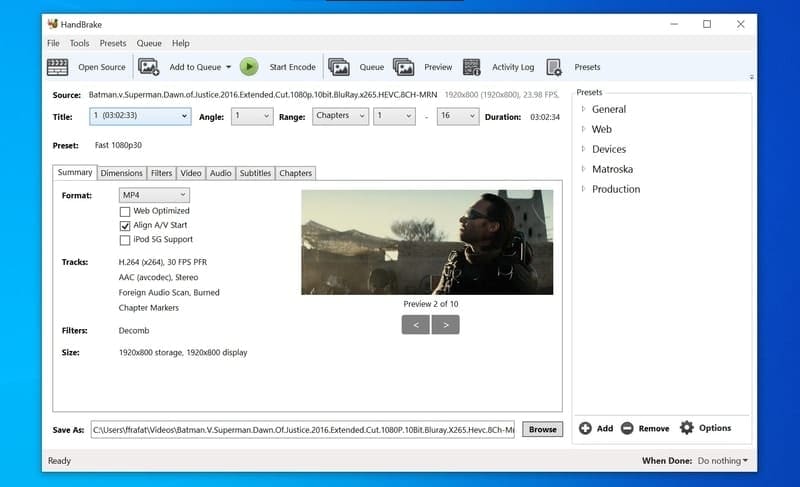 Key features
This tool comes preloaded with conversion presets that don't require any technical understandings to use them.
It can use BluRay drives and DVDs as the video source along with the internal storage of the computer.
You can apply several built-in video filters such as denoising, scaling, cropping, etc.
HandBrake provides you the option to tweak the encoding parameters for advanced users.
It can automatically scan the videos library and send them to the queue for the conversion process.
Pros: There is a portable version of HandBrake that can convert videos whenever you want without messing with the Windows system files.
Cons: It doesn't support many video and audio formats for exporting the output, which is a dealbreaker for some people.
4. Total Video Converter
---
Total Video Converter is a popular name among veteran Windows users. It is one of the oldest video conversion tools out there. However, even in this modern Windows 10 era, the appeal for this tool has not decreased yet. It is still capable of converting videos into different formats competing with modern tools.
The user interface will not be liked by most users, which looks quite dated. But I love this tool because of the stable performance on older computers and reliability. And, this tool will remind you not to judge a book by its cover.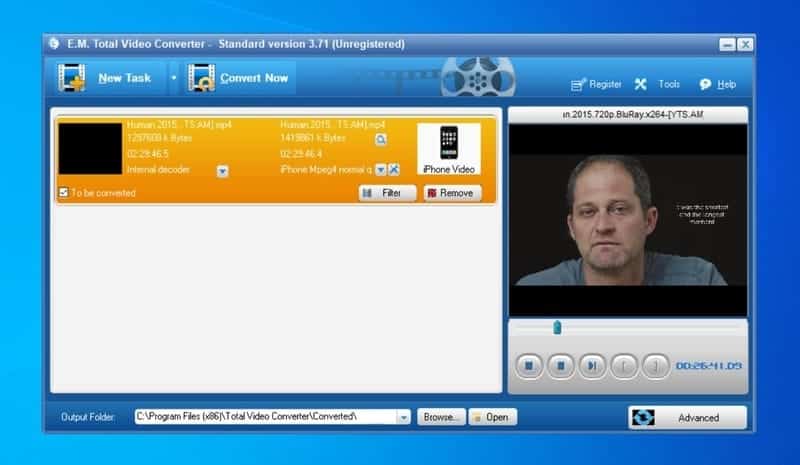 Key Features
This tool can be integrated with Windows Explorer for sending files directly into the conversion process.
You can make the videos compatible even with old-school devices such as PSP, Xbox 360, Nokia Java phones, and much more.
This video converter for Windows 10 can perform basic video editing and can create slideshow from photos.
It can burn the converted videos on BluRay disks, which is a handy feature indeed.
This tool supports extracting the audio track from video files and save them in mp3 format.
Pros: The lifetime licensing plan is very affordable, considering the features and overall value. It runs great on older machines, which is also an advantage.
Cons: The conversion presets lack support for modern mobile devices, which might be a problem for beginners who depend on presets for converting quickly.
5. VideoProc
---
This is originally a video editor for Windows PC. However, you can perform super-fast media encoding with this software, which ultimately lets you convert videos into your desired file formats. Being a multipurpose tool, it provides you much flexibility. You can extract audios from video files, backup your DVDs, and perform basic editing after the conversion process. The subscription plan is also very flexible with family licensing for multiple computers.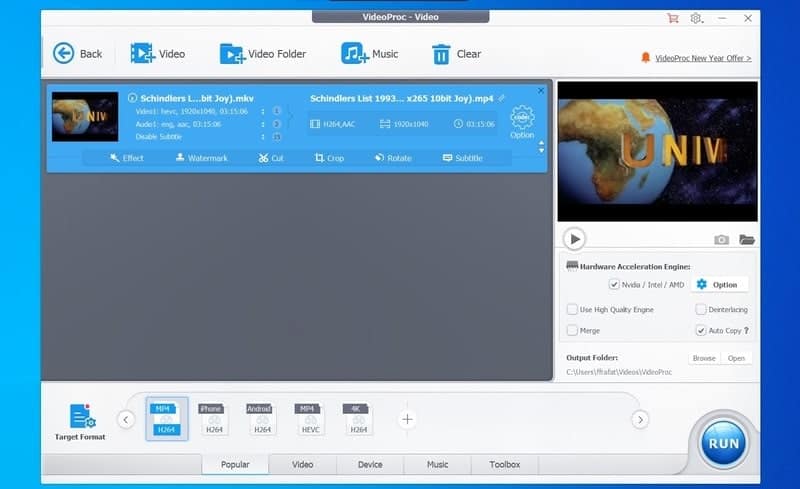 Key Features
It converts videos faster than most other tools, even without hardware acceleration.
This tool supports both H.264 and H.265 codecs for better compression with compatibility.
VideoProc offers video remixing technology for faster rendering than regular video converters.
You can adjust the bitrate, framerate, resolution, and other parameters if you want to get the best performance.
Several DVD back-ups and ripping related features will surely help you out.
Pros: If you want the combination of a great video editor along with a powerful converter, then this tool has got a significant advantage over others.
Cons: There is no option for buying only the video converter module at a low price. You must pay the full price even if you don't need the editor.
6. Freemake Video Converter
---
This is one of the most popular free video converter for Windows PC among the mass people. This thing stands out against other powerful tools just because of the easy-to-use user interface. The beginners and the people with less technical knowledge can convert videos, which is a key selling point of this tool. As the name suggests, Freemake is a completely free video conversion software. You don't have to go through the hassle of buying a license or registering online.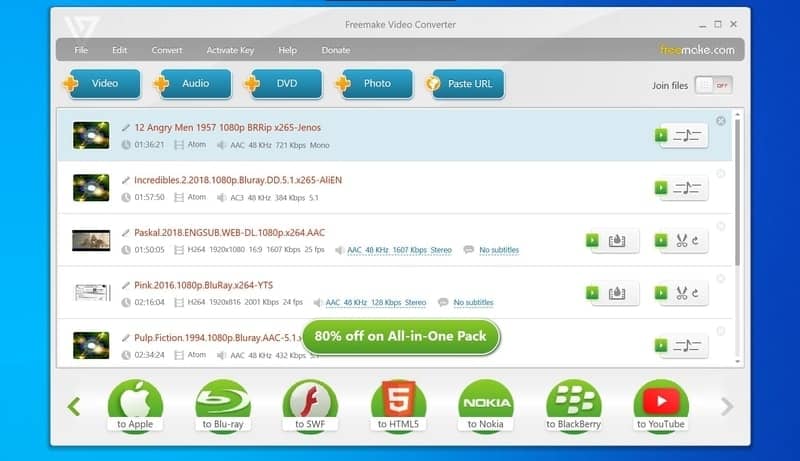 Key Features
You can convert videos into UHD resolutions without any limitations.
It supports converting and encoding videos into 500 different media formats.
You can pull videos directly from the popular video sharing sites and upload them after the conversion.
There is a large preset library for different gadgets, including retro devices.
It can retain the subtitles and adjust them even after converting the video.
Pros: Simplicity is the biggest advantage of this video converter. It needs just a few clicks to process the video into your desired format completely.
Cons: The compression algorithm is a bit weak in this tool. If you want lossless compression, then it might not be the pick.
7. Any Video Converter
---
Any Video Converter is like a heaven for the people who use their computers mainly for consuming media. It can convert any kind of videos from online and offline sources for your convenience. On top of that, this tool features some additional functionalities. For example, you can download videos from your favorite streaming sites using this software.
You can even directly share the converted videos to your Android and iOS devices without an additional sharing tool. It offers a simple and straightforward licensing option to avail of the bundle.
Key Features
Works great as a standalone video download manager for pulling videos from various sources.
Supports latest GPUs from Intel, Nvidia, and AMD for faster rendering and ripping.
The tool offers video and audio conversions within 200 popular media file formats.
You can capture video from the steaming sites by using the built-in screen recorder.
It can adjust video brightness, saturation and apply different filters while converting.
Pros: This video converter tool not only converts videos from your computer's hard disk but also various online sources. This is the distinctive feature of this awesome tool.
Cons: The UI is a bit laggy as far as I've seen. The developers should make it more polished and smooth.
8. HD Video Converter Factory Pro
---
This video converter for Windows PC is from the renowned software developer Wonderfox. Their DVD ripping tool is very popular among Windows users. This tool is no exception. Although it is not mass popular, it does a decent job converting videos into various formats.
HD Video Converter Factory Pro is powered by Wonderfox's powerful video transcoding technology that enables the computer to perform the process faster than others. You can use the free version with some limitations to upgrade anytime by paying an affordable sum of money.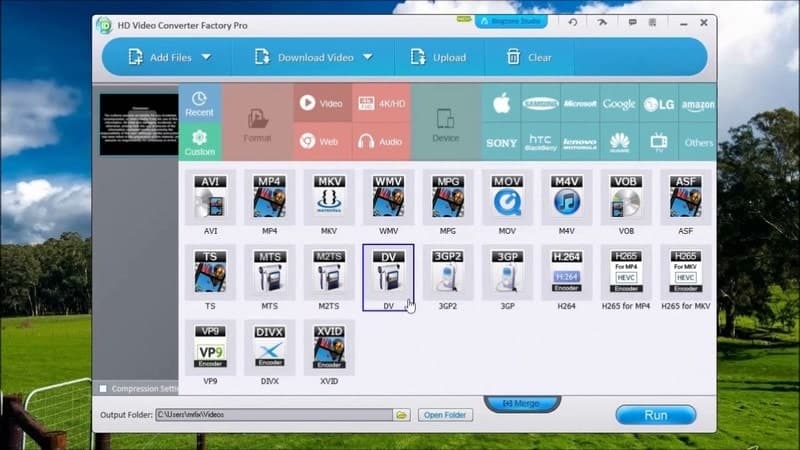 Key Features
It can convert videos in 4K and HD to various formats, including AVI, MKV, etc.
It supports pulling out videos from more than 300 popular websites.
You can record any movies streaming on the screen to make a video.
This tool can export lossless videos with Dolby Surround sound.
You can put several videos in the queue for batch conversion.
Pros: It features several modules for enhancing the picture quality and denoising low-resolution videos. These are the features that give it an edge over other tools.
Cons: The tool requires more storage space after installation, which might cause a problem for some users.
9. Free Video Converter
---
Free Video Converter is a member of DVDVideoSoft's awesome family of media tools. They have a wide range of software products that helps Windows users in many ways. This video converter is very straightforward, plain, and simple.
The user interface used a clean design language that doesn't require a steep learning curve to master. On top of that, you are getting all the basic conversion functionalities free of cost, which is a big deal. This tool is trusted by almost 25 million people worldwide.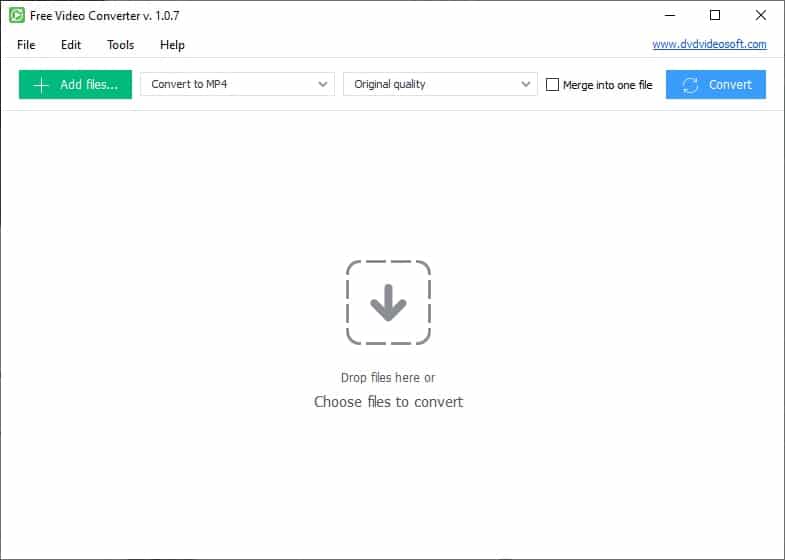 Key Features
You can convert any files into easily playable mp4 files in a few clicks.
The UI supports drag and drops importing of video files right from the file manager.
It can encode and compress videos without any errors in most cases.
You can set this up for automatic batch conversion, which is very convenient.
This tool can convert specifically for various devices such as iPod, Xbox, Android phones, etc.
Pros: I will put this tool ahead of many video converters just because of its uncluttered user interface with minimalistic design language.
Cons: It doesn't provide additional features like video downloading and editing for basic adjustments.
10. MediaCoder
---
MediaCoder is here in the conversion game for more than 15 years. So, the tool is quite matured now with a lot of features and rock-solid stability. But don't think that it is an outdated video converter for Windows PC nowadays. The developers are providing regular updates with cutting-edge media transcoding technologies and algorithms.
The program was originally meant for power users, and hence you might feel uncomfortable with the user interface. But if you care about performance, then this tool is a must-have.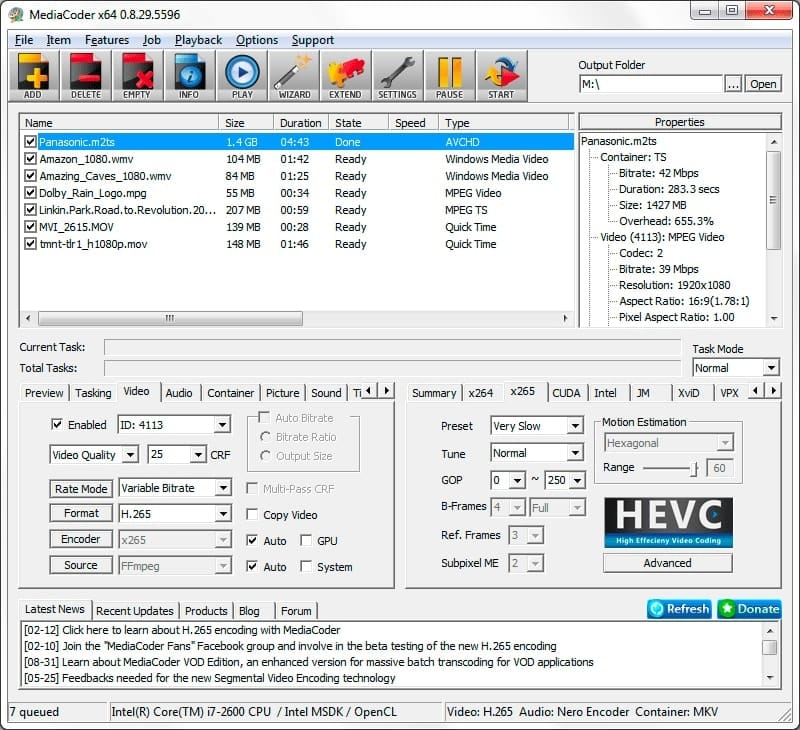 Key Features
It can utilize a multi-core CPU with NVIDIA's CUDA technology for faster rendering.
This tool can cut a video into several segments and process them parallelly.
It supports both lossy and lossless audio video conversion without accidental corruption.
You can apply different adjustment layers to the video for changing the look.
It supports reading directly from the optical disks and convert from that.
Pros: The regular free version has all the features without any limitations. However, you can get the premium version to use on commercial projects.
Cons: The tool comes with several editions specialized for converting for specific devices, which are kind of confusing for the new users.
Our Recommendation
---
All the above converters have more or less similar features. Some support a bit more formats, while some support just the popular file formats. This is not a big deal since most users will need the basic features; this is what my experience says. But still, if you ask me to mention one software, then I will tell you to go for the UniConverter by Wondershare. But if you are really tight on budget and unable to spend money, then HandBrake is a no-brainer.
To Conclude
---
Converting videos requires the computer to decore and then encode the video again in another file format. So, it's a bit demanding task for the computers. If your computer doesn't have that much processing power, it will take some time to convert the video.
So, if you are planning to batch convert videos, make sure that you are running a powerful computer. Otherwise, you can just use any free online conversion tools. Anyway, if you liked this article on video converters for Windows PC, don't forget to share it with your friends.