In the past, Linux was not a viable option for gamers seeking stability and performance. However, now there are hundreds of different Linux distributions that can be used for various purposes–including gaming! Although it is not as popularized, there are some great Linux gaming distributions that provide excellent performance, stability, and flexibility.
These best Linux gaming distros come with innovative drivers, software, emulators, and more to ensure a smooth gaming experience. The following gaming Linux distributions have been designed to enable users to install and play games easily.
Things To Keep in Mind While Choosing the Best Linux Gaming Distros
Although all Linux gaming distros are good, some are better than others. Consider the following when choosing one for yourself. Those are:
If you have previous Linux experience, that will help you choose the right gaming distro. Every gaming distro is based on a base distro, so it's important to pick one that you're familiar with using. That way, you'll be more confident in running a strong and comfortable gaming environment.
One of the key reasons people choose certain gaming distros over others is because of how up-to-date and cutting-edge they are. While all gaming distros support modern hardware, some require installing it manually. Be sure to check this before moving forward.
The update frequency should be checked to see if it is a rolling release distro like Manjaro or Point Release distro like Ubuntu LTS. The rolling release emphasizes stability while providing the latest features and software.
By trying out a live CD or flash drive installation of the distros, you can get a better feel for which one you'd like to use before making your final selection.
Best Linux Gaming Distros We Recommend
---
We have compiled a list of the best Linux gaming distros that come pre-optimized for gaming. These distros have all been handpicked and tested by our team to ensure the highest quality possible. So without further ado, here is the list of the Best Linux Gaming Distros.
1. Pop!_OS
---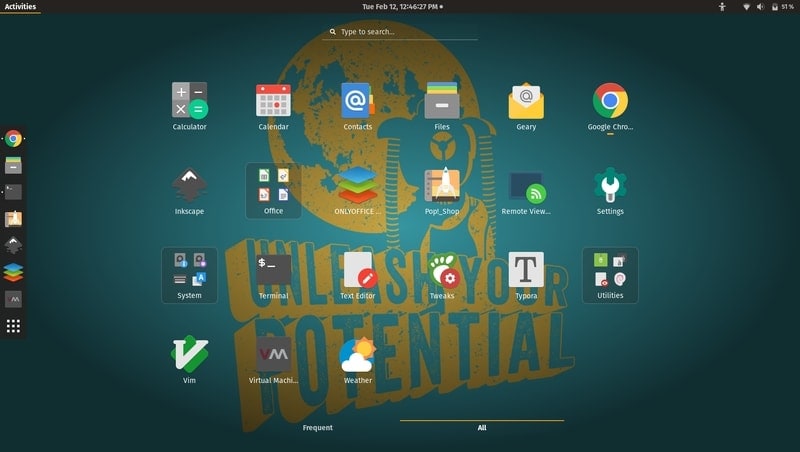 Pop!_OS is the best Linux distro specially designed for Laptops and optimized by the Linux experts at System76. It comes pre-installed with Steam and Windows Gaming compatibility tools like Wine, Lutris, and PlayOnLinux, as well as several Linux-native games. This Linux distro is perfect for gamers who want to enjoy their favorite Windows games on Linux without any hassles.
Resource Link: Pop!_OS vs. Ubuntu Linux: Which Should You Choose? Here's Why
It also includes powerful performance optimization tools that allow you to squeeze every bit of power out of your gaming hardware. Pop!_OS has worked for gamers by providing hybrid graphics capabilities and the option to launch games on the GPU directly from the context menu.
2. Batocera.linux
---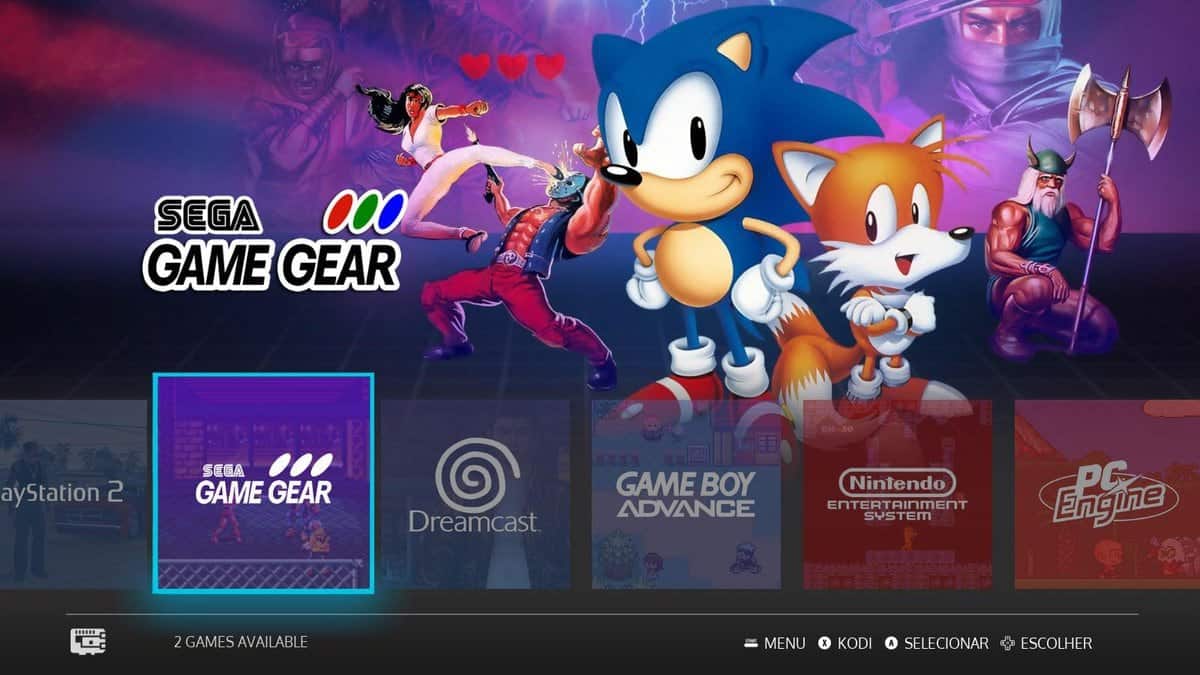 Batocera.linux is a Linux distro designed for gaming, providing an easy way to play all your favorite classic games and emulators on Linux. This Linux distro comes with preinstalled classic game consoles such as the Nintendo Entertainment System (NES), Super Nintendo Entertainment System (SNES), PlayStation 1 (PS1), and Sega Genesis.
Batocera.linux supports a wide range of Linux-compatible games, including those from Steam and other digital stores, as well as from popular Linux gaming websites. This Linux distro also has its own gaming store and emulator library, allowing you to easily download whatever game or emulator you need for your Linux gaming setup.
In addition to its gaming capabilities, Batocera.linux also comes with a range of tools for Linux gamers, such as a game library manager and custom Linux configuration options. Plus, it's extensible- so you can customize the Linux gaming experience to your heart's content!
3. Garuda KDE Dr460nized Gaming Edition
---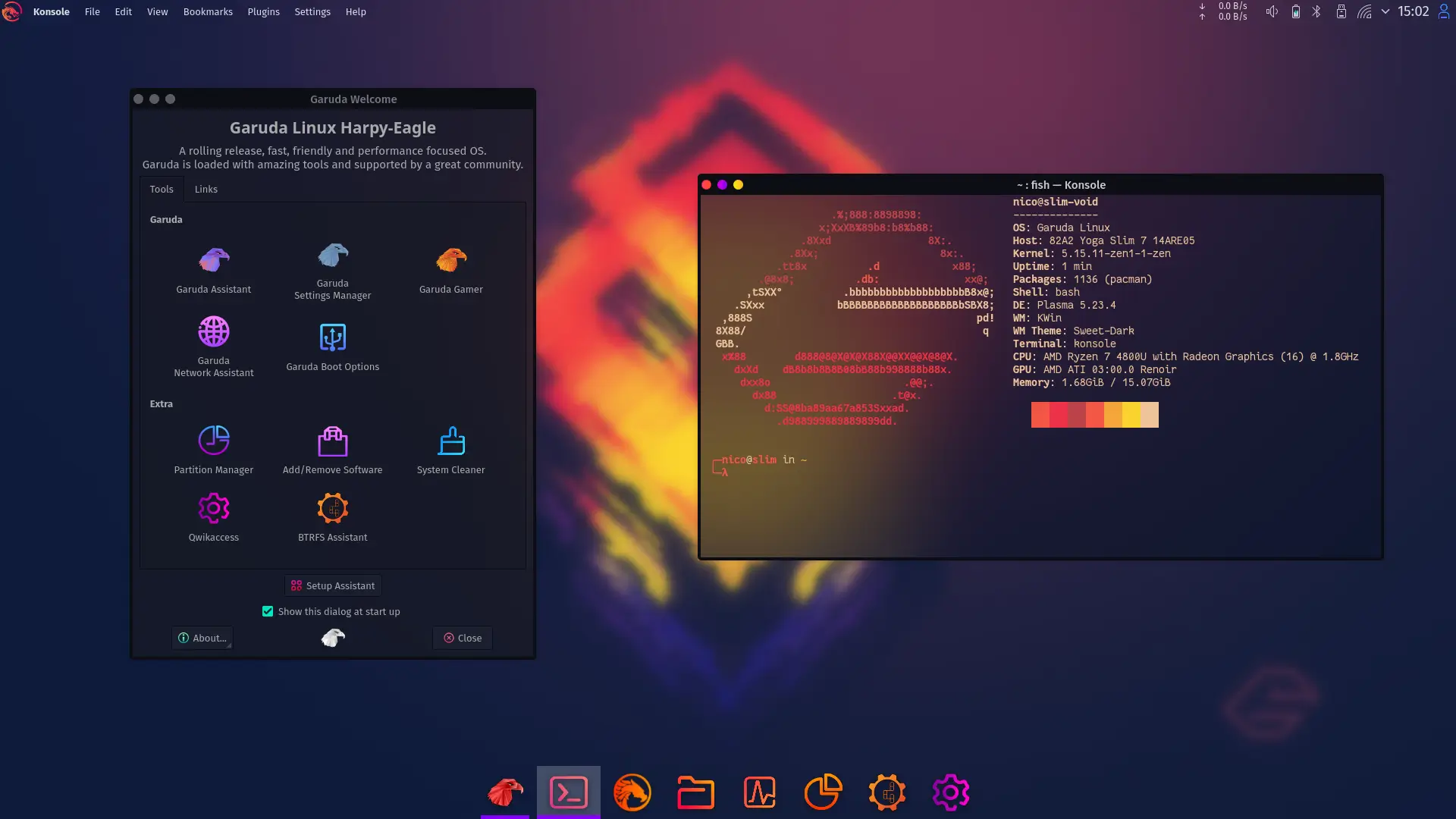 Garuda Linux is already a great Linux distro, but if you're looking for an even better Linux gaming experience, then Garuda KDE Dr460nized Gaming Edition might be just what you need. This Linux distro includes all the necessary software and drivers to get your games running as quickly as possible. Plus, it has been optimized for gaming performance with the Linux kernel and Mesa drivers- so you can expect a top-notch Linux gaming experience.
A great feature of the Garuda KDE Dr460nized Gaming Edition is its stylish design. The dark theme allows maximum contrast when playing games and helps reduce eye strain. Plus, it's fully customizable, allowing you to tweak the look and feel of your Linux gaming setup.
Garuda KDE Dr460nized Gaming Edition also has many useful apps for gamers, such as Steam and Lutris, allowing you to install any Linux-compatible game easily. Plus, it also includes support for Vulkan, which is great news for Linux gamers who want to experience the best possible performance.
So, if you're looking for a Linux distro that offers an out-of-the-box Linux gaming experience with a stylish design, in that case, Garuda KDE Dr460nized Gaming Edition is worth checking out!
Get Garuda Linux Gaming Edition
4. ChimeraOS
---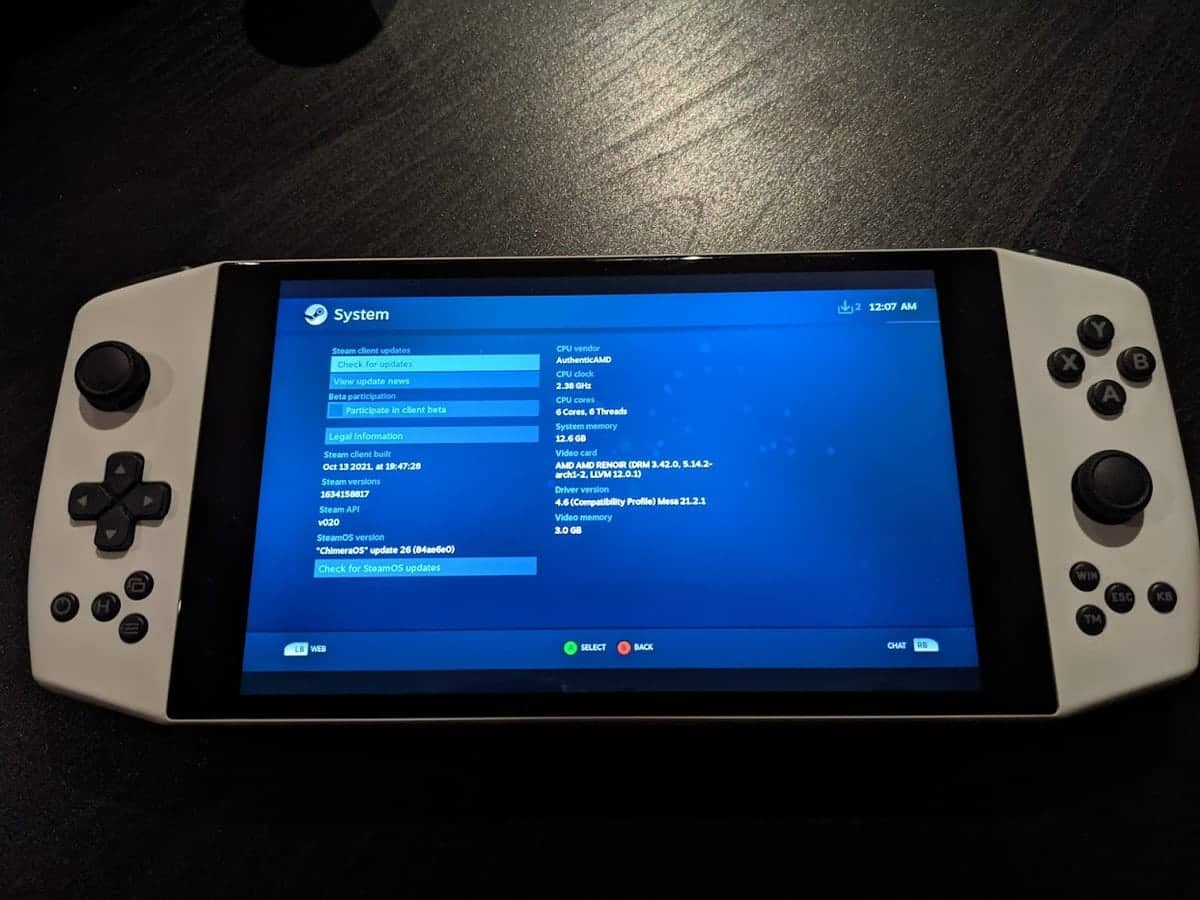 This new Linux gaming distro, based on Arch Linux, promises a smooth and enjoyable gaming experience. ChimeraOS is one of these Linux distros specifically catering to gamers who want to take their Linux gaming experience to the next level.
With its unique combination of fast boot times, low resource usage, and virtualization compatibility, ChimeraOS is a Linux gamer's dream. Plus, the bonus of playing games on Linux without any additional setup makes ChimeraOS especially attractive to Linux gamers.
The best part about ChimeraOS is that it automatically updates in the background- so you don't have to do a thing! This gaming Linux distribution boots directly into Steam Big Picture Mode and has many pre-installed games. Plus, you can use other game launchers and stores such as Steam, Epic, GOG, retro consoles, and more. There's also an app called Chimera, which allows you to install other games unavailable on Steam- like various emulators.
So, if you're looking for an easy and reliable way to get your gaming fix on Linux, look no further than ChimeraOS!
5. Drauger OS
---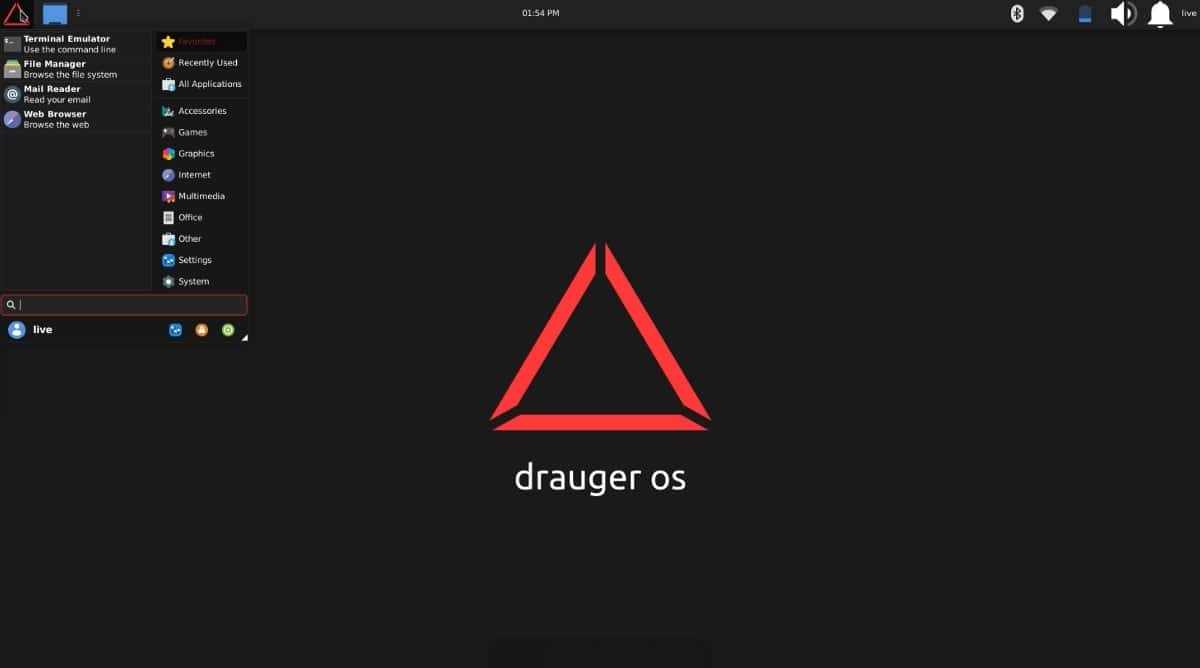 If you want to get the Linux gaming experience without all the hassle of setting up a Linux distro from scratch, then Drauger OS may be just what you need. This Linux gaming distro is designed with gamers in mind, offering both classic and modern games for Linux users to enjoy. And if that weren't enough, it also comes with its dedicated Linux gaming environment for maximum performance.
Drauger OS comes equipped with features you need for gaming, such as Steam, Lutris, and GameHub. Plus, it uses a rolling kernel and Mesa/Vulkan drivers. NVIDIA fan? You're in luck–Drauger utilizes a PPA to get more up-to-date NVIDIA drivers than most other gaming distros out there. And if that wasn't enough incentive to switch (or try) Drauger OS, dark mode is enabled by default in this Xfce desktop environment.
So if you're looking for a Linux distro that does everything about gaming, Drauger OS is worth checking out!
6. Fedora Games Spin (Play with Fedora today!)
---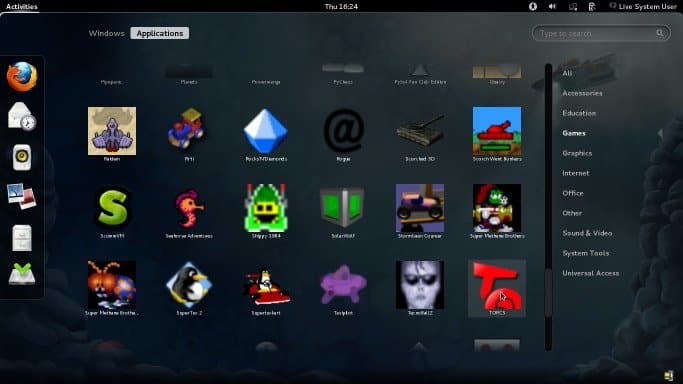 Fedora – Games Spin is a Linux gaming distro based on the Fedora Linux distribution. It is designed to provide a great gaming experience using open-source Linux drivers and software.
The latest version of this Linux distro comes pre-installed with bundled different games, so you're sure to find something you like! It's a complete Fedora Workstation bundle with all the Linux gaming tools you need to start playing.
We recommend this gaming distro for experienced Fedora users or those who prefer the XFCE desktop environment. Please note that it does not support as much hardware as other available distros, nor does it come with Wine/Steam pre-packed; however, these factors did not heavily weigh into our decision to recommend it.
7. SparkyLinux – GameOver Edition
---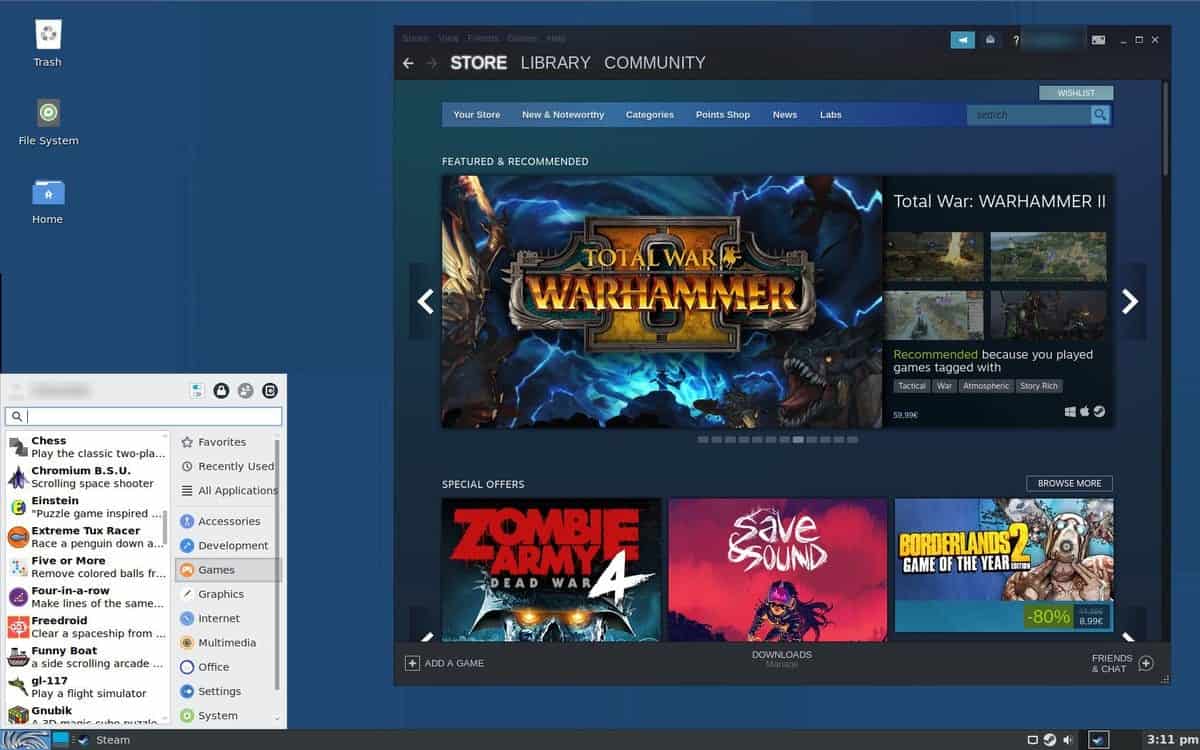 Looking for Linux gaming distros? Look no further than SparkyLinux-GameOver Edition. This one is a real winner! Packed with popular Linux games, this distro covers you in the Linux gaming arena. Besides having all the classic games, it includes newer titles like Fortnite and Overwatch.
You can even install Steam and GOG to get your hands on the hottest Linux games. This one's sure to have you gaming all day! So, what are you waiting for? Go ahead and give it a spin! You won't regret it. Trust us; it's gonna be game over for boredom!
Get SparkyLinux-GameOver Edition
8. Lakka OS
---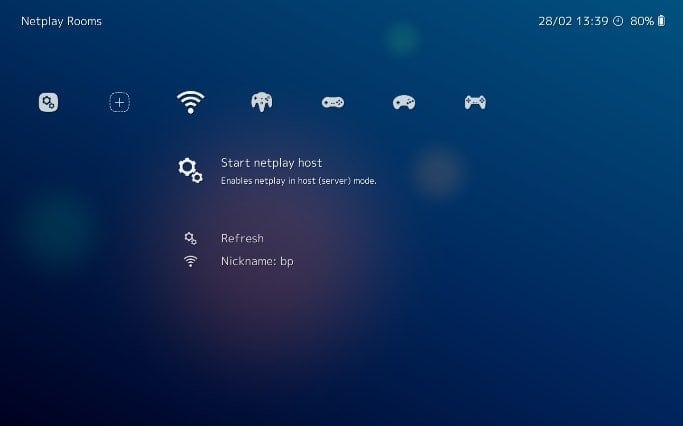 Lakka OS is a Lightweight Linux Distro crafted specifically for gaming, and it runs on a wide variety of devices ranging from PCs, Raspberry Pi, Odroid, and several other single-board computers.
It is based on Linux Kernel and works well with your existing hardware. This Linux Gaming Distro – Lakka OS, has powerful emulation that allows you to play almost any game imaginable without buying a costly console.
It also supports several wireless gamepads simultaneously so you can have a real gaming session with your friends without any problem. The best part is that all the games are stored in a single location, which makes it very easy to access and play them without having to search everywhere. All in all, Lakka OS is a great way to enjoy Linux gaming on the cheap!
If you're a fan of gaming consoles, this software distribution is perfect for you. It is based on OpenELEC and comes with RetroArch, a user interface that makes it easy to use all the console emulators. Remember, though, that it doesn't support Steam or Windows games.
9. Ubuntu GamePack
---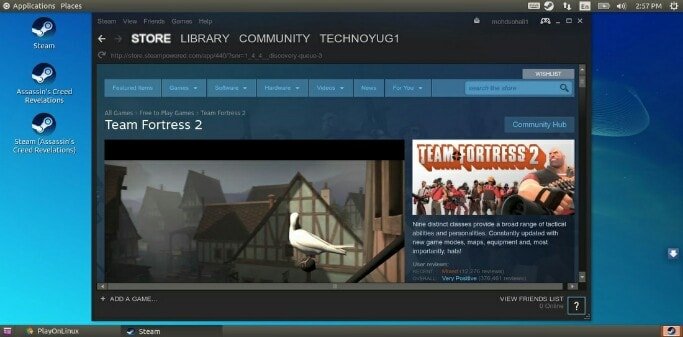 Ubuntu GamePack is a Linux gaming distro based on the popular Ubuntu Linux distribution. It is designed to provide an optimal Linux gaming experience and comes pre-installed with over 120 games! It offers various Linux drivers for gaming hardware, so you don't have to worry about compatibility issues.
Ubuntu GamePack is the perfect solution for gamers of all levels, from beginners to power gamers. It comes with Steam, Wine, Play On Linux, and more pre-installed, so you can hit the ground running.
10. Steam OS (Outdated)
---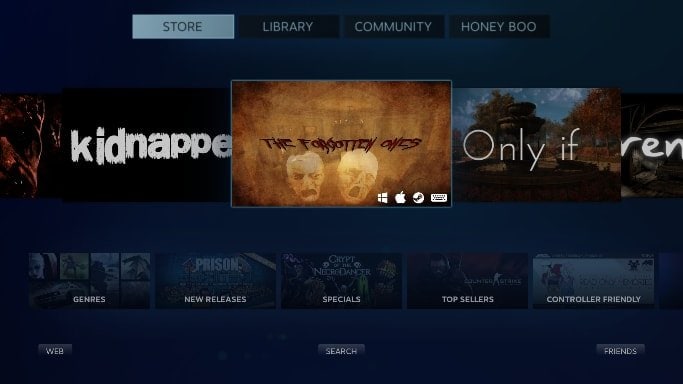 SteamOS comes with the Steam application pre-installed and is based on Debian. Valve creates, maintains, and designs SteamOS. Although it only has Steam installed by default, you can activate "Desktop Mode" to enjoy a traditional Linux desktop environment with access to all your usual apps- not just games!
This Linux distro is perfect for gamers, as it comes with all the necessary software and drivers pre-installed. You don't need to worry about anything – everything is set up so that you can start playing games smoothly. SteamOS is on our recommendation list as one of the best gaming Linux distros.
Special Note: Development for SteamOS appears to have stopped. However, you can still run a form based on Arch Linux using the Steam Deck. Once that's released, people can fork the OS and use it as they please. It'd be unwise to recommend SteamOS in its section since no new versions are being developed. The ChimeraOS is a great replacement option, though.
Which One is the Best?
---
This is a tough question, as each Linux gaming distro offers something different. The best Linux distro for you depends on your personal preferences, and it's worth trying out a few before deciding on one.
Some Linux distros are tailored specifically for gaming, such as Garuda Linux, Pop!_OS, and Batocera Linux, while others, like SteamOS or Chimera OS, offer a wider range of software. Ultimately, it's up to you to decide which Linux gaming distro is best for your setup!
What Factors Make a Linux Distro the Best for Gaming?
---
The best Linux distros for gaming should offer a good combination of stability, performance, and customizability. An extensive library of Linux-compatible games is also important. Regarding hardware compatibility, the Linux distro should support the latest version of Vulkan so that you can get the most out of your graphics card.
Finally, having a Linux distro with excellent gaming tools and features is a must. These tools should make it easy to tweak your Linux gaming setup and access all your favorite games quickly and easily. That's why Linux gaming distros like Garuda Linux, Lakka OS, and Batocera Linux have become so popular!
FAQ
---
Q: What Linux distro is best for gaming?
A: The best Linux distro for gaming depends on your personal preferences. Some popular Linux distros for gaming include Garuda Linux, Pop!_OS, Batocera Linux, SteamOS, and Chimera OS.
Q: Is Linux good for gaming?
A: Yes! Linux offers robust gaming performance, and many Linux distros are designed specifically for gamers. Linux also has an extensive library of Linux-compatible games, as well as excellent gaming tools and features.
Q: Are Linux gaming distros free?
A: Many Linux gaming distros are open source and free to use. However, some Linux distros may require a paid subscription to access certain features. Check with the Linux distro provider for more details.
Q: What Linux distro should I use?
A: The Linux distro that you decide to use depends on your personal preferences. Make sure to consider factors like stability, performance, customizability, hardware compatibility, and gaming tools when deciding. You can also try out a few Linux distros before settling on one.
Finally, Insights!
---
Finding the best Linux distro for gaming can be challenging, as each Linux distro offers something different. Ultimately, it's up to you to decide which Linux gaming distro is best for you. Make sure that you consider factors like stability, performance, customizability, hardware compatibility, and gaming tools when making your decision. With the right Linux distro, you'll enjoy a smooth Linux gaming experience. Good luck!  Happy Linux Gaming! 🙂