There was a time when a better gaming experience was quite impossible on Linux. But now, in fact, gaming on Linux is much more stable and fun. There are hundreds of various Linux distros for fulfilling different tasks and purposes. Linux distro for gaming is not so common. Still, there are some great and versatile best Linux gaming distros available out there, which provides great performances, stability, flexibility, and equipped with cutting-edge features, drivers, software, emulators, and all other things that ensure the best and smooth gaming experience. All the Linux distros for gaming are made, keeping in mind that you can install games and run them without any difficult configuration.
Things To Keep In Mind While Choosing Best Linux Gaming Distros.
There are some specific points when it comes to Choose The Best Linux Gaming Distros For Better Experiences. Those are:
Recommended Read: Top 5 Best Looking Linux Distro We Recommend You To Use
Previous Linux experience is a deciding factor in choosing the right gaming distro. Every gaming distro is based on some base distro. So while choosing, give preference to your earlier experience of using the Linux environment. That will give you upper-skilled confidence to run a strong and comfortable gaming environment.

Support for the latest and cutting-edge drivers is one of the main factors for selecting a gaming distro. Though all the gaming distros support modern hardware, then there must be provision to install it manually. Check it out before going forward.

Update frequency is to get checked whether it offers a rolling release distro like Manjaro or Point release distro like Ubuntu. Rolling release distro provides the latest features, software, and points release distro emphasis on stability.

Before the final selection, you can always check the distros using a live CD or Flash drive installation. This will give you a better idea of the final installation on your machine.
Best Linux Gaming Distros We Recommend
Today, we will list the best Linux gaming distros, which are solely pre-optimized for the game. All the distros listed here are well tested and handpicked the best by our team. So let's move on to the interesting part, the list of Best Linux Gaming Distros.
5. Fedora Games Spin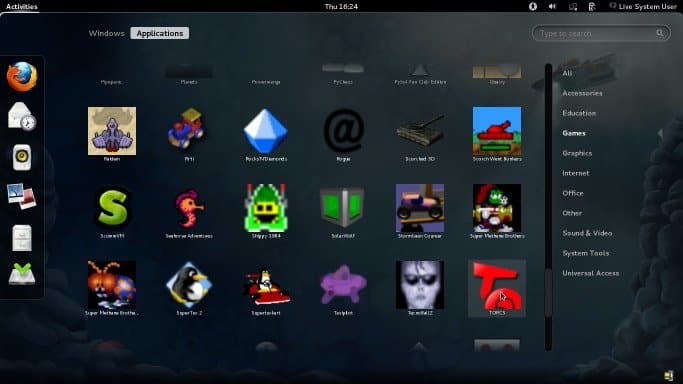 Fedora – Games Spin is perfect for those users who have earlier experience with Fedora or like the XFCE desktop environment. This gaming distro does not support as much hardware as other distros out there. Moreover, it does not come with Wine/Steam pre-packed. Which definitely restricted our recommendation for new users.
Facts and Features
This gaming distro comes with thousands of games pre-installed.

Comes with XFCE Desktop Environment.

Completely open source and free.

It can be run in Live Mode.

Wine or Steam does not come pre-packed but can be installed later on.

Offers a much more stable system.

It does not provide all hardware support preinstalled, but you can always install the required drivers manually.
Recommended Read: Most Stable Linux Distros: 5 versions of Linux We Recommend
Minimum System Requirement
10 GB HDD

1 GB Ram or More

2 GHz or More Processor – 64 bit recommended

For Steam Games – Intel HD Graphics / AMD Radeon 8500

Any other GPU for other games
4. SparkyLinux – GameOver Edition
Sparkylinux is one of the best Linux gaming distro based on the "Testing" branch of Debian, which ultimately offers all the preconfigured drivers and lots of open source games pre-installed. This distro comes with the LXDE desktop environment, which is much lighter and does less resource hog.
Facts and Features
You can install any emulators and tools without any hassle.

It can be run from USB.

Prepacked with lots of games that are totally free and open source.

This beautiful and versatile gaming distro is a totally free and open source.

It has everything you need pre-installed like Steam, Play On Linux, Wine, etc.

Provide a lightweight LXDE Desktop Environment.
Recommended Read: Best 5 Linux Distros for Developers and Programmers
Minimum System Requirement
20 GB HDD for Installation (30GB recommended)

CPU i586 / amd64

256 MB of RAM (500-1000MB recommended)
Download SparkyLinux – GameOver Edition
3. Lakka OS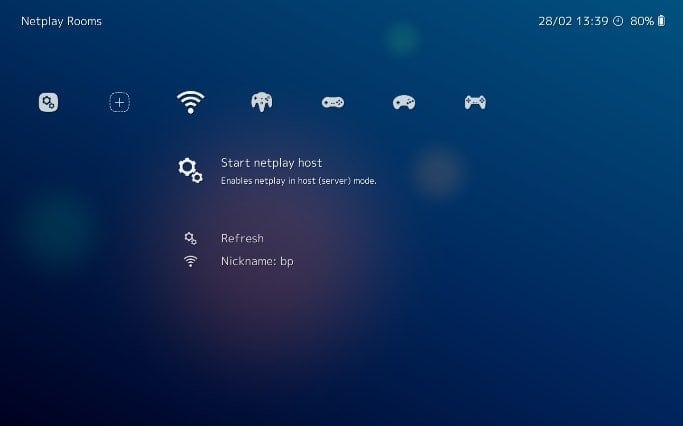 Now we are going to mention a completely different gaming Linux distro, namely Lakka OS. This one is a Lightweight Linux Distro, which provides a complete and full-fledged desktop environment for a gaming console. Lakka OS is based on OpenELEC and offers a RetroArch desktop environment.
This gaming distro supports a wide range of different consoles, and RetroArch provides an intuitive front-end user interface comprising all the console emulators. Here you must remember, it does not support Steam or Windows games. But if you are a die heart console lover, then go for it.
Facts and Features
All the emulators are optimized perfectly for running the games smoothly.

Demand very low-level hardware resources.

Supports Savestates, Multiplayer, Netplay, Rewind, Wireless Joypad, and Shaders.

Very lightweight and beautifully crafted user interface.

All the console emulators are in one place.

Various useful features regarding gameplay.

It a free and open source with a lot of Retro games.
2. Ubuntu GamePack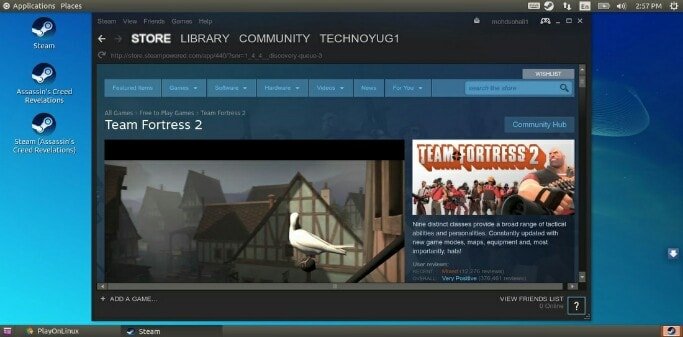 Ubuntu GamePack is one of the best gaming Linux distros based on Ubuntu and comes with Steam, Wine, Play On Linux, etc. Pre-installed. It offers a full-fledged gaming environment for both beginners and power gamers. Ubuntu GamePack is highly optimized for gaming hardware, software, and drivers.
Facts and Features
Offers a wide range of hardware and driver support.

Can run games on comparable low-end hardware.

Totally free and open source.

Lutrix, Play On Linux, Wine, and Steam come pre-installed.

It can enjoy browser-based online games as it offers flash and java.
Recommended Read: Most Popular Linux Distro: Explore Top 5 and Get The Best One
Minimum System Requirement
9 GB HDD (More is Better)

2 GHz or more processor (64-bit recommended)

1 GB RAM

VGA capable of 1024×768 screen resolution

Intel HD Graphics/AMD Radeon 8500 for Steam games

Any other GPU for other games.
1. Steam OS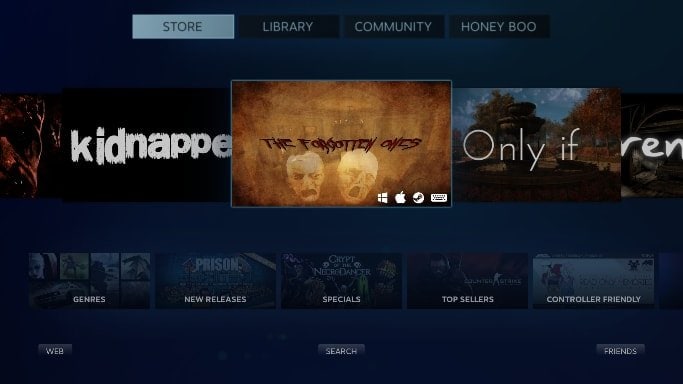 SteamOS is the NO #1 Gaming Linux Distro on our list. This distro comes prepacked with the Steam application and is based on Debian. SteamOS is created, maintained, and designed by Valve. Although SteamOS has only Steam installed but anytime, you can activate "Desktop Mode" which lets you enjoy a full-fledged Linux desktop environment. Thus you can run any application besides games to complete your daily task.
Recommended Read: Top 5 Best Lightweight Linux Distros To Boost Up Your Old Computer
As it is crafted, keeping in mind gaming experience; thus, it provides pre-installed all sorts of software and drivers. You need not worry about anything to run the games smoothly. That's why this distro is on our recommendation list as the best gaming Linux distro. SteamOS is perfected fitted for Newcomers and gamers.
Facts and Features
Intuitive User Interface.

All the things are pre-installed and configured for running the games smoothly.

Steam comes pre-packed out of the box.

It supports high-end games and builds on a strong performance.

Except for Steam, which is proprietary, everything on SteamOS is free and open source.

Outstanding support for all sorts of drivers and hardware like controllers, graphics cards, etc.

Offers stable software repositories as it is based on Debian.

SteamOS is not suitable for an older machine.
Minimum System Requirement
Require NVIDIA, Intel, or AMD graphics card

250 GB HDD or more

4 GB RAM or more

Intel or AMD 64-bit processor
Honorable Mention
Here are some honorable mentions which I could not include in the list.
mGAMe (previously known as Manjaro Gaming)

Play Linux

Game Drift Linux
Recommended Read: Top 5 Best Linux For Laptop: Choose The Best Fitted One Now
This is what I made a list of Best Linux Gaming Distros. If someone asks which one is the best Linux distro for gaming, please share this content with them. Let us know which one did you like most. Leave any comment below if we have missed anything.