Today's article has been specially designed for music lovers, editors, and those who want to be professional DJs. We all know that editing music is not a cup of tea. One has to put much effort and labor into doing this. But to reduce your toil, today we are going to introduce you to some top-rated Linux DAW and DJ software that you can also use for music-making or mixing purposes as a digital audio workstation.
Linux has some astounding software for making editing easy and much painless. In addition to this, it is a huge opportunity for beginners who want to start editing music tracks. Linux has made this platform for you. So try to make the best use of it. If you are a Windows or macOS user, we have also covered you with our another article on the best DAW software for Windows and Macbooks.
Best Linux DAW and DJ Software for Music Lover
---
We have sorted out the top 20 Linux DJ and DAW software for you out of so much software here. This Music mixing software for Linux does mind-blowing jobs, and you will surely be satisfied with its features. So, no more talk, and let us get started with some bewildering software.
1. Audacity
---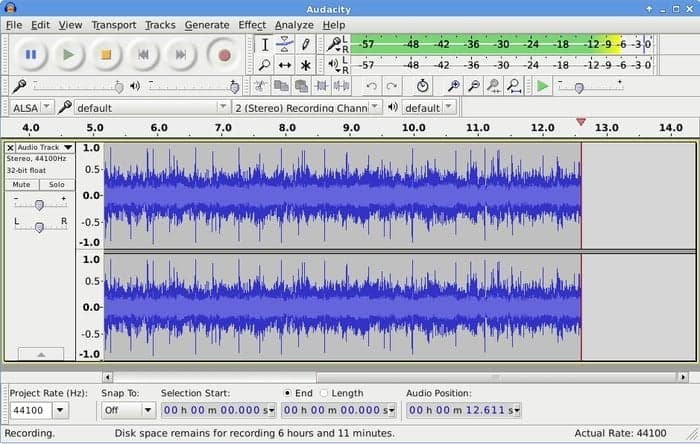 This is an open source DAW – digital audio workstation software for Linux. It is free, cross-platform software. Audacity can record live audio through various mediums. You can add sound effects according to your will. Cut, copy, paste and delete options make your editing more straightforward.
It is software with unlimited undo functionality. This program supports VST plug-in effects. Its built-in effects contain bass boost, wah-wah, noise removal, etcetera. This software works like a recorder and a sound player.
2. Cecilia
---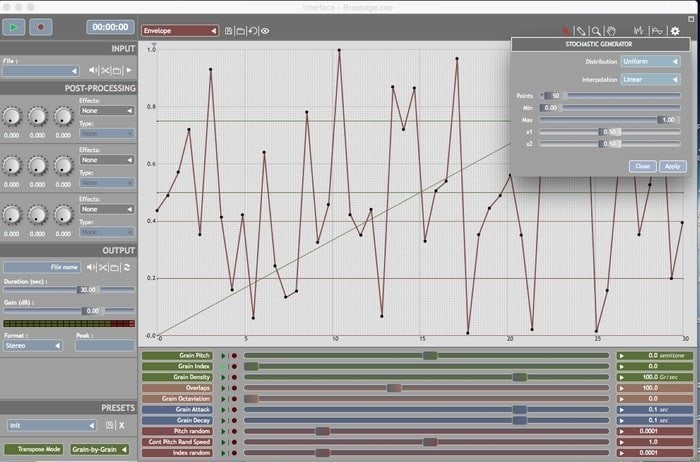 Cecilia is one of the most recommendable software for doing sound exploration and music composition. It has a synthetic sound package with a graphic user interface. Cecilia is exclusively designed for musicians and sound designers. You will find this software very much helpful and pragmatic. It's an editor to Csound. You can also add various sound effects.
3. Mixxx
---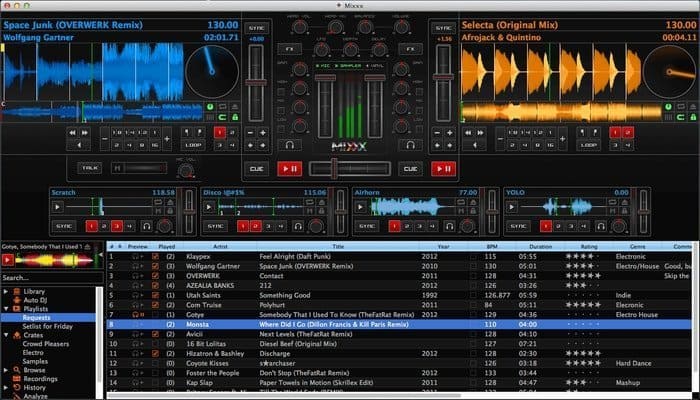 Mixxx is an audio mixer software for Linux. This software can assist you in becoming a DJ by profession. It is said that this is one of the first digital DJ systems. It is famous for its solitary features. Mixxx has the advantage of recording and broadcasting functionality. Sound effects are in-built into it. Mixxx also can help you in sound testing after mixing audio with some other files.
4. Ardour
---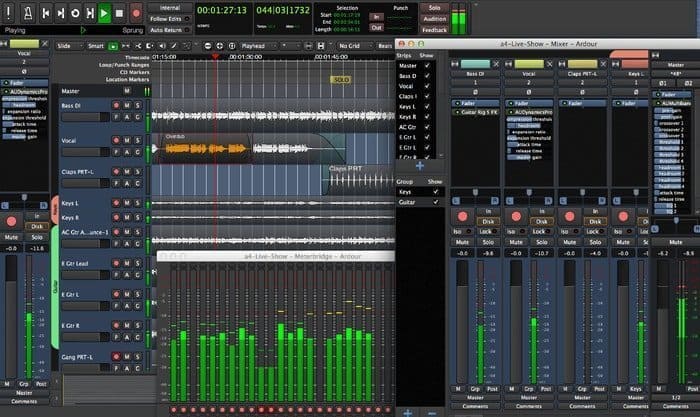 Ardour is one of the finest sound mixers and DAW for Linux. This digital audio workstation has countless multichannel tracks for its users, which is certainly a unique feature. Composers, soundtrack editors, and musicians can use it without facing any kind of complications.
You can use it to mix multi-track. On the other hand, editing and recording are also possible with this software. Ardour has non-destructive editing with boundless undo/redo, full automation support, etcetera.
5. Hydrogen Drum Machine
---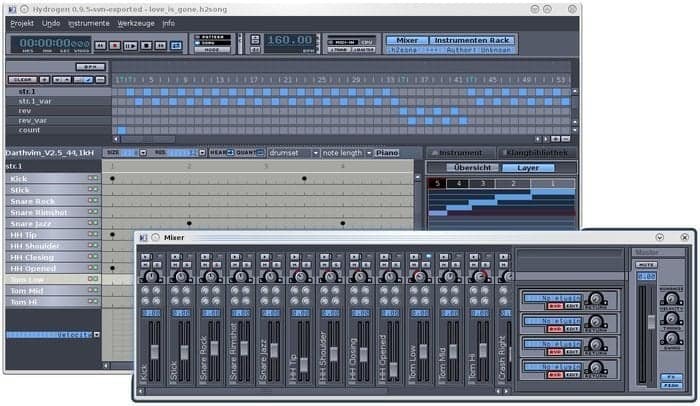 Hydrogen Drum Machine is a very appreciated sound mixer DJ software for Linux. It aims to bring self-learned pattern-based drum programming. A jack audio connection kit is within it, making it an even better software. This software can export audio files not only in one format but also in various formats. You will be satisfied with its features. So, without any kind of hesitation, you can use this software.
6. Guitarix
---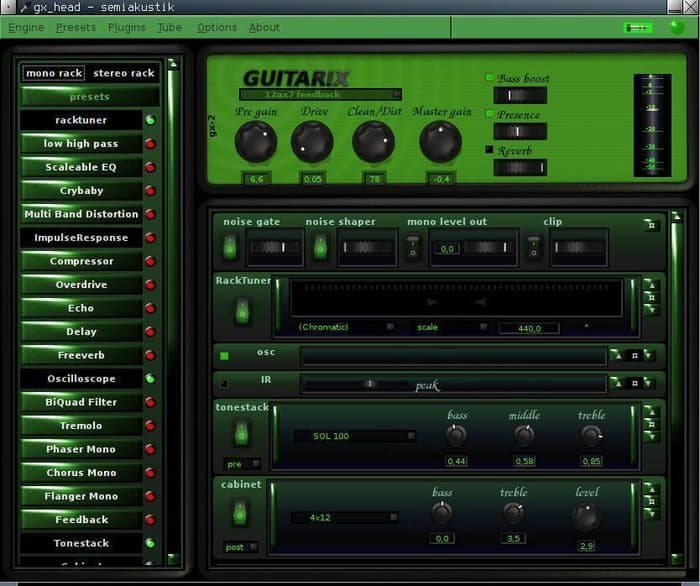 Guitarix is free, user-friendly software that works as a virtual amplifier for Linux. Like a real amplifier, it receives sound signals from your guitar and processing through a rack section. Its real advantage is that it takes less than 10 seconds to process your sound in Linux.
7. Rosegarden
---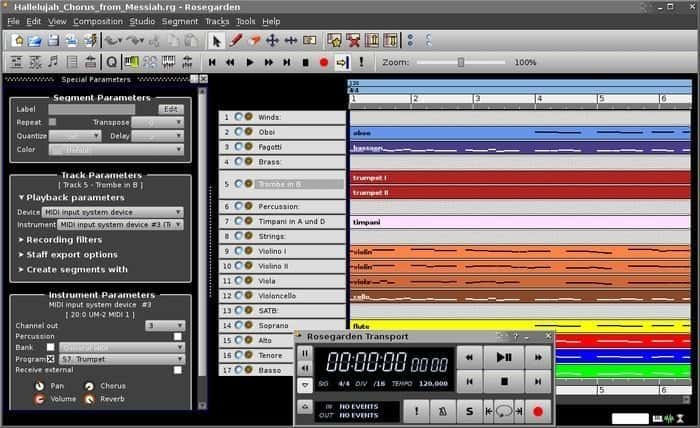 Rosegarden is an open source Linux DJ and DAW software with some awesome features. It is mainly contemplated for music composers and musicians. Rosegarden can also be used in small recording environments.
It is software with some simple features which help the users to get used to it in a short period of time. Rosegarden has high consideration in music notation. It has basic support for digital audio.
8. Qtractor
---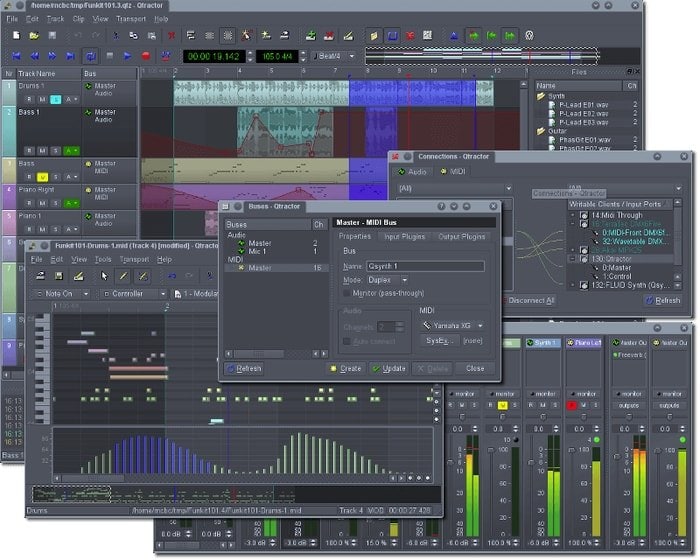 Qtractor is one of the best Music making software with various characteristics. It has been given a special feature that allows it to have a MIDI multi-track sequencer. Qtractor supports different audio formats like WAV, MP3, OGG, etcetera. This software offers available Jack for audio and ALSA sequencer for MIDI. It has unlimited tracks, overlapping clips, undo/redo, and plug-ins per track.
9. LMMS (Let's Make Music)
---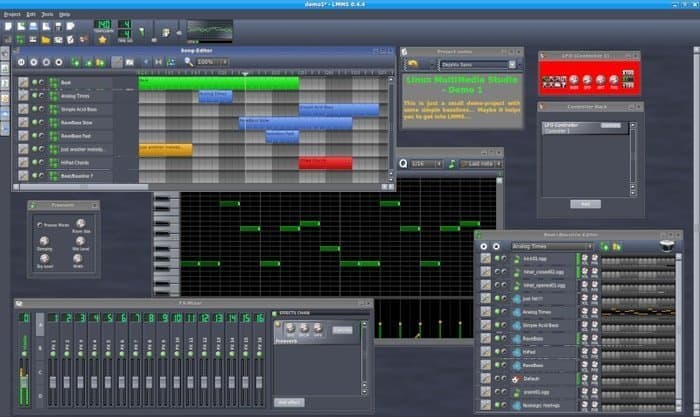 LMMS is a free, cross-platform, and open source DAW and DJ software for Linux. This software enables you to make music and remix on your computer. In addition to this, it has a user-friendly and modern interface. You will get good experience by working with this software.
10. MuseScore
---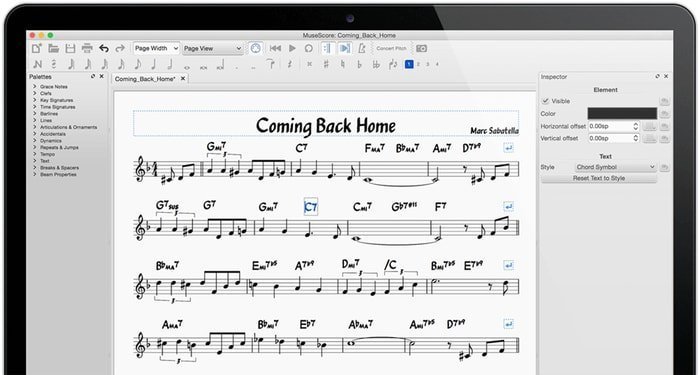 MuseScore is one of the world's most popular and incredible music notation software. It is a conspicuous software for creating, playing, and printing beautiful sheet music. It allows shipping to other devices and also allows other devices to export in it. MuseScore also supports the MIDI keyboard.
11. Smart Mix Player
---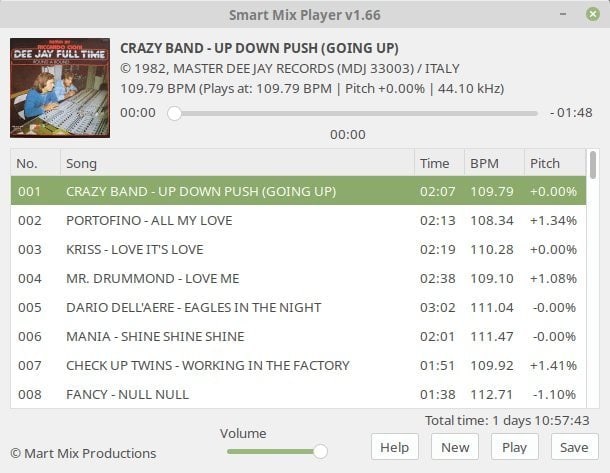 The most outstanding feature of this software is that it mixes songs automatically. Smart Mix Player plays audio files non-stop, but it is different from the other typical classic DJ software. It does not haphazardly mix a song; rather, and it mixes songs synchronously. If needed, you can save the mixed version for later uses or for sharing with others.
12. Renoise
---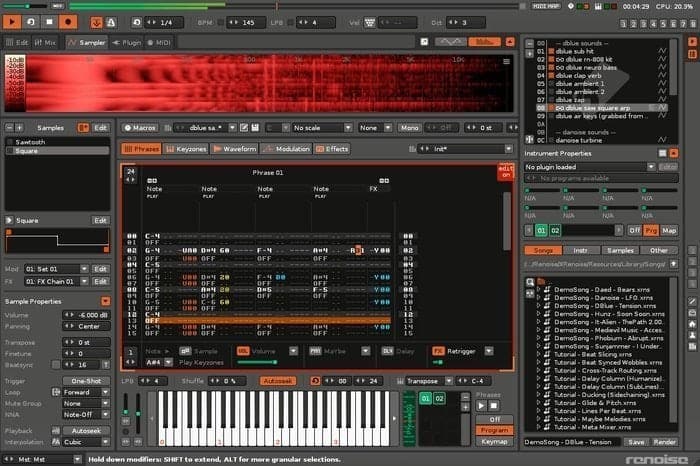 Well, this software is a premium one. This software has a totally advertised Digital Audio Workstation (DAW) with an exclusive top-down approach. Renoise uses several patterns to make up a song. It edits the song step by step. This software also supports all commonly used virtual instruments. It has the capacity of scripting too.
13. Impro-Visor
---
Its full form is Improvisation Advisor. This is an exclusionary, licensed, free source DJ software for Linux. It functions quite well in Linux. This software has been chiefly designed for jazz musicians who frequently use music notation programs.
The main motto of this software is to make the users understand better the solo construction and tune chord changes. You can further use it for doing transcription. Because of its multiple features, it is suitable for jazz musicians and others.
14. Aria Maestosa
---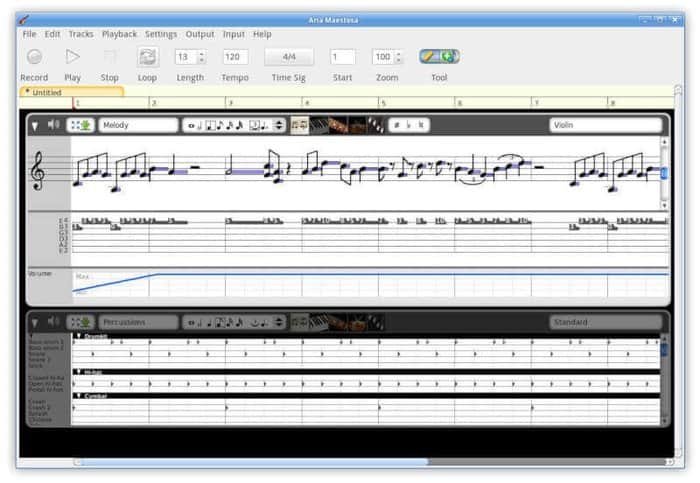 This software is widely used and user-friendly. Aria Maestosa is an open source software that helps in editing music. It has many notable features. This software can be used as an editor, composer, and midi file player. It is effortless to use and takes less time to process the task. This software will save both your time and energy.
15. TuxGuitar
---
TuxGuitar is an open source, cross-platform DAW software for Linux. This software helps you to compose music by using its various features. The most recommended features are- a tablature editor, score viewer, multi-track display, duration management, etcetera. These features will help you to improve your music composition.
16. Frinika
---
Frinika is a fully-featured, complete music station for Linux. It has the capability to create all kinds of music. This software has a sequencer, soft-synths, real-time effects, and audio recording capacity. Frinika is a lightweight software that can work instantly. It's a simple software which is much helpful for amateurs.
17. Ocenaudio
---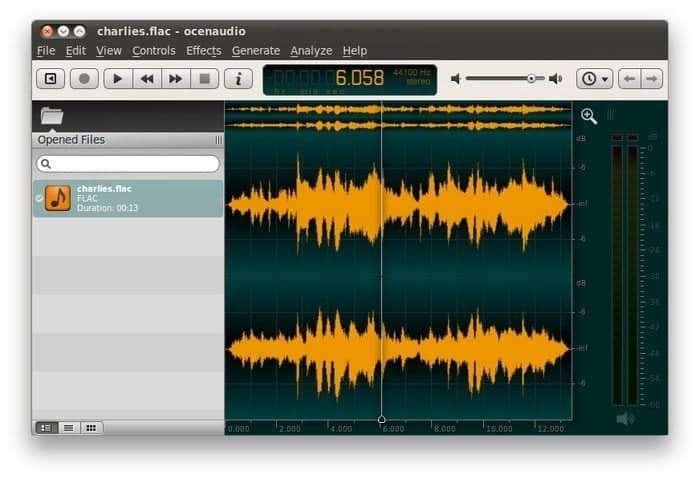 Ocenaudio is one of the most used music mixing software for Linux. This is free, cross-platform software. It is easy to run and works as a functional audio editor. It creates an ideal scope for those who want to edit and analyze audio files. This software does not create any kind of complexity while running. Even an inexperienced person can use it easily.
18. Spek 
---
You will need this software for reasoning audio files by showing their spectrogram. It supports audio formats of all types. This software is available in multiple languages like Dutch, French, etc. This is considered an ideal software for professionals.
19. Radium
---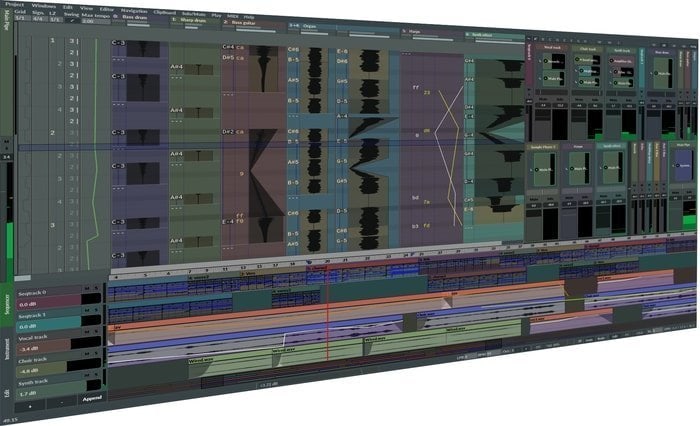 Compared with the other Linux DJ and digital audio workstations, this software is quicker, and more musical data fits on its screen. It is a straightforward software that does excellent jobs and gives accurate results. You will not be disappointed by using this software. So, it is worth a try.
20. Bitwig Studio
---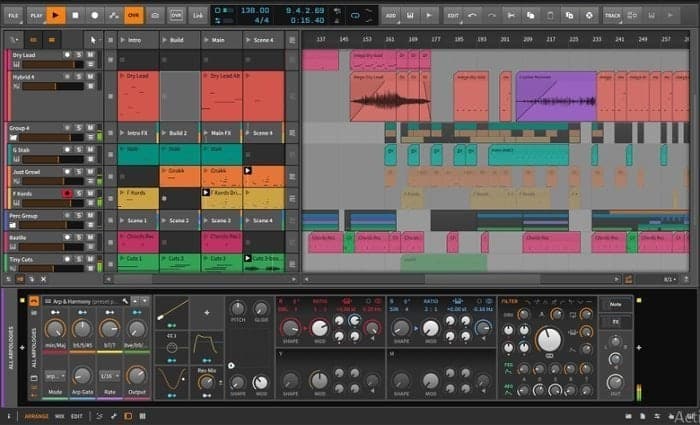 Bitwig Studio is a highly appreciated multi-platform music-creation system for production. Its most unique quality is that it has a speedy workflow. This feature will help you work more quickly and save you precious time. Within this short span of time, it can work wonderfully.
Concluding Thoughts                                                       
---
For your convenience, we have sorted out this list of music-making and DJ software for Linux. Many other kinds of music mixing software are available, but these are the top-rated ones. So, use it and make your music editing experience awesome.
Here, we have not only mentioned the software for experienced persons but also for beginners. That is why we hope that this article will be helpful for you all.
That is all for today. If you have any inquiries or any confusion regarding anything, just say it in the comment box. You can also share this article on your social media so that others can know about it. Share your opinion and keep in touch with our site for more updates.