In the primitive age, people had to hunt wild animals to have their food. Now, we cultivate animals on the farm, and so we don't have to go hunting. Some people have a hunting habit, but states of the different regions don't permit hunting wild animals nowadays. Then what to do if you really experience the feeling of the hinters in the primitive era? Well, virtual hunting sounds better, I guess. On PlayStore, you will have a lot of hunting games for Android that you can try if you are really adventurous and want to hunt in the deep forest.
Best Hunting Games for Android to Awaken the Hunter Inside You
---
Basically, most of the hunting games have gameplay of shooting or throwing arrows to the running wild animals in the forest. In this case, nobody likes to get the same animals in the same place again and again. So the more variations will be there in the background and in the animals, the more interesting it will be.
If you agree with me, I am not sure about how many random hunting games for Android you would like from the PlayStore. However, we checked a considerable number of games and found the following 10 games as the best hunting games for Android. The details and features will initially help you find the appropriate one for you.
1. DEER HUNTER CLASSIC
---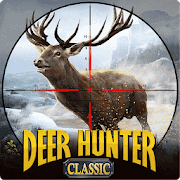 The very first one is an adventurous hunting game where you have to hunt wild animals, especially deers. Well, it is Deer Hunter Classic, and the name must assure you that it's a classic FPS hunting game. Here, you have to immerse yourself in the diverse world of wildness. There are predator animals who are waiting for you to have their meal. Again, you have to be the predator too to hunt other animals to satisfy your hunger. So, you have to save yourself and, at the same time, hunt animals for your living.
Important Features
There are over hundreds of animal species roaming around the jungle. Unfortunately, some are trying to kill you while you have to kill some.

You will initially have a lot of weapons. However, you can indeed customize them as well.

Eventually, you can upgrade the scopes, magazines, stocks, barrels, and similar.

Want to try it on your Android tablet? On tablets, it will run with high-end and immersive gameplay.

This ultimate simulation game allows you to hunt animals in a realistic way.
Pros: You can Initially join the global cooperative challenges to meet new friends to complete new missions.
Cons: Some users find it getting frozen when the final boss appears.
2. Zombie Hunter Sniper: Last Apocalypse Shooter
---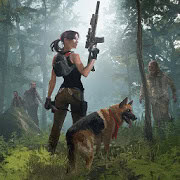 Well, I can say a good number of people among you would like to hunt something different. Zombies sounds good, right? If you think so, just try Zombie Hunter Sniper. It is one of the most popular zombie games where you have to be the savior of the last living humans. You will have all the necessary weapons there, and your only mission is to hunt the undead to save mankind. The mission is not initially very much easy as the undead don't have their lives to lose. Indeed you have to be smart enough to shoot them properly.
Important Features
Within the given time, you have to kill zombies as much as you can. For more points, you have to kill more zombies.

To survive in the open apocalypse battlegrounds, you have to use different weapons.

You can upgrade your sniper rifles to have a better point while killing zombies.

The crawling undead zombies are very horrific, and the sound matches the gaming environment well.

The zombies won't be late to attack you. So, make sure to kill them in time.
Pros: The game will provide different missions to hunt the devils. Indeed, you will get rewards for completing the missions.
3. DINO HUNTER: DEADLY SHORES
---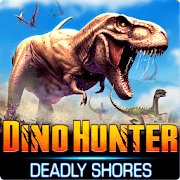 Glu offers DINO HUNTER, a free-to-access heart-pounding hunting game for Android. This game is full of action and adventure in the fierce wilderness packed with dinosaurs. It renders HD graphics and adaptive sound effects, which makes the gameplay realistic. On top of that, this game includes numerous exotic locations where you will find dangerous dinosaurs, such as dense jungle, boneyard, and shipwrecked shore. So, get ready to hunt the world's deadliest creatures and test your surviving skills within the game world.
Important Features
It offers industry-standard graphics works with dynamic shadows and Jurassic models for in-game environments and creatures.

This game eventually provides details for each dinosaur model, which players can access and learn about them at any time.

The dinosaurs interact with each other and behave according to their nature.

New events and campaigns are indeed provided regularly.

It also integrates in-app purchasing facilities for enthusiastic players.
Pros: It includes an exciting shooting challenge form where you can win lots of in-game gears and rewards. Moreover, You can explore the untouched island from the Jurassic age without any restrictions.
Cons: This game integrates frequent ads within the game interface.
4. Safari Hunting 4×4
---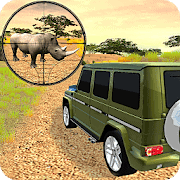 Safari Hunting 4×4 is an action-adventure game brought you by Oppana Games. This game is highly optimized for Android phones and tablets. So, you don't have to worry about any technical and support issues. You will surely like the hunting simulation gameplay of this title with realistic graphics and free movements. Moreover, it provides you all the gears and amenities you require for a hunt. So, get into the rough and tough 4X4 now and explore the wildlife of Africa.
Important Features
You can initially use powerful hunting rifles with realistic zooming capabilities.

This game indeed offers lots of wild animals that you can hunt from the vehicle or on foot.

It offers realistic visual effects, HD quality animated animals, and a visually stunning in-game environment.

This game also integrates a hunter scores table to reach many achievements as you beat other players' scores.

You can drive the luxurious 4×4 SUV freely and explore the beautiful African grassland without any restrictions.
Pros: This exciting game includes tutorials and useful tips for gamers. The African ambient sound effects indeed heighten the realistic vibe of the game.
Cons: Some users faced frequent game crashes while playing for a long time.
5. Hunting Clash: Hunter Games – Shooting Simulator
---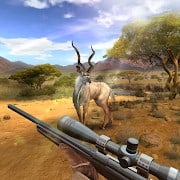 How often do you think of being a hunter or sniper? Well, Hunting Clash will take you to the breathtaking hunting location, and there you can go on a hunting safari in Africa and much more. Throughout the game, you have to select an animal, prepare the gun and shoot on the targeted one. Although It's not just a game where you'll be roaming around and shooting, you must show your skill in animal tracking and sniper skills.
Important Features
You have to hunt in particular locations like the USA, Russia, Australia, Burma, Norway, or Africa. And there, you'll find Grizzly Bear, Wolf, deer, elk, etc., to hunt.

Here, You have to participate in tons of events, and by fulfilling your goal, you can level up in this game.

There are plenty of weapons, and you can choose yours whether you prefer gun hunting or bow hunting.

The game initially allows a 1vs1 duel match; thus, you can enjoy online shooting games with others.

There will be a gun game leaderboard, and winning every battle, you can indeed place your name on the top and win the epic loot.
Pros: You will get dozens of real nature base stunning locations and the most realistic animals in this great sniper adventure. Moreover, there will be a hunting dog to help in the mission, and you can win bonuses by training it.
Cons: You won't initially get any extra points for completing the challenge.
6. Deer Hunter
---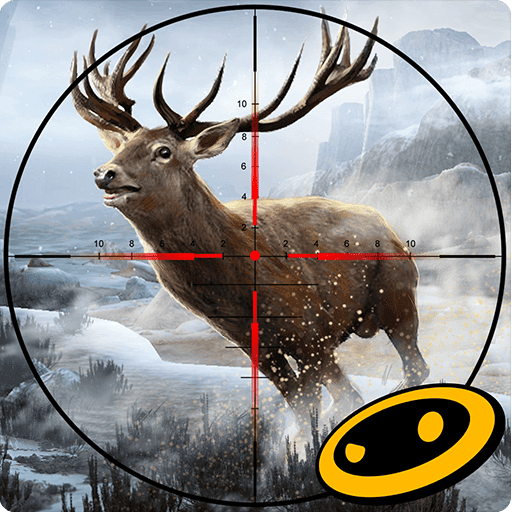 Undoubtedly, Dear Hunter is one of the best hunting games for Android that will give you a similar experience like your ancestors had. It has come with all the iconic features that will take you to the wild and straight back to the action. You will initially line up your sights throughout the journey and hone your shooting skill to be a perfect hunter. Moreover, the hunting animals are so realistic that you will feel that they are about to jump off the screen.
Important Features
There will be different gaming modes like swimming underwater for fishing or becoming man's best fellow.

You have to hunt all around the globe, and many challenging events will arrive. And you have to survive and win the trophies.

Also, you have to hunt the predators before they kill you, or you can be a part of the target.

Entirely, you have to redouble the weapon and collect firearms, magazines, stocks, and all you need to hunt.

A network connection is initially needed for the continuation of this game.
Pros: You can interact with other players in the chat rooms or player-to-player texting. Additionally, there will be seasonal events so you can hunt an entire 3 weeks of your journey.
Cons: Loading takes a huge amount of time.
7. Archery bird hunter
---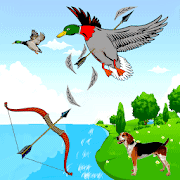 Hunting games are always fun to play and great for passing leisure times. Archery bird hunter is a perfect game for those purposes. Though this game is named Archery 'bird' hunter, it also contains duck and deer hunting. This game is a 2D simulation-type game so that anyone can enjoy it in a simpler form. Moreover, this game is quite addictive and helps you pass boring times without noticing!
Important Features
This exciting simulation game gives you the fun of challenges.

The background and sound of the game are quite beautiful and relevant.

Also, the in-game physics of the game is quite impressive.

It eventually has several gaming levels, and every level has a different interface indeed to play in.

There is no blood violence or brutality in the game. And so, it's quite a kids-friendly game.

It is an offline game and can be enjoyed anywhere.
Pros: This is a straightforward 2D game, so the in-game controlling is easy for all. Moreover, it is quite a light game and runs on almost all Android devices.
Cons: The ads may disturb you even when you are in a match.
8. Real Jungle Animals Hunting – Free shooting game
---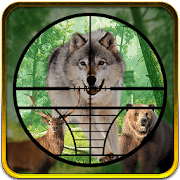 If you want to enjoy a realistic, amusing, and featureful game, then you can't skip Real Jungle Animals Hunting anyway. It is one of the best hunting games for Android available for free in the Play Store. This game comes with everything to give you a complete hunting experience. This is an eye-soothing 3D game with an impressive level of detail in the scenarios. Still not interested? You better check the following details of this game.
Important Features
This exciting game comes with a great background story.

It provides a realistic and detailed 3D gaming experience.

The controlling system is simple and easily understandable.

Smooth sound quality of this game will definitely boost your gaming experience.

Different levels of difficulty have been spread perfectly between levels.

The animals can attract you if you miss shots. So, be careful about it.
Pros: The game has very clever AI to make it more realistic. Also, this is a first-person shooting game that gives more lifelike hunt feelings.
Cons: This game may lag in devices with older Android versions.
9. Wild Hunter 3D
---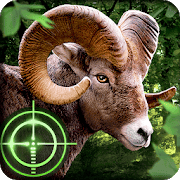 Wild Hunter 3D is another game worth recommending when it is about the best hunting games for Android. This game will provide you the satisfaction of hunting games in the 3D gaming mode. It comes with many functionalities, and the great 3D interface ensures you have perfect hunt-game experiences. Additionally, it lets you hunt from the world's most dangerous animals like cheetahs to deer. On top of that, this game lets you move and chase animals which makes this game a step ahead of other games.
Important Features
This game comes with tons of challenging levels that are super fun to play.

The controlling system of the complete gameplay is effortless for everyone.

It indeed comes with a background story that gives it completeness.

You can eventually hunt dinosaurs in this game and don't have to install a dinosaur hunting game separately.

The game also responds very swiftly and smoothly.

Its sound quality is realistic to provide a superior gaming experience.
Pros: This game includes real-world weapons which increase its realistic appearances. Moreover, it has more than 200 challenging hunt missions to enjoy.
10. Hunting Safari 3D
---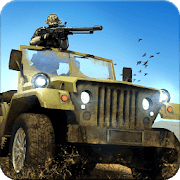 We would love to close the list with another exciting and adventurous game, Hunting Safari 3D. This amusing game will provide you a feeling of an open-world hunting experience inside the jungle. Initially, it is made emulating a real-life safari hunt environment that makes it more interesting to play with. Besides, detailed 3D interfaces give the best gaming experience of all.
Important Features
It will provide you more missions than most other games in this category.

This game initially runs smoothly on every device that satisfies the minimum hardware requirements.

It will let you have an experience of hunting in Safari from a vehicle or boat.

The weapons are made from real-life weapons.

It has smooth effects and elegant sound quality that matches the environment well.
Pros: Unlike many other games, it allows you to move while you are hunting animals. Moreover, it features nighttime hunting too.
Cons: The ads may disappoint you.
Our Recommendations
---
No offense, but I cannot resist recommending Deer Hunter Classic and Zombie Hunter Sniper. These two games take a few minutes to addict me when I am not a fan of killing games and brutality. The first one will be the best pick for you if you love simulation games. But horror game lovers cannot uninstall the second one once they start playing. However, if you want it for your kids, then you better try Archery Bird Hunter. You will love this game too if you love to practice archery.
Finally, Insights
---
Before I leave, let me warn you that some of the games have brutal scenes with blood and raw flesh. If you are a person with a weak heart, please avoid this genre and find something else. Here, you will find hundreds of Android gaming genres on our website, and I'm sure you will find the games that suit your test the best. For still staying with us, we appreciate you. We will have no bound of joy when you share your feedback on this content with us. Thank you in advance.