When you think about the most popular DC characters, Batman will be the first one, comes to your mind. The number of Batman fans indeed is not less than any other heroes of the DC world. Just a few series and comics on the life of this superhero may not fill your curving for Batman things. Let's thank some of the Android game developers. In PlayStore, there are lots of Batman games available. Some of the Batman games for Android collapse with the other heroes and let you enjoy fighting with them. So, your ultimate Batman craze must get a good thing where you can just play the role of your favorite superhero.
Best Batman Games for Android Device
---
It is true that there are not so many Batman games available in the PlayStore. Additionally, some of these very few games come with very low-quality graphics and a trash-like storyline that even has no connection with the life of Batman.
However, we already got the 10 best Batman games for your Android device, and we are here today to get you to introduce them. Make sure you are checking the description, as well as different kinds of games, are listed here though all of them are all about your favorite hero, Batman.
1. DC Legends: Fight Superheroes
---
Warner Bros International Entertainment brought the most popular Android superhero game. So, if you are a fan of Batman, it can be the best option for you. DC Legends, Fight Superheroes is the game I am talking about. Not just the heroes, you can play this game with the roles of the villains as well. However, the shadow of the Blackest Night prophecy falls on the earth, and you have to save it with your power. Are you ready to help the Sheer Willpower in this mission?
Important Features
There are more than 130 DC characters you can choose from the list and play the role of.

Legendary combat between the heroes like Batman vs. Joker and Superman vs. Lex Luthor will be the main focus.

You can unleash the powers of different superheroes and get more points and skills.

There are tons of opportunities to level your player up. The more your level will be, the more powerful your player will be.

In this multiplayer RPG game, you can compete with other players.

Options like rebirth and regeneration are also there that will give you new looks and power.
Pros: In multiple modes, you can team up in the PVP events with your friends. You can get your rank in 14 leagues as well.
2. Injustice: Gods Among Us
---
The rivalry between two superheroes is the main theme of Injustice, Gods Among Us. And, if you like to enjoy being the super fast batman, it can be the best thing to try. In this exciting Batman game for Android, you have to prove yourself the best superhero in the fighting. In addition to this, you can earn a top position in the leaderboards. Also, you will be able to replay the previous battles to improve your fighting skill. Your team line up can lead you to the victory or make it to disaster.
Important Features
This game will allow you to play as a DC comic icon. The options are many like Batman, Superman, Wonder woman, Green Arrow, The Joker, etc.

Here, you can choose the battle to the Batcave, Arkham Asylum, The Watchtower, and many locals like these.

In 3 in 3 action combat, you can create combos. You can get the special attack skill from the console version of this game.

You can upgrade your power and also the characters and gear. For that, you have to enrich your card collection.

With each of the characters, you will have a set of skills, power, and moves to apply on the battlefield.
Pros: In this game, you get to play in online multiplayer mode with opponents from around the world. Additionally, you can take part in the tournaments and win rewards in them.
Cons: There are some complaints about the game being very hard.
3. Batman: The Enemy Within
---
A fully packed action-adventure is waiting for you in Batman, The Enemy Within. You will definitely love the fantastic storyline with the characters. Indeed, the graphics and the game design will take you to travel through a series of parallel worlds. The gear system is amazing for competitive matches. Moreover, it supports both mobile and GPU. Let's see what's more here.
Important Features
The game allows you to play the characters from the DC universe. And playing the role of Batman will be the most entertaining.

Here, you can use the basic attacks, special moves, or combos to defeat your opponents.

If you can get the most scores, you will achieve top rank in the leaderboard.

There are different modes available here. You can try it with online and arcade modes as well.

Different combinations of directional inputs and button presses have smooth control.
Pros: You can prove yourself best in the skill-based challenges. Further, you will receive achievements when you complete new goals.
Cons: Some of the buttons may seem a little bit hard to use.
4. Injustice 2
---
Are you ready to face the battle with the role of your favorite superhero, Batman? Injustice 2 has prepared a lot for you. You will find the exciting player vs. player mode, dynamic 3v3 battles, and whatnot. New team synergies include Batman Ninja, Justice League, League of Anarchy, Multiverse, Suicide Squad, etc. Your special powers will be increased as you progress further. In fact, you can chat with other players during the fights.
Important Features
You are free to pick any of your favorite DC characters in a CCG fighting game. It can be either a superhero or a villain.

There are a lot of classic characters like Batman, Wonder woman, Superman, Aquaman, The Joker, Harley Quinn, and the list goes on.

From a variety of game modes, you can choose any, and you can select the character's look.

The Flash's lightning kick, Superman's heat vision, Harley Quinn's cupcake bomb, etc., are some of the combos you can use to take down your enemy.

For the fight game, you can team up with your friends to win the final battles.
Pros: If you can unlock a new universal gear type, you will win unique bonuses. Besides, your master techniques are best to show in the Champions Arena.
Cons: Some users are facing problems in collecting daily rewards.
5. VRSE Batman
---
Wish to play the role of Batman in an entirely brand-new means? VRSE Batman can be your best pick then. It is brought in town by Skyrocket, LLC, especially for the Batman fans. From all the Batman games for Android, this one is pretty different in gameplay and the storyline. Here, the fate of the city is in your hands. Unquestionably, you are the one to save people from the enemies. So, do you want to give a try on this mission?
Important Features
You will get chances to engage in battle against the Joker, the antagonist in this game.

The game environment developed in Gotham City. Initially, the city is in danger and full of chaos because of the enemies.

It lets you play with a headset, Bluetooth Motion Game Controller, or Batarang.

In hand to hand combat, you can beat the Joker's henchmen in close up engagements.

Here, you will enjoy the best pixel cube graphics with high fps.
Pros: VRSE Batman helps you to prove your gaming strategy and skills in a whole new way. Realistic sound quality will boost your experience too.
Cons: There are some complaints about the 3rd person camera angles during movement.
Download
6. Quad Squad
---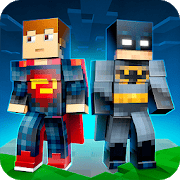 The first reason you will love Quad Squad is its gameplay, where you are free to fly just like a batman. Initially, Breathtaking co. is the game developer that bought this game for you. You can fly around the building and generate blocks. But you need to be cautious about the moving poles. Also, you can run and jump over the barriers or move in the rhythm of parkour. Moreover, there are a lot of adventurous operations to complete within a fixed time.
Important Features
The game has 5 incredible game modes that are totally different from one another. You'll get modes based on hardness too.

It has several cool superheroes, and you are free to choose them to play the role.

You can pick your own favorite from 4 characters. But for that, you have to unlock them by playing.

Each game mode has variations in the control method. So you need to be careful and adjust with every step.

To defeat the monster, you have to jump very high and quickly if you don't intend to fail.
Pros: Here, you can play the spider mode like any exciting Spiderman game, and it is the most difficult one in this game. Furthermore, you will find a bonus mode where you can get an additional score.
7. Justice Bat: Streets of Crime
---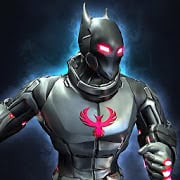 Meet Justice Bat, one of the most adventurous arcade games that give a real thrilling experience during gameplay. This batman game for your Android device comes with excellent HD graphics along with mind boosting sound quality. From the beginning, villains will attack the city with their superpower and weapons.
You have to control the legendary hero, Bat Titan, as he will help you win the battles against the devil party. Thus, the titan Phoenix superhero duos can achieve victory and stop putting an end to Rising of Darkness.
Important Features
This game allows multiple players so that you can join them at the same time with co-op mode.

The game offers multiple gaming modes like the multiplayer mode, the campaign mode, and the arcade mode to test your skill.

You can challenge your friends in multiplayer arcade mode.

There will be an on-screen joystick to control your hero while moving, jumping, or fighting with the opponent.

In the gameplay, you have to destroy the evil villains in boss battles.

To become the ultimate hero, you have to earn the highest score.
Pros: This exciting game enables new areas to fight, and you have to unlock them to bring an action vibe in it. Besides, it offers hints along with health packs to boost your gameplay.
8. LEGO ® Batman: Beyond Gotha
---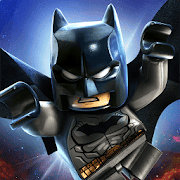 LEGO ® Batman is here to take you to the ultimate action-adventure world. In this game, you will take the place of Batman and unite with the members of the DC Comics universe. And, you have to save the planet earth from the evil Brainiac. Additionally, the game has a straightforward interface, and you can choose your own play-style as it offers both 'Classic' and 'Touch-screen' control.
However, you will never be bored of this game as you collect your favorite characters like the Dark Knight, Batman '66, Batman Beyond, Batman the Classic series, and a lot more on the way.
Important Features
This unique gameplay offers more than 100 characters who are considered the most powerful, including BIG LEGO Figures like Lantern heroes and villains, etc.

While unlocking special suits, you can boost your heroes with more superpowers, such as Cyborg's incognito Stealth Suit, the Joker's tricky Decoy Suit, Robin's elite hacker Techno Suit and much more.

There will be 45 missions loaded with twists and adventures.

The game offers a virtual world where you can have the battle in arenas, escape mazes and run races to trace code.

This entire gameplay will let you visit the iconic locales like the Batcave, the Justice League Watchtower, Hall of Justice, Trophy rooms.
Pros: You can enjoy your favorite voice actors like Travis Willingham (Superman™), Troy Baker (Batman), Laura Bailey (Wonder Woman™ and Catwoman™), and others. Plus, You can unlock most of the characters and abilities without any spare money.
9. Superheroes League – Free fighting games
---
Superheroes League gives you one of the best in class batman games for Android for free. You can play it on your phone or tablet without any issues. This game comes with occasional ads, and there are built-in options for additional purchases. If you want an action-packed ready to play a game that features your favorite superheroes, then you can just dive into it. The graphics of this game are very appealing with encouraging sound effects. You can also play this game on multiple devices using the same Google account.
Important Features
Players can fight in numerous perspectives, whether to save the world or to dominate with evil forces.

It features a rich game story in the story mode, allowing the players to unlock new characters as they progress.

You can play 1 Vs. 1 battle at any time in the quick fight sessions.

You will be able to perform lots of special moves and attacks where different characters perform their unique powers.

It allows you to make your own superhero or villain team.

It features over 76 superheroes along with crowd favorite batman.
Pros: This breathtaking multiplayer game offers different gameplay modes with local multiplayer game sessions. You can either play as a superhero or villain, which is completely your choice.
Cons: Some users did not like the overall gameplay.
10. Batmobile™ R/C Controller
---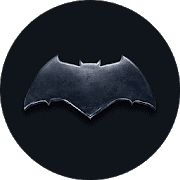 Batmobile™ R/C Controller by Mattel is a different type of app for today. It's actually not a game but a gaming controller. It gives a realistic experience as this app can control RC vehicles and, of course, supports batman style RC cars. Initially, it provides movie-like controls with real-time control over RC vehicles. Almost all Android phones and tablets can run this smoothly.
Furthermore, it comes with interactive camera mode, which provides an inside view from the seats. So, you will have a batman style view, and that can be shared in Livestream with an HD camera.
Important Features
It includes arsenal mode, which allows the users to control lights, speed, hydraulics, etc.

You can use it as you wish to allow complete customization in controls and other users based commands.

It works seamlessly within 65 feet of range using the WiFi connection of the device.

You will be able to hear engine sounds and other effects on your phone or tablet as you test the speed of your RC vehicle.

It shows great cinematic effects with rendering HD contents with 3D effects.

This gives you a movie experience that you can control as you wish and share on social media.
Pros: It offers a different kind of gameplay with real-life interactions. Additionally, you will like its virtual smoke and engine sounds.
Cons: Some users faced lags and controlling issues with RC vehicles.
Our Recommendations
---
There is no doubt that Batman is the most popular DC character and the few series and comics are not enough for the Batman fans. So, these Batman games become popular overnight. You must see there are games from different categories. For RPG lovers, DC Legends for sure. Injustice has two different versions, and you can try them too.
If you want to try an arcade game, then try Justice Bat or LEGO ® Batman. You can just check out the features of the games mentioned here and pick the one to try. I just expressed my recommendation. Above all, feel free to try any game, and I can assure you that you'll love it.
Finally, Insights
---
Unlike most other superheroes, Batman is the most legendary one born as a special child with harsh reality. Indeed, you know better about his power and will to save the world, especially from the cruel Joker. However, you can really try these Batman games on your Android device if you think playing the role will be exciting.
Well, inform us about other games that you want to learn about. Will soon come with something new. So, let's say goodbye for today. Thank you for your time.